Portrayed by Murray Bartlett, Frank is an artist and a minor but impactful character in HBO's post-apocalyptic action-drama series 'The Last of Us.' He is introduced in a flashback scene in episode 3, titled 'Long Long Time,' after survivalist Bill (Nick Offerman) encounters him caught in one of the traps the former set up around his property. After realizing they have a similar sexual orientation, they have sex. Gradually, that night together becomes almost two decades. If the events at the end of the episode have made you wonder whether Frank is dead and Bartlett has left 'The Last of Us,' we got you covered,
Is Frank Dead?
Yes, Frank is dead in HBO's 'The Last of Us.' When the outbreak starts in 2003, the military gathers all of Bill's neighbors and takes them away, while Bill manages to hide from them in the basement bunker. Earlier in the episode, we see a mass grave. It is implied that Bill's neighbors were taken and executed because the quarantine zones were already full, and the military didn't want to risk these people adding to the number of the Infected. Bill spends four years by himself until Frank arrives. He was in the Baltimore quarantine zone, but it was destroyed. Frank started traveling toward Boston with nine others, but they perished along the way.
Frank and Bill build a life together, finding happiness in each other even though the world beyond their safe haven descends to hell. In 2010, the couple becomes acquainted with Joel and Tess, who invite them into their smuggling business.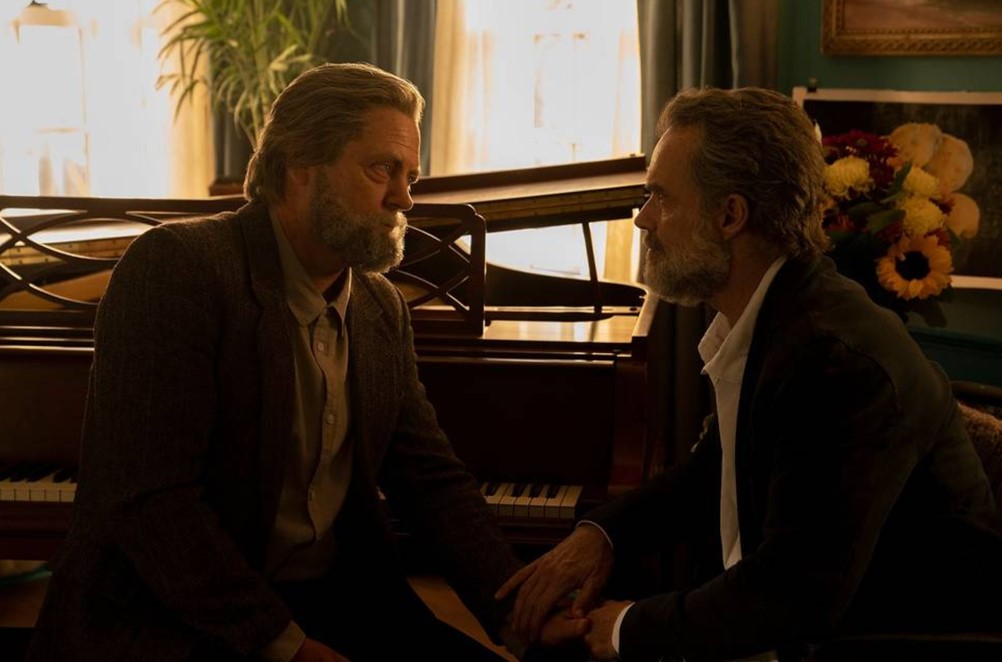 However, nothing really lasts forever. In 2023, Frank has an unidentified neurodegenerative disease and uses a wheelchair. He asks Bill to help him take his own life. He and Bill spend a perfect day together. They get married and have dinner that Bill cooked for them. Frank realizes too late that Bill has put sleeping pills in the wine they both drank, having no intention of living without him. They die in each other's arms in the bedroom they have shared for the last 16 years. Joel arrives with Ellie a few days later and finds the letter Bill left for him.
The HBO show is based on the 2013 Naughty Dog video game of the same name. There, the end of Bill and Frank's relationship is much more tragic. Frank leaves Bill but is soon infected. Before he hangs himself to death, Franks writes a scathing letter to his former "partner." "I want you to know I hated your guts," Frank declares in the letter. "I grew tired of this s****y town and of your set-in-your-ways attitude. I wanted more from life than this and you could never get that. … I guess you were right. Trying to leave this town will kill me. Still better than spending another day with you."
Did Murray Bartlett Leave The Last of Us?
With Frank's being dead, it's safe to assume that Bartlett has left 'The Last of Us.' According to series co-creator Craig Mazin, Bartlett's audition as Frank got the producers teary-eyed. And then, the first season of 'The White Lotus' came out, and they realized the talent they had in their hands. As Offerman's casting happened much later, it gave the two actors little time for preparations, but that was compensated by how long the production lasted. The episode has a runtime of 1 hour and 14 minutes.
"In a world that's monstrous and alienating, the opportunity to show intimacy allows it to be even more poignant," Bartlett reflected on the sex scene between his character and Bill in an interview with Variety. "I felt kind of reverent — if that's the right word — about just wanting to do justice to the intimacy in these scenes. I think we both did."
Although Bartlett has left 'The Last of Us,' you can catch the Emmy-award-winning actor in the upcoming Apple TV+ series 'Extrapolations.' Also starring Eiza González, Tobey Maguire, Marion Cotillard, Kit Harington, Gemma Chan, Forest Whitaker, Diane Lane, and Edward Norton, 'Extrapolations' is set in a dystopic world where climate change has fundamentally altered people's lives.
Read More: Are Bill and Frank Gay in The Last of Us? What's Their Relationship?