Quite frankly, I am surprised by Disney's ability to draw on films from their own properties. Whereas the rest of Hollywood clearly reels in, waiting for a good script to land in their hands, Disney seems to have it sorted, and has already delivered three to four films during that time – all of them box office successes. Disney's monopoly over the box office and the industry in general then comes across as really no surprise if they are doing movies at this pace, all of them set up from the beginning to be potential franchises, and with top names attached.
Whilein 2019, Disney has 'Maleficent: Mistress of Evil', 'Frozen 2', and a ton of Disney+ films in 'Noelle' and 'The Lady and The Tramp' lined up, the mouse house already has 2020 lined up too apart from its significant number of Marvel and Pixar releases. It's a full house at the cinemas net year too, and here is everything that we currently know of Disney's next peak summer release, 'Jungle Cruise'.
Disney's Jungle Cruise Plot: What Is It About?

Disney's intention with this one too is to convert it into a potential franchise, just like 'Pirates of the Caribbean', another film series that started off based on the Disney theme park attraction of the same name. Likewise, 'Jungle Cruise' too is based on the eponymous theme park ride from a number of Disneylands. The official synopsis of the film states as follows: "set during the early 20th century, a riverboat captain named Frank takes a scientist and her brother on a mission into a jungle to find the Tree of Life which is believed to possess healing powers. All the while, the trio must fight against dangerous wild animals and a competing German expedition."
As already revealed, this is all set to be a charming period film, with Emily Blunt's Lily swindling an ancient arrowhead that she believes will provide her access to the mythical tree of life. Dwayne Johnson's Frank too is already seen to be guiding riverboat tours for tourists as experiences through the amazon, just as the Disney ride simulates. She then enlists his help in taking herself and her brother upriver, to Lagrimas De Cristo, to find the mythical tree of life.
Dangerous animals, waterfalls, legends, curses, and another competing expedition to discover the Tree of Life await the trio as they navigate their way through the treacherous waters of the Amazon. The trailer also shows Edgar Ramirez towards the end, as a resurrected serpentine creature of sorts, probably a guard to the tree of life, as the voiceover too says that "if you believe in legends, you should believe in curses too". The trailer ends with Lily exclaiming that the myth was real.
Disney's Jungle Cruise Cast: Who Is In It?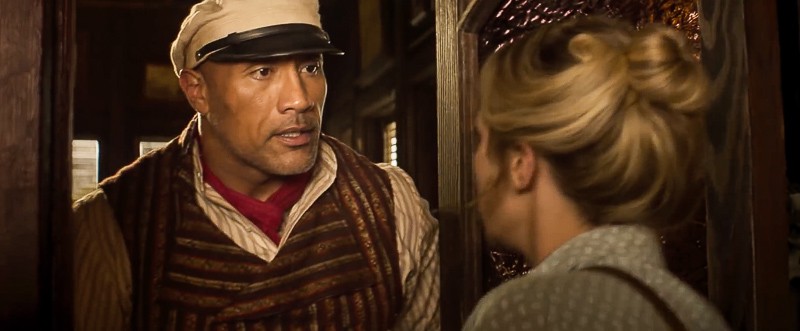 Disney has yet again managed to snag a cast of A-listers to headline this project, including Dwayne Johnson (who by now seems to have a penchant for starring in movies with jungles) as Frank, the captain of the riverboat the duo begins their adventure on, Emily Blunt as Lily Houghton, a young "spunky" scientist who is searching for the mythical tree of life, Jack Whitehall as McGregor Houghton, Lily's younger brother who will be playing an openly gay character in a first for Disney, Paul Giamatti, Andy Nyman as Sir James Hobbs-Cunningham, Quim Gutiérrez, Veronica Falcon, Dani Rovira, Simone Lockhart as Anna and Aidan Taggart, all cast in unnamed roles. Among the film's villains would be Jesse Plemons and Edgar Ramirez, both playing yet unnamed characters.
Disney's Jungle Cruise Crew: Who Is Behind It?
Jaume Collet-Serra ('The Commuter', 'Run All Night', 'The Shallows', 'Non-Stop') will be directing the film in what will be his first collaboration with both Disney and Dwayne Johnson. Michael Green, Glenn Ficarra, John Requa, J. D. Payne, and Patrick McKay have been credited with the screenplay of the film, while James Newton Howard will be providing the musical score for 'Jungle Cruise'.
Disney's Jungle Cruise Release Date: When Does It Premiere?
The film was earlier scheduled to hit theatres this year itself, but has since been rescheduled to accommodate reshoots and other big Disney films releasing during the same window. 'Jungle Cruise' is all set to premiere on the cusp of the Summer Blockbuster season on July 24, 2020.
Disney's Jungle Cruise Trailer
Check out the action packed trailer for Disney's 'Jungle Cruise' here. I must say, this has all the vibes of 'The Mummy', 'Indiana Jones', 'Jumanji' and 'POTC' melded into one. Whether that combination can be a good thing awaits to be seen by us when the film finally hits theatres next year.
Read More in Preview: The Lady and The Tramp