An athlete, wrestler and an actor, this highly unusual combination are quite synonymous with the name "Dwayne Johnson" aka "The Rock". It could be an unimaginable task for a wrestler turned actor to become the highest paid actor in Hollywood and Dwayne Johnson accomplished the impossible in 2016, 17 years after his first major movie appearance in "The Mummy Returns". Be it a lovable single dad or a grumpy giant special cop, Dwayne Johnson churns out convincing performances. With his extremely intimidating body frame and charming smile, "The People's Champ" continues to retain the title both inside the ring and on the screen.
Dwayne Johnson's comedy skills and impeccable perfection in performing stunts has helped him carve a niche for him in the movie Industry. Here's the list of top Dwayne Johnson movies, selected from his a**-kicking filmography. You can watch some of these best Dwayne Johnson movies on Netflix, Hulu, or Amazon Prime. Happy reading!
10. Race To Witch Mountain (2009)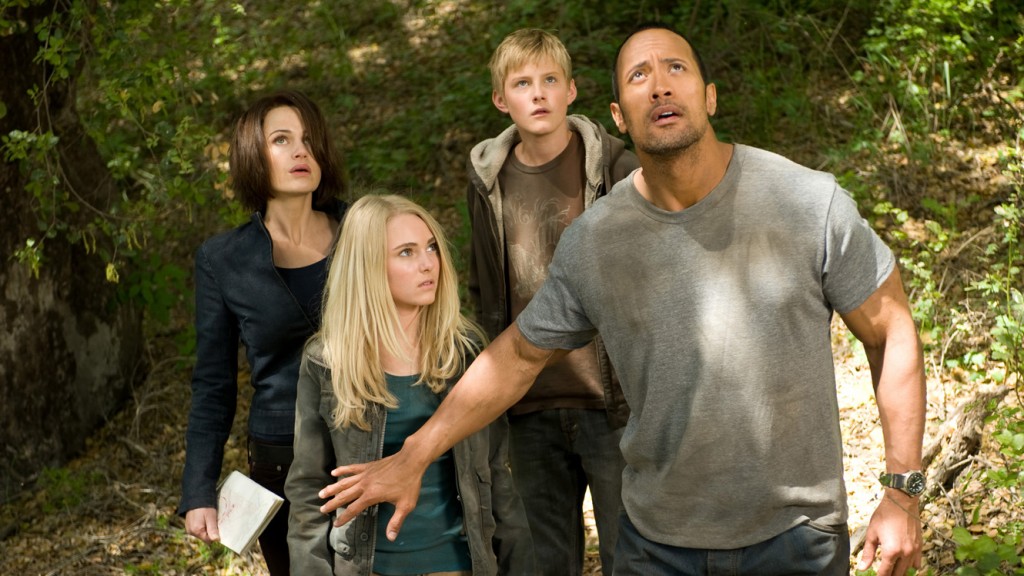 This 2009 release is an interjection of science fiction and adventure. Dwayne Johnson plays the character of "Jack Bono", a former gangster driving cabs to keep out of jail. Jack agrees to drive two teenagers to a specific destination for a humongous sum of $15000, the identity of these two and their hunters get revealed as the movie proceeds.A typical human's curiosity sometimes gives him amazing opportunities, Bono turns into a protector of these kids from their hunters. The world outside earth is always a favourite subject for science fiction film lovers, this film doesn't offer a whole new perspective regarding aliens and life outside earth but guarantees a thumping amount of excitement. "Race to Witch Mountain" deals extensively with UFOs, military and CIA and can be construed as a decent amalgamation of these exciting elements.
Read More: Best Daniel Radcliffe Movies
9. San Andreas (2015)
Withholding suspense to unfold a disaster movie is quite a Cinematic experience and that is exactly what "San Andreas" offers. Dwayne Johnson gives life to Ray, an Air Rescue pilot embarked on an onerous mission to rescue. Ray's relationship with his wife Emma is strained and he decides to go on a trip with his daughter to San Francisco. Due to a work engagement, Ray stays back and lets his daughter fly with Emma's boyfriend. After an earthquake, a scientist realises the San Andreas Fault, a continental transform fault that extends roughly 800 miles through California is shifting and would result in a highly destructive earthquake soon. This earthquake of very high magnitude dangers everyone Ray cares about especially his daughter, Blake and Emma. Ray's expertise in rescue missions helps him to sail through a plethora of natural disasters. This movie also gives due importance to Ray's strained marriage with Emma.
Read More: Best Amber Heard Movies
8. Pain and Gain (2013)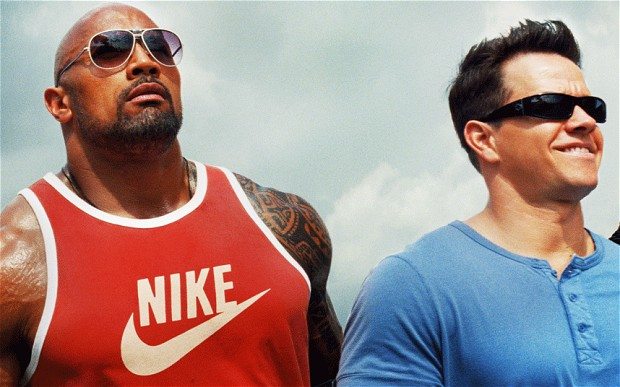 A far-fetched real story of three gym rats who sets out to pursue "The American Dream". Dwayne Johnson plays the lead role of a recently released cocaine addict convict along with Mark Wahlberg and Anthony Mackie. Inspiration sometimes sends out the wrong message, the character played by Mark Wahlberg, Mr."Daniel Lugo", a gym trainer, is charged up to get rich at any cost. Daniel gets attracted to the lifestyle of one of his clients at the gym Daniel plans on committing a crime, a conspiracy to amass wealth within a very short time, he ropes in Adrian Doorbal (played by Mackie) and Paul Doyle (played by Dwayne Johnson) to accomplish the task. This film is high on adrenaline and comedy encapsulating riveting performance from an ensemble cast including Tony Shalhoub and Ken Jeong. The domination of comic situations coupled with realistic action makes "Pain and Gain" a one-time watchable movie.
Read More: Best Mark Wahlberg Movies
7. G.I. Joe: Retaliation (2013)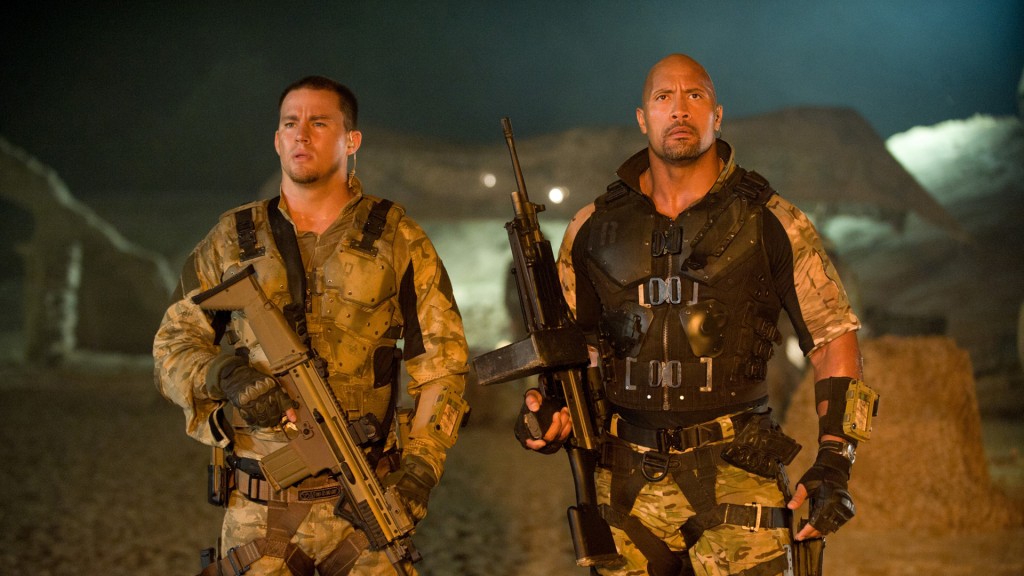 This is the second cinematic instalment with the famous fictional super task unit G.I. Joe. Duke (played by Channing Tatum) leads the G.I. Joe unit to steal nuclear heads from Pakistan. The unit gets badly hit by a military air strike, Dwayne Johnson plays "Roadblock", one of the three surviving members of the unit. Roadblock, United States Flint and Lady Jay arrives back at the United States to restart their operation but without being noticed in the radar of the Government. The trio realises that something is wrong inside the Government and decides to act on their own. "G.I. Joe: Retaliation" has a talented cast with Joseph-Gordon-Levitt and Bruce Willis. This full packed action thriller may not have much room to accommodate the audience's logic but showcases one of Dwayne Johnson's notable expertise in handling arms and ammunitions.
Read More: Best Channing Tatum Movies
6. Snitch (2013)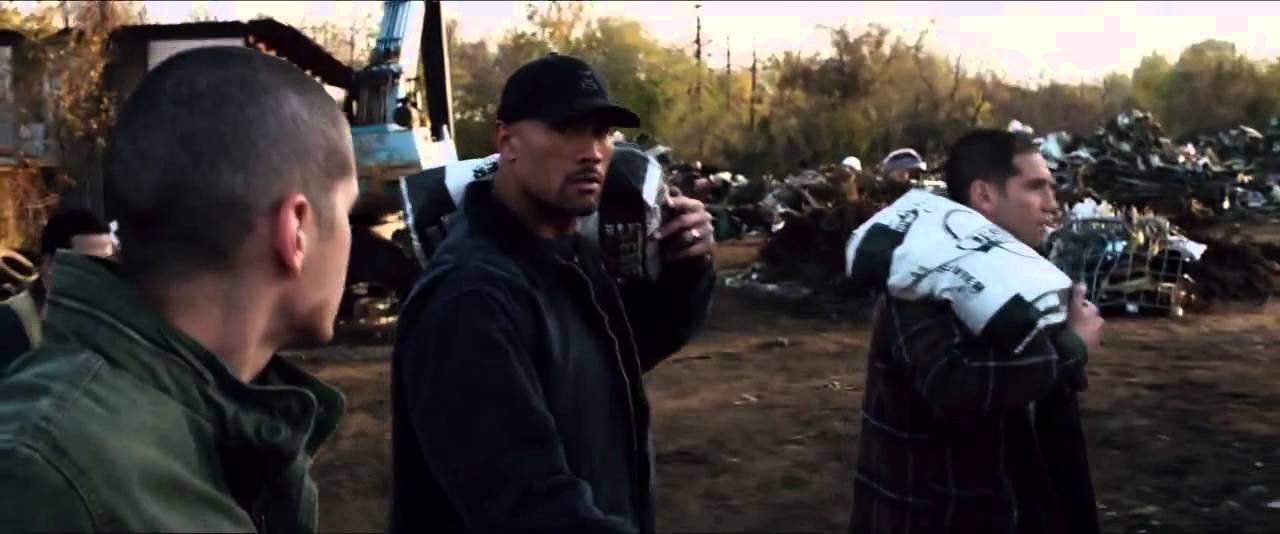 Dwayne Johnson's acting skills get a supremacy over his action skills in "Snitch", he plays John Matthews, a father who undertakes a dangerous mission to get his son out of jail. As the name suggests, this movie is about the pervasive ratting out in the drug business. John's son Jason is tricked into possessing a box of drugs and ends up in the custody of the DEA. John receives this news in the middle of a barbecue from his ex-wife Sylvia. A chilling sensation of guilt takes over John, he recognises the need for him to act. John pulls strings to find out one way to save his son. That one way turns out to be extremely risky, however, John decides to pursue it despite the scary circumstances. "Snitch" is about how an ordinary man (as ordinary as Dwayne Johnson can get) gathers information about drug business to reduce jail sentence for his son. The twists and unexpected turns in the story keeps the audience glued to their seats.
Read More: Jennifer Aniston Movies
5. The Scorpion King (2002)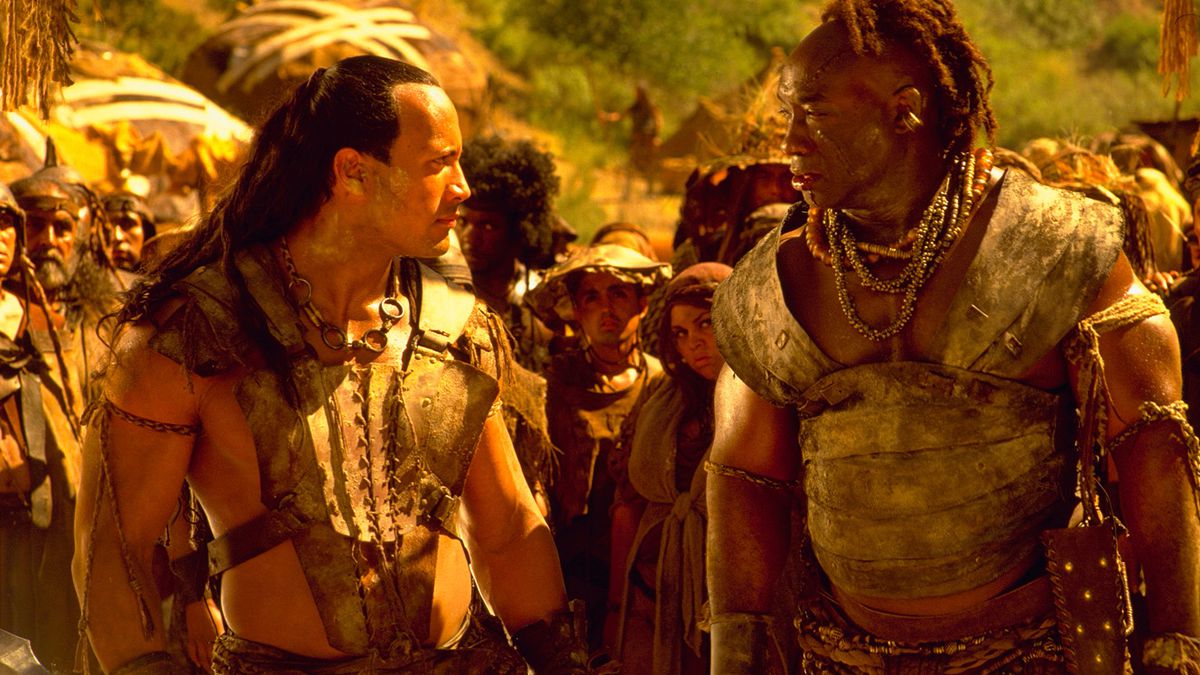 Dwayne Johnson's first appearance as "The Scorpion King" in the movie "Mummy Returns" was memorable for every fantasy movie lover. A pinch of history and an enormous amount of action made Dwayne Johnson's debut in a title role an exhilarating cinematic experience. "The Scorpion King' is set 5ooo years before the time period in 'The Mummy Returns" and tells the story of the rise of Mathayus to the Scorpion King. Mathayus is hired by King Pheron along with his brothers to kill Memnon's sorcerer for twenty blood rubies. This deal upsets King Pheron's son Taket as it involves a huge sum of money. The brothers are ambushed by Memnon's guards and they realise that they have been betrayed by someone. Memnon lets Mathayus live for a night due to an interference from Cassandra but only by burying him to his neck in the desert. The adventurous escape of Mathayus and his fight against Memnon forms the rest of the story.
Read More: Best Meg Ryan Movies
4. Central Intelligence (2016)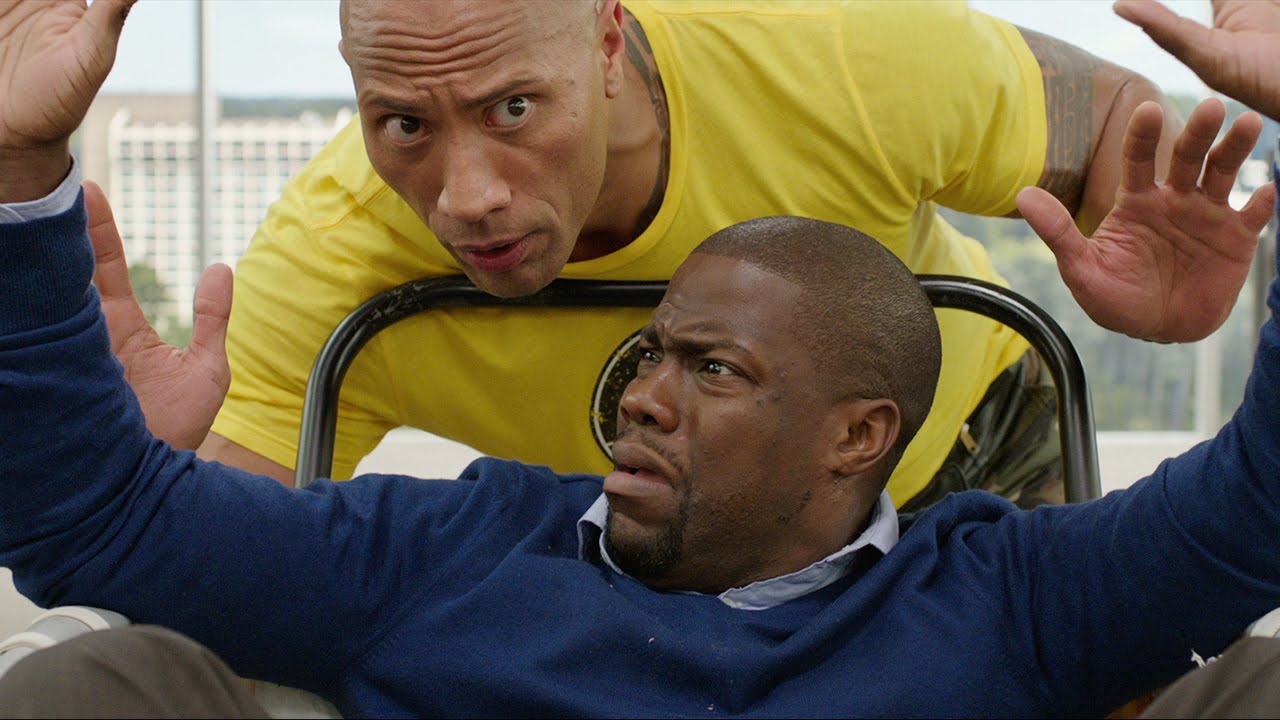 Mastering the art of comedy is a tedious affair for performance artists, be it any medium. Dwayne Johnson has a strand of charm embedded in his DNA which makes his public appearances a joyful experience. His fans went crazy when he announced his upcoming collaboration with "Kevin Hart", one of the brightest comedians in Hollywood. Bob Stone, played by Dwayne Johnson, a lethal CIA agent takes the help of his old-time school friend Calvin, a forensic accountant, to analyse few accounting records. This action comedy brought out the irresistible comedy duo for the first time in screens. "Central Intelligence" guarantees a laugh riot but might not satiate the audience's craving for an intriguing story thread.
Read More: Best Kevin Hart Movies
3. Moana (2016)
Voice acting is not an easy task especially when you are working a studio house like Disney. Dwayne Johnson gives a terrific voice performance in "Moana", he plays a legendary demigod who is pursued by the central character Moana on her journey to help people. As usual, Disney carefully integrates the aesthetic visuals with a meaningful story. Critics praised the movie for its brilliant casting and beautiful writing. This film was given an approval rating of 96% on Rotten Tomatoes. Even though "Moana" doesn't have Dwayne Johnson in the title, the actor transcends the viewer into the fantasy world with his much-acclaimed performance.
Read More: Best Hailee Steinfeld Movies
2. The Hercules (2014)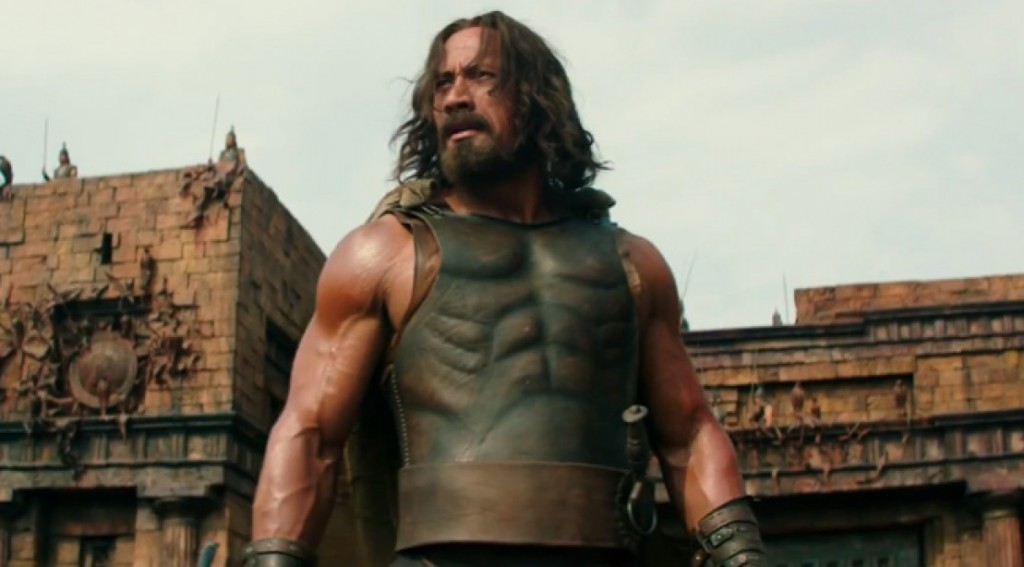 Social media went frenzy over Dwayne Johnson's diet for helping him shape up to play one of the strongest man "The Hercules". Challenging action sequences and powerful acting skills showcased by the actor makes this movie an engaging experience. Visual effects play a major role in facilitating the director to tell the story and perfectly fits into the movie. Dwayne Johnson undertook brutal training for over 8 months to flesh out the demigod in perfection. The grandeur backdrop and adrenaline pumping persona of Dwyane Johnson make "The Hercules" a gigantic cinematic endeavour.
Read More: Best Jude Law Movies
1. Fast Five (2011)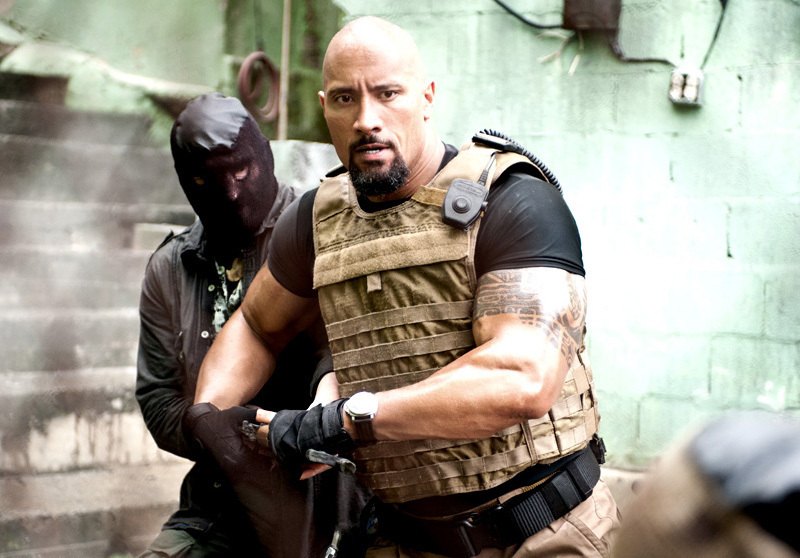 Roping in Dwayne Johnson to play Luke Hobbs is one of the best decision ever made by the Fast and Furious franchise. The actor is introduced in this movie and remains in the cast even in their latest instalment Fate of the Furious. Dwayne Johnson plays a DSS agent hunting down Dominic Toretto. From the first scene to the last scene, "Fast Five" ensures nerve-wracking stunts and authentic comedy. Through "Fast Five", the makers decided to broaden the canvas of the franchise and attract a wider audience by moving out of the street racing theme to a heist theme involving supercars flying all around the capital of Brazil. Dwayne Johnson's fight scenes with Vin Diesel is total savage and displays both actors' finesse in handling full throttle man to man battle scenes.
Read More: Robert Pattinson Movies