Elegant, stylish, endearing and gorgeously seductive, Meg Ryan is probably the most defining Hollywood actress of the 90s. There was something so irresistibly addictive in the way she walked, talked and smiled that made her such a charming presence in films back in the 90s. She was mostly known for starring in romantic comedies and dominated the genre for much of the 90s and the early 2000s. Her pairing with Tom Hanks has produced some of the most memorable rom-coms of the 90s. She has also ventured out into different zones and surprised critics and viewers with her remarkable range and vulnerability. So let's take some time out to celebrate the works of one of the beloved American actresses of all time. Here is the list of top 12 Meg Ryan movies. You can watch some of these best Meg Ryan movies on Netflix, Hulu, or Amazon Prime.
12. City of Angels (1998)
This romantic fantasy film is a remake of the 1987 Wim Wenders classic 'Wings of Desire'. While it doesn't get anywhere close to the original, it still works partly due to the performance of Ryan. She plays Maggie, the woman with whom Nicolas Cage's character has fallen in love with. Ryan lifts the film off from its sentimental grounds and brings a great amount of realism to the role that makes the film believable at least in parts. It's not a simple role because this is something that would have turned into a mockery had it been played by someone else but Ryan effortlessly brings the human side of her role and is utterly convincing every moment she's on screen.
Read More: Best Nicolas Cage Movies
11. Kate & Leopold (2001)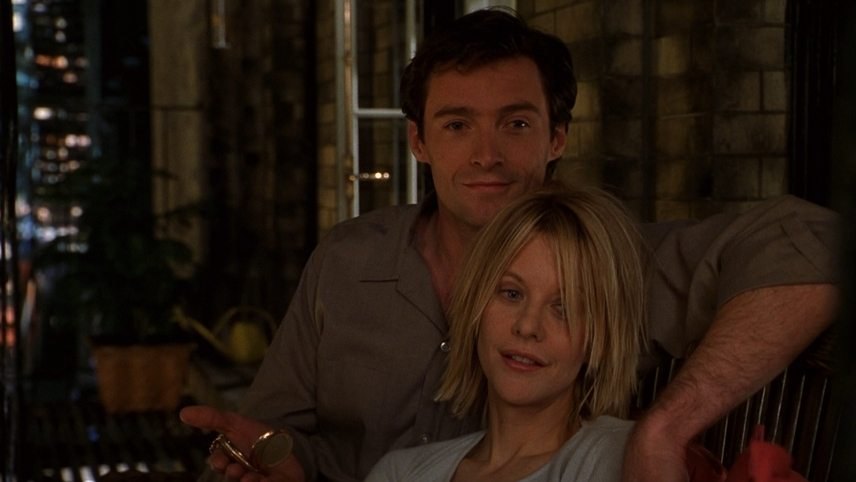 There is something about Ryan that makes her gel so well with any actors. This delightfully entertaining rom-com fantasy has her starring alongside Hugh Jackman and the two share a surprisingly charming on-screen chemistry. The film is about an 18th century prince who travels through time and falls in love with a woman in present day New York. Jackman is surprisingly superb in a different avatar here but Ryan outshines him by a narrow margin with her inherent charm, endearing screen presence and adorable girlishness. One of the underrated Meg Ryan movies.
Read More: Best Hugh Jackman Movies
10. I.Q (1994)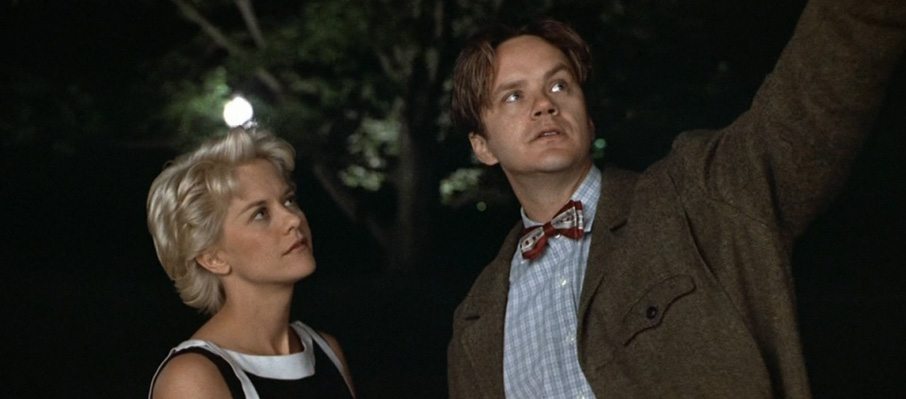 This hilarious romantic comedy is about a man who falls in love with the great Albert Einstein's niece. Robbins and Ryan form an unusually attractive pair here and make this film more than just a watch by bringing in a much needed sense of quirkiness, charm and warmth to the script that would have otherwise looked pale. Ryan is superb in the role playing a level headed girl who clearly knows what she wants as she portrays Catherine with a rare kind of maturity and sternness that sets her apart from other rom-com female leads.
Read More: Best Queen Latifah Movies and TV Shows
9. Flesh and Bone (1993)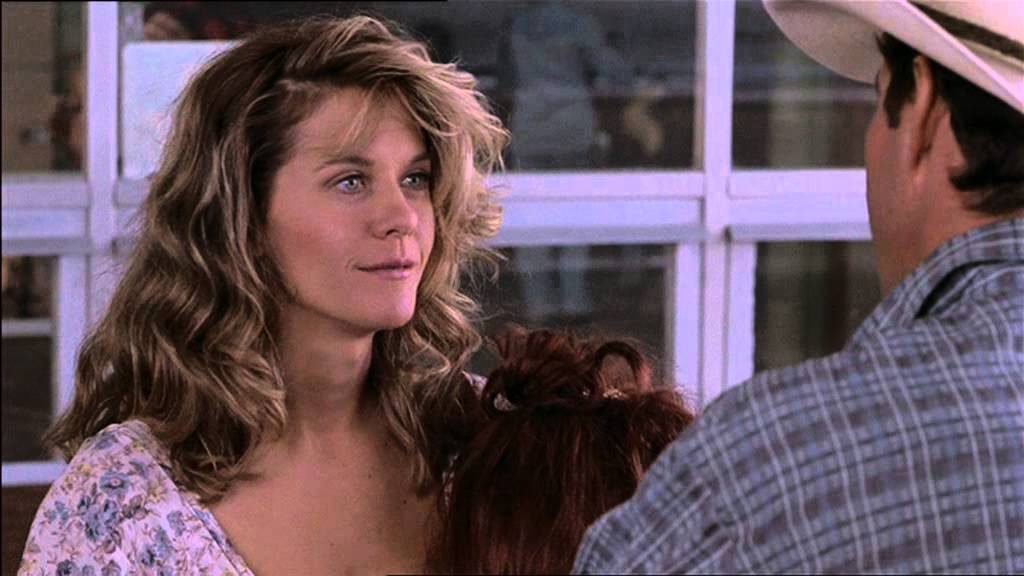 This darkly toned mystery drama tells the story of a man who falls in love with a woman who belongs to the family his father brutally murdered about thirty years back. The film might not seem to live up to its potential but it has a certain atmospheric power that pulls you into the story despite the seemingly obvious flaws. Ryan shines alongside a brilliant cast that delivers some truly brilliant performances. She displays stunning vulnerability and brings in a tragic aura to her character that perfectly goes well with overall depressive tone of the film.
Read More: Best Ashley Judd Movies and TV Shows
8. Addicted to Love (1997)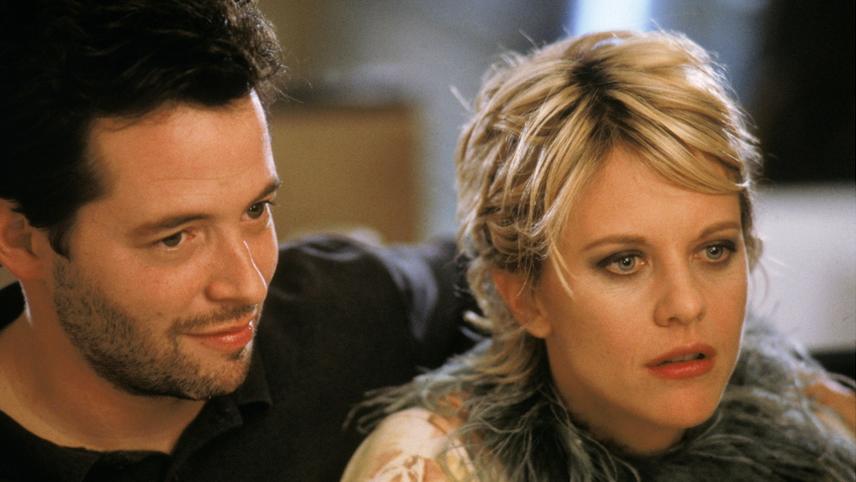 Rom-Coms couldn't be more fun and charming than this one. Two people meet each other and team up for a revenge plan against their former partners who are now seeing each other. However, like what would happen in a typical Hollywood rom-com, the two begin to develop feelings for each other. With a story as simple as this, a lot depends on the actors and how they bring their characters to life on-screen in a manner that seems believable and this is exactly what happens in the film. Ryan is once again amazing here in a bit of a different role as a woman desperate for revenge on her ex fiance. She is adorably cute, vulnerable and incredibly funny.
Read More: Best Debby Reynolds Movies and TV Shows
7. Prelude to a Kiss (1992)
'Prelude to a Kiss' centers around a pessimistic but independent woman who falls in love with a man and marries him but things take a turn when an old unexpectedly walks into their life, changing it forever. Ryan's character is a lot more than just a simple woman here as she paints the subtle nuances and complexities with astonishing elegance and charm and makes Rita look so real. She doesn't have a lot of screen time towards the end but still manages to stand out because of the kind of life she brings on to her role.
Read More: Channing Tatum Movies
6. French Kiss (1995)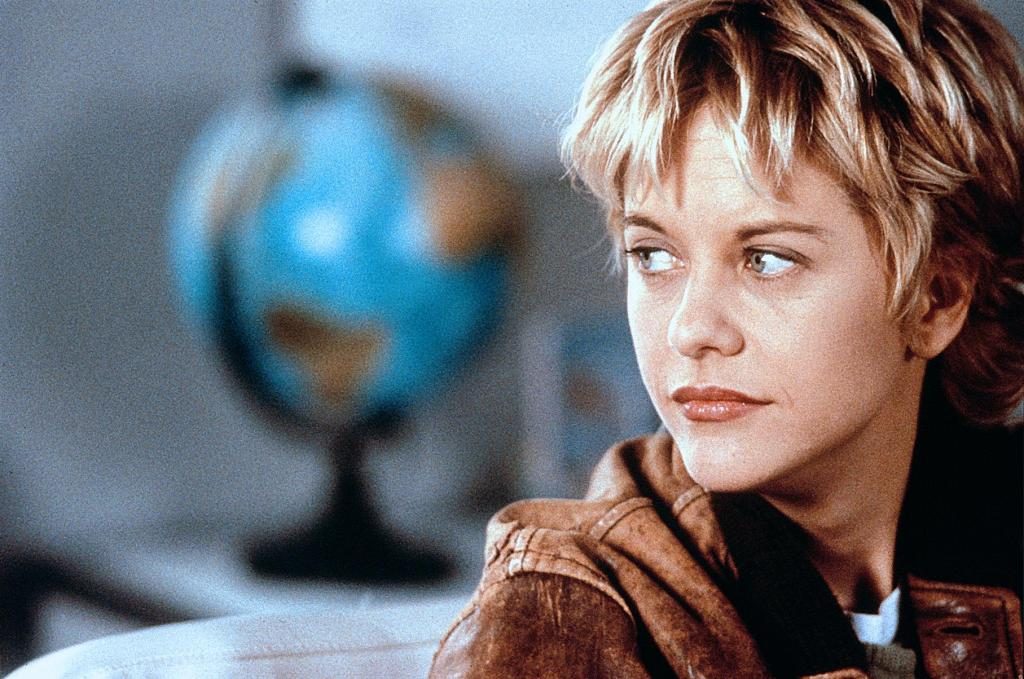 Perhaps not the best of rom-coms but like most of the other films she's done during that period, this film is elevated by her performance as Kate. The one thing that sets Ryan apart from the other actresses of her time is that, despite featuring in a number of similar roles, she brilliantly manages to distinguish her characters. This is perhaps best displayed here in 'French Kiss'. Kate is bound to remind you of Sally from 'When Harry Met Sally' but Ryan portrays her with such nuance and precision that she completely transforms into another woman and that is the mark of a really good actor.
Read More: Best Christopher Walken Movies and TV Shows
5. Joe Versus the Volcano (1990)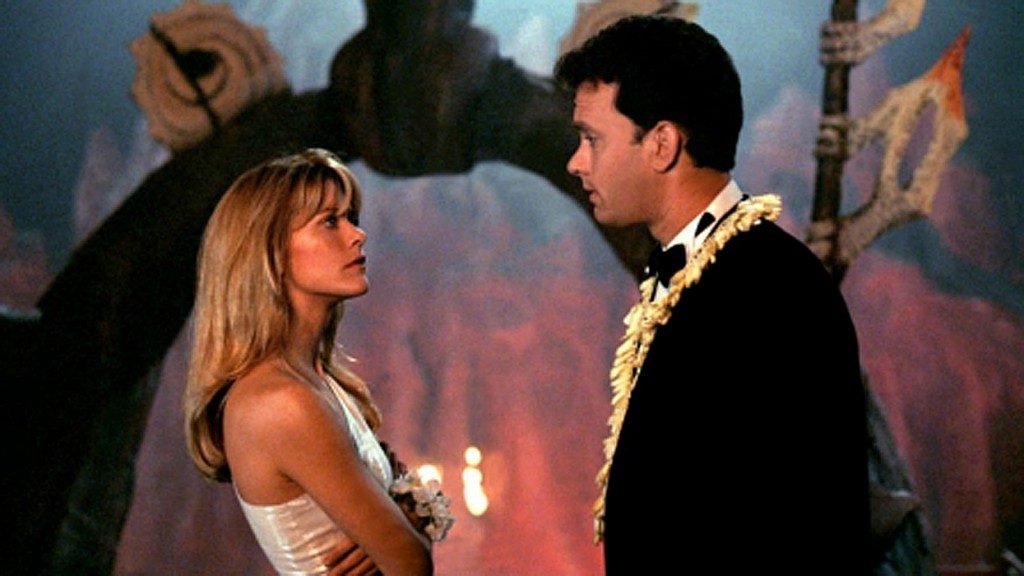 'Joe Versus the Volcano' might seem nonsensical to some but that's the appeal of it. The film benefits a lot from its lead actors who brilliantly manage to make the film's absurdly hilarious premise believable and funny. As Patricia, Ryan is expectedly magnificent in the role, bringing in a kind of whimsical, eccentric quality to the film which makes it so endearing and funny. It's a surprisingly difficult role that, at the hands of another actor would have looked almost cartoonish and cringeworthy but Ryan is lovely and makes the film endlessly watchable.
Read More: Best Goldie Hawn Movies and TV Shows
4. Sleepless in Seattle (1993)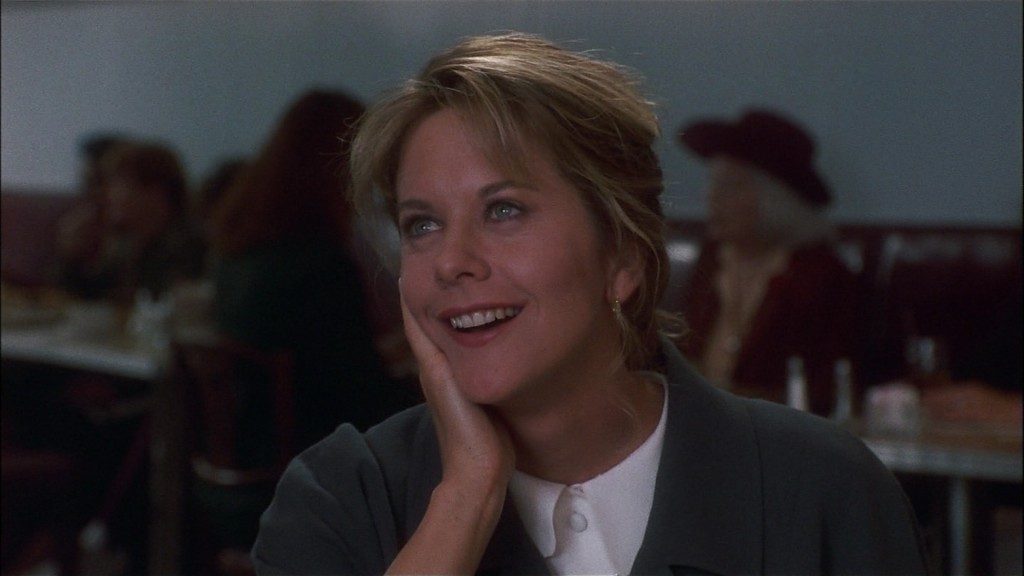 Tom Hanks and Meg Ryan were the quintessential Hollywood rom-com couple in many ways despite the fact that the two only starred alongside each other in three films. 'Sleepless in Seattle' is about a lonely man depressed after his wife's death and is convinced by his son to go on air and express his true feelings. A woman becomes interested in him but for some reasons things drift apart. The film is a lovely little rom-com adorned by the lead performances which really lift them film from its familiar, traditional plot. Ryan is fantastic as a woman who falls in love with a voice and delicately portrays her character with such effortlessness that brings a charming aura to the film.
Read More: Best Tom Hanks Movies
3. You've Got Mail (1998)
'You've Got Mail' is one of the most charming romantic comedies I've ever seen. The film tells the story of two people who meet on an online dating site but are unaware that they are business rivals. Both Ryan and Hanks are amazing in the film and their on-screen chemistry elevates the film's inherent charm and turns into something really special and memorable. Ryan is so endearingly girlish and delicate and very nearly steals the show in the film which is really saying a lot considering you've got Tom Hanks at the other end.
Read More: Best John Candy Movies and TV Shows
2. When a Man Loves a Woman (1994)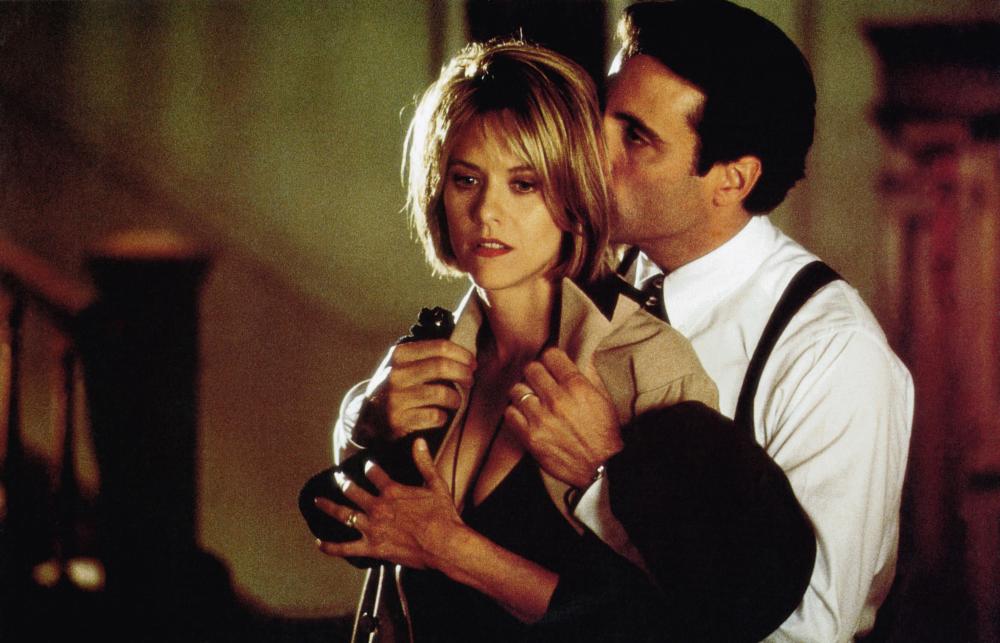 Ryan's turn as an emotionally troubled alcoholic mother in 'When a Man Loves a Woman' is arguably one of her most challenging roles. Andy Garcia plays Ryan's husband in the film who is struggling to get rid of her alcohol addiction and mend their troubled marriage. Ryan is stunning in the role as she gives it all here, portraying Alice Green as an utterly believable human being with flaws she's struggling to deal with. She displays a lot of compassion for her character and hits the emotional notes with the right amount of restraint.
Read More: Best Laura Dern Movies and TV Shows
1. When Harry Met Sally (1989)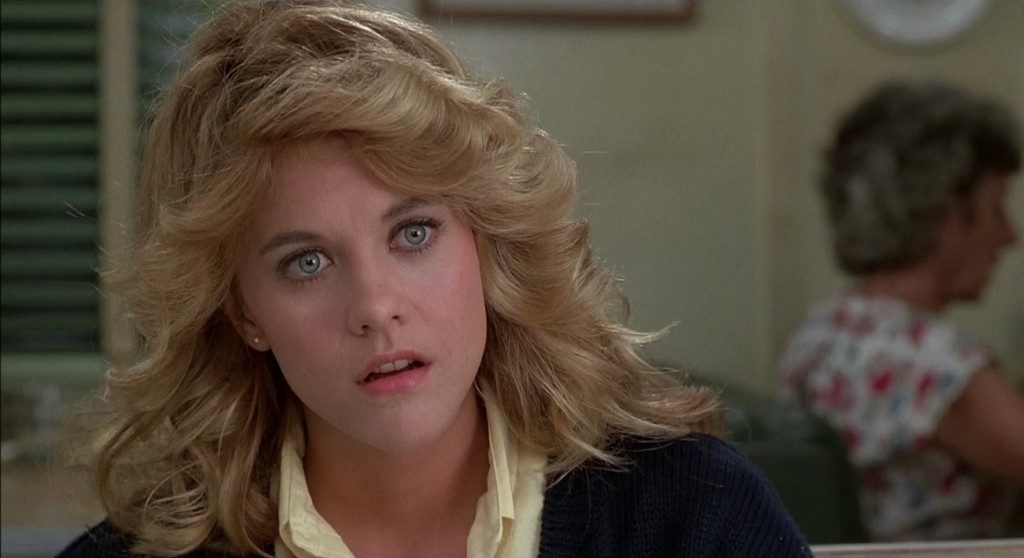 Sally is probably the role she's most remembered for. Ryan's performance in 'When Harry Met Sally' is astonishingly good and the reason is because she manages to bring in a kind of naturalism and simplicity to the role that is quite hard to attain. As Sally, she's so sweetly seductive and gorgeously sensitive. Despite an equally brilliant performance by Billy Crystal, Ryan manages to be the most charming element in the film and a lot of the credit here goes to her effortless acting style and astounding screen presence.
Read More: Nagarjuna Movies