'Big Daddy' follows Sonny Koufax (portrayed by Adam Sandler), a lazy law school grad, who adopts a kid to impress his girlfriend, Vanessa (played by Kristy Swanson). However, things do not go as planned and he becomes the unlikely foster father. The film has a compassionate narrative that tells a wonderful, heartwarming story of friendship. A part of the gamut of films which made Adam Sandler one of the most successful actors of the 90s, 'Bog Daddy' is a movie that raises your spirits.
All the films that we are going to discuss in this article explore themes of friendship, family and companionship while expanding to a different narrative. Some might be dramas and some might be comedies, but all of them are similar in many ways. So, here's the list of best movies similar to 'Big Daddy' that are our recommendations. You can watch several of these movies like 'Big Daddy' on Netflix, Hulu or Amazon Prime.
10. About a Boy (2002)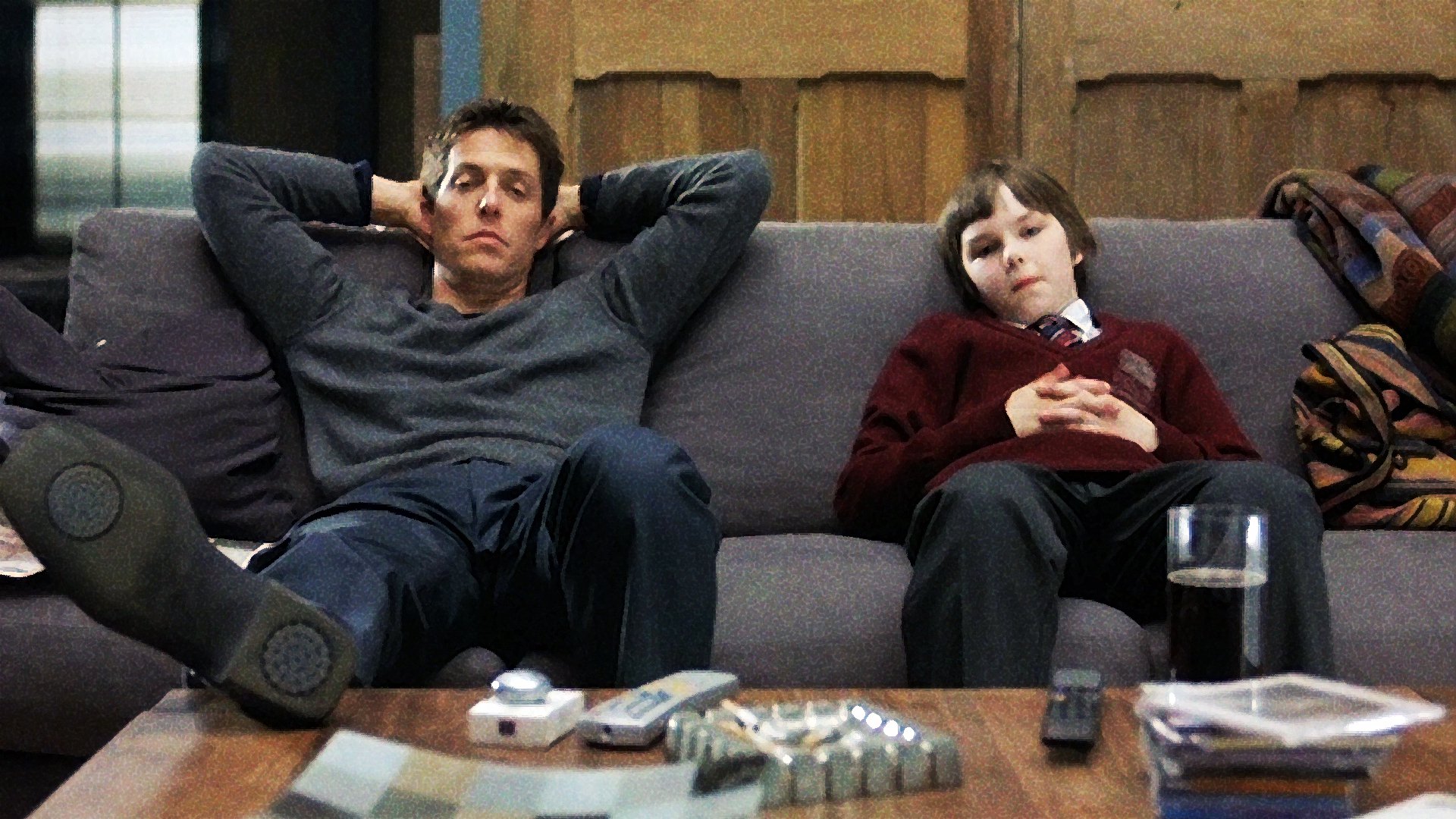 Co-directed by Chris Weitz and Paul Weitz, 'About a Boy' is a romantic comedy-drama. The film stars English actor Hugh Grant as Will Freeman, a cynical and immature man who is taught to start acting like a grown up from a young boy named Marcus Brewer, essayed by English actor Nicholas Hoult. The movie's greatest USP is that it's extremely likable. While actors Hugh Grant and Nicholas Hoult impress with their charming performances and showcase the camaraderie required for such a film, supporting actors Toni Collette and Rachel Weisz add on to the charm. The screenplay, co-written by the Weitz's and Peter Hedges, complements the performances with a solid structure, for which it was also nominated for an Academy Award for "Best Writing, Adapted Screenplay". On the whole, 'About a Boy' is a great watch and will definitely put a smile to your face.
9. Paper Moon (1973)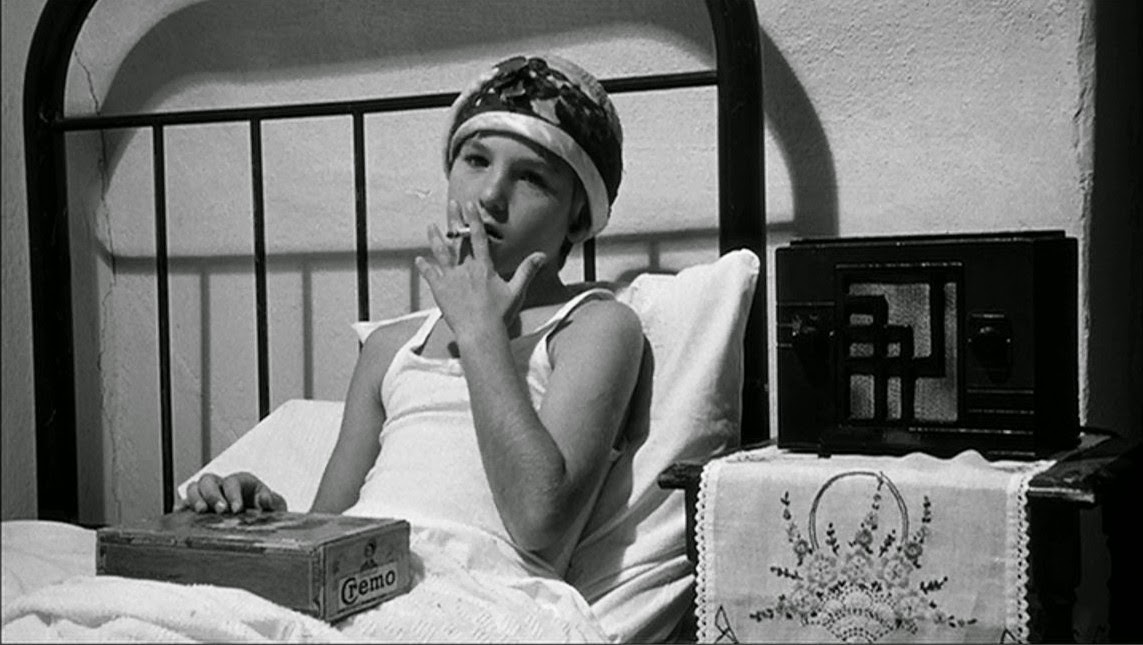 Adapted from Joe David Brown's 'Addie Pray', published in 1971, 'Paper Moon' is set during the Great Depression, where Moses "Moze" Praya, a con man, finds himself stuck with a young girl who may or may not be his daughter. However, as the narrative goes forward, the two forge an unlikely partnership. The film was cited as one of the best films of 1973. With brilliant performances by both Ryan O'Neal and Tatum O'Neal, the film is a great watch for those who are looking for a child-adult friendship. Tatum O'Neal went on to win an Academy Award for Best Actress in a Supporting Role, making her the youngest winner in the history of Academy Awards.
8. Alice in the Cities (1974)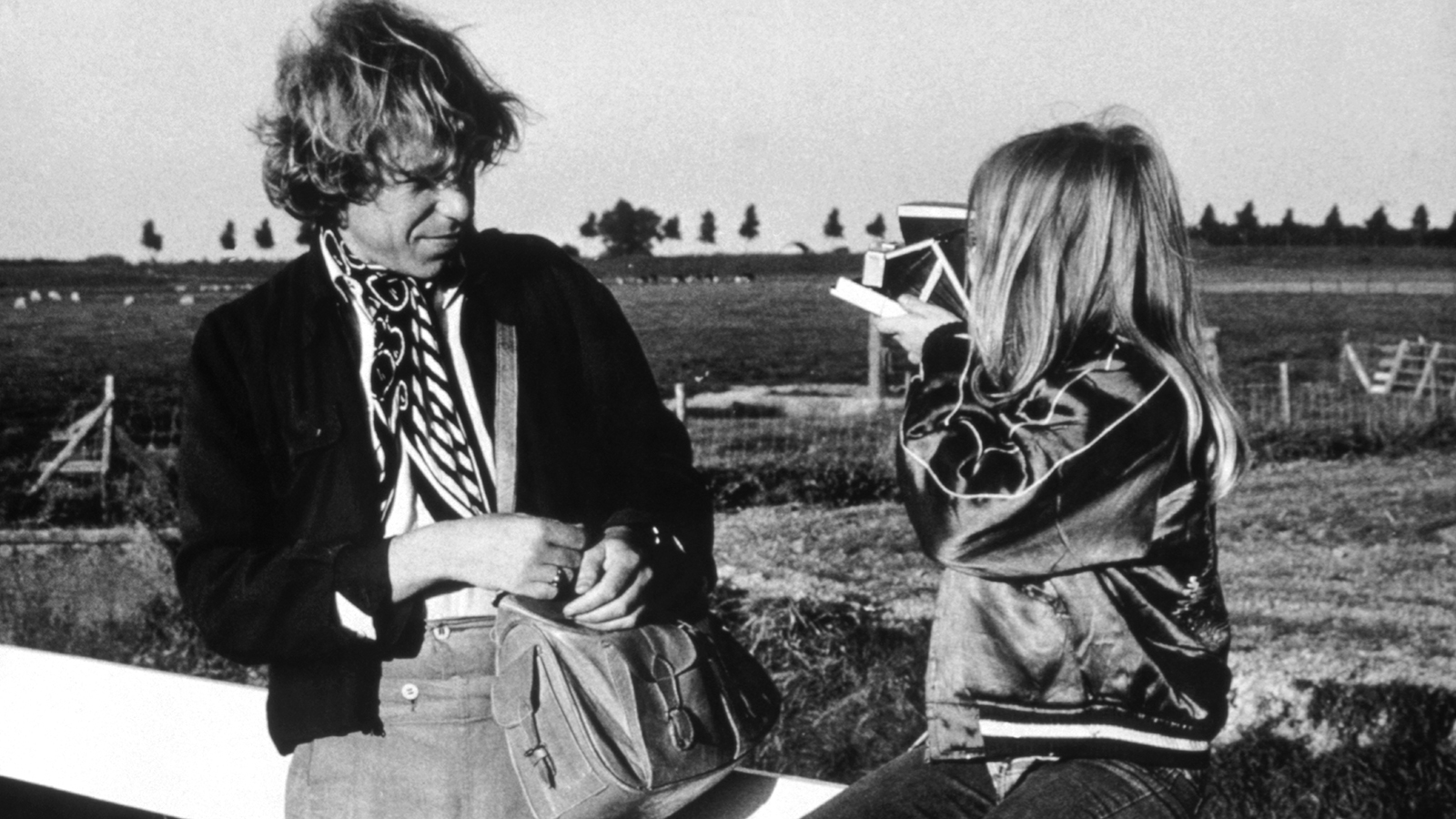 A German road movie, 'Alice in the Cities' follows German actor Rüdiger Vogler as Philip Wintera, a journalist who is lumbered with a nine-year-old girl after he encounters her mother at a New York airport. 'Alice in the Cities', through the relationship between Winter and the titular Alice, comments upon the cultures of Europe and America, and other themes such as the homogenization of nations. Much of the film's narrative is built upon the themes of the classic 'Paper Moon'. The film, upon its release, received immense critical praise. Among many of the critics who reviewed it positively, American film critic Jonathan Rosenbaum cited the movie as one of best films to be directed by Wim Wenders, writing "with its effective broodings over American and German landscapes and their ambiguous photographic representations."
7. Parenthood (1989)
Helmed on by director Ron Howard, 'Parenthood' is the story of a mid-western family by the name "Buckman" and how they live their lives while dealing with job insecurity, estranged relatives, and most important of all, raising children. The film is a perfect watch for all family members to come together on a Sunday and enjoy the charming performances of Steve Martin, Mary Steenburgen and Dianne Wiest. In addition, the film is not just emotions but is also a very well written and directed comedy.
6. Mary and Max (2009)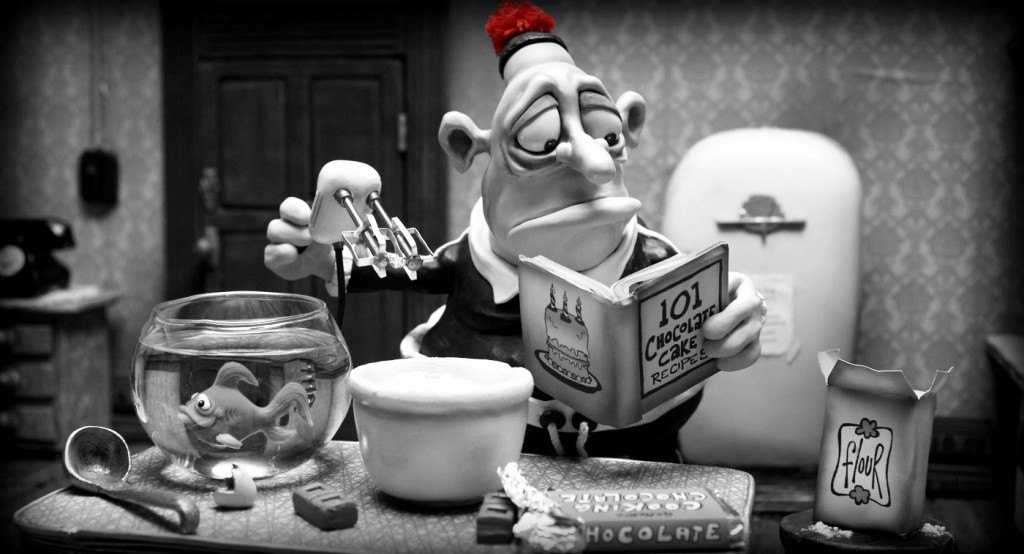 A stop motion animated comedy-drama, 'Mary and Max' is the tale of an unlikely friendship between two pen pals — Mary, a lonely, eight-year-old girl living in the suburbs of Melbourne, and Max, a forty-four-year-old, severely obese man living in New York. Written and directed by Adam Elliot, 'Mary and Max' explores a variety of themes including friendship, alienation, isolation, depression and anxiety. While the premise is considered "paper thin", director Elliot puts forth his best foot forward to churn out a deeply sympathetic and compassionate look at the relationship between Mary and Max. In the gamut of animated films, 'Mary and Max' is perhaps the most mature one that wisely deals with mental illness and obesity, without making crude "fat jokes".
5. Beetlejuice (1988)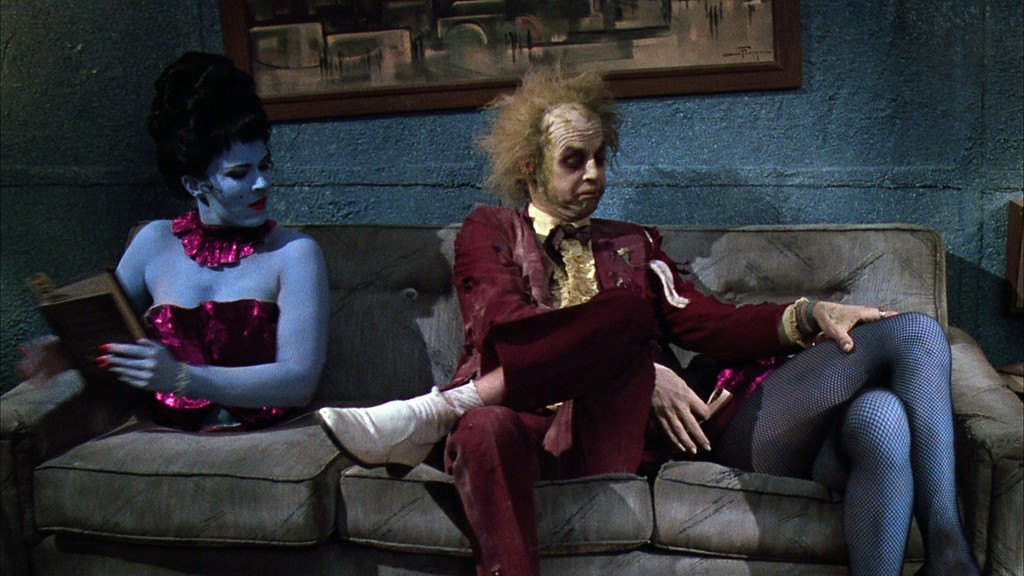 Directed by Tim Burton, 'Beetlejuice' draws inspiration from the classic "ghost-hunting" stories where the ghosts try to scare away new inhabitants. Starring Alec Baldwin, Geena Davis and Michael Keaton as the ghosts and Catherine O'Hara, Jeffrey Jones and Winona Ryder as the human inhabitants, 'Beetlejuice' was a map into Burton's bizarre world. The film is heavily influenced by the B-movie horror and its campiness and the visual qualities are brought to life by stop-motion, prosthetics and puppets. While McDowell's original script was much darker with little comedic elements, Burton decided to hire him to re-write the script along with Skaaren, giving birth to this cinematic brilliance. 'Beetlejuice' was met with critical and commercial triumph, winning the Academy Award for Best Makeup – thanks to Steve La Porte, Ve Neill and Robert Short and also spawning an animated television series of the same name.
Read More: Movies Like Pulp Fiction
4. Up (2009)
Directed by American filmmaker and animator Pete Docter, 'Up' is a buddy adventure film that follows a 78-year-old Carl Fredricksen, who plans to travel to Paradise Falls in his home equipped with balloons. However, he finds himself in a slightly tough spot when, inadvertently, a young boy joins the epic journey. The film presents the relationship between the septuagenarian and the young boy with compassion and care. 'Up' was an instant critical and commercial success at the time of its release. It went on to bag nominations at the Academy Awards, the BAFTAs, and the Golden Globes, to name a few.
Read More: Movies Like 'Up'
3. Cinema Paradiso (1988)
An Italian drama film, 'Cinema Paradiso' or 'Nuovo Cinema Paradiso' is the story of a filmmaker who recalls his childhood, when he fell in love with the pictures at the cinema of his home village after forming a deep friendship with the cinema's projectionist. Directed by Italian filmmaker Giuseppe Tornatore, 'Cinema Paradiso' is a brilliantly crafted piece of art which not only showcases a strong companionship but also pays a wonderful homage to cinema itself. A critical and commercial success, 'Cinema Paradiso' went to win the Grand Prix du Jury at the Cannes Film Festival, the Best Foreign Language Film at the Golden Globes and the Academy Awards, a César Award, and five BAFTAs. Since its release, 'Cinema Paradiso' revived Italian cinema and has gone on to be regarded as one of the greatest films off all time.
Read More: Movies Like Citizen Kane
2. Home Alone (1990)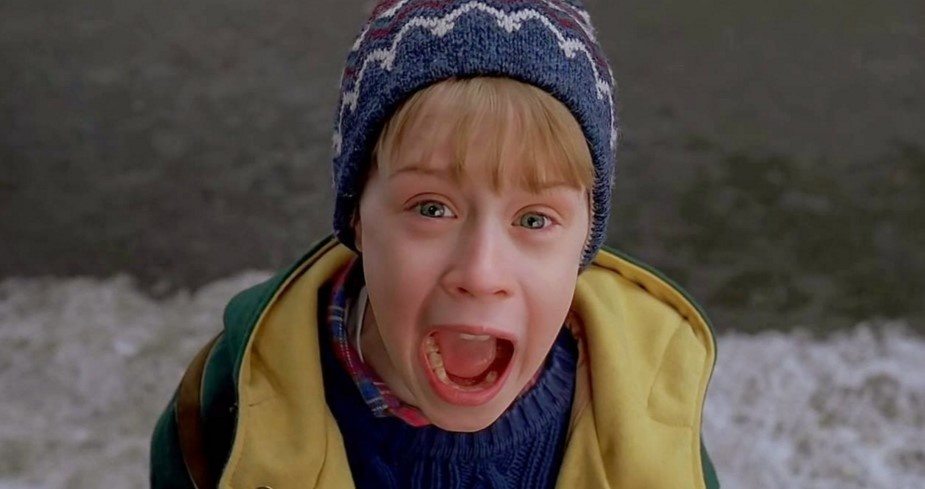 'Home Alone' stars Macaulay Culkin's booby-trapping Kevin and the wayward duo Harry and Marv, essayed by Joe Pesci and Daniel Stern. Directed by Chris Columbus, the movie follows the exploits of an 8-year-old troublemaker, Kevin, who upon being accidentally left home alone by his family during Christmas vacation, must protect his house from a pair of burglars, Harry and Marv. The film was an instant hit among the audience. While the thin plot was criticized by many critics, with some terming young Kevin's actions as "inexplicable", most lauded the brilliant performances of the comedic trio. Cited as a "Christmas classic" by many, 'Home Alone' was nominated for several awards, including an Academy Award for "Best Original Score", which was written by John Williams. Adding to its success, the film's positive critical reaction and humongous box office returns spawned four sequels.
Read More: Movies Like Manchester by the Sea
1. The Kid (1921)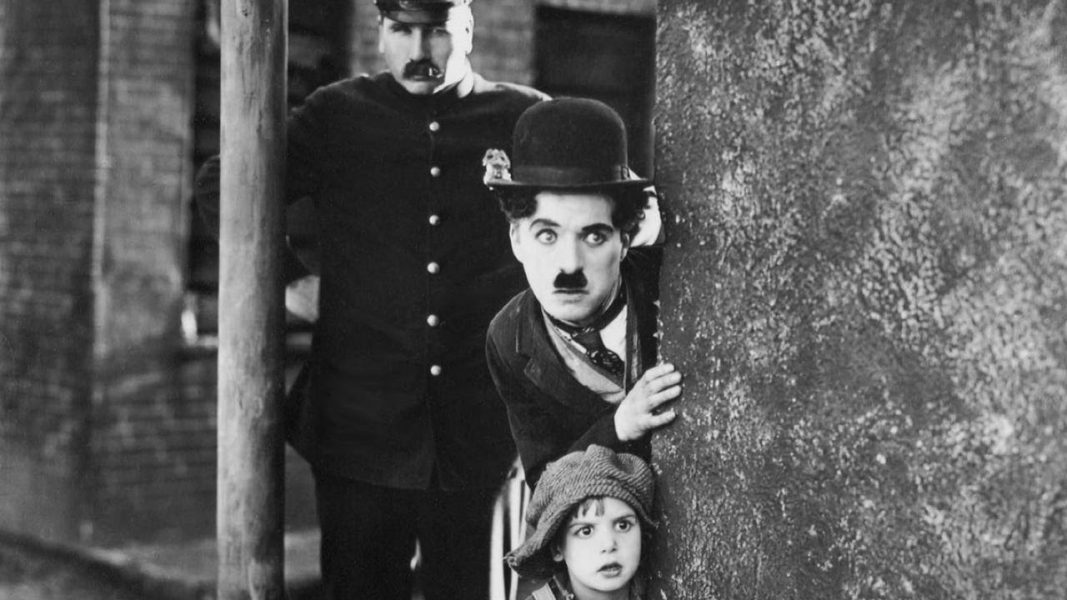 Directed by the brilliant Charlie Chaplin, 'The Kid' follows the relationship and camaraderie between a tramp and a young abandoned child. Considered one of the greatest films of all time, 'The Kid' also defined the genre of kid-adult friendships. Charlie Chaplin's deep emotionality is reflected here as he churns out one of his career-best films and performances. Although 'The Kid' is a silent film, its resonance with friendship, family, compassion and hardships transcend all barriers, making it an emotionally engaging experience for the viewers. The critical and commercial success has earned the film a legendary status and it is selected for preservation in the United States National Film Registry by the Library of Congress as being "culturally, historically, or aesthetically significant."
Read More: Movies Like Zodiac