One night at a friend's house party, a confident teen, Dave (Dylan O'Brien), meets an artistic girl named Aubrey (Britt Robertson). "The First Time" is the story of how they fall in love with each other over one weekend. It is a tale of first love and how confusing it is to experience love for the first time. Besides having witty dialogues and decent acting, this movie has a phenomenal soundtrack, each song is able to shine at the right moment. That is why this movie resonates with so many people around the world. If you are looking for a taste of similar themes and characters, here is the list of films similar to 'The First Time' that are our recommendations. You can also watch some of these movies like The First Time on Netflix or Hulu or Amazon Prime.
14. LOL (2012)
In a world connected to YouTube, iTunes, and Facebook every hour of every day, Lola (Miley Cyrus) and her friends navigate the pressures of high school romance and friendship. Combining the pressure of school and family is a never easy.. If you enjoyed "The First Time" you will probably enjoy this teen melodrama starring Miley Cyrus. The cast also includes Demi Moore, Thomas Jane, Gina Gershon, and Jay Hernandez.
Read More: Movies Like Juno
13. The Lucky One (2012)
After being attacked while serving in Iraq, Logan credits his survival to a mysterious photo of a girl with "Keep Safe" written on the back. When he returns to the United States, he decides he wants to find the mysterious girl and the owner of the photo. Based on the novel by Nicholas Sparks, "The Lucky One" touches a lot of important themes like post-traumatic stress disorder. But, besides these complicated issues, this movie also is about finding love when you least expect it. Directed by Scott Hicks, "The Lucky One" has Zac Efron and Taylor Schilling in the leading roles.
Read More: Movies Like The Predator
12. Endless Love (2014)
"Endless Love" tells the story of an impossible love between David and Jade. After they fall in love, Jade's overprotective father becomes determined to separate the young couple since he has other plans for his daughter. Will their love survive this hardship? Although the story is not very original, "Endless Love" will pleasantly surprise you because of a good cast. All of the actors have good performances, especially Gabriella Wildes. She played a young and innocent girl in a very convincing way. Additionally, it is the perfect movie if you are looking for a nice romantic date.
Read More: Movies Like Blackkklansman
11. The Last Song (2010)
Ronnie's (Miley Cyrus) and her younger brother, Jonah's, parents are divorced. They live with their mother, however, in the summer they are sent to live with their father (Greg Kinnear) in a small town near the beach. Through their mutual love of music, the father and daughter learn to reconnect. Based on the novel of the same name by Nicholas Sparks, "The Last Song" is a romantic, sad movie about teenage angst and finding love despite non-supportive parents.
Read More: Movies Similar to 'The Perks of Being Wall Flower'
10. Never Been Kissed (1999)
Josie Gellar (Drew Barrymore) wants desperately to become a reporter. When she gets the chance to do an article about high-school, she takes it without hesitation. Now Josie must go to high school again undercover. However, as the deadline approaches, the price of blowing her cover seems daunting, but inevitable (unless she sacrifices her career). Barrymore is engaging and convincing in this interesting role. The movie isn't exactly surprising, but fans of films set in high school and first times will appreciate it a lot.
Read More: Movies Like Irreversible
9. A Walk To Remember (2002)
"A Walk to Remember" is a classic romantic and tragic story about two North Carolina teens, Landon Carter and Jamie Sullivan. After Landon makes a joke that leaves a boy in the hospital, he is forced to participate in after-school activities as punishment. That is when he meets Jamie, and both their lives change. "A Walk to Remember" is a heart-breaking, well-executed movie with memorable performances. Mandy Moore is incredible as a beautiful young woman, that is both vulnerable and strong. Similarly, Shane West also surprises as the rebel Landon. This is an emotional film about first love, loving for the first time. And that is why you should watch it if you liked "The First Time".
Read More: Movies Like The Shining
8. Stuck in Love (2012)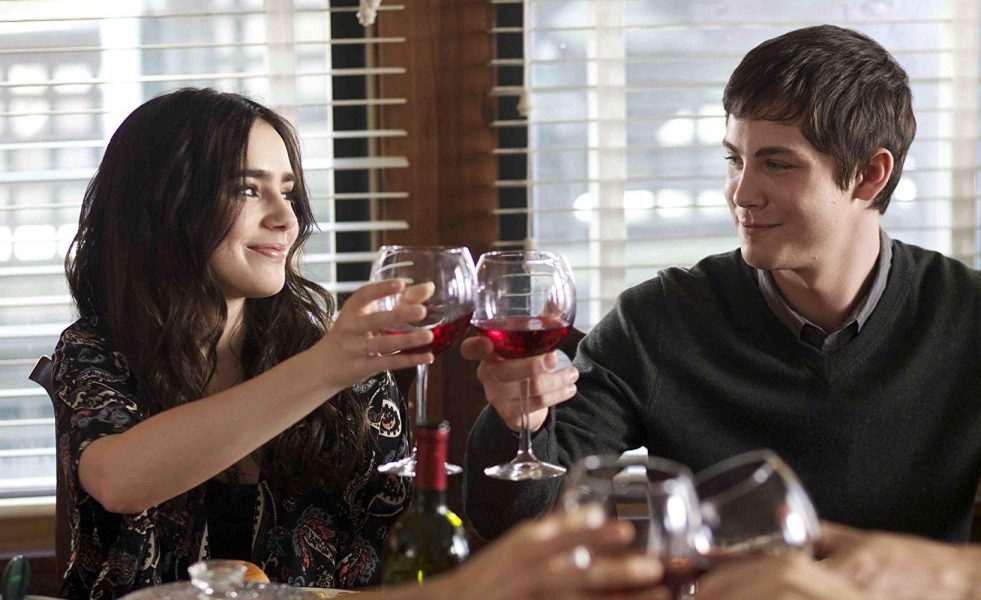 Love is very complex in all its forms. "Stuck in Love" explains such complexity through the Borgens. William, an acclaimed writer, his ex-wife Erica and their teenage children slowly realize that romance, friendship, and family are not easy to conciliate. This movie tells a tale of family, of finding and losing love, how an ending can be the beginning of something new. Written and directed by Josh Boone, this film manages to surprise many even today due to its masterful cinematography, indie look, and authenticity.
Read More: Movies Like The Incredibles
7. The Fault In Our Stars (2014)
Hazel and Augustus are two teenagers who fell in love despite an arduous life. Their relationship is special, given that Hazel's constant companion is an oxygen tank and Gus jokes about his prosthetic leg. This moving love story is unique and unpredictable, something very rare nowadays. As the main characters, Elgort and Woodley truly deliver a great performance. Their chemistry is so good you forget you are watching a movie. Overall, "The Fault in Our Stars" is a sad but incredibly beautiful teen love story, an emotional roller coaster about life.
Read More: Movies Like Knocked Up
6. 10 Things I Hate About You (1999)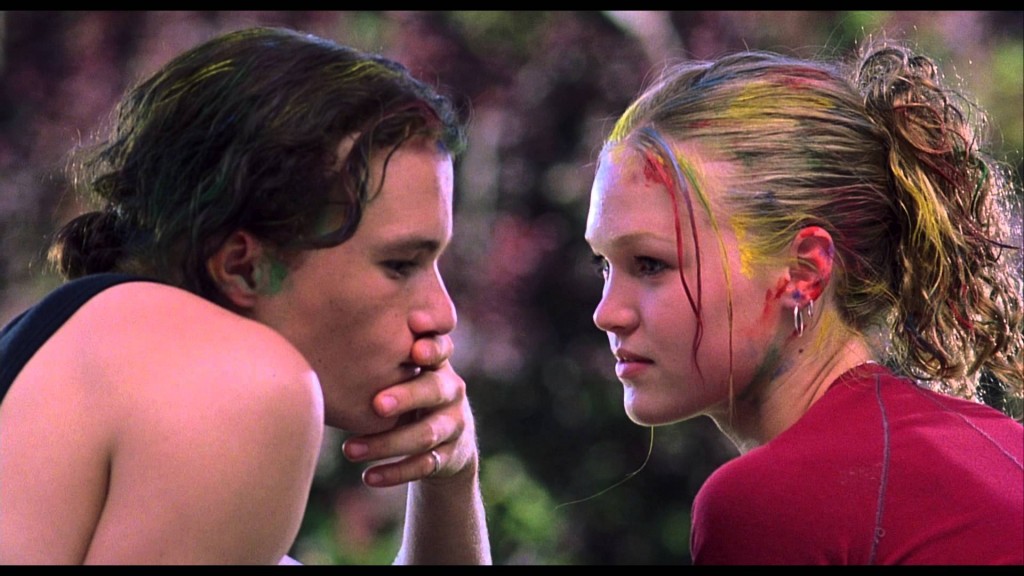 An updated version of Shakespeare's "Taming of the Shrew", this movie follows Kat that would rather die than go out with a boy. However, her sister Bianca is dying to go out with Joey, but she is only allowed to do it if her older sister also starts dating. Bianca's desperation for romance turns into an intricate scheme to match Kat with someone. A lot of teen movies have very basic or clichéd plots, but not this one. "10 Things I Hate About You" has a lot of interesting twists and a music score to die for. Moreover, Julia Stiles, Heath Ledger, and Joseph Gordon-Levitt have amazing performances.
Read More: Movies Similar to 'The Spectacular Now'
5. The Art of Getting By (2011)
George everything in life is pointless since he believes everyone is born alone and dies alone. But when he meets Sally, a popular girl at school, and Dustin, a successful artist, his life changes completely. "The Art of Getting By" will bring you back memories of your high school days for sure. It is all about teenage angst, first love and realizing what you want to be in the near future. This movie is a hidden gem, with spectacular performances by Freddie Highmore and Emma Roberts. A teenage indie drama directed and written by Gavin Wiesen.
Read More: Movies Like Love, Rosie
4. Two Night Stand (2014)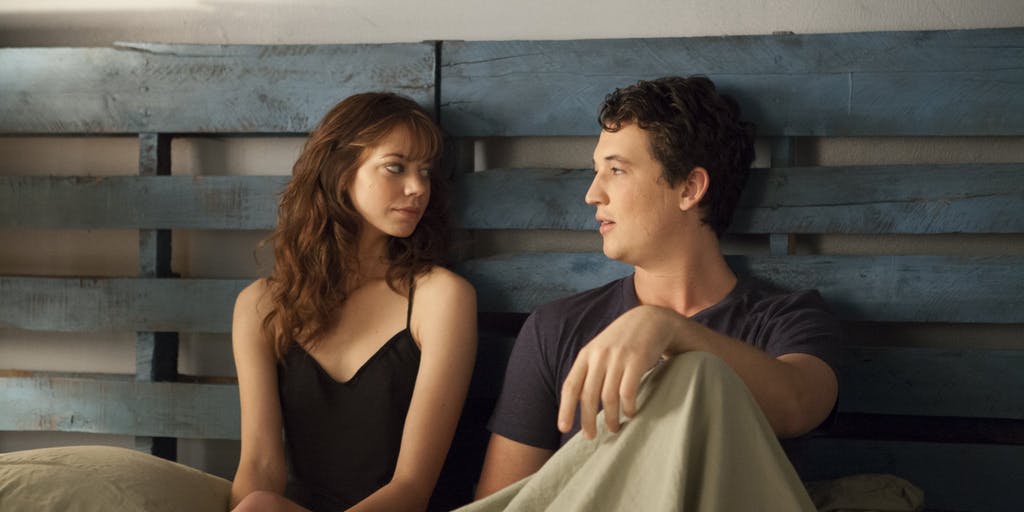 A snowstorm forces two people who made an online connection to unwillingly extend their one-night stand as the blizzard goes through the night. "Two Night Stand" is an original romantic comedy starring Analeigh Tipton and Miles Teller. The characters, structure, and ending make it a different romantic comedy. By exploring a reasonably believable scenario and by having a smart and funny dialog, director Max Nichols was able to create a connection between the characters and the audience.
Read More: Movies Like Game Night
3. Love at First Hiccup (2009)
Victor is a young man that has contracted Anya-itis (a severe and irredeemable passion for high school senior Anya). However, she is beautiful and popular, which means she is way out of his league. But when something unexpected happens, Victor might have a chance of gaining Anya's love. "Love at First Hiccup" is a refreshing and witty romantic comedy starring Scout Taylor-Compton and Devon Werkheiser. Besides having interesting characters, writers Rothenborg and Frellesen created an intelligent script that is the soul of the movie. Overall, "Love at First Hiccup" is the type of movie that you will want to watch again and again.
Read More: Movies Like Bridesmaids
2. The Perks of Being a Wallflower (2012)
Based on the novel written by Stephen Chbosky, this film follows 15-year-old Charlie (Logan Lerman), an outsider, coping with first love (Emma Watson), the suicide of his best friend, and his own mental illness while struggling to find his place in high school. "The Perks Of Being A Wallflower "may not be the most faithful adaptation but the spirit of the story is still there, therefore doing great justice to the book. Besides the amazing performances by the whole cast, this film also has a powerful dialogue that is very honest and realistic. Although the directing is nothing extraordinary, the music score is filled with well-known songs that will make you want to sing (and cry) while watching the movie.
Read More: Movies Like Forever My Girl
1. Love, Rosie (2014)
Rosie and Alex know each other since they were 5 years old, and they have been friends ever since. "Love, Rosie" is a modern movie about true love, missed opportunities and making the right choices. It will make you believe that anything is possible and that you should never lose hope. Lily Collins and Sam Claflin play Rosie and Alex in such a charming way, it is impossible not to empathize with them. Hopeless romantics, realists and pessimists will all love the incredible story portrayed in "Love, Rosie".
Read More: Movies Similar to 'Mean Girls'