Directed by Barry Sonnenfeld, 'Wild Wild West' is a western action comedy about Captain James "Jim" T. West and Artemus Gordon, essayed by Will Smith and Kevin Kline, who are two rival Secret Service agents. They have to put their ideological differences aside and work in collusion to protect U.S. President Ulysses S. Grant and the United States of America.
Loosely adapted from Michael Garrison's television show 'The Wild Wild West', which ran during the 1960s, this action comedy was not met with positive reviews from critics but was a commercial success. The film is not cohesively written and is quite poorly directed. However, despite all these issues, 'Wild Wild West' is steered into comedic charm by Will Smith and Kline. The movie is not to be watched for its cinematic quality but is to be enjoyed for the two lead actors.
For this article, I have taken into account films which have narrative traits similar to 'Wild Wild West'. They may not have the same story-lines but are all similar, thematically and stylistically. Here's the list of best movies similar to 'Wild Wild West' that are our recommendations. You can watch several of these movies like 'Wild Wild West' on Netflix, Hulu or Amazon Prime.
10. Evolution (2001)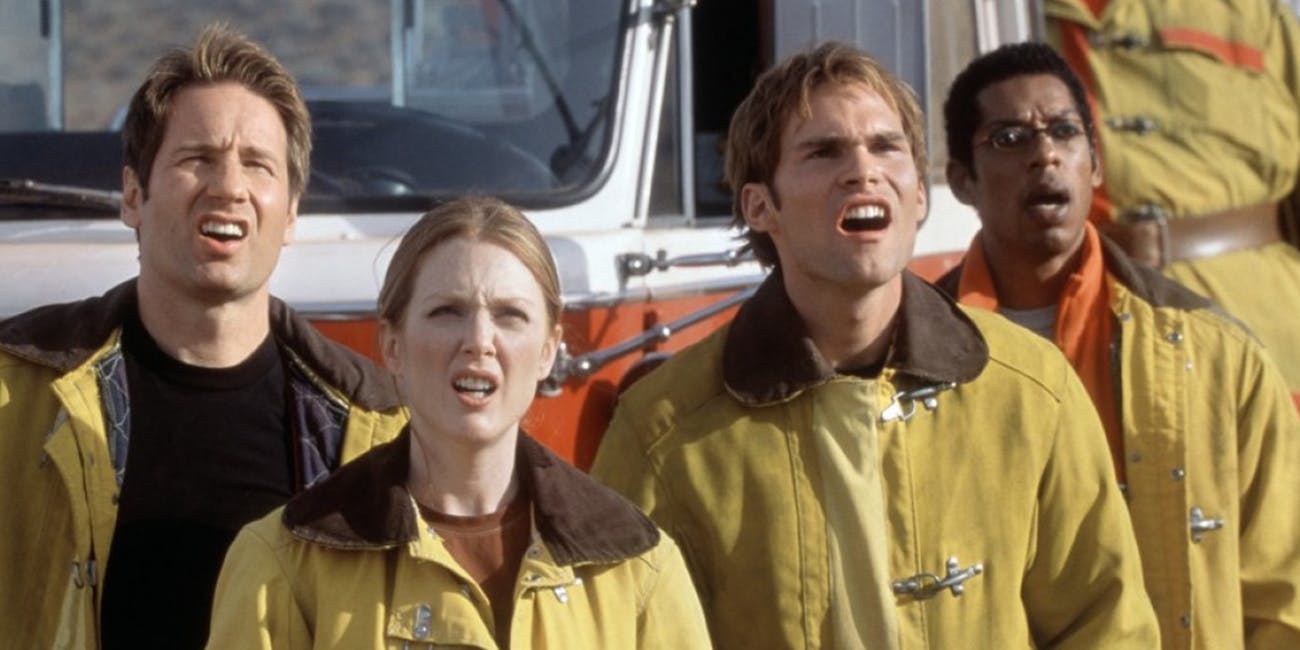 A science fiction comedy, 'Evolution' follows a fire-fighting cadet, two college professors, and an "attractive" geeky government scientist — essayed by Seann William Scott, David Duchovny, Orlando Jones and Julianne Moore respectively — who join alliances to fight a vicious alien organism that has been briskly evolving since it crashed on Earth inside a meteor. Directed by Slovakian–Canadian filmmaker Ivan Reitman and co-written David Diamond, David Weissman and Don Jakoby, 'Evolution' was criticised for its narrative similarity with the classic 'Ghostbuster'.
9. Iron Sky (2012)
Directed by Finnish filmmaker Timo Vuorensola, 'Iron Sky' follows the infamous Nazis who, in 1945, set up a secret base on the dark side of the moon where they hide and plan to return to power in 2018. One might ask how one can infuse comedy in such a dark narrative, and that is exactly what makes the film an interesting watch. In addition, the production design and the CGI are quite good, considering its low budgets. Although the film does not boast of a consistent screenplay and a solid direction, 'Iron Sky' is still a pretty funny and witty comedy which was quite loved by some. The commercial lucidity helped the produce a crowd-funded sequel, titled 'Iron Sky: The Coming Race', which released early January this year.
8. R.I.P.D. (2013)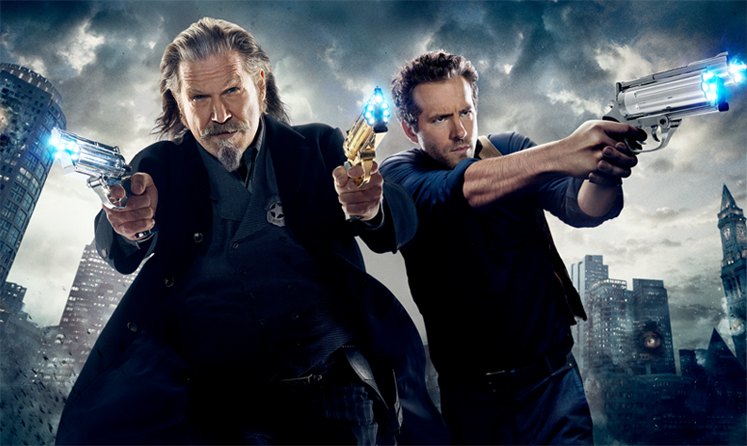 An adaptation of Canadian writer Peter M. Lenkov's comic book 'Rest in Peace Department', 'R.I.P.D' is a science fiction action comedy which follows Ryan Reynolds as detective sergeant Nick Walker, who is murdered on duty. However, he is found to be living in afterlife after he was recruited by a team of "undead" police officers working for the Rest in Peace Department. He is paired up with Jeff Bridges' Roycephus "Roy" Pulsipher, a veteran of the Civil War and the R.I.P.D, and together they try to catch the culprit who murdered Walker.
Although the screenplay and direction of the film are below par, what takes 'R.I.P.D' forward in the department of comedy is the comedic duo. Their chemistry on screen helps in crafting a comic in the often dull departments, and their action sequences are pretty cool and entertaining. While it is certainly a critical and commercial failure, you can catch the film solely for Reynolds and Bridges.
7. The Watch (2012)
Directed by American filmmaker Akiva Schaffer and co-written by Jared Stern, Seth Rogen and Evan Goldberg, 'The Watch' follows four men — Evan Trautwig, Bob McAllister, Franklin and Jamarcus — who are a part of the neighbourhood watch group. Their mundane lives are suddenly turned upside down when they get stuck in a situation where they have to defend the Earth from a gigantic alien invasion. The film is full of offensive jokes and crude humour, for which it received a lot of criticism. However, for those who love such narrative coupled with the comedic performances of Ben Stiller, Vince Vaughn, Jonah Hill and Richard Ayoade, 'The Watch' is a pretty good watch. Among its positive critiques, Betsy Sharkey of the Los Angeles Times wrote, "the funniest stuff comes from the kind of situational misfires that can happen when dudes try to do things, like catch aliens, that they are clearly not cut out to do."
6. Cowboys & Aliens (2011)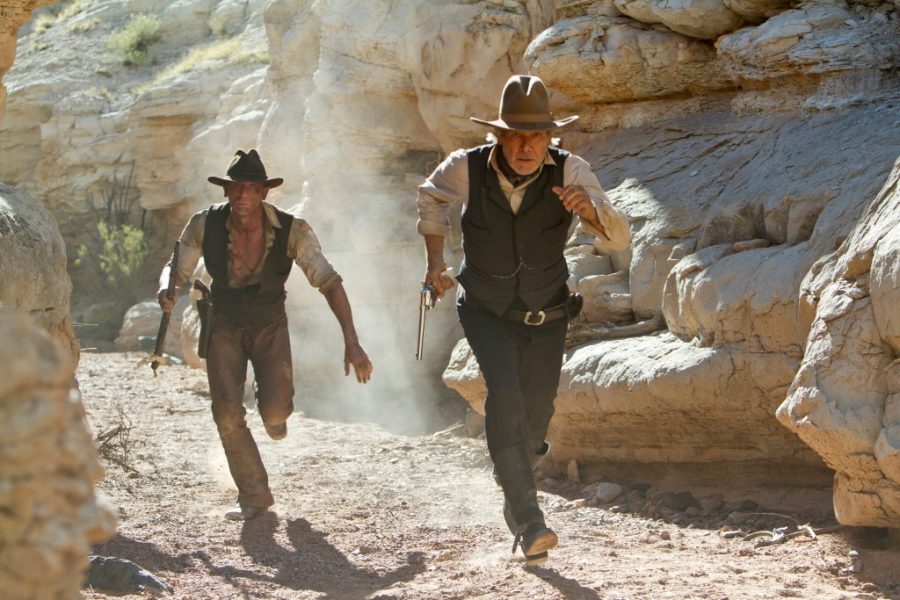 A science fiction Western film, 'Cowboys & Aliens' features Daniel Craig as Jake Lonergan, an outlaw who suffers from amnesia and Harrison Ford as Colonel Woodrow Dolarhyde, a powerful cattleman. The two are bound to join forces to save a group of people who have been abducted by extra-terrestrial creatures. 'Cowboys & Aliens' is an adaptation of Scott Mitchell Rosenberg's comic book of the same name, published in 2006. Directed by American actor and filmmaker Jon Favreau, who helped conceive the now critically and commercially successful MCU, unfortunately, does not do much in 'Cowboys & Aliens'. Nonetheless, the film scores the points in the production design and the performances.
5. Men in Black II (2002)
The second instalment of the 'MIB' trilogy, 'Men in Black II' stars Will Smith, reprising his role as Agent J, who is sent to find Agent K, played by Tommy Lee Jones, and restore his memory after the re-appearance of a case from K's past. Will Smith's loud brazen humour and Tommy Lee Jones' deadpan comedy sharpen the film's comedic tone, making it a memorable watch.
Read More: Movies Like Black Panther
4. The Adventures of Buckaroo Banzai Across the 8th Dimension (1984)
Directed by W. D. Richter and written by Earl Mac Rauch, 'The Adventures of Buckaroo Banzai Across the 8th Dimension' follows the titular Dr. Buckaroo Banza, a polymath, who specialises as an adventurer, brain surgeon and rock musician who along with his crime-fighting team, the Hong Kong Cavaliers, are put up to the task of stopping evil alien invaders from the "eighth dimension" who want to conquer Earth. Reviewed to be a "strange" and "senseless" film, 'The Adventures of Buckaroo Banzai Across the 8th Dimension' has cultivated as a cult classic over the years.
Read More: Movies Like Annihilation
3. Innerspace (1987)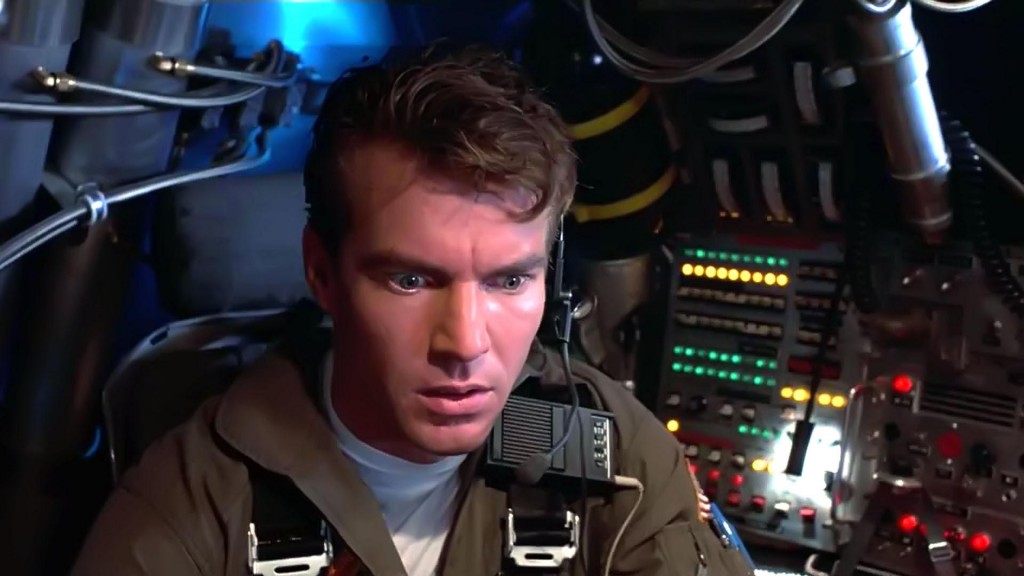 Directed by Joe Dante and co-written by Jeffrey Boam and Chip Proser, 'Innerspace' is a science fiction comedy about Jack Putter, essayed by Martin Short, an ill-fated store clerk who has to rise up to the occasion to save the life Lt. Tuck Pendleton, played by Dennis Quaid, who was miniaturised in a secret scientific experiment and was accidentally injected into him. With such a bizarre but funny premise, a talented crew is a necessity to execute the idea successfully. 'Innerspace' does not deliver on the premise to its full potential, but scores points in being funny and witty. The chemistry between Short and Quaid is solid as they churn out comedy in nearly every frame. The visual effects department also does a pretty great job considering its times, and the team consisting of Dennis Muren, Bill George, Harley Jessup and Kenneth Smith won an Oscar for "Best Effects, Visual Effects" for their cumulative efforts.
Read More: Movies Like V For Vendetta
2. Hancock (2008)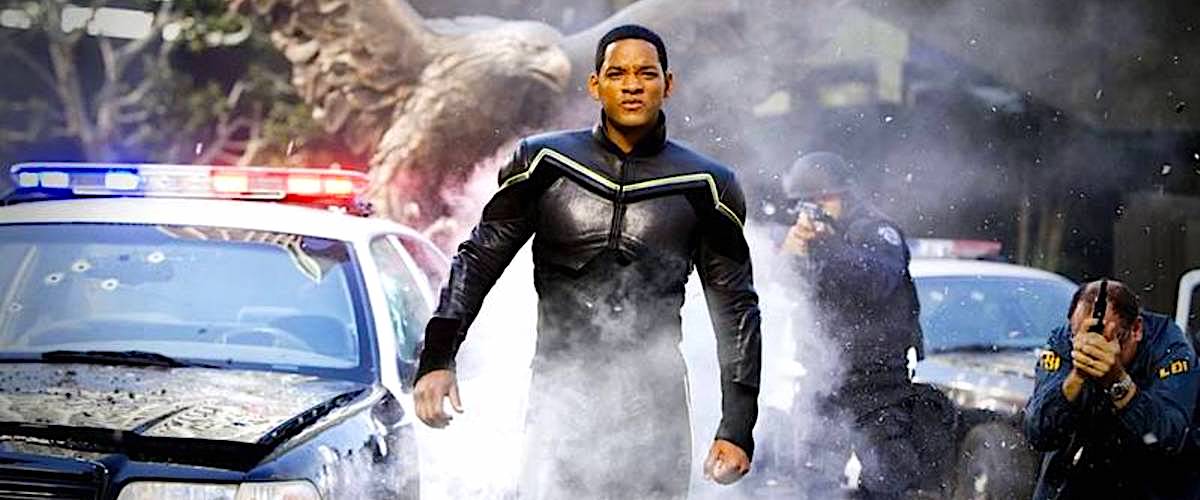 Directed by Peter Berg, 'Hancock' follows the titular character, essayed by action-comedy favourite Will Smith, whose poor behaviour brings extreme public harm and damage which causes the society to denounce him. However, things start turning for the better when Ray Embrey, played by Patrick Bateman, a man whom Hancock had saved, makes an effort to help him change is persona to improve his public image. Originally conceived in 1996 by Vincent Ngo, the film was in development hell for nearly 12 years. However, with the combined work of Berg, Smith and Bateman, the film is quite an entertaining watch. Although the movie got buried under the critical and commercial success of Christopher Nolan's masterpiece 'The Dark Knight', this superhero action comedy has stood its ground for its hilarity and sometimes brutal action.
Read More: Movies Like I am Legend
1. Galaxy Quest (1999)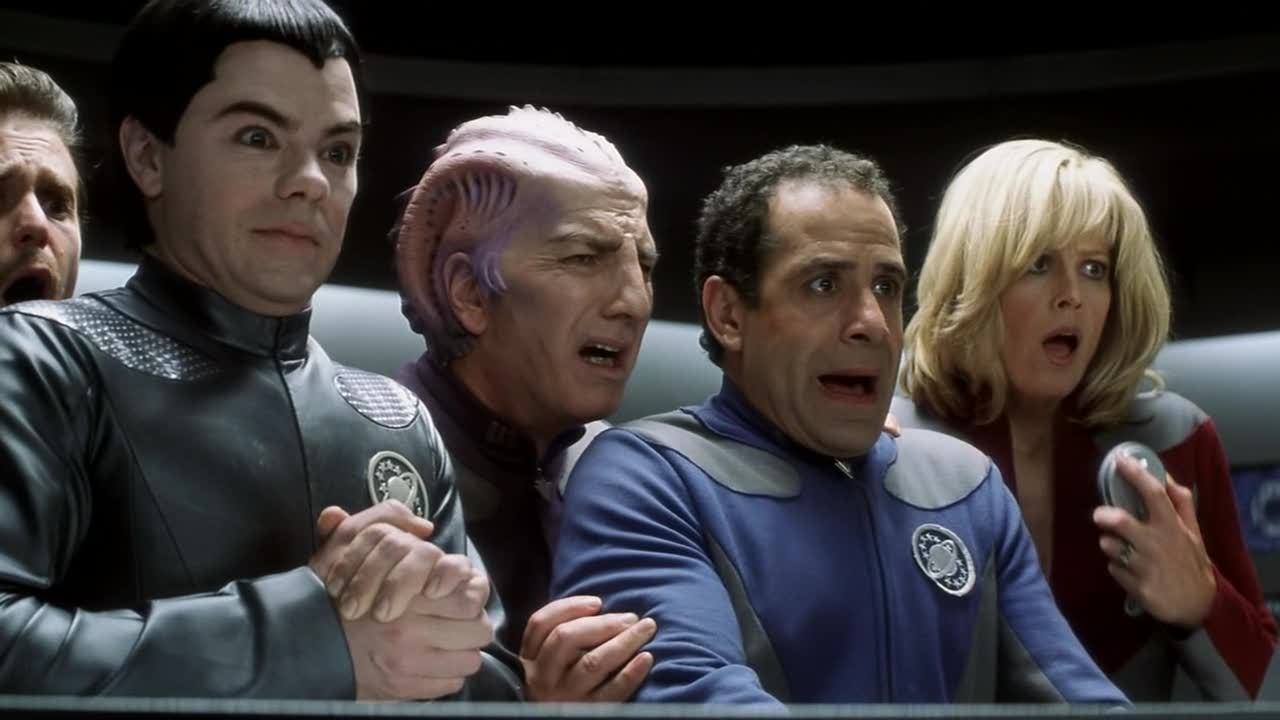 Directed by American filmmaker Dean Parisot, 'Galaxy Quest' is a parody which follows the cast of an obsolete science fiction television series of the same name, who are suddenly visited by actual aliens who think that 'Galaxy Quest' is a documentary and thus get embroiled in an intergalactic battle. A parody of the famed science fiction film series 'Star Trek', the film is extremely self-referential in its narrative. It received positive critical reviews but hasn't really aged well. American film critic Roger Ebert praised the tone of the flick for spoofing an inherently illogical show.
Read More: Movies Like 'Star Wars'