Last Call, Pitches! But it seldom is, right? Contrary to the very tagline of the third Pitch Perfect film, Hollywood's own upper borderline PG-13 musical comedy franchise began with the surprise hit that was the first 'Pitch Perfect' back in 2012. Come to look at it, a trilogy at least was most warranted, given the hugely loyal fanbase that the film was able to conjure for itself. The second and third only barely added to the sort of quasi phenomenon that the first one turned out to be, just as the critical scores dwindled and collections revised in the upwards direction.
The third 'Pitch Perfect' film was touted to be a swansong for the Barden Bellas as it showed the already graduated members of the a capella group having moved on with their respective individual lives, reuniting later for an overseas USO tour following their win at the world championship in the second. Evidently so, each sequel has gotten bigger if not better, in moving from a university competition to a world championship to a world tour (mostly).
I am not sure how another sequel works out to be bigger than that, but what the fourth one, if it happens though, would have to essentially entail would be a reunion after a reunion, which would be a mammoth task to pull off without the risk of overdoing it. More on that in the upcoming sections, but the forecast from the western front is that a sequel may very well be happening. Welcome back, Pitches? Read on to find out everything we know about it.
Pitch Perfect 4 Plot: What Could It Be About?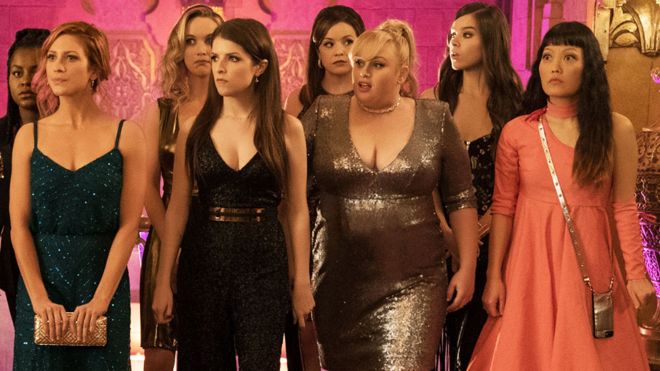 The reason for this write-up, or why we are discussing the possibility of a sequel in the first place is a tease by the cast itself on Rebel Wilson's Instagram. The ladies who reunited for Anna Camp's birthday party held up four fingers in the photo. Unless it's an inside group signature, we all know what we would like to believe. One does think of simpler times when sources of journalistic speculation were, well, plain predictions and arrows in the dark, as opposed to a social media post today doing rounds on the internet. Some hit, some miss, but it has always been a lot of fun invariably.
The possibility of a sequel, despite the all confirming social media post, is a bit of a Catch-22, still. The third film that came out in 2017 was the worst received in the franchise by a large margin, and a similarity in trends was observed with the audience reactions as well. The film ended up grossing $183 Million in ticket receipts globally, massively short of the second film, but a step up from the first film. From a commercial standpoint too, the makers (Universal Studios) have all the reasons to pull the pistons on this one, only if it wasn't for the love this franchise has received and how much more the cast itself wants it.
Trish Sie, the director of 'Pitch Perfect 3', said this about the possible development of a fourth film: "Of course that's above my pay grade and I have no idea and am not the one making the decisions but as far as I am concerned, I would see these movies on and on and on until they start sucking. I think whether it's these women in the next stage of life or it's a new group of women going through these things, I think there are endless ways to chart the course of the girls' lives and a woman's life." As for the very talented and fun cast that is all game to return and very much want to see a sequel happen, Rebel Wilson, who plays Fat Amy on the three films, said this about the bond that the Pitch Perfect girls share: "We are all very busy ladies, so we like to catch up and have reunions. We are all such different girls and we are all smashing it. We would love to do a fourth movie, so we'll see."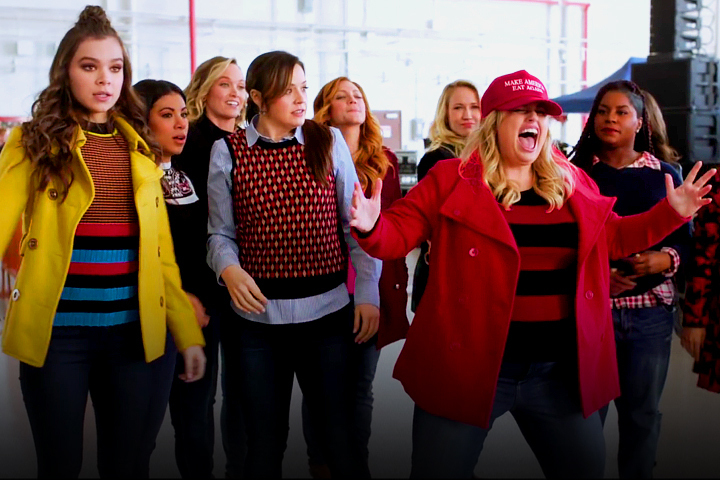 Another reason that I am hopeful that a fourth one will work out is that Universal may be running thin on franchises to bank upon, of which the Bellas are one. Needless to say, they would want to keep this going, and one of the ways for that could be for the Bellas to step in a cameo-ing capacity as mentors to a new generation of Bellas, passing the baton to a fresh cast while keeping the stars from the previous films intact. Wilson further stated that "I'm sure Universal is going to hate me for saying this. All us Bellas love each each other. We just want to work with each other. The girls are just awesome. There's been a bit of rumours about whether there'll be a future for the franchise, and we've heard there might be, so we're very encouraging about it."
Pitch Perfect 4 Cast: Who Is In It?
Pitch Perfect wouldn't just be the same without its original Bellas and the girls it has added to the roster over the course of the trilogy, including Anna Kendrick as Beca Mitchell; Rebel Wilson as Patrica "Fat Amy" Hobart; Hailee Steinfeld as Emily Junk; Brittany Snow as Chloe Beale; Anna Camp as Aubrey Posen; Hana Mae Lee as Lilly Onakuramara/Esther; Ester Dean as Cynthia Rose Adams; Chrissie Fit as Florencia "Flo" Fuentes; Alexis Knapp as Stacie Conrad; Kelley Jakle as Jessica Smith; and Shelley Regner as Ashley Jones. I am counting on all these Bellas to return for a fourth outing. Apart from them, John Michael Higgins as John Smith and Elizabeth Banks as Gail Abernathy-McKadden-Feinberger should return as the two a capella commentators making the insulting documentary about the Bellas which was mean but hilarious.
John Lithgow as Fergus Hobart, Fat Amy's criminal father, should also be in it. DJ Khaled appeared as himself performing in the lead in the USO tour. Perhaps he too could return as the real life star in the sequel, kind of like 'The Hangover' did with Mike Tyson.
Pitch Perfect 4 Crew: Who Is Behind It?
All three films have been directed by different directors, but Kay Cannon has been pivotal as a writer in the development of the franchise. It may not be confirmed yet as to who will direct a possible fourth outing, but Kay Cannon may very well be touted to return in the writing department.
Pitch Perfect 4 Release Date: When Will It Premiere?
The three Pitch Perfect films haven't been separated by a very long gap, but then again, one must believe that they were planned in quick succession. The fourth one isn't planned yet or announced, and it's already been two years since the last one came out. I place a wager on 2021. The gap thus may be uncharacteristic this time around, but hopefully it will be worth it.
Read More in Previews: High School Musical: The Musical: The Series | Pirates of the Caribbean 6