A major plot point of most movies has been love and its expressions, and one of the most natural expressions of love is sex. While sex has for a long time been portrayed in films, with progress in gender studies, filmmakers too are experimenting with sex in their films – with homosexuality, questioning heteronormative practices, toying with BDSM, you name it. 2017, that is, the last year has seen some fantastic films which has explored sex and sexuality and here is the list of some of the top sex scenes and love making scenes of 2017.
10. The Shape of Water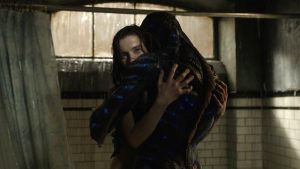 Guillermo Del Toro's movie has been making ripples and creating waves in the award ceremonies [excuse the word play]. His deeply touching sci-fi movie about a woman who falls in love with a fish-like creature might be seen as some as a modern-day retelling of the beauty and the beast tale but Del Toro takes it up a notch in portraying interspecies love and hitting upon a primal chord of shared affection between all living creatures. The sex scene itself is deeply touching and strangely erotic – the primal passion and the tenderness between Elisa and the Amphibian man shatter all conventions of heteronormativity as it portrays an interspecies sexual relation. A bold and brilliant move by Del Toro, this film definitely deserves the spot on this list.
Read More: Best Nude Scenes of 2017
9. Alien: Covenant
Directed by Ridley Scott, this film becomes a notable addition to the Aliens franchise. However, we're not here to talk about the merits of the film, of which there are many. We are here to talk about the sex scene in the shower. The scene itself is steamy, with a couple getting it on in the shower and just when things are heating up, the scene takes a gory twist as the man is killed by a Xenomorph and his blood splatters all over the woman's face. Frankly, the sudden gore will probably be a major turn off for the viewers but the moments leading up to it will have you reaching for a glass of cold water.
Read More: Actors Who Went Nude For Movies
8. Professor Marston and the Wonder Women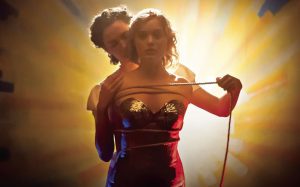 A look into the life of the creator of the iconic comic book superhero – Wonder Woman. My God, how could this even have a sex scene? Right? No, you're wrong ! Professor Marston, the Harvard psychologist invented the lie detector and it appears from the movie that his creation Wonder Woman had a lot to do with his sex life and exploration of kinks, including a rope (bet you the lasso of truth seems like a whole new thing now). Anyway, the film's most erotic moment comes when Olive's lies are caught on the lie detector. Marston and his wife's sexual denial had already been documented at the time and by the time Olive's account was taken in, they all moved towards a very steamy polyamorous scene that will remain etched in my mind for a long time.
Read More: Best Nude Scenes in Movies
7. Fifty Shades Darker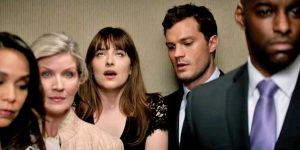 Based on EL James' novel of the same name, we all know that Christian Grey and Anastasia Steele's love affair is not conventional. They share a dom-sub relation and while the movie gets a lot of BDSM conventions wrong, they don't really go wrong with the sex scenes. This is of course not surprising since both Dakota Johnson and Jamie Dornan are incredibly hot. The movie has its steamy moments and the one that stands out here has to be the scene where Christian Grey fingers Anastasia in a crowded elevator. The simple possibility of being caught by the other people in the elevator is a major turn on for the scene and the exhibitionist trend is sure to get your blood pumping. Dakota Johnson portrays a woman being pleasured quite expertly and Christian Grey's command preventing her from reaching a climax might just be enough for some viewers to reach theirs.
Read More: Best Adult Movies of 2017
6. Lady Bird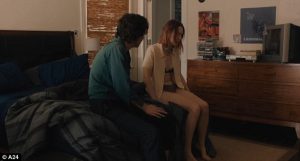 A fantastic coming of age film, this movie is about a teenage girl and understandably will include sex. Ladybird does so and while the scene is definitely tastefully shot to capture the erotic pleasure of sex, the director is also mindful of the message that this is Lady Bird's first time. Thus it is also a little awkward and not how she meant it to go. More than the erotic quotient of the scene, the emotional impact of the act of losing one's virginity is brought out expertly in this movie.
Read More: Best Actresses of 2017
5. The Beguiled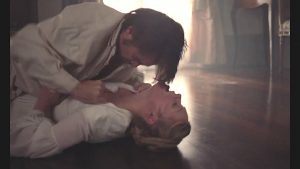 Directed by Sofia Coppola and based on Thomas P Cullinan's novel, this film is about a wounded Union Army soldier who is taken in by a girls' boarding house and is nursed back to health. The encounter with a man for the first time in their lives brings to surface suppressed desires and a natural culmination of that is sexual intercourse. One of the hottest scenes in the film is between Colin Farrell and Kirsten Dunst's character. Although Dunst herself said that the shoot on the floor was a bit uncomfortable and she did not use tongue in the scene, she also affirmed that Sofia Coppola was very understanding and Farrell did his bit to try to make her as comfortable as possible. The scene in itself is raw with a passion which is, of course, a testament to both these actors' prowess and the passion of the first sexual encounter for Edina Morrow (Dunst) shines through in this very steamy scene.
Read More: Best Adult Movies of 2018
4. Tulip Fever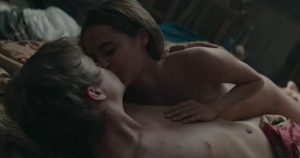 Directed by Justin Chadwick this film stars Alicia Vikander and Dane DeHaan. Vikander who has always pushed her own limits as an actress and has never let anything get in the way of artistic integrity has some very racy scenes in this movie. A woman who falls in love with a painter, Vikander's character has a romp with her co-star in a scene that'll make your face go red. Unabashed and unbridled passion radiates in the scene making it one of the hottest of this year.
Read More: Best Movies Like Porn on Netflix
3. Call Me By Your Name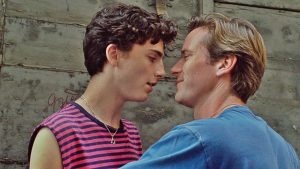 Directed by Luca Guadagnino, this film has one of the hottest homoerotic scenes I've ever seen. What's even better is that there is nothing shown explicitly. The peach becomes a symbol of the sexual union between Elio and Oliver. Elio realizes that a pear is shaped like a butt and comes in the pear, which Oliver dipping a finger in tastes. The entire scene is shot tastefully but at the same time, the undertones of passion and eroticism burst through making this one of the most noteworthy scenes to appear in a movie this year.
Read More: Best Movies of All Time
2. The Layover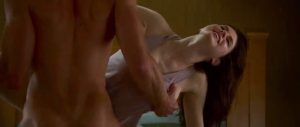 A film starring Alexandria Daddario and Kate Upton, things are bound to get exciting. The film itself, which is a story of two friends and how they fight over a man and how they eventually mature as people is interesting enough, but the reason this film features on this list is the very rigorous, very passionate sex that Alexandria Daddario's character Kate, has with Ryan (Matt Barr). Kate and Ryan get it on in a hotel room and the scene really captures Daddario's flexibility and the ease with which she can slip into various positions as the moment demands. Anyway, there is always an active bias towards Daddario's beauty so it's no wonder that she snags the second spot on this list.
Read More: Movies Like Basic Instinct
1. Atomic Blonde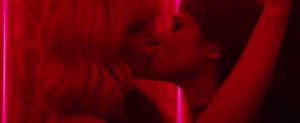 Charlize Theron is a super badass British spy in Berlin during the Berlin Wall days in this movie. The movie has twists, turns, crazy action sequences and a smoking hot cast. What stands out, however, is the relationship between Theron's Lorraine and Sofia Boutella's LaSalle. The director made a conscious choice to eschew the heteronormative role as LeSalle was a male French agent in the graphic novel and flip the gender role. Thus they managed to push the envelope and normalize a homosexual relationship and for viewers who were already okay with homosexuality, well, they got to see some really hot girl on girl action, and not just any girl on girl action but one starring Charlize Theron. So I guess it was a win-win all around and this is hands down for me the hottest scene in 2017.
Read More: Sexiest Movies of 2017