In storytelling, sex can be a powerful plot device that can elevate the story if done right. Netflix houses a lot of such films that use sex as the driving factor of the story while also focusing on other important themes regarding the characters and their lives. Here, we have compiled a list of the movies that are not only the most sensual, erotic, and sultriest movies on Netflix but also showcase really interesting stories. Of all the Netflix movies with sexual themes, we've brought to you the best.
30. An Easy Girl (2019)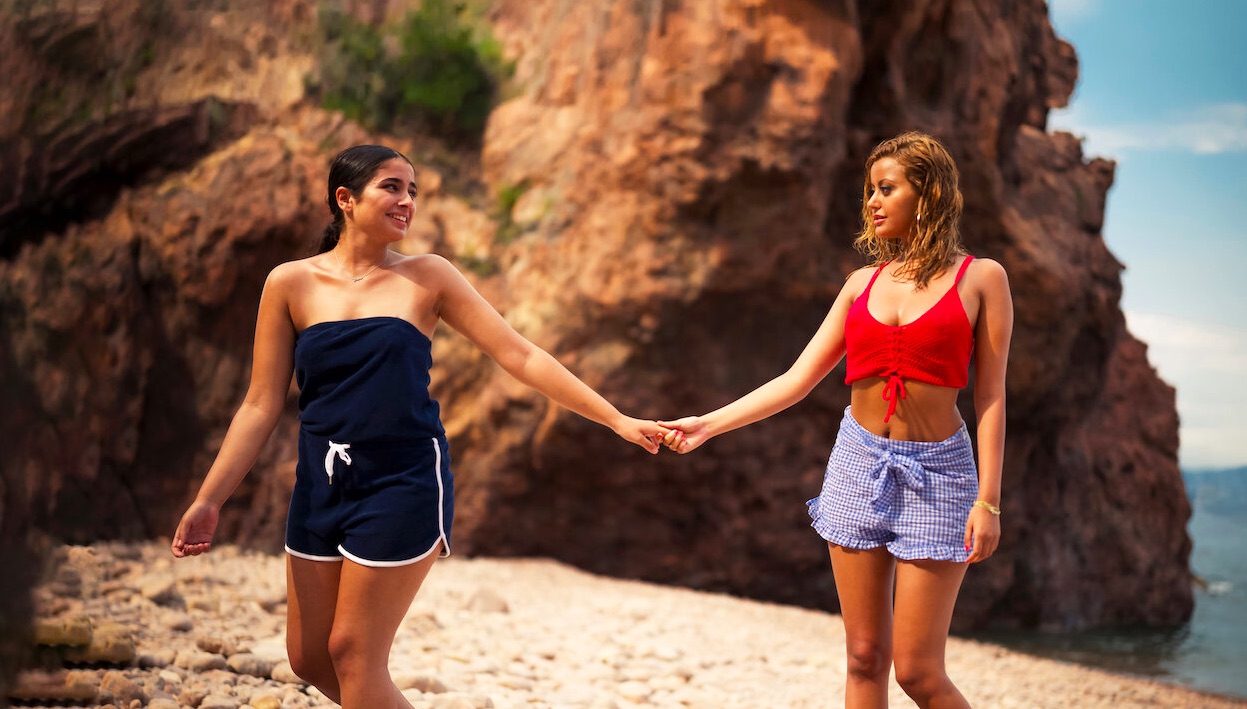 Directed by Rebecca Zlotowski, 'An Easy Girl' follows the story of Naïma, a 16-year-old girl whose life is changed after the arrival of her cousin, Sofia. Naïma had been focused on several things that she needed to do over the summer. This included an internship at the hotel where her mother works and preparing for the audition to an acting school with her best friend, Dodo. However, with Sofia, Naïma becomes more focused on the lavish lifestyle that makes her reconsider her life, though this isn't encouraged by the people around her. The film follows the ups and downs in the life of the teenager who learns quite a few lessons along the way. You can watch the film here.
29. You Get Me (2019)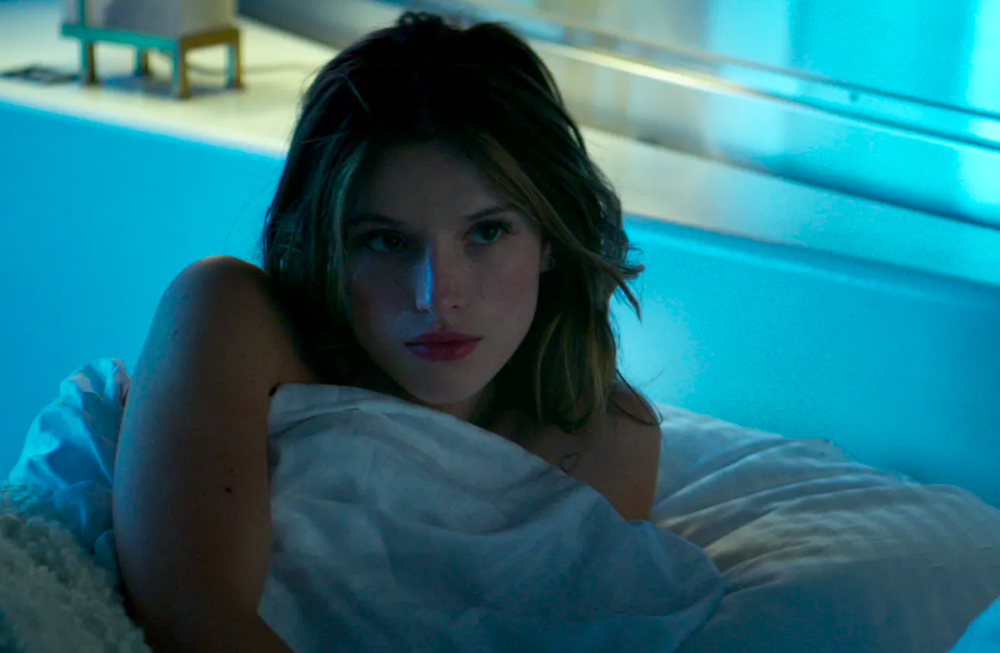 Starring Bella Thorne and directed by Brent Bonacorso, 'You Get Me' follows the story of Tyler and Alison, whose relationship goes through an upheaval, especially with the arrival of Holly. During his brief breakup with Alison, Tyler hooks up with Holly, believing it to be a one-night stand. However, when Holly shows up at their school, Tyler finds himself in a difficult situation. While trying to repair his relationship with Alison, he is targeted by Holly, who turns out to be much more dangerous than she looks. The film is a nail-biting thriller that keeps the audience on the edge of their seats while also delivering some rather steamy moments. You may watch it here.
28. Madame Claude (2021)
Directed by Sylvie Verheyde, this biographical drama film follows the story of Madame Claude, who is the owner of a brothel. The film is set in the 60s in Paris and focuses on Madame Claude's use of her position to become a powerful figure. After getting duped in love, she turns to prostitution and eventually finds her way to becoming the owner of a brothel, where the clients are only the men at the top. The girls that she sends to them also serve as spies, getting out important information, which makes Claude a rather powerful person. But when things take one wrong turn, the blocks fall one after another, and Madame Claude has to confront the dire reality. Feel free to check out the movie here.
27. Amar (2017)
Directed by Esteban Crespo, 'Amar' follows the story of Laura and Carlos. We follow them in the throes of passion, which defines the early days of their romantic life. They believe they are soulmates and are meant to be together forever. They dream of a life together and don't pay any mind to what others might have to say. However, as time passes and reality hits, the passion starts to flounder, and they realize that not everything lasts forever. Still, whatever time they have together is something they will never forget. You can check out the film here.
26. Oh Ramona! (2019)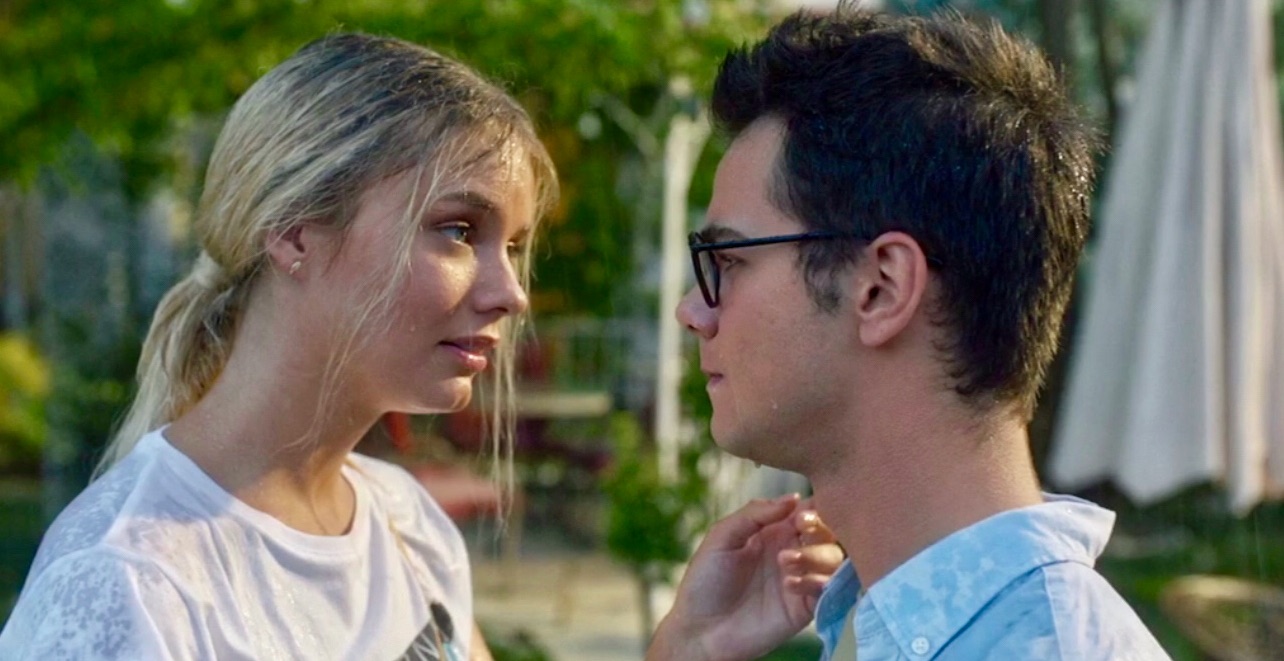 Based on the book, 'Suck It, Ramona!' by Andrei Ciobanu and directed by Cristina Jacob, this Romanian Netflix film follows the story of Andrei, who reflects on his teen years and the upheavals in his life, especially after he falls in love with two girls, Ramona and Anemona. The film is told through the adolescent lens of an adult Andrei, taking the audience on a fun ride as the protagonist recounts one misadventure after another. What makes it even more interesting is that the film is part-autobiographical of the writer-actor, making it all the more relatable and hilarious. The film is streaming here.
25. The Year I Started Masturbating (2022)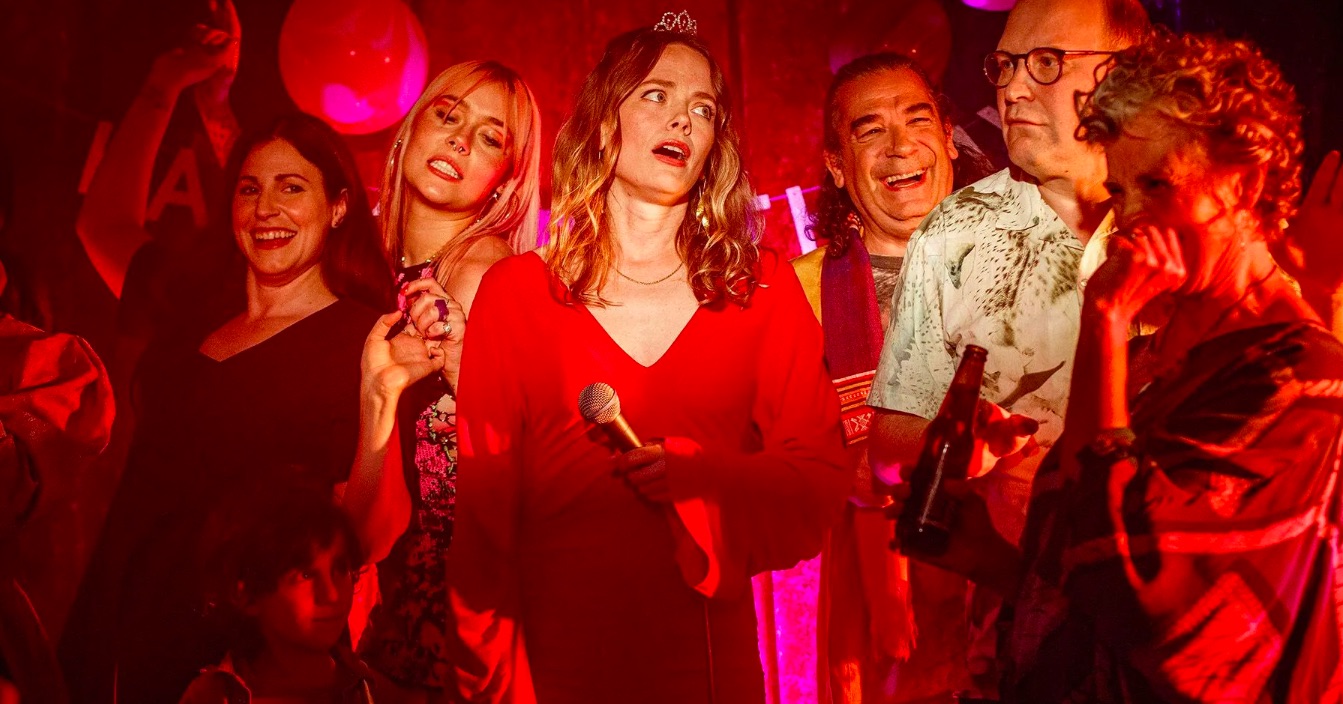 This Swedish comedy-drama is directed by Erika Wasserman and follows the story of Hanna, a 40-something who finds herself at rock bottom. Her personal and professional life is a mess, and it feels like everything is slipping out of her grasp. She feels lost and defeated, and that's when a friend advises her to stop thinking about others and prioritize herself. For once, Hannah should start making decisions for herself and live life without a care, as she wants. This philosophy also leads Hannah on a journey of sexual awakening, and by the end of it, things are much improved for her. You can watch 'The Year I Started Masturbating' here.
24. MILF (2018)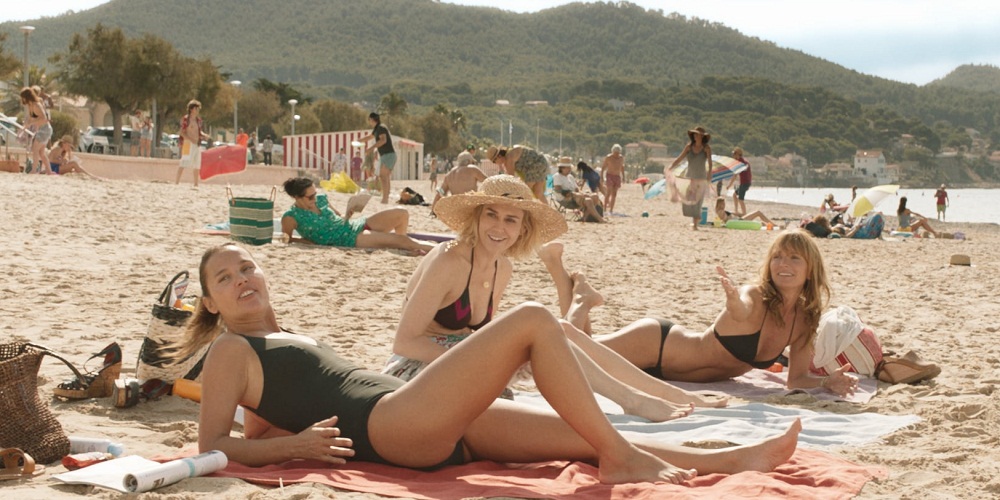 Directed by Axelle Laffont, 'MILF' follows the adventures of three 40-something women who travel to the French Riviera, where one of them has to prepare her vacation home for sale. The women indulge in a sexual escapade with men much younger than them and spend an uproarious summer together. The film focuses on the sexual awakening of women in their middle age while also focusing on other personal issues that affect their lives. It charts the course of an entire summer before they have to say goodbye to their temporary lovers and go back to life as they know it. You may watch the movie here.
23. Hard Feelings (2023)
Directed by Granz Henman, 'Hard Feelings' follows the story of Charly and Paula. They have been best friends forever and are both at the bottom-most rung of the social ladder in their school. Things change when, one night, they're both struck by lightning, and their private parts start to talk to them. It is a confusing time for both Paula and Charly, who are unaware of the other's similar situation, while also learning new things and doing stuff they wouldn't have dreamed of before this. As they struggle with their newfound non-platonic feelings for each other, they also explore sexual relationships with other popular kids in the school. You can watch the movie here.
22. Happy Ending (2023)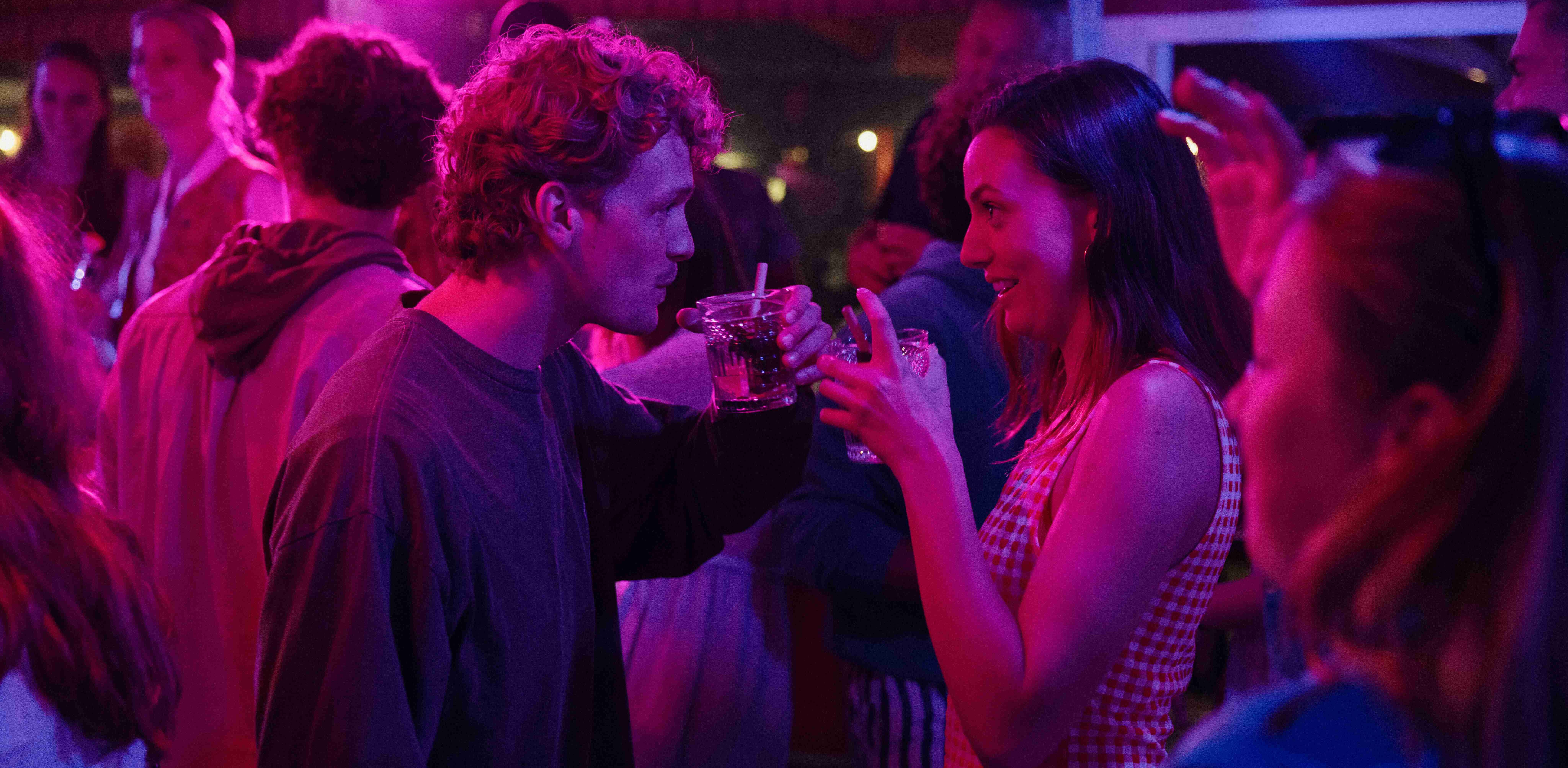 Luna and Mink have had a great first year of their relationship. As they prepare to celebrate their first anniversary, a revelation shakes everything up. It turns out that Luna hasn't had an orgasm since they got together. She has been faking all this time, and this isn't something that she wants to continue for the years to come. A friend suggests she spice up the relationship by bringing a third party into their sexual lives, and this decision changes everything for Luna and Mink. Directed by Joosje Duk, 'Happy Ending' uses a steamy premise to delve into the complexities of a modern relationship. You may watch the movie here.
21. 365 Days Series (2020-2022)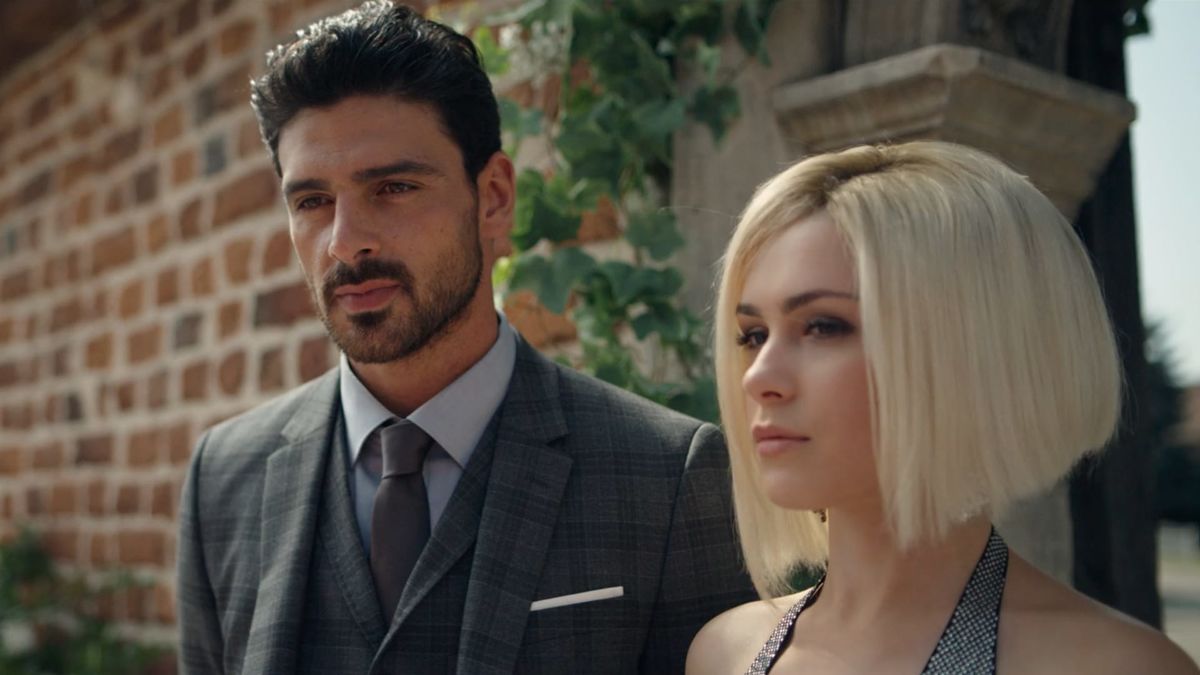 Directed by Barbara Białowąs and Tomasz Mandes, '365 Days' is a Polish erotic drama that has made headlines due to its softcore sex scenes. Based on a novel trilogy by Blanka Lipinska, '365 Days' follows the story of Laura, who is kidnapped by Massimo Torricelli, a leader of a Sicilian mafia family. Massimo tells Laura that he had spotted her on a beach five years ago and apparently couldn't forget her. Laura is to be kept in confinement for 365 days until she falls in love with Massimo. This weird premise sets the course for their relationship, which slowly blossoms through denials and seduction. The sex scenes between Massimo and Laura are steamy, to say the least, as it is aesthetically shot to entice the viewers with a softcore delight. Perhaps one of the raunchiest films on Netflix, '365 Days' is the Polish counterpart of 'Fifty Shades of Grey'(2015), albeit with an unnerving plot twist in the end that leaves you wanting more. Feel free to check out the movies here.
20. Berlin Syndrome (2017)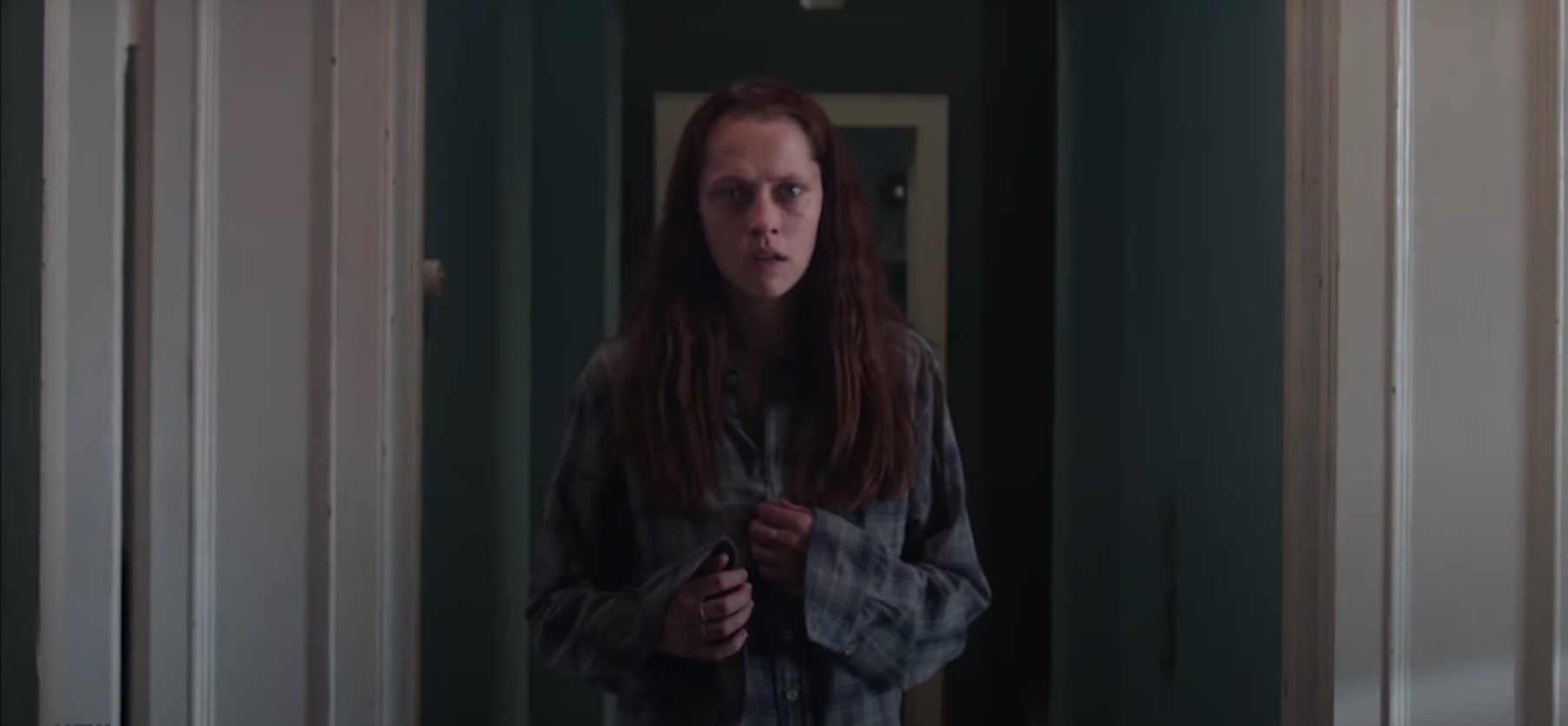 Directed by Cate Shortland, 'Berlin Syndrome' tells the story of Clare, a backpacker and photographer from Australia, and the horrors she endures after meeting a seemingly likable and charming English teacher in Berlin. After Clare and the said English teacher, Andi (Max Riemelt), spend a night together, Clare discovers the following morning that Andi is gone, and the door to his apartment is locked from the outside. When Andi returns in the evening, he claims that it was a mistake. Believing him, she decides to stay there one more night. However, he soon starts to demonstrate obsessive behavior, writing "mein" on her shoulder, taking away her SIM Card, and tying her to the bed.
As the film progresses, Andi's behavior becomes more and more bizarre and dangerous, making Clare wonder whether she will ever get out. Shortland and her writers employ sex to underscore the horrors that Clare experiences while trapped in her situation. These scenes are jarring and uncomfortable, as they are meant to be. You can check out the film here.
19. White Girl (2016)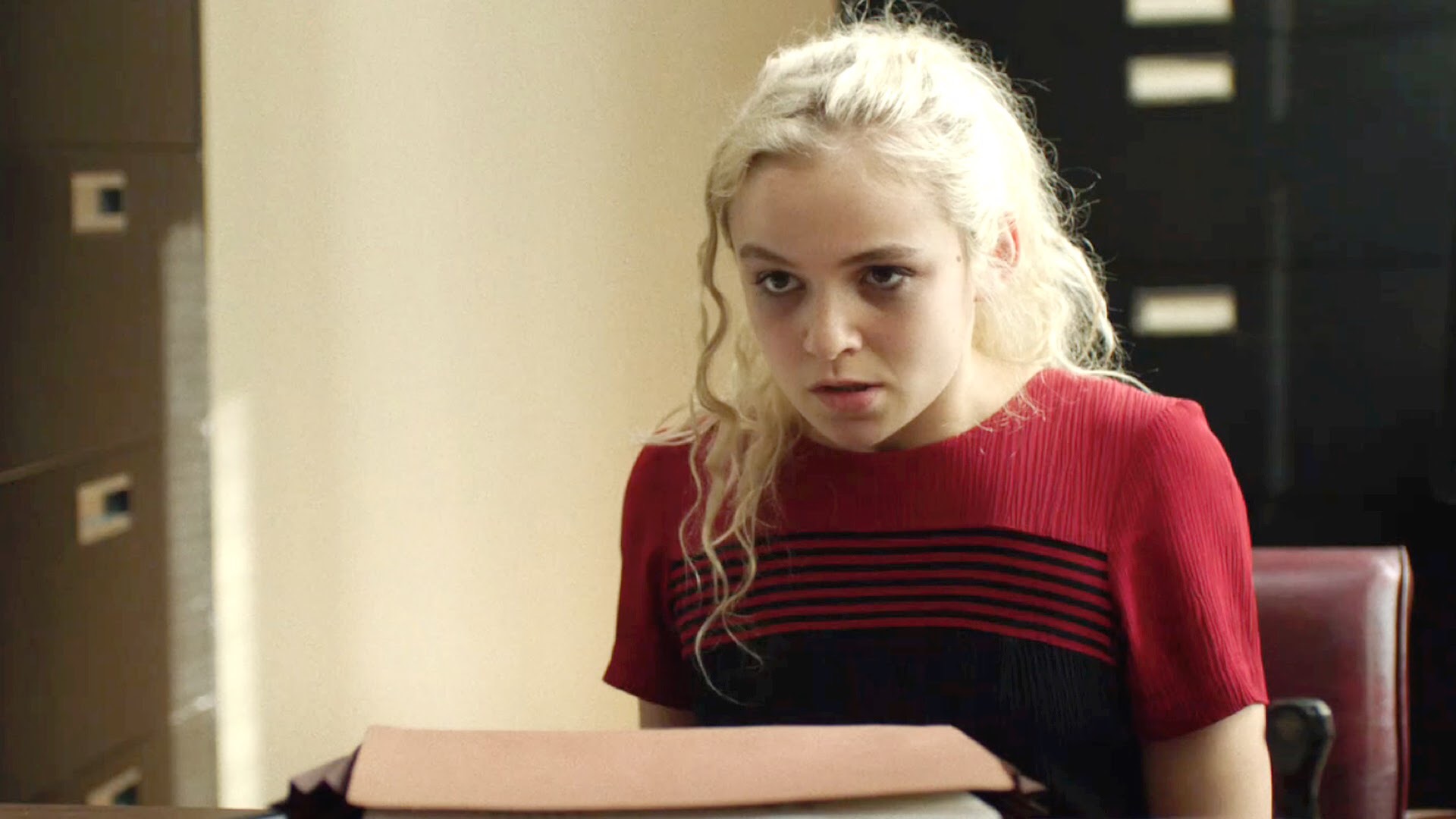 'White Girl' tells the story of a young girl called Leah, who gets involved in a sexually charged relationship with a Latino man called Blue. A cocaine peddler by profession, Blue usually sells his drugs on the road and earns a lot less than what upper-class people are willing to pay for the same substance. This makes Leah introduce him to some of her colleagues to whom he sells drugs and ends up earning quite a hefty amount. However, Blue is soon arrested by an undercover policeman, and Leah falls into deep trouble with the one kilogram of cocaine that Blue was initially carrying on him. The film then depicts the lengths that Leah goes to to free Blue from the confines of the prison.
'White Girl' does not only boast steamy sex scenes but also provides us with the horrific picture on the other side of the coin. There is a scene of sexual torture that can be quite troublesome for some viewers. Keeping every aspect in mind, one can easily say that 'White Girl' is a film with a heart. It tries to explore the complexities of a relationship between a privileged white girl and a struggling Latino who has chosen the road of drug dealing after having no other source of income to support himself. The movie is streaming here.
18. No Limit (2022)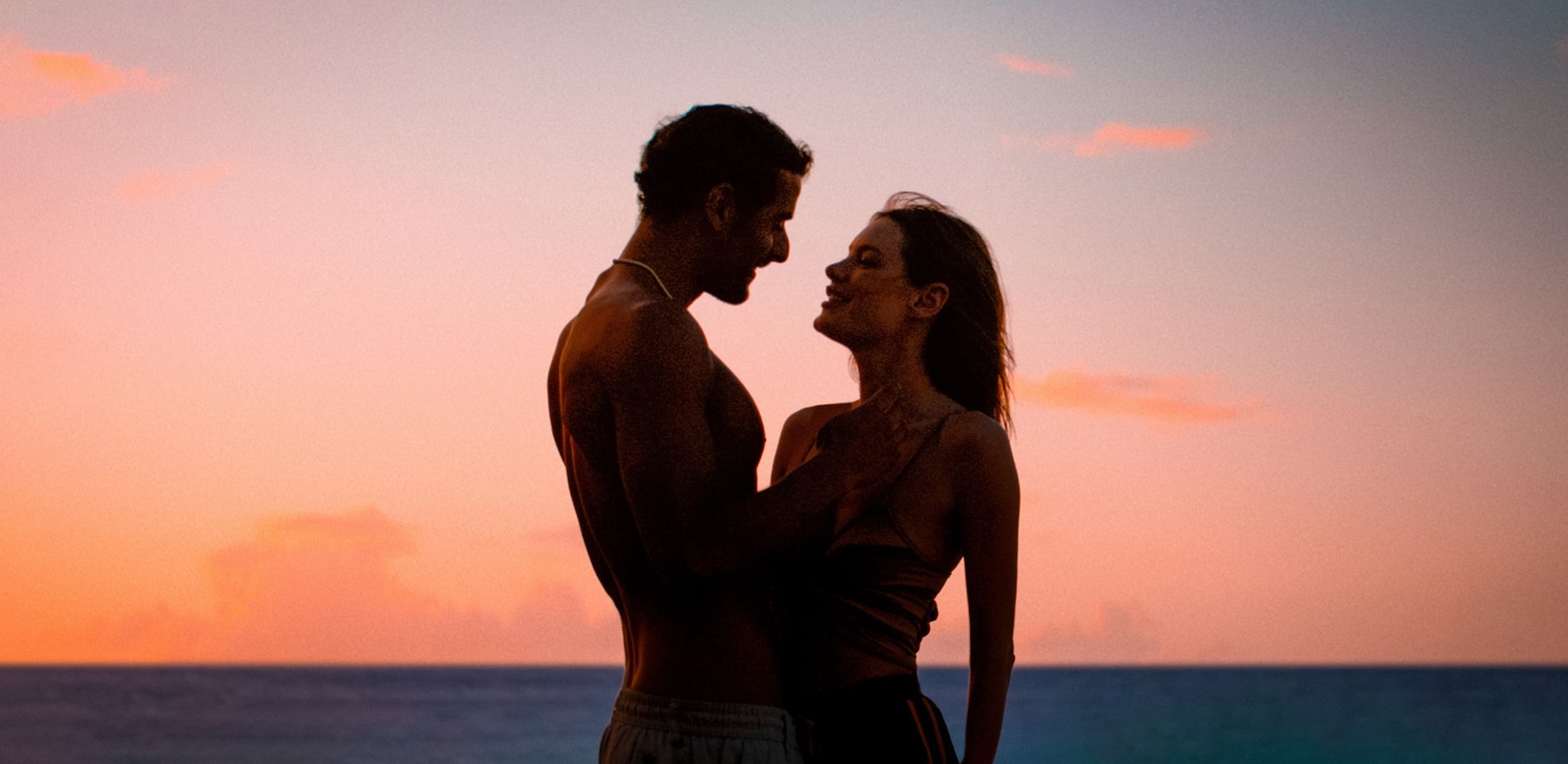 'No Limit' or 'Sous Emprise' is a French film that tells the story of Roxana Aubrey, who leaves behind her monotonous life in Paris for a freediving course in Southern France. Upon meeting the instructor, Pascal Gautier, she becomes smitten, and the attraction soon proves mutual. Roxana and Pascal connect over their love for the ocean and diving. Things go smoothly for the two until Pascal has a blackout while trying to set a new freediving record and is subsequently told by his doctor that he must stop freediving. Love gives way to frustration and jealousy when Roxana starts to gain popularity as a diver, even setting up her records. Inspired by a true story, 'No Limit' is a pretty and sensual movie that keeps the audience entertained. You can watch it here.
17. More the Merrier (2021)
'More the Merrier' or 'Donde caben dos' is a raunchy Spanish-language film. It has five different stories revolving around various characters. These stories often intersect as the characters are connected in one way or another. One of the stories involves a couple who have grown distant from each other. To spice up their lives, they visit a swingers' club, but the man realizes that he once dated the woman from the other pair. In another story, two friends plan to swap wives, not realizing their spouses are attracted to each other. One story follows a woman who lost her engagement ring at the swingers' club the night before, while another tells the tale of a gay man trying to find love in the most unconventional circumstances. You can watch the movie here.
16. 6 Years (2015)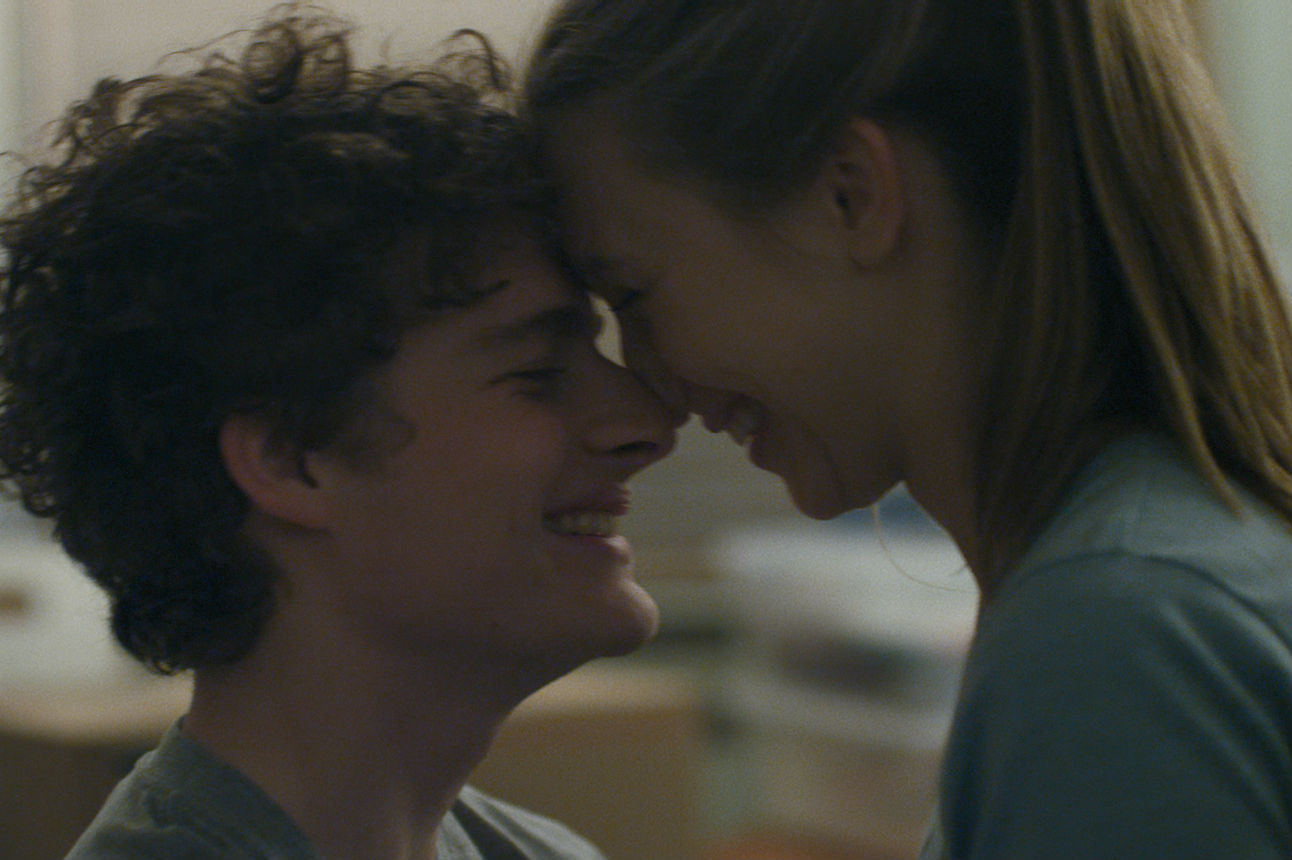 Melanie Clark and Daniel Mercer have been in a relationship for six years and have seen their share of ups and downs. Their relationship seems to have maintained a consistent level of intimacy, including in bed. Cracks start to appear when, one night, Mel shoves Dan into a dresser. As Dan sustains a head injury because of this incident, they drive to a hospital, where Dan lies so that Mel won't be booked for assault. As the film progresses, simple things start to become complicated between the two of them. Dan gets a lucrative job offer in a different city, while Mel wants to live where she is. Tangled into the necessities of real life, love dies a slow death. You can watch the movie here.
15. Gerald's Game (2017)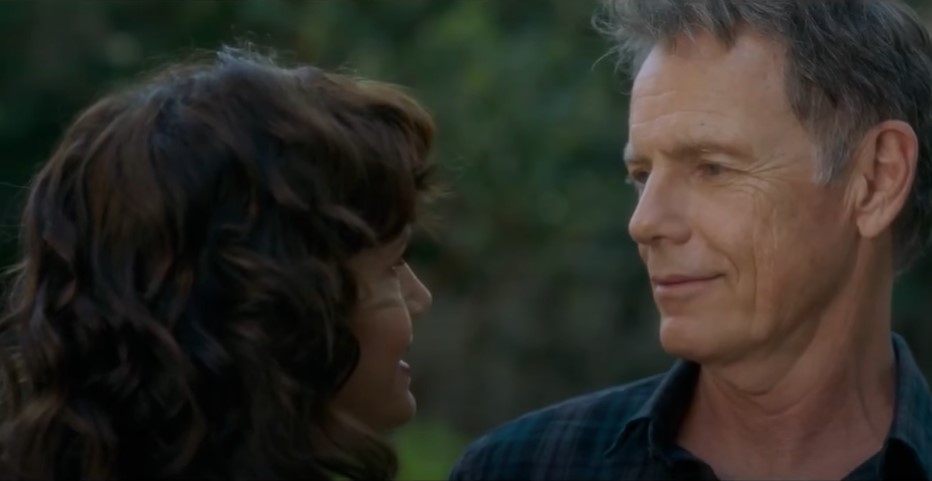 Directed by horror maestro Mike Flanagan, 'Gerald Game' is both sexy and creepy. Jessie Burlingame's husband dies while they're acting out one of his rape fantasies, leaving her handcuffed to the bed. As time progresses, odd things start to happen. Some of these things are Jessie's hallucinations; others are very much real. She watches as a dog walks into the room and rips a piece from Gerald's corpse. Gerald then gets up and starts speaking to her, even though she knows he is still on the floor. Like Flanagan's most projects, 'Gerald's Game' has strong feminist motifs that are used innovatively and seamlessly. You may watch the movie here.
14. The Package (2018)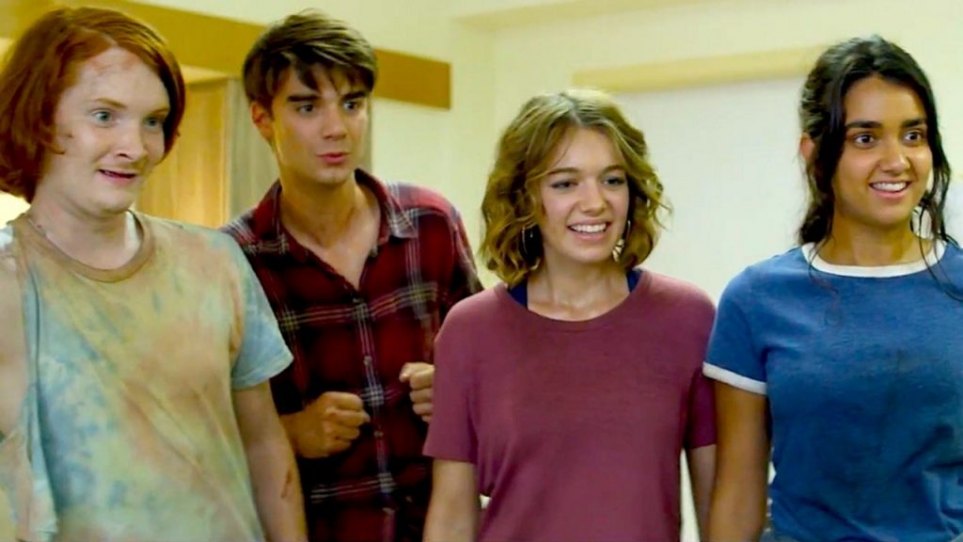 One of the unique films on this list, 'The Package,' deftly blends dark humor with sexually explicit material. Written by Kevin Burrows and Matt Mider and directed by Jake Szymanski, the film tells the story of four friends who are out on a camping trip. It is during this trip that one of them ends up cutting his penis in half. The situation naturally demands immediate action, and the film depicts how these friends go through several insane situations to get him medical assistance. There is ample nudity in this film, but it never feels gratuitous. It is a solid entertainer that can be enjoyed with a little pinch of salt. Such comedy films generally tend to be family entertainers and avoid including anything in them that might call for an R-rating, but 'The Package' does not hold back any punches and probes into areas others don't dare explore. Feel free to check out the movie here.
13. Fatal Affair (2020)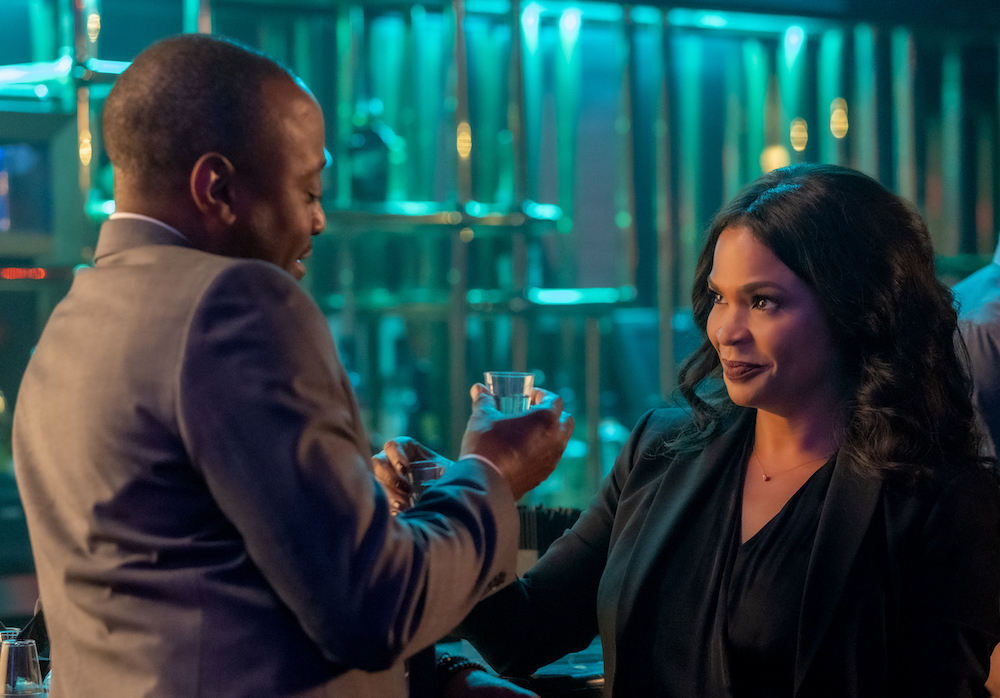 Directed by Peter Sullivan, 'Fatal Affair' tells the story of a prominent lawyer named Ellie Warren (Nia Long), whose husband has recently survived a vehicular accident. After their daughter left for college, they decided that it was the best time to start their lives anew and purchased a house in San Francisco. There, Ellie encounters David Hammond (Omar Epps), whom she used to know in college. A relationship starts to develop between the two of them, stemming from the problems in Ellie's marriage. Ellie tries to put a stop to it before it becomes physical, but it ends up bringing out the monster inside David, who begins stalking her and threatening those she loves. You can check out the film here.
12. The Last Paradiso (2021)
'The Last Paradiso' or 'L'ultimo paradiso' is an Italian language film about Ciccio Paradiso (Riccardo Scamarcio), a married man who has gained notoriety in his small town for having affairs with multiple women. His wife knows but is unable to do anything about it. One of these mistresses is Bianca, the daughter of a rich wheat and olive farmer, who treats his workers horribly and rapes young women. Imbued with a fighting spirit, Ciccio decides to stand up to the rich farmer. 'The Last Paradiso' is raunchy and hilarious for the most part. Certain choices made with the narrative are bound to surprise at least some members of the audience. The movie is streaming here.
11. Cam (2018)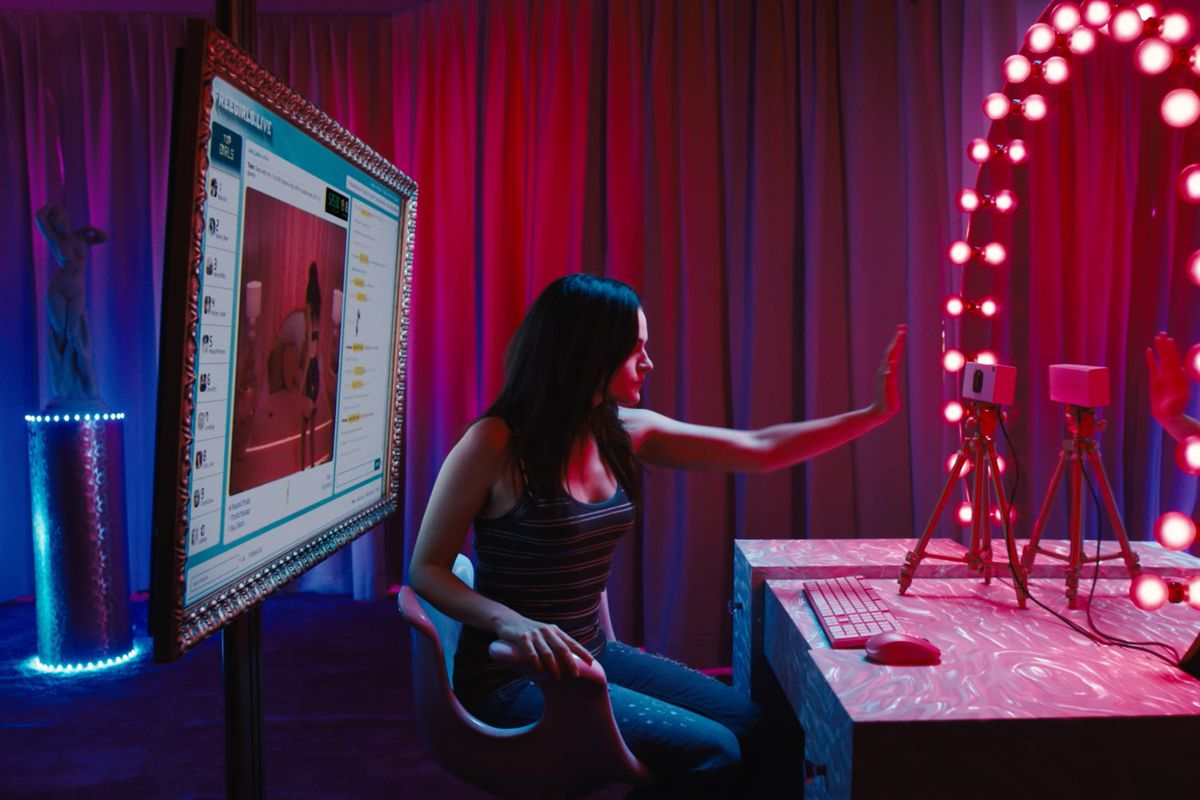 'Cam' is a disturbing, erotic thriller about a webcam entertainer named Alice, who one day discovers that her identity on the website she uses to stream her content has been stolen by someone who looks exactly like her. This sends Alice on a desperate and dangerous journey to find who is responsible. The only thing she knows is that the other girl's screen name is Lola. 'Cam' is a perfect example of a digital-age horror film. The terror aspect is smartly executed. Although the film lags a bit unnecessarily, it makes it up with a spectacular ending. You can check out the film here.
10. Mrs. Serial Killer (2020)
Starring Jacqueline Fernandez and Manoj Bajpayee, 'Mrs. Serial Killer' is a delectably fun Indian suspense thriller film. The story follows the eponymous character, Sona Mukerjee, as she refuses to believe that her husband, Joy, is a serial killer. Instead, she thinks that her former boyfriend, Inspector Imran Shahid, is behind the allegations. Dismembered bodies of six women are found at a property that belongs to Joy. Each of these had an abortion. Joy, being a gynecologist, becomes the prime suspect and is subsequently arrested. Sona still adamantly believes in her husband's innocence. When she comes for a visit, Joy asks her to reach out to his lawyer, Mr. Rastogi. When she does, Rastogi tells her of his diabolical plan of getting Joy out of jail. Feel free to check out the movie here.
9. Duck Butter (2018)
An experimental film where the subject of the plot is an experiment itself, 'Duck Butter' is a film by the Puerto Rican director Miguel Arteta. The story of the film centers on two women who have both been ravaged by their experiences in romance. In a bid to bring a twist to their lives, they decide that they will be spending 24 hours with each other, and each of those hours will be spent on having sex. What appears to be a fun experiment soon starts unraveling deep secrets that none of them was prepared for. The film is adorned with numerous sex scenes. However, more than the sex, it is the brilliant chemistry between lead actors Alia Shawkat and Laia Costa that becomes the film's highlight. The comedic tone of 'Duck Butter' adds an interesting layer to its otherwise intense plot. You may watch the movie here.
8. Elisa & Marcela (2019)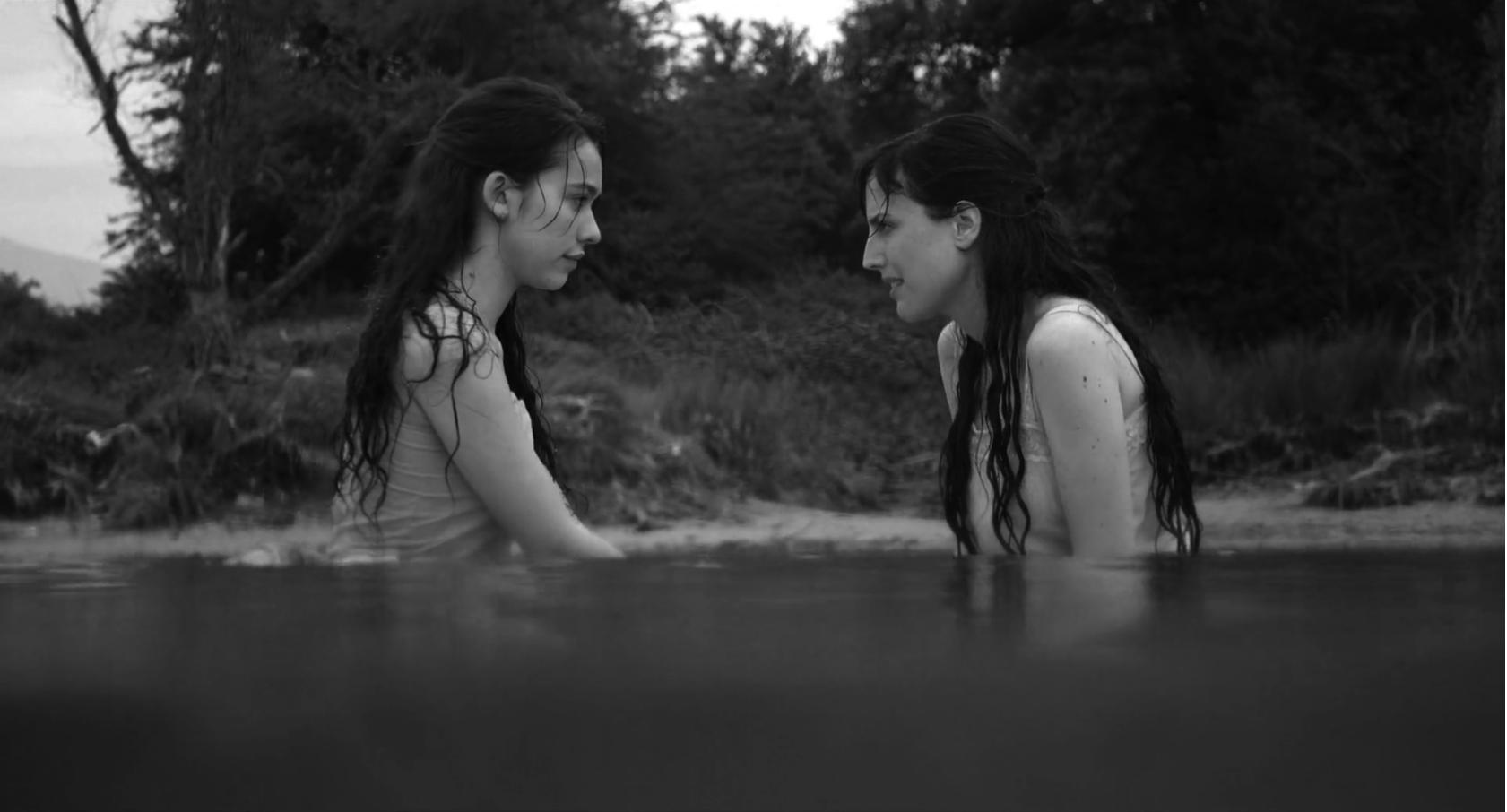 Directed by Isabel Coixet, 'Elisa & Marcela' is a Spanish biographical romantic drama that tells the story of Elisa Sánchez Loriga and Marcela Gracia Ibeas, two women who went as a heterosexual couple to marry in 1901 at the Church of Saint George in A Coruña thereby becoming the first same-sex marriage to be recorded in Spain's history. Shot in monochrome, 'Elisa & Marcela' is a deeply emotional melodrama that depicts the passionate love affair between two women and their desire to solidify their bond in matrimony. Their resilience against society's denial and the mutual longing to be with each other portray a passionate picture of same-sex love stories, much like 'Brokeback Mountain' (2005) and 'Carol' (2015). The film features plenty of raunchy love-making scenes that personify the characters' love in defiance of the 'normal' hardwired into societal conventions. You can watch the movie here.
7. Lust Stories (2018)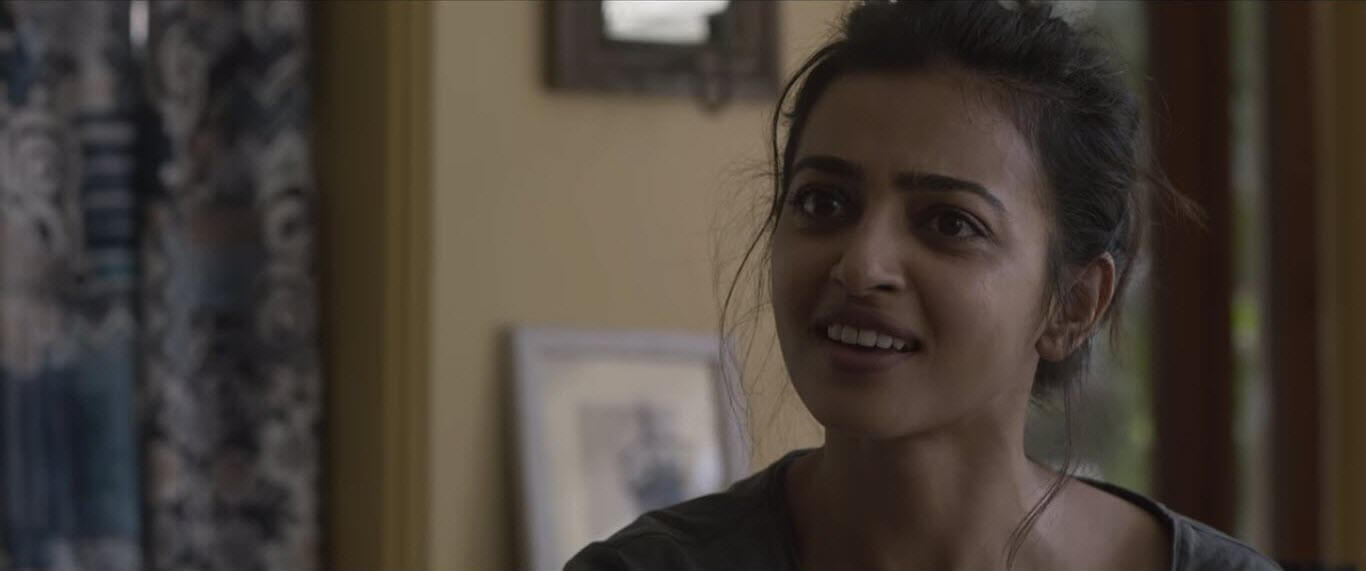 A collaborative effort by the Indian film industry's top directors, Anurag Kashyap, Karan Johar, Zoya Akhtar, and Dibakar Banerjee, 'Lust Stories' is an anthology film exploring the sexual life hidden beneath the morals of Indian society. Kashyap's film follows a college professor played by Radhika Apte who ends up having a sexual liaison with one of her students. Their camaraderie and the exploration of a taboo relationship is a delightful exercise in depicting the emotional spectrum emerging from human follies and desires.
Akhtar's film is about a domestic helper who is in a sexual relationship with her employer. She finds out that he is getting married, and their sexual gratification is about to end. The minimalistic film leaves an aftertaste that forces us to think about the intimacy issues moving beyond class hierarchies. Banerjee's venture explores the repercussions of sexual affairs outside the bond of marriage. Manisha Koirala's portrayal of a headstrong woman steals the show in this film. Karan Johar's film is about a newly married woman who is not able to be sexually satisfied by her husband. She searches for the sweet spot through self-satisfaction aided by a vibrator. She is caught in the act, which creates an embarrassing moment. 'Lust Stories' focuses on the female perspective and the tribulations that they have to face to explore their sexuality. You may check out the movie here.
6. Deadly Illusions (2021)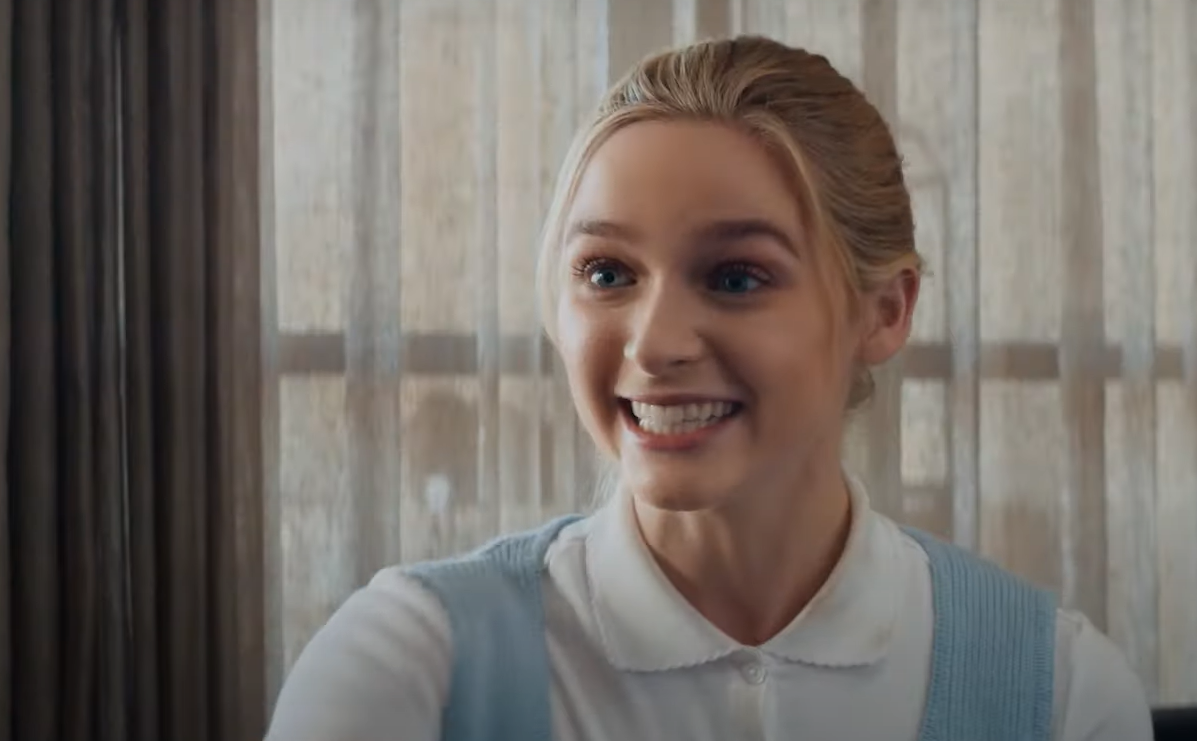 In 'Deadly Illusions,' Kristen Davis portrays mystery author Mary Morrison. She reluctantly starts writing a book after learning that her husband, Tom, has lost half of their estate on a bad investment. On the advice of her friend Elaine, Mary hires a nanny named Grace to look after her children. It doesn't take long for the two women to grow close. Grace serves as an inspiration for Mary's writings. She even becomes the object of the latter's sexual fantasies. However, Mary soon starts finding discrepancies in Grace's story and visits Elaine to speak to her about it, only to discover that she has been murdered. You can watch 'Deadly Illusions' here.
5. Friendzone (2021)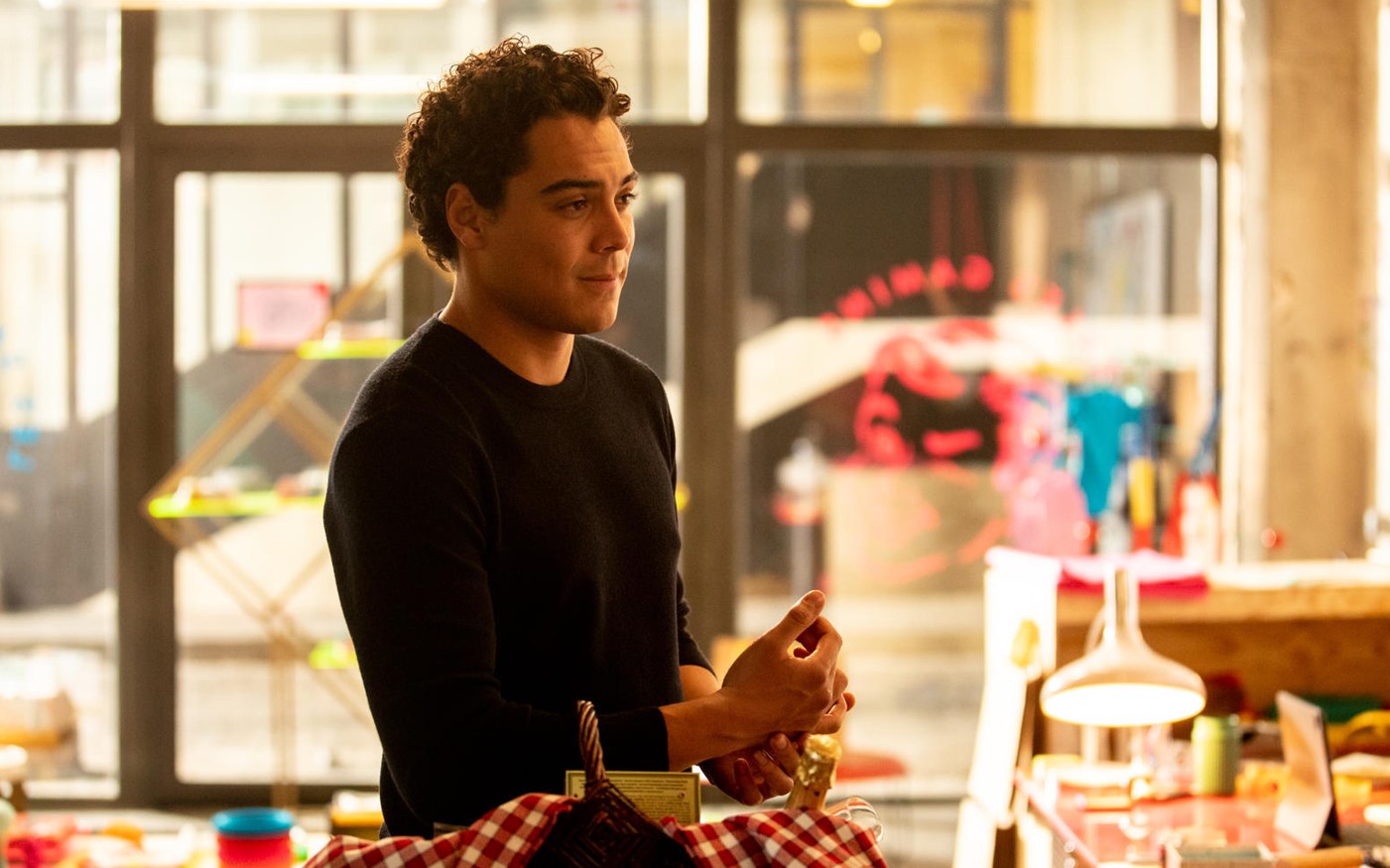 'Friendzone' is a French movie that follows Thibault "Titi," a pediatric nurse, who believes that he's doomed to be friend-zoned by any woman that he is attracted to. When he meets Rose, a woman who is genuinely interested in him, Titi lets his doubts affect his actions, which confuses Rose. He asks his three female friends to help him be a better man, and they accept his request, but by the time they are done with him, Rose has gone back to her former boyfriend. While nursing his heart, Titi grows close to Jennifer, only to find out how controlling she can be. This is when Rose tries to reach out to Titi, and the latter must do everything he can to ensure that she stays with him this time. The movie is streaming here.
4. Dry Martina (2018)
Writer-director Che Sandoval's 'Dry Martina' is a real gem of a film. The eponymous character seems to be well past her prime — both sexually and as a singer. She encounters superfan Francisca, who claims that she is her biological sister and Francisca's boyfriend, César. Martina successfully seduces César and finds fulfillment for the first time in a while. When Cesar and Francisca leave, Martina isn't remotely done with the former and promptly gets on a plane to follow them. The humor in 'Dry Martina' shifts between being raunchy and profound, and an exceptional performance by Antonella Costa as the protagonist stays with you long after the credits start rolling. You can check out the film here.
3. Blonde (2022)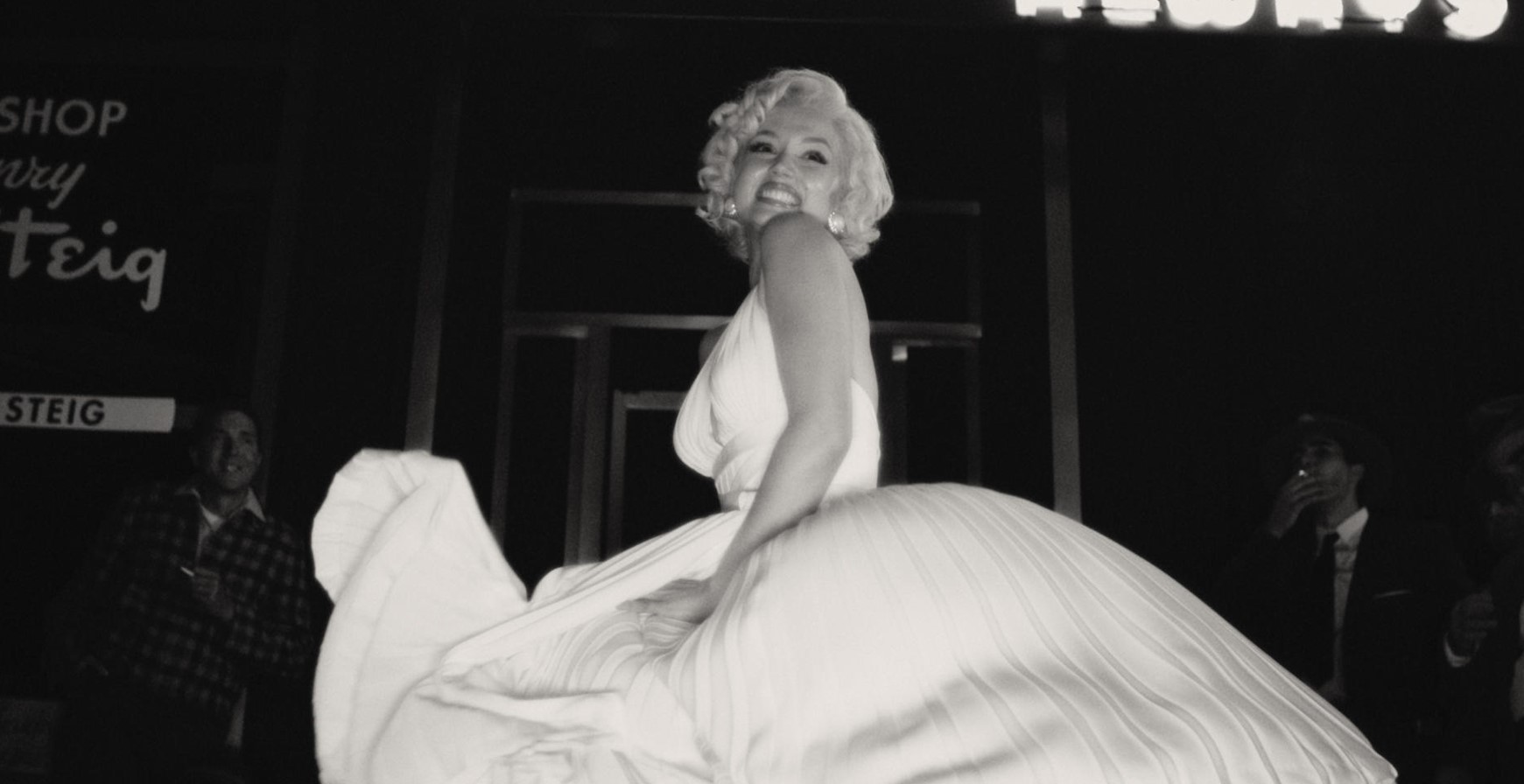 Andrew Dominik's 'Blonde' was always going to be a heavily polarizing film. Previous attempts to capture the life of Marilyn Monroe — be it on the big or small screen — have always fallen short of demystifying the larger-than-life Hollywood bombshell. Dominik's attempt is unique in the context of biopics as a genre, but it is quite exploitative and seems to have been consciously designed to make the audience uncomfortable.
The film begins when Marilyn (Ana de Armas) is still known as Norma Jeane Mortenson. It shows that the future actress suffers abuse at the hands of her mother before being sent to an orphanage. After she begins using Marilyn Monroe as her stage name, she gradually becomes successful as an actress, but with that success comes pain, abuse, loneliness, and exploitation. 'Blonde' is not a particularly pleasant movie to watch. It's unrelenting and brutal with its narrative. However, it is also earnest in its depiction of the evil that lurks underneath the glitz and glamor of Tinseltown. Feel free to check out the movie here.
2. After We Collided (2020), After We Fell (2021)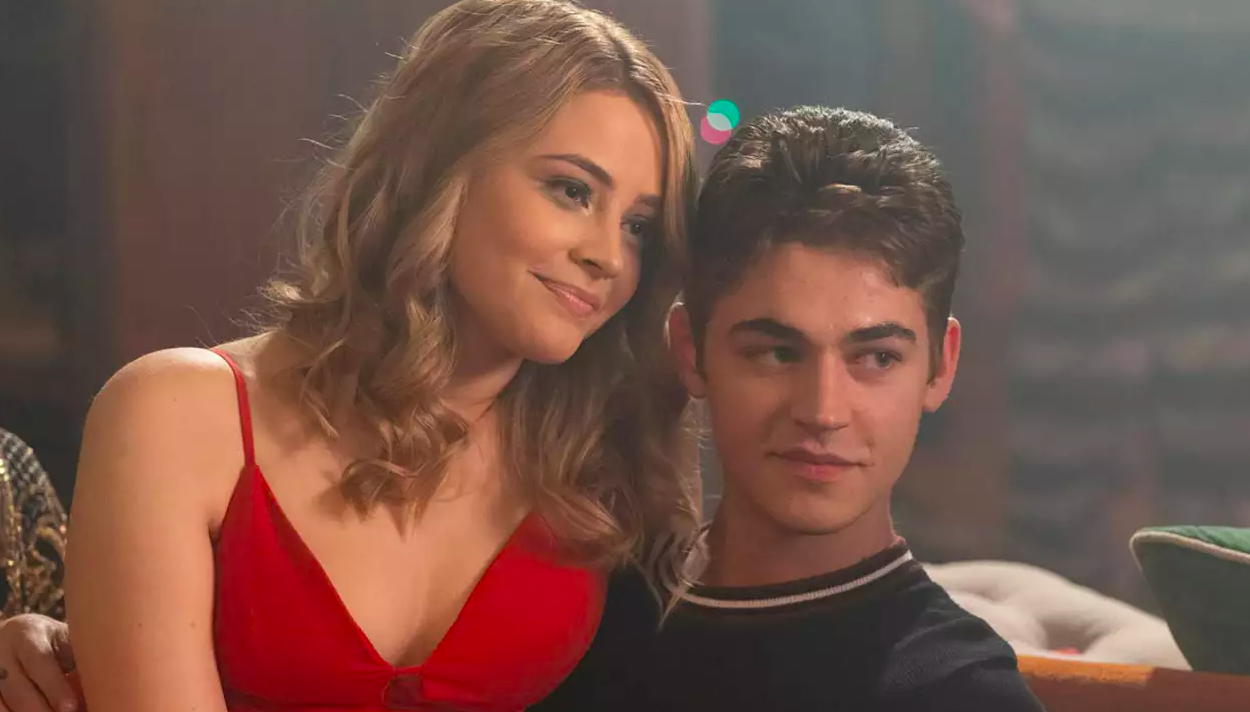 The second and third installments in the 'After' trilogy, these films explore the tumultuous relationship of Tessa and Hardin. Based on the books by Anna Todd, the story focuses on the romance that began in the first film and becomes even steamier and more complex in the following films. Josephine Langford and Hero Fiennes Tiffin play the lead roles and display an incredible chemistry that makes the turbulent and, at times, toxic relationship between them considerably believable. If you loved the 'Fifty Shades' series, then you can consider this a teen version of that movie and enjoy it with a pinch of salt. You may watch the movies here.
1. Lady Chatterley's Lover (2022)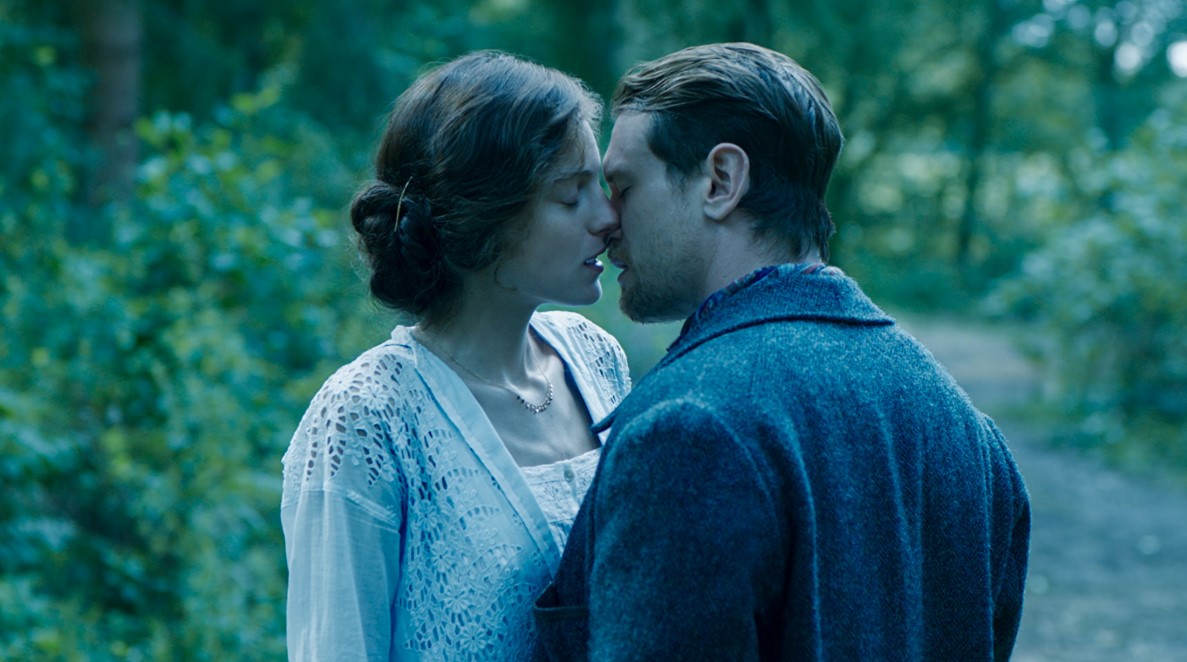 Based on the book of the same name by D. H. Lawrence and directed by Laure de Clermont-Tonnerre, 'Lady Chatterley's Lover' follows the story of Connie Reid, whose relationship with her husband worsens after he returns from war. Due to his injury, he becomes morose and keeps Connie at a distance, which makes her all the more desperate to find love and affection from somewhere else. This is when she meets Oliver Mellors, the gamekeeper, with whom she begins a passionate affair. Starring Emma Corrin and Jack O'Connell in the lead roles, the film takes the audience through Connie and Oliver's whirlwind romance. You can watch the movie here.
Read More: Best Gay and Lesbian Movies on Netflix