'Dead to Me', a dark comedy web television series, is created by Liz Feldman and stars Christina Applegate and Linda Cardellini. Executive produced by Feldman, Will Ferrell, Adam McKay, and Jessica Elbaum, this Netflix Original is about "a powerful friendship that blossoms between Jen, a tightly wound widow, and Judy, a free spirit with a shocking secret." Jen, a well-to-do realtor, is mourning the death of her husband. Coupled with anger issues and an inability to get closure, she visits a grief counseling group, where she meets the free-spirited Judy, who is also coping with the death of her fiance. This unexpected meeting soon develops into a close, therapeutic, and codependent bond.
A wonderful depiction of female friendships, 'Dead To Me' offers some amazing performances from both the leads. There is also a murder mystery in between which leaves audiences stunned with its own cliffhangers. So, if you have watched this show and are looking towards similar titles that revolve around themes of women BFFs, murder mysteries, and comic elements, then check out our catalog below. We have compiled a list of the best shows like 'Dead To Me' which are our favorites. You can watch many of these shows like 'Dead To Me' on Hulu, Amazon Prime Video, or Netflix. So, binge on!
11. Big Little Lies (2017-)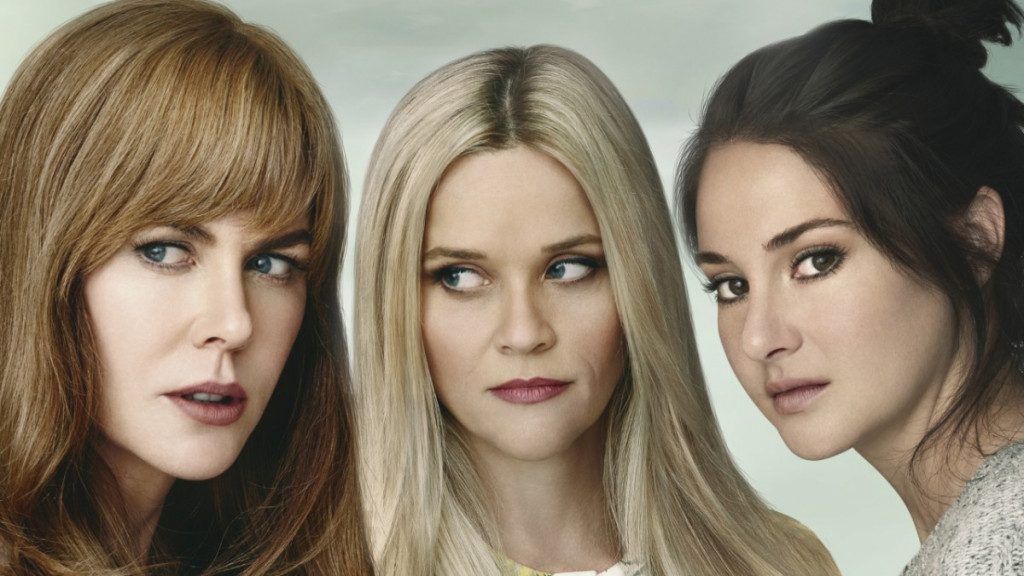 Three mothers and friends, Madeline, Celeste, and Jane, live in the seemingly tranquil and beautiful beach town of Monterey, Calif. They have everything — loving husbands, perfect kids, and stunning homes. However, in this peaceful community, which houses several secrets, the trio becomes embroiled in a murder case. As the episodes unfold, we get to see the real picture of the locality, which involves rumors and fractured relationships. Revolving around the apparent perfection that we label marriage, romance, and parents with, this show delves into exposing the myths behind such blind beliefs.
10. Grace and Frankie (2015-)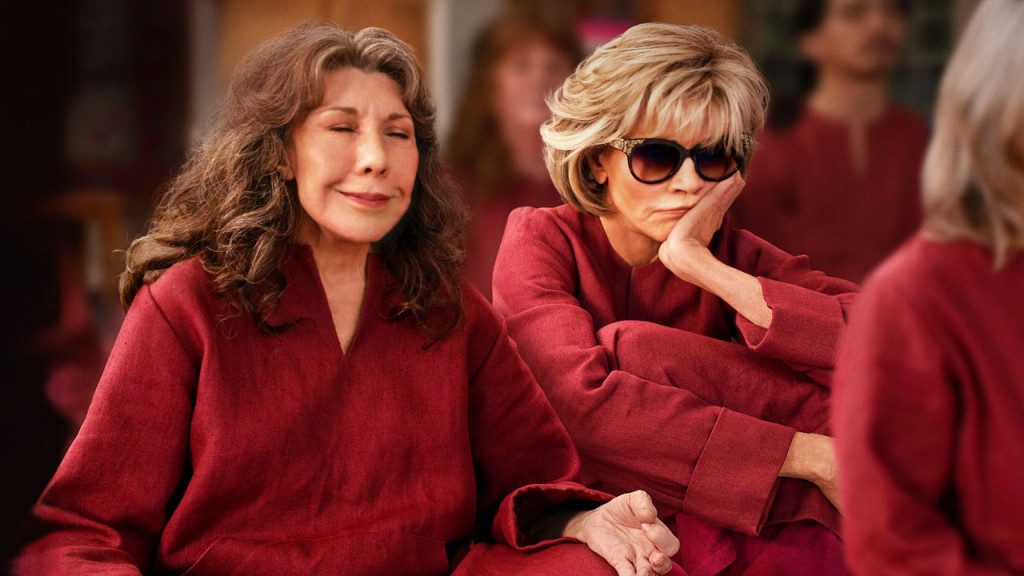 'Grace and Frankie', created by Marta Kauffman and Howard J. Morris, is a comedy-drama that introduces us to Grace (a former cosmetics magnate) and Frankie (a nonconformist and an art teacher), who were not friends before but develop an unlikely bond when they come to know that their husbands Robert and Sol (prominent divorce lawyers) are in love with each other and plan to get married soon. The series follows the duo as they are brought together by these tough circumstances and have to learn to cope with their challenges.
9. The Golden Girls (1985-92)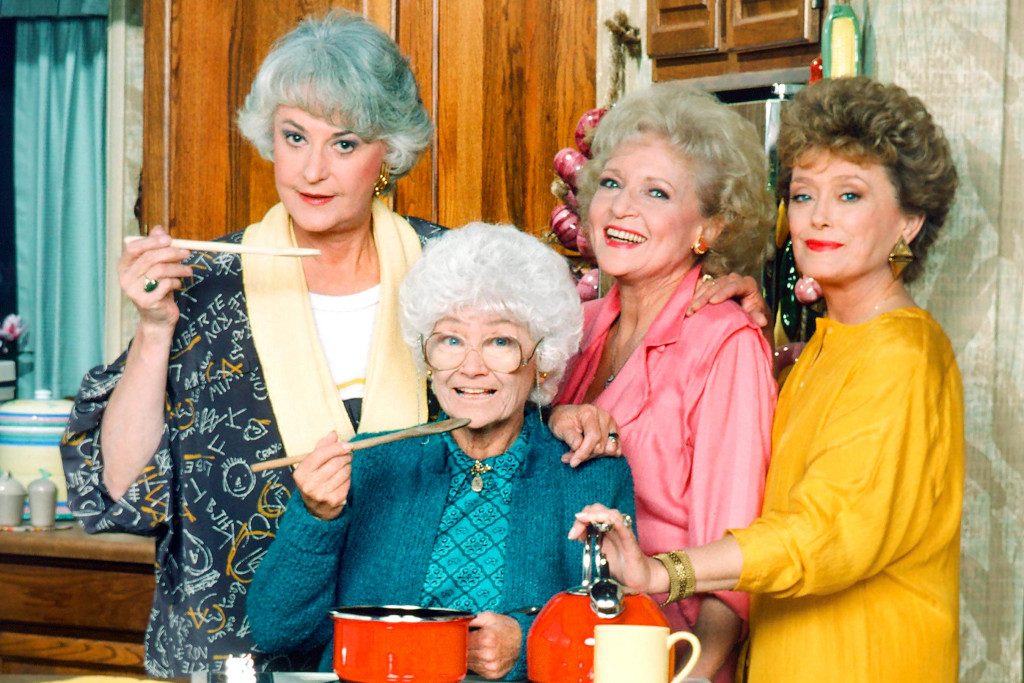 Before 'Grace and Frankie' became an international hit, we had 'The Golden Girls'. In this American sitcom, created by Susan Harris, we meet four elderly single women who live in the same house in Miami, Florida. This NBC show ran on the channel from September 14, 1985, to May 9, 1992, spanning seven seasons with 180 half-hour episodes. Featuring an ensemble cast, it chronicles the ups and downs in the lives of these females as they frequently clash with each other but eventually come together at the end.
8. Orange Is The New Black (2013-)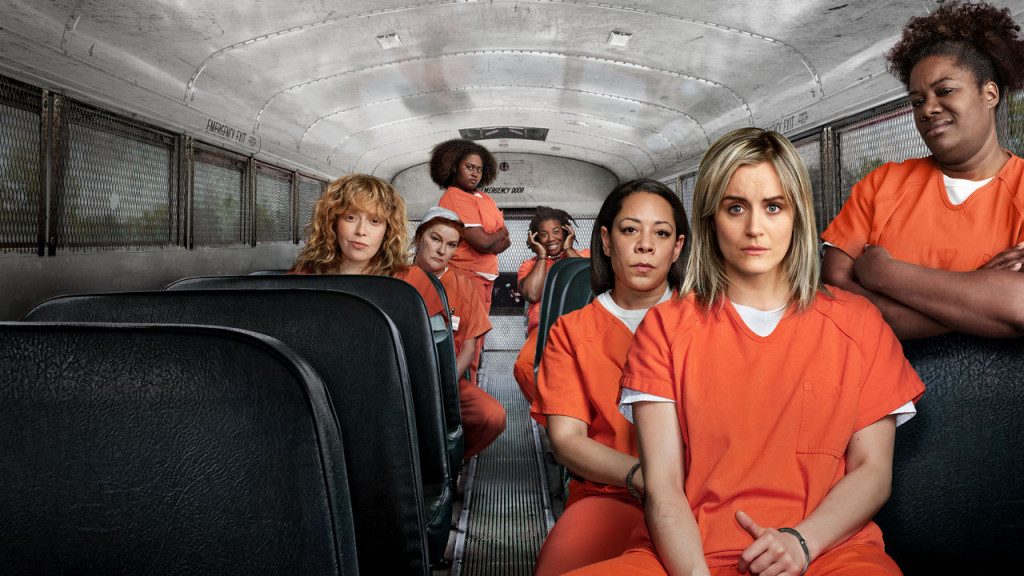 Maybe one of the most popular Netflix Originals, Orange Is the New Black aka OITNB is created by Jenji Kohan and is adapted from Piper Kerman's 2010 memoir, named, Orange Is the New Black: My Year in a Women's Prison. It is narrated through the eyes of the 30-something Piper Chapman, who is sentenced for a period of 15 months in a minimum-security women's prison — Litchfield in Connecticut. She documents the incidents of her life behind bars as she adjusts to her new orange suit and battles prison politics while making weird friendships along the way. You get to see quite a few female ties here — the touching friendship between Tasha, Cindy, and Poussey or the motherly bond between Red and Nicky. It explores how women, who have nobody in these desolate conditions, lean toward each other for mutual support.
Read More: Best Orange is the New Black Sex Scenes
7. Girlfriends (2000-08)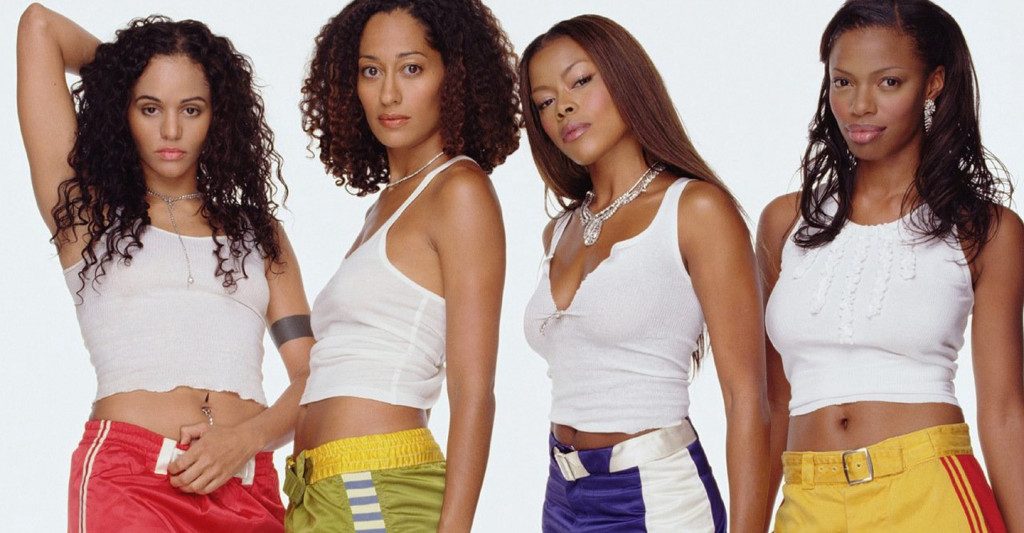 'Girlfriends', which aired from September 11, 2000, to February 11, 2008, was the longest-running live-action sitcom on network TV during those times. Deemed as one of the highest-rated scripted shows among African-American adults aged between 18 and 34, it also features a spinoff named 'The Game'. The show introduces us to four determined young women, Toni, Maya, Lynn, and Joan, who are good friends and face all of life's challenges together.
6. Laverne and Shirley (1976-83)
This ABC show aired on the channel from January 27, 1976, to May 10, 1983, and revolves around the lives of two friends and roomies, Laverne DeFazio and Shirley Feeney who are employed as bottle-cappers in the fictional Shotz Brewery. Set during the late 1950s in Milwaukee, Wisconsin, this hilarious sitcom follows the events in the lives of these two single women as they deal with several unexpected problems and exploits, while still maintaining a close bond with each other.
5. Crazyhead (2016)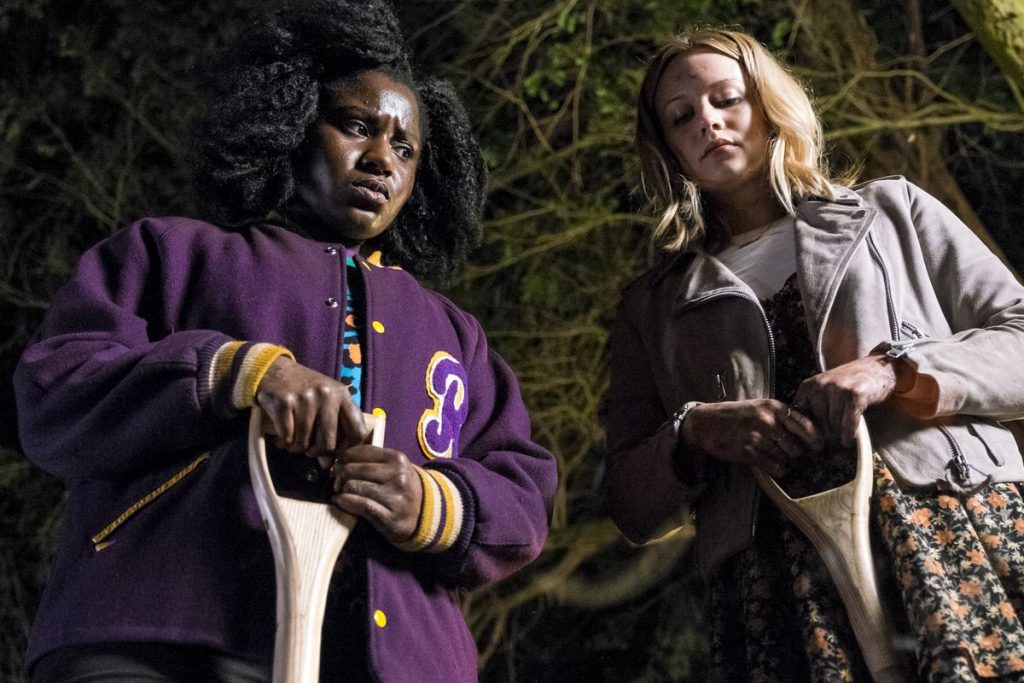 'Crazyhead' introduces us to Amy, a seer, who can find hidden demons. She is best friends with Raquel, a loner and demon hunter, who helps Amy in her quests. This British comedy-horror drama is created by Howard Overman and debuted on E4 on October 19, 2016 in the UK, and was released for the global audience on December 16, 2016 on Netflix.
4. Girl Meets World (2014-17)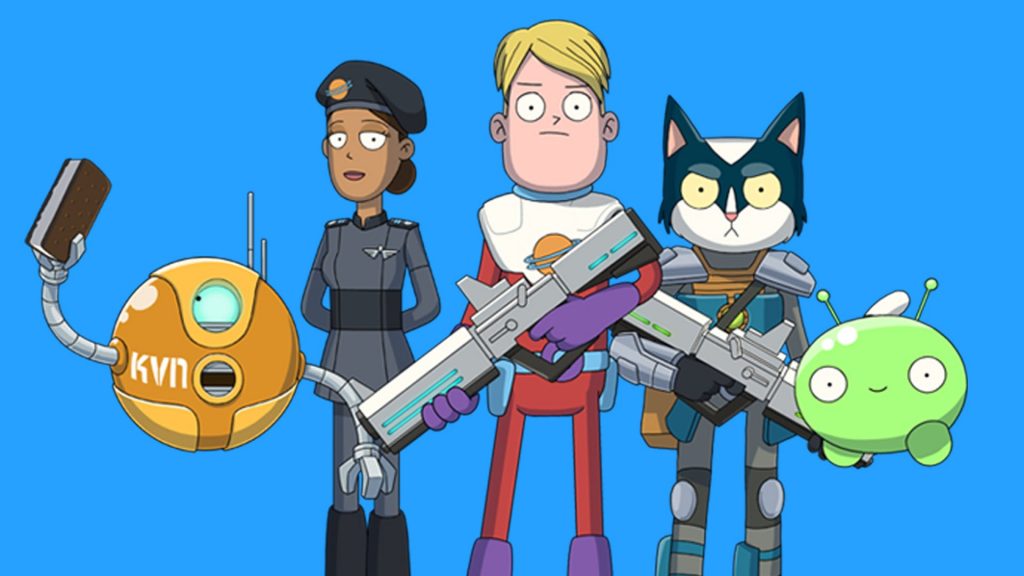 Girl Meets World', created by Michael Jacobs and April Kelly, aired on Disney Channel from June 27, 2014, to January 20, 2017. Developed as a spinoff of 'Boy Meets World', it stars Rowan Blanchard, Ben Savage, Sabrina Carpenter, Peyton Meyer, August Maturo, Danielle Fishel, and Corey Fogelmanis, in the lead roles. The story introduces us to a young teenager named Riley Matthews, as she navigates her life in high school. Her best friend and confidante is Maya Hart, who helps Riley through various personal and adolescence-related problems.
3. Pretty Little Liars (2010-17)
'Pretty Little Liars' is developed by I. Marlene King and is inspired by the novel series of the same name written by Sara Shepard. The show stars Troian Bellisario as Spencer Hastings, Lucy Hale as Aria Montgomery, Ashley Benson as Hanna Marin, Shay Mitchell as Emily Fields, Sasha Pieterse as Alison DiLaurentis and Janel Parrish as Mona Vanderwaal. It revolves around four teenage girls and friends from high school whose lives take a dramatic turn after their group leader mysteriously vanishes. When they meet a year later, they start getting texts from someone named "A" who blackmails them, while threatening to expose their darkest secrets and lies.
2. Rizzoli & Isles (2010-16)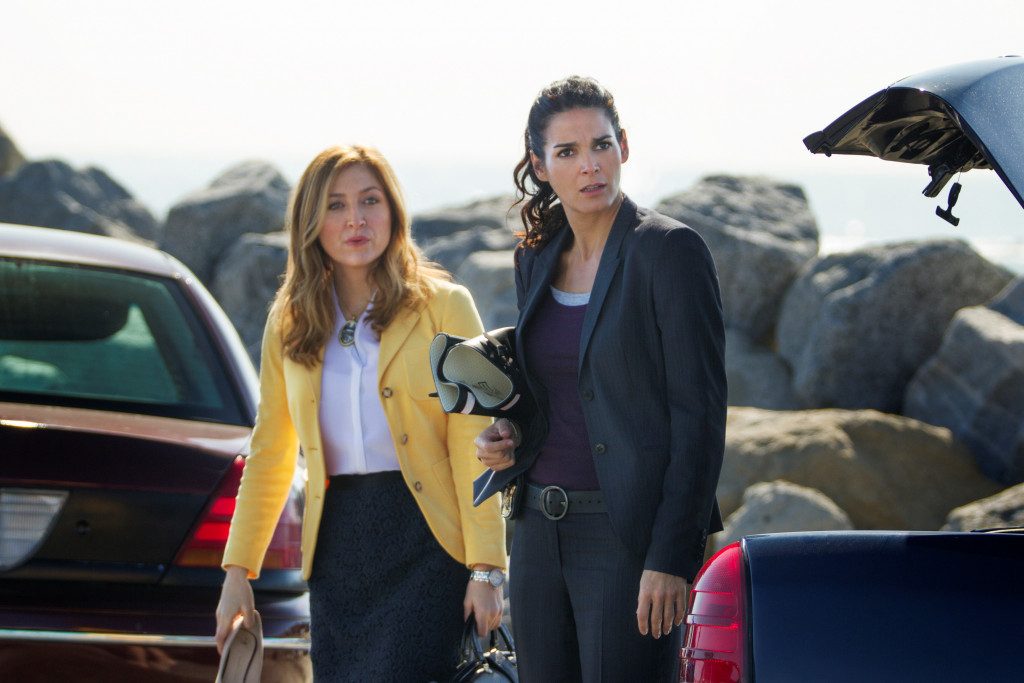 'Rizzoli & Isles' is a police investigative drama that follows the eponymous protagonists, Jane Rizzoli (a police detective) and Maura Isles (a medical examiner). The duo, while sharing a strong bond of friendship. guide each other as they solve various cases. Starring Angie Harmon and Sasha Alexander in the lead roles, this TNT show aired on the channel from July 12, 2010, to September 5, 2016, spanning seven seasons with 105 episodes.
1. Wentworth (2013-)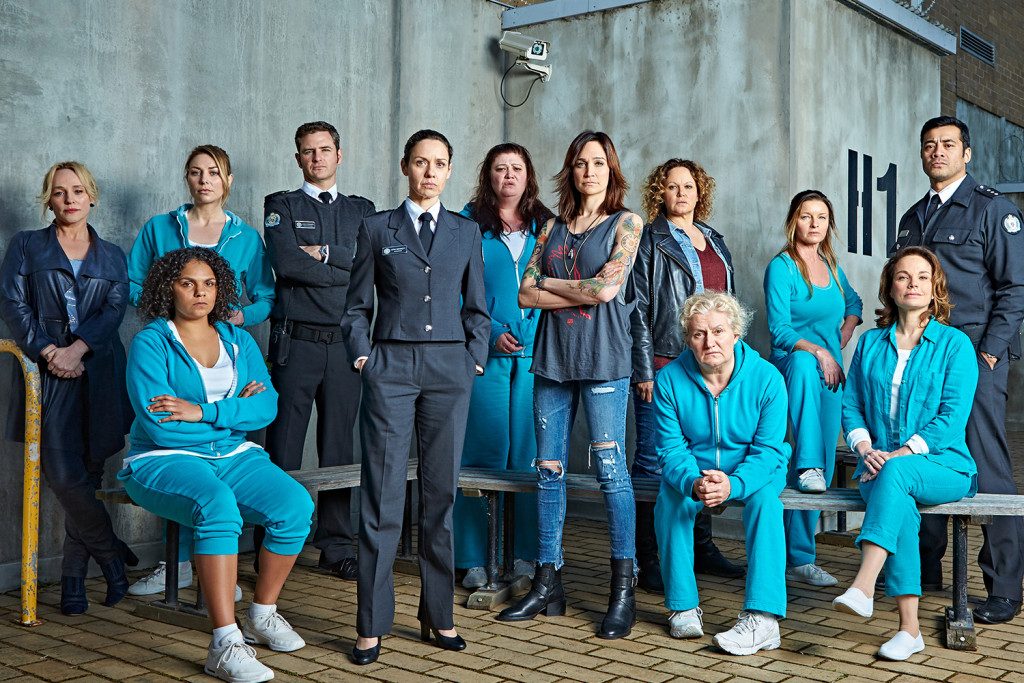 The gritty Australian prison drama 'Wentworth' is a reboot of the famous show 'Prisoner', which aired from 1979 to 1986 on Network Ten. Developed by Lara Radulovich and David Hannam, it chronicles the journey of Bea Smith when she is imprisoned on remand as a suspect for her husband's murder. Fresh and new to life behind the walls, Bea has to learn how to survive and play with the rules of prison politics. She meets Frankie, an aspiring top dog, and develops a rivalry with her after their first encounter. However, she is soon forced to adapt to the desolate prison conditions and fight for her survival. Gradually, she rises to the position of the top dog herself and starts controlling the prison. This show features so many strong female characters that it actually proves to be an inspiring watch. And amidst the grueling schedule, you also seem them forging close bonds. You witness the friendship that blossoms between former rivals Bea and Frankie. You also see Boomer's endless devotion to Frankie and Maxine's affection for Bea. Another example is the motherly bond between Liz and Doreen. Engaging, fast-paced, and packed with violence, 'Wentworth' can be tagged as the more real, grittier version of 'OITNB' and hence, definitely deserves a mention on this list.
Read More: Shows Like Big Little Lies