Showtime's 'The Curse' is a comedy drama series about a show within a show, which pretty much discusses everything. It follows Instagram influencer and co-star of an HGTV pilot, Whitney (Emma Stone), her socially awkward co-star and husband, Asher Siegel (Nathan Fielder) and the unapologetically ambitious producer of the show, Dougie Schecter (Benny Safdie). Under Whitney's guidance, Asher learns what to say in front of the camera for a pilot they want to pitch to HGTV about the impact of Whitney's environment-friendly houses.
Creators Fielder and Safdie star alongside Stone in the lead roles to give proper depth to the kind of chaos they're trying to create. It's a cringe comedy, but it's also a psychological thriller with horror elements, keeping you guessing about the next weird thing that might happen. As the title suggests, there's also an underlying "curse" on Asher, who ends up offending local girl Nala, making her curse him. With so much going on in the show, it raises questions about how much of it has been inspired by true events.
The Curse Is Not a Real Story But Has Elements Rooted in Reality
'The Curse' is entirely fictional and has been meticulously written by the creators to confuse, disturb, and eventually entertain the viewers. It is, in a sense, a spoof of all the HGTV-like house-flipping shows, but it doesn't stop there. It has many elements rooted in reality and even, in a way, questions our perception of reality, especially some reality television shows that seem obviously scripted. It discusses what real people might be like on and off the camera and the idea of fake personalities being created just for the show. Whether this persona, in the long run, starts impacting the real emotions and the sense of identity of a real person remains to be seen.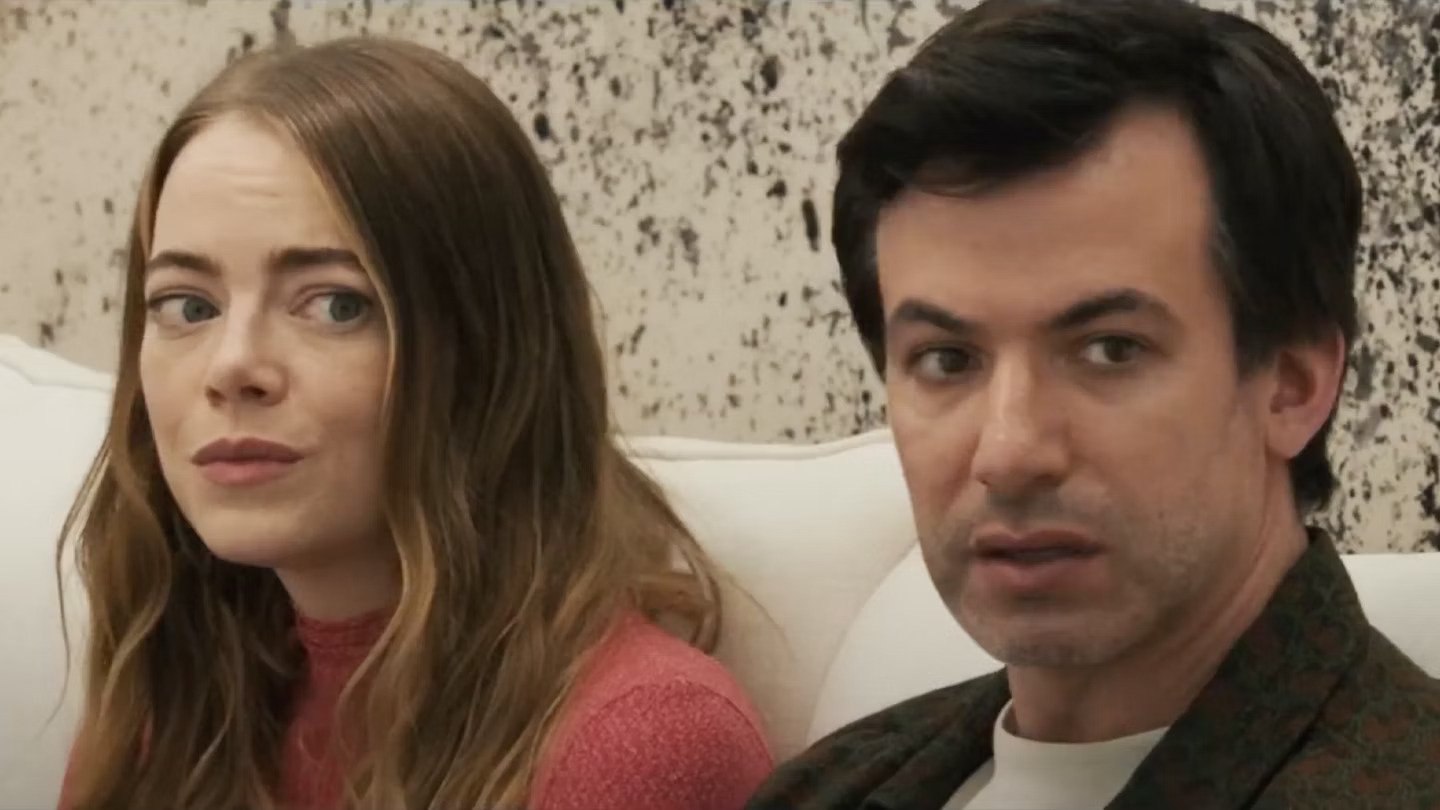 The series is very open to interpretation and seems to be inspired by many shows, films and concepts, even if it intends to in a way provide a spoof of and make fun of itself and similar stories we come across for entertainment purposes. It acknowledges that people love cringe as much as they love real stories and works with what it has to blow the minds of the audience. The Siegels are a rich white couple who think they can benefit the small-town locals in Espanola with their innovative (or ripped-off) designs for sustainable glass homes that can transform the reputation of the community and help them get a popular show.
It's clear that despite constantly repeating it, they don't actually believe they're doing any good, but they surely need to keep pretending for the sake of their project. They seem to ignore that the locals don't want to be "saved," and just wish to keep living like they are. This process of gentrification, which Whitney denies, has been addressed in many films, especially those which could be referenced in this case. Movies like 'Candyman' and 'Vampires vs the Bronx' come to mind with similar themes because of how they infuse comedy, horror and supernatural elements in the context of the changing dynamics of houses. 'The Curse' also, at all times, has a hint of the supernatural since there's no obvious explanation for things that are going wrong with the protagonists.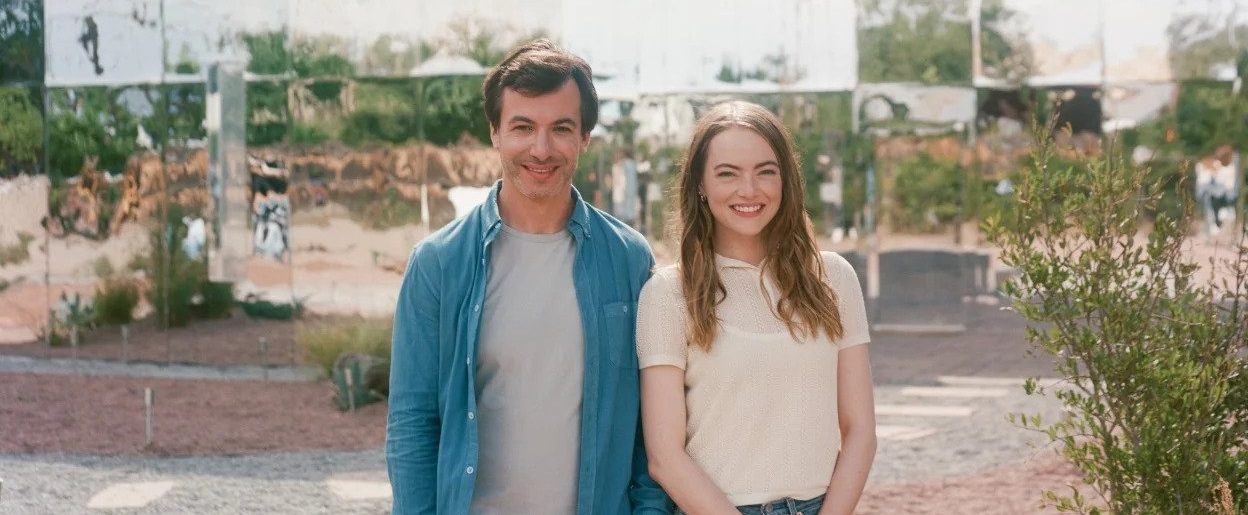 The lead pair might remind one of Chip and Joanna Gaines from the HGTV show 'Fixer Upper' or Chelsea Houska and Cole DeBoer from 'Down Home Fab' with a similar enthusiasm for home renovation and a strong belief in how important the transformation process is. There are many such reality TV stars Whitney and Asher seem to mimic, with their own underlying insecurities and motives also discussed in this show. Whitney also seems to be constantly in denial about stealing her designs from another artist; her need for gentrifying the community, and possibly also her idea of success, which seems to be the story of a lot of people behind the cameras, but is something we never get to learn about.
Dougie's character also doesn't shy away from antics like giving eyedrops to a local to make the final scene look a lot more emotional or forcing Asher to give money to a kid – who then puts a curse on him – just to bring out a fabricated version of reality everyone would love to see. This seems to be a reference to all the reality shows where people shed tears but also, at some point, wonder whether what they witnessed is scripted or real. By doing this, the show questions the reality of reality shows in general, which has been a major topic of discussion and podcasts. In that sense, the show also seems to be a reference to a series like Jennifer Aniston and Reese Witherspoon starrer 'The Morning Show,' which discusses and provides a commentary on what happens behind the scenes in a news channel as opposed to what is portrayed on screen.
This series also ends up addressing issues of white liberalism and racism in America, especially through Whitney's character, who tries to deny her connections to her slumlord parents and pretend to be an ally of the local community with a smile plastered on her face while trying to get them to listen to her ideas about eco-friendly households she thinks are perfect for them. She definitely feels like a savior, or at least pretends to be, which reminds us of the 2017 horror-thriller film 'Get Out.' While this series is not as creepy or scary as 'Get Out,' it surely has similar underlying themes of white liberals trying to change the world that don't go unnoticed. Evidently, while this series is a work of fiction, there are too many references or connections to relatable issues that make it way more interesting to watch.
Read More: The Curse Episode 1 Recap: The Land of Enchantment