As a South Korean reality dating production that can only be described as equal parts charming, dramatic, entertaining, as well as romantic, Netflix's 'Single's Inferno' is simply unlike any other. After all, it revolves around a group of hopeful singles as they search for true love on an isolated island, with their sole means of escape being a mutual connection upon getting to know one another. So now that the second installment of this perfectly heartwarming and intimate original has landed on our screens in full, let's find out what its cast members have been up to these days, shall we?
Are Shin Seul-Ki and Choi Jong-Woo Still Together?
Thanks to her soft charm pulling in not just Choi Jong-Woo but also Shin Dong-Woo and Kim Jin-Young, Shin Seul-Ki was undeniably the most sought-after woman on "Inferno" this time around. However, despite being curious about and attracted to everything the latter was, she ultimately chose the former as her final partner owing to his comfortable sincerity towards her from the get-go. The fact they are the same age (born in 1998) plus are equally devoted to their respective passions turned professions (pianist and café shop owner) were just massive plus points to her as well.
Therefore, we're happy to report it appears as if Seul-Ki and Jong-Woo have continued their romance — neither has confirmed nor denied their standing as of writing, yet there are clues. In fact, in the official reunion video, when the love triangle between them and Jin-Young is revisited, she quietly says, "Look away, Jong-woo!," which is a comment that only makes sense if they're still involved. Moreover, even the Super Sweet Corn Coffee café house co-owner (alongside his family) expressed, "I'm glad they only hold hands," further suggesting he and the pianist are a steady couple.
Are Lee So-E and Kim Se-Jun Still Together?
If there's one thing no one can deny, it's that Lee So-E and Kim Se-Jun are each other types to a tee when it comes to their personalities — they are bubbly, caring, kind, protective, as well as stable. The fact he actually turned her experience upside down following the heartbreak she endured due to her unrequited feelings for Jo Yoong-Jae by simply being himself was also a key part of their journey. Hence, her thanking him for getting her out of a "discouraged and exhausted" state of mind before ensuring they walk away hand in hand absolutely delighted fans and their fellow castmates alike.
Coming to So-E and Se-Jun's present relationship status, though, it's unfortunately unclear whether or not they're still together since they don't even follow one another on Instagram as of writing. There are a couple of comments from the latter's friends on one of his recent posts indicating the duo could still be actively dating, but there are also signs the former recently alluded to being single. Thus, considering everything they went through, until either the aspiring actress attending Hanyang University or the Ascottage tailor in Gangnam-gu, Seoul, explicitly states otherwise, we'll remain optimistic for them.
Are Choi Seo-Eun and Jo Yoong-Jae Still Together?
Despite a bit of jealousy as well as other people's interest serving as early troubles, Choi Seo-Eun and Jo Yoong-Jae were honestly one of the strongest couples throughout 'Single's Inferno' season 2. In fact, they went to "Paradise" together twice — on the first and the last opportunities — and both times, they essentially stayed up all night just getting to know one another on a deeper level. That's why Kim Han-Bin's admitted attraction to the former, along with Lee So-E's pull toward the latter, didn't particularly make a difference in either of the original duo's final decisions.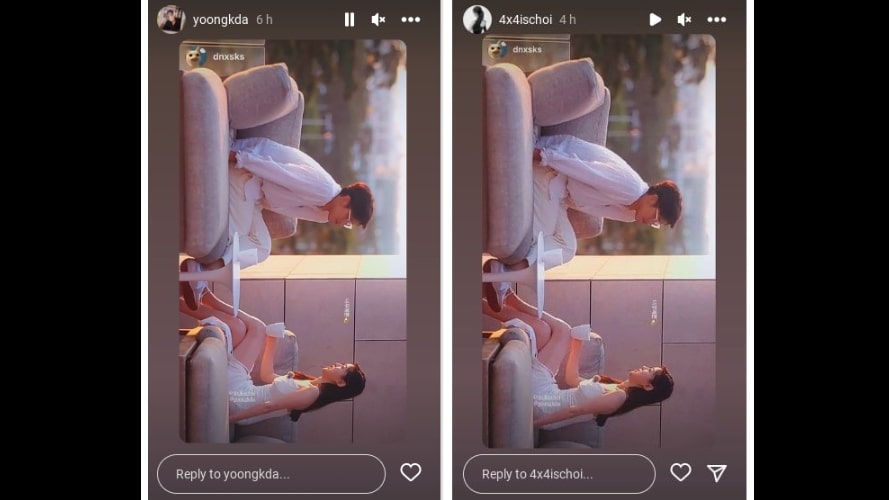 As for their current situation, although neither Seo-Eun nor Yoong-Jae has revealed anything, whether in the form of mutual social media follows or cozy couple posts, we do believe they're still together. That's because they both reposted a golden-hour photo from their second "Paradise" date on the day of the finale, plus their respective New Year's messages online both have a rare blue heart in them — a color significant to their journey. In other words, it's highly likely the painter and stock brokerage firm employee have managed to maintain a happy, healthy, love-filled relationship despite the months to have gone by since filming concluded.
Where is Park Se-Jeong Now?
Park Se-Jeong genuinely put herself out there throughout her stint on the Netflix original, yet her attraction to Jo Yoong-Jae or to Kim Jin-Yoing just never panned out due to their interest in others. She's thus the only contestant in this installment never to have even stepped foot into "Paradise," but it doesn't appear as if this facet bothers her too much these days because she's simply thriving. The 26-year-old fashion, fitness, and photo enthusiast is actually a model signed under the talent management agency KPlus — it's a passion-turned-profession that frankly came naturally to her.
Where is Lee Nadine Now?
Lee Nadine is unwaveringly a fan-favorite participant in this entire experience owing to not just her traditional model-like beauty but also her awkward allure, brilliant brain, as well as quiet charm. Therefore, even though her time in the series didn't end in the way she'd hoped, it doesn't seem to have adversely affected her one bit because she's back to focusing on her career, education, and travel. From what we can tell, the certified EMT technician is currently pursuing pre-med at Harvard University in Massachusetts, all the while also working as a Peer Buddy Committee Executive Director and Internal Relations Executive Director at the Synapse National non-profit organization.
Where is Shin Dong-Woo Now?
Although Shin Dong-Woo only came across as an innately calm yet energetic fitness enthusiast, weightlifter, and basketball player when he first came across our screens, the truth is he is so much more. The Seoul resident is actually a renowned plastic surgeon, a model, and a pageant competitor — he placed second runner-up in Mister International Korea 2021 before being crowned Mister Global Korea 2022. In other words, like Nadine, he is the whole package by being strong, smart, as well as sexy, which is why it seems like they are now closer than ever and have managed to maintain a friendship.
Where is Kim Han-Bin Now?
If only one word can ever be used to describe Kim Han-Bin, it would be considerate. After all, he made his feelings for Choi Seo-Eun clear without putting forth any pressure, developed a close friendship with Lee So-E over their similar predicament, and ensured every fellow castmate felt comfortable at all times. We're hence happy to report that it appears as if he is currently leading a content life as a professional chef, all the while spending most of his free time by the beaches in Yangyang County, enjoying some watersports alongside friends as well as family alike.
Where is Kim Jin-Young Now?
From what we can tell, Republic of Korea Navy Special Warfare Flotilla Unit (ROKN UDT/SEAL) veteran Kim Jin-Young is making the most of every opportunity coming his way at the moment. It thus comes as no surprise he's a rising international public figure serving as not only a YouTuber/Streamer under the name Dex or Dex Archive but is also a significant part of the broadcasting and media production company kthd studio. We should mention he has already appeared in a few other entertainment productions up until now, including 'Toy Soldiers: Fake Men 2,' 'Bloody Game,' as well as 'Love and Joy,' all of which premiered around 2021.
Where is Lin Min-Su Now?
At the age of 26, Lin Min-Su has honestly already accomplished a lot as a pageant competitor (Miss Korea 2020 contestant), model, and the CEO of her own successful online clothing brand, Blue Min. "From start to finish, I'm in charge of everything regarding my online store," she explained in the Netflix series, making it clear she's the brains behind the entire complex operation. "I choose the outfits myself, model them, take pictures, and upload them online." Therefore, she describes herself as an "Artist" on her Instagram bio, and frankly, she is one through and through.
Read More: Is Single's Inferno Scripted or Real?