Ever since I finished playing through the latest 'Spider-Man' game released by Insomniac, my spidey senses have been tingling for some more swinging action. There are a lot of 'Spider-Man' games available on the market today across various consoles, so much so that you will be spoilt for choice. And to add to that, some of the games are really not that good, and that's putting it in a good way. No matter what console you have lying around at home, one of these games below will surely run on it and you can't really go wrong with them. Most of these top Spiderman fighting games, you can only play on Sony PlayStation. Some you can play on PC.
11. Spider-Man and Venom: Maximum Carnage (1994)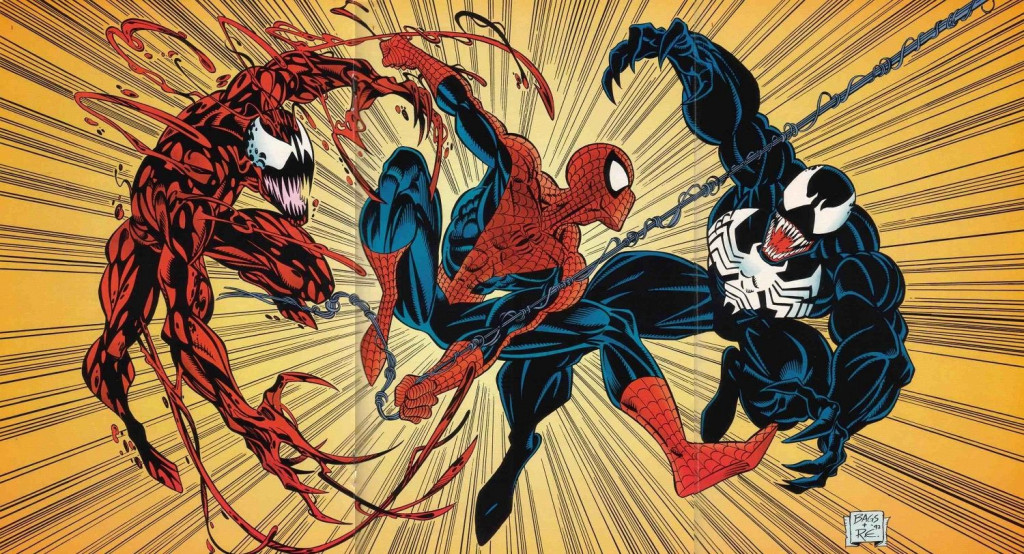 'Spider-Man and Venom: Maximum Carnage' is one of the best 'Spiderman' games to be released for the Super Nintendo Entertainment System. It is a side scrolling beat em up game developed by Software Creations and published by Acclaim Entertainment in the year 1994. The game features a lot of famous Marvel characters apart from Spider-Man and Venom, such as Captain America, Iron Fist, Black Cloak, Carnage and Doppelganger etc.
The main antagonist of the game is Carnage and you control the characters of Spider-Man and Venom as you try to take out the enemy gang. There are various comic striped styled cut scenes that chip in the storyline of the game. In addition to Spider-Man and Venom, there are other special allies that you can summon throughout the game that will help you fight your enemies but you need to find hidden items within the game in order to do so. The gameplay controls are a bit over the edge, but other than that, the game does a decent job of portraying the various Marvel characters considering the limitations of the day.
10. Spider-Man: The Video Game (1991)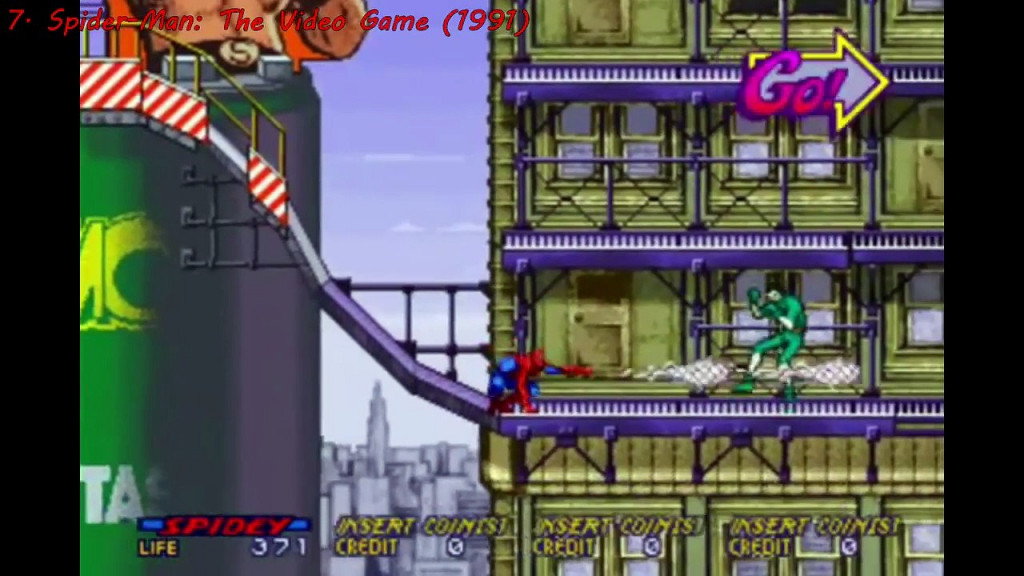 This one's for all the old school arcade fans reading this list. If you grew up in the 90s, we are sure you are familiar with this 'Spider-Man' title, if you've frequented arcades. It was developed and published by Sega for their machine, the Sega System 32 in the year 1991. The game allows the player to choose from 4 heroes, namely Spider-Man, Black Cat, Sub-Mariner and Hawkeye. It can be played solo or cooperatively with up to 4 players, with each player calculating their own scores. The high score system of the game also calculates the scores for each character, so if you manage to obtain a high score with Hawkeye, that might not get added to the overall high score of the game.
There might be other players who have scored even higher with other characters but you have achieved the highest with Hawkeye. It is coin generated and you could play the game until you lost all lives. The game contains both side scrolling beat em up mechanics and platforming mechanics, with the camera shifting accordingly with the change in modes.
9. Lego Marvel Super Heroes (2013)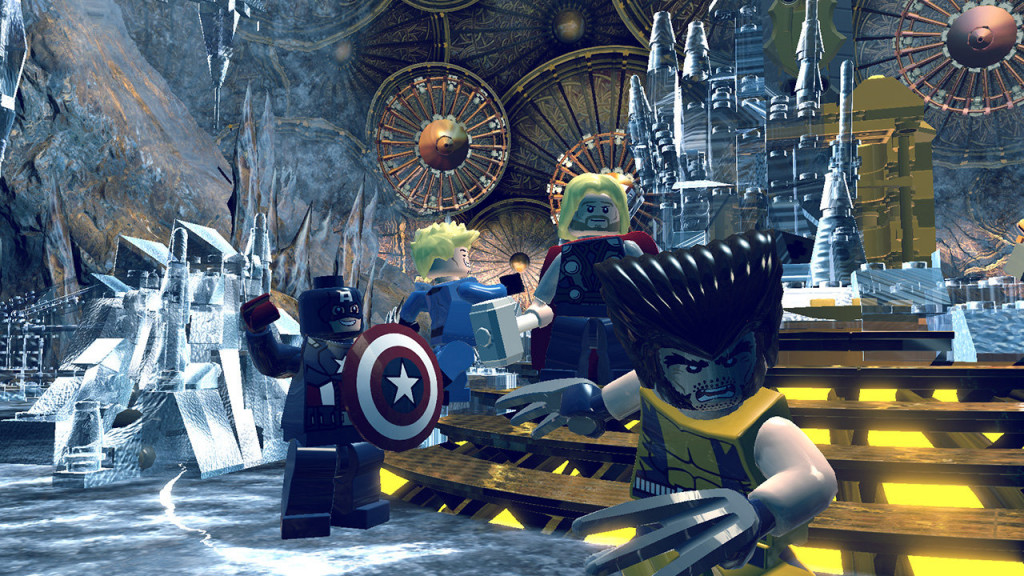 'Lego Marvel Super Heroes' is an action adventure video game developed by Traveller's Tales and published by Warner Bros. Interactive for PlayStation 3, Xbox 360, PS4, Xbox One, Windows PC and Wii U in the year 2013. It was later ported to OS X, android, iOS, Nintendo DS, Nintendo 3DS and PlayStation Vita in the following years, making it one of the most accessible Marvel titles of all time. No matter what console you have, you will be able to find a release for this title for sure. Similar to the other 'Lego' games, the game is set in a semi-open world with a linear setting where you are able to control more than 180 different characters from the Marvel universe. Each of these characters has their own unique abilities like Spider-Man can swing on webs while Hulk displays superhuman strength. The entire city of New York eventually opens up to you as you progress through the game, making it an extensive experience across all devices.
8. Spider-Man: Shattered Dimensions (2010)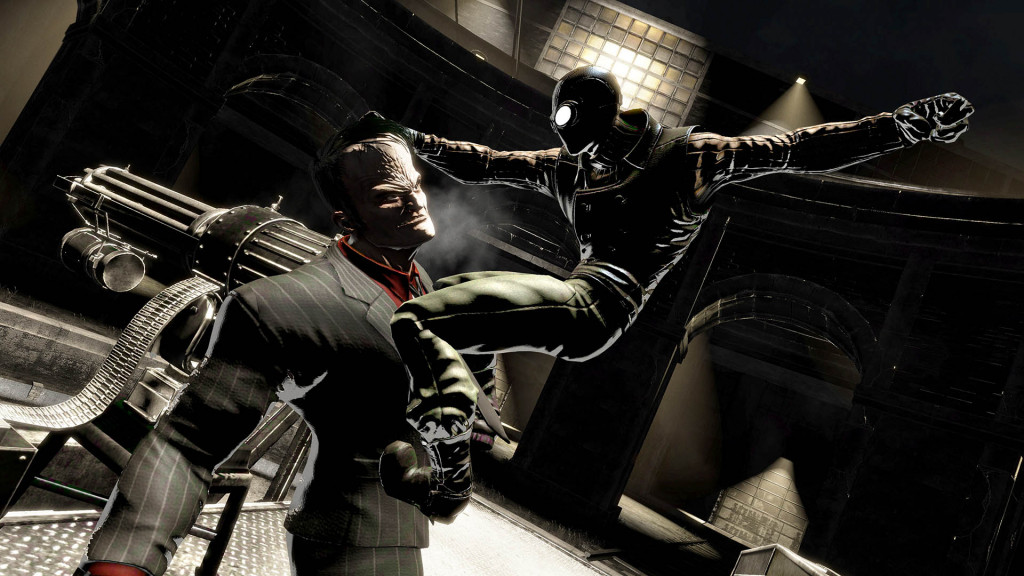 'Spider-Man: Shattered Dimensions' is an action adventure developed by Beenox and published by Activision in the year 2010 for the PlayStation 3, Nintendo DS, Nintendo Wii, Xbox 360 and the Windows PC. The player is able to control 4 different versions of 'Spider-Man', namely Amazing Spider-Man, Spider-Man Noir, Spider-Man 2099, and Ultimate Spider-Man. The gameplay is extremely crisp and praise was targeted towards the developers trying to tie together 4 different Marvel universes.
The story , though, doesn't live up to its hype. But if only gameplay mechanics are considered, then this is one of the most diverse 'Spider-Man' games that allow you traverse open world locations similar to Manhattan. Each character has its own special abilities and you need to use these to your advantage during the various boss battles in the game. The camera also switches to first person view during these intense moments making the gameplay sections more immersive. This is one 'Spider-Man' game we highly recommend to people if they have a last-gen console lying around in their place.
7. Ultimate Marvel Vs Capcom 3 (2011)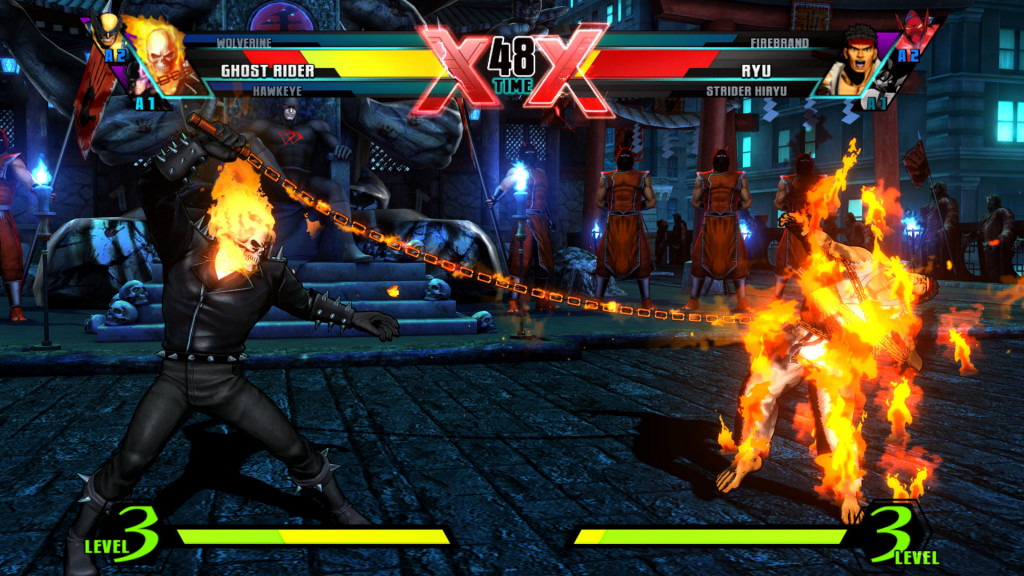 Capcom was really knocking the ball out of the park with their crossover releases but it seems the latest entry in the series called 'Marvel vs. Capcom: Infinite' was not able to live up to the legacy of the series. We felt that the gameplay was repetitive and the characters lacked the depth that they should deserve and this was evident from the gameplay reviews and the reaction from the community. However, the entry before that was quite a different story altogether. It was developed by Capcom in collaboration with Eighting and was released for the PlayStation 3 and the Xbox 360 in the year 2011 with ports for other consoles following shortly after.
The game is an arcade style fighting game where you can choose your favorite characters from the Marvel and Capcom universe. The battles take place in the form of a tag team format where you can swap between characters in-between a fight in order to save health and deploy strategies. It is an extremely fun fighting game that features 'Spider-Man' and other Marvel characters and we highly recommend it to you if you are looking for an arcade style fighting game.
6. Spider-Man 2: The Game (2004)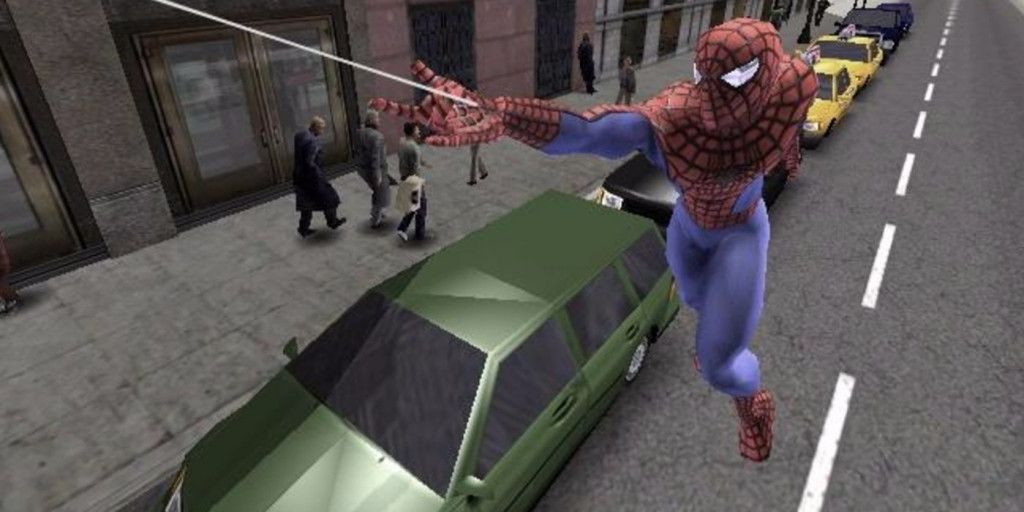 This is the game that first allowed us to traverse through the wide open world as Spider-Man without limitations. It was the dawn of open world free roaming games and the developers of the game Treyarch took full advantage of this in order to present their fans with a whole Manhattan to explore. It is a direct sequel to 'Spider-Man: The Movie' and allows its players to take on various villains within the game such as Rhino and Shocker. The game also allows its players to freely roam the entire city and explore it at their own leisure. You do not need to complete extensive story quests in order to progress through the game. You can take part in a variety of activities throughout the world and earn 'hero points' which are equivalent to experience and lets you progress through the main story missions.
The combat system is also fluid and all the villains have their own unique power, so you need to use a bit of strategy in order to get by some fights. However, due to the polished combat mechanics, no fight seems dragged or overpowered. This is one of my personal favorite 'Spider-Man' games and I highly recommend it to you if you haven't played it yet.
5. Spider-Man: Web of Shadows (2008)
'Spider-Man: Web of Shadows' is a game that was developed by Treyarch and published by Activision in the year 2008. The gameplay of the title changes depending on what console you are playing on. This is because the technical limitations of the handheld consoles could not handle the wide open world and hence the developers had to change the entire format of the game in order to make it available on less powerful devices.
If you play the game on a PS3 or a Xbox 360, then you will be able to explore the open world from a third person view. This very well plays like a regular 'Spider-Man' action adventure game where you are able to swing from rooftops to rooftops and engage in hand to hand combat. However, if you are playing this on a DS or PSP, then the gameplay completely changes to that of a side scrolling brawler or platformer with beat em up mechanics. You are able to choose between the red and the black 'Spider-Man' suits which change the abilities and characteristics of your character and affect the overall gameplay.
4. Marvel Future Fight (2015)
'Marvel Future Fight' is an arcade style dungeon crawler developed and published by Netmarble Games in the year 2015 for the android and iOS devices. The gameplay is similar to other dungeon crawlers that you have probably played, where you need to choose a character or a team and go up against an AI controlled or player controlled character. There are a total of 187 playable characters in the game, all from the Marvel universe and each having their own special abilities. Now you need to collect these characters through in game rewards and then choose the best combination of them and form a team.
There are various characters within the game that provides you with a bonus if placed in the same team together and this is what you should be looking out for. In addition to this, each character that is obtained within the game can be further upgraded to a total of 6 times. This makes the character more powerful and able to handle more powerful groups of enemies easily. We highly recommend this game to fans of the Marvel universe if you are looking for something to play on your mobile.
Read More: Best Zombie Games
3. Amazing Spider-Man (2012)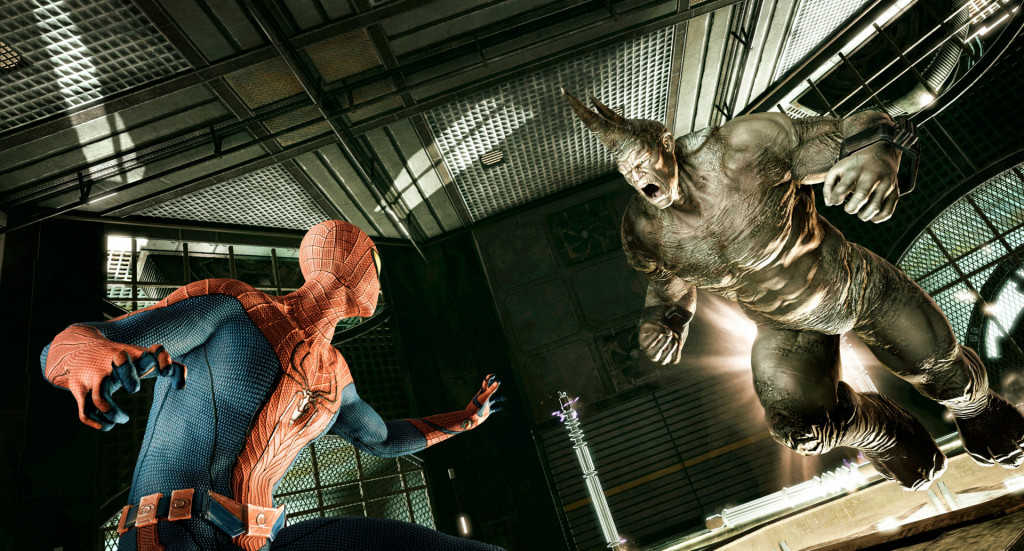 'Amazing Spider-Man' is an action adventure video game developed by Beenox and published by Activision in the year 2012 and follows the story line of the movie released under the same name. The game allows its players to freely roam in an open world while completing quests and taking on the bad guys. The gameplay is similar to the other main titles in the 'Spider-Man' series of games where you find yourself swinging across buildings and occasionally taking a break to take care of a side quest.
The game received mixed reviews upon release with critics pointing out the lack of depth in gameplay and mechanics. The combat also seems quite toned down from the previous releases and it is extremely easy to fight off thugs and other basic enemies in the game. Perhaps the developers could have kept the difficulty of the title at par with the previous releases in order to make the game appeal to more fans worldwide. The story is also not that developed but man, is the game fun to play! This is one of the best 'Spider-Man' experiences you can have on the Xbox 360 and PS3 if you count only the gameplay. The character is extremely fun to control with just the right touch of humor, exactly how we like 'Spider-Man'.
2. Ultimate Spider-Man (2005)
The memories of playing this game with my friends holds strong still today even after years of having not played the game! Oh, how I miss those days where I had nothing to worry about other than the next boss fight in this game! I can't even begin to fathom the number of hours I have spent playing this game while procrastinating everything else in life. 'Ultimate Spider-Man' was released in the year 2005 by Treyarch and Activision for the Windows PC, the original Xbox and the PS2 systems. The game is widely regarded as the best 'Spider-Man' game till date (or at least before the recent one got released) and is definitely one you should not miss out on. Similar to the other 'Spider-Man' games, you are allowed to traverse through an extensive open world depiction of Manhattan while fighting against the bad guys.
Read More: Best Mafia Games
1. Spider-Man (2018)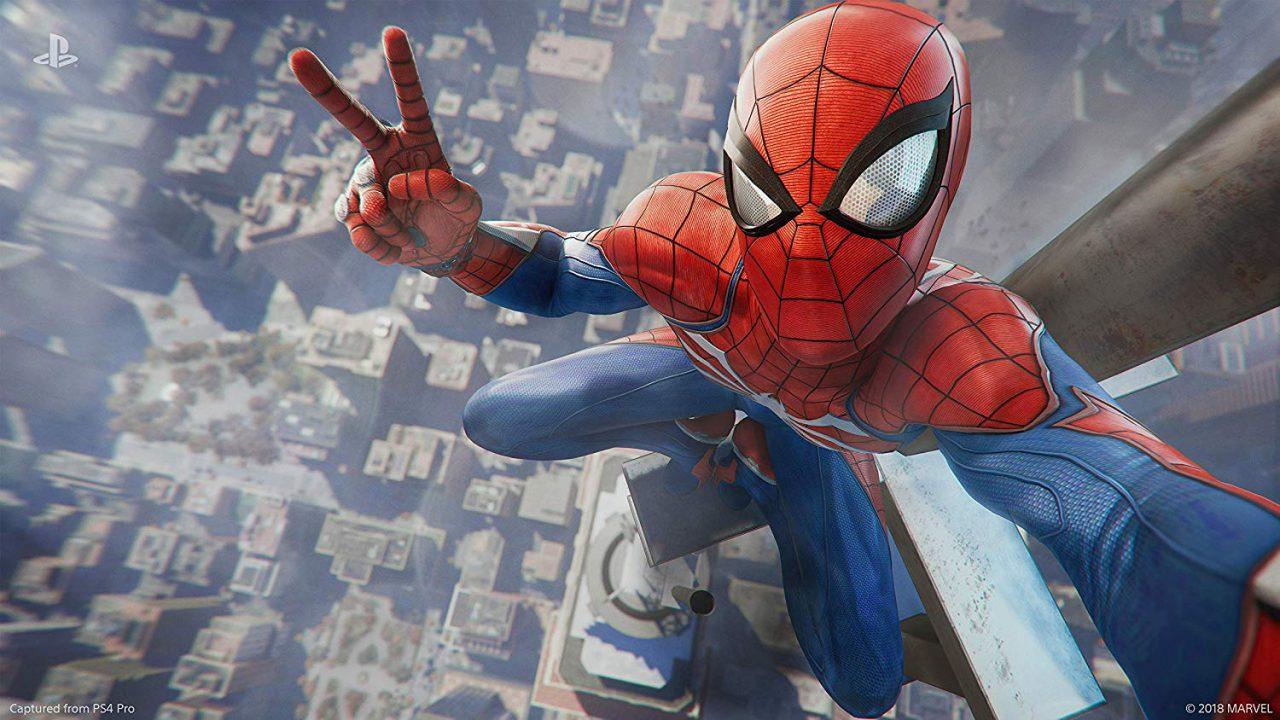 This is Insomniac's first licensed game in their 22 year history and boy have they delivered! This is easily the best 'Spider-Man' experience you can have on any devices. The game allows you to traverse through the entire city of New York as you put a stop to Dr. Negative's plans. Flying and swinging through the highrises never felt so satisfying before and it seems Insomniac has hit the nail on the coffin here. The combat system is extremely fluid with you having to combo attack together building your focus bar. This focus can then be used to heal 'Spider-Man' or perform devastating finishers that take down enemiesin one go. This is one game we highly recommend if you like playing 'Spider-Man' but keep in mind that it is a PS4 exclusive and not available on other devices.
Read More: Best Drag Racing Games