Kristen Stewart started off her career as a child actress in 'The Yellow Handkerchief' and later, she was seen in several other films. But the world only knew her after her promising performance in the twilight series. Since then, she has also been in a few other well-known films like 'Snow White and the Huntsman', 'Adventureland' and not to mention, her upcoming 'Charlie's Angels' reboot. But despite being in all of these big roles, she has now grown into more of an Indie film icon. Like pretty much every famous actor out there, Kristen Stewart has been in some remarkable films and has also been a part of some not-so-great ones. Though she's not exactly a Hollywood sex symbol, she has been part of quite a few bold film scenes. So, we've made a list of the top steamy Kristen Stewart movie scenes:
9. Equals (2015)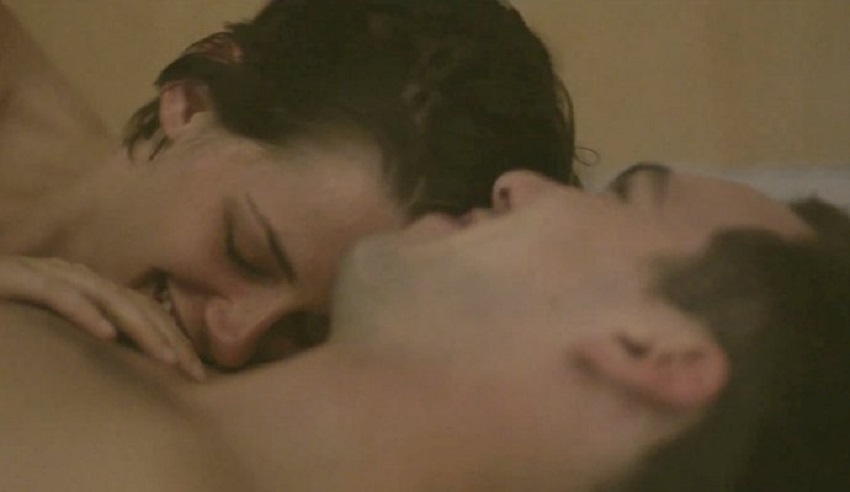 Starring Kristen Stewart and Nicholas Hoult, 'Equals' is set in an utopian world where everyone has become completely emotionless. But after a strange disease affects the two protagonists and brings back their human feelings, the two start falling in love. This not only changes their own perception of the world around them but also creates a deep impact on the society they live in.
The film is indeed one of Kristen Stewart's best works and even the whole sci-fi concept that it explores is quite interesting. When it comes to the nude/sex scenes, unfortunately, the film does not offer much. There is just one tiny little scene where the actress can be seen in a shower all alone and she just sits there contemplating life. Nothing about this scene is mildly sexy or even provocative but since it is a nude scene of some sort, it deserves to be here.
8. J.T Leroy (2018)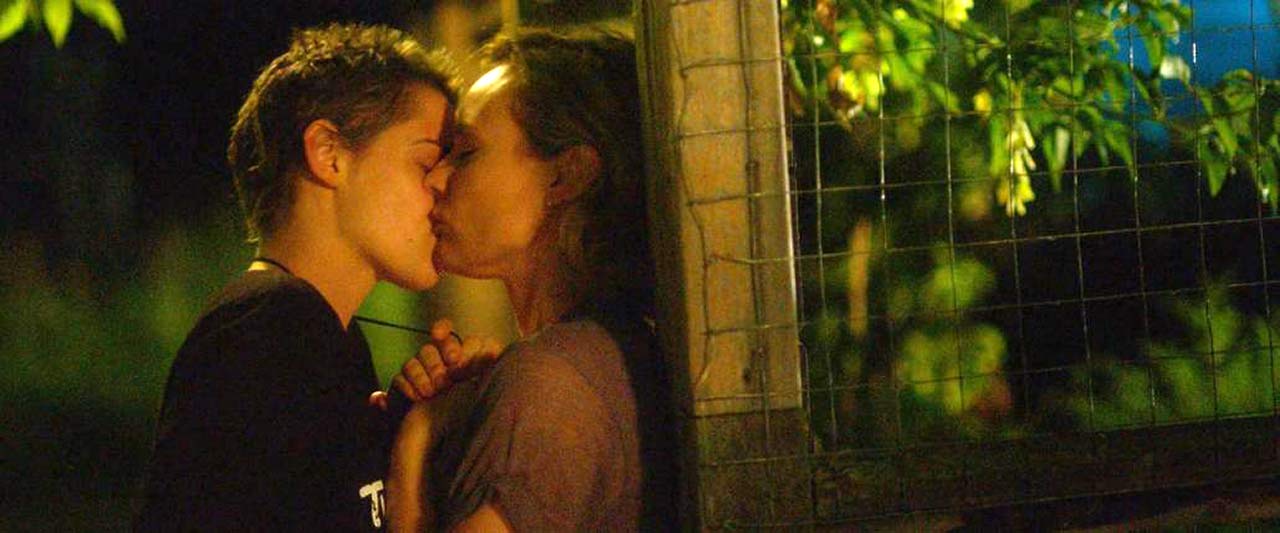 'J.T. Leroy' is one of Kristen Stewart's most recent movies where she plays the role of Savannah Anoop. Savannah is the sister-in-law of an infamous writer named Laura Albert who uses the pen name, J.T. Leroy. She somehow convinces Savannah to pretend to be her androgynous public persona. Savannah takes on the challenge and even starts to go for interviews and all kinds of fashion shoots. Soon, this starts to bug everyone around her who knows the truth and the deeper she dwells into living this second life, the more she loses herself into it.
Kristen Stewart has delivered one of her most memorable performances in 'J.T. Leroy' and it proves that just like Robert Pattinson, she too has come a long way from being a mere teenage heartthrob. Now according to the second persona that she picks up as the movie character, she is a sex worker turned best selling writer. So for obvious reasons, to fulfill this role, she becomes all bold with a blond wig, a hat, oversized glasses, and a Southern drawl. In the "major" sex scene of the film, Savannah has sex with a famous actress named Eva Avalon. Because of her androgynous appearance, it remains unknown whether or not Eva immediately realized that Leroy was a female. She later even confesses it to her boyfriend that she had sex with Eva. Now, this scene does not last too long and there are other scenes in the film that are way more graphic than this one; but this just seems more significant to the overarching storyline and also, the fact that it leaves up to you to imagine the details just makes it sexier.
7. On The Road (2012)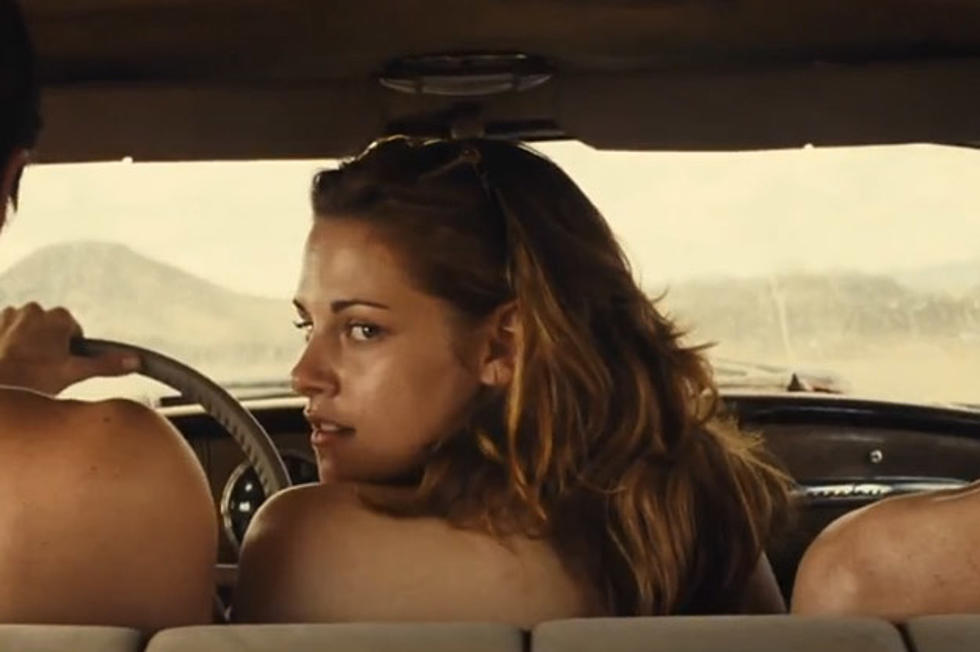 'On the Road' is based on Jack Kerouac's best-selling selling novel that goes by the same name. It tells the story of a young writer, Sal Paradise, who runs into a joyous Westerner named Dean Moriarty. The two decide to embark on a road trip across the country with the motive of setting themselves free from all the conformities that bind them. Along the way, they not only get rid of all the conservatism that holds them back, but they are also able to learn a lesson or two about friendship and life in general.
Kristen Stewart plays the role of a promiscuous teenage girl named Marylou. She gets married at the age of 15 and leaves no room for limits when it comes to having sex with her husband. There are multiple sex scenes in the film and almost all of them are quite graphic. In one scene, she even gets naked with both the leading male characters and gets into a threesome in the front seat of a car while they are driving. In all of the scenes of the film, the actress has gone completely nude and she also boldly claimed in an interview that she really wanted to push herself here without thinking too much about it. 'On the Road' may not exactly be one of her best films out there, but it sure has some of the best sex scenes.
6. On the Road (2012)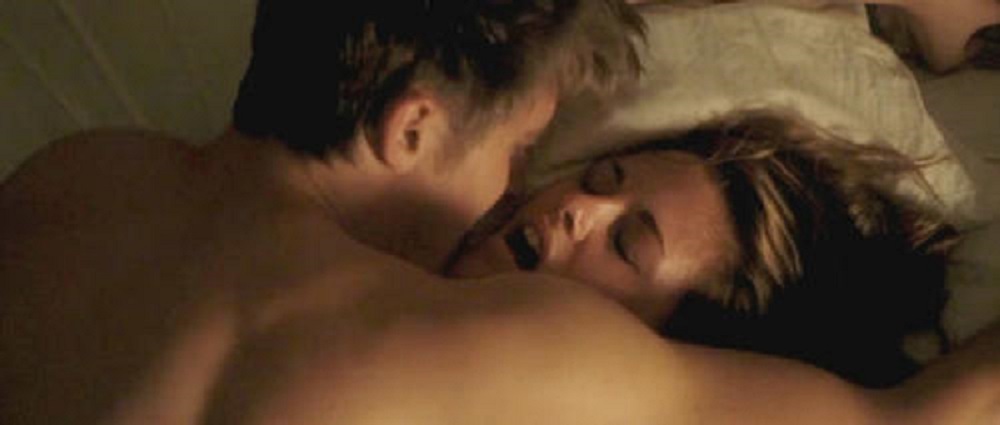 'On the Road' is by far one of Stewart's boldest movies and there is another scene in the film that deserves to be mentioned on this list. Unlike the other one, which is more of a threesome, this one only involves her and a male leading character of the film. The scene involves full-frontal nudity and also clearly suggests that the characters are having sex. Though it does not last too long, it is extremely graphic. Kristen Stewart certainly did not hold herself back with this film and this scene serves as the perfect example of how she has managed to push herself beyond the realms of her comfort zone.
5. Personal Shopper (2016)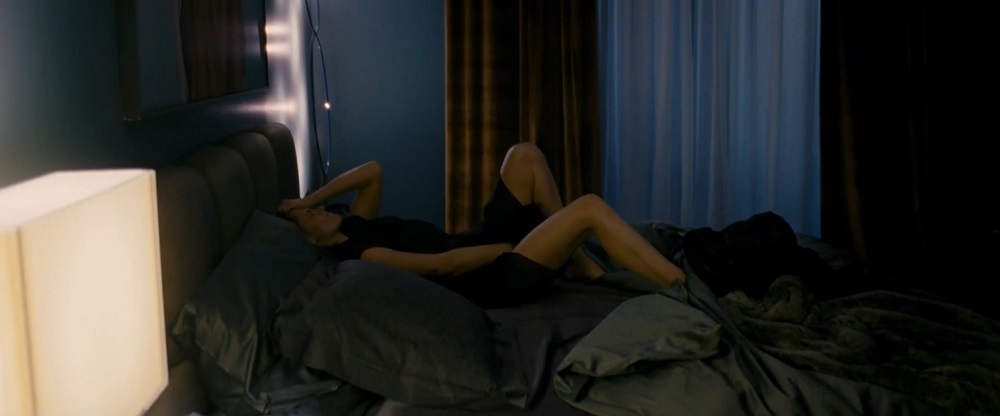 Maureen, played by Kristen Stewart, is a supermodel who decides to stay in Paris after her twin brother dies from a heart condition. Traumatized by his death, she tries to establish some sort of a connection with him by searching for his presence in his house. Things get stranger when she starts getting weird text messages from an unknown number. For the most part of it, the film is creepy and also has a few spooky moments where she tries to feel her brother's presence in the house.
There are no sex scenes in the film but the actress can be seen nude more than once. There's also a non-nude scene where she sits alone in a dimly lit room and touches herself. But for some reason, none of these scenes really turn you on as they are made solely for the purpose of encapsulating the animalistic and disturbed mindset of the character. Overall, 'Personal Shopper' is an average mystery thriller but it shows how far Kristen Stewart has come as an actress. And when it comes to the sex scenes, as controversial as they might be, they do serve their purpose.
Read More: Best 50 Shades of Grey Sex Scenes
4. Welcome to the Rileys (2010)
'Welcome to the Rileys' is one of Stewart's lesser-known Indie films which premiered almost a decade ago. The film tells the story of an old couple, Doug and Lois Riley, who are going through a very difficult phase of their marriage. But when Doug, during one of his business trips, meets a 16-year-old stripper named Mallory, things finally begin to change for him.
Now there isn't too much nudity in this film but it's the actress' role itself that demands boldness. Clearly dedicated to her craft, she does not shy away from shedding it all in this one. In one of the scenes, she wears nothing except some exotic lingerie and tries to seduce Doug by giving him a lap dance. But Doug quickly resists and pushes her back. She then gets really pissed and even claims that he's a cop. She then throws him back his money and walks out of the room in a fit of rage. Following this, there are several scenes in the film where she wears unusually revealing clothing. The actress has claimed that more than any of her other movie roles that involve sex scenes, it's this role that really rocked her to the core; because she not only had to portray an overtly sexual side of her character, but also the sensitivity of her tender age. This again is one of her most underrated performances.
Read More: All Blue is the Warmest Color Sex Scenes
3. Adventureland (2009)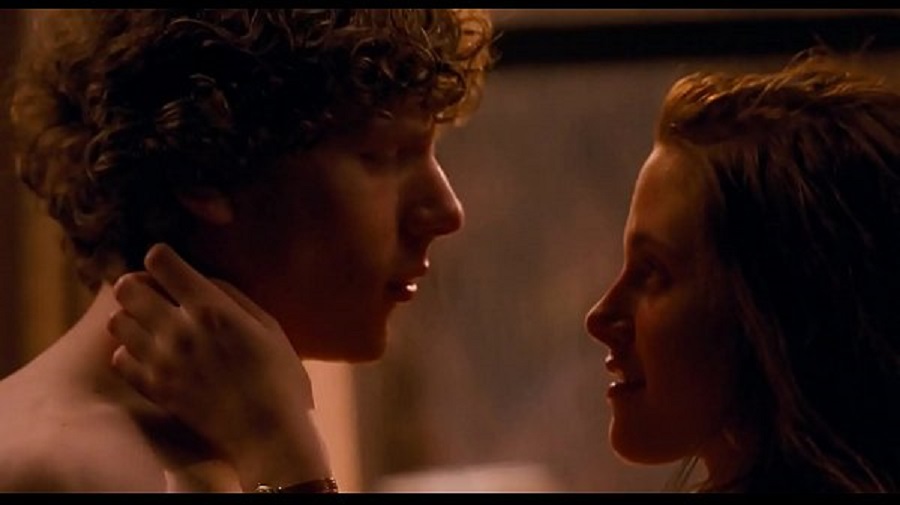 'Adventureland' is one of those teenage "one summer can change your life" drama movies that takes you back to the serene nostalgic 80s. Starring Jesse Eisenberg as James Brennan, the movie is about a young boy who lands a classic summer job at a fairground. Though he feels a little outcasted amidst all the cheap rides and stupid games, he later starts to find his place when he finally makes a few friends. One of his friends turns out to be Em (Kristen Stewart), a sweet young girl with a hard exterior. The two eventually start dating and what started off as a summer job for James soon turns out to be the best summer of his life.
When it comes to sex and nudity in the film, there are moments where the two characters can be seen making out intensely but there is no full nudity in any of these scenes. In the second half of the film, when the two characters have sex for the first time, there is a brief moment where both of them are topless but that's pretty much the end of it. The scene then just fades away before any actual sex is shown. 'Adventureland' may not offer much if you're solely looking for some good sex/nude scenes that involve Kristen Stewart. But if you're from the 80s era, then the film will certainly resonate with you in one way or the other. And not to mention, it has a pretty solid cast which also includes Ryan Reynolds and Bill Hader.
Read More: All Scarlett Johansson Sex Scenes
2. Breaking Dawn Part 1 (2011)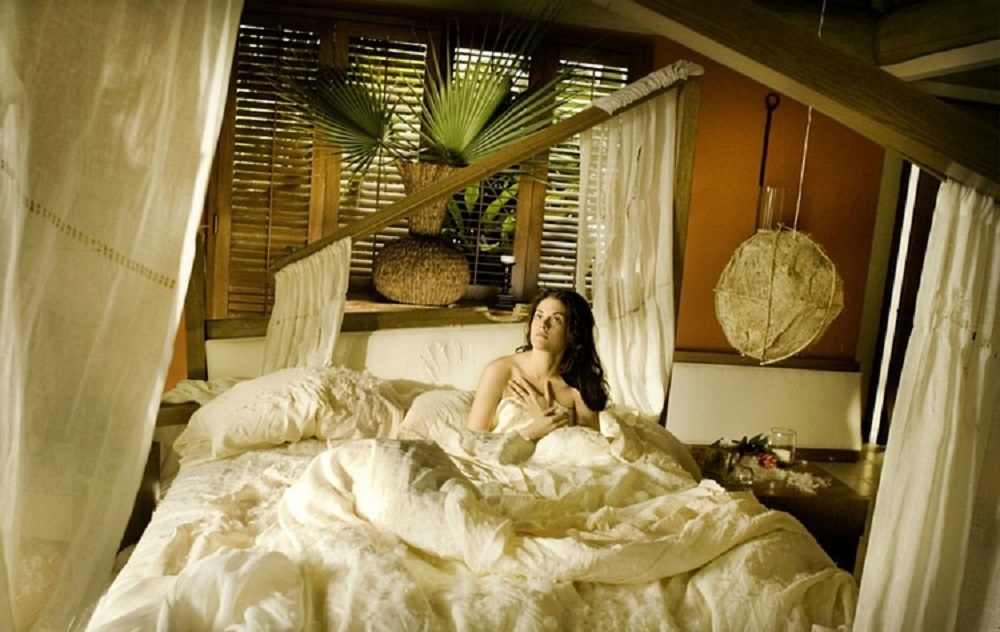 Unless you've been living under a rock, you're probably very well aware of what the 'Twilight' saga is all about. You might hate it because of all the cliched teenage drama that it depicts, but undeniably, the film series has gained immense worldwide popularity over the years. And more than anything else, we've got a whole lot of fans, mostly teenagers, swooning over the supernatural romantic relationships of the characters.
Now from what we know of the film series, there are absolutely no sex scenes throughout, except for the one that has become the most obvious mention on this list. It's one thing to read about the ridiculousness of a Vampire sex scene where your imagination plays a major role; but it's another thing to actually watch something as bizarre as that play out right in front of you, that too by a bunch of professionals. So right after Bella, the main female character, graduates from high school, she gets hitched to her vampire lover and the two head off to an exotic tropical honeymoon. This is where they get into some bed-breaking action.
Read More: All Jennifer Lawrence Sex Scenes
1. Breaking Dawn Part 2 (2012)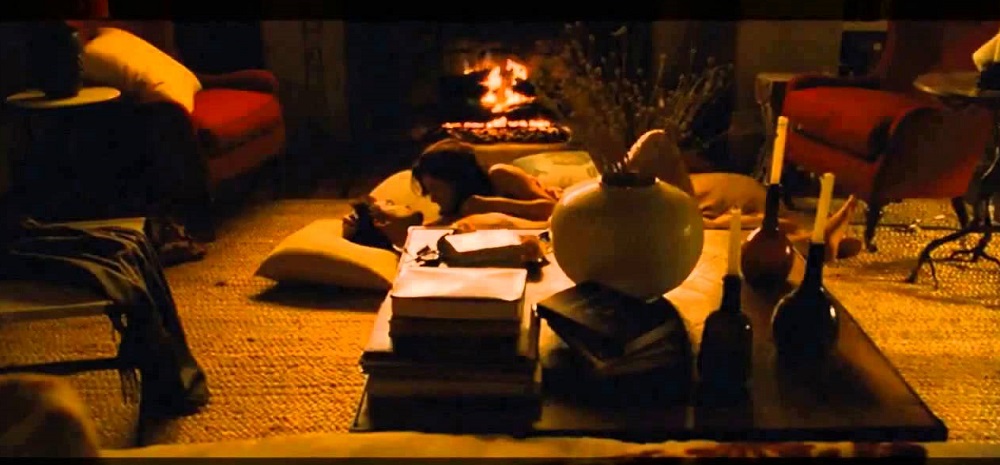 In the second installment of 'Breaking Dawn', Kristen Stewart's character also turns into a Vampire and the sex now goes to a whole new level. This scene is so hilariously otherworldly that you'll be confused whether you're supposed to get turned on or just laugh at it. Nonetheless, it's entertaining as hell and it makes you realize that being a Vampire may not be too bad after all. You look beautiful all the time and you never get tired; what more can you ask for? This scene is also an example of how one can create the "best vampire sex scene ever" and still get away with a PG-13 rating. For more vampire bed-breaking action and some comic relief, this one is worth checking out.
Read More: All Alexandra Daddario Sex Scenes