It has indeed been a remarkable run in Hollywood for Jennifer Lawrence, who is not even 30 yet. Within a short span of just 10 years, she has become an internationally acclaimed actress. Thanks to her extremely popular 'Hunger Games' series, she has established herself as a major box office star and also after winning an Academy Award for her role in 'Silver Linings Playbook', at the mere age of 22, she proved that she is one of the most talented actresses of our generation.
But apart from being an incredibly talented actress, she is also known for being one of the biggest Hollywood heartthrobs who makes every man swoon over her amazing personality and nearly perfect body. As much as we love watching her in action movie roles, we must admit how incredibly sensuous she can be while doing intimate scenes. So, here's the list of top steamy Jennifer Lawrence movie scenes:
7. Red Sparrow (2018)
Since 'Red Sparrow' is by far her raunchiest movie ever, it certainly deserves to be mentioned more than once. In this scene, she wakes up semi-nude in a dimly lit room and slowly walks out of her doorway, towards her co-star Joel Edgerton. She then asks him if she can trust him and then slowly just slips up on his lap to have sex with him. Though a little reluctant about it, in the beginning, Joel Edgerton's character has no choice but to give in to the temptation. The scene only lasts for a few seconds but undeniably, it is one of the boldest scenes Jennifer Lawrence has ever been involved in.
Yet again, just like the other scenes from the film, her character shows a sense of power in this scene and in a way, dominates the male character using the power of her seduction. This pretty much seals her claims of feeling empowered in all the sex scenes of the film. The main reason why this scene does not really make it to the top is because of the lack of chemistry between the two characters. There's a glaring lack of connection between them which ruins the overall tone of the film. Apart from this, 'Red Sparrow' also has several other sex scenes and one of them has made it to the top of this list. Read on!
6. X-Men (2016)
While some might argue that Jennifer Lawrence completely ruined the 'X-Men' franchise after she became extremely famous around the mid-2010 (2014-2016), we would say that she made the series a bit more watchable. Playing the role of Mystique, who is more of an adversary rather than an ally to the X-Men, Jennifer Lawrence adds a whole new level of sexiness to the character. It's her naturally charming personality that adds so much to the role and then of course, her perfect curves just make Mystique the kind of mutant every guy would dream of. We are not pointing out any particular scene from the franchise as her screen presence itself in the film is enough to turn you on.
5. Serena (2014)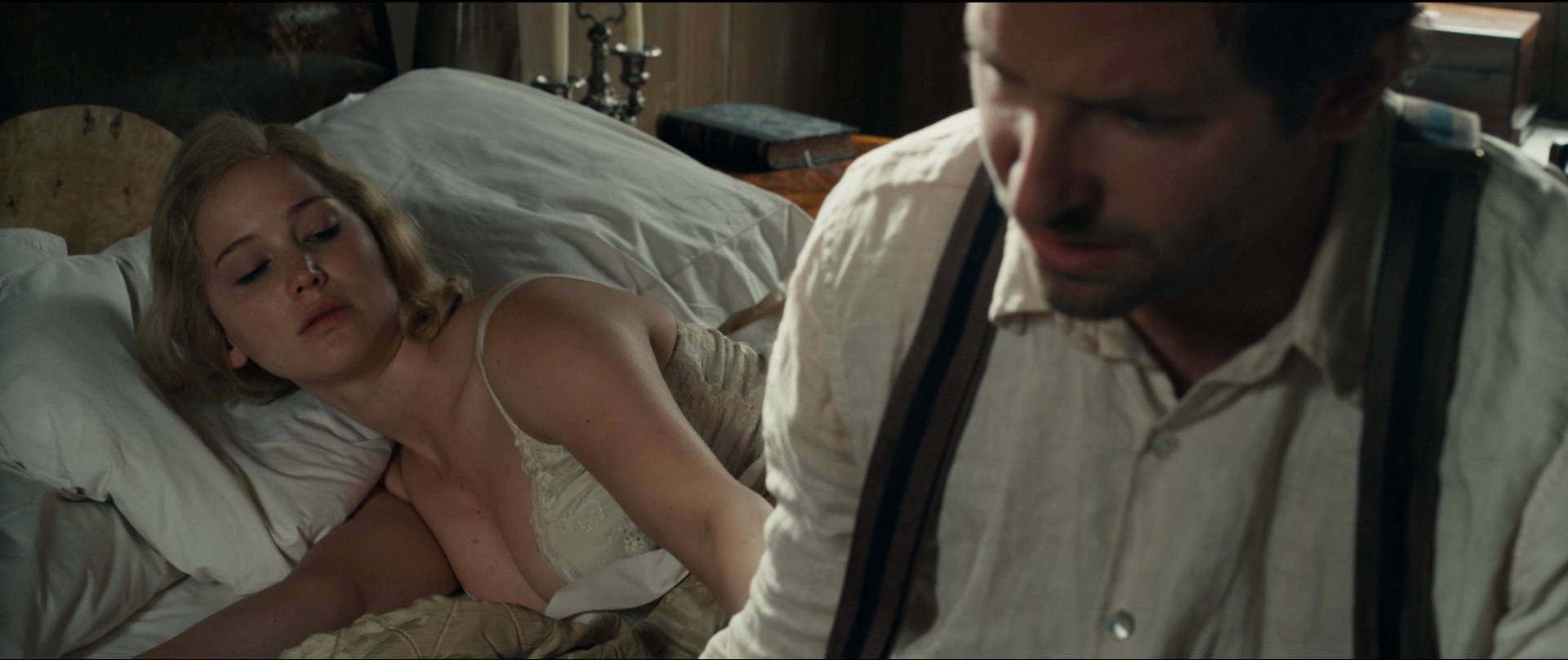 Based on a book written by bestselling author Ron Rash, 'Serena' is a dark romance that revolves around a successful timber baron named George who ends up marrying a very beautiful girl named Serena who comes from a poor background. Set in the Depression-era North Carolina, the film follows the couple as the girl starts to influence all of George's decisions and things get really complicated between them when she finds out about his illegitimate child. But despite having a pretty solid cast which includes Jennifer Lawrence and Bradley Cooper in the lead roles, the film did not do so well. After coming out with 'Silver Linings Playbook', which is considered to be one of the best romantic movies in recent times, a lot was expected from the iconic duo. And though their performances in the film are great, it's the story that fails to appeal to a general audience.
One good thing about this film is that it has a lot of titillating sex scenes. The two actors have already shown some great chemistry as a couple in 'Silver Linings Playbook' but in 'Serena', they take things to a whole new level with some incredibly passionate lovemaking scenes. There is also one scene where Bradley joins Jennifer in the bathtub and touches her while she completely loses herself in the moment. Even if you don't enjoy the movie overall, the realistic sex scenes might impress you.
4. Passengers (2016)
'Passengers' is a sci-fi drama that stars Jennifer Lawrence and Chris Pratt. The two of them play the role of passengers on a spacecraft that is on its way to a distant colony. Chris Patt's character is abruptly woken up 90 years before the end of the journey and when his loneliness gets way out of hand, he decides to de-hibernate one of the female co-passengers named Aurora. He robs her a long life on a planet but claims that her pod malfunctioned after she awakens. Now 'Passengers' was expected to be a great film but it just failed to live up to all the hype that surrounded it. However, the film gave some really steamy moments between the two extremely attractive co-stars.
Chris Pratt's character, Jim Preston, gets exactly what he wanted and eventually, Aurora does fall in love with him. This leads us to the sexiest scene in the film where the two of them start making out and as soon as they get to their bedroom, they shed all of their clothes and have sex for the first time. This scene does not last too long but it does show enough nudity to turn you on. Just like the entire movie, the chemistry between the two characters really stand out during this scene, but in reality, the two co-stars claimed that it was all quite clumsy. And the fact that Chris Pratt is married made Jennifer Lawrence guilty about it. This scene was Jennifer Lawrence's first major movie sex scene and apparently, she got really drunk just to calm her nerves before shooting it. While she claims that getting drunk made her even more anxious, from what we get to see as viewers, it really looks like the duo nailed this one brilliantly.
Read More: Actresses Who Went Fully Nude
3. Mother! (2017)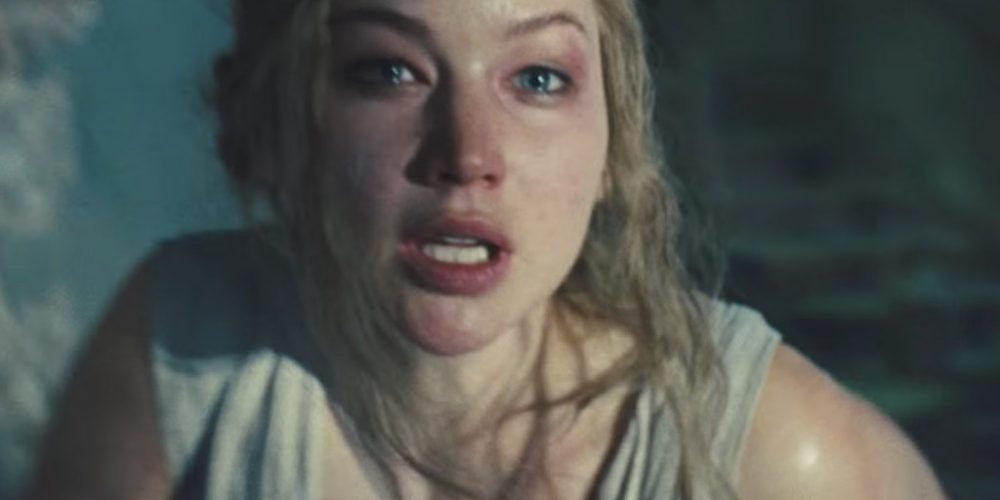 Written and directed by Darren Aronofsky, 'Mother!' is a psychological horror that tells the story of a young woman named Veronica who lives with her husband (Javier Bardem) in a grand mansion located near the countryside. She spends most of her days renovating their huge home but one day, everything changes when a new guest arrives there. Soon, he is joined by his wife and kids who make themselves at home. Nothing really seems out of the ordinary until Veronica's own husband starts treating her like a stranger.
Now 'Mother!' is known for its over-the-top approach but nudity is not a prominent part of the film. And unlike most others on this list, 'Mother!' did not really turn too many heads when it comes to being profane in any way. But there is still one scene where Jennifer Lawrence can be seen in an almost transparent gown that completely reveals her bare body. In this scene, the film starts to introduce the viewer to the darker side of the story, as we see a semi-nude Jennifer Lawrence walk around her grand mansion looking for her husband. There isn't anything great about the scene and it will certainly not turn you on in any way, but it's a moment when you completely forget about the film's underlying darkness as you admire Jennifer Lawrence's raw beauty.
Read More: Actresses Who Went Nude For Movies
2. American Hustle (2013)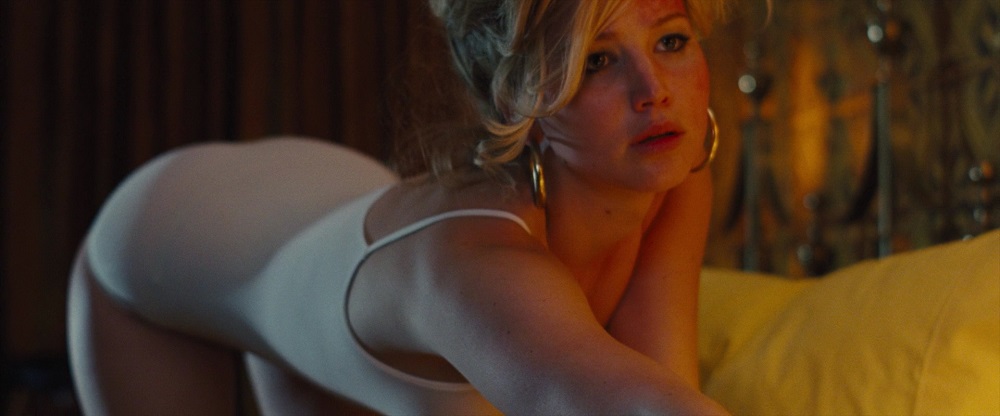 Starring Christian Bale, Bradley Cooper, Amy Adams and of course, Jennifer Lawrence, 'American Hustle' is the story of a conman named Irwing Rosenfeld who is forced to work with FBI Agent Richie DiMaso. His equally cunning and attractive wife, Sydney Prosser, joins him as he dwells deep into the world of Jersey Powerbrokers and mafia. Jennifer Lawrence plays the role of Rosalyn, who is Irwing's wife and holds the power to pull the right strings and send the whole world crashing down. When it comes to the sex scenes and nudity of the film, most of these provocative scenes involve Amy Adams. But even Jennifer Lawrence is involved in a few of these scenes and not to mention, she shares an infamous kiss with her female co-star.
The first scene where Jennifer Lawrence can be seen "almost naked" is where Irving asks her for a divorce and very subtly, she tries to manipulate him into believing that they are doing just fine together. And as she starts to strip, Irwing describes her as the best con artist he has ever met. She bends down and flaunts her voluptuous curves as Irwing begins reflecting on a lot of things in his life. He may be one of the best con artists out there, but when it comes to his wife, Rosalyn, he is the one who always gets "conned". There's another scene in the film where Rosalyn and Sydney get into a heated argument and that's when Jennifer's character boldly bends down and kisses Amy Adams. She then just walks away with an evil smirk on her face. It turns out that including this scene in the film was actually Amy Adams' idea, who openly claimed that she probably just wanted to share a shameless kiss with the stunning Jennifer Lawrence — and we don't really blame her for wanting that.
Read More: Best Nude Scenes in Movies
1. Red Sparrow (2018)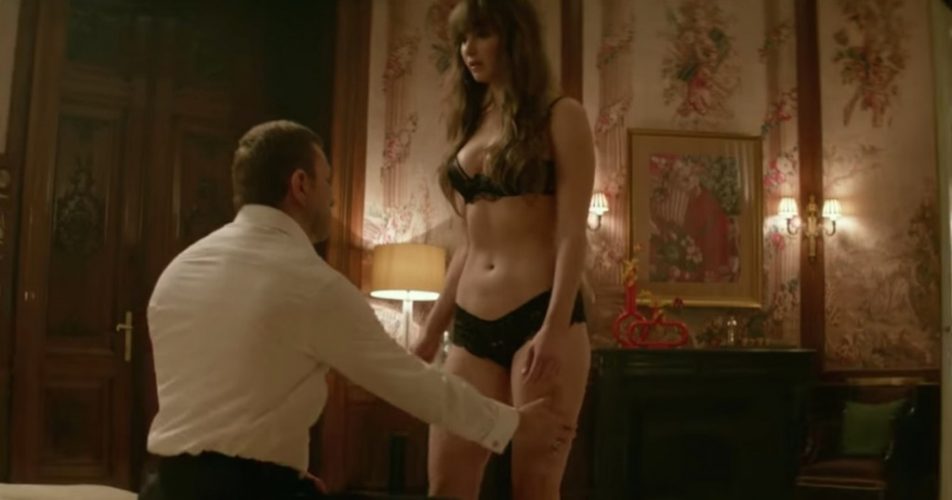 'Red Sparrow' is one of the most provocative films Jennifer Lawrence has starred in and the film is exactly what it promises to be in all of its promos. Though it is the story of a ballet-turned-assassin, it is nothing like 'Black Widow' or 'Atomic Blonde'. The film raised a lot of controversy after its release as the actress pretty much bears it all. There are several sex scenes in the film and there are also scenes with full-frontal nudity, but strangely, none of these scenes appeal to you in a sexual way. In fact, it was always the intention of director Francis Lawrence to make these scenes uncomfortable and violent. Jennifer Lawrence plays the role of Dominika who is forced into a life of espionage and is trained to use her body as a weapon to extract secrets from her victims.
In an interview, the actress claimed that despite all the bold nudity in the film, she actually felt empowered while shooting all of them as she was given the opportunity to have a "full say" in everything that she did in all of those scenes. There is one scene in the film where she bears it all but it isn't erotic at all. During a grueling exercise at her Elite spy school, she asked to give a fellow student what he wants after he attempts to rape her in the shower. But she quickly turns things around and dominates him by easily offering her body to him. To this, the man is caught off-guard and is unable to achieve an erection. That's when she concludes that he only wants power; not sex. While there are many other provocative scenes in the film, it's this scene that completely encapsulates the actress' claims of feeling empowered during the sex scenes.
Read More: All Scarlett Johansson Sex Scenes