Slasher films are among the most popular horror genres, with some really iconic films having been made in the genre over the years. The trope in such movies almost remains the same: a group of people are trapped in an area from where they cannot escape while a sinister killer murders them one by one. Now, this trope has seen several variations over the years, with many filmmakers using it to varying degrees to achieve their desired effect. However, to be able to infuse comedy in such a story requires unparalleled skills, as the two moods are the farthest things from each other. But if the desired effect is reached, the effect on the audiences can be unbelievable.
With Netflix trying to constantly up the ante in terms of original content produced on their website, the streaming giant has never shied away from experimenting. The French film 'Girls With Balls' is a similar experiment in this regard, and is the first ever horror-comedy produced by Netflix. The film centers on a female volleyball team, who, while returning from one of their games, get trapped in a sinister town when their vehicle breaks down. This town is crowded by a bunch of evil hunters who join forces to torment these girls and play a game of death with their lives.
Despite not living up to its promise, the film does boast of moments of sheer brilliance. The narrator sings out the premise in a comedic voice when the film begins, creating an atmosphere that is very much different from what is about to unfold. But the movie never strives to be unique and remains a mediocre version of an often-used trope of horror films. However, if you loved this film and are looking for more flicks that are similar in tone and style, then we've got you covered. Here is the list of best movies similar to 'Girls With Balls' that are our recommendations. You can watch several of these movies like 'Girls With Balls' on Netflix, Hulu or Amazon Prime.
7. Tucker And Dale vs. Evil (2010)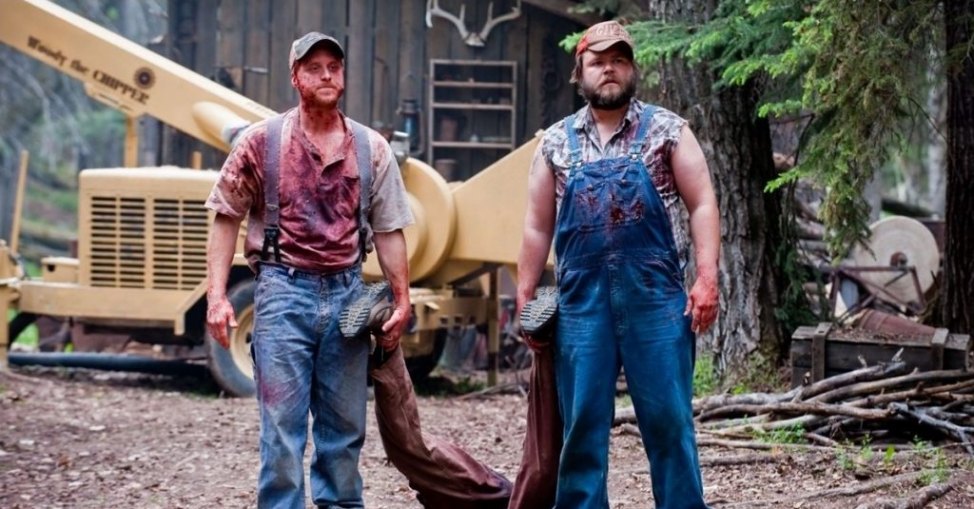 When comedy and horror seamlessly blend, it can genuinely create a great cinematic experience. Case in point: 'Tucker and Dale vs. Evil'. The story centers around a group of college students who mistake the eponymous hillbillies to be chainsaw killers when they see their friend Allison with them. Allison had actually fallen unconscious and was rescued by Tucker and Dale. Seeing no other way to save Allison, these students plan a violent attack on the unassuming duo. The film turns the genre trope completely on its head and creates some genuinely funny moments. But do not forget that this is a slasher film, and there are some really violent scenes. The way the movie uses cliches for its own benefit is commendable. Critics also showered their praises for this very reason.
6. Behind the Mask: The Rise of Leslie Vernon (2006)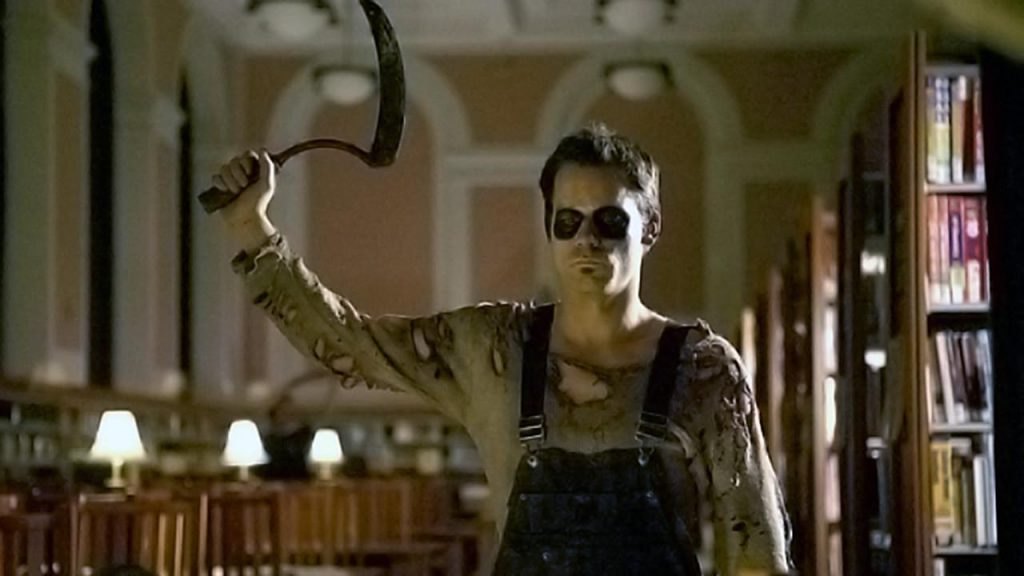 Michael Myers ('Halloween'), Jason Voorhees ('Friday The 13th'), and Freddy Krueger ('A Nightmare on Elm Street') are some of the most famous film slashers of all time, having inspired generations since their release. One of their most enthusiastic fans, 'Leslie Vernon', is the central character of this film. He so badly wants to be like them that he decides to call a documentary filmmaking crew as he himself slowly transforms into a psychotic killer, even setting his eyes on a group of girls he plans to kill. The film is not like a mockumentary, and thus this apparent ridiculousness becomes more hilarious. The movie makes fun of a number of common tropes used in horror films, including the "survivor girl" concept, which plays an important role during the final stages of this film. If you really get a kick out of slasher or horror films, you will love 'Behind the Mask: The Rise of Leslie Vernon'. The film will hit somewhere close to your heart as it makes fun of the very reasons you love such movies.
5. Shaun Of The Dead (2004)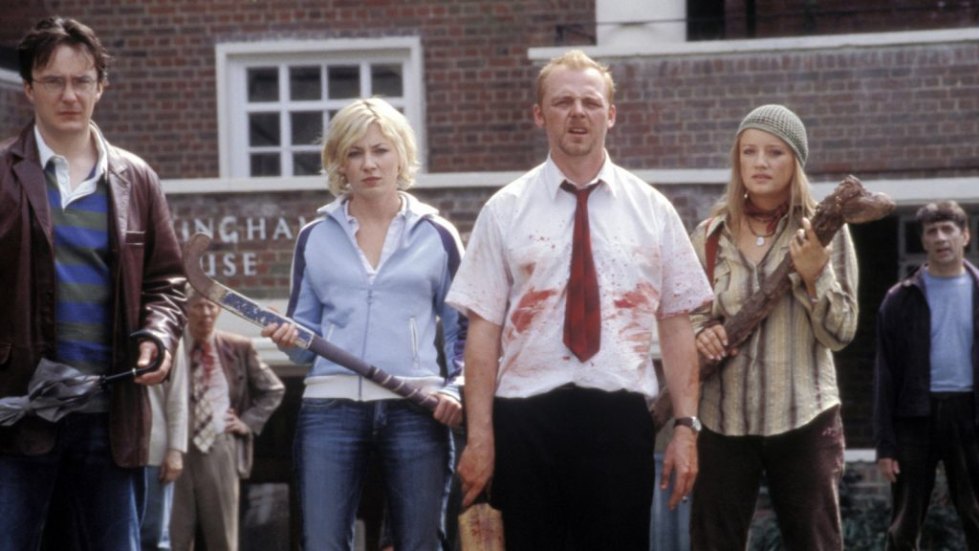 One thing is certain about director Edgar Wright: the man loves watching movies and has drowned himself in film and pop culture over the years. His film trilogy in collaboration with Simon Pegg now called the Three Flavours Cornetto trilogy is an extraordinary body of hilarious postmodern films. The first film in the trilogy, 'Shaun of The Dead', is a hilarious look at zombie movies, where it incorporates both horror and comedic elements seamlessly, creating a unique film-watching experience.
Pegg plays the eponymous character of Shaun, a salesman with an extremely boring life and needs some excitement to cheer him up. Shaun gets his dose of excitement when London is invaded by a zombie community that he has to kill with the help of his friends. The title of the film is, of course, a throwback to 1968's 'Night of the Living Dead', the film said to be responsible for popularizing this genre. Some of the situations in 'Shaun Of The Dead' are hilarious, and the humor stays intact even when the group fends off zombies by shooting them all over the place. The film received widespread critical acclaim for being so highly aware of the tropes generally used in zombie movies and subverting them so effortlessly.
4. Happy Death Day (2017)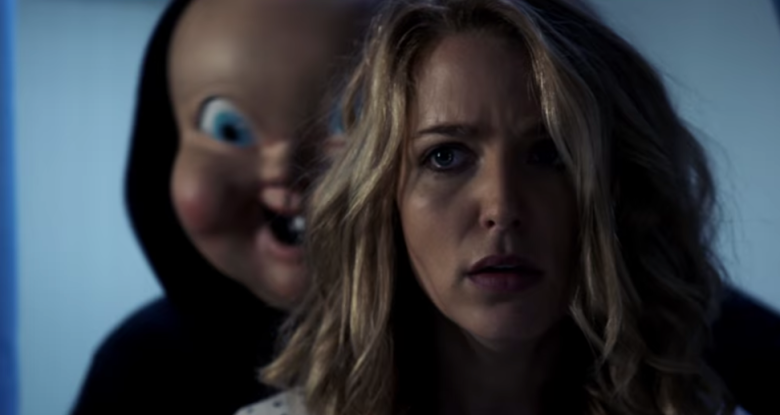 If you have watched the seminal comedy film 'Groundhog Day' (1993) starring Bill Murray, 'Happy Death Day' is the film you should check out at once. In the former movie, Murray's character keeps reliving a day over and over again, as if struck in a time loop. This exact trope is used in this 2017 film directed by Christopher Landon. The film centers around Theresa "Tree" Gelbman, a university student who enters into a time loop on her birthday, getting killed at the end of it by a masked killer and waking up again. As she keeps reliving this day, Tree wants to find out who is her actual killer. But no matter how hard she tries, she cannot seem to change the end result. 'Happy Death Day' is not overtly funny, but can be classified as a black comedy where a popular film's concept is being used, giving it a sinister twist to spice things up. Because the film is set in a university, some critics have also called it a "slasher 'Mean Girls'".
Read More: Movies Like A Quiet Place
3. The Final Girls (2015)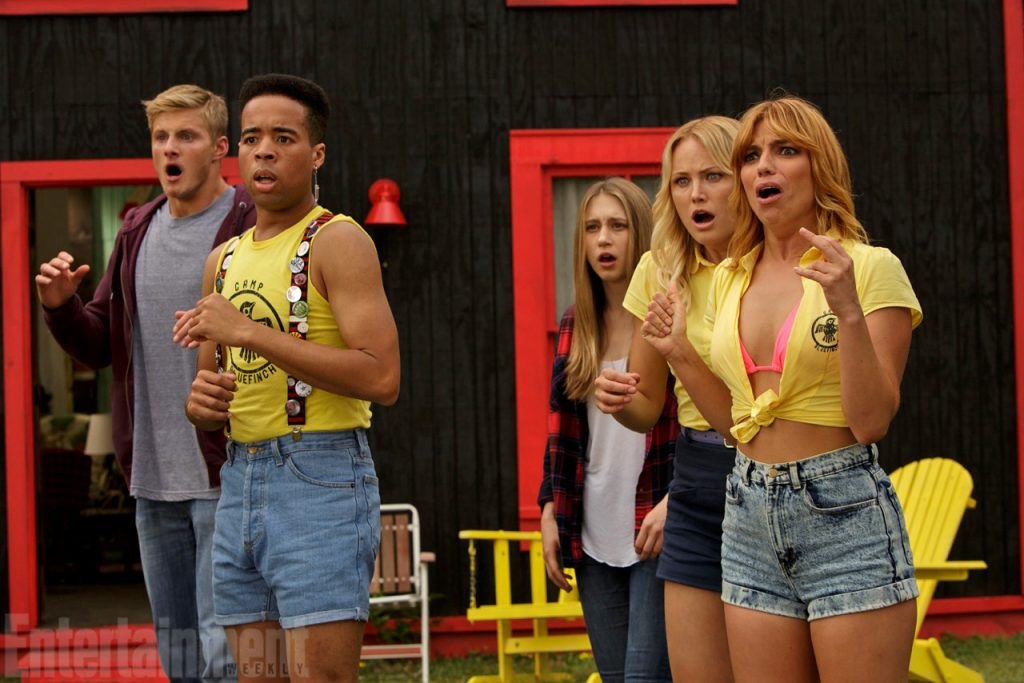 'The Final Girls', directed by Todd Strauss-Schulson, is a rather interesting look at slasher flicks. In the film, the central character Max and her friends get trapped inside the world of the movie 'Camp Bloodbath' which they had come to watch. Notably, Max's mother Amanda, who is now dead, plays the leading character in 'Camp Bloodbath'. Now they meet the characters from the film and try to warn them that the killer will arrive soon. Within the film's world, the events do not follow the screenplay as now Max and her friends have entered and disrupted this universe. The group of outsiders soon realize that now that the characters who weren't supposed to die have been killed, they are in danger themselves. 'The Final Girls' is extremely self-conscious in its approach as it is a movie-within-a-movie. Even the running time of the film is referenced in the narrative to great hilarious effects. The film is replete with meta amusement, but there is also a great humane quality to it which makes us invest in the characters, emotionally.
Read More: Movies Like Pet Sematary
2. Scary Movie (2000)
'Scary Movie' is one of the most iconic horror comedies of all time, having gained a massive cult following since it first released. The film uses the famous Ghostface killer of the 'Scream' series as its main villain. But here the kills and the situations both the killer and his victims find themselves in are ridiculously funny. Despite gaining an iconic stature, 'Scary Movie' also received scathing criticisms from certain quarters for using rather crude humor which many found to be offensive. So when you sit down to watch it, remember that political correctness is not the strongest forte of this Keenen Ivory Wayans-directorial.
Read More: Movies Like Donnie Darko
1. What We Do In The Shadows (2014)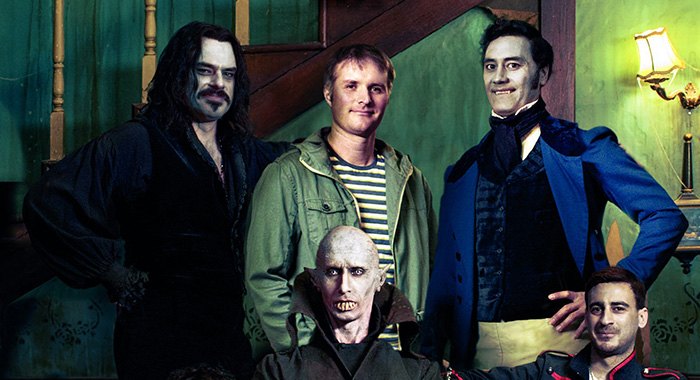 Vampires have been an important part of horror stories' villains since Bram Stoker came out with his historic novel 'Dracula'. Various films, TV shows, and books have dealt with this creature, and have created iconic pieces of work in the process. The director duo Jemaine Clement and Taika Waititi have managed to use vampires and the myths surrounding them to great hilarious effect in their film 'What We Do In The Shadows'. The story centers around a filmmaking team who visit an apartment where three vampires live, in order to make a documentary on them. But they end up teaching these vampires about modern amenities, while they themselves learn a lot about the lives of undead creatures from their hosts. The film is loaded with references to other films but maintains a mock-serious tone within its own narrative.
Read More: Movies Like It