Grant Singer's 'Reptile,' a Netflix mystery crime film helmed by Benicio Del Toro, revolves around a perplexing murder case of a real estate agent. New England detective Tom Nichols, seasoned with years of experience, takes on the intriguing murder case where the prime suspect is Will Grady, the victim's boyfriend. However, nothing about this case is as easy as it seems. As the case continues to unfold in intriguing turns during Nichols' investigation, so do the illusions surrounding the detective's life.
This neo-noir thriller film brings a captivating murder case investigation to life with entertaining performances by Del Toro alongside Alicia Silverstone, Justin Timberlake, and others. The narrative tastefully builds suspense and keeps the audience engaged in the investigation, compelling them to review the nitty-gritty details for themselves. As such, once immersed in the film's world, the viewers are bound to wonder how much truth is behind the film, if any. Let's find out!
How Did Reptile Come to Be?
First of all, Reptile' is not based on a true story. The murder investigation, which forms the narrative's center, is fictionalized without having any basis in a real-life crime. Director Singer and leading man Del Toro essayed the film's screenplay alongside Benjamin Brewer. As such, the plot points, characters, and mysteries that unravel within the film's narrative are all works of fiction.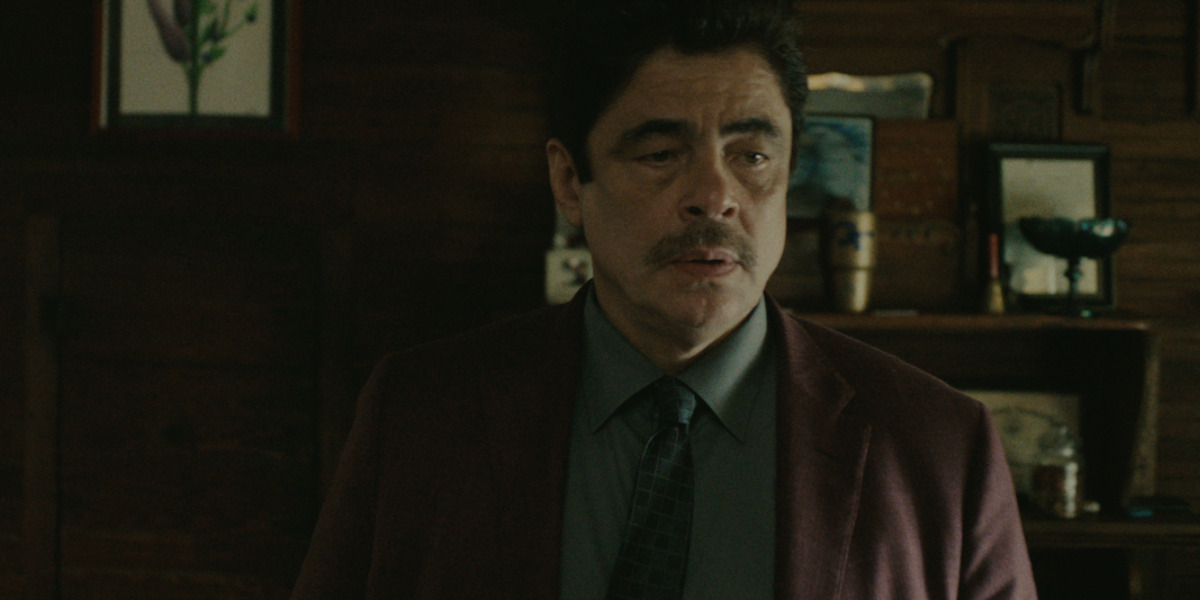 Nonetheless, it is worth noting that 'Reptile' seems to possess a noticeable similarity with the case of Lindsay Buziak, a Canadian real estate agent based in Victoria, British Columbia. The details of Summer's case, as it unfolds within the film, hold some similarities with Buziak's yet unsolved murder, including the victims' boyfriends' discovery of the body in both instances. However, apart from such details, both cases remain distinct. Consequently, the filmmakers haven't officially acknowledged Buziak's case in any way, especially as an inspiration for their work.
'Reptile' marks the feature film directorial debut for Singer, who is best known for his work as a music video director, having collaborated with names like Taylor Swift, The Weeknd, and Lorde. As such, this piece, which moves Singer away from his previous work in terms of aesthetics and impact, comes as a momentous milestone in the artist's career. While the director kept his teachings from years of working with music videos, he still wanted to make a bold debut and rebrand his name in a new and exciting fashion.
"There's this idea that music videos have to be a spectacle…this big, iconic visual thing that matches the cultural moment of the piece of music," said Singer in a conversation with The Credits. "And I think that, in many ways, I was rebelling against that with this film. I wanted to make something a little bit more restrained. I was trying to do something aesthetically removed from my music video work — almost reintroduce myself to what I was interested in with film."
Therefore, in line with his intentions for the film, Singer incorporated inspiration from a lot of his cinematic favorites in the film's various sectors. Carrying his love for classic filmmaking, the director infused the film with "simple pans, beautiful dolly shots or boom-ups." Furthermore, the filmmaker cited David Fincher, Alfred Hitchcock, Martin Scorsese, Stanley Kubrick, and Paul Thomas Anderson as some of his biggest inspirations in the industry. Similarly, classic noirs such as Serpico, In Cold Blood, and The Night of the Hunter served as key influences on the director.
Consequently, Singer wanted 'Reptile' to have the same effect on the audience as those films had on him. Discussing the same with Entertainment Weekly, the filmmaker said, "I think the movie will be exciting to people who like to watch something where you don't know where it's leading you, where a film is going to have twists and turns and deceive you. And people who like things that are intense and visceral and suspenseful, I think they'll find something exciting in this."
Therefore, with intense, visceral, and suspenseful forming the narrative's cornerstones, 'Reptile' delivers a film fit for fans of the genre. Ripe with ambiguity, the film leans into the inherent concealed nature of its plot and persists in keeping the audience on their toes. Thus, the narrative walks the precariously thin line between satisfying mystery and unsatisfying inconclusiveness.
"The key word is ambiguity. A whodunit where everything gets solved may be entertaining while you're watching, but then you forget about it. We wanted to make a film that poses questions and has mystery," said Singer. "We're dropping clues throughout the movie. You could watch it maybe two or three times and glean more as you experience it. The hope is that you find them during a second or third viewing, and it makes the film even more satisfying."
As a result, the film strives to embody the enigmatic unknown found in true crime stories. The same helps the narrative retain a certain authenticity, regardless of the film's lack of basis in a real-life case. Ultimately, the case presented in 'Reptile,' though fictional, is entertaining and engaging and possesses a familiarity provided by its classic influences.
Read More: Where Was Netflix's Reptile Filmed?