Living in the city has its own advantages, namely, easier access to everything from late-night snacks to catching a game at your big local stadium. A big city brings us the feeling of the whole world within the palms of your hands. But sometimes the continuous humdrum and busy life takes a toll on you. You feel like throwing away all your comforts and moving to a small town where you will not be bothered by the huge machine called city life which keeps churning on every single moment of the day. While the rumbling city forces us to join the race, a serene and sleepy small town invites us for a long walk. Whereas, both the spatial coorinates share something in common, the uncertainty of human nature and the melodrama it generates!
This is the point where the story of the Netflix comedy series 'Family Reunion', kicks off. The McKellan family decide to move from their bustling life in Seattle to the quieter, more relaxed ambiance offered by Columbus, Georgia. Another attraction of the country life for the children is definitely being able to live near their grandparents, M'Dear and Grandpa McKellan. The story of 'Family Reunion' takes us through this wonderful African American family's daily life as they try and attune themselves to the slower country life. This is a story about reconnecting with your close ones, about sharing such great love for each other that everything else seems to diminish in importance in front of the same. So, without further ado, here is the list of best TV series similar to 'Family Reunion' that are our recommendations. You can watch several of these TV shows like 'Family Reunion' on Netflix, Hulu or Amazon Prime.
5. Atlanta (2016 – )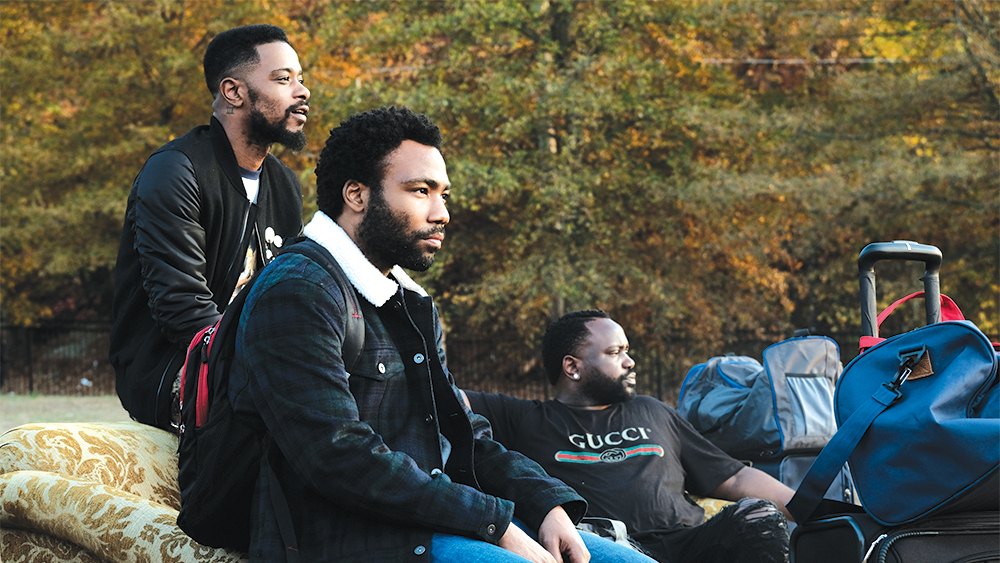 'Atlanta' is a paradigm shift from the quiet family story that 'Family Reunion' is. But the series thoroughly justifies its position on the list because it too, is a story about what family means to us. The story of 'Family Reunion' is centered around the life of a young Atlanta native called Earn who works as a manager for his cousin, rapper Alfred a.k.a. Paper Boi. Earn tries hard get the best deals for Alfred, but his inner demons hinder him to invent the best version himself as a rapper. Meanwhile, Paper Boi has just delivered a major hit and there is enough potential in him to be the next big thing in the music world.
We follow the entwined destinies of the two cousins who are trying hard to find their fortune in the music industry. Apart from the occasional noir-ish, outrageous and hilarious misadventures of these characters, what is clear but never spoken is the undying love Alfred has for Earn. He can very well manage to get a better manager, which he even threatens Earn of doing so, but it is his sense of duty towards his brother that constantly prevents him from executing it. 'Atlanta"s star is the screenwriter, director, creator, and lead actor of the series, Donald Glover. He managed to bag two Golden Globe Awards for his work on the series, one for Best Directing and the another for Best Actor. 'Atlanta' was also awarded the Golden Globe for Best Television Series – Musical or Comedy.
Read More: TV Shows Like The Bachelorette
4. Better Things (2016 – )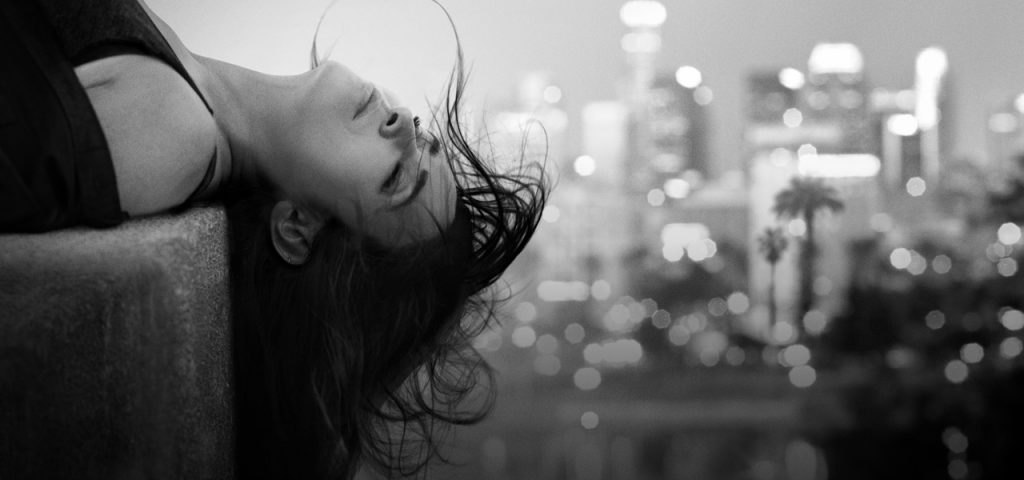 Raising three daughters along sounds like a Herculean task for any single parent.But if you are a busy Hollywood star, the job becomes all the more daunting. This is the situation we find the leading character of the series 'Better Things', Sam Fox in. Through the course of the show, we follow Sam in her life at work and home, both of which require enormous amounts of commitment from her. As the story progresses, a vivid picture of a desperate woman who can't claim a moment in her day for herself emerges. All of a sudden, the heaviness of Sam's emotions engulf us like a cloud.
This powerful tale is created by Pamela Adlon and the renowned comedian Louis C.K. 'Better Things' is rich in drama and comedy, with the strong performance by Adlon herself in the leading character only nurturing it further. The reason 'Better Things' has managed to find itself on this list is the fact that here again, we witness the importance of family. Sam loves her daughters and will go to any extent for their well-being. She even manages to find time in the midst of head-spinning appointments and schedules to go out with them and have fun. The love that the four share is what keeps them going. 'Better Things' received widespread acclaim from critics as well, with many appreciating the show's "audacious" nature of storytelling.
3. Two And A Half Men (2003 – 2015)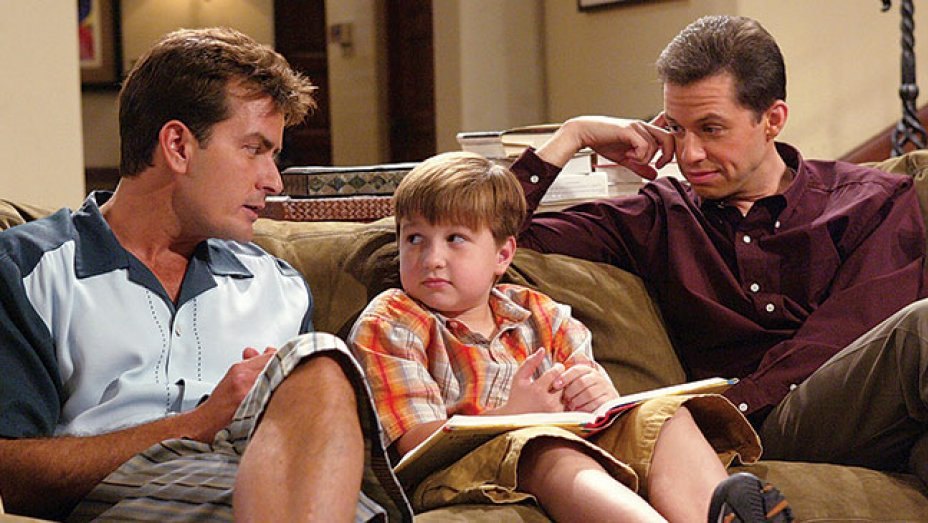 One of the most famous sitcoms of all time, 'Two And A Half Men' basically centers around three characters- Charlie, his brother Alan, and Alan's son Jake. Charlie is a successful man who lives off his earnings as a jingle writer for television commercials. Ironically, Alan is a considered as a loser who lives off his brother without doing anything meaningful himself. The three leading characters of the series are full of eccentricities which make us take a keen interest in them and their lives.
The brilliant portrayal of Charlie by Charlie Sheen surely adds a certain amount of cool quotient to the series. Charlie in the series is a complete drunkard while his brother, albeit smart, is constantly stricken by bad luck in every part of his life. But what comes bursting forth in their love and hate relationship is the brotherly affection the two have for each other. Charlie lets his brother live off him without question for a second while Alan is always there to protect Charlie from his hedonistic lifestyle. Unfortunately, Sheen reportedly started a brawl with series producer Chuck Lorre, and his character was written off in the eighth season. However, the character was written on again in a later season. Critical reception for the series was never overwhelming, but the loud audience reception garnered throughout its run compensated it.
Read More: TV Shows Like Gossip Girl
2. An Idiot Abroad (2010 – 2012)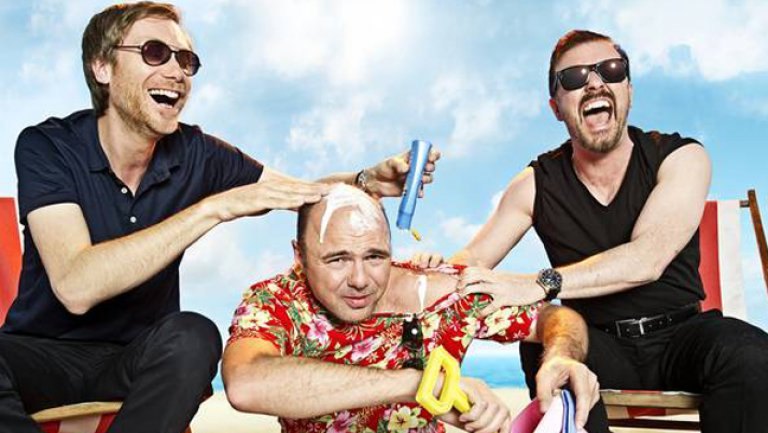 'An Idiot Abroad' is not necessarily a fictional show, and neither has it anything to do with our topic on the table, familial love. But why is this show on the list then? Well, for the simple reason that just like 'Family Reunion', this is also a comedy series and is also one about traveling to unknown places. The series focuses on an enigmatic person called Karl Pilkington who has now become a huge name, thanks to Ricky Gervais, and Stephen Merchant. The most fascinating thing about Pilkington is that he never tries to be funny, and yet is funny the way he is. In the show, Pilkington is made to travel to different countries around the world to visit the Seven Wonders Of The World. First, he visits the Great Pyramids of Egypt, and right from the start, he ponders on the discomforts he faces there. Each of Pilkington's comments will make you laugh to your wit's end and wonder about the fascinating being that is Pilkington. 'An Idiot Abroad' met with widespread critical acclaim and rave reviews, with many calling the series one of the funniest television shows ever.
1. One Day At A Time (2017 – 2019)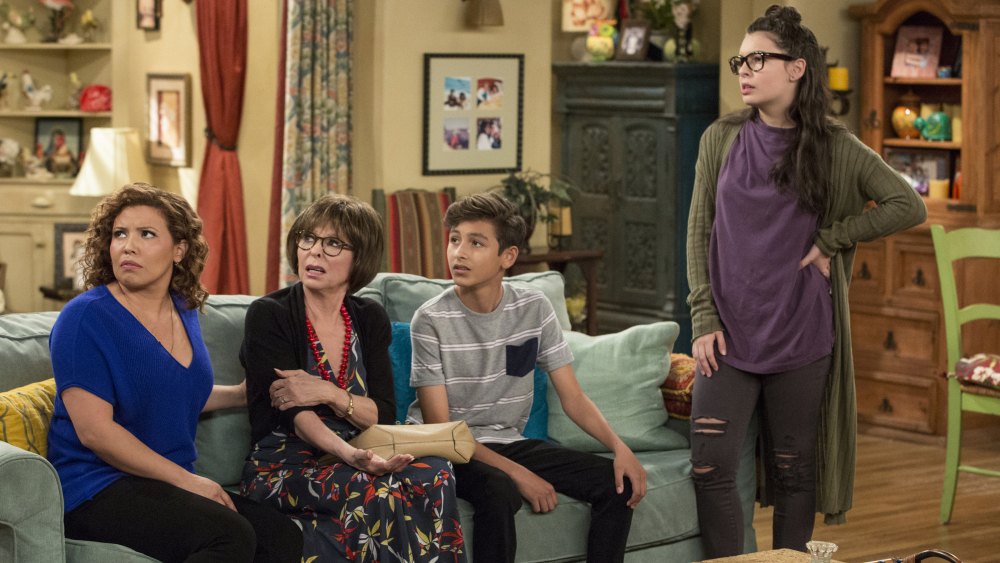 The Netflix series 'One Day At A Time' is based on a previous show show of the same name which ran from 1975 to 1984. The series centered on the life of a character called Penelope Francisca del Carmen Riera Inclán Ruiz Maribona de Alvarez! She is an army veteran who is a single mother living with her family after returning from service abroad. The Alvarez family and their ups and downs in life engross us as the story progresses. It is not that their life is full of joy and happiness. They have financial constraints, personal problems and stumbling blocks along the way in their respective lives.
But what keeps them going is the fact that they come together to support emotionally in the face of a crisis no matter how complex the situation gets. Moreover, the series is also conscious of the socio-political realities that define representations of the typical middle class, the minorities and the LGBTQ community in America. The series has received loud acclaim from critics who praised it for its humor, interesting characters with strong backstories of their own, and the politically correct approach in writing the screenplay.
Read More: TV Shows Like The Office