With Corey Sevier at the helm, 'Take Me Back for Christmas' is a romantic holiday movie that revolves around a gift shop employee named Renée who put her mother over her dreams and moved to the suburbs to take care of her about a decade ago. As she feels exhausted by the pressure of her marriage as well as her light bank account, Renée wishes for a different life on Christmas. The next thing she knows, she wakes up to discover that she has all the success but is no longer wedded to her husband, Aaron.
In order to get him and his love back, Renée manages to contract Aaron for a Christmas meal kit project through her company. Even though, with time, they begin falling head over heels in love with one another all over again, this new reality brings some unexpected challenges in her life, forcing her to reevaluate her choices. Originally titled 'The Christmas Reboot,' the movie mostly takes place in New York City as the protagonist navigates different challenges in her new reality as she traverses through different locations. Thus, some viewers are bound to wonder where 'Take Me Back for Christmas' was shot. If you are one such curious soul, you might be interested in what we have to share!
Take Me Back for Christmas Filming Locations
'Take Me Back for Christmas' was filmed in Ontario, specifically in Toronto and seemingly in Hamilton. Principal photography for the romantic film seemingly commenced around November 2022 and wrapped up in mid-December of the same year. Now, without further ado, let's traverse through all the specific locations that appear in the Hallmark movie!
Toronto, Ontario
The capital city of Ontario, Toronto, served as the primary production location for 'Take Me Back for Christmas.' The filming unit reportedly traveled to various parts of the largest city of the Great White North to shoot different pivotal sequences against suitable backdrops. From the looks of it, they mainly set up camp in actual establishments and residential properties in order to tape the interior scenes.
As for recording the exterior shots of the holiday movie, the production team utilized the vast and versatile terrains of different neighborhoods and streets. So, you should not be surprised to spot some iconic monuments and buildings in the backdrop of a few scenes, such as the CN Tower, the Humber Bay Arch Bridge, the Royal Ontario Museum, and Casa Loma.
Hamilton, Ontario
For shooting purposes, the cast and crew of 'Take Me Back for Christmas' supposedly also traveled to the port city of Hamilton in the southeastern part of the province of Ontario. Located on the furthest end of Lake Ontario, the sprawling city is prominent for its rich cultural history, thriving and vibrant art scene, museums and galleries, picturesque landscapes, magnificent waterfalls, industrial heritage, and multiple natural parks and trails, among many other attractions.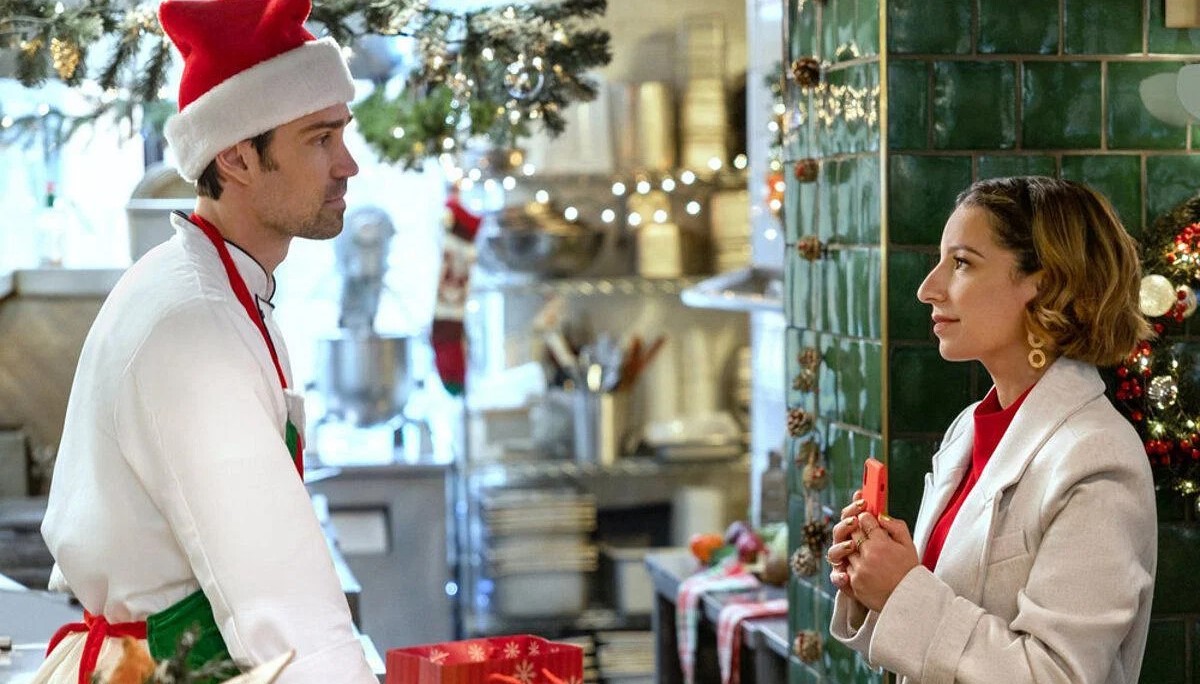 Over the years, Ontario has emerged as a popular filming location across the globe as it offers unique sites, favorable weather conditions, and several other facilities and resources that ensure the smooth production of various kinds of films and television shows. Naturally, it has served as a shooting site for projects like 'The Boys,' 'The Handmaid's Tale,' 'The Umbrella Academy,' 'Guillermo del Toro's Cabinet of Curiosities,' 'Murdoch Mysteries' 'It,' and 'Titans.'
Take Me Back for Christmas Cast
In the Hallmark movie, Vanessa Lengies portrays the character of Renee, while Corey Sevier essays the role of Renee's husband Aaron. You may recognize Lengies as Roxanne Bojarski in 'American Dreams,' Sugar Motta on 'Glee' and Sarah Leigh in 'Radio Active.' She also has shows like Disney+'s 'Turner & Hooch,' 'Hawthorne' and 'Monarch Cove' to her credit. Meanwhile, the multi-talented Sevier is best known for his performances in 'Little Men,' 'Lassie,' 'Black Sash,' and 'North Shore.'
Interestingly, Corey Sevier and Vanessa Lengies star alongside each other as Noah and Sam, respectively, in another Hallmark production titled 'Heart of the Holidays.' Apart from the leads, other talented actors who appear in 'Take Me Back for Christmas' in a supporting capacity are Paula Boudreau as Maria, Kimberly-Ann Truong as Cici, Brynn Godenir as Tasha, Moni Ogunsuyi as Ashley, Miguel Rivas as Jerry, and Gerry Mendicino as Jeff.
Read More: Where Was Hallmark's A Royal Christmas Crush Filmed? Who is in the Cast?