'Framed by My Husband' is yet another addition to the long list of thriller films by Lifetime. The movie centers around June, whose life is upended when a woman claims that her husband Rick sexually assaulted her. However, June stands by her husband since she is made to believe that the woman is bitter about Rick turning down her advances. But things take a turn for the worse when the woman blackmailing Rick ends up dead, and June becomes the murder suspect. The nail-biting thriller certainly evokes curiosity about the film and whether or not it is inspired by actual events. So let us share with you all the information you might be looking for!
Framed by My Husband Filming Locations
Even though filming during the pandemic has been incredibly challenging, production teams have gained some experience in getting things going while following the necessary measures for safety. It seems that this Lifetime movie was shot sometime in Spring 2021. Here are the details regarding the filming location.
Vancouver, British Columbia
'Framed by My Husband' was filmed in Vancouver, British Columbia. Since the city is a dominant presence in the filming industry, a hefty portion of its economy is driven by Hollywood. Vancouver has a highly developed infrastructure that supports the production of mega-budget projects. Some popular TV shows that are filmed here include 'The Good Doctor,' 'Riverdale,' 'The Flash,' and 'Chesapeake Shores.' Movies like 'Titanic,' 'It,' 'Deadpool,' and 'Fifty Shades of Grey' were also shot in Vancouver. It is no wonder that it occupies a rank among the top five cities for filmmaking in North America.
The production team has used several indoor and outdoor locations for shooting this movie; Vancouver's nondescript skyline makes it a perfect onscreen substitute for any city or town. Apart from breath-taking natural features all within reach and the conducive climate for filming, it is home to some of the best studios in Hollywood. Some reputed names are Vancouver Film Studios, Shoreline Studios, and Lionsgate Entertainment Corporation.
Framed by My Husband Cast
In this film, Christine Chatelain portrays June. The actress from Vancouver features in TV shows, and movies such as 'Supernatural,' 'Love and Sunshine,' 'The Man in the High Castle,' 'Final Destination,' and 'When Calls the Heart.' Dan Payne stars opposite Chatelain as June's husband, Rick Lowe. You might recognize him from 'The Mighty Ducks: Game Changers,' 'Good Witch,' and the film 'All Yours.' He also appears in 'The Flash' and 'DC's Legends of Tomorrow' alongside Rebecca Roberts, who plays Maggie in 'Framed by My Husband.'
Roberts's other notable credits include 'Cocaine Godmother' and 'Evolve: Year Zero.' The supporting cast members in this thriller film are Nia Cummins (Detective Deangelo), Jessie Liang (Ava), Dalias Blake (Detective Channing), and Victoria Dunsmore (Wendy Bach).
Is Framed by My Husband Based on a True Story?
No, 'Framed by My Husband' is not based on a true story. However, it is understandable why one might think so. The movie has a lot in common with narratives we have come across before in popular films and TV shows. The HBO series 'The Undoing' begins on a similar note. Grace becomes a prime suspect for the murder of Elena, the woman Jonathan has an affair with. Although Jonathan admits to his infidelity, he insists that he did not kill Elena.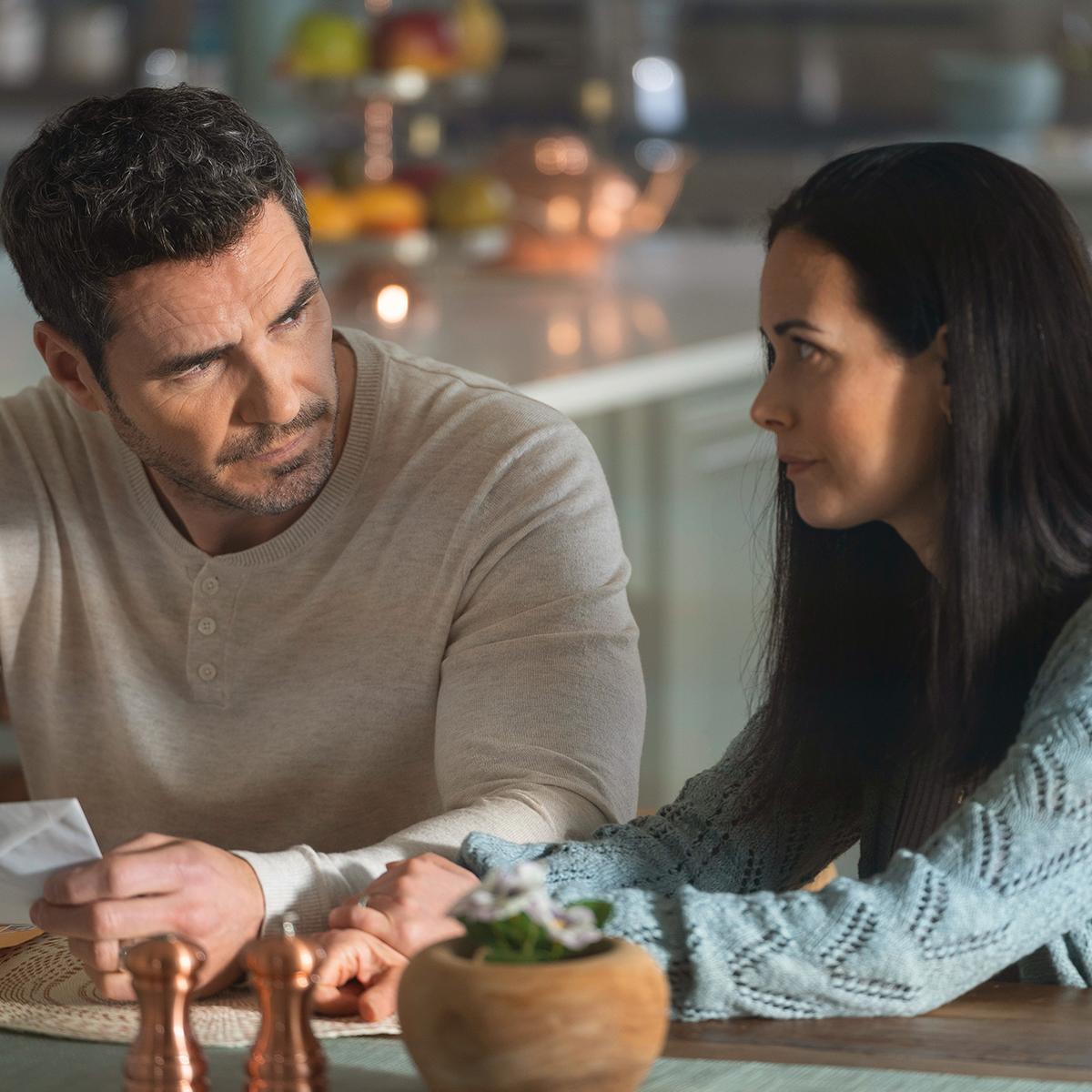 'Framed by My Husband' might also give you déjà vu of the 2020 Lifetime film 'Betrayed by My Husband.' The latter movie follows a woman called Gabrielle. When Gabrielle's husband fakes his own death and murders his brother to get the insurance money, fingers are pointed at her. Therefore, Gabrielle has to find a way to prove her innocence. Moreover, it is not uncommon for people to stand by those they care about because they trust them and believe that their loved ones can do no wrong. As much as one likes to see the best in people, it comes as a rude shock when everything they thought they knew about a person is proven to be false. So, although this film might resonate with real-life incidents, it is indeed fictional.
Read More: Is Lifetime's Betrayed By My Husband Based on a True Story?