Actor-director Jessica Harmon's romantic comedy film 'Joyeux Noel' is yet another exciting Hallmark movie that takes viewers on a dramatic journey. It follows two journalists from The Post, Mark and Lea, whose work takes them to a remote village in France to get to the bottom of a fascinating story. The colleagues are responsible for uncovering the truth behind a famous painting that is associated with a legend about finding soulmates.
While investigating if there's any truth to the story of a young couple, Mark and Lea are surrounded by the beauty and charm of the Christmas market, and they explore the ways in which it can help them in their quest, personally and professionally. If you've watched enough Christmas movies, you surely know how the Christmas spirit and decorations are significant in bringing the lead pair closer to each other.
Joyeux Noel Filming Locations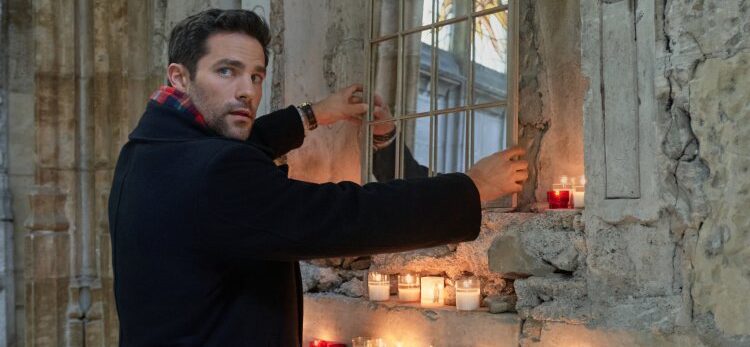 'Joyeux Noel' was filmed in France and Canada, especially in Rouen and British Columbia, where most Hallmark movies are filmed. While the exact shooting dates aren't clear, we believe the filming began by the end of May 2023 and wrapped up with the shoot in France by mid-July 2023. British Columbia usually serves as an ideal location for Hallmark Christmas movies because of the scenery and easy access to props, which the cast and crew and even the directors prefer. It's also believed to be because of the tax incentives. Moreover, it's refreshing that despite most films being shot there, parts of 'Joyeux Noel' were also shot in France, where the film is based too. While this gives a basic idea, let's find out exactly where the romance movie was taped.
Rouen, France
Significant portions of 'Joyeux Noel' were shot in France, specifically in Rouen, which is the cultural capital of Normandy. The cast and crew were spotted filming near Carrousel Pub & Bar situated at 77 Rue d'Amiens, 76000 Rouen. Since the shooting in this part was happening around June, plenty of effort was made to make it look like a real Christmas. The crew created artificial chalets, and snow was distributed all around to help the market get the real Christmas feel while the actors wore warm coats in the heat.
One actor who worked as an extra on the film claimed that it was 33 degrees Celsius while they were shooting for the film, and while it was challenging to portray the Christmas spirit in summer, it was still a lot of fun to do it. Parents of some children in Rouen were also excited to have them star in a Hallmark movie as extras since it helped to bring in the Christmas spirit much earlier.
Vancouver, British Columbia
The rest of the shooting for 'Joyeux Noel' is believed to have been done in Canada, especially in the areas in and near Vancouver in British Columbia. The crew is able to find plenty of help while shooting for Hallmark movies in such areas, and the accessories needed for such shoots, along with help from the local teams, smoothens the process. A lot of other Hallmark Christmas movies that have been filmed here that might ring a bell, and include 'Hitched for the Holidays,' 'Love Hard' and 'Finding Santa.'
Joyeux Noel Cast: Who Is in It?
Jaicy Elliot, who plays the lead Lea in this film, is best known for her role in the popular medical drama series 'Grey's Anatomy.' She has also made an appearance in the series 'Station 19' and other films like 'Romance in Style' and 'My Southern Family Christmas.' Writer and actor Brant Daugherty plays the other lead, Mark, who has done plenty of other Hallmark films but is most famous for his role in the 2010 television series 'Pretty Little Liars.' His other projects as an actor include 'Fifty Shades Freed,' 'A Royal Runaway Romance' and 'A Christmas Movie Christmas.' Other cast members include JR Esposito, who plays a TV reporter, Michael Obiora (Brian Darnell), Fabien Giameluca and Ludovic Lavaissière.
Read More: Best Hallmark-Like Holiday Movies on Netflix