It's always interesting to watch our favorite comic book/manga or anime characters come to life on the silver screen and more often than not, these adaptations are well received because of the refreshing approach that they take towards the whole medium. While this very well applies to American comic books and animated shows, for some reason, anime live-action adaptations have almost never reached the expectations of the viewers. An example of this is the recent Netflix live-action version of 'Death Note' and also the 'Ghost in the Shell' adaptation starring Scarlett Johansson. In retrospect, these adaptations were not that bad but unfortunately, they couldn't come close to the standards set by their original anime shows.
So it's pretty clear that anime/manga adaptations can be extremely risky endeavors, especially for American filmmakers. If you're a big anime or manga fan, then at least once you've imagined your favorite characters coming to life but you were probably left disappointed with what was presented to you. To make things a bit easier for you, here's the list of the best live-action movies/shows that are based on your favorite anime and manga.
11. Alita: Battle Angel (2019)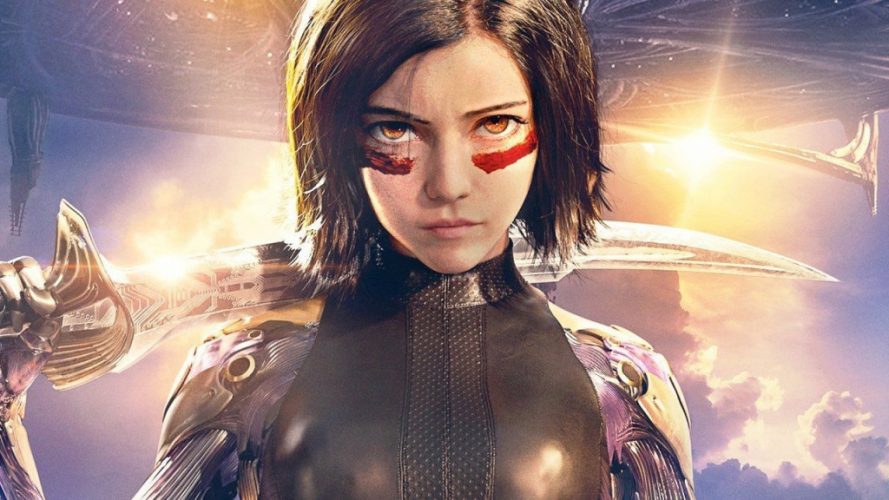 Based on the manga illustrated by Yukito Kishiro, 'Alita Battle Angel' is by far one of the best manga adaptations created by American filmmakers. While it does have quite a lot of flaws of its own which made it a victim of mixed reviews, it is safe to say that it outshines most other similar live-action films. Set in the year 2563, the film revolves around a lethal cyborg girl who is found by Dr. Ido. Soon, Alita becomes a part of his family and everyone tries to shield her from her brutal past. But when government organizations start chasing her, she learns that she has unique fighting abilities and was actually designed to kill. She must now stay out of the reach of these corrupt forces and only then she can save her family and friends.
10. Inuyashiki (2018)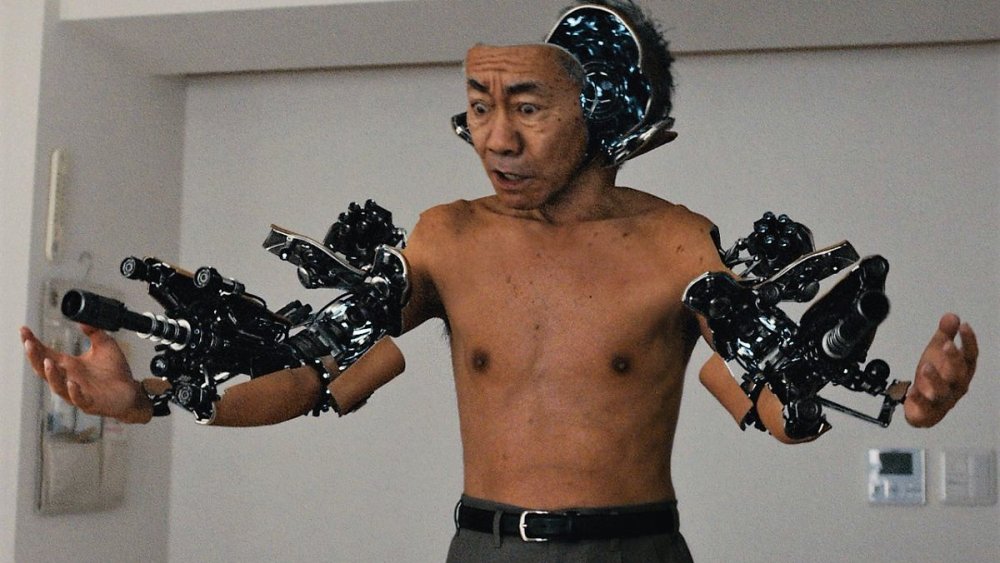 The anime version of 'Inuyashiki' has become one of the most renowned sci-fi shows of the last decade. So if you have been a fan of the original series, you'll be relieved to know that even the live-action adaptation of this one hits home. It takes you on a gripping two-hour journey that has battle scenes which are ridiculously graphic.
It follows the story of an old man who feels ignored and invisible even around the ones who he thinks are close to him. The disrespect of his family and coworkers towards him gradually brings him to a breaking point. While crying all by himself in an open field one day, an alien spaceship lands on him and kills him. Full of regret with the damage they've caused, the aliens try to "fix him" by giving him an artificial alien body that is made out of all kinds of advanced weapons. What follows is the transformational story of a man who sets out to change the world as a hero but little does he know that there might be someone else out there who is just like him.
9. Speed Racer (2008)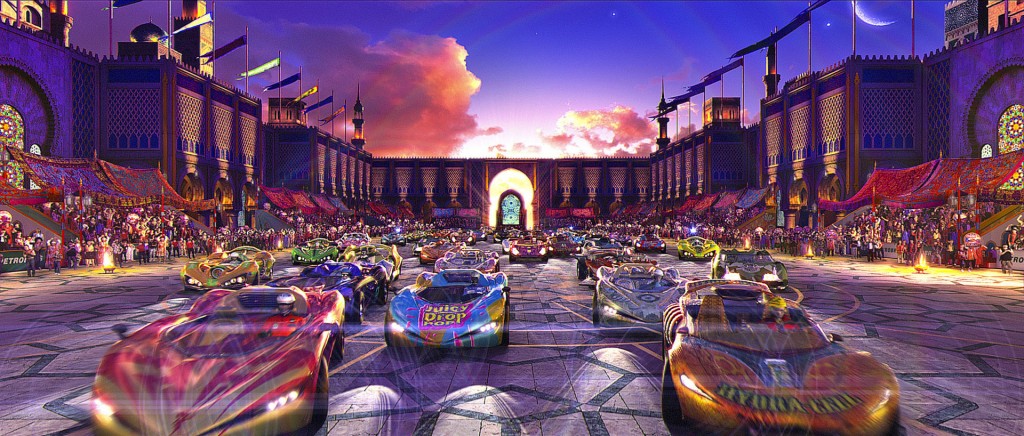 If you were born somewhere in the 90s, you've probably spent a significant number of your childhood days watching the 'Speed Racer' anime. Created by the Wachowskis, like almost every other live-action adaptation, it received a fair share of flak. But over the years, it has earned the reputation of being one of the better adaptations of anime if compared with misfires like 'Dragon Ball'. With Emile Hirsch as the lead, 'Speed Racer' does not really have much of a story. But what makes this film extremely enjoyable is its colorful breathtaking visuals. More than anything else, the movie seems to be self-aware of what it has to portray to impress those who were fans of the original content. While there were still quite a few critics who seemed to have a problem with its rainbow-like color palette, for most viewers, it's these burst of colors that took them back on a nostalgic racing journey on the streets of Tokyo.
8. Rurouni Kenshin (2012)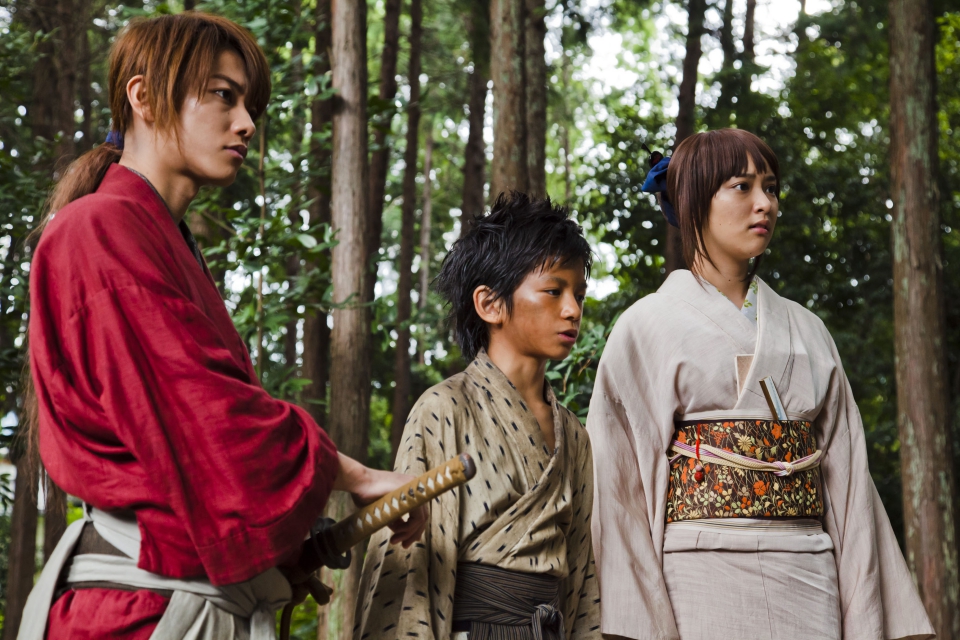 The anime 'Rurouni Kenshin' is known to be one of the best long-running shounen of the late 90s. Unlike other anime that came out around the same time, this one had more of grounded feel to it and not to mention, it introduced the world to the whole Samurai anime genre. But who would've known that this samurai story of revenge, honor and love would someday turn out to be a classic movie series?
The live-action movies has been divided into three trilogies where the first part deals with Kenshin's origins and the factors that later forced him to abandon his blade. Part II gets even better as it dives into his life as a vagabond samurai who struggles to leave the demons of his past behind and makes a few friends along the way. The third part is more like a dying flame but it is commendable how it brings a decent conclusion to the series. While it is impressive how the story in movie adaptations gives off a vibe that is very similar to the peaceful historic feel of the anime, it's the perfectly executed sword-fighting scenes that make these films exceptional.
7. Assassination Classroom (2015)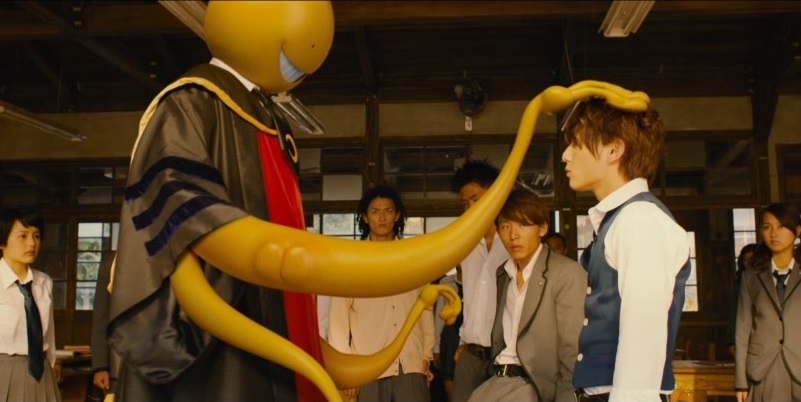 With a few minor changes here and there, the story of the live-action adaptation of 'Assassination Classroom' is identifiable. When it comes to covering major plot points of the story, the film does a great job but by doing this, it sacrifices on the development of its characters in its short runtime of two hours. Adapting almost a whole season in one movie, 'Assassination Classroom' gives a great surface view of what the whole anime is all about and may even encourage you to pick up the original content if you haven't seen it yet. It also involves smart action scenes and surprisingly, even the lovable yellow octopus villain looks decent. So at the end of the day, these movies make for a good entry point for the franchise but when compared with the original content, it could have been a lot better.
6. Gantz (2010)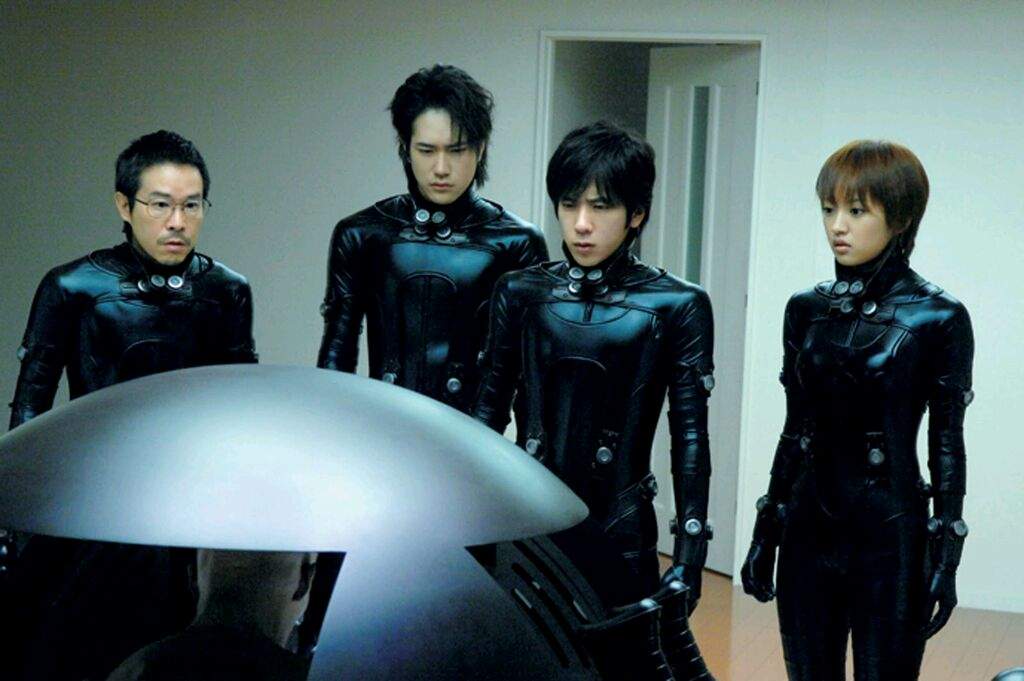 The anime version of 'Gantz' is known for its weird and gritty themes that will keep you at the edge of your seats at all times. It follows the tale of two high school kids who end up dying after they try to save the life of a homeless man. Instead of having a typical heavenly life-after-death experience, the two get transported to a room with a giant black ball in it. Along with a few other "undead" humans, they are assigned dangerous missions where they're supposed to kill aliens who lurk on the surface of Earth and were previously invisible to their naked eyes.
Each mission helps them acquire certain points which can later be used for resurrecting one's life. The original film manages to create the gripping dark atmosphere of the anime and encapsulated the basic essence of the original content. Though there have been other side story adaptations as well, it's the first original film that outshines all. If you had a good time watching the anime series, then 'Gantz' film is definitely going to be worth your time.
Read More: Best Isekai Anime
5. Orange (2015)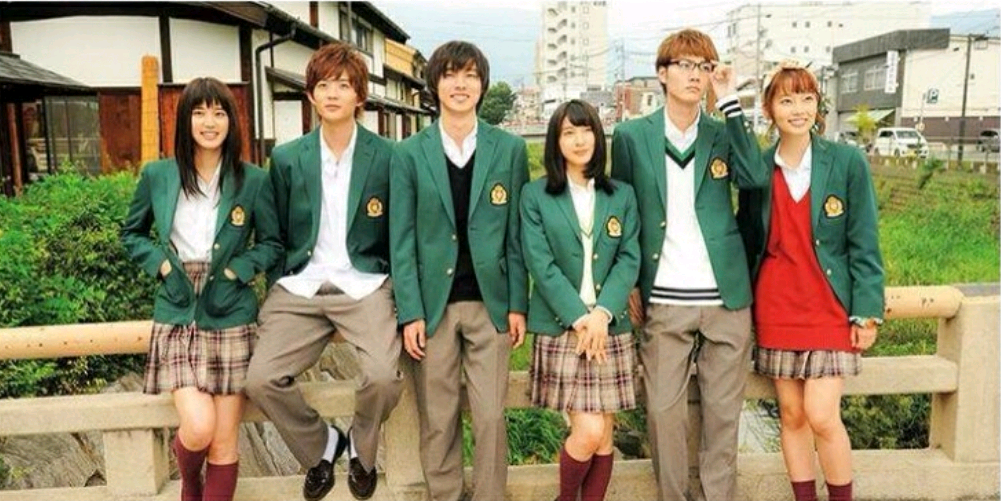 Unlike most other entries on this list, 'Orange' is not a flashy action-packed anime that is full of CGI. It is more of a slice-of-life anime that centers around a high school girl named Naho Takamiya. On her first day of sophomore year, she comes across a letter that has been written to her by her own future self. The letter expresses regret on how she failed to look out for one of her classmates who was going through some serious issues with his mental health. When it becomes pretty obvious that the letter is not a prank, Naho and her friends race against time to correct the so-called mistakes and change the grim future that lies ahead.
With no action scenes or exceptionally outstanding visuals, adapting this one might seem a bit easier. But then again, the soul of this show lies in its story, its characters and more than anything, its feel-good atmosphere. And capturing these in the best possible way may not always be an easy task. Despite all the challenges, the film adaptation manages to check all the right boxes to give you the perfect uplifting vibe. While the creators of the film have indeed done a great job by designing a perfect buoyant atmosphere, it's the incredible performances of all the actors that make this one truly memorable.
Read More: Best Angel Anime
4. Gintama (2017)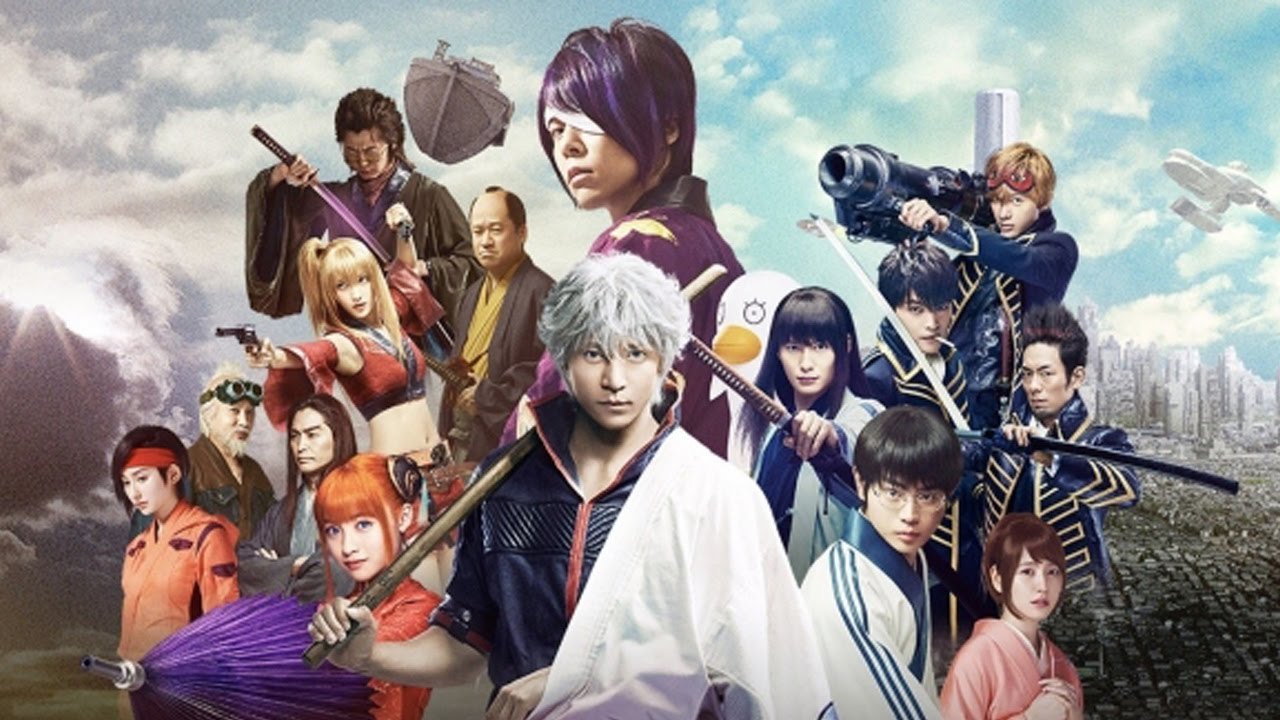 There are a lot of comedy anime out there but not a single show even comes close to 'Gintama'. What starts off as a parody samurai show gradually turns into a hilarious ride that intermixes elements of sci-fi and pop culture references. In a medium where comedy has not always been impressive, 'Gintama' is a complete game-changer that is almost like Japan's equivalent to 'The Simpsons'.
Surprisingly, even the film manages to blend the tone of the anime and brings in the same amount of craziness and fun. Some scenes have been replicated so well that it almost feels like the characters have literally come to life. The entire 'Gintama' series is a prime example of how a perfect sitcom should be. I'm sure 'Gintama' tops the list of your favorite comedy anime shows and I can assure you that even the live-action films of the franchise will leave a similar impression on you.
Read More: Best Volleyball Anime
3. Death Note (2006)
Time and again we come across a whole new live-action adaptation of 'Death Note'. With an inherently basic plot that revolves around a diary which can kill a person whose name is written on it, the anime is a game of cat and mouse between two of the most intellectual anime characters. After watching it just once you'll be able to understand the reason behind its hype.
Many filmmakers have tried their hands on it and the outcome of it has never been too great. But out of all the 'Death Note' live-action adaptation, the one that gets slightly close to the standards set by the anime is the one directed by Shusuke Kaneko. Unlike the Netflix version of it, this one successfully captures the overwhelming spirit of the show. Instead of coming off as a spoof of the original, the film understands when exactly it is supposed to tone up its melodrama. I'm sure there will be many more live-action adaptations of 'Death Note' in the future. Let's see if any of those are able to beat this one.
Read More: Best New Dubbed Anime
2. The Disastrous Life of Saiki K (2017)
The good thing about 'The Disastrous Life of Saiki K' is that it only focuses on the titular character and throughout its runtime, it brings in no other primary protagonists to the story. This almost proves to be the perfect setup for a live-action because of all the time constraints that these films have. As expected, the film adopts a similar pace and perfectly executes the misadventures of the insanely overpowered teenage psychic Saiki K.
Read More: Best Cooking Anime
1. Fullmetal Alchemist (2017)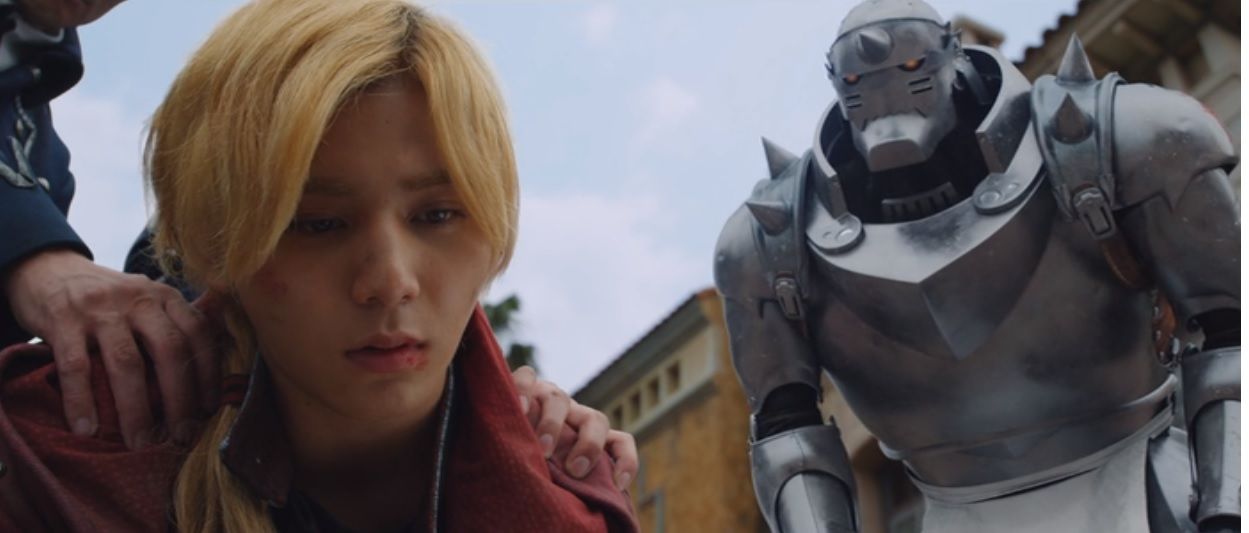 Creating a live-action version of one of the best anime series ever made is one hell of a responsibility. But Fumihiko, also known for creating a live-action version of 'Ping Pong', takes on this challenge head-on and what he presents is surprisingly satisfying. A lot of times, the film does feel rushed but it still manages to depict the solid bond between the Eric brothers and also portrays some grandiose fight scenes. For obvious reasons, the film comes nowhere close to the anime series but you can always have an enjoyable experience if you watch it after completing the entire anime. Even for newcomers who want to get a fair bit of an idea about the whole franchise, it surely is a decent starting point.
Read More: Best Harem Anime