'Angry Birds' started off as a mobile game at first, but received tremendous popularity as the franchise grew by leaps and bounds and slowly became one of the most popular mobile video games of all time. To tap into the huge popularity of the game, Rovio Entertainment, the game's developers, along with Columbia Pictures, decided that they should bring out a movie with the game's famous winged characters. Their bet worked and 'The Angry Birds Movie' became a huge success all over the world, grossing around $352 million worldwide.
The story of the film is set on an island where birds and pigs live in harmony. It so happens one day that despite their differences, the pigs extend an olive branch, asking the birds to forget all their quarrels and be friends once again. Soon, the residents of the island find that peace between them is not exactly enough. They have a common threat in the form of some aggressive bird that has come up with a device capable enough to destroy their island. Now the pigs and birds join together to mutually stop the destruction of their habitat.
The film is a rather fun-filled adventure, with enough comedic as well as action-packed moments. When the film was first announced, it did confuse viewers worldwide since the game is not in a story-mode at all. However, the makers have managed to create a game which uses the properties we have come to associate with these birds. If you enjoyed watching the film and are looking for more similar flicks, then you have arrived at the right place. Here is the list of best movies similar to 'The Angry Birds Movie' that are our recommendations. You can watch several of these movies like 'The Angry Birds Movie' on Netflix, Hulu or Amazon Prime.
7. Free Birds (2013)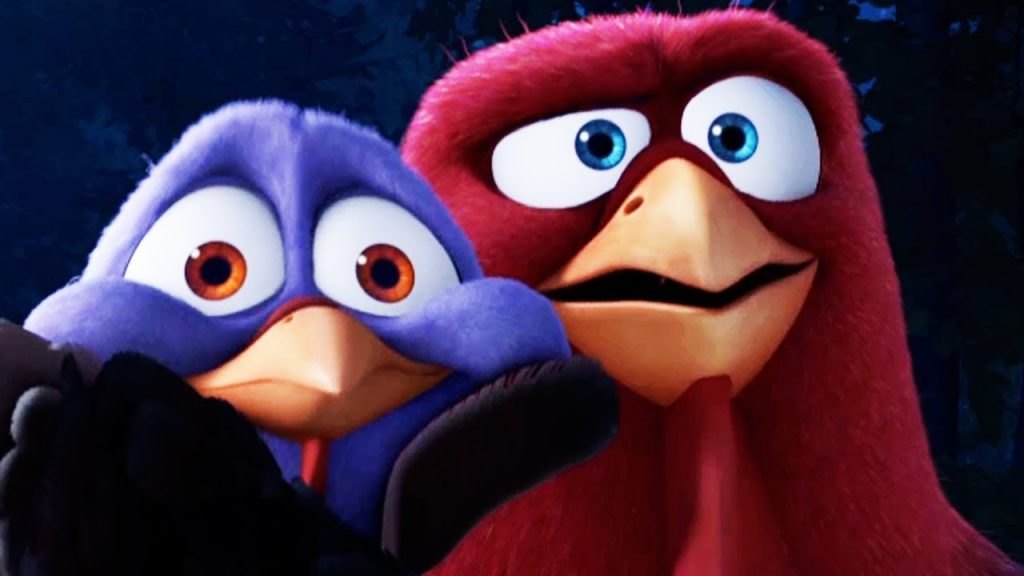 This Jimmy Hayward directorial is a fun-filled adventure film about two turkeys who have realized that they are being made a part of Thanksgiving menu and it is their friends who are complying with the tradition despite the loss of life of their own friends. The central character of the film is Reggie. When he notices what is going on, Reggie sincerely tries to warn other turkeys of the same. But the others do not consider his warnings as Reggie is asking them to go against tradition. This causes a huge uproar against Reggie who is then driven out of their flock. Reggie decides that the only way to get this problem solved is to go back in time and prevent the usage of turkey meat for Thanksgiving at any cost.
Despite being a children's film, we cannot ignore the strong subtextual layer present in 'Free Birds'. The film is basically about a wise person being ignored by his friends as he asks them to go against tradition. Very often we have seen in history that logical advice has been ignored as it goes against belief — the perfect example being Galileo and how he was killed for suggesting the earth rotates around the sun. 'Free Birds' can prove to be a very important life lesson for kids.
6. Rio (2011)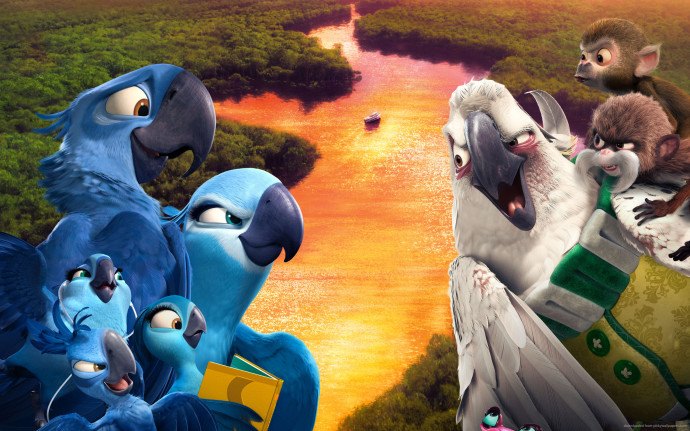 In a similar vein to 'The Angry Birds Movie', the story of 'Rio' also centers on birds, albeit in a different manner. Here, the central character is a girl named Linda who finds a rare Brazilian bird called Blu and raises it with utmost care and affection. When a scientist visits her town in Minnesota, he informs Linda that Blu is the last male of his species and that he himself is in possession of a female bird belonging to the same type. Together, they can help this species from getting extinct. Linda visits Rio de Janeiro along with the scientist to help the birds mate, but soon, problems arise when both birds get kidnapped by smugglers. The film can be a great source for teaching children the importance of conservation and the right of every single species to continue their existence on earth. Hardly do we come across such entertaining films with powerful messages having the potential to really mold young minds for the better.
5. The Lego Movie (2014)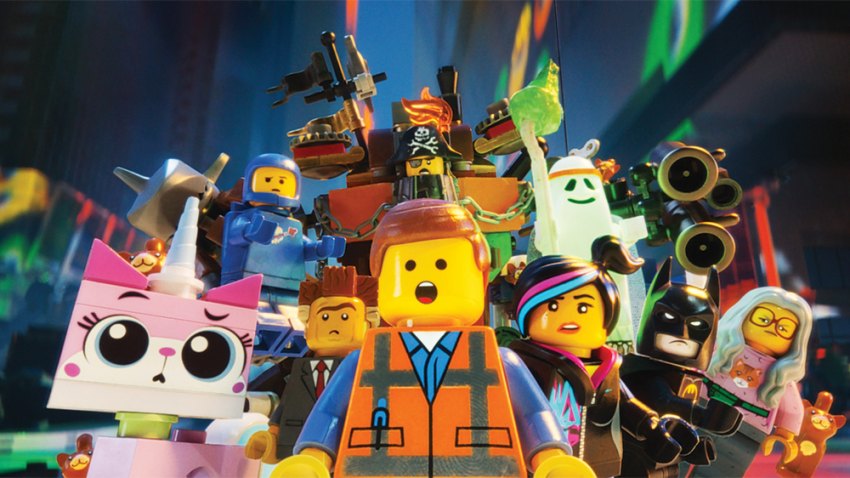 The 'Lego' movie series is a strikingly new film franchise with aesthetics and sensibilities, unlike anything we have ever seen before. The film series is based on the construction toys of the same name, with the interesting aspect of the film being that each of the characters is aware that he is living in a Lego universe. The film can be called a perfect postmodern animation as here characters from different franchises come together, they look the same except the costumes, and the stories also revolve around the fact that they are living in a Lego world. For example, in this 2014 film, the antagonist is an evil businessman who wants to glue every Lego item in the world to fulfill a vision of his own. Eminent Hollywood personalities like Chris Pratt, Will Ferrell, Elizabeth Banks, Will Arnett, Nick Offerman, Alison Brie, Charlie Day, Liam Neeson, and Morgan Freeman have provided voices for the film.
4. Despicable Me (2010)
Although it's a story about the Minions, 'Despicable Me' boasts of an amazingly heartfelt story which would have worked in live-action as well. The film centers around a supervillain called Gru who wants to kidnap three orphan girls and use them to conduct a major robbery. However, things complicate for him when the young girls consider him to be their father. Gru, who is the greatest villain the world has ever seen, now seems helpless when these three girls shower him with a kind of love he has never experienced before. The film received critical acclaim from all corners, as critics praised it for the thoughtful nature of the storyline. The most interesting aspect of the film is again the very important message it has for its target audience: love triumphs hatred. The film preaches in its own beautiful ways that no matter how much hate plagues the earth, love still has the power to conquer the cruelest of beings.
Read More: Movies Like The Incredibles
3. Smallfoot (2018)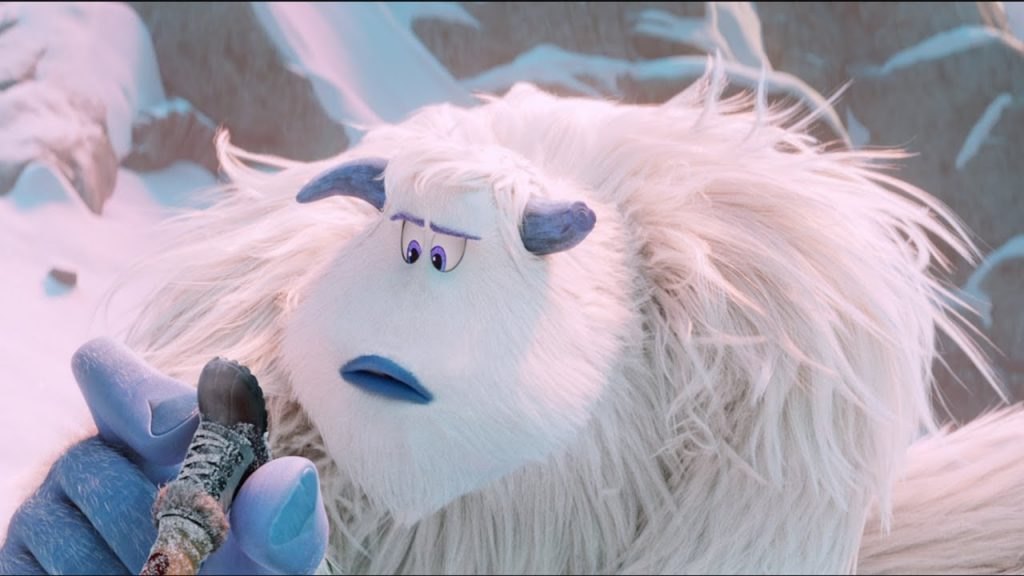 Myths constitute a huge part of our beliefs, as we always have a tendency to believe something which is fantastical or is too good to be true. The film 'Smallfoot' uses this trope brilliantly while turning it around on its head. We all know what yetis are. They are giant ape-like creatures rumored to be roaming around the Himalayas despite there being no photographic documentation of the same. Just like the Loch-Ness monster, it is a figment of the locals' imagination. The film centers around a community of yetis who live in the Himalayas and belives humans, whom they call 'smallfoot', to be just a rumor. When one of the yetis called Migo claims that there might be some truth to this rumor, all the other yetis mock him and drive him out of their community. It is now upon Migo to prove that what he said is actually correct. Myths are something which should never be believed in, and if this lesson is passed on to children from a very early age, they will grow up to be much more rational. This film does this job beautifully.
Read More: Movies Like Mowgli: Legend of the Jungle
2. Chicken Little (2005)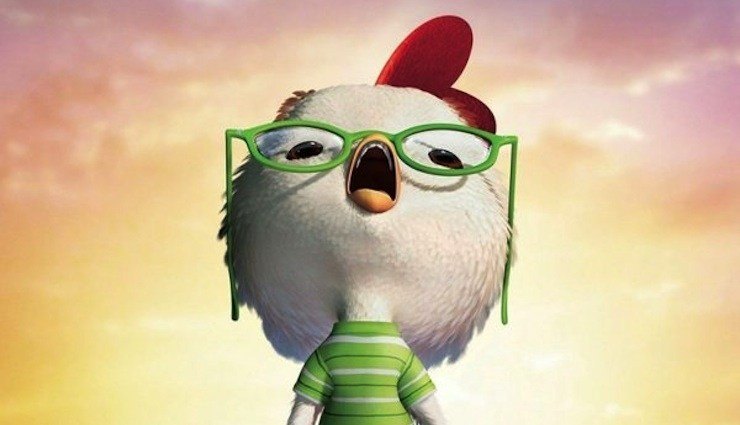 Animation has always given us the opportunity to experiment, and when done to perfection, few other forms of the audio-visual medium can be as great as animation. Here, the mixing up of genres can happen with ease, and stories can take any direction without worrying about the budget. The film 'Chicken Little' is a prime example of this, wherein the story of a small farm is suddenly thrown into an alien-invasion mega action theme. The central character of the film is a small rooster called Chicken Little, and it is his doings which brings about a massive distress to his village. The film is interspersed with heavy action and amazing dialogues. Hardly do we come across such films which are not only fun to watch, but truly poignant in every sense of the word.
Read More: Movies Like Up
1. Monsters, Inc. (2001)
This Pixar Studios film is set in the land called Monstropolis, which comprises of monsters who live regular lives just like humans. The ones who work at the power plant have the task of scaring human children so that they scream, and it is from their screams that power is generated. Sulley and Mike are two monster friends who have been given this task. Things get even more interesting and complicated when they meet a human girl who does not get scared by them at all. Instead, they develop a warmth and affection for the little girl. The film is a heartfelt tale which humanizes monsters and treats them like normal, emotional creatures, unlike how they are generally portrayed in films and television. The humane aspect of the story is what makes 'Monsters, Inc.' a must-watch and a unique addition to this list.
Read More: Movies Like Toy Story