With names like Reese Witherspoon and Kacey Musgraves attached, 'My Kind of Country' has captivated country music fans thanks to its unique approach to the beloved music genre. The Apple TV+ reality series is known for featuring artists from around the world eager to share what music means to them. The show's first season welcomed some amazingly talented singers the world could not get enough of. Hence, it is no wonder that people are eager to know more about what their favorite country music artists are up to these days, and we are here to answer the same!
Where is Micaela Kleinsmith Now?
We are starting with Micaela Kleinsmith, the winner of the first iteration of the Apple TV+ series. Hailing from Cape Town, South Africa, the victory certainly felt surreal to the artist. "I feel like that entire finale was a blur for me. I completely blanked out, even during the performance," she shared with People. "I felt like I was taken to a different place while I was performing. But I was very shocked. I will say that much. I was incredibly shocked. I was so ready for them to say anybody else's name."
Since her time on the show, Micaela's work as a musician has only continued to grow. The artist is presently working on her Extended Play (EP), which may or may not feature 'Stupid Love,' the song that captivated us all in the finale. Eager to have her fans listen to her music, Micaela looks forward to this project. "It's coming out soon. I'm so excited," she exclaimed. "You don't even understand." When not working hard, the singer likes to spend time with her friends and family.
Where is Ale Aguirre Now?
Thanks to her captivating voice and chirpy personality, Ale Aguirre has no shortage of fans. Having traveled to Nashville, Tennessee, from Chihuahua, Mexico, the musician's time on the show seems to have been a memorable experience for her. Since then, Ale has only continued and successfully established her presence within the music industry. Her original song, "Distancia," won the audience's hearts and is among the top 10 songs for the People's Voice category in the 2022 Int'l Songwriting Competition. Ale has over 31 thousand Instagram followers as of writing, and her fame is only growing, with fans worldwide reacting positively to her on-screen performance.
Where is Dhruv Visvanath Now?
Based in the National Capital Region of India, Dhruv Visvanath's skills as a musician were quite evident in the country music competition. His time within the show certainly seems to have been memorable for the artist, who has expressed gratitude for the same many times. Dhruv has recently become affiliated with Aiwa India as an Artist and got to opportunity to showcase his skills in association with Coke Studio Bharat.
With thousands of streams on Spotify, there is no doubting the popularity Dhruv has accumulated. His last album, 'The Book of I,' was released in 2021, though he has also recently released more singles and EPs. Apart from his songs from the show itself, one can hear him sing 'Demons' and 'Monster.' In addition, the artist is presently affiliated with Dehradun Guitar Company.
Where is Chuck Adams Now?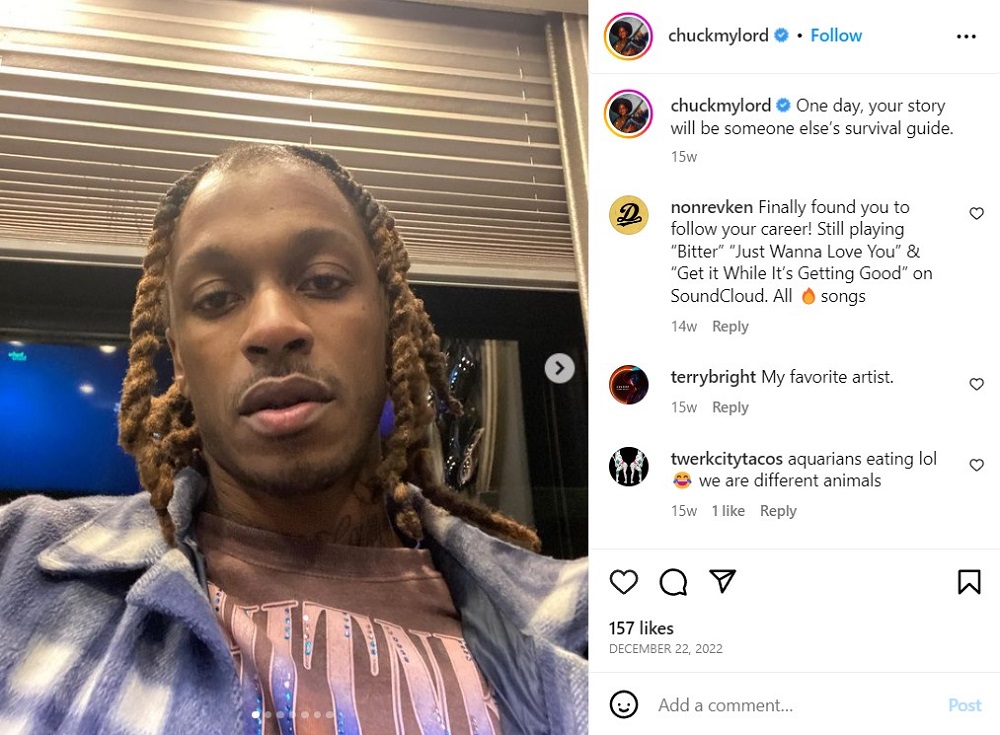 As the only representative of Nashville in the show, Chuck Adams' position as a finalist filled many with joy. He continues to work in the music industry and is the proud Founder of American Money Machine LLC, an arts and entertainment organization focused on music. Besides, the musician is happy to spend time with his friends and family. The opportunity provided to Chuck by the Apple TV+ series is also something he seems to hold close to his heart.
Where is Wandile Mbambeni Now?
Though he missed his spot in the top 4 by a narrow margin, Wandile Mbambeni has continued working hard to make his voice heard worldwide. Moreover, singing and playing guitar are not the only ways he is associated with the music industry, given his position as a Record Label Owner and Music Producer for Feelings Alone Records. Wandile is also a Songwriter/Composer for Active Music Publishing and has been working under the banner of Wandile Mbambeni Pty Ltd since December 2013.
Based in Johannesburg, South Africa, Wandile grew up in the eastern coastal region of the country and is heavily inspired by the same. He is proficient in jazz, afro-soul, hip-hop, folk, and acapella and is only looking forward to exploring even more branches of creative arts. On top of it, Wandile is a photographer and has a dedicated page for the same. To celebrate his identity and culture, he often writes music in Xhosa and even shared one of his creations, ' Our Lives Matter,' on the Apple TV+ series.
Where are The Congo Cowboys Now?
The fantastic trio of Julio Sigauque, Julio "Gugs" Sigauque, and Chris "Bakkies" Bakalanga is known collectively as The Congo Cowboys. They combine local African languages with Western country music to give us inspiring gems. Having initially worked together through Freshlyground, the three continue to be a part of the musical band.
Chris and Julio currently act as lead guitarists for Freshlyground, though the latter is more well-versed in steel-string acoustic. Meanwhile, Simon is a man of many talents who plays flute, saxophone, and keyboard as a part of Freshlyground. He is responsible for the management of the band. On the other hand, Chris is affiliated with Playing For Change as a famous musical artist.
Where are The Betsies Now?
With Zel and Landi Degenaar and the helm, the singing sister duo of The Betsies is one team you will likely never forget. While the two grew up in a small town near Johannesburg, they now live in Cape Town. That said, the music group currently seems to be on tour across the primary area of South Africa. Instrumentalists Paul Lodewyk Avenant, Geraint Bojé, and Christo are accompanying them on this musical journey.
Apart from her passion for singing, Zet plays guitar. Meanwhile, Landi works as a Banjo Player, a Songwriter, and a Film Editor. Though the two are always happy to discuss their professional achievements, they prefer to keep their personal life private. The sisters reportedly live together and seem more than happy to be each other's best friends. If you are one of their many fans, listen to their music on platforms like Apple Music, Spotify, and YouTube!
Where is Justin Serrao Now?
The songs shared by Justin Serrao in the country music competition helped him gain many admirers who could not get enough of his music. Luckily, the artist is working on another project that will likely be soon available on platforms like Apple Music, Spotify, and YouTube. Furthermore, Justin has a jam-packed schedule with back-to-back live performances lined up in the next few months. Additionally, he is incredibly proud of his love for food and adores Nash, his Boerboel dog. Based in Johannesburg, the musician is looking forward to what life brings next.
Where is Alisha Pais Now?
All the way from Mumbai, India, we have Alisha Pais, who is supposedly now based in Goa, India. Due to her artistic skills, she has worked as a performer at several events, including the 2020 Mumbai Pride afterparty by Gaysi Family and Fantastic Future Stories by Orbs Cure Labs. When not working with tunes, the musical star can be found capturing the beauty of nature through her camera. As of writing, it seems like Alisha may be in a relationship with Nicholas Vaz, with their shared background as fellow musicians probably positively contributing to their bond.
Where is Camille Parker Now?
Since her time on the Apple TV+ series, Camille Parker has moved to Nashville and is creating waves as a musician. In 2022, she was announced to be a part of Country Music Television's 'Next Women of Country.' Camille even performed alongside her on-screen mentor Jimmie Allen at the Grand Ole Opry in April 2022. The same year saw the musician traveling worldwide to perform and wow the crowd in the United Kingdom with her melodies.
Given her work as a musician, Camille was proud to become a Next Wave Artist for White Claw. The artist maintains a good relationship with her grandparents, who raised her during her younger years. Aware of the hurdles she faces in the music industry, especially as a Black woman, Camille is always happy to break the mold and emerge as a talented and impactful singer.
Where is Ismay Now?
Avery "Ismay" Hellman is perhaps one of the most motivating participants to grace the stage of the Apple TV+ series. Despite their early elimination from the show, the musician has gained many fans eager to listen more to the artist. Primarily based in Petaluma, California, the artist works on a farm and helps care for numerous lambs alongside their dog, Minnie.
However, Ismay is known for traveling worldwide and recently announced that they would be a part of the Woollystar festival in June 2023. The artist's debut album, 'Songs Of Sonoma Mountain,' is an ode to their eponymous home and has won many accolades. It was featured in American Songwriter, No Depression, and Sonoma Magazine.
Where is Ashlie Amber Now?
Last but certainly not least, we have Ashlie Amber, whose voice is nothing short of unforgettable. As it turns out, the musician also appeared in 'American Idol' season 11 and has been up for many Henry Awards due to her part in 'The Color Purple,' 'Spamalot,' and 'RENT.' Her headliner, 'I Will Always Love You,' is an homage to the beloved Whitney Houston and helped her gain fame within the cruise entertainment industry.
As of writing, Ashlie is a Headliner for Don Casino Entertainment and works as a Coach/Consultant for the same. Not just that, she is a proud Brand Ambassador for Pardon My Fro. With many musical projects in the pipeline, the 'My Kind of Country' contestant certainly seems to have much more to show the world. Ashlie turned 30 in September 2022 and is always happy to share life updates about herself and her boyfriend, Brad Schwartzman. Though based in Las Vegas, Nevada, she gets to travel across the world thanks to the nature of her job.
Read More: Is My Kind of Country Scripted or Real?