Comic book histories are unbelievably rich. So much so that there are elaborate stories on the relatives of our favorite superheroes. On top of that, many of the superheroes exist in parallel universes, and in each such universe, they lead different lives with variations on their powers and costumes. Here, we are not going to talk about some superhero's alter ego, but are going to take a leap in the history of probably the most popular superhero the world has ever known — Superman.
There is hardly anyone who is not aware of the fact that Superman is actually an alien who was sent to the earth by his parents when their planet was on the verge of destruction. Thus, as Quentin Tarantino points out in his film 'Kill Bill Vol.: 2' (2004), he is the only person who was born a superhero, unlike most of the others we know who became one. Clark Kent is the garb Superman puts on to blend in with us. But more on that later. The series 'Krypton' takes us into the history of Superman's own eponymous planet. The leading character in this story is not Kal-El, but his grandfather Seg-El. When Seg's grandfather predicted a horrible future for their planet Krypton, most other Kryptonites chastised him and ostracized their family. It befalls upon Seg to redeem his family's honor and once his grandfather's prophecy comes true, it is also his job to save the planet. The Syfy original, however, failed to please critics, with complaints regarding its sloppy narrative resonating across several publications.
However, if you enjoyed watching this show and are looking for more titles that explore similar themes and ideas, then you have come to the right place. Here's the list of best shows similar to 'Krypton' that are our recommendations. You can watch several of these series like 'Krypton' on Netflix, Hulu or Amazon Prime.
7. Black Lightning (2018-)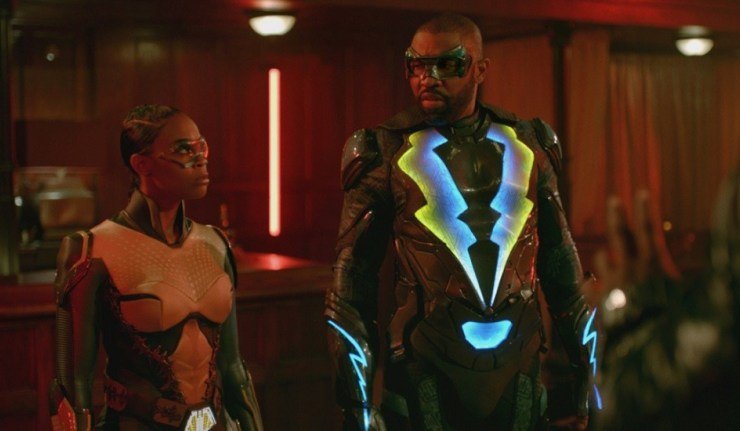 'Black Lightning' was initially developed at Fox, but then CW took up the project. This added to CW's already booming roster of shows based on DC characters like 'The Flash', 'Arrow', 'Supergirl', 'Legends Of Tomorrow', 'Batgirl' and others. Because the show primarily features African-American actors, the network decided to appoint mostly African-American writers to have an authentic voice in the show.
'Black Lightning' is about a retired school principal who has also given up his life of being a superhero. However, when his town faces dire straits, the retired hero plans to get his hands dirty once again. The series finds its mention here because obviously along with 'Krypton', 'Black Lightning' belongs to the DC Universe as well. An interesting aspect the two shows share is that they are about people who take on the responsibilities of people to whom they do not owe anything. They do not want to become heroes, but their circumstances pull out the best they have to offer. The series received unanimous praise from critics for its engaging characters, and a multi-layered approach to storytelling where there is always a subtle political undercurrent throughout the narrative.
6. Van Helsing (2016-)
The Syfy TV series Van Helsing is inspired by the graphic novel series called 'Helsing' by Zenescope Entertainment. The leading character of the show, Vanessa Van Helsing, has an interesting background in the history of English literature. Her ancestor is Dr. Abraham Van Helsing, whose reference we can find in the famous Bram Stoker novel, 'Dracula'. When vampires start taking over the world and kill men at free will, Vanessa steps out to defend the weak. In a similar fashion to 'Krypton', 'Van Helsing' is a story which offers a unique perspective of a hero who has to save his/her world from killers who have or will take over. While in Sag-El's world it is the inner politics of Krypton that he has to deal with, here Vanessa has already fallen in chaos where her job is to restore some of the order.
5. The Order (2019-)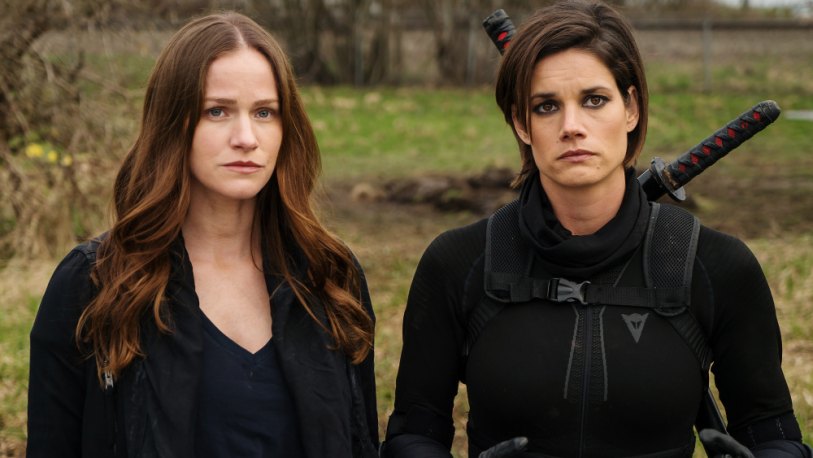 Most of us have heard about cults and secret societies which practice alternative forms of religion and lifestyles. Their stories seem fascinating but we mostly never get to witness such societies from close quarters. This has aggravated our interests in such groups, so much so that there are conspiracy theories all over the internet suggesting that some secret groups control all of the world's wealth. The Netflix original series 'The Order' is about a cult called Hermetic Order of the Blue Rose. When the leading character Jack Morton joins this group, he comes across dark secrets about his family while learning about magic and the dark arts. The past plays a massive role in 'The Order' and keeps coming back to haunt Jack. Similarly, in 'Krypton', it is the future which plays a major role in how the characters act. 'The Order' has been praised by critics and boasts of a 100% rating on Rotten Tomatoes.
4. Cloak & Dagger (2018-)
A Freeform original series, 'Cloak & Dagger' is based on the eponymous Marvel Comics characters. Olivia Holt and Aubrey Joseph play the two leading characters of the series. They are two young teenagers who suddenly gain special powers after a massive oil rig collapse. Life brings them together and they realize their powers work better when united. The duo then take on the mantle of protecting the world from all the hate and suffering that they see around every single day. What makes this series a unique addition to the list is that these two youngsters never wished to have powers. While some are born great, others have greatness thrust upon them. And this seems to be the exact case with Cloak and Dagger. In 'Krypton', it is Sag-El who is born great as he is a member of the family which predicted the future of Krypton. Thus, it is upon him to hold up his grandfather's honor and fight for his family. 'Cloak & Dagger' did manage to impress the audiences and critics alike.
Read More: TV Shows Like Cloak and Dagger
3. Supergirl (2015-)
One of the most important shows in the CW network's Arrowverse franchise is 'Supergirl', which is co-created by Andrew Kreisberg. Kreisberg is also the creator of shows like 'Arrow', 'Flash', and 'Legends Of Tomorrow'. Supergirl, as we come to know in the series, is the cousin of Superman. While the latter's real name is Kal-El, his cousin also had the name Kara Zor-El before being sent to the earth. Kara uses the alias Kara Danvers while protecting National City from both internal and external threats. The obvious reason for the series finding its place on this list is the fact that Kara is also a grandchild of Sag-El just like Kal. She constantly struggles with her identity while living up to the heroic deeds her family is known for. Melissa Benoist plays the eponymous character. Critical opinion for 'Supergirl' was positive, with praise being directed towards the child-friendly nature of the content.
Read More: TV Shows Like Jessica Jones
2. Runaways (2017-)
Whether you're an experienced crime fighter or just teenagers who have miraculously become super-powerful, your responsibility towards the world increases manifold if you want to use your powers for doing good. In this Hulu original series 'Runaways', six such powerful teenagers decide to join forces to take down a group comprising of their parents. This group, called The Pride, is a collection of supervillains who plan to cause massive damage and destruction to Los Angeles, their hometown.
Family is a major factor in both 'Runaways' and 'Krypton'. In the former, the superheroes are fighting against their own family who have crossed over to the dark side. While in the latter, the leading character fights for his family's legacy. Despite being set in the MCU, the makers have not revealed a plan for crossovers with other shows. Having said that, it must be mentioned that 'Runaways' has managed to find praises coming from both critics and fans. Some have even said that the series is more balanced than the original source material.
Read More: TV Shows Like Runaways
1. Smallville (2001-2011)
The Superman story is probably the most popular superhero narrative in history, and when the story is re-imagined and retold, there runs a risk of how the viewers are going to accept it. The series 'Smallville' takes up this challenge and comes out with flying colors. Here, we meet Clark Kent when he is still coming to terms with the powers he possesses and is learning to use them judiciously. Clark has not yet figured out how powerful he actually is, and we catch him in this moment of dilemma in his life.
It is essential to talk about Superman and his life on Earth when we refer to shows like 'Krypton' because he is our first friend from the said planet, and the powers that surprise Clark Kent on the earth are the same powers that he would've considered normal had he grown up in his home planet. Critical appreciation also poured in for the series in copious measures. A fresh look at Superman's story was needed after numerous comics, films, and animated shows kept reusing the same narrative associated with the character.
Read More: TV Shows Like Everything Sucks!