Netflix's all-encompassing approach to TV shows has made them the biggest brand in the television industry. Thrillers, science fiction, or comedy dramas — you name it, the streaming giant has it all. A neat strategy they undertook was to produce original content from different countries around the world. South Africa, India, Brazil, Korea, Australia — Netflix has come up with impressive TV shows from all such countries. The smooth amalgamation of art with a knack for understanding what works with their subscribers is what has made the streaming giant produce one successful series after the other. The series in question, 'Everything Sucks!', is a comedy-drama, a genre Netflix is quite familiar with. The story revolves around a group of 90s high school kids and their misadventures.
The popularity that follows most Netflix shows took a hit with this show when it premiered. 'Everything Sucks!' was canceled by Netflix after the first season, but later, the series garnered a strong cult following. If you loved watching this show and are looking for more titles that explore similar themes and ideas, then we've got you covered. Here's the list of best shows similar to 'Everything Sucks!' that are our recommendations. You can watch several of these series like 'Everything Sucks!' on Netflix, Hulu or Amazon Prime.
6. Portlandia (2011-2018)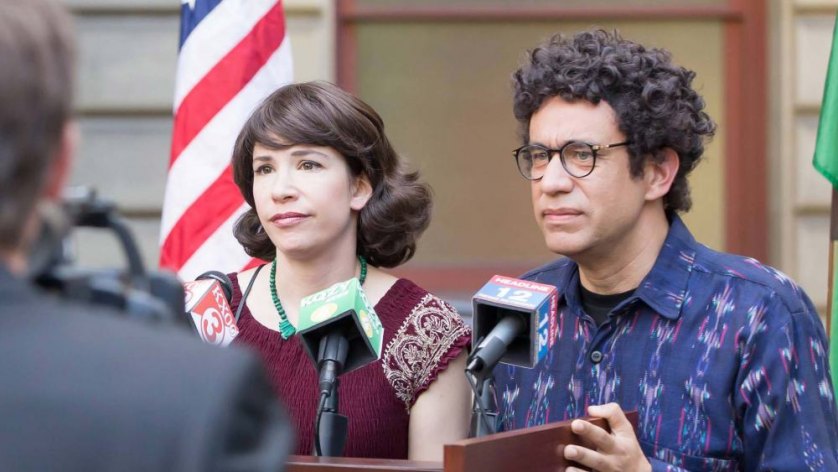 'Everything Sucks!' is a show about social outcasts, a group of students who are considered separate from the usual crowd of their age. Towing a similar line is the series 'Portlandia'. The show does not tell a particular story; instead, it just mostly revolves around a duo and the absurdist situations that they fall into. The series is treated like a sketch more than anything else. The two leading actors are Fred Armisen and Carrie Brownstein. Their unique brand of comedy can remind a keen observer of the surrealist humor popularized by Monty Python. 'Portlandia' was received warmly by most reviewers, with praise directed mostly towards the highly entertaining, incredibly funny performances of the lead actors.
5. Lovesick (2014-)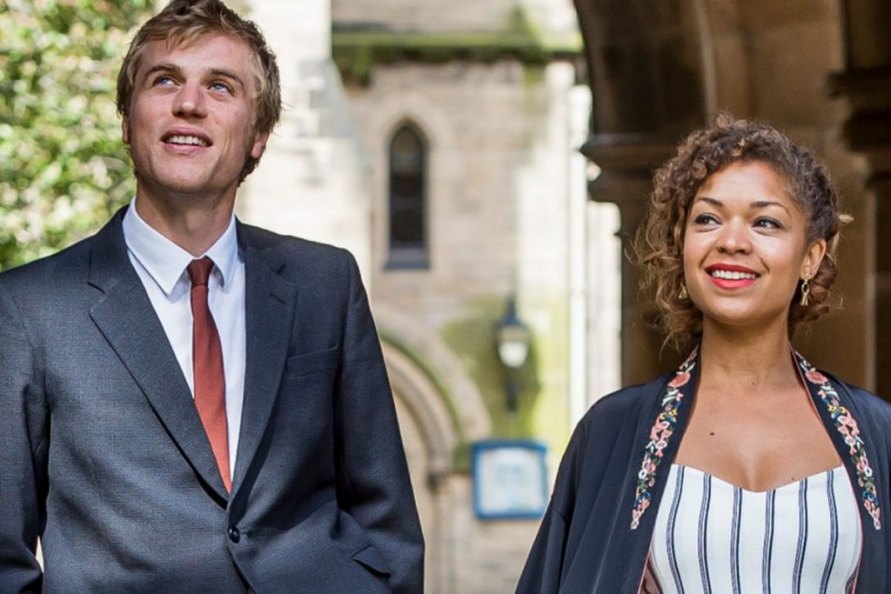 Very few sitcoms try to push the boundaries of the genre. What most of these shows do is try and get laughs out of the audience based on some gags and absurd comedic situations. But there are a few exceptions. Take 'Lovesick' for example. It is a story about a man who has had a number of sexual relationships in his life. We meet him when he's been diagnosed with a sexually transmitted disease. Worrying about all those women he's ever slept with, he goes out of his way and contacts each one of them to tell them about his condition.
The show was first released on Channel 4, following which Netflix took over the series. The name 'Lovesick' is also a Netflix nomenclature, as the series was earlier called 'Scrotal Recall'. The kids we talk about in 'Everything Sucks!' are ousted from their society. In this series, we see a man with a disease that pushes him out of normalcy, but his concern for the world does not falter. He worries about others more than his own well-being, just like those teenagers who want to create a work of art out of the chaos that engulfs them. Critics were thoroughly appreciative of the show, and praise was mainly directed towards the performances of the cast.
4. The End of the F**king World (2017-)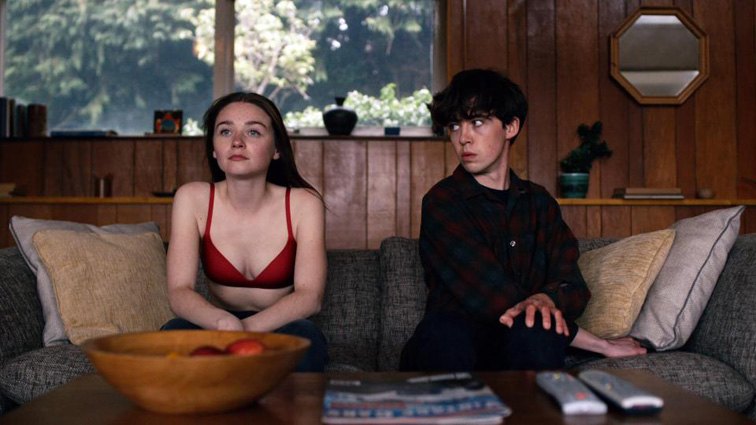 Being a social outcast has its own qualms and quirks. Though out of the ordinary, it is not an essentially dangerous area to dwell in. But the picture rapidly changes and takes a turn towards violence if the outcast in question has made himself or herself feel so. This phenomenon naturally develops in everyone who wants to see himself/herself as someone exceptional to the general scheme of things; but if it strongly emerges out of a sociopath, the aftereffects can be problematic. This is exactly what happens to the two central characters of this Channel 4 original series. In a quest for adventure, they end up causing violence and murder, failing to realize when their activities are going out of hand.
If 'Everything Sucks!' is about teenagers who do not fit the bill, then 'The End of the F**king World' is about two teenagers who are so out of the ordinary that they feel alienated and pushed to a point where something like arson or a murder helps them to actually feel something. The show received massive critical acclaim, with several critics praising the humour and its overall tone.
3. On My Block (2018-)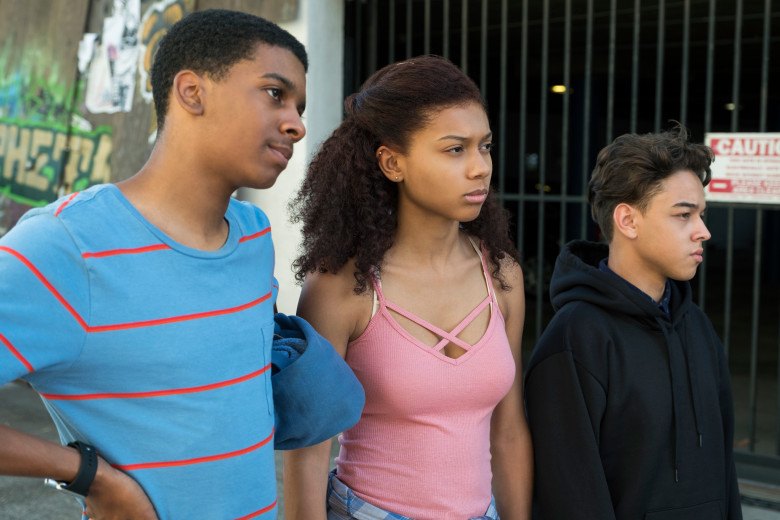 Behind a lot of troubled teenagers are stories that can break our hearts. The fact that these young people have been able to fight through all the difficult circumstances they have faced throughout their lives and are still standing strong is a massive, massive achievement. Here is a show which offers us a peek at the different circumstances that certain troubled teenagers have grown up in, and how these situations have made them strong. Four such teenagers are the central characters of 'On My Block'. One of them is an Afro-Latina girl called Monse, who was raised by her single father. Her love interest, Cesar Diaz, has had a rough childhood and even gets mixed up with gang activity. Despite being subject to a lack of compassion from an early age, these teens are still fond of each other and support each other during troubled times. 'On My Block' bagged the Choice Breakout TV Show award at the 2018 Teen Choice Awards. It was also highly appreciated by critics for the story and the performances by the young actors.
Read More: TV Shows Like Mr. Iglesias
2. Awkward (2011-2016)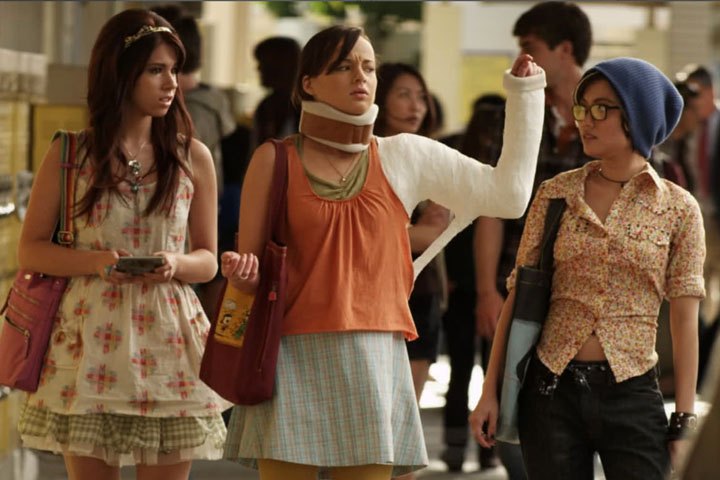 The plot of 'Awkward' resonates strongly with 'Everything Sucks!' in terms of how a social outcast can try and make a connection with other people despite facing difficulties in doing so. The story revolves around a girl who has never been able to become a part of the crowd at her school. When she meets with an accident, people dub it a suicide attempt very quickly. She finds herself becoming the center of attraction at her school for all the wrong reasons. The dialogues of the show are very authentic, probably because series creator Lauren Iungerich spent time with high school students while doing his research. Both 'Awkward' and 'Everything Sucks!' have a message of assimilation. The shows talk about people who cannot be categorized easily, but they instead try to form connections with the world. The teenagers in 'Everything Sucks!' do so by trying to make a movie and showing it to the school students, while the central character of 'Awkward', Jenna Hamilton, does so by writing her blog.
Read More: TV Shows Like Years and Years
1. Freaks And Geeks (1999-2000)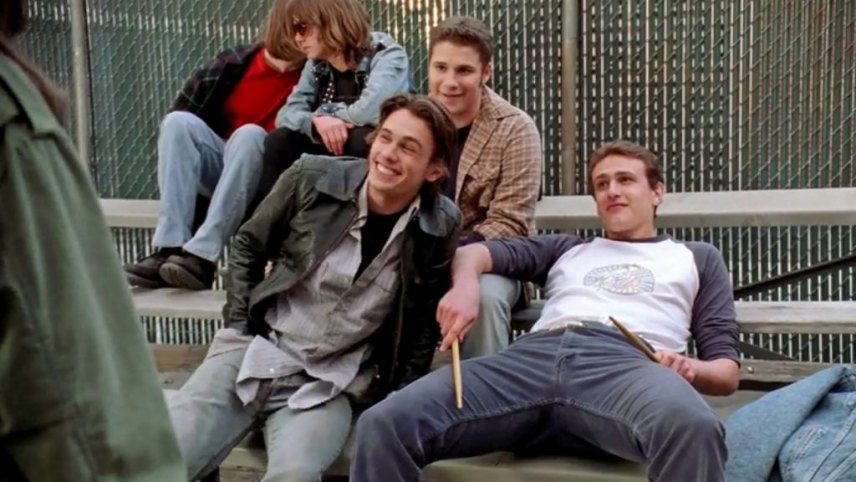 'Freaks And Geeks' helped launch the careers of some great actors of this generation, like James Franco, Seth Rogen, Jason Segel, Busy Philipps, Martin Starr, and Linda Cardellini. The show, however, did not manage to proceed beyond its first season, but since then, it enjoys a strong cult following. The story is told from the perspectives of a sibling duo — Lindsay Weir and her brother Sam. Lindsay's friends are known as 'freaks' among the school children, while her brother's friends are referred to as geeks. The lives of these freaks and geeks and how they manage to make their ways in school and the world beyond is what the show is essentially about. Interestingly enough, many of the things that we see in this show are quite bold considering that it is an NBC sitcom. However, the writers got away with a lot of things because the network was of the opinion that the series wouldn't survive after the first season.
Read More: TV Shows Like The Loudest Voice