Netflix's 'Black Knight' is a South Korean sci-fi series set in a post-apocalyptic world controlled by a classist, tyrannical tech company, Cheonmyeong. Helmed by director and writer Cho Ui-seok, it features Kim Woo-bin, Kang You-Seok, and Esom, among others. In a world where couriers, who transport oxygen and other essential supplies, are held in high regard, 5-8, with his unbeatable skills, is a legend. After the government's latest relocation plan uncovers a gross conspiracy against the refugees, 5-8 takes on the Cheonmyeong CEO with the help of Major Seol-ha and her adoptive brother, Sa-wol.
Through its dystopian medium, 'Black Knight' delves into themes of class inequality, discrimination, and exploitation of power. The drama show focuses on a power-drunk regime and highlights the importance of defiance in the face of oppression. If you're searching for other stories in this genre that touch upon similar topics, here is a list of recommendations you might like. You can find most of these shows similar to 'Black Knight' on Netflix, Amazon Prime, and Hulu.
8. The Rain (2018-2020)
'The Rain' is a Danish post-apocalyptic series created by Jannik Tai Mosholt, Christian Potalivo, and Esben Toft Jacobsen. Featuring Alba August and Lucas Lynggaard Tønnesen as the central sibling duo, Simone and Rasmus Andersen, the narrative revolves around a world plagued by a virus carried through rainfall. After surviving the virus in an underground bunker, the Andersens resurface above ground in search of their father, a scientist. Along the way, a group of survivors pick up the sibling duo and accompany them in their search. Like 'Black Knight,' this show also depicts the aftermath of a world-shattering environmental crisis and focuses on its effects on humanity.
7. Daybreak (2019)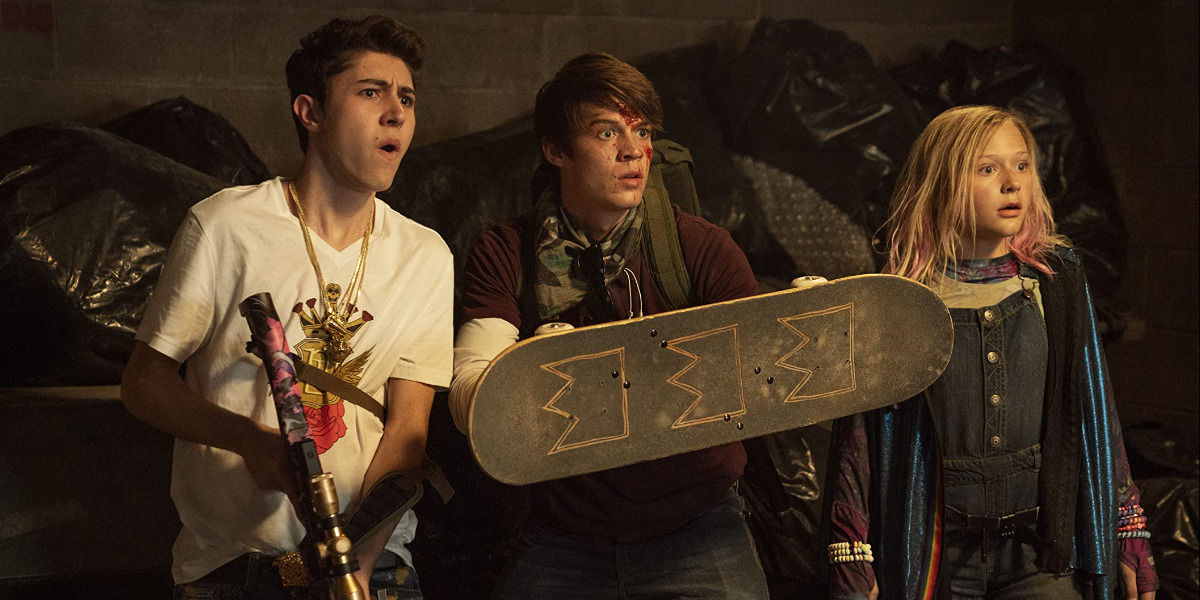 'Daybreak' is a post-apocalyptic teen show created by Brad Peyton and Aron Eli Coleite. It is adapted from Brian Ralph's comic book of the same name and features Colin Ford, Alyvia Alyn Lind, and Austin Crute. Josh Wheeler, a lone wolf resident of a socially collapsed California infested with adults turned zombies, maneuvers a dangerous world while looking for his girlfriend, Sam Dean.
Along the way, Josh meets a pyromaniac pre-teen Angelica and a pacifist samurai, Wesley. The trio unintentionally recruits a gang of misfits, and together they challenge the popular teens in power. 'Daybreak' may appeal to fans of 'Black Knight,' who enjoyed Sa-wol's reckless antiques with his refugee friends. Likewise, both show also feature plotlines about overthrowing the status quo in wildly distinct ways.
6. The Last Of Us (2023-)
'The Last Of Us' is an adventure drama series created by Neil Druckmann and Craig Mazin. The show stars Pedro Pascal and Bella Ramsey at its center, alongside Nick Offerman, Merle Dandridge, and many others. Based on the eponymous 2013 video game, the series takes place in a dystopian world overrun by a fungal infection that turns humans into zombie-like creatures. The Fireflies are an anti-fascist resistance movement fighting back against FEDRA to bring control back to the people of the US.
The Fireflies soon discover a 14-year-old girl, Ellie, who is immune to the infection. As a result, they employ the help of world-weary but capable Joel Miller to transport her across the country. Although both 'The Last Of Us' and 'Black Knight' are set in post-apocalyptic worlds, the center of conflict in both shows stems from a corrupt government and humanity itself. Ultimately, they are rooted in difficult circumstances yet convey messages of hope.
5. DMZ (2022)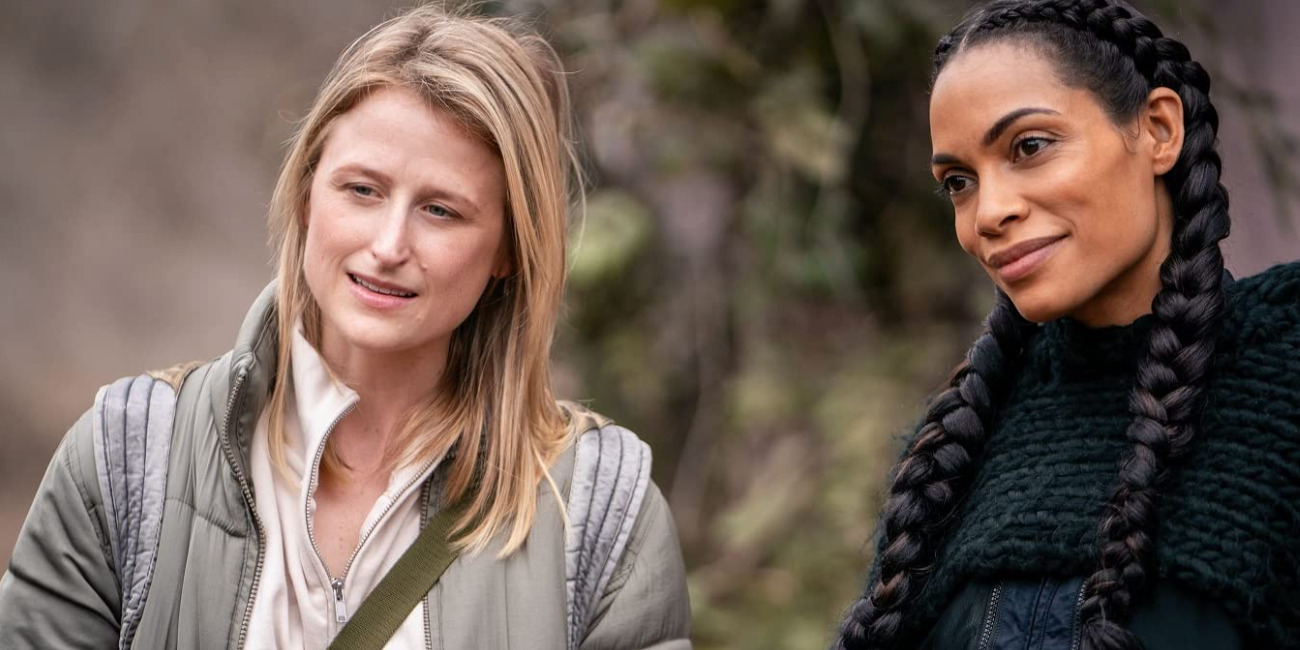 'DMZ' is an action-adventure sci-fi series created by Roberto Patino. It is based on a comic book of the same name and stars Rosario Dawson, Hoon Lee, Freddy Miyares, and Jordan Preston Carter, among others. During the Second Civil War in America, a medic from Manhattan, Alma "Zee" Ortega, accidentally separates from her son, Christian Ortega. Now, Zee traverses through dangerous gang rivalries-filled regions of Manhattan while trying to locate and reunite with her kid. Like 5-8 in 'Black Knight,' 'Zee' goes up against something much bigger than herself and, in the process, embodies a sign of hope.
4. Into the Badlands (2015-2019)
'Into The Badlands' is a post-apocalyptic drama series created by Alfred Gough and Miles Millar. This martial arts-centric show stars Daniel Wu, Orla Brady, and Emily Beecham. Five hundred years into the future, several reckless wars have wrecked humanity, leading to the collapse of global civilization. Now in a society without firearms, heroic regent Sunny treads through treacherous lands alongside M.K., a teenage boy with a secret to keep.
The narrative features plenty of complicated in-depth lore and rivalries between different cliques. 'Into The Badlands' is packed with action, and like 'Black Knight' focuses on an acclaimed warrior. Though both shows have vastly different atmospheres, they share similarities in their kindred dystopian settings and characters.
3. Colony (2016-2018)
Created by Ryan J. Condal and Carlton Cuse, 'Colony' is a sci-fi drama series that takes place in a dystopian future, where an oppressive militarized government rules over the citizens of Los Angeles after the arrival of an invasive alien species. Under this dictatorial regime puppeteered by the extraterrestrials, the Bowman family cooperatively works with the corrupt officials and tries to survive in the new world.
However, everything changes for them after Will Bowman discovers that his wife, Katie, has secretly been part of the resistance. Similar to certain characters in 'Black Knight' like Seol-ha, 'Colony' features characters complacent in a repressive system that eventually goes on to challenge it.
2. Incorporated (2016-2017)
'Incorporated' is a dystopian sci-fi series created by David and Àlex Pastor. It features Sean Teale as Ben Larson, the manager of the largest corporation in the world. After a series of social and climate crises, most usual governmental organizations dissolve and leave wealthy corporations in charge of society. Though Ben appears to be the ideal corporate worker, he's an undercover climate refugee named Aaron. Intending to find his old girlfriend, Elena, he infiltrates the Green Zone. If you enjoyed the covert aspect of 5-8 and his team in 'The Black Knight,' then you might also enjoy the character of Aaron. Additionally, both shows feature criticisms about the power-drunk potential of wealthy, influential companies.
1. Snowpiercer (2020-2023)
Graeme Manson and Josh Friedman's dystopian thriller series 'Snowpiercer' is a reboot of the 2013 movie of the same name. It features Daveed Diggs, Mickey Sumner, and Alison Wright. Following Earth seven years after it first became a massive frozen wasteland, the show focuses on a group of survivors aboard a luxury train that continuously moves around the globe.
Yet, the train passengers divide the transport into different factions according to class. In retaliation, former detective, Andre Layton, aids the rebellion effort against the First Class. Like 'Black Knight,' 'Showpiercer' explores class discrimination and social injustice through an isolated community of apocalypse survivors. If you enjoyed the social commentary and class discussions in 'Black Knight,' you will surely like 'Snowpiercer.'
Read More: Black Knight Ending, Explained: Is Ryu Seok Dead?