Disaster movies are ones with depictions of large-scale destruction– either natural or otherwise. Of late, filmmakers are resorting mostly to alien invasion stories, zombie attacks, earthquakes, tsunamis, floods, or space catastrophes. But one could argue that even war movies can be classified as the above, given the mass eradication of resources, both animate and inanimate, that are inherent in such productions.
While Mother Nature can be truly beautiful and inspiring, she can also be extremely terrifying. From hurricanes to avalanches, the world is constantly threatened by various calamities. Man-made disasters are equally rampant these days, given the mass destruction of the planet that is being carried out, like wars and wildfires. Moreover, the possibility of these events eventually leading to the end of the human race as we know it is no longer negligible.
20. Army of The Dead (2021)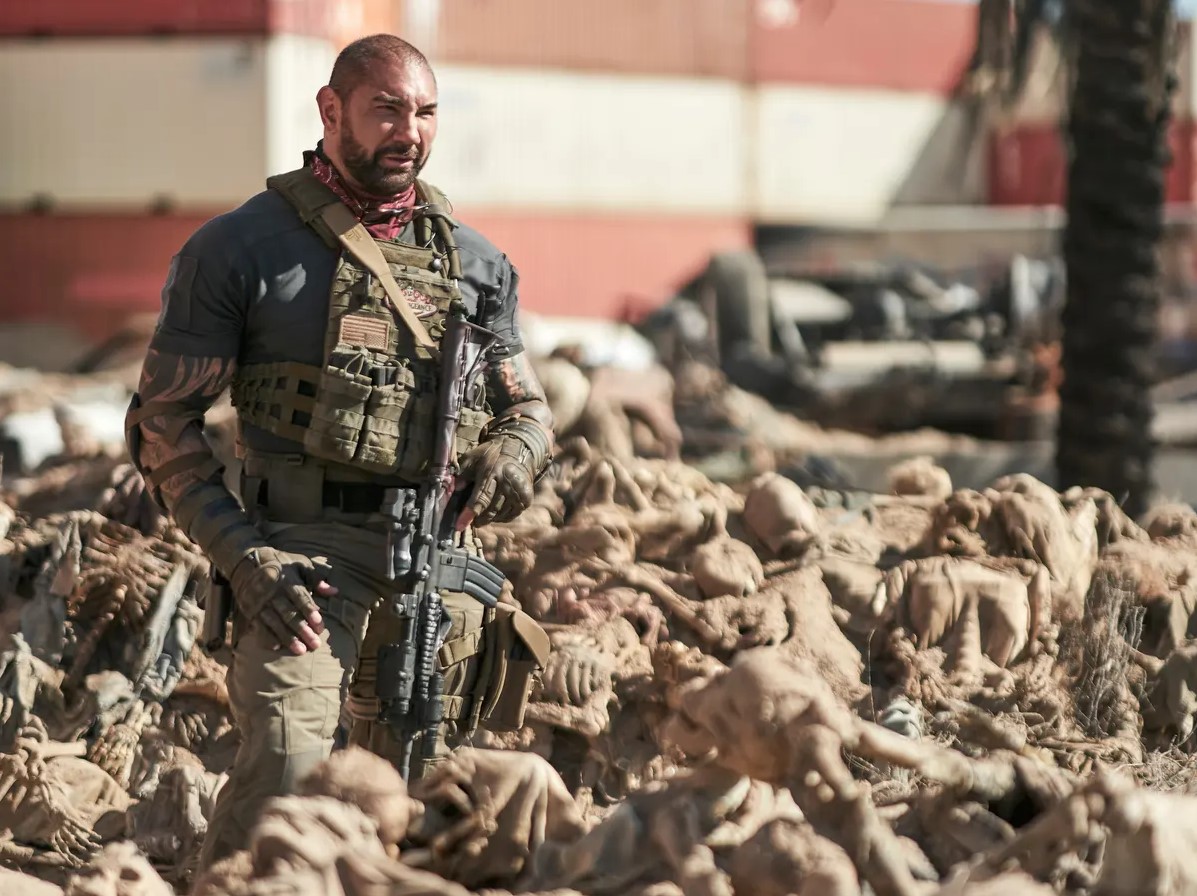 Spearheaded by popular director Zack Snyder, 'Army of The Dead' opens on a terrifying note as a biologically modified zombie escapes captivity and soon overrides the city of Las Vegas with a zombie army. Although the military blocks off the city with colossal packing containers, the plague spreads like wildfire, and soon, every living human in Las Vegas turns into the bloodthirsty undead. In such a setting, casino owner Bly Tanaka recruits former mercenary Scott Ward, tasking him with recovering $200 million from a vault inside Las Vegas before the army bombs the city to the ground. Scott then puts together a heist team and undertakes the seemingly impossible mission of infiltrating the zombie city. From here on, the movie plays like an out-and-out action flick with giant explosions, massive battles, backstabbing, and heroics, all bundled into one single, thoroughly enjoyable package. You can watch the movie here.
19. Pompeii (2014)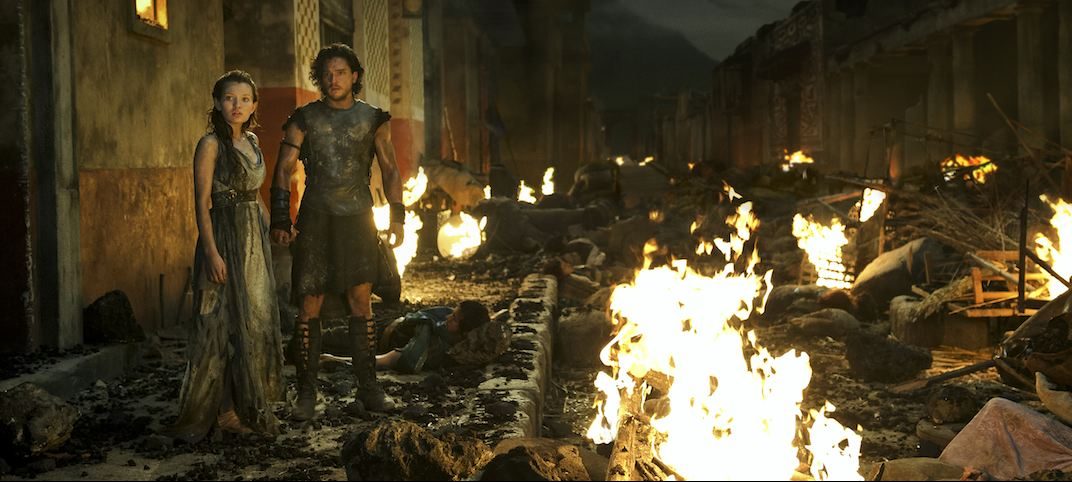 A historical disaster film directed by Paul W. S. Anderson, 'Pompeii' stars Kit Harington, Emily Browning, and Kiefer Sutherland. Set against the deadly eruption of Mount Vesuvius that destroyed the city of Pompeii, Rome, in 79 AD. It tells the story of slave-turned-gladiator Milo and Cassia, the daughter of a rich merchant. They fall in love, but their hopes to be together face the threat of not just Senator Corvus, who is bent on marrying Cassia, but Mount Vesuvius itself, which is spewing lava to ensure that the lovers never meet. To find out what eventually happens, you can stream the film here.
18. Cadaver (2020)
'Cadaver' is set in the aftermath of a nuclear disaster in a Norwegian city where electricity, food, and water are almost extinct. Although a hotel, one of the few buildings that were left standing after the disaster, serves a warm meal along with a theatre performance, the entry cost is quite dear as most of the population is without money. The movie originally revolves around Leonora, her husband, Jacob, and their daughter, Alice, who are struggling to survive and are on the verge of dying from hunger. Once Leonora hears of the hotel's offer, she scrapes together whatever money she has before buying tickets for her whole family. Initially, the hotel turns out to be warm and inviting, with loads of food for the guests and a fascinating performance. However, once the manager reveals that the whole building is a stage for the performance, the lines between reality and act blur, putting Leonora amid a sinister operation that pushes her toward her death. You may watch it here.
17. Beyond Skyline (2017)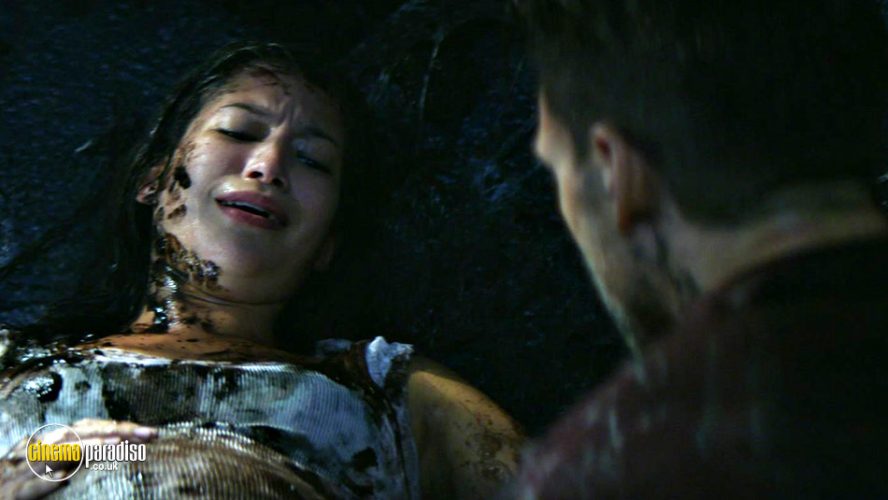 'Beyond Skyline' is a sequel to 'Skyline'. This film opens amid an alien invasion when LAPD Detective Mark Corley is vying for the release of his son from jail. As the invasion starts, people are sucked into various spaceships one at a time. Mark, along with a group of survivors, is meandering in the subway tunnels across the city to protect people. But they eventually land inside the alien spaceship, and Mark discovers that they're being converted into bio-mechanical soldiers for a greater cause. Although 'Beyond Skyline' may not promise the edge-of-the-seat thrill that many other invasion movies do, it still is way better than its predecessor in terms of its narrative. You may watch it here.
16. #Alive (2020)
Ever since the now Oscar-winning 'Parasite' graced the international movie circuit, Korean filmmakers have been given a new audience that can appreciate their work. This globalization has also introduced '#Alive,' which is essentially the story of a video gamer's survival in his apartment in Seoul when a zombie apocalypse wreaks havoc on the city. It stars Yoo Ah-in and Park Shin-Hye and is directed by Cho Il-Hyung. If you want to watch something that resonates with you and the current pandemic, then this movie could be a great fit, seeing as the protagonist is also in isolation. You can watch the movie here.
15. Spectral (2016)
'Spectral' opens amid an ongoing war wherein the troops have been using hyperspectral goggles, allowing them to see what is invisible to the naked eye. A translucent humanoid figure that they spot is able to kill with just a touch, thus posing a newer challenge for the soldiers. CIA officer Fran Madison and DARPA scientist Clyne then set their troops out with hyperspectral imaging cameras to track down these "invisible" and invincible insurgents. They later find out that the agitators cannot see through ceramic and are vulnerable to iron nails, thus giving the human troops an added advantage. 'Spectral' is an audacious attempt to match those big-budget thrillers, but it somewhat lags in its overall execution. Still, it is one of the best movies on this list. You can check it out here.
14. Pandora (2016)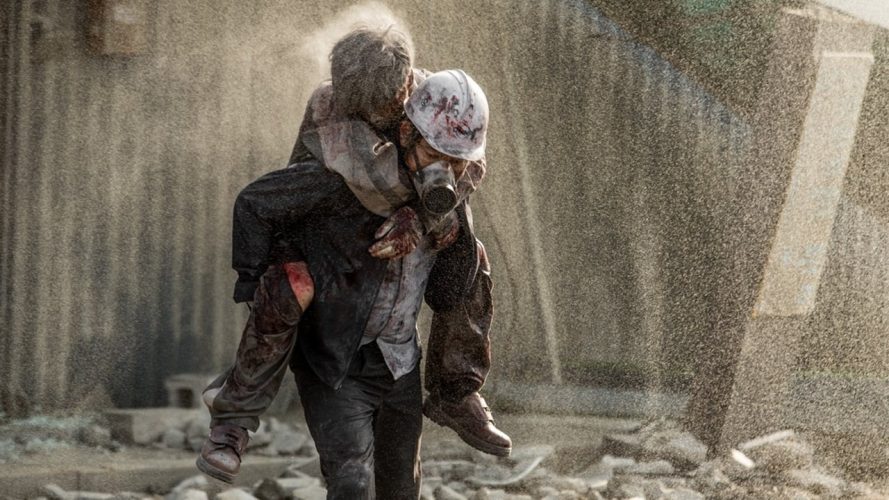 Pyung-Sub is worried about the conditions of the local nuclear power plant, but no one seems to listen to him. However, when an earthquake strikes, it severely damages the plant and begins to spread panic. Now, young Jae-Hyeok and his colleagues must prevent another nuclear disaster. 'Pandora' is not only a thrilling movie but also an emotional one, thanks to the script. With good visual effects and decent cinematography, director Jong-woo Park is able to deliver a tear-jerking story with a touch of reality. You can watch 'Pandora' here.
Read More: Crime Documentaries on Netflix
13. Extinction (2018)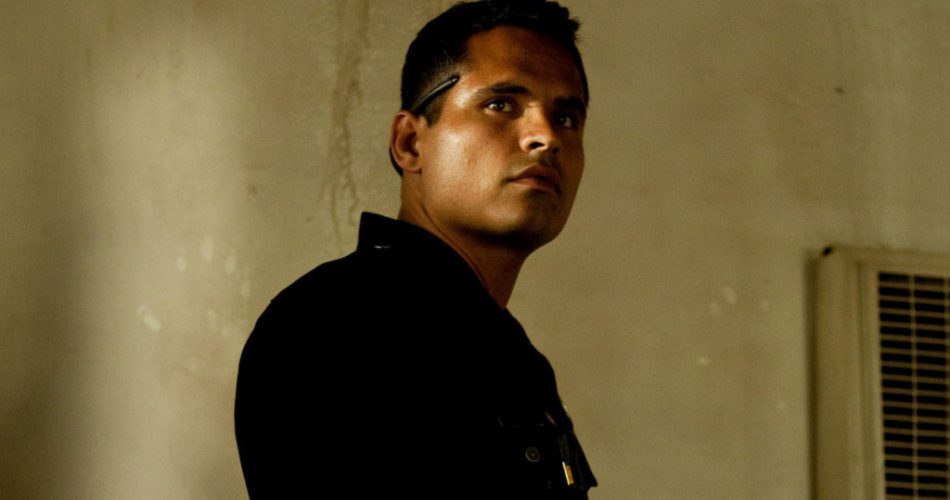 'Extinction' is Netflix's contribution to the doomsday genre. The movie opens in the near future, where an engineer named Peter is having nightmares about an alien invasion that could lead to the destruction of life. Upon his visit to a psychiatrist, he finds that other people are also having similar visions. After spaceships arrive and cause substantial damage to the city, Peter and his family seek shelter amid enemy alien soldiers on the prowl. It is later revealed that Alice, Peter's wife, is an AI humanoid, and the only way to save her is with the help of an unexpected power source: Peter himself. He, too, is a synthetic AI, aka synth. Turns out, synths had their memories wiped off and have been residing on the planet as people ever since the human rebellion against the AI. You may watch 'Extinction' here.
Read More: Best Classic Movies on Netflix
12. The Cloverfield Paradox (2018)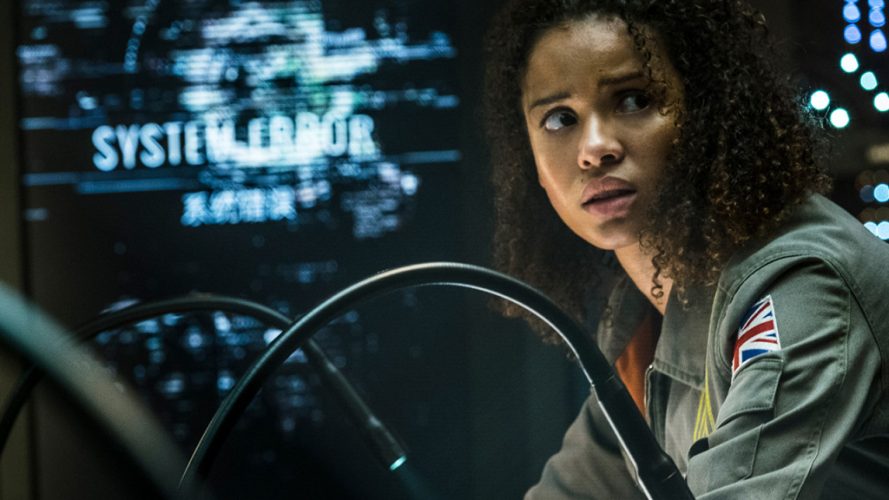 'The Cloverfield Paradox' aimed at capitalizing on its extremely successful 'Cloverfield' franchise. However, it doesn't compare to its predecessors despite promising twists and a somewhat compelling story. It begins with a group of astronauts on board a space station in 2028 as Earth is undergoing a global energy crisis. In desperate attempts to test the Shepherd particle accelerator aboard the Cloverfield station, a disaster strikes and leads to a paradox. This implies that the existence of a parallel universe may pose a looming danger to the world as we know it. The movie is streaming here.
Read More: Best Zombie Movies on Netflix
11. Cargo (2017)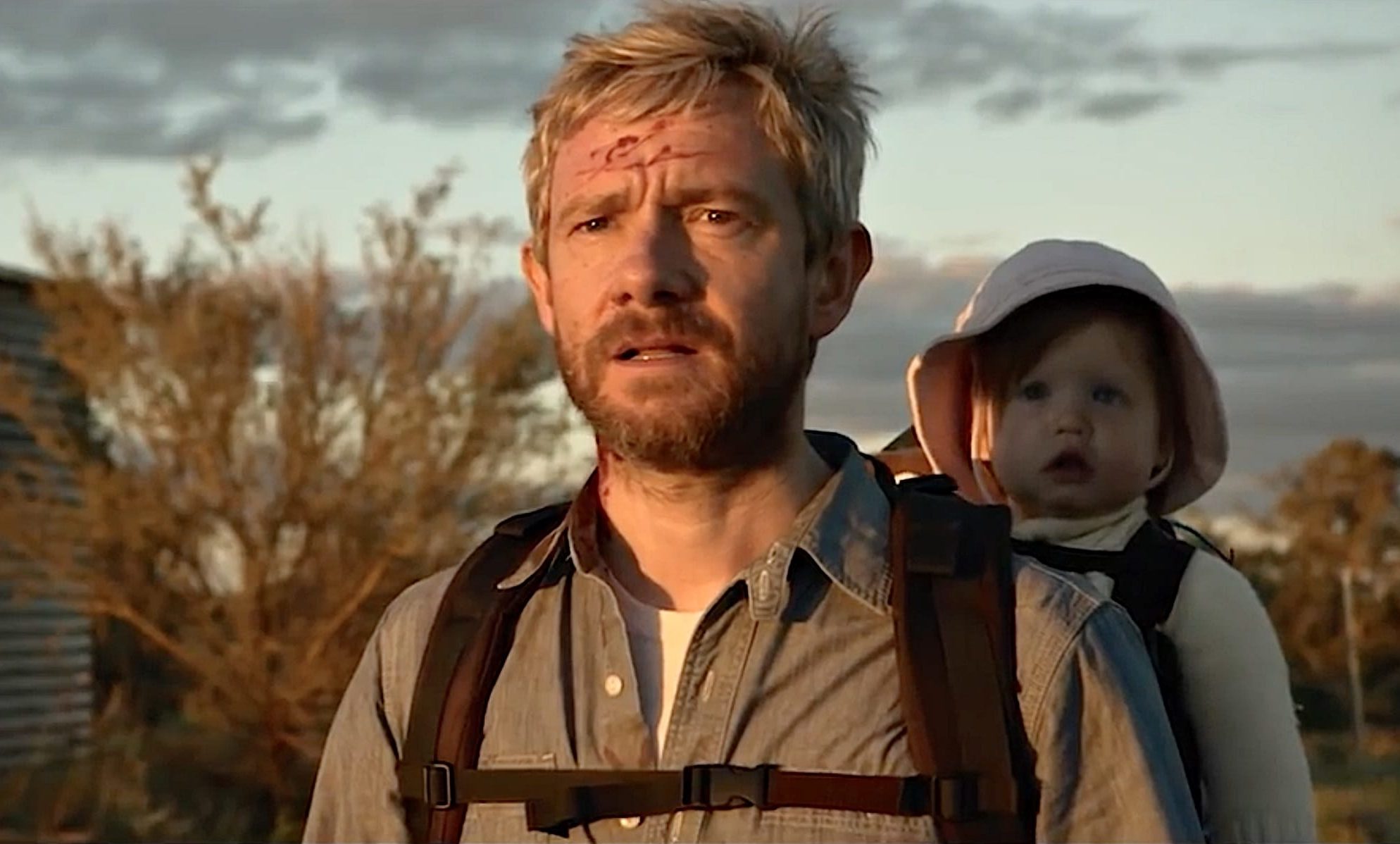 In the wake of a pandemic that turns people into zombies within 48 hours, Martin Freeman's character Andy has to ensure his baby daughter Rosie's safety after losing his wife Kay (Susie Porter) to the infection. The catch? He, too, is infected and is running out of time. So Andy not only has to protect his baby from a disaster that's already occurred but also an impending one. 'Cargo,' directed by Ben Howling and Yolanda Ramke, showcases the lengths to which a parent can go for the child and uses a world-scale event to stress the limits. If you have seen 'Train to Busan,' the movie is another such example. While the audience knows the dangers that Andy potentially faces, they are also exposed to the thought of the baby's fate which has also been compromised. Will Andy find a way to make sure that Rosie lives? You may watch the movie here and find out.
Read More: Funniest Movies on Netflix
10. Rim Of The World (2019)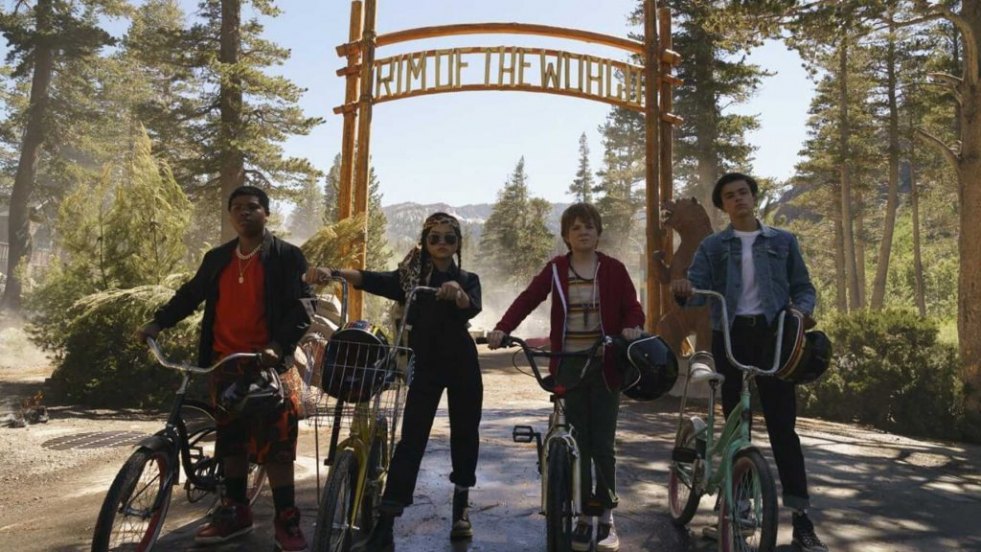 A Netflix original film directed by McG, 'Rim Of The World' has clear 'Stranger Things' vibes in its story and production values. It follows the aesthetics of the 1980s films about children's adventures and gets its name from a summer camp (in the story) that is happening in Southern California.
Three young boys, Zhenzhen, Alex, and Dariush, and a juvenile delinquent called Gabriel are the protagonists of the movie. While deep inside the jungle, they suddenly notice that army fighter planes are busy battling the invading alien ships in the sky. A pod from the International Space Station lands nearby, and from it emerges a woman who hands Alex a key. She tells him that it is with this key that the alien army can be destroyed. It supposedly activates a defense project known as the Excalibur. With no adults to help them and very little time on hand, the four youngsters embark on an adventure rife with numerous difficulties along the way. You can check out the film here.
Read More: Medical Shows on Netflix
9. How It Ends (2018)
David M. Rosenthal is the director of this Netflix original film starring Theo James, Kat Graham, and Forest Whittaker. James and Graham play a couple, Will and Samantha, who plan on getting married after Sam gets pregnant. He decides to travel to Chicago and asks for Sam's father's permission first. When Will is about to return from his visit, the news announces that all flights have been canceled because mysterious occurrences have been detected in the sky. In such a state, Will and Tom (Sam's father) decide to travel together to Seattle so as not to leave Sam alone in such a perilous time. The weather discrepancies are mainly the aftereffects of an apocalyptic phenomenon that has hit the world. In such a dangerous time, the journey of two men for the girl they both love is the central narrative of the film. You may watch 'How It Ends' here.
8. IO (2019)
Margaret Qualley did come to the limelight after her role in Quentin Tarantino's 'Once Upon A Time In Hollywood,' but do you know she has been the star of a Netflix production as well? The science fiction film 'Io' sees Qualley playing the role of Sam Welden, a scientist who continues to live on the Earth long after it has been rendered uninhabitable. Most of humanity has evacuated the planet and has settled down on a moon of Jupiter called Io. Welden, however, is determined to come up with a plan to make Earth liveable once again. She sends out a radio transmission and is soon visited by a man called Micah (Anthony Mackie). He, however, thinks that all hope is lost, so he plans to leave as soon as possible. You can watch 'IO' here.
7. Awake (2021)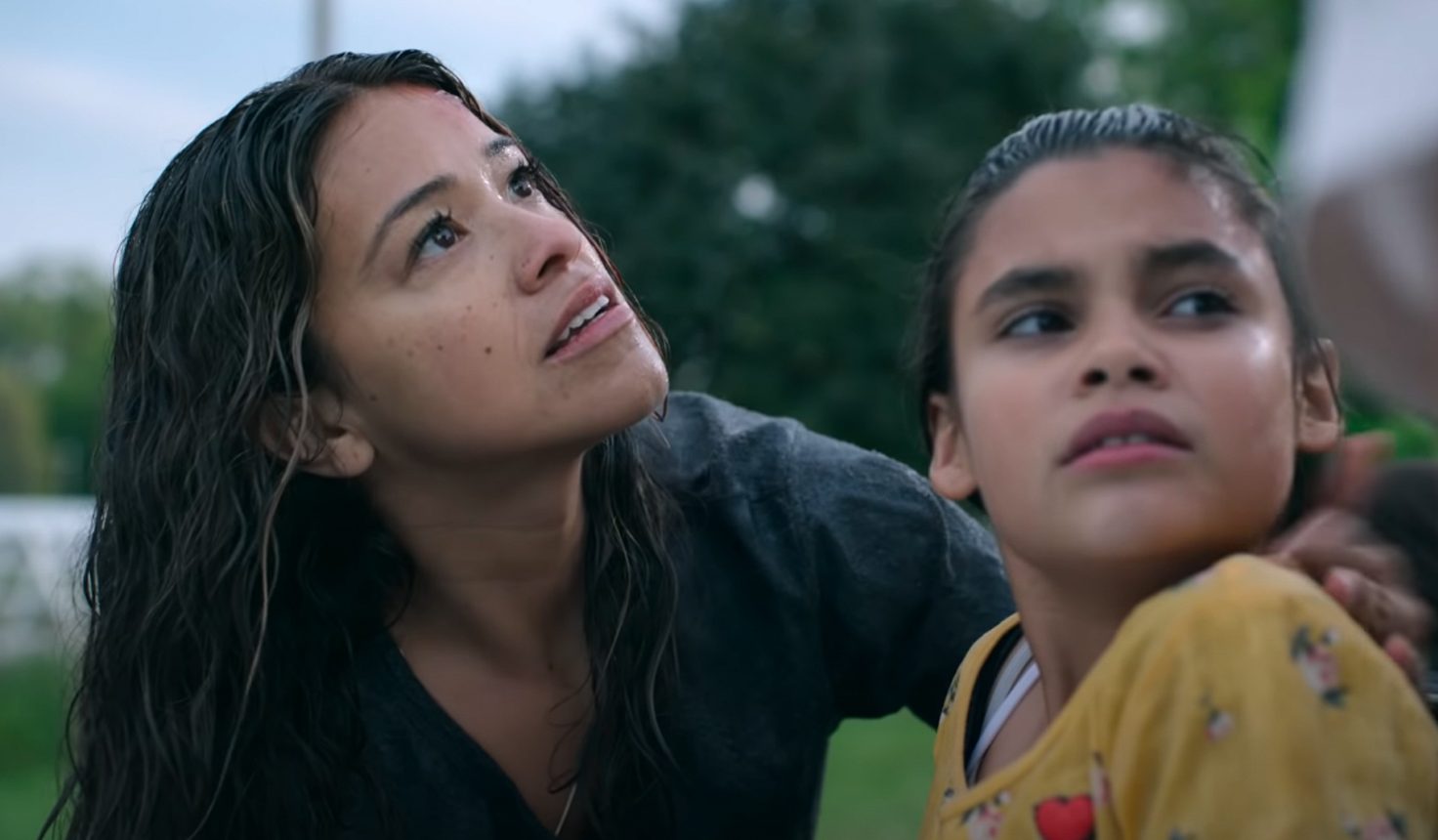 Can not being able to sleep bring about a disaster? 'Awake,' directed by Mark Raso, shows how the inability to sleep can indeed become a risk to life in ways more than one. Amid global hysteria that has led to people wreaking havoc due to disorientation, and hallucination, Jill (Gina Rodriguez), a former soldier and a mother of two (Noah (Lucius Hoyos) and Matilda (Ariana Greenblatt)) discovers that her young daughter Matilda 'can sleep.' With doctors hell-bent on finding a cure, will she be able to protect her, or will she be forced to give up Matilda so the entire world can be saved? 'Awake' is yet another example of the extent to which a parent can go for the kids in the middle of chaos. You may watch it here.
6. Bird Box (2018)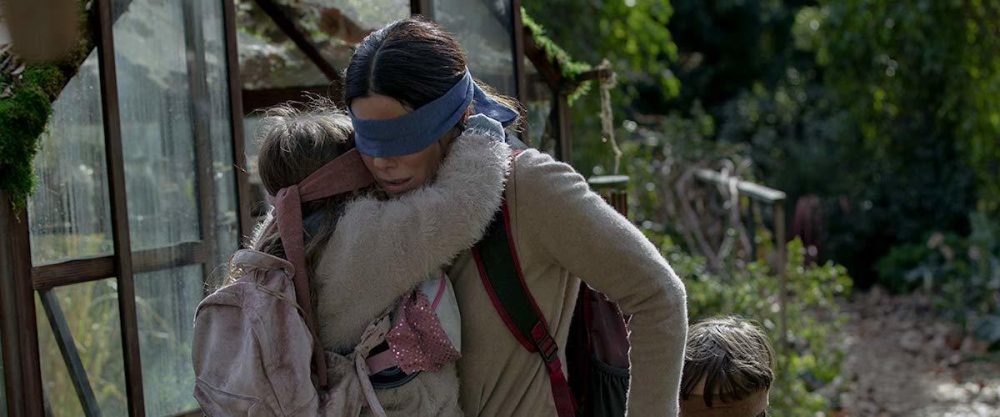 'Bird Box' is perhaps one of the most successful Netflix releases, owing to the fact that it resembles the likes of 'World War Z' (or any apocalypse movie for that matter). The film begins with a pregnant Malorie and her sister who are heading out to the hospital amid news of people killing themselves following an epidemic. While driving back home, Malorie's sister "sees" something, thus killing herself as well. The spread of the epidemic is rampant, with hundreds committing suicide. Malorie then takes shelter in a nearby home which also houses many others.
Five years later, after a fallout, Malorie, along with her son, the daughter of another woman, and Tom (a man she had met), is learning to live again with the help of a blindfold. They all do chores in this manner so that they don't end up killing themselves. However, when insurgents hit and Tom commits suicide, Malorie and the kids head out on a journey down the river to a safer place. As they reach there, they find that all the others in the area are blind, thus making them survivors. 'Bird Box' boasts of a powerful performance from Sandra Bullock, along with a thrilling narrative that keeps you hooked on to the screen. You may watch the movie here.
5. 22 July (2018)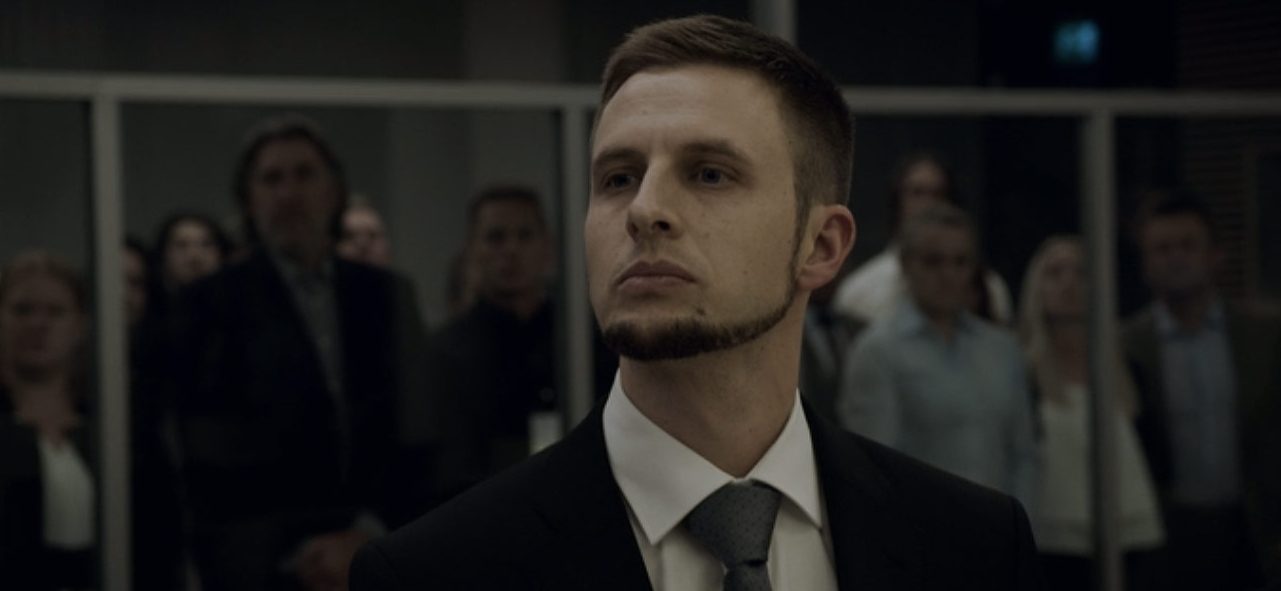 Based on the book titled 'One of Us: The Story of a Massacre in Norway— and Its Aftermath' by journalist Åsne Seierstad, '22 July' takes a look at the very real terrorist attacks that occurred in Norway in 2011. The explosions that shook Oslo also took at least 80 lives, including those of teenagers who were present at the summer camp hosted by the Labor Party. A white nationalist is held culpable for the gut-wrenching mass murders. Albeit dramatized, '22 July' revisits the horrifying events of that day, and it is because of these true crime roots that we suggest watching this film. Feel free to check it out here.
4. The Volcano: Rescue From Whakaari (2022)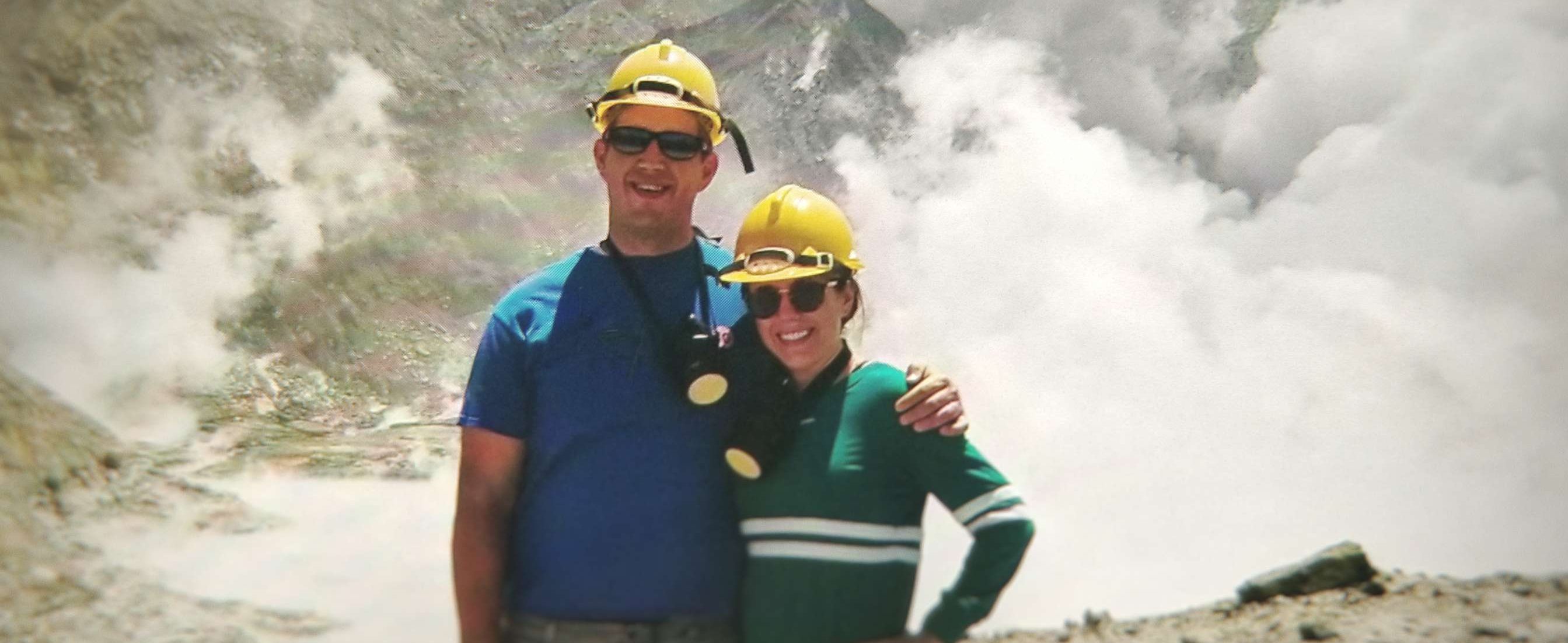 In 2019, New Zealand witnessed a terrifying tragedy in which 47 people, including tourists and guides, were trapped just off the country's coast due to a volcanic eruption. The people affected had gone to visit Whakaari or White Island, which is an active andesite stratovolcano located in the Bay of Plenty. The documentary portrays how the volcano had been showing signs of eruptions in the month leading up to the disaster and how some were caught unaware by the sudden eruption that claimed 22 lives and injured several others. The movie even features one-on-one interviews with survivors and chronicles how the local community came together to help survivors, eventually painting a harrowing picture of one of the worst tragedies ever faced by New Zealand. You may watch the documentary here.
3. The Impossible (2012)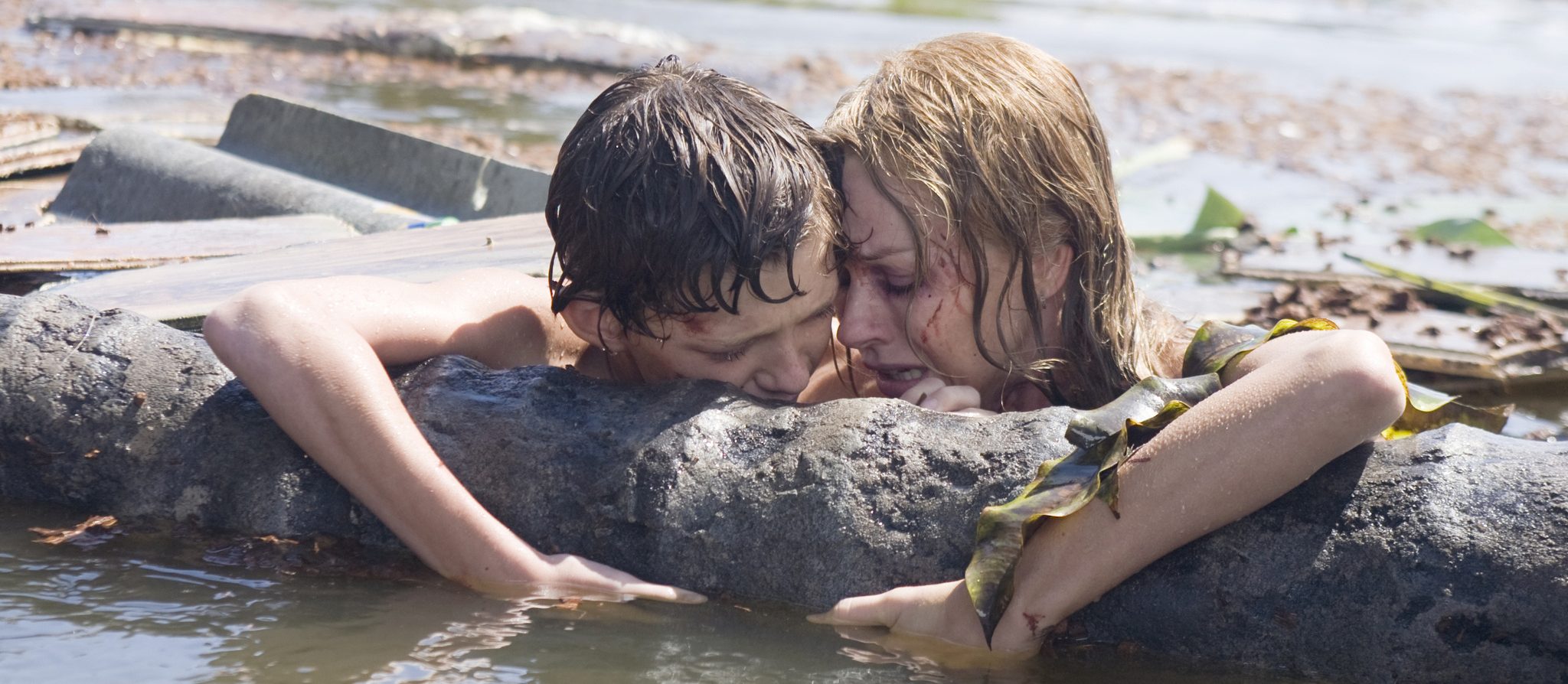 Directed by J. A. Bayona, 'The Impossible' is set against the backdrop of the 2004 Tsunami and centers on a family of four, Maria, Henry, and their kids Lucas, Simon, and Thomas, whose winter vacation in Thailand turns into a dark nightmare after the tsunami hits. As the family gets separated and tries hard to find each other amid one of the world's worst natural disasters ever, we are given a horrifying account of the chaos that resulted and the lives lost. But we also get to see the courage and kindness that humanity is capable of. The realistic visuals and the utterly convincing acting by the main cast including Naomi Watts, Ewan McGregor, Tom Holland, Samuel Joslin, and Oaklee Pendergast, make this movie a worthy watch. You can do so right here.
2. The Midnight Sky (2020)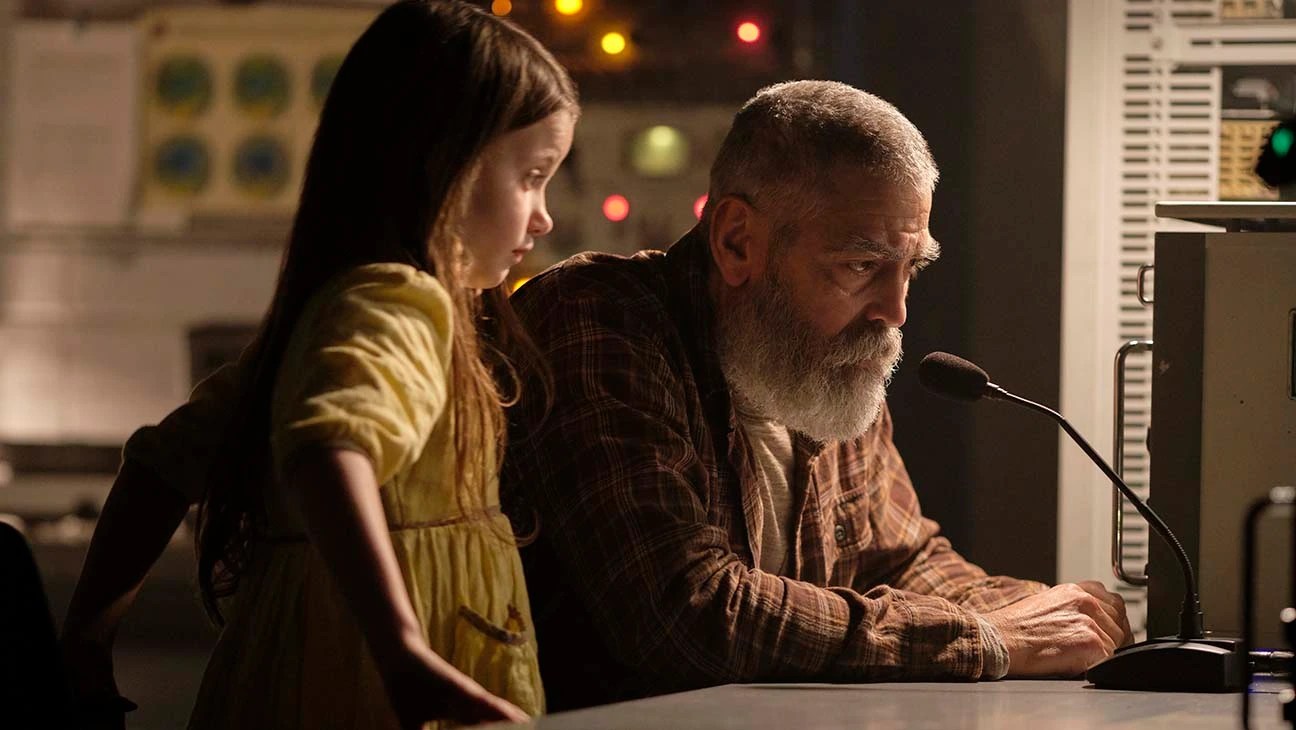 'The Midnight Sky' brings to life a reality where an unknown disaster kills off most of the world's population and contaminates the surface with ionizing radiation. In such a time when scientific research is directed towards finding other planets to inhabit, 'The Midnight Sky' focuses on academic Augustine Lofthouse, the one and only person alive on a massive Arctic base. Although his failing health brings a sense of impending doom, Lofthouse soon remembers how the crew of the spaceship Aether will be returning to Earth shortly. The crew has no idea about the disaster on earth and believes that they lost connection due to damaged equipment. Thus, it falls upon Lofthouse to warn the crew and, in turn, save human lives. The haunting yet beautiful apocalypse presented in the film makes it one of the best disaster movies of this generation. You may check out the film here.
1. Don't Look Up (2021)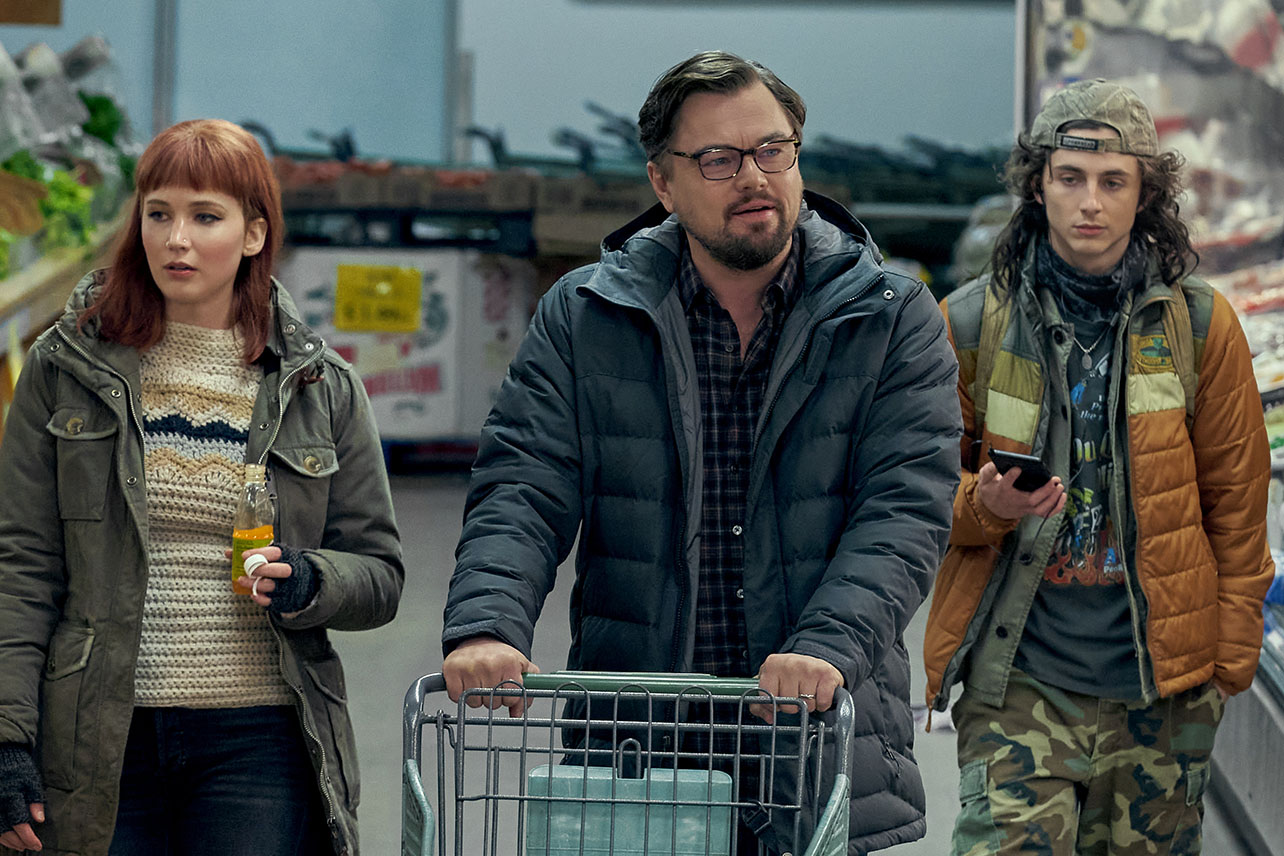 'Don't Look Up' stars stalwarts Leonardo Di Caprio and Jennifer Lawrence, among others, in a thrilling, nail-biting movie directed by Adam McKay. Revolving around low-level astronomers Kate Dibiasky and Dr. Randall Mindy, the film showcases how they suddenly discover a rapidly approaching comet that is set to destroy the Earth. Unsurprisingly, they are initially met with disbelief and then indifference as the world refuses to listen to someone without rank or status. The film then follows the duo as they undertake a massive media tour hoping to find someone who will take them seriously and save humankind. You can watch 'Don't Look Up' here.
Read More: Best Alien Movies on Netflix