Quentin Tarantino is a post-modern phenomenon for the self-reflexivity of his movies, or, in other words, almost all his movies are about "movies!" A reason why, whenever Quentin Tarantino comes out with a movie, it is not just that one particular film which is being celebrated. With the release of each of his movies over the years, we have celebrated the art form called cinema- its rich history, the enigmatic talents who have worked in the business, the different genres which have come up over the years, and the many unsung heroes who work tirelessly behind the scenes. Having earlier stated that he's planning to hang up his boots after 10 feature films, 'Once Upon a Time In Hollywood' is Tarantino's penultimate venture. Keeping his fans wanting since the release of the snow-capped Western, 'The Hateful Eight' in 2015, "the madman of movie mayhem" took a four-year gap to come out with the film he calls the climax of his cinematic career (having stated that the last film will serve as the epilogue).
Tarantino's approach to 'Once Upon a Time In Hollywood' was to make a "day in the life" movie about a TV actor and his stunt double, and then linking up their lives with the gruesome murders of Roman Polanski's then-wife Sharon Tate and her friends at the hands of the Manson family. In doing so, he penned a throwback to Hollywood of the late-60s. The the strongholds of the mighty studio system were trembling with the success of the indies like 'Easy Rider' (1969) and 'Bonnie And Clyde' (1967) and New Hollywood taking over. Rick Dalton, the TV actor in question (played by Leonardo DiCaprio), a contemporary of Steve McQueen, is an old-school guy who despite having a hit Western TV series, has failed to jump on to the bandwagon of change. His long-time friend and stunt double Cliff Booth (Brad Pitt) is always there to support him, driving him to auditions and cheering him up when Rick is frustrated with himself and the path his career is taking. Rick stays in Beverly Hills, and Roman Polanski and Sharon Tate (Margot Robbie) are his neighbors.
Tarantino has stated that this film is his love letter to Los Angeles and his childhood. And when Tarantino writes (films) a love letter, you can't help getting swept off your feet. If you haven't watched 'Once Upon A Time In Hollywood,' these films listed below can be a great introduction to what you're getting into. If you loved watching 'Once Upon…,' then these movies will help you to fall in love with Hollywood of the '60s, like Tarantino. So, without further ado, here is the list of best movies similar to 'Once Upon A Time In Hollywood' that are our recommendations. You can watch several of these movies like 'Once Upon A Time In Hollywood' on Netflix, Hulu or Amazon Prime.
9. True Romance (1993)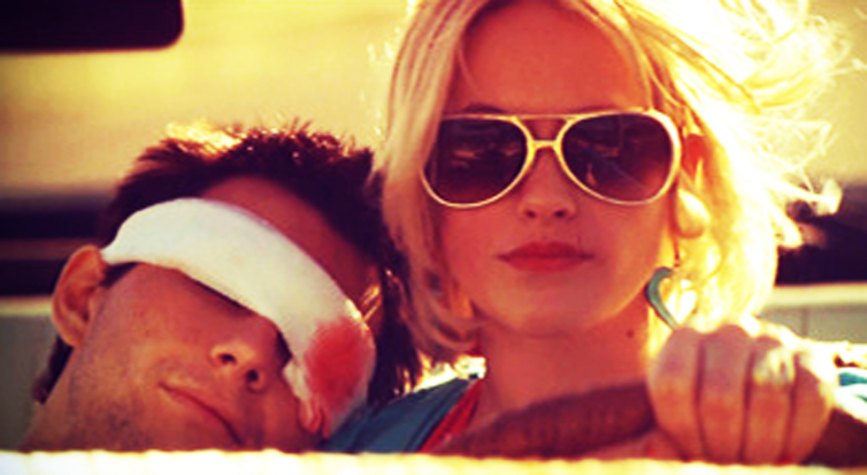 'True Romance' is the first film script Tarantino managed to trade. Those who have followed the auteur's life and career closely over the years can easily identify the stark similarities between Tarantino and the central character, Clarence Worley, in the movie. Clarence (Christian Slater), an Elvis Presley fanatic, works at a comic book store and loves watching exploitation and Kung-fu films during his free time. His love for such films is so intense that when he meets a girl at a bar, he invites her to watch a Sonny Chiba triple feature (Chiba, an icon of martial arts films, also plays Hattori Hanzo in 'Kill Bill').
It is during one of his movie nights that Clarence comes across Alabama Whitman (Patricia Arquette), a sex worker with whom he strikes up a conversation and falls in love overnight. In a sudden burst of love and rage, Christian decides to start a family with Alabama and offers money to her agent to buy her freedom. A scuffle ensues, and instead of taking the money back home, Clarence brings a bag full of cocaine. The couple soon finds themselves locked in a cat-and-mouse game with the ruthless gangsters trying to retrieve their drugs. Filled with full of pop culture references, scintillating music and stunning performances of an ensemble cast Brad Pitt, Christopher Walken, and Gary Oldman, helped 'True Romance' to emerge as one of the finest movies of the '90s.
Read More: Movies Like Basic Instinct
8. L.A. Confidential (1997)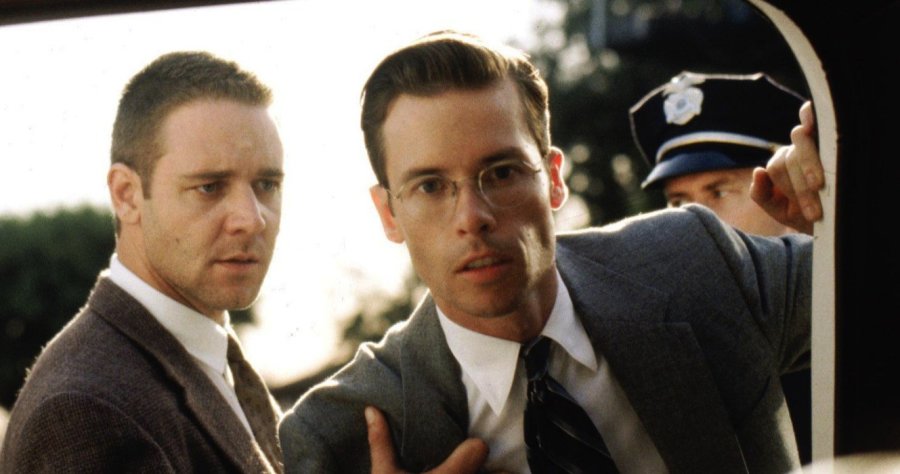 A throwback to Los Angeles and Hollywood of the '50s, 'L.A. Confidential' lays bare some of the darkest truths behind the glitz and glamour of the movie business. The Curtis Hanson directorial centers around three police detectives and their investigations into certain murder cases which lead them to some horrendous facts regarding Hollywood and their department. The three detectives in question, Jack Vincennes, Wendell "Bud" White and Edmund "Ed" Exley are played by Kevin Spacey, Russell Crowe and Guy Pearce respectively. Besides being an undercover narcotics agent, Vincennes also serves as a technical adviser on a police procedural TV series. Like 'Once Upon a Time In Hollywood,' Los Angeles is a major character in this film as well, with its glamorous setting serving as a stark contrast to the gritty neo-noir-ish tone of the film.
Read More: Movies Like L.A. Confidential
7. Boogey Nights (1997)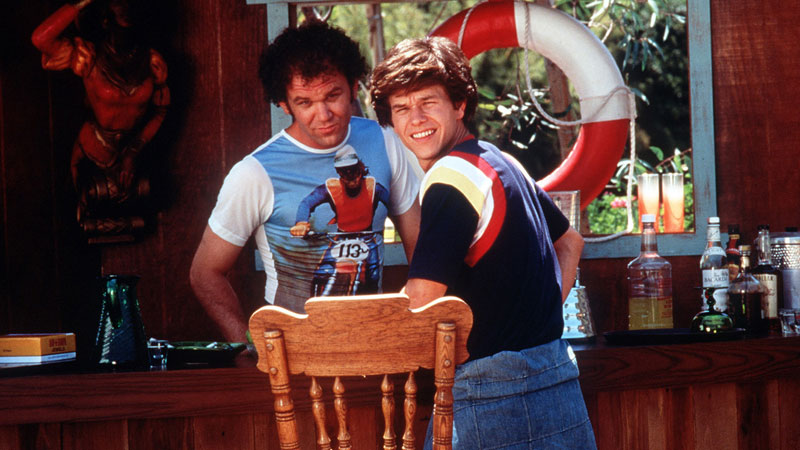 If 'Once Upon upon a Time in Hollywood' is an ode to the '60s Los Angeles and Hollywood, Paul Thomas Anderson's 'Boogie Nights' is reminiscent of the thriving porn industry and American popular culture of the '70s where excess was the order of the day. Mark Wahlberg plays a busboy, Eddie Adams, who is discovered by porn industry mogul Jack Horner (Burt Reynolds) in the film. Eventually, Burt casts Eddie in his porn films. Eddie rechristens himself as Dirk Diggler, a porn star with immense fan following in no matter of time. He delves into a super hedonistic lifestyle with Horner and his other co-actors.
The film takes a look at a time when the porn industry was booming with such movies regularly playing in dedicated theatres. Moreover, Horner is as passionate about shooting on film as Tarantino is. He even beats up a guy who suggests 8mm or 16mm is a waste of money and these films can easily be shot on videotape. 'Boogey Nights' is fun, heady, rich in content, and strikingly true to its setting, which keep us glued to the screen for the 155 minutes running time.
6. Jackie Brown (1997)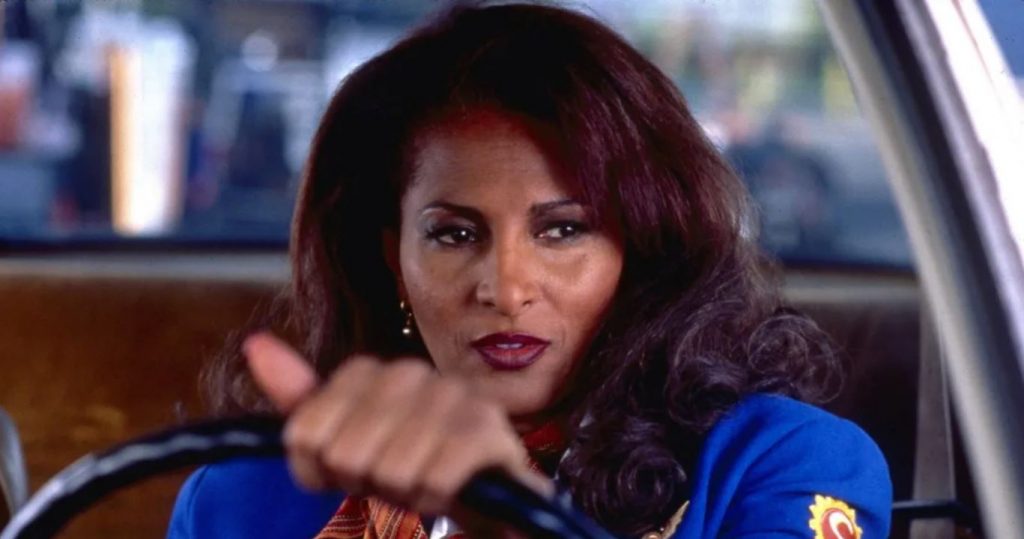 If you have read any book by Elmore Leonard, you'll know how similar they are in style to Tarantino's writing. There is a true sense of hanging out with the characters and taking part in their daily lives which sometimes might take random violent turns. 'Jackie Brown' is Quentin Tarantino's only film which he has adapted script from a previously written novel.
The eponymous character is a flight attendant in her mid-40s, who was originally a white woman in Leonard's novel 'Rum Punch.' Tarantino, while writing the screenplay, decided that the only actress he can imagine fitting into the badass role is Pam Grier. He changed the character to an African American women and made a movie which reminded everyone of the tour de force that Pam Grier was. Jackie falls into hot soup when police detectives realize she helps a smuggler called Ordell (Samuel L. Jackson) to smuggle currency in and out of the country. She is blackmailed into helping the police track down the elusive Ordell, but they hardly realize Jackie has got some other plans. One of the most interesting aspects of this film is Robert De Niro as the failed criminal Louis Gara. He gives a restrained performance, with confusion and discomfort brimming on his face, a master of the craft at one of his finest moments.
Read More: Movies Like Jackie Brown
5. Sunset Boulevard (1950)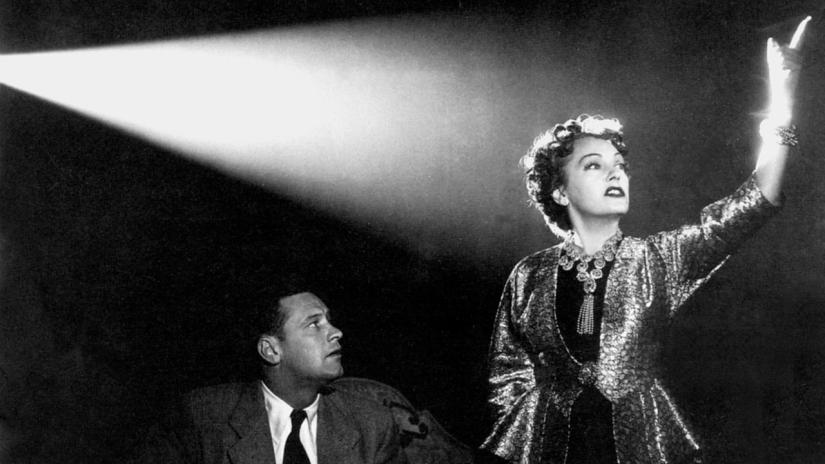 Long before anyone else, the master of the cinematic art, Billy Wilder came out with a shocking tale of the insiders in the movie business. 'Sunset Boulevard' is a Hollywood story told from the perspective of a screenwriter who gets close to an actress who had been an icon during the silent film era. Norma Desmond, played brilliantly by Gloria Swanson, develops mental delusions and desperately tries to make her return to the screen. But she realizes that her days in the limelight have long gone. It is the mental trauma of losing stardom is at the core of the gritty narrative of this psychological film noir. Wilder's brilliant writing blends black humor and drama to deliver a truly harrowing cinematic experience. This is the darkest side of Hollywood, told through the lens of one of its greatest ever filmmakers.
4. The Magnificent Seven (1960)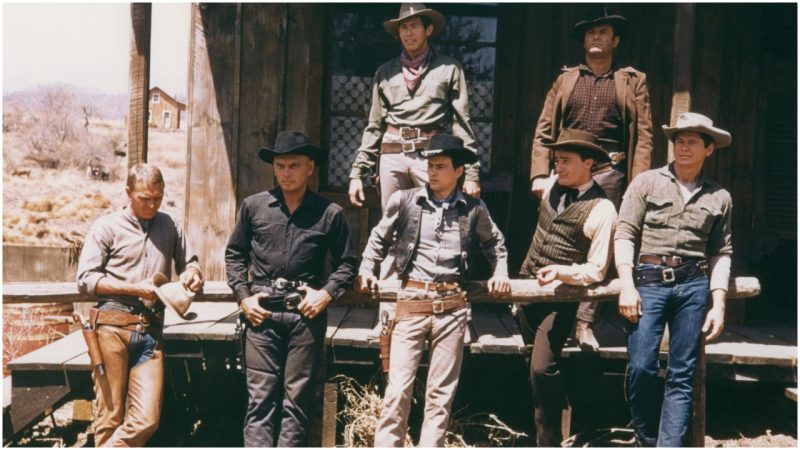 'The Magnificent Seven' does not have much to do thematically with 'Once Upon a Time In Hollywood', but it still has been included in this list for a very special reason. Rick Dalton in Tarantino's film is a contemporary of Steve McQueen, both of them being famous TV actors of the '50s, both starring in Western shows. During the later phase of their television careers, McQueen made a successful transition to films, while Dalton fell behind. McQueen went on to become one of the prominent figures of Hollywood with titles like 'The Magnificent Seven.'
Interestingly enough, McQueen staged an accident to get time off the series 'Wanted Dead or Alive' to star in 'The Magnificent Seven.' Adapted from Akira Kurosawa's 'Seven Samurai' (1954), the film centers around seven expert gunfighters who are hired by a group of villagers to protect them from a ruthless pack of bandits. Hardly has any film starred so many Hollywood icons, with Yul Brynner, Eli Wallach, Charles Bronson, Robert Vaughn, Brad Dexter, James Coburn, and Horst Buchholz being a part of the film beside McQueen himself.
Read More: Movies Like Catch Me if You Can
3. Helter Skelter (1976)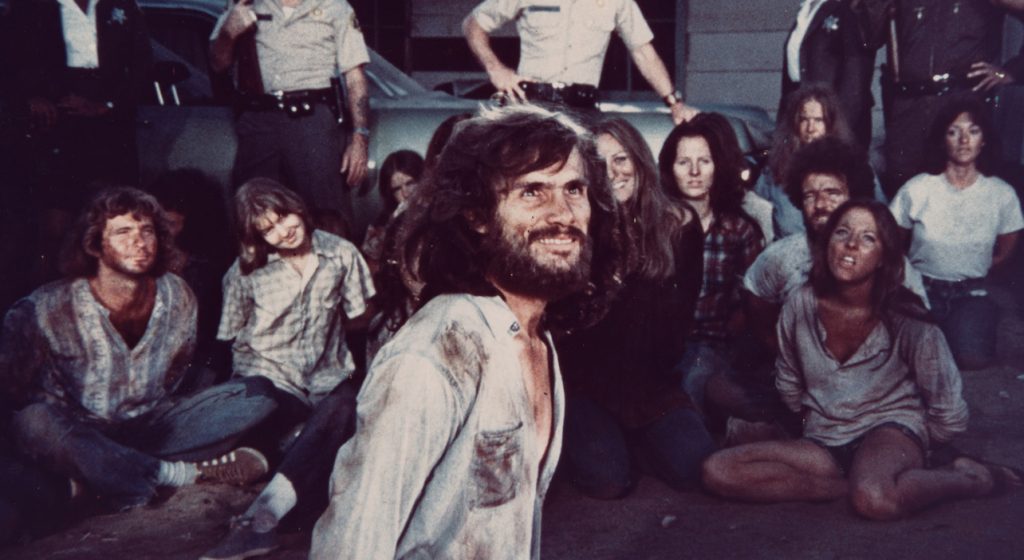 The '60s were a time when the hippie movement was raging across America, with the "Flower Power" generation celebrating the unbearable lightness of being with unconditional sex, brand new drugs and rock'n roll. With bands like 'The Beatles' and 'The Doors' taking over the scene with their psychedelic albums, things were looking great for the hippies until a few back-to-back events stopped them in their tracks. At first was the deaths of four legends of the period- Brian Jones, Jimi Hendrix, Janis Joplin, and Jim Morrison, all succumbing under their hedonistic lifestyle between 1969 and 1971. Second was the Manson murders, where a group of hippies transformed into a sinister cult and carried out a night of rampage at Tate's home.
This 1976 film brings to us the proceedings of the Manson trial told from the perspective of the prosecutor Vincent Bugliosi. The title of the film, 'Helter Skelter' is inspired by the scrawling Manson's followers left at the residence of their other victims Rosemary and Leno LaBianca. The murderers had, in turn, borrowed the phrase from the title of a 'Beatles' song.
2. Barton Fink (1991)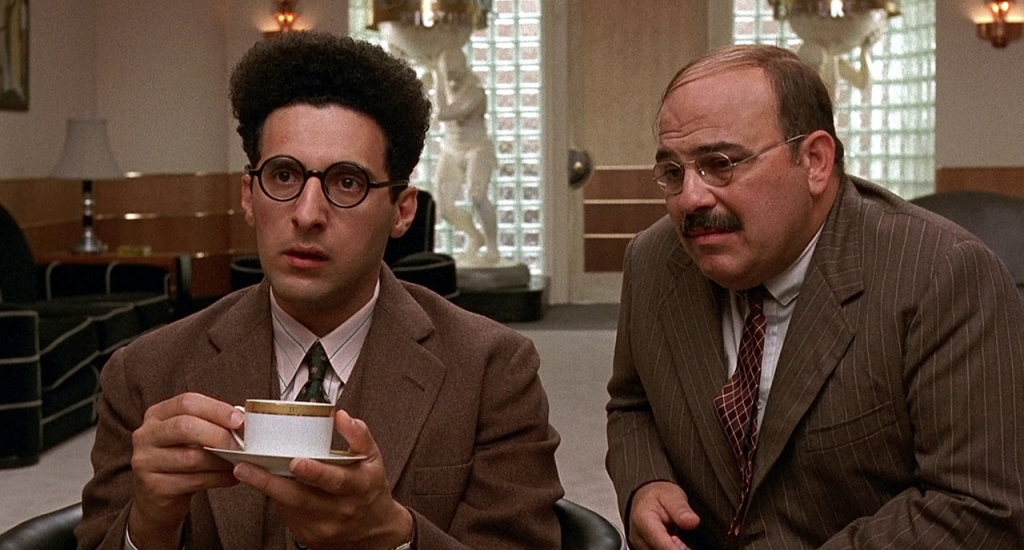 'Barton Fink' is a Coen brothers' masterpiece with rich and diverse content. Film historians have spent countless hours trying to place it in a particular genre. The story is centered around the eponymous character, a pretty successful playwright in New York, who receives rave reviews from critics and audiences alike. On his agent's insistence, Fink takes up a screenwriting job in Hollywood where he is put up in a shabby motel. There, he befriends Charlie Meadows (John Goodman), who claims to be a traveling salesman and strikes up a conversation with Fink on his own accord. 'Barton Fink,' within its narrative, weaves strong commentaries on World War II, race, religion, and how a theater practitioner in those days viewed Hollywood as only glamour and no content. Fun fact, the year 'Barton Fink' managed to grab the Palme d'Or, Roman Polanski was serving as head of the jury at the Cannes Film Festival.
1. Pulp Fiction (1994)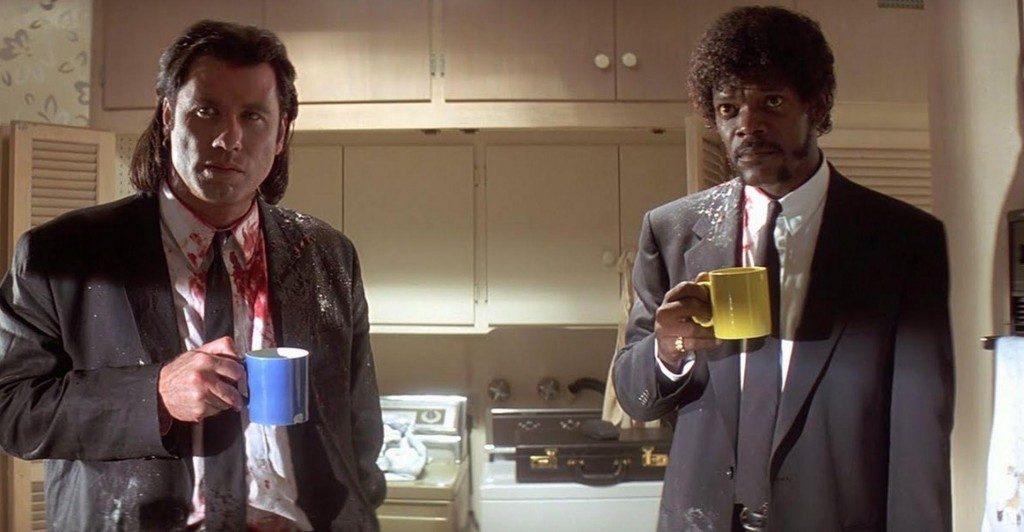 You knew all along this film was going to pop up on this list at some point. 'Pulp Fiction' is one of the greatest works ever put on celluloid. It has achieved a status among film lovers very few films can dream of. Tarantino's sophomore venture, the film consists of three separate stories interconnected with each other via common characters. The first story follows two hitmen out on a job early in the morning. The second story is about a gangster's aide taking his boss' wife out to dinner knowing that if he even touches her, he risks losing his life. And the third story centers around a boxer who fixes a match but does not stay true to his word. In terms of cultural significance, the release of this film can be compared to 'The Beatles' releasing 'Sgt. Peppers' Lonely Hearts Club Band' or Picasso unveiling his 'Guernica.' Tarantino bagged the Palme d'Or and the Academy Award for Best Original Screenplay for his work on this masterpiece.
Read More: Movies Like Pulp Fiction