The fifth season of ABC's police procedural series 'The Rookie' depicts the return of Elijah Stone into the lives of Wesley Evers and his wife Angela Lopez. The crime lord makes it clear to Wesley that he will gain his freedom irrespective of the actions he has to do to ensure the same. He even threatens to kill the lawyer for betraying and building a case against him that led him to prison. Elijah eventually manages to get freed from the charges against him but he wouldn't have been able to end up victorious in his fight against Wesley without the help of Monica. So, who exactly is she? Here's everything you need to know about the new and significant character! SPOILERS AHEAD.
Who is Monica?
Monica is Elijah Stone's lawyer. However, it isn't the only way to introduce her. Wesley and Monica attended law school together and they eventually got engaged. However, they didn't end up together or get married in other words. Considering Wesley's words, it is understandable that Monica was a righteous and compassionate human being during their time together, which is why he finds it hard to believe that she has become the general of one of the most vicious crime lords in the city of Los Angeles. Since Wesley knows how good a person she is, he tries to warn her about Elijah but the resilient and committed lawyer dismisses his words as his attempts to deviate her from the case and success.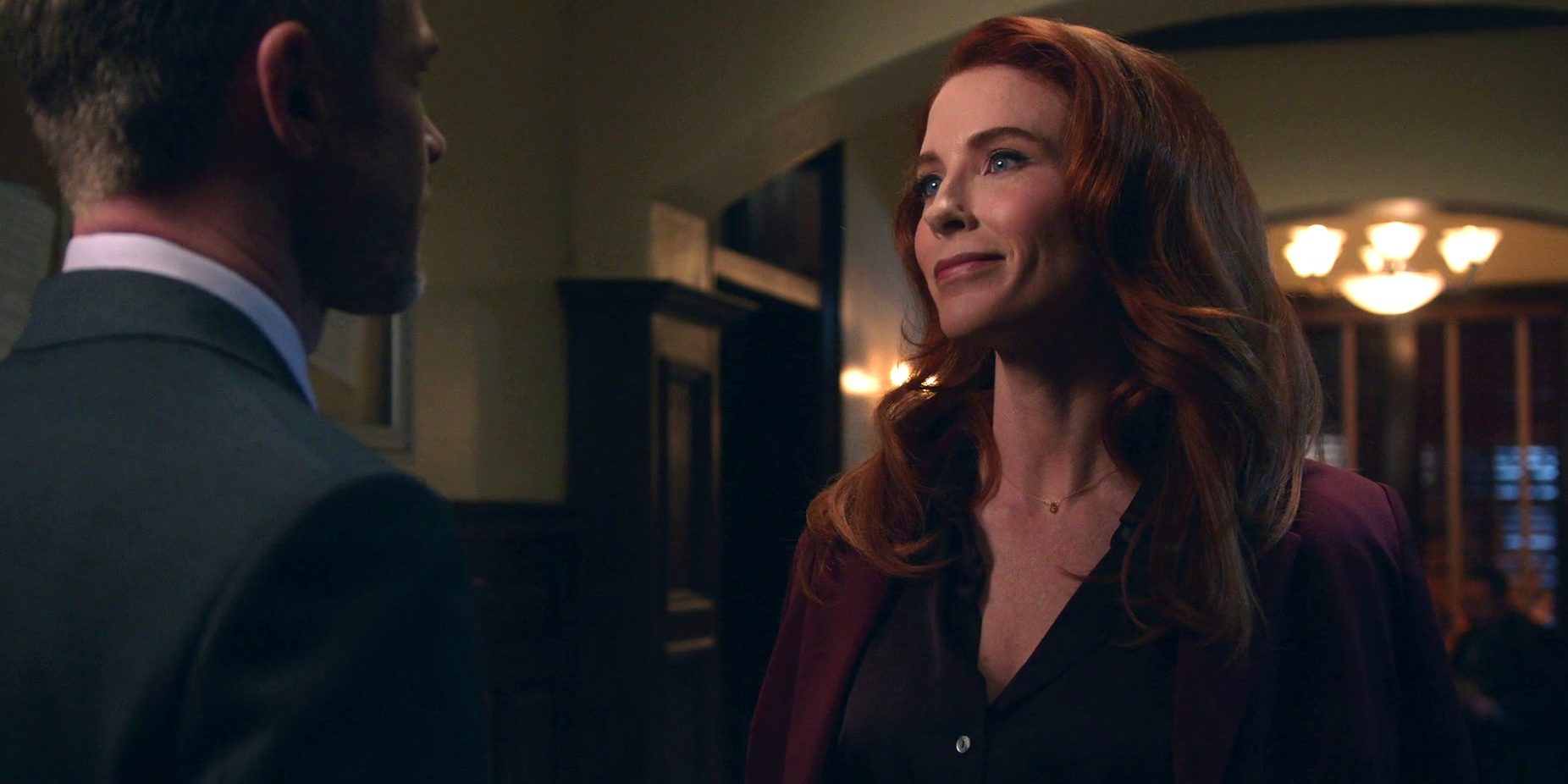 Monica is a fierce lawyer who would go to any lengths to protect the interest of her client. When she offers her service to one, all she sees in front of her is her and her client's potential victory. She doesn't try to be judgmental towards her clients, which is why she can committedly serve the interests of Elijah Stone although she realizes that there is blood on his hands. Monica is only committed to the ethos of her profession and she will defend the most brutal criminal because of the same reason. But what she doesn't understand is how threatening Elijah can be in her life as well.
As far as Elijah is concerned, Monica is just a tool he has bought for him to gain freedom. If she cannot ensure the same or she ends up knowing too much about his actions or activities, he may turn against her and even consider killing her to silence the lawyer. He most likely won't want another Wesley backstabbing him, which may leave Monica in a vulnerable position.
Who Plays Monica?
Bridget Regan, known for her performances in 'Legend of the Seeker' and 'White Collar,' plays Monica in 'The Rookie.' Regan emerged as a performer by appearing in several TV shows and films, including 'Love Monkey,' 'Law & Order: Criminal Intent,' and 'Sex and the City,' to play a guest or minor role. She had her breakthrough performance in 'Legend of the Seeker,' in which she plays Kahlan Amnell AKA the Mother Confessor. She also plays Robin in Neil Patrick Harris-starrer 'The Best and the Brightest' and Addy in 'John Wick.'
In USA Network's police procedural 'White Collar,' Regan plays Rebecca Lowe/Rachel Turner, the protagonist Neal Caffrey's girlfriend in the fifth season of the series. The actress plays Rose/Sin Rostro in 'Jane the Virgin,' Dottie Underwood in 'Agent Carter,' Sasha Cooper in 'The Last Ship,' and Frances Forsythe in 'Paradise Lost' as well. Her other major credits include 'NCIS: Los Angeles,' 'Person of Interest,' 'Sons of Anarchy,' 'Grey's Anatomy,' etc.
Read More: Do Lucy and Tim End Up Together in The Rookie? Theories