'The Machine,' directed by Peter Atencio, is a rollicking action-comedy film that draws inspiration from Bert Kreischer's 2016 stand-up routine of the same name. Bert Kreischer takes the lead, portraying a hilarious fictionalized version of himself, while sharing the screen with an ensemble cast that includes Mark Hamill, Jimmy Tatro, Iva Babić, Stephanie Kurtzuba, and Jessica Gabor.
In 'The Machine,' Bert Kreischer, a college freshman in 1999, embarks on a wild journey to Russia where a night of epic partying transforms him into the legendary "Machine" of Russian folklore, thanks to his newfound friends led by tour guide Igor. Fast forward twenty-three years, Bert has evolved into a renowned stand-up comedian and podcaster, his Russian escapade immortalized in a viral YouTube comedy special, but his personal life is fraught with tension, particularly with his wife and eldest daughter Sasha. Unexpectedly reunited with his estranged father Albert during a family cookout, Bert's past catches up with him as he crosses paths with Irina, a formidable Russian mobster seeking retribution for an unintentional theft: an antique pocket watch that inadvertently launched her father's criminal empire. Bert and his father are kidnapped, setting the stage for a comedic yet perilous journey to Russia, where Bert must face the consequences of his youthful antics and confront Irina's thirst for vengeance.
Get ready for a hilarious rollercoaster of mischief and mayhem as 'The Machine' opens the door to a wild world of comedy capers – it's like 'Ocean's Eleven' meets 'The Hangover' with a dash of Russian spice! Buckle up for more laugh-out-loud movie adventures that'll leave you craving more cinematic comedy chaos. You can watch most of these movies like 'The Machine' on Netflix, Hulu, or Amazon Prime.
8. The World's End (2013)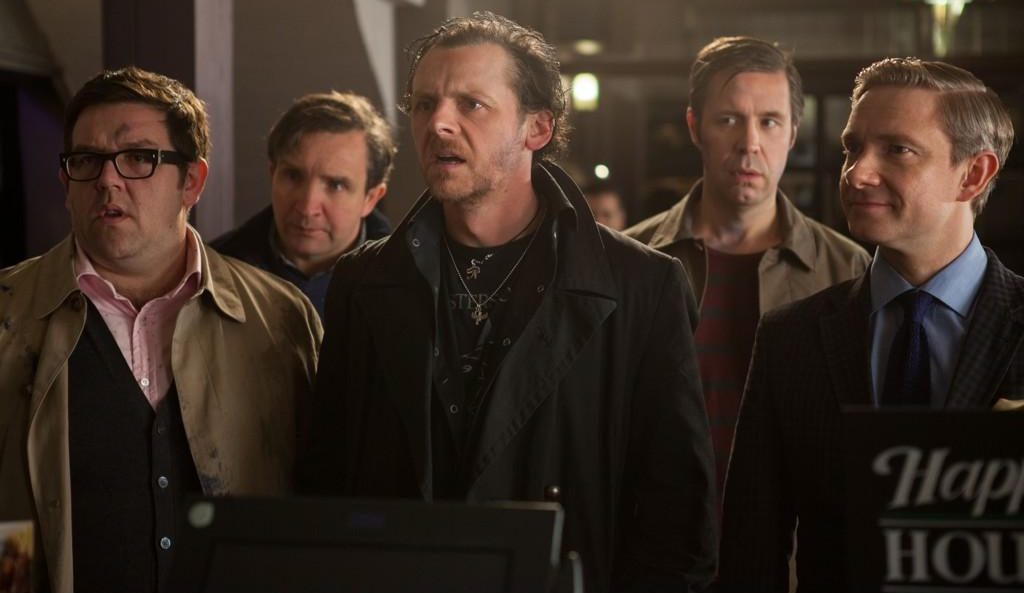 'The World's End,' an apocalyptic science fiction comedy directed by Edgar Wright and part of the Three Flavours Cornetto trilogy, shares thematic elements with 'The Machine.' Just like Bert Kreischer's unexpected journey in 'The Machine,' this film follows five friends, including Simon Pegg and Nick Frost, as they return to their hometown to revisit a pub crawl they failed at twenty-three years earlier. However, their reunion takes a surreal twist when they realize that the town is under an alien invasion. Both films blend humor with adventurous scenarios, making them perfect choices for those who enjoyed the comedic chaos in 'The Machine.'
7. The Voices (2014)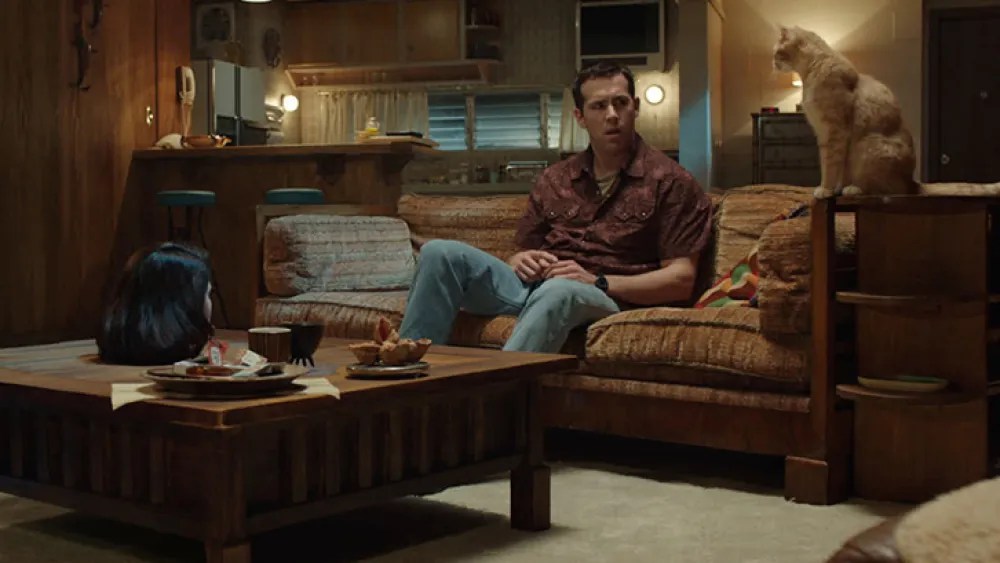 'The Voices' is a dark comedy horror film helmed by director Marjane Satrapi, scripted by Michael R. Perry, and featuring a stellar cast including Ryan Reynolds, Gemma Arterton, Anna Kendrick, and Jacki Weaver. In 'The Voices,' much like in 'The Machine,' an ordinary life takes a darkly comedic twist when factory worker Jerry Hickfang, portrayed by Ryan Reynolds, grapples with mental health issues that manifest through conversations with his talking pets—a benevolent dog named Bosco and a malevolent cat named Mr. Whiskers. Jerry's descent into madness accelerates when he accidentally kills a co-worker, setting off a nightmarish series of events. The film blends humor with psychological tension, offering a unique and offbeat perspective on the unexpected chaos that can engulf seemingly ordinary lives.
6. Kiss Kiss Bang Bang (2005)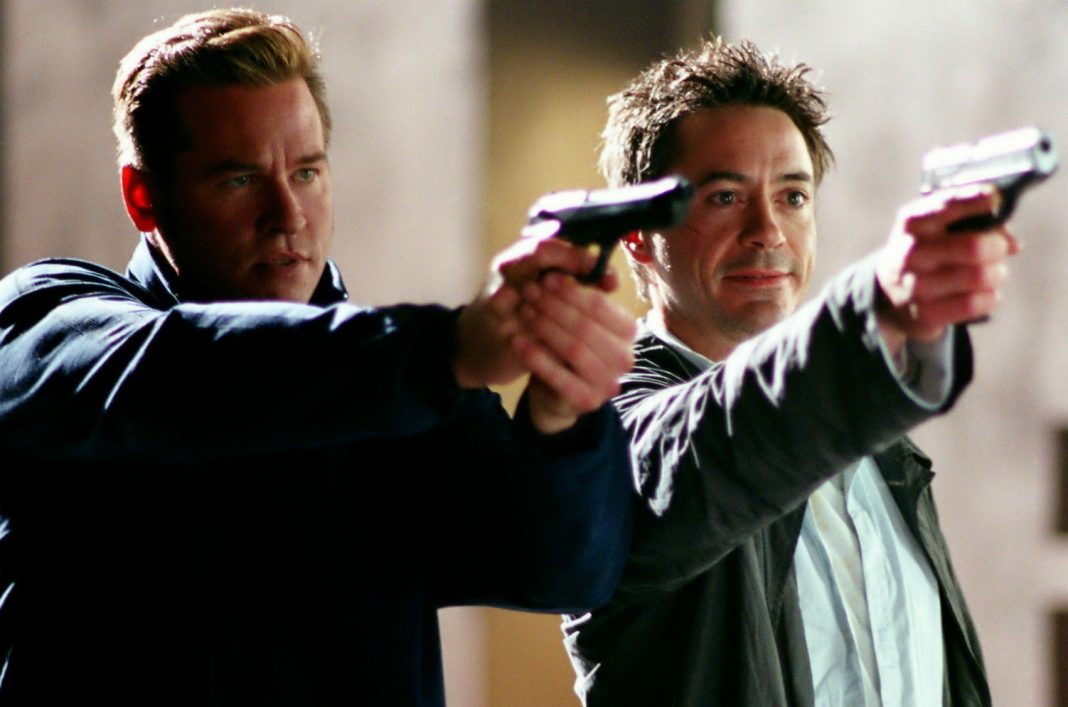 'Kiss Kiss Bang Bang,' a neo-noir black comedy crime film, marks Shane Black's directorial debut and features a stellar ensemble cast including Robert Downey Jr., Val Kilmer, Michelle Monaghan, and Corbin Bernsen. The screenplay draws inspiration from Brett Halliday's novel 'Bodies Are Where You Find Them' (1941) and offers a tongue-in-cheek interpretation of the classic hardboiled literary genre, infusing it with sharp humor and witty style. In 'Kiss Kiss Bang Bang,' just as Bert Kreischer's life takes an unexpected turn in 'The Machine,' we follow Harry Lockhart, played by Robert Downey Jr., a petty thief turned aspiring actor who stumbles into a Hollywood audition while evading the police. Sent to Los Angeles for "research" alongside a detective Perry (portrayed by Val Kilmer), for an upcoming role, Harry finds himself entangled in a convoluted murder mystery. This darkly comedic neo-noir caper, much like 'The Machine,' weaves humor into its adventurous narrative, exploring the chaos and unexpected twists that can ensue when ordinary individuals are thrust into extraordinary situations, resulting in a thrilling and entertaining ride for viewers.
5. Game Night (2018)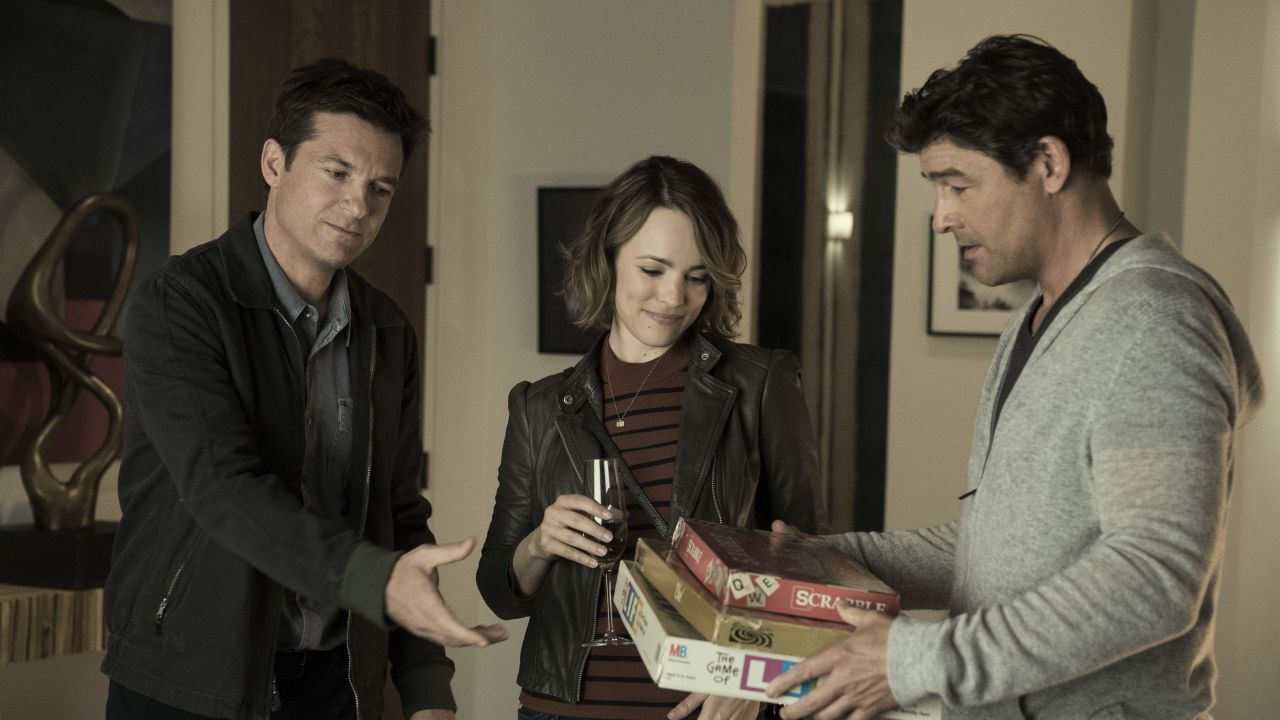 'Game Night' is a rollicking action-comedy directed by John Francis Daley and Jonathan Goldstein, featuring Jason Bateman and Rachel McAdams. The film centers on a tight-knit group of friends whose regular game night takes a thrilling twist when one of their own is unexpectedly kidnapped, plunging them into a real-life mystery that's as hilariously unpredictable as it is adrenaline-fueled. Both 'Game Night' and 'The Machine' explore unexpected and chaotic twists in the lives of their characters. In both films, ordinary situations quickly escalate into extraordinary adventures, blending humor with suspense and delivering entertaining and unpredictable narratives.
4. Hunt for the Wilderpeople (2016)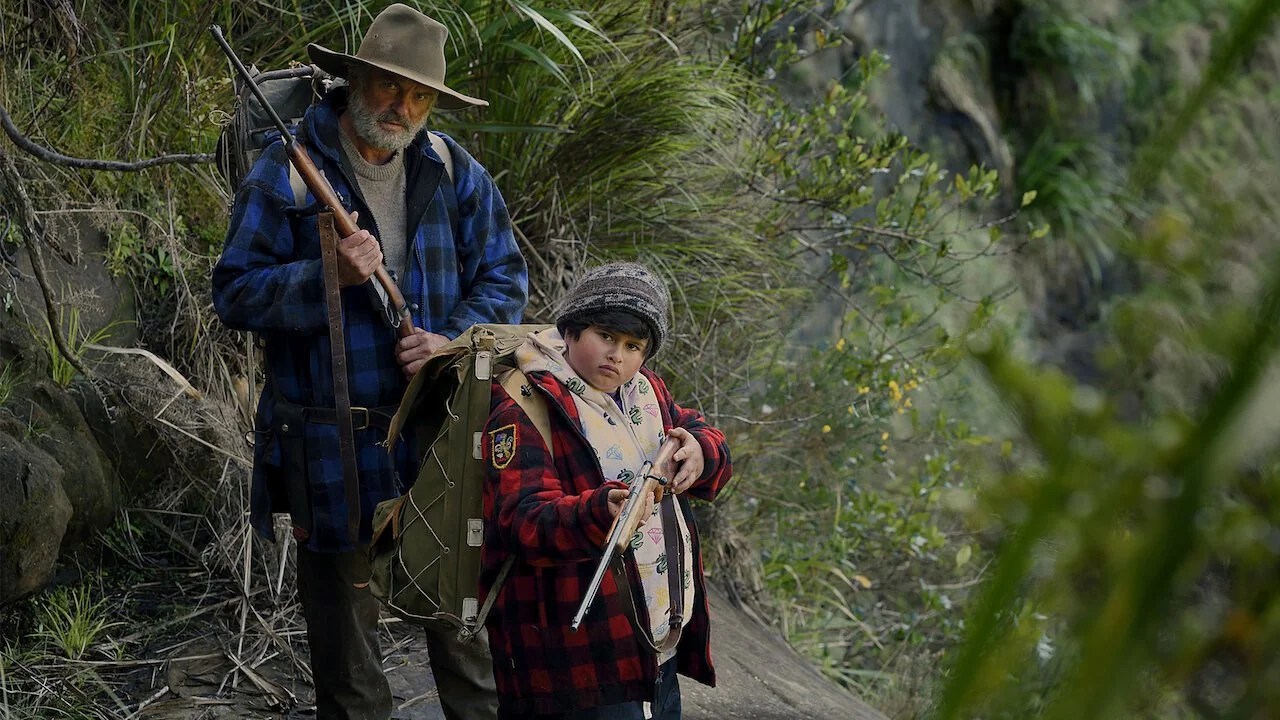 'Hunt for the Wilderpeople' is a heartwarming adventure comedy-drama hailing from New Zealand, written and directed by the talented Taika Waititi. The screenplay draws its inspiration from the book 'Wild Pork and Watercress' by Barry Crump, and it unfolds as a delightful journey of two unlikely companions navigating the rugged wilderness of New Zealand's countryside. The movie features an ensemble cast including Julian Dennison as Ricky Baker, Sam Neill as Hec, and Rima Te Wiata as Bella. The plot tells the story of Ricky Baker, a rebellious foster child, and his foster uncle Hec, who becomes the subject of a national manhunt as they navigate the New Zealand wilderness, forging an unlikely bond along the way. Much like Bert Kreischer's escapades in 'The Machine,' Ricky Baker's journey in 'Hunt for the Wilderpeople' thrusts ordinary individuals into extraordinary circumstances, leading to personal growth, profound connections, and adventures that challenge their perceptions of themselves and the world around them.
3. In Bruges (2008)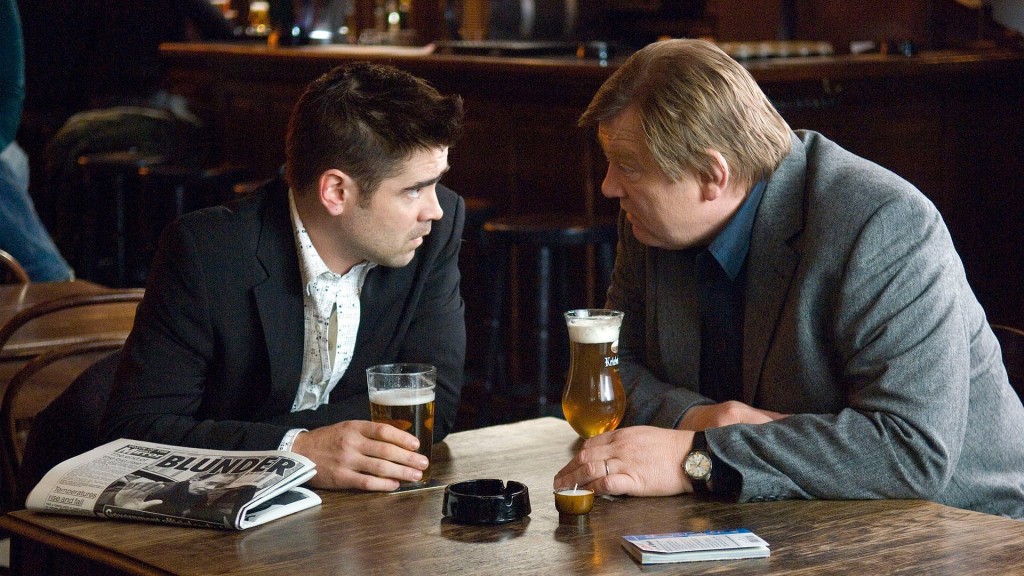 'In Bruges' marks the feature-length directorial debut of Martin McDonagh, offering a blend of black comedy, drama, and crime thriller elements. In 'In Bruges,' two Irish hitmen, Ray and Ken, portrayed by Colin Farrell and Brendan Gleeson, are ordered by their ruthless boss, played by Ralph Fiennes, to lay low in the historic Belgian city of Bruges after a job goes awry. Amid the picturesque setting, Ray and Ken grapple with their guilt and moral dilemmas, leading to a tense and often darkly comedic exploration of redemption and consequences. Similar to Bert Kreischer's unexpected escapade in 'The Machine,' 'In Bruges' thrusts its characters into a situation they couldn't have foreseen, pushing them to confront their past actions and contemplate their futures. Both films blend humor with thought-provoking themes, making them engaging cinematic experiences centered around characters caught in extraordinary circumstances.
2. Four Lions (2010)
'Four Lions' is a bold British black comedy, representing Chris Morris's directorial debut. Co-written by Morris, Sam Bain, and Jesse Armstrong, the film offers a biting political satire, humorously dissecting the lives of a group of homegrown terrorist jihadists in Sheffield, South Yorkshire, England. The talented ensemble cast, featuring Riz Ahmed, Kayvan Novak, Nigel Lindsay, Arsher Ali, and Adeel Akhtar, skillfully breathes life into this darkly comedic and thought-provoking narrative. Both 'Four Lions' and 'The Machine' share a common thread of exploring unconventional and darkly comedic subject matter. While 'Four Lions' dives into the satirical realm of terrorism, 'The Machine' navigates the unexpected consequences of an ordinary person's extraordinary adventure, blending humor with unusual circumstances to create compelling narratives that challenge traditional genre boundaries.
1. Tucker and Dale vs. Evil (2010)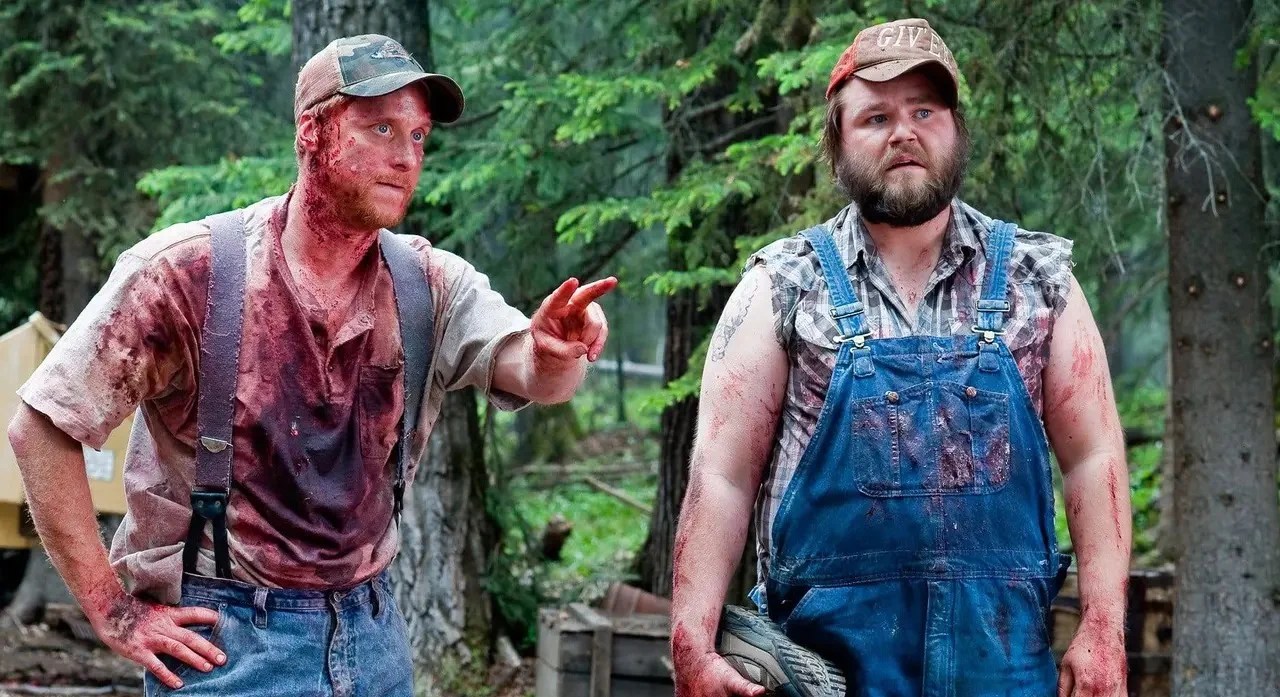 'Tucker & Dale vs. Evil' is a darkly comedic horror film directed by Eli Craig and penned by Craig and Morgan Jurgenson. The film features a talented ensemble cast including Tyler Labine, Alan Tudyk, Katrina Bowden, Brandon Jay McLaren, Jesse Moss, and Chelan Simmons. In 'Tucker & Dale vs. Evil,' two well-meaning friends, Tucker and Dale, head to their newly purchased vacation cabin in the woods, hoping for a peaceful getaway. However, their trip takes a hilariously dark turn when a group of college students mistakenly believes they're murderous hillbillies. Much like Bert Kreischer's misadventures in 'The Machine,' innocent intentions collide with wild misunderstandings, leading to uproarious situations. Both films find humor in the unexpected, as ordinary characters grapple with extraordinary circumstances, delivering a blend of comedy and chaos that keeps audiences entertained and guessing.
Read More: Is The Machine Based on Real Life?