'Lights Out' is a 2016 horror movie directed by David F. Sandberg based on his eponymous 2013 short film. Diana is a grotesque spirit confined to the dark and tied to the living world through her connection to her childhood friend Sophie. Once Sophie's mental illness worsens after the death of her husband Paul, Diana stalks the life of Sophie's young son, Martin.
Rebecca, Martin's older step-sister, returns to her family to help him through the same childhood trauma she endured. 'Lights Out' utilizes the innate fear of the dark to reinforce its horror elements while exploring themes of depression, abandonment, and family. If you're interested in stories with similar themes and ideas, here is a list of recommendations you might enjoy. You can find most of these movies similar to 'Lights Out' on Netflix, Amazon Prime, and Hulu.
8. The Unborn (2009)
Directed by David S. Goyer, 'The Unborn' is a horror film starring Odette Annable, Gary Oldman, and Cam Gigandet. It follows Casey Beldon, who is being tormented by traumatized spirits of the dead in her dreams. After meeting an old woman named Sofi Kozma, she finds out about terrifying family secrets from the grueling time of World War II. Now, with the help of Rabbi Joseph Sendak, Casey tries to get rid of the evil spirit that is haunting her. The protagonist's familial connection to the evil spirit may remind viewers of Sophie's situation in 'Lights Out.'
7. Hypochondriac (2022)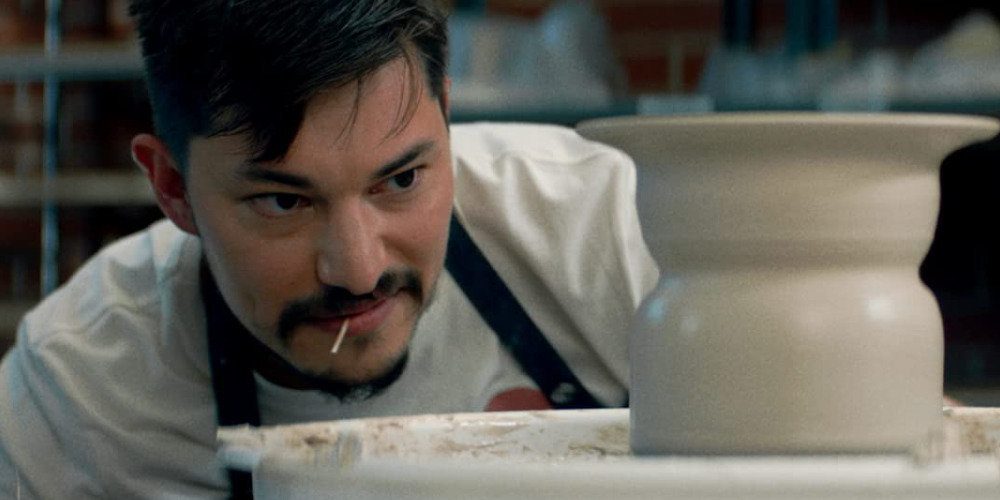 'Hypochondriac' is a horror thriller film directed by Addison Heimann. It stars Zach Villa, Devon Graye, Yumarie Morales, and many others. The movie follows Will, whose happy life with his loving boyfriend, Luke, is threatened when manifestations of his childhood trauma send his life into a chaotic spiral. Like 'Lights Out,' 'Hypochondriac' is also based on mental illness, focusing on childhood trauma and family, specifically troubled mothers. Similarly, both movies feature monsters that are considered to be figments of imagination.
6. Ouija: Origin of Evil (2016)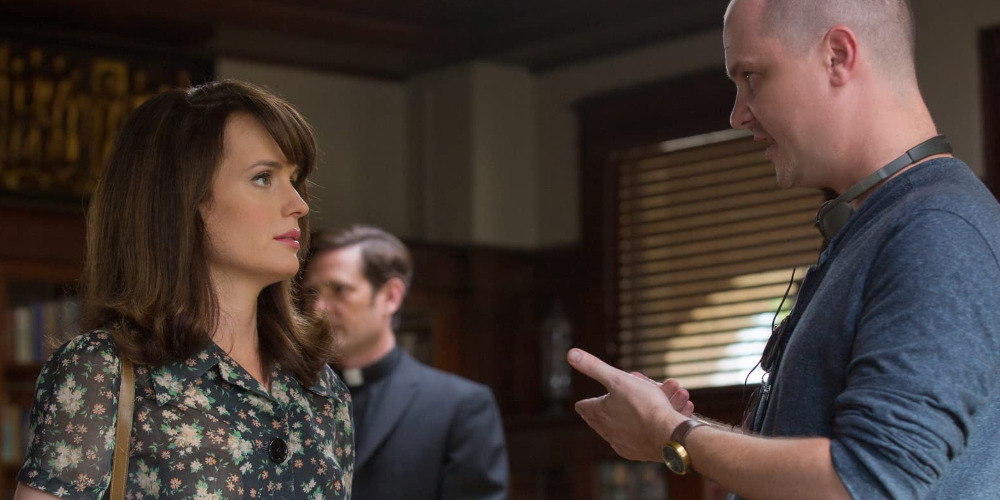 Prequel to the 2014 'Ouija,' 'Ouija: Origin of Evil' is a horror thriller movie directed by Mike Flanagan. It features Elizabeth Reaser, Annalise Basso, and Lulu Wilson. This movie is set in the 1960s and revolves around a widow named Alice Zander, who runs a fake spiritual business, and her two daughters. After adding a new stunt to her act, an Ouija board, she accidentally opens the door to the world of the dead.
One of the daughters, Doris, is possessed by the spirit of her dead father, Roger. However, after a series of strange events, Alice and Lina start to wonder about the spirit's identity and soon realize they are in grave danger. Like 'Lights Out,' this movie features a family who tries to keep each other safe as a spirit latches onto one of the members.
5. The Shining (1980)
Directed by Stanley Kubrick, 'The Shining' is a classic psychological horror film based on Stephen King's eponymous novel. Featuring Jack Nicholson, Shelley Duvall, and Danny Lloyd, it follows the Torrance family on their stay at the Overlook Hotel when Jack starts working as the hotel's caretaker for the winter, hoping to overcome his writer's block. During their stay, he comes across the many disturbing secrets of the hotel.
Meanwhile, Jack's son, Danny, experiences horrifying premonitions. As his visions grow stronger, so does his father's descent into madness. Both 'The Shining' and 'Lights Out' explore complicated family dynamics, and like Sophie, Jack also puts his family in danger after being haunted by something beyond his understanding. If you're a fan of 'Lights Out' and horror movies in general, you should definitely watch 'The Shining.'
4. The Uninvited (2009)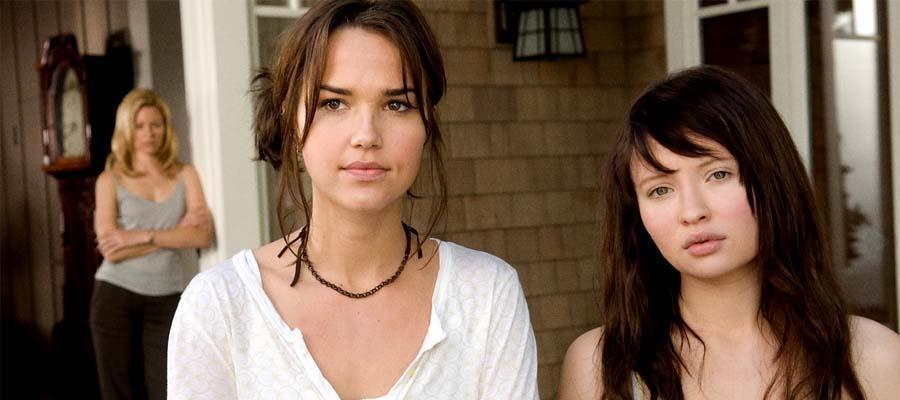 Helmed by Thomas and Charles Guard, 'The Uninvited' is a gripping horror thriller movie with several parallels to 'Lights Out.' Anna Ivers is admitted into a mental hospital for trying to commit suicide following her mother's death in a house fire. After getting discharged, she reunites with her sister Alex and father, Steven, who has a new girlfriend, Rachel. Plagued by nightmares of the fire, Anna starts believing them to be messages from her dead mother.
The two sisters soon suspect Rachel of killing their mother. Yet, on their path to justice for their mother, Anna and Alex discover dark and alarming secrets. Their relationship in 'The Uninvited' mirrors Becca and Martin's while carrying some elements from the dynamic between Diana and Sophie. If you liked the mysterious aspect of 'Lights Out,' you might enjoy the mystery unraveling in 'The Uninvited.'
3. Slender Man (2018)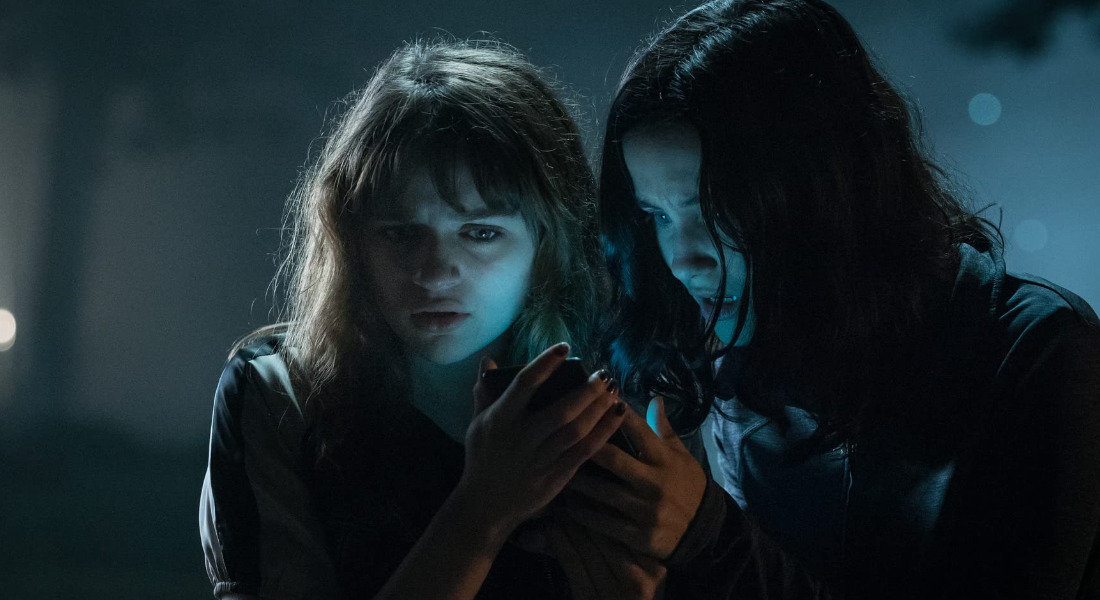 Directed by Sylvain White, 'Slender Man' is a horror thriller movie starring Joey King, Julia Goldani Telles, Jaz Sinclair, and Annalise Basso. It revolves around four best friends, Hallie, Chloe, Wren, and Katie, as they try to summon the terrifying eldritch creature known as The Slender Man. When one of them abruptly goes missing, the girls realize they may have succeeded in their summoning and that the internet lore of The Slenderman may be more than fiction.
Visually, The Slenderman and Diana from 'Lights Out' have similar silhouette-only figures. Moreover, both movies rely on the audience's intrinsic fear of the dark for their horror aspects. If you're looking for a film with a similar scare factor as 'Lights Out,' then 'Slender Man' is your best bet.
2. Mama (2013)
Starring Jessica Chastain, Nikolaj Coster-Waldau, Isabelle Nélisse, and Megan Charpentier, 'Mama' is a horror fantasy movie directed by Andy Muschietti. Victoria and Lily, young toddlers, go missing after the death of their parents. A few years later, they are found in an isolated cabin in the woods. The sisters' uncle, Lucas, and his girlfriend, Annie, happily take the girls in as their own.
However, soon things start to go south when the presence of a supernatural entity that the girls call "Mama" starts tormenting the family. The character of Mama shares some similarities with Diana, as they latch onto other characters for a sense of belonging after going through a traumatic death. 'Mama' and 'Lights Out' also have the recurring theme of family and abandonment.
1. The Babadook (2014)
Jennifer Kent's 'The Babadook' is an Australian horror movie starring Essie Davis and Noah Wiseman as its central mother-son duo. Amelia is a single mother to her six-year-old son Sam. After reading about a monster named Babadook in a book, he becomes convinced of its existence and starts exhibiting erratic behavior. Sam makes his mom read the same book, and Amelia soon becomes plagued with visions of the Babadook and spirals into paranoia.
Amelia and Sam are now left to face the torment of the Babadook and figure out a way to escape him. Apart from a young boy as its protagonist like 'Lights Out,' 'The Babadook' employs parent/kid relationships to carry the emotional weight of its plot. Additionally, both movies delve into themes of mental health by pitching the Babadook and Diana as representations of depression.
Read More: Where Was Lights Out (2016) Filmed?