Kumail Nanjiani is a familiar name for all those who have watched the famous HBO series 'Silicon Valley'. The Pakistani-American comedian/writer/actor has established himself as a strong voice on American television with his idiosyncratic comic timing, perfect delivery, and brilliant writing. Now team him up with Dave Bautista, the former WWE wrestler who has surprisingly been quite impressive with his film roles, first as Drax in the MCU and later in the Dennis Villeneuve film 'Blade Runner 2049'. We get a pair who are vastly dissimilar to each other, and thus placing them in complicated situations is bound to give rise to some hilarious moments.
This is what exactly happens in the Michael Dowse action/comedy venture 'Stuber'. Nanjiani plays the character of an Uber driver, Stu who unknowingly takes a passenger, Vic (Bautista), and ends up in a life-threatening escapade. Vic is actually a police officer in hot pursuit of a drug lord, and takes Stu's car along with him. What follows is a film full of intense action and comedy, with the two characters even sorting out several problems in their own personal lives along the way. If you enjoyed watching 'Stuber' or want to watch better films which are similar in nature, you have come to the right place. Here is the list of movies like 'Stuber', several of which you can watch on Netflix, Hulu or Aamzon Prime.
7. Rush Hour (1998)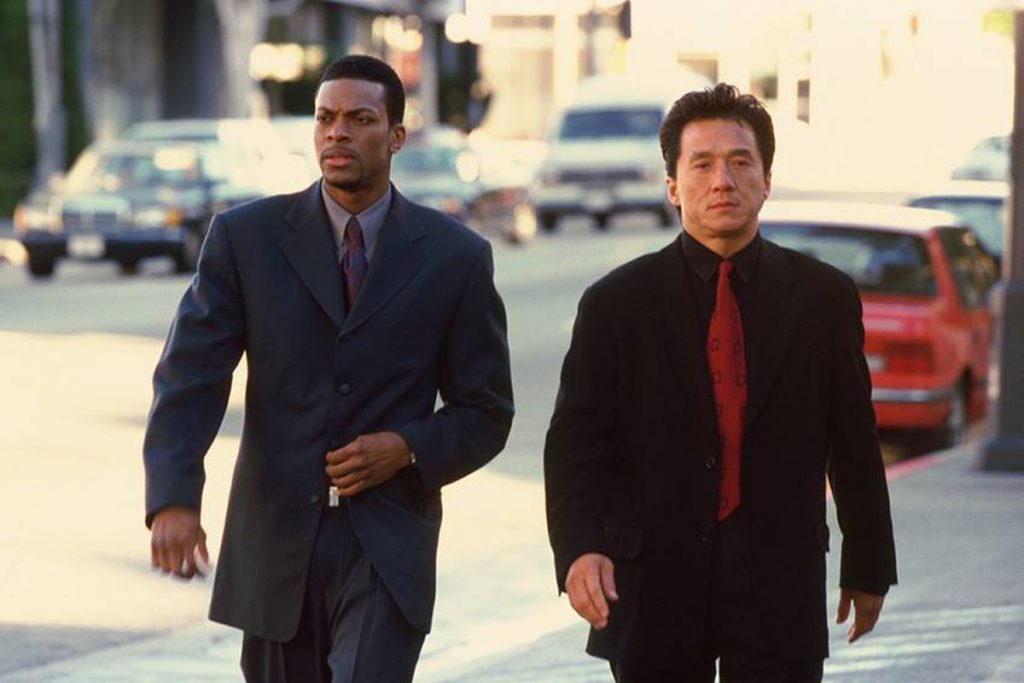 There is hardly any actor in the world who is as prolific in both action and comedy as the legendary Jackie Chan. Chan brought in an unparalleled flair to Chinese cinema with his unique blend of impeccable martial arts skills, ability to pull off unthinkable stunts, and unique comic timing. After he became a worldwide superstar with his Chinese films, Chan stepped into Hollywood but was not able to weave his magic charm till the release of 1995's 'Rumble In The Bronx'. Three years later, 'Rush Hour' released with Chan and Chris Tucker in leading roles and catapulted Chan to the top of the Hollywood fame.
'Rush Hour' is the story of two policemen, one from Hong Kong (Chan's character Lee) and one from Los Angeles (Tucker as James Carter) as the team up to save a Chinese diplomat's daughter from the hands of her kidnappers. As the two characters investigate the case, their unique personalities, cultural differences, and a general approach to police work makes for some of the most iconic comedy sequences in late 1990s Hollywood. The film excels in managing to utilize the best aspects of the two actors and that is what makes it an icon of the action/comedy genre. Interestingly enough, the review aggregator site Rotten Tomatoes owes its existence to this very movie. The site was created with all the American reviews of Chan's films and was put online before the release of 'Rush Hour'.
6. Hot Fuzz (2007)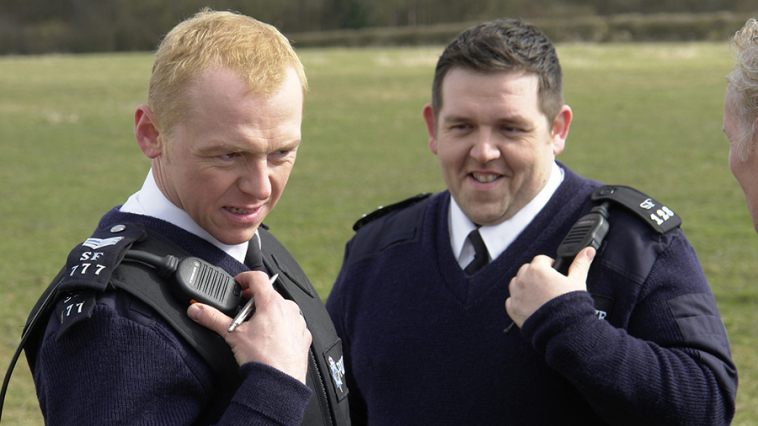 British filmmaker Edgar Wright is a serious lover of cinema. His extensive knowledge of the art form along with the several tropes used in creating a certain genre helps him to break these conventions and make a movie which can take us beyond the realm of our expectations. Wright's collaboration with actor Simon Pegg has given us the now-famous film trilogy, popularly known as the Three Flavours Cornetto trilogy consisting of the films 'Shaun Of The Dead' (2004), 'Hot Fuzz' (2007), and 'The World's End' (2013). In the second installment of the trilogy, Pegg plays the character of a successful policeman who is forced to leave his position in London and move to a small town in the English countryside. Though the town seems quiet and crimeless at first, it soon appears to Pegg's character Nicholas Angel that there is a deep secret behind the otherwise quiet town which many of his colleagues are involved in. The film is steeped in pop culture references and can be a sheer treat for viewers who manage to get them. A unique blend of brutal action and hilarious comedy, 'Hot Fuzz' is a brilliant piece of cinema.
5. Lock Stock And Two Smoking Barrels (1998)
Guy Ritchie's outrageously funny 1998 venture 'Lock Stock And Two Smoking Barrels' is a story about four friends who indulge in petty crimes. One of them, Eddy, is great at playing cards and sets up a game with a local mobster where he can either win big or end up losing everything. Eddy loses his mojo in the game and it is already too late before the four realize that they have bitten off more than they can chew. Now they have to figure out a way to cough up half a million dollars for the mobster or face dire consequences. The typical British humor, sometimes insane violence and stylish cinematography and editing of the film makes it stand out from other crime comedies which release every year. The film has been regarded by critics to rank among the best British crime movies of all time.
4. Police Story (1985)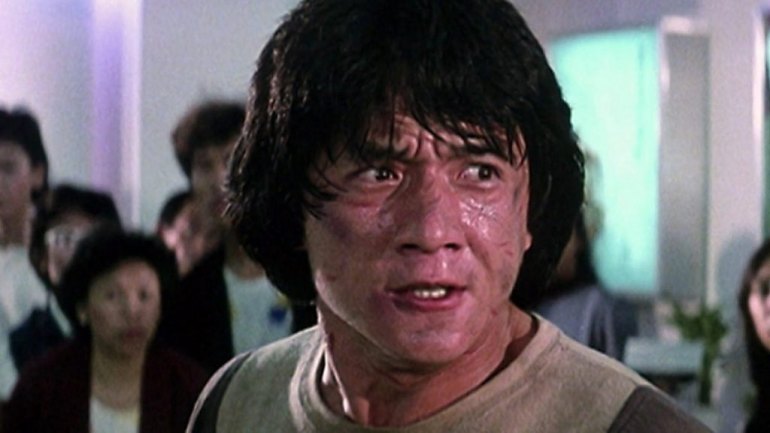 It is Jackie Chan time once again! And this time we focus on one of the most famous and iconic films in the Hong Kong star's oeuvre, 'Police Story'. Chan's character in this film is called Chan Ka-Kui. He is a Hong Kong police officer who falls into hot soup after arresting a major crime lord. Chan is framed for the murder of one of his fellow officers, and now it is upon him to clear his name from the same if he wants to avoid a lifetime in prison. Notably, Jackie Chan is not only the star of this film, but is also the writer and producer of the same.
'Police Story' stands out for its amazing stunts and action sequences which were all done by Chan without using any body double. One chase sequence in the movie where an entire shanty town is destroyed is etched into the memories of all Jackie Chan or action film fans. Directing action is one of the toughest jobs in filmmaking and the panache Chan shows in doing so is extremely impressive, to say the least. In the 1986 Hong Kong Film Awards, 'Police Story' grabbed the Best Film award. Numerous publications have called 'Police Story' one of the best action films of all time.
3. Mr. & Mrs. Smith (2005)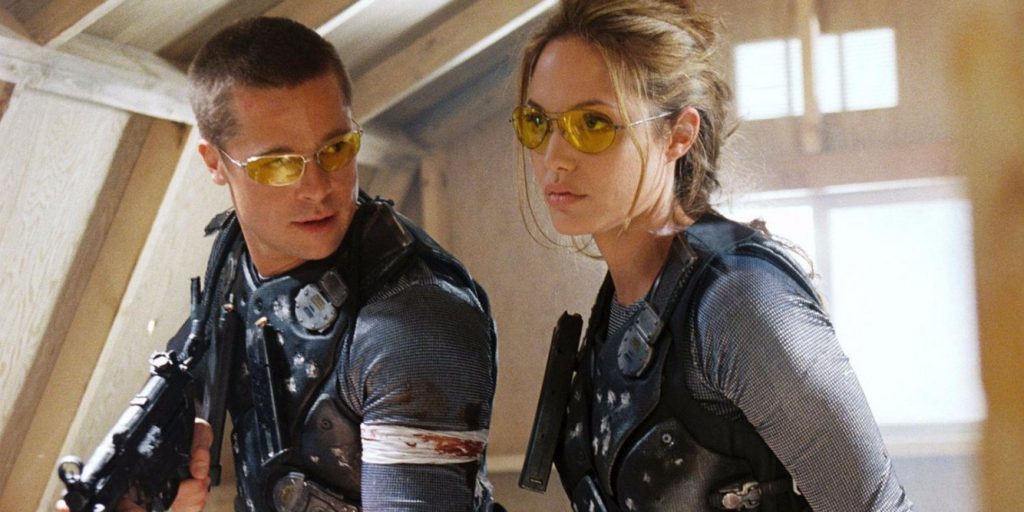 Brad Pitt and Angelina Jolie's romance started off while shooting for this 2005 action/comedy classic where they both work as undercover contract killers. When the movie begins, the couple are seen to have a dull marriage and even enter therapy to deal with their issues. They are still not aware of each other's true identity and maintain the appearance of being in a warm relationship and socializing with their rich neighbors. Problems for them arise when the couple discover that each of them has been assigned with the task of killing the other person. Directed by Doug Liman of 'The Bourne Identity' (2002) fame, 'Mr. & Mrs. Smith' worked like magic at the box office owing to the star powers of its leading pair. One cannot deny the fact that there is not much originality in the film, most of the tropes used in it have been used in films throughout film history. But the powerful performances of Pitt and Jolie coupled with their sizzling chemistry makes the film a sheer joy to watch.
2. 48 Hrs. (1982)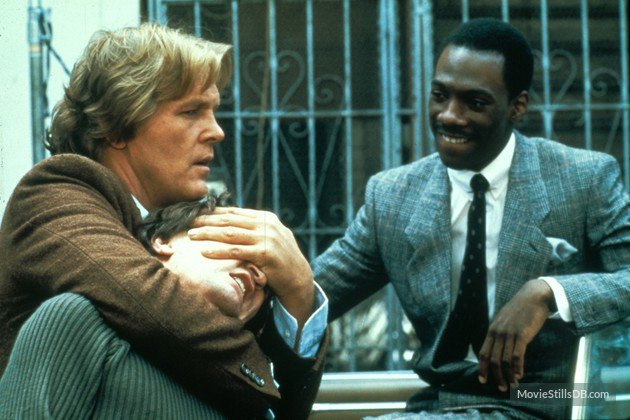 Directed by Walter Hill, '48 Hrs.' is what we call a 'buddy cop' film. The story centers around the characters Jack Cates and Reggie Hammond played by Nick Nolte and Eddie Murphy respectively. Reggie is a convict serving time in jail when he is given a 48-hours leave to help a cop, Jack Cates, nab three of his own former associates. '48 Hrs. boasts of being the first buddy cop film of all time and deserves a unique place in film history. The chemistry between Nolte and Murphy gives rise to some hilarious moments in the movie, and the way the friendship develops between these two characters is heartwarming and leaves a deep impression on the viewers. '48 Hrs.' received resounding acclaims from critics and is considered one of the best films of 1982.
1. Collateral (2004)
If anyone knows how to handle major stars together in a film, it is Michael Mann. The way he brought out insanely powerful performances from both Robert De Niro and Al Pacino in the 1995 crime film 'Heat' is talked about to this very day. Mann again proves his mettle with the 2004 film 'Collateral' starring Tom Cruise and Jamie Foxx. The story of this film is quite similar to that of 'Stuber', where a stranger gets into a taxi and leads a taxi driver on a crazy rampage. The only difference is that this time the stranger is a highly skilled professional killer who does not even blink his eyes before pulling the trigger. The portrayal of the two leading characters by Cruise and Foxx is truly masterful and the two actors were also lauded by the media for the same. Fox received a Best Supporting Actor Academy Awards nomination, but ended up winning the Best Actor award that year for the film 'Ray' instead.
Read More: Movies Like Inception