Alright, here's a list that was near-impossible to come up with, given the numerous movies there are under this category. Something that was introduced in the early 80s in Hollywood, for the uninitiated, PG-13 or Parental Guidance -13 is an MPAA (Motion Picture Association of America) rating which cautions the parents to determine whether their children who are under 13 years of age should or shouldn't watch a particular PG-13 rated movie. Of the five major categories of film ratings that MPAA currently has, PG-13 can only be termed as a "moderate" method of regulation.
It is no wonder that close to 50% of all the movie revenues in the US are from PG-13 rated movies, thus accounting for arguably the most commercially successful movies among all the MPAA rated movies. For ease of representation, we've clubbed all the PG-13 installments of a movie franchise under single titles. Here goes the list of top PG-13 movies ever made. You can watch many of these best PG-13 movies on Netflix, Hulu, or Amazon Prime.
25. Titanic (1997)
This one's here solely based on merit. Although it was panned by many critics sporadically, James Cameron deserves his fair share of praise for this "magnum opus." Involving a wrecked ship with a passionately told love story piled upon it, 'Titanic' perhaps deserves its bit on the list not only because of its out-of-the-box visuals, which, who're we kidding, is a signature of Cameron, but also for its performances amidst an extremely tragic turn of events, leading to a shipwreck of what was considered the safest of its time. Jack and Rose may have been separated by an iceberg, but their love stays together forever etched in our memories.
Read More: Best DreamWorks Movies of All Time
24. Avatar (2009)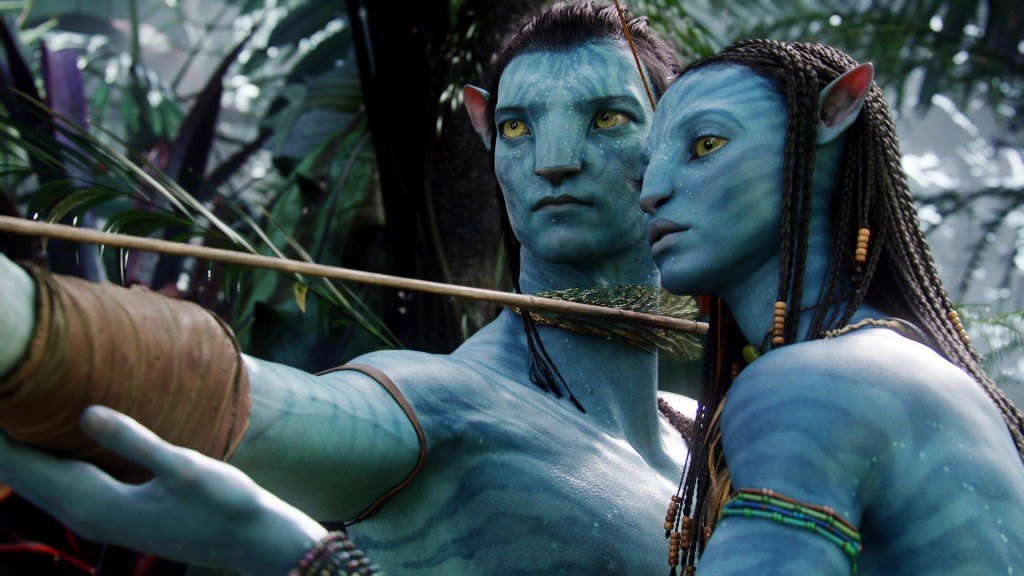 'Avatar' and many other animated movies of its time have a very thin line of demarcation between them. Though the reasons for its PG-13 ratings are listed as "sensuality, smoking scenes, and warfare', had it been an animated movie, none of this would've mattered. Considered as overrated by many, yet, an extraordinary milestone by many others, 'Avatar' is often a matter of contest and debate as it has been a matter of praise or ridicule. Regardless, with its almost coherently done storyline, the "extraordinary" VFX, cinematography, and to some extent, the performances were enough to raise its bar as one of the top-grossing and watchable flicks of all the time. Arguably James Cameron's best effort so far, 'Avatar' was considered "immersive" and "visual stunner" by many western critics, yet, it was panned for promoting propaganda and for its inconsistencies with Eastern spiritualism. A movie which should be watched only with eyes and not with brains, I guess.
Read More: Best Sci-Fi Horror Movies of All Time
23. Wonder Woman (2017)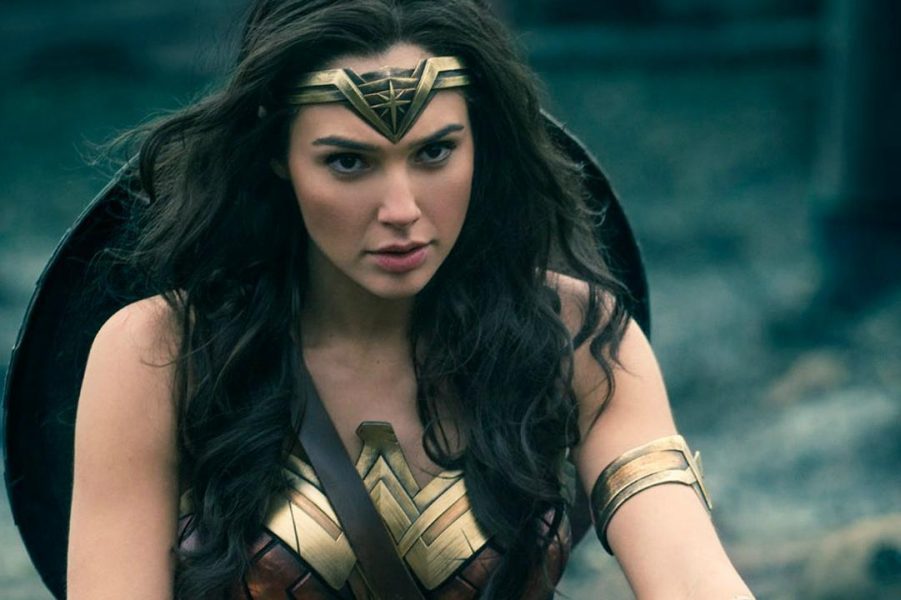 'Wonder Woman' reminds us that no matter how many incompetent movies DCEU comes up with, storyline, coherence, and casting do matter ultimately.'Wonder Woman' is a shining gem in the otherwise murkier, grim, and dark universe which has not had many takers after Christopher Nolan's adieu to wearing his director's cap and the so-called "phenomenon" that was 'Batman v. Superman: Dawn of Justice.' The origin story of an Amazonian princess and her truth-seeking saga, along with the exemplary fight sequences, are a treat to the eyes. And moreover, some on-screen sizzle between Gal Gadot and Chris Pine wasn't bad either. Perhaps the only worthwhile female-centric superhero movie of our time so far.
Read More: Best Black Comedy Movies of All Time
22. The Bourne Series (2002-2016)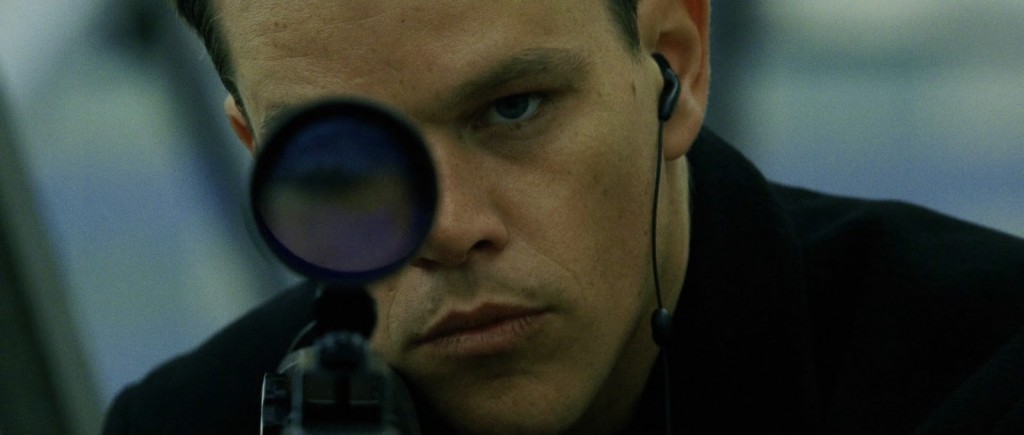 While the world was reeling under the after-effects of James Bond and his female camaraderie, Jason Bourne rose from its ashes and won us all over. This spy-thriller series based on Robert Ludlum's novella revolves around a CIA officer Jason Bourne, who snaps his ties with the organization and is on the run, followed by the usual chases, killings, fistfights, and Matt Damon. Though the series was much of a star-studded and close-knit affair, 'The Bourne Ultimatum' and 'The Bourne Supremacy' shone brighter than the other movies in the franchise, while 'Jason Bourne (2016)' turned out to be an apparent disappointment for many. Personally, I feel this is a high time to call it a day for the series, and filmmakers should rather focus on an anthology or possible spin-offs than milking the same old cow for even longer.
Read More: Best Stop-Motion Animation Movies of All Time
21. Casino Royale (2006)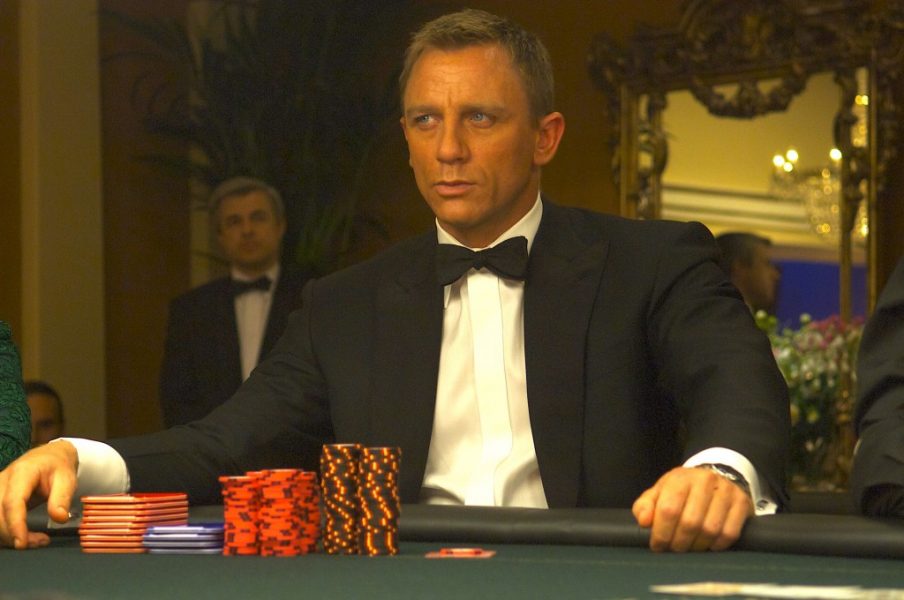 Despite receiving flak for casting Daniel Craig in the titular role, 'Casino Royale' was a critical and commercial success, with critics praising Craig for his over-the-top yet non-cliched performance. The film follows an MI6 officer who has been assigned to trace a bomb-maker, who leads him to trace Le Chiffre, a terrorist financier and ends up beating the latter in a poker game at Casino Royale, amidst some gory sequences and the "Name's Bond, James Bond" monologue which would give anyone goosebumps and is generally the melting point in the movie's storyline. If not for 'Skyfall,' 'Casino Royale' could've been easily the highest-grossing Bond film ever made, and it certainly is the best Bond film to date.
Read More: Best Sci-Fi Thriller Movies of All Time
20. Million Dollar Baby (2004)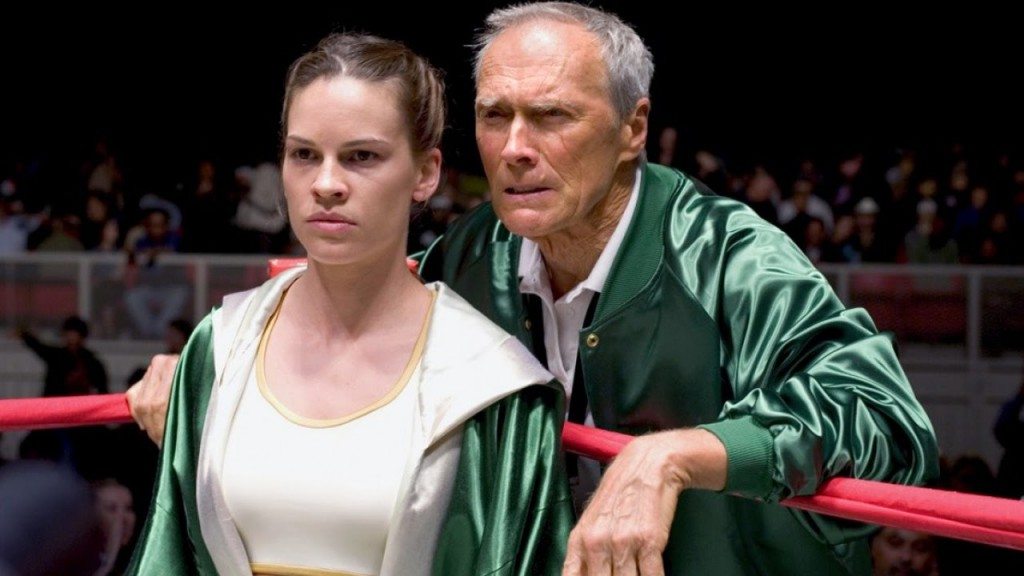 And the ordeal of a lowly waitress-turned ace amateur boxer is nothing short of a miracle. Given her "nobody" image in the rather male-dominated sport, Maggie Fitzgerald takes it upon herself to train under Frankie Dunn, an unrelenting, old boxing trainer who initially denies training a girl but then agrees in his own accord. Maggie's journey of becoming a champion, followed by her nemesis owing to the injuries she gets from the "asking" sport, is heartbreaking. Her "final" days in a hospital bed in a vegetative state, followed by her voluntary euthanasia, is nothing less than tear-jerking, which makes it one of the most emotional movies as well, with a sport-themed backdrop. 'Million Dollar Baby' landed Hilary Swank her second Academy Award for the Best Actress, an everlasting gem in her crown of many glories.
Read More: Best Horror Thriller Movies of All Time
19. Indiana Jones and the Last Crusade (1989)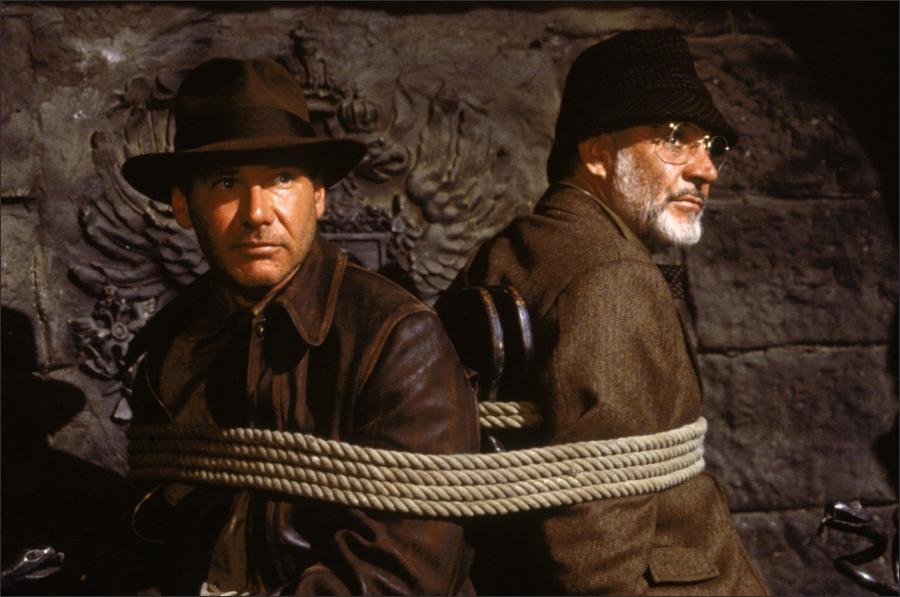 Long before 'The Da Vinci Code,' the word Holy Grail meant a whole different thing. When two of the greatest filmmakers of their times – George Lucas and Steven Spielberg team up with Harrison Ford and Sean Connery at the helm, the movie is seldom bound to fail. In this third installment of the famed Indiana Jones franchise, Indiana Jones finds himself in pursuit of the Holy Grail while looking for his father, Henry Jones, who has gone missing. With a layered storyline and one secret leading to another in every other frame, 'Indiana Jones and the Last Crusade' is a crusade like no other.
Read More: Best Horror Movie Posters of All Time
18. Catch Me If You Can (2002)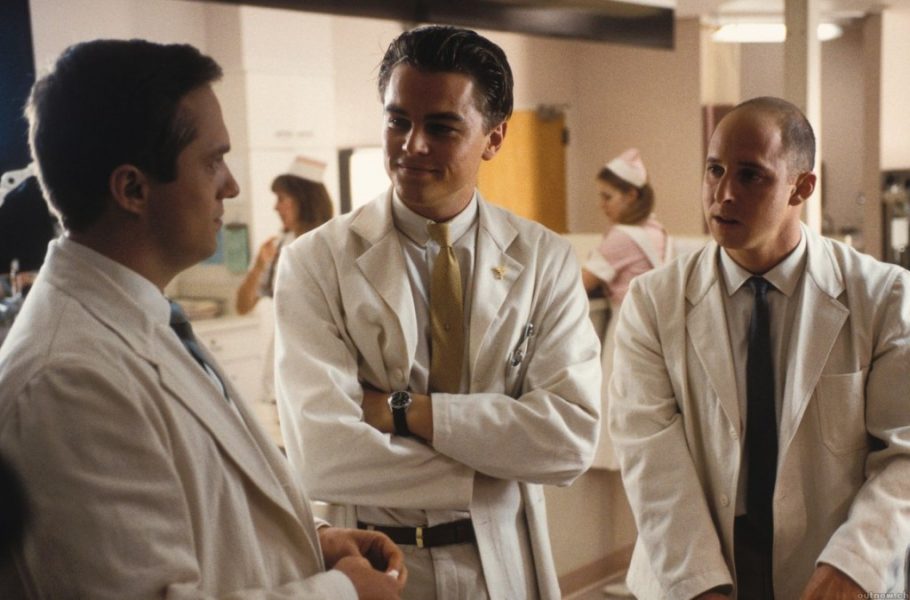 Another Spielberg's venture in the list, 'Catch Me If You Can' is a mere feather on his already "feathery" cap. And what could be better than all the running and chasing and skedaddling between DiCaprio and Hanks? Revolving around a real-life trickster Frank Abagnale, who, in his teens, conned various organizations and the Government worth millions of dollars by playing an imposter only to serve as a consultant with the FBI later on, 'Catch Me If You Can' seems unbelievable on its outset but is true to the core. In what can be called a straight departure from Spielberg's style of filmmaking, 'Catch Me If You Can' was a refreshing, colorful, jolly, and quirky venture with loads of humor and some power-packed performances, including and especially that of DiCaprio's.
Read More: Best Portuguese Movies of All Time
17. X-Men Franchise (2000-2016)
PG-13 Movies: X-Men (2000), X-Men 2 (2003), X-Men: The Last Stand (2006), X-Men Origins: Wolverine (2009), X-Men: First Class (2011), The Wolverine (2013), X-Men: Days of Future Past (2014), X-Men: Apocalypse (2016)
With the exceptions of 'Deadpool (2016)' and 'Logan (2017),' which have been rated 'R,' all the movies of the acclaimed franchise have been rated as PG-13, for obvious reasons (like Wolverine?). Starting with the mainstream of mutants, Professor X and Magneto, who form their own factions and have a tug-o-war for Jean, etc. in the first couple of movies to them pairing up against the all-powerful mutant killers in 'Days of Future Past' to the apocalypse which also featured the "first mutant" as an antagonist, the franchise has seen its good and bad days. Though it can be categorically stated that this one's an extremely successful franchise (with the likes of 'Deadpool 2', 'Dark Phoenix' etc. in the pipeline), critically, the initial lot was panned, of course, due to their cliched portrayals and their unexpected deviations from the storyline. Also, 'X-Men: Apocalypse' can be termed as a major disappointment after the smash hit that was 'Days of Future Past.' As the saying goes, too many cooks often spoil the broth.
Read More: Sexiest Movies on Netflix
16. Pirates of the Caribbean Franchise (2003-2017)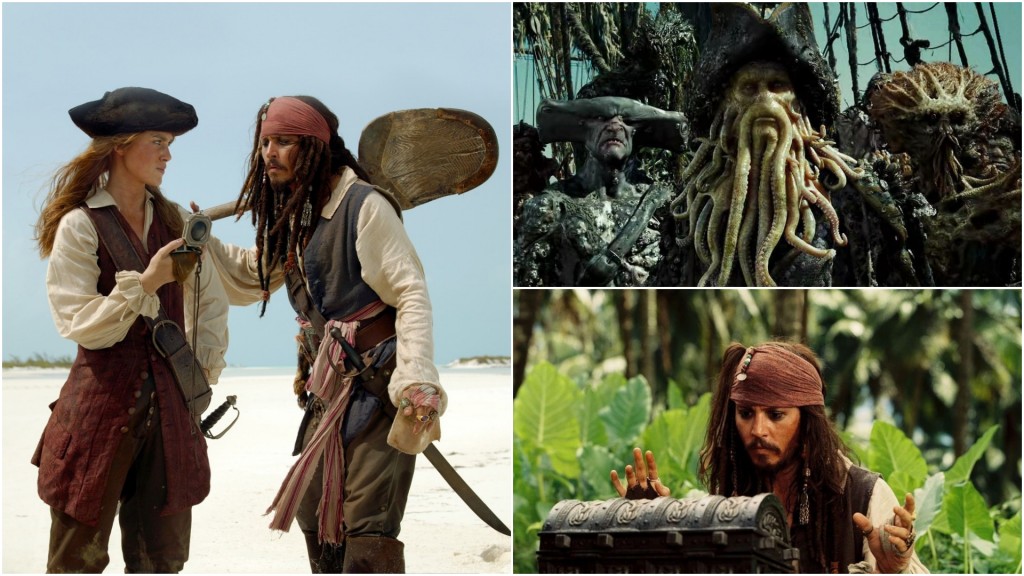 PG-13 Movies: Pirates of the Caribbean: The Curse of the Black Pearl (2003), Pirates of the Caribbean: Dead Man's Chest (2006), Pirates of the Caribbean: At World's End (2007),
Pirates of the Caribbean: On Stranger Tides (2011), Pirates of the Caribbean: Salazar's Revenge (2017)
The iconic theme music of the movie franchise rings in our ears more often than not, thanks to 'The Curse of the Black Pearl' and Gore Verbinski and Hans Zimmer. Perhaps this is the only example of a franchise that had increasingly downgrading and meaningless movies and storylines as it progressed. While "The Curse of the Black Pearl" was undoubtfully a gem, "Salazar's Revenge" was criticized for being "half-baked," "repetitive," and "boring." Regardless of what was or had been, "Pirates of the Caribbean" has given us a very unique, pirate-stylized theme like none other, and we're eternally grateful for the sensation that was "The Curse of the Black Pearl" and, to some extent – "Dead Man's Chest." If nothing, the movie franchise very well deserves to be on our list of top PG-13 movies of all time.
Read More: Best Movies Based on Plays
15. The Prestige (2006)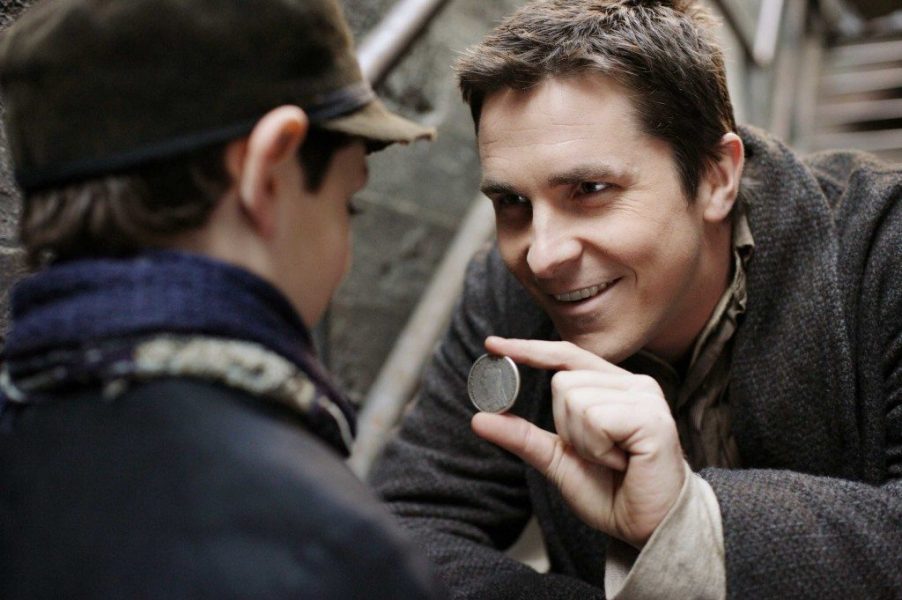 The "magical" tryst of Christopher Nolan commenced not with 'Memento' but with 'The Prestige,' and it has been a long-standing proof that Nolan has the exquisite adeptness to weave layers into the storyline without the viewers knowing or even thinking about it. The only magic trick – distract your viewers long enough so that they overlook the principal plot. 'The Prestige' primarily revolves around two rival magicians in early 19th Century London. With references like Nikola Tesla et al., 'The Prestige' carries you deep into the labyrinth of the world of magic from where there's no coming back. And the protagonist Christian Bale and antagonist Hugh Jackman have nailed it throughout with their charm and magic.
Read More: Best Greek Movies Ever
14. The Fault in Our Stars (2014)
Here's to the tragic and heartbreaking tale of two ailing teenagers, who, with their "preoccupation" in getting to the bottom of a book and what happens afterwards to its characters, are swept off in love for each other – everything which turns into a sorrowful and morose affair later. The performances and the storyline in TFIOS are top-notch and are the only highlights of the film. The romance and the ambition of Hazel and Gus seriously give us some major life and relationship goals, and John Green's adapted screenplay is moving to its core. The best part of the movie is its humor and an equally tragic, shocking conclusion which makes it a tear-jerking and emotional affair. The bits and pieces of such an unforgettable romance are endearing because never have we seen it on-screen – a story pertaining to terminal illnesses, all the mockery around it, schmeared in love – everything in one single movie.
Read More: Best Action Thriller Movies of All Time
13. Interstellar (2014)
The knack for making movies on space or space travel has baffled many filmmakers, let alone Nolan himself. Similar to a layered concept that was used in 'Inception' (various levels in a dream, within a dream, with bizarre outcomes), 'Interstellar' uses the time-space dilemma to deduce the mysteries that are Black Holes and also explores avenues around interstellar travel, a feat that looks seemingly plausible after watching the movie. So much so that many researchers and scientists were a part of the movie, and many scientific papers were published after that.
The movie revolves around a group of astronauts who undertake interstellar travel to explore new worlds while passing through a wormhole, with a beautiful father-daughter relationship in the backdrop and Matthew McConaughey and Jessica Chastain nailing in their roles. As tear-jerking as it is, the movie also is jaw-dropping and awe-inspiring, with never-seen-before visuals, something that also landed the filmmakers an Academy Award for Best Visual Effects. Not just one of the best PG-13 rated movies out there, but also one of the finest, pathbreaking movies of the decade.
Read More: Best Movies About Mermaids
12. Arrival (2016)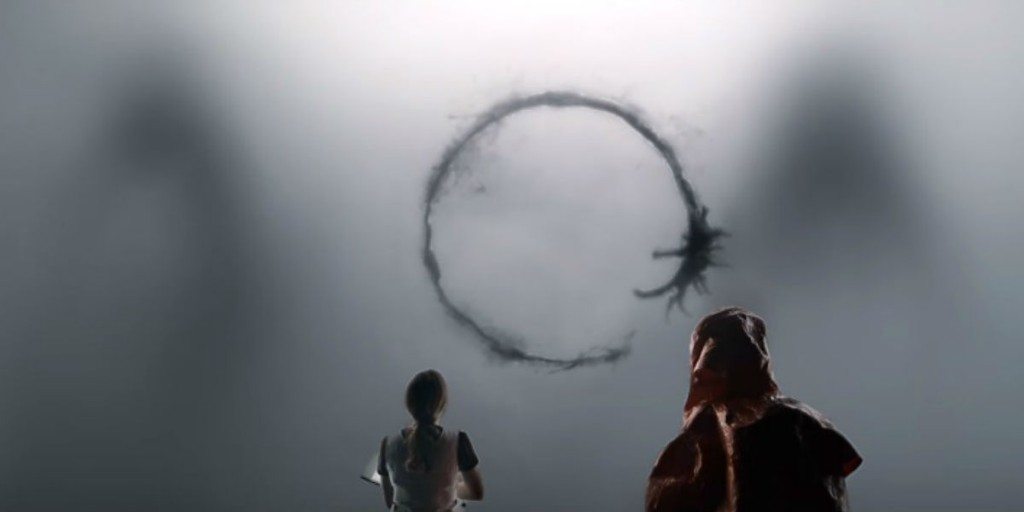 What has always been touted to be one of the most intelligent movies made on aliens ever, 'Arrival' has gotten far less attention than it deserved. A sci-fi mystery at the outset, 'Arrival' follows the story of a U.S. Army linguist Louise Banks who is tasked with finding out the reasons behind the arrival of strange heptapods as she translates their message, which is perceived differently by different nations which have witnessed the "arrival," thus pushing the world to the brink of war. Even if we leave the script aside, the performances are stellar, and the coherence and the mystery of the story are spellbinding. An absolute movie that challenges our preconceived notions and takes our perceptions of aliens and their seemingly imminent "arrival" to another level altogether.
Read More: Best Musician Movies of All Time
11. Dunkirk (2017)
Even though 'Dunkirk' was a historical film based on the events that happened in Dunkirk during the Second World War, and although the film has a simplistic storyline, the storytelling wins us all over. Again, visuals, theme, and camerawork have always been the winning streak of Nolan's film that continues with 'Dunkirk.' Be it the production design, the humongous sets, or the historical artifacts, no stone has been left unturned. The story revolves around many allied soldiers who have been stranded on a beach in Dunkirk, awaiting evacuation. Amidst bombings and the scarcity of transport vessels, the soldiers are gradually evacuated to see the light of the day, but not without sacrifices. We don't see many groundbreaking performances because of the layered approach followed by Nolan yet again, wherein apparently seeing and listening is believing. 'Dunkirk' is a literal spectacle that needs to be witnessed than being merely watched; it is a dazzling storytelling marvel.
Read More: Best Army Movies of All Time
10. Forrest Gump (1994)
And now to one of the most accoladed movies of all time, which has Tom Hanks in it, 'Forrest Gump' has been bestowed with six Academy Awards, including the one for Best Actor in a Leading Role. And numerous other nominations and wins. The story revolves around Forrest Gump – a dim-witted yet prodigal and athletically sound man who, despite facing all the bullying and banishing in his early years of life, becomes a celebrated war hero and a ping-pong ace. The story of "becoming" 'Forrest Gump' is a winner on many fronts and might have inspired many. The movie becomes a monolithic, unendurable mess with no head or tail if one removes Tom Hanks from the equation. Regardless, Tom Hanks is the only person attributed to taking the movie to the zenith wherever it is today. To infinity and beyond.
Read More: Best Cave Movies of All Time
9. Inception (2010)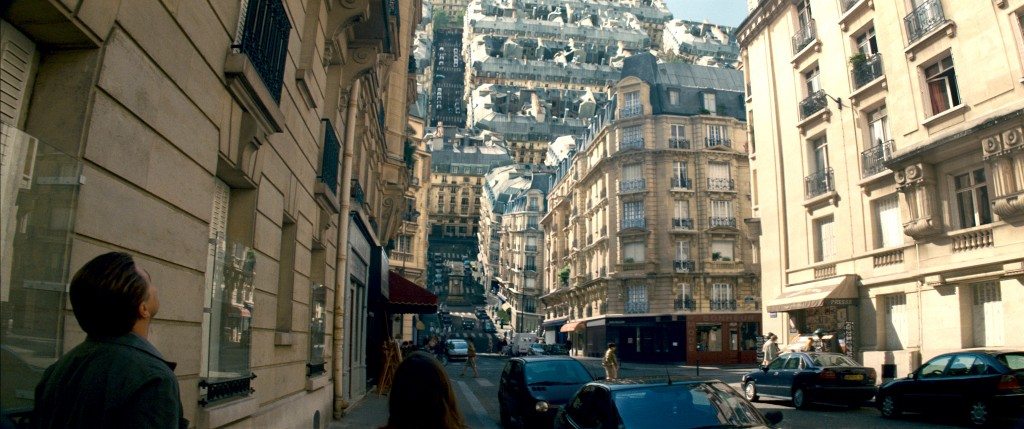 'Inception' is the undying proof of the genius of Christopher Nolan and probably is the first movie that comes to our mind whenever there's a talk of all the brainier movies that were ever made. With a balanced dose of performances, visuals, theme music, and overall storyline, and with an over-the-top direction, 'Inception' is one of the movies that shouldn't ever be remade. The story revolves around a bunch of characters whose names' initials make the acronym "D.R.E.A.M.S." Basically, they are a group of thieves who steal "everything" from one's subconscious by implanting an idea first into their target's head, which substantiates to what they want it to be. A pathbreaking movie, with stunning visuals and some mind-bending, pioneering, "dreamy" sequences which won't be ever seen or heard of outside the movie frames, 'Inception is easily one of the best brainchildren of Nolan.
Read More: Best NC-17 Rated Movies
8. La La Land (2016)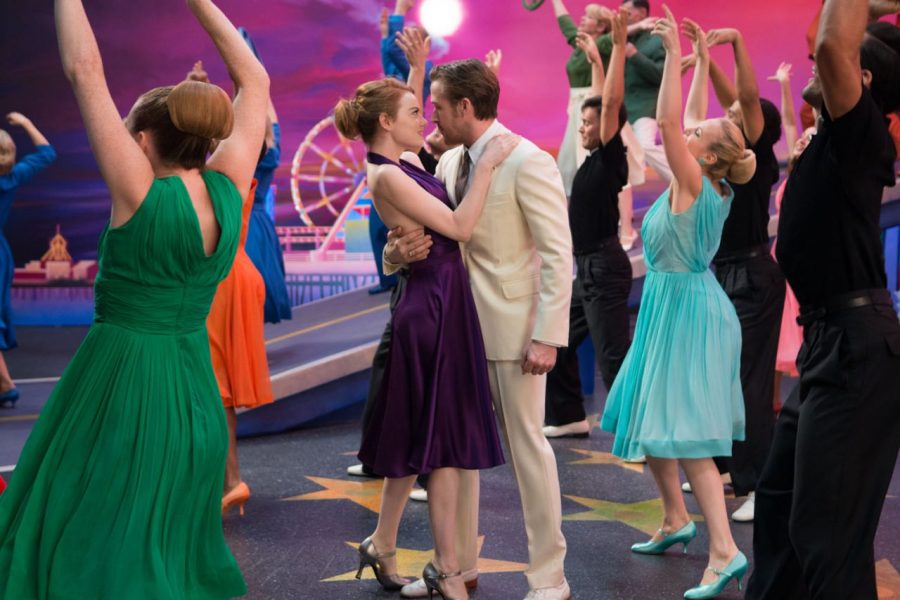 More like a Bollywood flick made in Hollywood that has garnered millions and won awards and accolades, including the Academy Awards for Best Actress, Director, Cinematography, Original Score, Original Song, and Production Design, 'La La Land' was hailed as "miraculous" and "blissfully entertaining" by critics and audiences alike. Too bad Academy doesn't have a category for best choreography or the best playback singers (Oops, I almost missed the fact that the concept of playback singing was "pioneered" in Bollywood). The movie follows the falling in love followed by the ensuing differences of a struggling actress and a pianist, with a Bollywood-like ending as expected. Though there's nothing much in 'La La Land' that we haven't seen in other movies, but what makes it special is the execution. It is the best Bollywood movie not made in Bollywood.
Read More: Best Surfing Movies of All Time
7. Gravity (2013)
More often than not, 'Gravity' is regarded as the most ambitious, audacious, and incredibly believable "space" movie of all the time. And why not, given the presence of Sandra Bullock and George Clooney and an extremely tenable storyline comprising a space storm caused by space debris that has devastating outcomes. Medical engineer Dr. Ryan Stone has to brave all the odds alone in the vast loneliness of space, amongst a constant fear of never being able to reach home alive. A movie that constantly reiterates the fact that we should respect what we have in hand, something known as 'Gravity.' Alfonso Cuarón might have created a masterpiece that can't be re-created ever again.
Read More: Best Movies About Teen Romance
6. Harry Potter Franchise (2005-2011)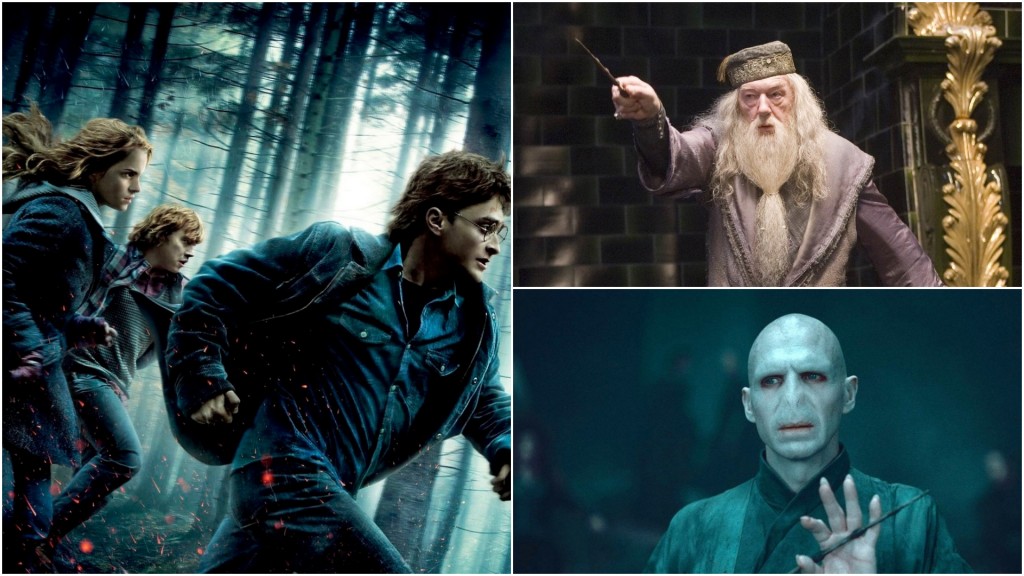 PG-13 Movies: Harry Potter and the Goblet of Fire (2005), Harry Potter and the Order of the Phoenix (2007), Harry Potter and the Half-Blood Prince (2009), Harry Potter and the Deathly Hallows: Part 1 (2010), Harry Potter and the Deathly Hallows: Part 2 (2011)
For the Potterheads, this one's a matter of rejoicing, and why shouldn't it be? Similar to the 'Pirates of the Caribbean' franchise, Harry Potter's was a niche segment with a very exclusive storyline and the adapted screenplay of J.K Rowling's novels that were acclaimed to be flawless worldwide, thus adding to the fervor. With another series of spin-offs of the 'Fantastic Beasts' franchise at the helm, Harry Potter's magic is far from being over. And given all the telltale and a teenage-oriented focus, we will continue to cherish being Potterheads for a long time to come.
As far as the story goes, it is all about a prodigal wizard and his two friends, who are destined to become the greatest wizards of their times and be the arch-nemesis of Lord Voldemort – a sinister, powerful wizard who was also the killer of Harry's parents. I don't know how many times I've wondered being in the shoes of Mr. Potter and witness Hogwarts first hand. And become an Auror, maybe. Fantasy is evil in its purest form, I must admit.
Read More: Best Bowling Movies of All Time
5. Jurassic Park Franchise (1993-2015)
I think as far as fantasy sci-fi movies are concerned, 'Jurassic Park' has to be one of the best works of Steven Spielberg. With four films in its kitty and another one coming in this year, the story of 'Jurassic Park' is set in Isla Nublar, wherein a new theme park has been set up, and it is about procreating living dinosaurs after millions of years by cross-breeding and cloning of fossilized DNA. Things go haywire, and so do the dinosaurs, notably the T-Rex and the Velociraptors. The first three movies of the franchise have their characters in and out of the island, which is now distraught and abandoned after the failed attempts of John Hammond, who had "spared no expense" to set it up.
The latest installment goes a notch ahead and features a Jurassic World, which has been built on the remains of Isla Nublar and has a new breed of dinosaur which is indomitable. As far as the box office is concerned, even without the direct involvement of Steven Spielberg in the trailing two films, all the films have done exceptionally well. 'Jurassic World: Fallen Kingdom' has many hopes pinned to it, less Irrfan Khan and Indominus Rex, and it would be interesting to watch Bryce Dallas Howard and Chris Pratt reprising their roles on the screen yet again.
Read More: Best Monster Movies of All Time
4. Star Wars Franchise (2005-2017)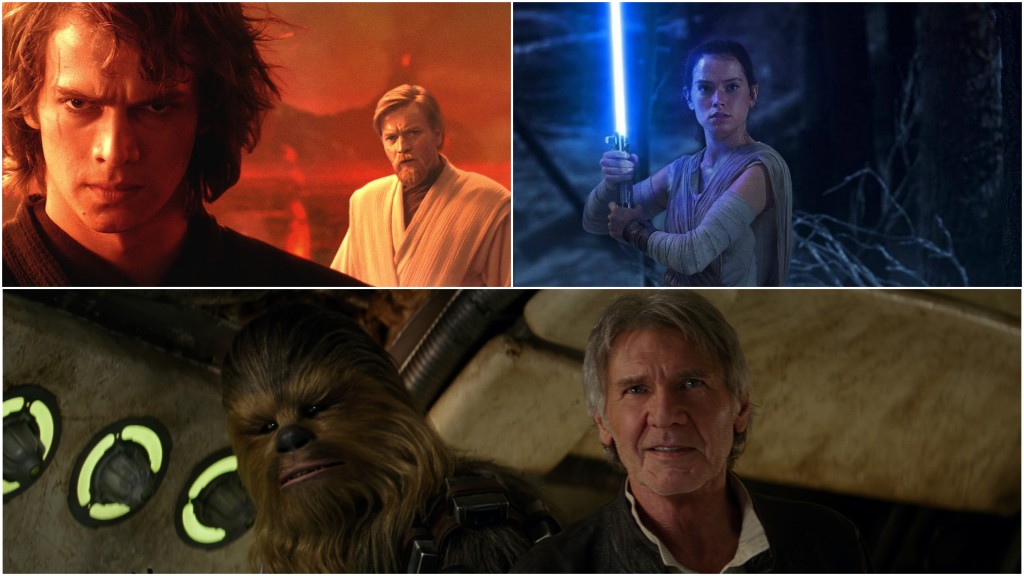 PG-13 Movies: Star Wars: Episode III – Revenge of the Sith (2005), Star Wars: The Force Awakens (2015), Star Wars: The Last Jedi (2017)
The MPAA rating of PG-13 was introduced only in 1984, just when the original trilogy of Star Wars had been concluded. The following prequel trilogy had only one of the movies rated PG-13 that was 'Revenge of the Sith,' and though it wasn't a complete bummer at the Box Office, neither was it over the top. The resurrection of the franchise was with a bang, with 'The Force Awakens' clocking one of the highest revenues at Box Office of all the time, and with an extremely likable storyline, along with the introduction of many anthology films, animated films, etc. which have successfully carried the legacy of Star Wars forward and they continue doing so.
More than just being a movie franchise, Star Wars brings in a lot of nostalgia, with the "opening crawl," which piques a lot of interest in the movie we're about to watch, the lightsabers, and our beloved characters such as Princess Leia, Han Solo, Master Yoda, Darth Vader, Luke Skywalker, Chewbacca, C-3PO, R2-D2, BB-8, Jar Jar Binks, to name a few. Though all of us may unequivocally agree that no one can bring back the eerie thrill when Darth Vader's on the screen, Kylo Ren isn't too bad either. Let's keep our fingers crossed for the next J.J. Abrams' directorial, 'Episode IX.'
Read More: Best Crossdresser Movies of All Time
3. Marvel Cinematic Universe (Phase One through Phase Three – 2008-2018)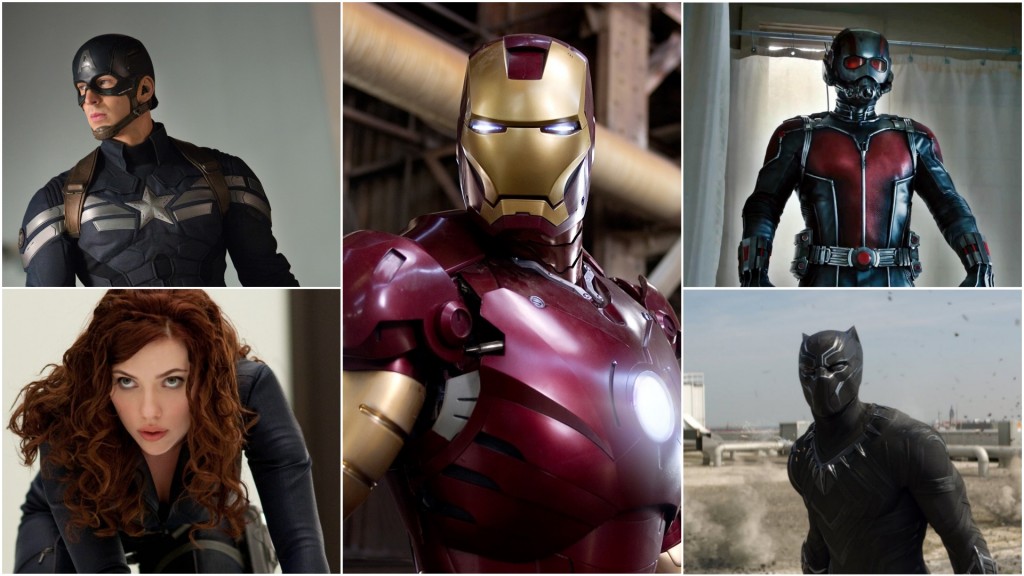 From Iron Man (2008) until the latest that was Black Panther (2018), all the eighteen MCU movies have been rated PG-13 by the MPAA. We're not just talking about a movie franchise, we're talking about increasingly good movies ('Black Panther' being the exception) that would leave a legacy so brilliant, a feat that is near-unachievable by any other production house for some time to come. From Tony Stark's swag to Captain America's moral uprightness, Thor's worthiness, and with Bruce Banner's "smashing" all over, along with the addition of other superhero characters all along like Doctor Strange, Spider-Man, Black Panther, etc., it looks like we're in for a ride for the upcoming phenomenon that is 'Infinity War,' which is around the corner. Though the trailer looks more than promising, and it has an ensemble cast with obviously our Mr. Stark dominating the trailer as well, it wouldn't be wrong to call it an upcoming blockbuster and potentially the highest-grossing movie of all the freaking time. I am counting on it.
Read More: Best Party Movies of All Time
2. The Lord of the Rings and The Hobbit Trilogies (2001-2014)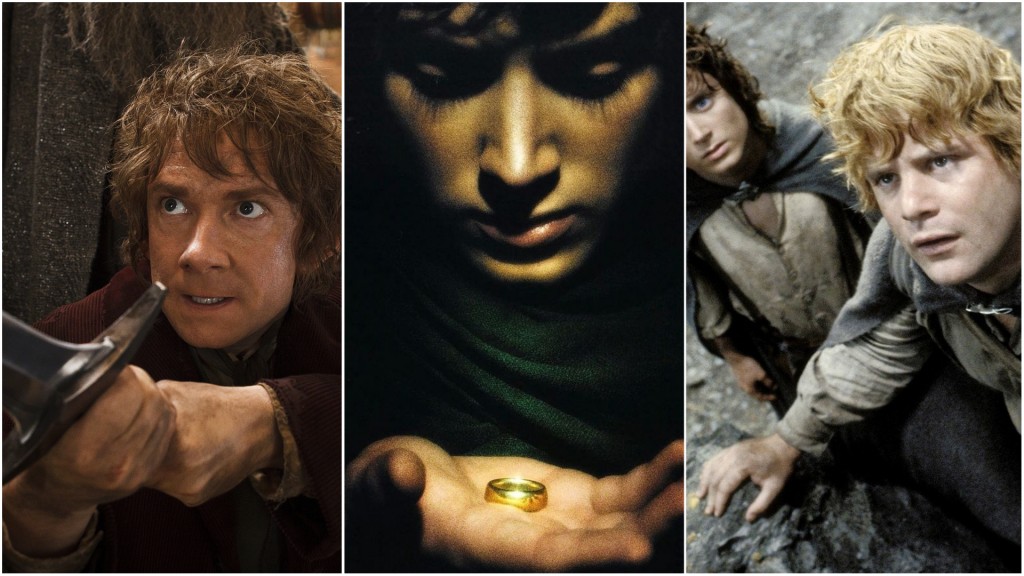 It all started with the journey of Frodo Baggins and his fellowship of the ring and culminated with their rallying across the Middle-Earth to the Fire of Mount Doom to destroy the ring, while warriors became martyrs and friends became foes. After the immense success of 'The Lord of the Rings,' ace director Peter Jackson turned to the prequels consisting of The Hobbit trilogy that consisted of the adventures of Bilbo Baggins and his thirteen dwarves, a "Lonely Mountain" and an intimidating, fierce dragon (thanks to Benedict Cumberbatch's voice) named Smaug.
Though 'The Hobbit' couldn't do much to the satisfaction of the critics when compared with 'The Lord of the Rings,' commercially, 'The Hobbit' trilogy fared far better than its sequel and is still considered one of the highest-grossing film series of all the time. Although Guillermo del Toro's direction (as it was supposedly the initial arrangement) would've been a breath of fresh air for 'The Hobbit' series, I doubt the sanctity of the 'Lord of the Rings' franchise would've been retained any better by anyone other than Mr. Jackson.
Read More: Best MMA Movies of All Time
1. The Dark Knight Trilogy (2005-2012)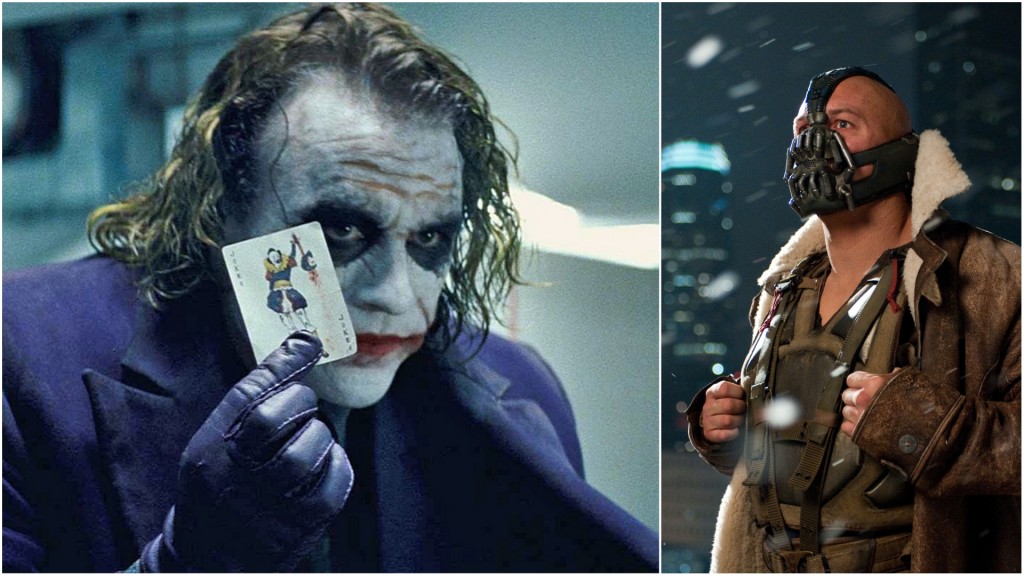 'The Dark Knight' is often unequivocally regarded as the best superhero movie ever made. And arguably, 'The Dark Knight Rises' has been rendered overrated by many critics and viewers alike, despite having an 8+ rating on the IMDB from more than a million ratings. Despite all the pros and cons of this Nolan's ambitious franchise, we loved watching it, and that is all that matters. Nolan has gone beyond his scope of duty to rekindle our interest in the Caped Crusader, so much so that even years after the conclusion of the franchise and the commencement of 'Batman v. Superman: Dawn of Justice' as a part of the DCEU, we haven't lost our faith and interest in the Knight of Gotham.
The success of 'The Dark Knight Trilogy,' to a much larger extent, is also attributed to the villainous characters and their performances across the trilogy like Ra's al Ghul, The Scarecrow, The Joker, Two-Face, Bane, Miranda Tate, to name a few. The legacy left by Heath Ledger as The Joker is known to everyone (with a posthumous Academy Award win), and we could still see the struggle of Jared Leto, who's been trying to fill into his shoes. Nevertheless, of all the superhero movies, 'The Dark Knight (2008)' is the undoubted crown jewel, and it is going to be so for a long, long time.
Read More: R-Rated Animated Movies