Most of us had a bad teacher or two while growing up, or even in college, but not one of them was half as bad as Cameron Diaz's Elizabeth Halsey. 'Bad Teacher' follows Elizabeth, a lazy, incompetent, gold-digging middle-school teacher who downright detests her job and couldn't care less about her students. If given a choice, Elizabeth would punt the whole profession out the window, settle down with a filthy rich husband and spend the rest of her days luxuriously. That is precisely her plan until her rich fiancé abandons her.
Forced to return to her teaching job, she formulates another strategy to try and woo a wealthy substitute, Scott (Justin Timberlake), while vying with a colleague, Amy (Lucy Punch), for his affection. All of Elizabeth's ridiculous antics make for an overall amusing movie while providing some big laughs along the way. If you're in the mood for similar light-hearted comedy movies, we've strung together this list to save you the hassle. You can watch most of these movies on Netflix, Amazon Prime, Hulu, or other streaming platforms.
7. The Other Woman (2014)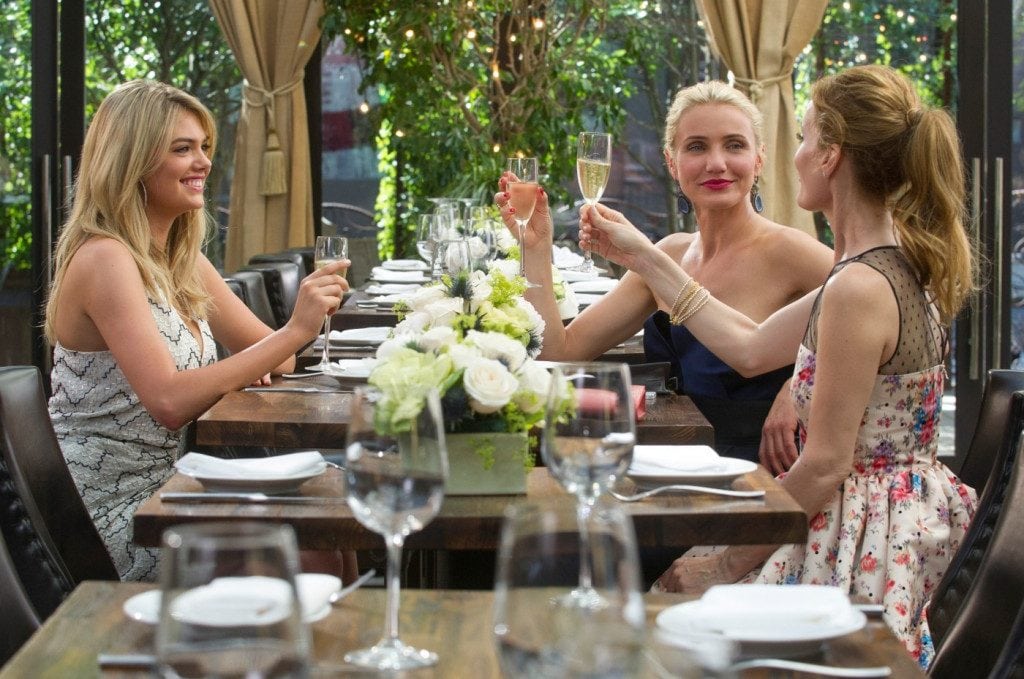 Carly (Cameron Diaz) is utterly bewildered when she discovers that his boyfriend is not only married but has other girlfriends as well. She meets his wife, Kate (Leslie Mann), and another one of his girlfriends, Amber (Kate Upton), who band together to give him a piece of their minds. While on the surface, it might seem like another infidelity-meets-revenge comedy, the movie highlights the power of women's camaraderie peculiarly.
6. Just Go With It (2011)

Danny Maccabee (Adam Sandler) is a womanizer who relies on a set of tried-and-tested orchestrated lies to get close to the ladies. Things change when he meets Palmer (Brooklyn Decker), and he lets slip that he's coming out of a bad marriage. He convinces his assistant Katherine (Jennifer Aniston) to go along with his story, and soon enough, they are in over their heads in the web of lies they created to sustain his story. The premise ensures plenty of opportunity for slapstick humor, and that's where the charm lies in this movie.
5. Cruel Intentions (1999)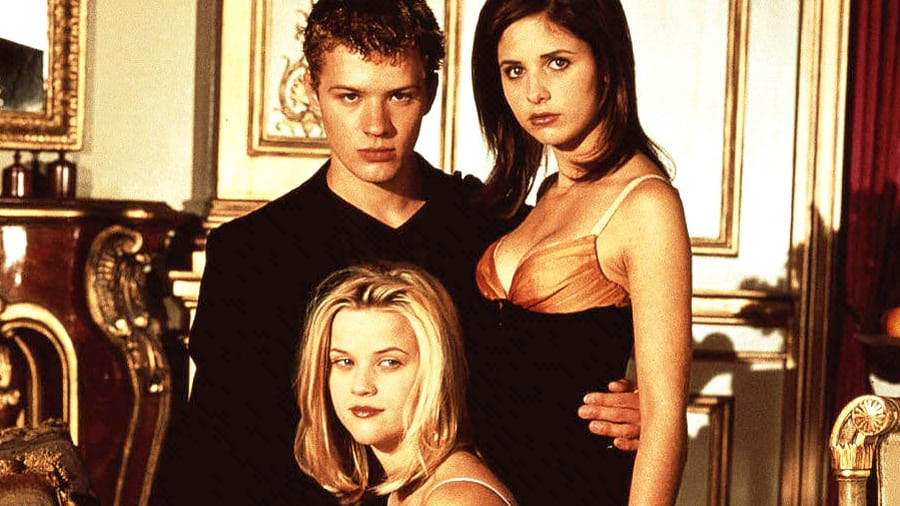 'Cruel Intentions' is a romantic teen drama with a twisted love triangle at the center of its plot. Annette (Reese Witherspoon) unwittingly becomes a pawn in Kathryn's (Sarah Michelle Gellar) and Sebastian's (Ryan Phillippe) bizarre and diabolical wager of sexual conquest when she writes an article about how she intends to save herself for her marriage. Things get blown out of proportion pretty soon for these three. Fans of 'Bad Teacher' will find it intriguing, and the film series has three movies to keep you company.
4. Bridesmaids (2011)

Annie (Kristen Wiig), a jobless chef, is asked by her best friend, Lillian (Maya Rudolph), to be her maid of honor. Threatened by the prospect of another bridesmaid (Rose Byrne) stealing her title, she inadvertently ruins the wedding rituals to one-up her opponent. Though the bachelorette-party-goes-awry subplot is pretty predictable, 'Bridesmaids' is a cult comedy whose shine hasn't dimmed after all these years. The uber-talented Kristen Wiig makes an enormously flawed character likable, while Maya Rudolph turns in a grounded and authentic performance, and together, their natural rapport livens any scene they are in.
3. My Best Friend's Wedding (1997)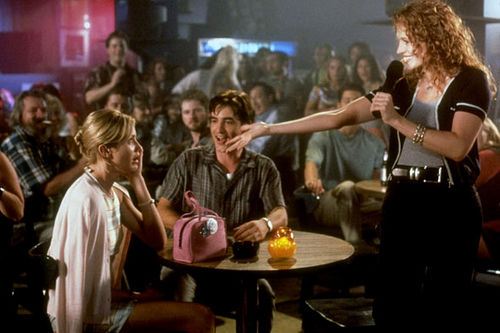 Best friends Julianne (Julia Roberts) and Michael (Dermot Mulroney) make a notorious pact to tie the knot if neither are married by the time they're 28. A few days before her fateful birthday, Julianne receives the news that Michael is set to marry his fiancée, Kimberly (Cameron Diaz), the epitome of perfection. In her futile attempts to win Michael over, Julianne goes out of her ways to make him feel the same way as Kimberly does. The movie is packed with witty one-liners, and there's some sing-along, too.
2. Forgetting Sarah Marshall (2008)

'Forgetting Sarah Marshall' is a breakup comedy that follows Peter (Jason Segel), a slobby, goofy but mostly a decent guy who is peremptorily dumped by Sarah (Kristen Bell) after a five-year-long relationship. In a bid to navigate the uncertain waters of an unexpected breakup, he decides to go for a Hawaiian vacation to take his mind off things. He is in for a shock when he finds out that Sarah has checked in at the very same resort as his. With a stellar cast ensemble playing to their strengths, the movie doesn't entirely play by the genre's established conventions, making it stand out among a sea of rom-coms.
1. Bridget Jone's Diary (2001)

Insecure with her career, body image, and imperfections, Bridget (Renée Zellweger) makes a resolution to journal her inner-most truth by baring her soul into the diary. Soon, things get complicated when she must juggle the affections of her sordid boss Daniel (Hugh Grant) and the too-much-on-the-edge Mark Darcy (Colin Firth). The dynamic between Daniel and Marky is hilariously compelling as they are constantly at each other's throats, a situation exacerbated by their mutual interest in Bridget. The story progresses over the span of three movies, and the fact that it doesn't lose its grasp and appeal is beyond impressive. If you haven't already, we highly recommend following Bridget's unusually enthralling life.
Read More: Is Bad Teacher (2011) a True Story?