If you are a fan of survival shows, then you simply cannot miss out on History's 'Alone.' The reality series, which premiered in 2015, is well-known for challenging some of the best survivalists as they try to not only live in the wild but have to stay away from any form of human communication. Consider the seventh season (aired in 2020) of the competition, which introduced a new twist, asking the participants to survive for 100 days in Great Slave Lake in the Northwest Territories of Canada, with a cash prize of one million dollars awaiting the victor. If you're curious about where the cast members who dared to take up this extreme task are these days, worry not because we have your back!
Where is Roland Welker Now?
Winner Roland Welker won the million dollars prize for surviving 100 days in the competition and was given the titles "The 100 Day King" and "The Last Bushman." He has since gone back to living an adventurous lifestyle in the open spaces of the state of Alaska. The Alaska Registered Big Game Guide is a man of many talents, including trapping, logging, gold mining, and hide-tanning. He is also a frontiersman and pioneer with a YouTube channel with over 12K subscribers. His Instagram account has a significantly larger fanbase with around 30K followers. He likes to travel to Pennsylvania and spend time with his father and friends whenever possible.
Where is Callie Russell Now?
We are excited to talk about Callie Russell, who became the runner-up of this iconic iteration of the History show by spending 89 days in the wilderness before she had to be medically evacuated due to frostbite. Based in the Flathead Valley, Montana, the reality TV star remains close to nature, always eager to keep the old methods alive. From goat herding to wilderness living, her connection to the world around her remains as strong as ever.
After visiting a Hadza family in Tanzania with Joel van der Loon, Callie started a fundraiser for them in order to help them achieve their dreams. As of writing, her YouTube channel, Caprakhan, has over 2K subscribers, followed by more than 82K people on Instagram.
Where is Kielyn Marrone Now?
Next, we have Kielyn Marrone, whose survival skills impressed many viewers. The reality TV star is based in Espanola, Ontario, and has continued to work alongside nature. She is proud to be the CEO and Founder of Lure of North. Her responsibilities when working with the organization include photographing, social media management, and cooking for the camp. The company also has an eponymous YouTube channel with over 34K subscribers and an Instagram account boasting a following of over 24K. In all of these ventures, her husband, Dave Marrone, is an equal contributor and can often be seen exploring the world with Keilyn.
Where is Amós Rodriguez Now?
After participating in 'Alone' season 7, Amós Rodriguez was also seen in the first seasons of 'Alone: The Skills Challenge' and 'Alone: Frozen.' An expert Survival and Ancestral Skills Practitioner, he is one of the executive board members of White Pine Wilderness Academy, though he also likes to create content on platforms like YouTube, where his channel, Amós Rodriguez Survival, has over 21K subscribers. Apart from teaching others what he knows, Amós enjoys spending time with his loved ones.
Where is Mark D'Ambrosio Now?
Mark D'Ambrosio is currently based in Ridgefield, Washington, and is doing quite well in life. The reality TV star is an Ambassador for Watchtower Firearms, having gained the position in May 2023. Additionally, he is the Founder of The Woodsman Selection and owns International Mountain Survival, also serving as an Instructor for the latter. Until June 2023, Mark was also an Instructor for Branded Rock Canyon. The former Recon Marine/Scout Sniper is in a happy relationship with Christina Kearney and is a proud father to son Max. Interestingly, Mark was also a part of 'Alone: Frozen' season 1.
Where is Joe Nicholas Now?
Survivalist Joe Nicholas is a man whose determination and strength helped him earn many fans thanks to his performance in the History show. Though losing his home to the seasonal Californian wildfires in 2018 likely affects the reality TV star, he has continued to soldier on and live in the best way possible. Still based in Redding, California, Joe serves as a Biological Science Technician for National Park Service. His love for exploration and nature has remained as strong as ever.
Where is Joel Van Der Loon Now?
Based in Sisters, Oregon, Joel Van Der Loon serves as an Instructor under his own brand. Having spent a significant portion of his childhood in South Africa and Tanzania, he holds a special affection for the area, traveling annually to the latter country in order to hone his craft under the tutelage of Hadza Bushmen. In April 2023, he joined hands with Callie Russell to raise funds for one of the Hadza families.
Happily married, Joel has a son named Talon, whom he loves very much and enjoys teaching various bushcraft skills. Additionally, he was featured in 'Alone: The Skills Challenge' season 1 and has a YouTube channel with over 88K subscribers. As of July 2022, Joel became an official citizen of the United States of America.
Where is Keith Syers Now?
With his wife, Jen Syers, at his side, Keith Syers is an expert homesteader who works under the banner of Ramshackle Homestead and Survival. The reality TV survival expert is seemingly based in Sturgis, Kentucky, and continues to work closely with nature. His other skills include hunting, blacksmithing, and woodworking. Combining his talents, he often makes knives, flintlocks, and bows that allow him to survive in the wilderness that much better. Keith and Jen also have a YouTube channel called Ramshackle Homestead and Survival with more than 8K subscribers.
Where is Correy Hawk Now?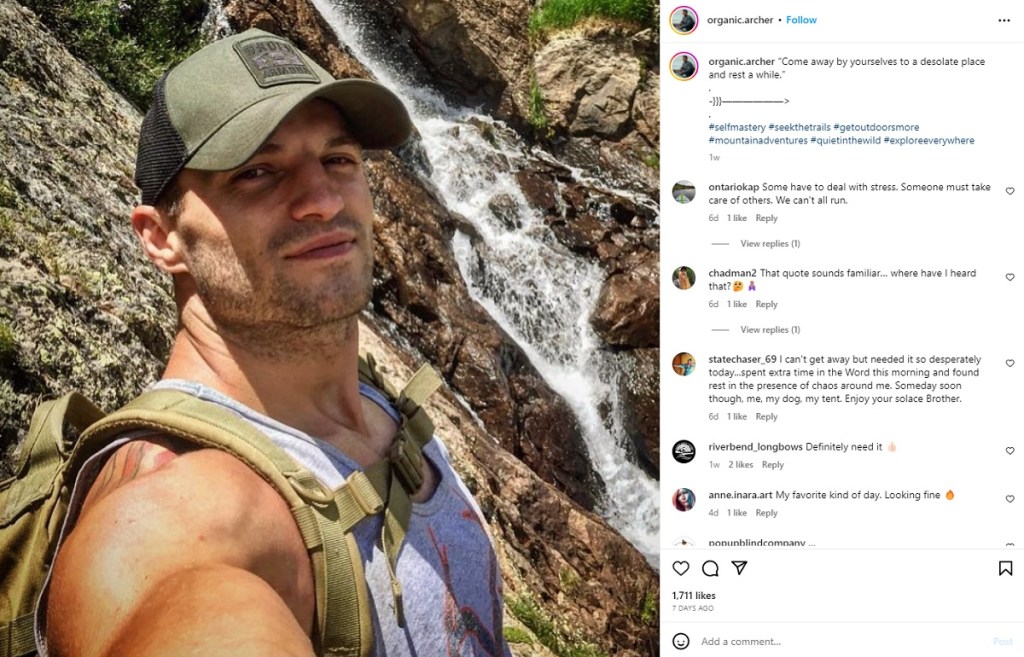 Expert marksman Correy Hawk spent less than two weeks in the competition, and the experience has only motivated him to keep honing his survival skills. The reality TV star hails from Plattsmouth, Nebraska, and is the owner of Organiza Arcehry. The company not only offers three-day workshops to those interested in learning to make their own bows but also has handcrafted bows on sale for those interested in buying one. Correy was seemingly also a part of 'Mountain Men: Ultimate Marksman' season 1 and enjoys teaching others how to use a bow. As of writing, he has 86K followers on Instagram.
Where is Shawn Helton Now?
Last but far from least, we have Shawn Helton, who remains close to many of his season 7 co-stars. The Shawn With the Wild brand owner provides his customers with crucial survival equipment, many of which he has either invented or modified himself. The reality TV star is quite a fan of living while traveling and often spends time in his house on wheels and exploring the world.
Read More: Alone Season 1: Where Are They Now?