Gambling is a game of chance. You never know what happens and this uncertainty of outcome makes it a very dangerous and addictive game that people tend to get trapped in. Gambling often makes way for great stories that explore the dark, funny sides of human beings. And cinema has had many films that centre around gambling. Right from the 50s to the modern era, gambling has been the focus of numerous films in mainstream cinema. This article takes a look at the list of top gambling movies ever. You can watch some of these best gambling movies on Netflix, Hulu, or Amazon Prime.
20. Even Money (2006)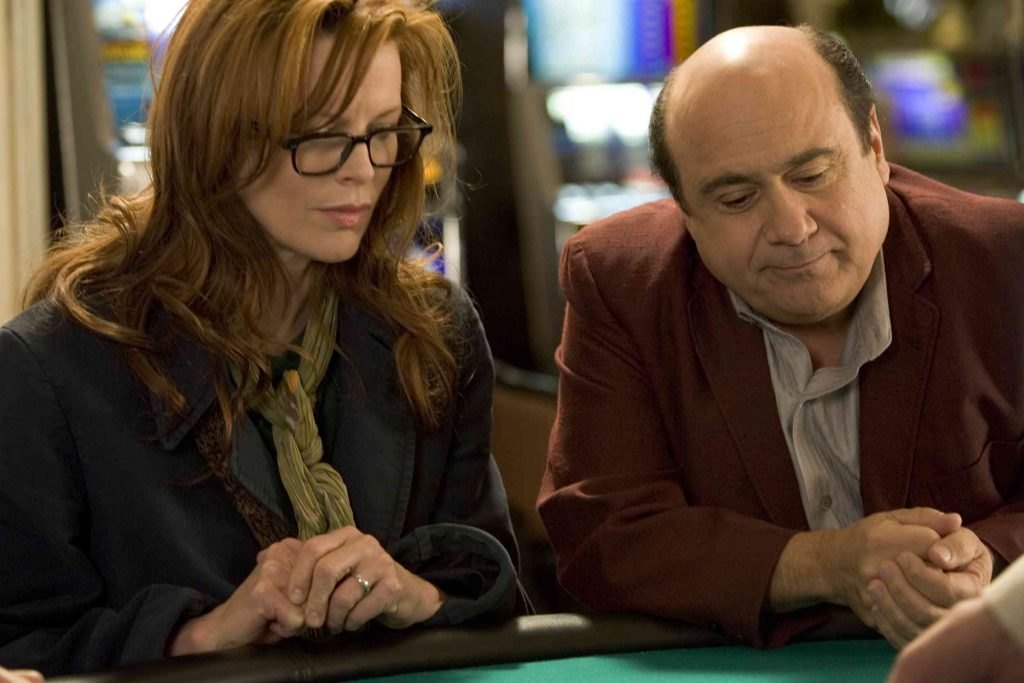 I quite liked the idea behind 'Even Money'. It's a film that has good intentions, but unfortunately that alone doesn't guarantee the quality of the film. 'Even Money' focuses on several seemingly unrelated people whose lives are ruined by gambling addiction. It's one of those movies where you understand what the filmmaker is trying to convey or express right from the first scene. Unfortunately, Mark Rydell couldn't effectively depict the ills of gambling, which is a shame considering its highly ambitious storyline. The characters aren't well developed, but the highly impressive cast, which include the likes of Danny DeVito, Forest Whitaker and Nick Cannon, deliver honest performances that make for a one-time watch.
19. 21 (2008)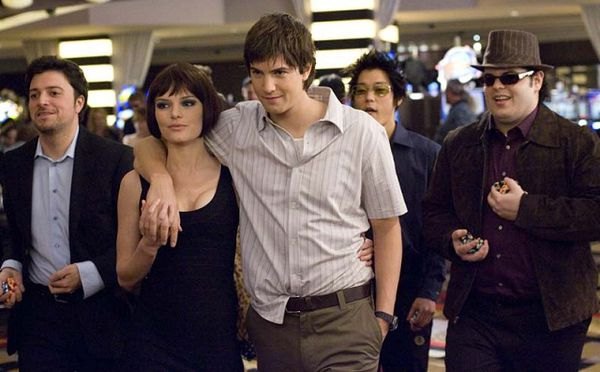 '21' is based on the true story of the MIT Blackjack Team, adapted from Ben Mezrich's novel titled, 'Bringing Down the House'. It tells the story of a professor who recruits 5 exceptionally smart students and exploits their abilities to win millions via gambling. The film's intentions are commendable but where it falters is in its approach. The melodramatic style works against its ambitions and the film comes off as a mere exercise in sentimentality. Nevertheless, it's a movie that must be seen for the intriguing true story it is based on.
18. Casino Raiders (1989)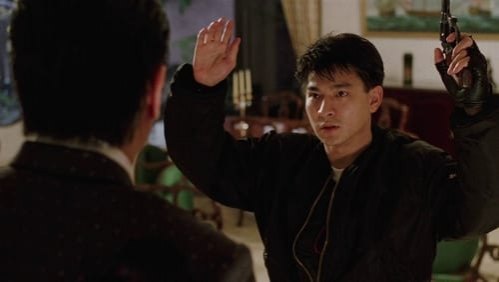 Hollywood movie freaks might not have heard of this little gem from Hong Kong. 'Casino Raiders' tells a thrilling story of two gambling friends who are up against notorious Japanese gangsters, which would go on to change their lives forever. The film came out at a time when gambling movies were a trend in Hong Kong cinema and it spawned two sequels—'No Risk, No Gain' and 'Casino Raiders II'—with different storylines. It's a slick action thriller that gets all its basic genre elements right, with no narrative hiccups.
17. Flutter (2011)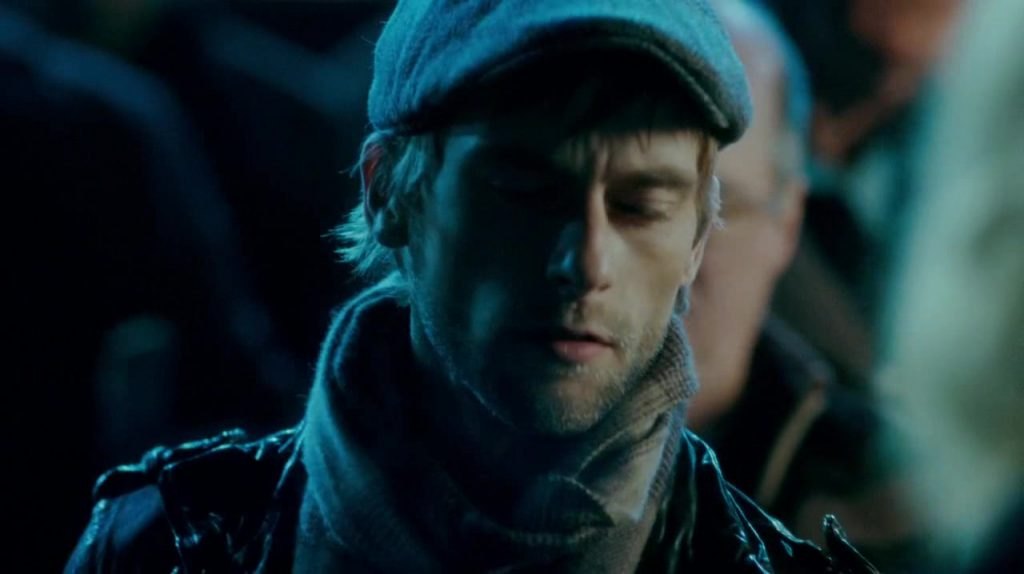 Perhaps not among the best movies released in recent times, but 'Flutter' is a lovely little indie flick that makes a brave attempt at exploring the dangerous depths of gambling. The movie revolves around a gambling addict whose life takes a shocking turn after he meets a new bookie who introduces him to a special game which seems highly lucrative but has its own dangers. The story is a little too simplistic and its exploration of addiction is a little one-dimensional but nevertheless, the attempt is commendable, and the performances lift the film beyond the realms of mediocrity.
16. Eight Men Out (1988)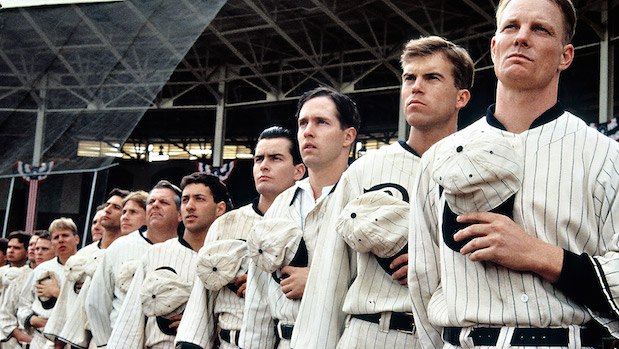 Another movie that has sadly slipped into obscurity, 'Eight Men Out' is a must-see flick for any baseball fan. The film makes an attempt to document the Black Sox scandal, wherein athletes intentionally lost the 1919 World Series after having a deal with some gamblers. The film was widely praised at the time of its release and was rated as one of the greatest sports dramas ever made. One might argue that it's more of a sports flick than a gambling movie, but both elements are essential to the film.
15. Mississippi Grind (2015)
'Mississippi Grind' tells the story of Gerry, a gambling addict, who happens to meet a young traveler named Curtis. Gerry believes that Curtis is his good-luck charm and soon sets out on a road trip with him to New Orleans where the duo needs to play a high stakes poker game. 'Mississippi Grind' is a film that gets all its basic elements right and manages to transcend the genre trappings. It is essentially a film about finding one's own identity and it brilliantly manages to explore the intricacies of human relationships. 'Mississippi Grind' must be watched for its honest approach and the simple but universal message that it tries to convey.
14. Lock, Stock and Two Smoking Barrels (1998)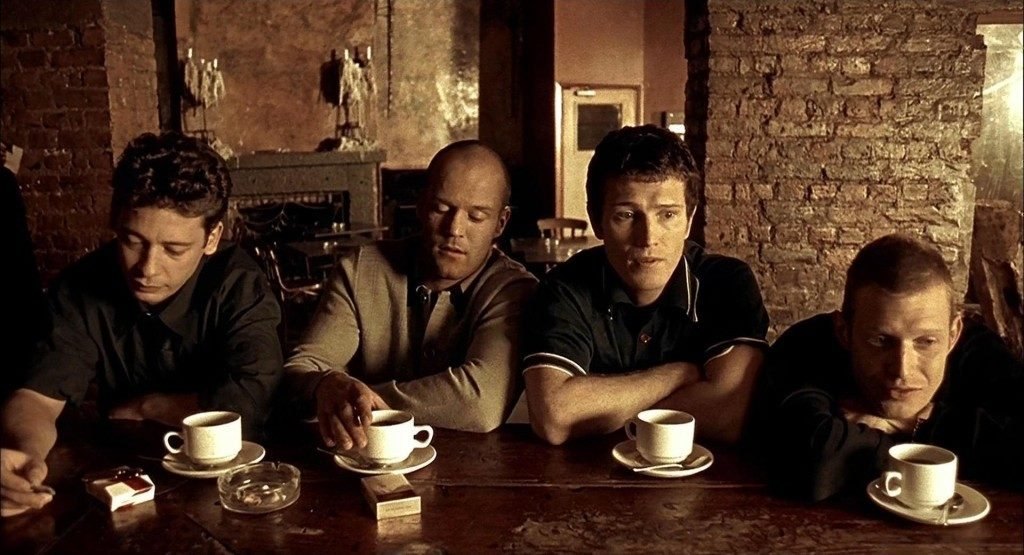 One of the most underrated movies of the 90s, 'Lock, Stock and Two Smoking Barrels', directed by Guy Ritchie, is one of the finest comedies I've ever seen. The film revolves around Ed who, after losing a crucial poker game against deadly mobster, needs to pay back 500,000 pounds in a week's time. He, along with his friends, then comes up with a heist plan in order to pay off the debt. The film received positive reviews from critics for its smart script, consistent tone and unique approach to a seemingly formulaic plot.
For some strange reason though, the film has slipped into obscurity and is never discussed while talking about the best movies of the 90s. The humor is kind of weird but refreshing and despite the story's limitations, director Guy Ritchie gives the film a very distinctive treatment that makes for a very unique, memorable cinematic experience. Another striking aspect of the film is its brisk pacing. At no point does the film lose track of its main story-line, as the narrative flows smoothly, keeping us engaged and entertained throughout. A must watch for fans of the genre!
13. Bad Lieutenant (1992)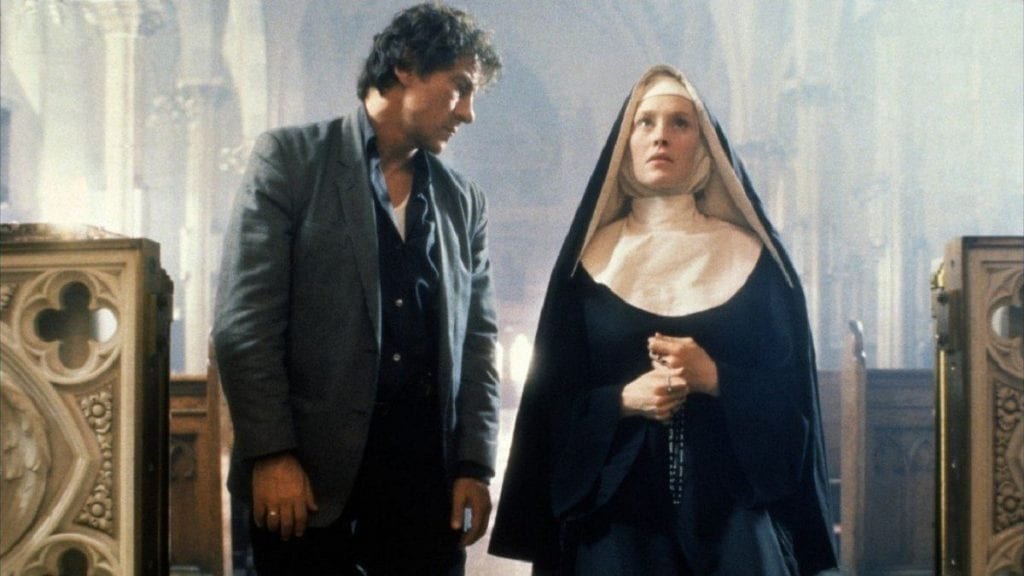 Arguably one of the greatest films of the 90s, 'Bad Lieutenant' tells the story of a corrupt police officer who struggles to deal with his gambling and drug addiction, while investigating the rape of a young nun. Harvey Keitel stars in the lead role and is essentially the soul of the film. The movie focuses on the man's journey as he sets out to seek redemption. 'Bad Lieutenant' was noted for its explicit style and triggered controversy over its portrayal of women. It also features Harvey Keitel in a complete nude scene, which is one of the most powerful moments in the film. Generally, American and British critics praised the film for its bold approach and thematic ambitions. Mark Kermonde spoke highly of the film, describing it as a "powerful tale of redemptive Catholicism."
One of my friends once said that 'Bad Lieutenant' was a film that shook him to the core and forever changed the way he looked at the world. While it didn't affect me on a profoundly personal level, I can see how devastating the film could be for some people. It's a film that is brutally honest in its exploration of the dirtiest sides of human nature, and while it may disturb a lot of the viewers, one cannot ignore the universally truthful message that it so brilliantly manages to convey.
12. The Cincinnati Kid (1965)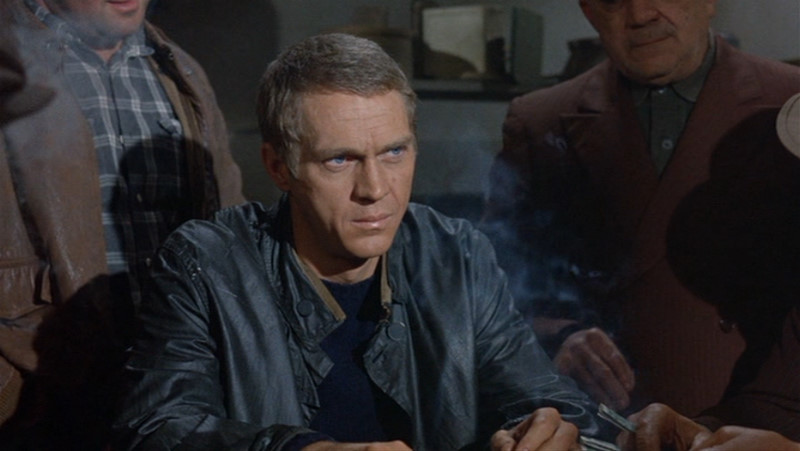 This Steve McQueen starrer tells the story of Eric who longs to prove himself a champion in the poker game. His ambitions end up with him facing the best in the world as he fights out an epic battle with Lancey Howard, who is regarded as the greatest of the game. On the surface, the plot might not seem original or compelling enough but 'The Cincinnati Kid' is a complex drama so full of life and breathing characters with raw tension and suspenseful build-up that turn it into a distinctively memorable cinematic experience.
Read More: Best Visually Stunning Movies of All Time
11. The Cooler (2003)
This Wayne Kramer romantic flick is about a sad casino employee who personifies the word "unlucky" for the players around him and is desperate to be with a woman. Life inside for him is utterly miserable and he is dying to liberate himself when he meets a gorgeous cocktail waitress and falls in love with her. 'Cooler' does not break any new grounds but is highly entertaining, replete with some fine performances from its leads. Influenced by Martin Scorsese's 'Casino', the film takes place, for the most part, inside the casino and tells quite an interesting story with well etched characters in a very unpretentious manner.
Read More: Best Screenwriters of All Time
10. The Sting (1973)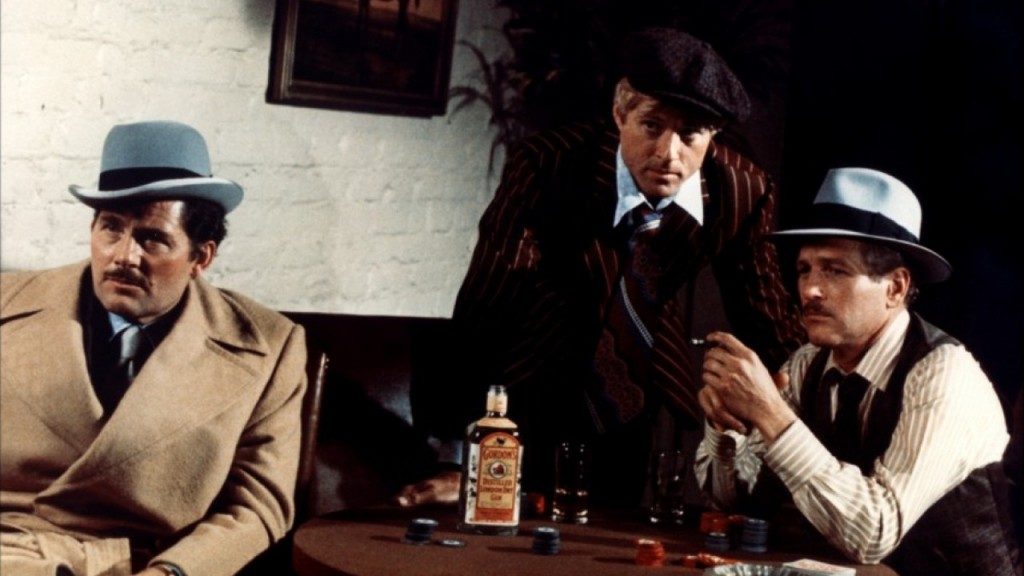 Set in 1936, 'The Sting' tells the story of a man seeking vengeance for his partner and teams up with a big shot to win a fortune from a criminal banker. The narrative is segregated into chapters with music playing a key role in storytelling. Parts of the film do not hold up well and may seem a bit dated now but the plot is quite cleverly tackled and gives a smart, funny picture into the world of poker games. And what's more interesting is that we end up rooting for the leads who are apparently criminals and have very few likable qualities. Robert Redford and Paul Newman once again prove to be an unassailable duo in cinema.
Read More: Best Travel Movies of All Time
9. Rounders (1998)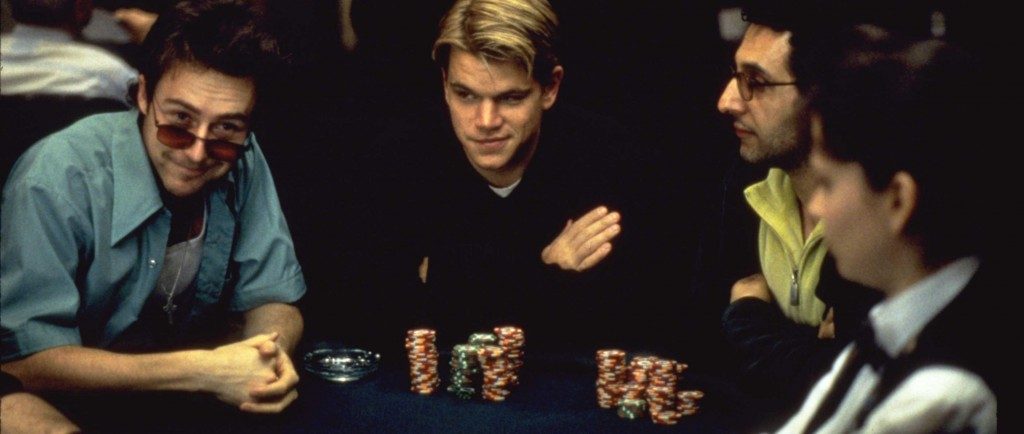 This film tells the story of two friends who play poker as they are in dying need for some cash in order to pay off their debts. 'Rounders' surprisingly comes off as a highly underrated film despite having a star-studded cast as it failed to make any significant impact during its release and wasn't a huge box office success either. However, over the years, the film managed to garner some sort of a cult following, thanks to its storyline and the popularity of the poker games. The film has some of the most memorable poker sequences ever filmed on-screen. It is, in my opinion, one of the best gambling movies of all time.
Read More: Best Intelligent Movies Ever Made
8. Ocean's Eleven (2001)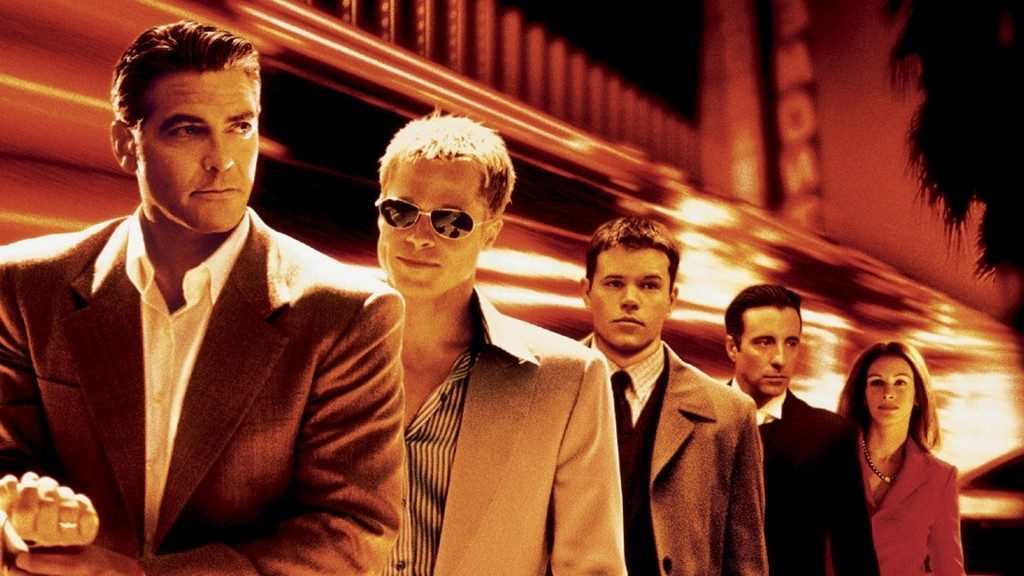 Steven Soderbergh's highly stylised heist drama tells the story of a group of eleven people and a gangster who are looking to rob three popular casinos in Las Vegas. The film is an extremely entertaining affair with several memorable moments. A remake of the 1960 film of the same name, Soderbergh's version almost edges out the original with its flamboyance and clinical execution. The film features one of the most famous robbery sequences of all time and has appeared on several best of lists, including Empire magazine's list of "The 500 Greatest Movies of All Time".
Read More: Best Gangster Movies of All Time
7. The Gambler (1974)
Starring the ever flamboyant James Caan, 'The Gambler' is a raw, intriguing character study exploring the darkest sides of addiction. I came across this film as part of research for this article and it was just the kind of stuff that completely took me by surprise. The film, as its title suggests, uses gambling and takes a disturbing look at what eventually consumes the human existence. Caan is electrifying and vulnerable as a despicable character with whom we end up sympathising despite lacking any redeeming qualities. 'The Gamblers' must be seen for its realistic, gritty approach.
Read More: Best Women Directed Movies of All Time
6. Casino Royale (2006)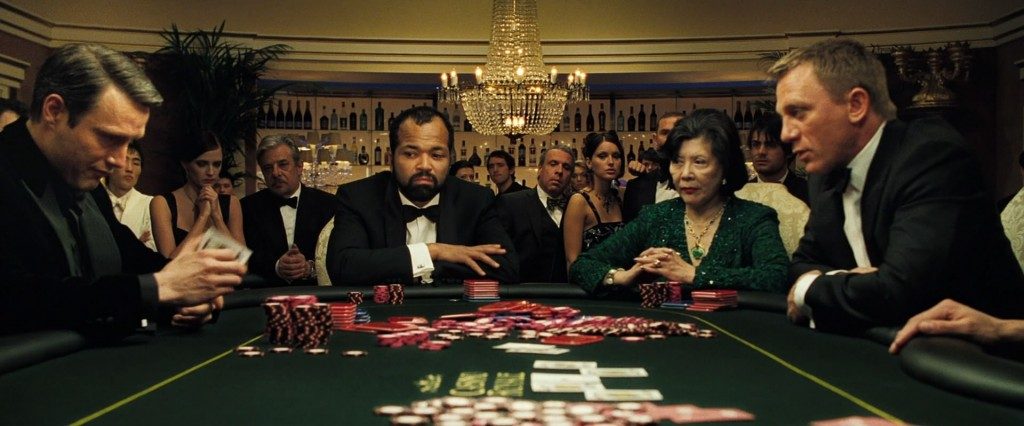 Part of the James Bond saga, 'Casino Royale' chronicles the beginning of Bond's career as Agent 007, as he takes on a mission to pull back a mob banker from winning a high stakes poker game. 'Casino Royale' is one of the best James Bond flicks and features an iconic performance by Daniel Craig who took the Bond character to another level, portraying him as a tough yet vulnerable man. The film is gritty, entertaining and visually mesmerizing and is just the kind of stuff to watch if you're in the mood for some pure, classy, adrenaline pumping fun.
Read More: Best Inspirational Movies of All Time
5. Croupier (1998)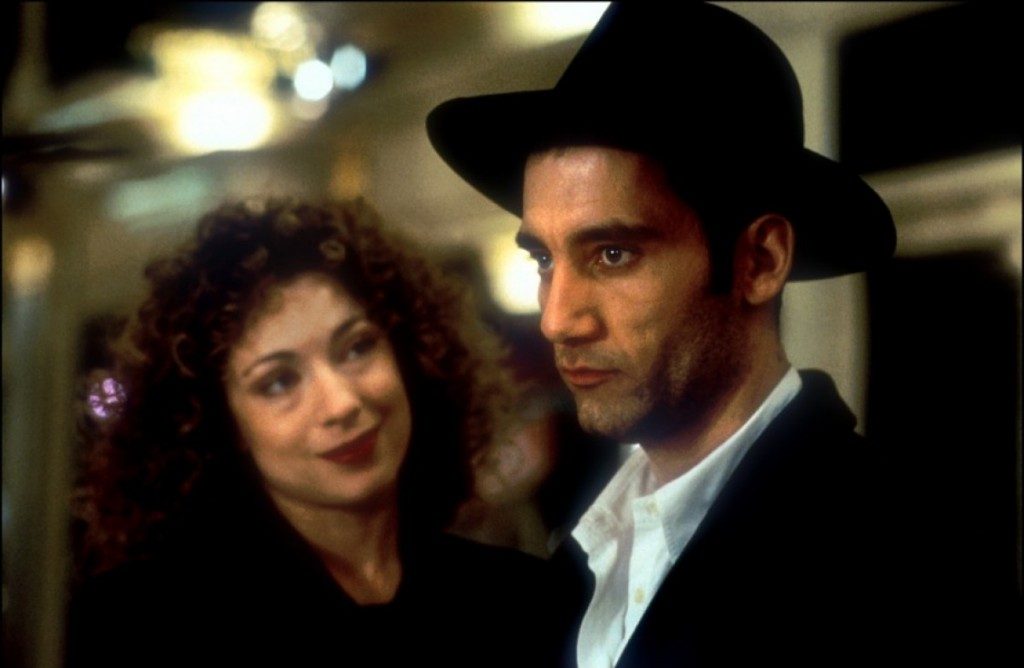 'Croupier' is a criminally underrated film that has sadly slipped down into the forgotten corners of cinema over the years. 'Croupier' depicts the life of a writer who takes up a job as a croupier in a casino and soon meets a woman who teams up with him and plans to rob the entire casino. The film takes a very realistic look into the casino world and is highly stylised with utmost focus on characterisation and the setting. It takes the form of a dark thriller using noir-influenced techniques and crafts a truly refreshing piece of cinema that deserves the stature of a classic.
Read More: Best Psychopath Movies of All Time
4. Hard Eight (1996)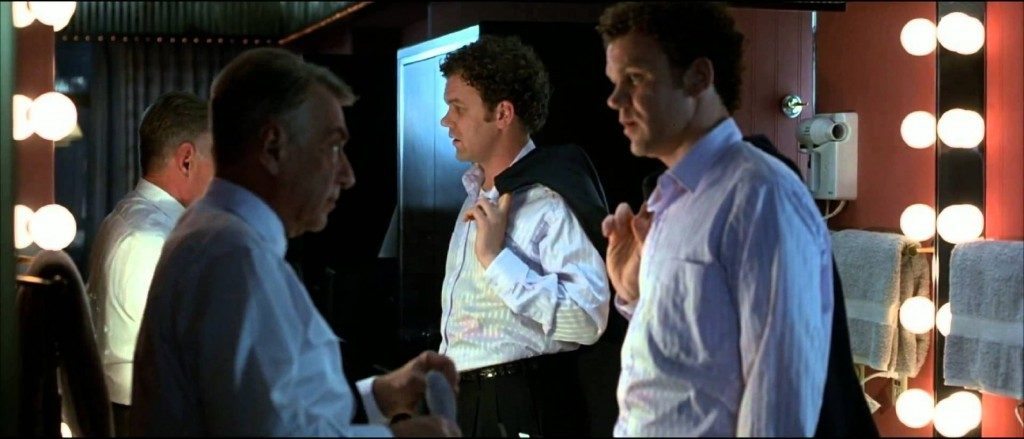 Long before Paul Thomas Anderson became the modern master that he is today, he built an idea on telling a story about five people whose lives are connected through a 20$ bill. The idea culminated in his first short film venture, titled 'Cigarettes and Coffee'. This idea was further built up and expanded as it ended up being his debut feature film, 'Hard Eight' — an outstanding neo-noir crime thriller that portrays the relationship between a professional gambler and his protege. 'Hard Eight' isn't close to Anderson's greatest works but this is just as exciting and inspiring a debut can ever get and features some of the most compelling characters ever written on-screen.
Read More: Best Murder Mystery Movies of All Time
3. California Split (1974)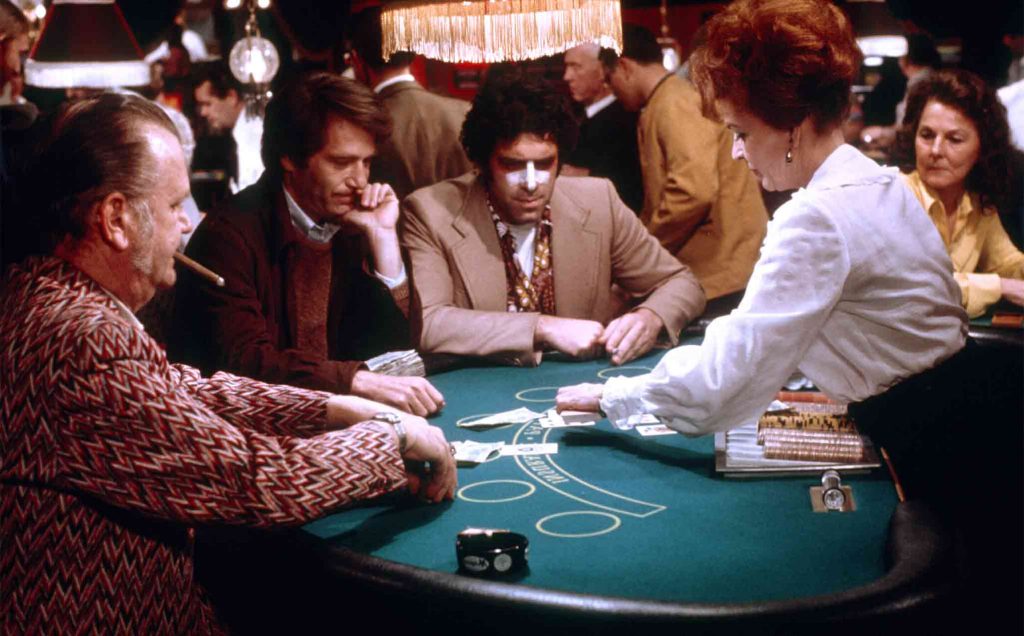 Robert Altman's eccentric satire is much more than just another film about gambling. 'California Split' is perhaps one of Altman's more overlooked films. It isn't as accomplished as his masterworks like 'Nashville' or 'MASH' but 'California Split' is still an inspiring work from a master craftsman at the peak of his powers. The film explores the relationship between two gamblers who bond over their love for the game and delves deep into the bizarre madness encircling the world of gambling. 'California Split' has an almost brutal quality to it that makes it feel so real, nuanced and fascinating that it manages to hold up brilliantly with every viewing.
Read More: Best Teen Movies of All Time
2. Casino (1995)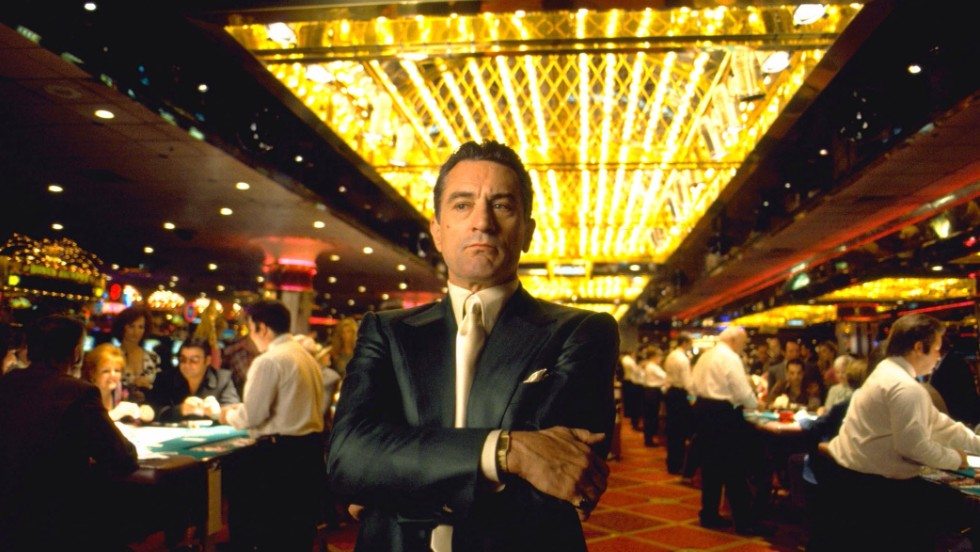 Arguably the most popular film on this list, Martin Scorsese's follow up to the iconic 'Goodfellas' was another tale of friendships, betrayal, greed, violence and morality. Only this time, the setting shifted from the mean streets of New York to the infamous Casino world of Las Vegas. Scorsese has always been fascinated by the glamour world and exposing the dark sides of success and prosperity. 'Casino' does exactly that and has all the classic elements for a Scorsese flick. The film was widely criticized for its unrestrained use of violence and thematic resemblance to 'Goodfellas' but over the years, people have been more vocal in its praise and it is now regarded as one of Scorsese's better works.
Read More: Best Stalker Movies of All Time
1. Bob Le Flambeur (1956)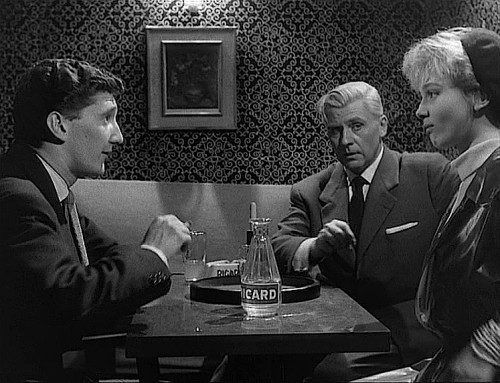 French auteur Jean Pierre Melville was one of cinema's finest filmmakers whose favorite arena was the crime thriller genre. Melville's influence on the art of filmmaking is undeniable and his work has altered the dimensions of the neo-noir genre in cinema. 'Bob Le Flambeur' tells the story of an old, broke gambler who takes a chance and concocts a dangerous plan to rob the Deauville casino. Our protagonist is a desperate man for whom gambling wasn't just a game but a part of himself. Melville's approach is unsurprisingly quite minimalistic and subtle but the film manages to engage you on every level. 'Bob le Flambeur' is widely admired for its innovative, stylistic techniques including the pioneering use of handheld cameras, and has widely influenced many American films on the same subject.
Read More: Best Thriller Movies of All Time