Directed by Sylvester Stallone, 'The Expendables' is a 2010 action-adventure movie starring Sylvester Stallone, Jason Statham, Jet Li, Terry Crews, and more. The narrative centers on "The Expendables," a formidable team of elite ex-military soldiers led by Barney Ross (Sylvester Stallone). A mysterious CIA agent hires their expertise to topple a ruthless dictator in a fictional South American nation. However, as the mission progresses, they unravel personal motives and engage in intense battles to accomplish their task.
'The Expendables' is a loving tribute to the action movies of the 1980s and '90s, uniting a cast of iconic action legends. The film pays homage to the classic elements of the genre, showcasing these revered mega stars and delivering explosive action sequences that fans of the era will undoubtedly appreciate. Craving for more? We've got a bucket full of similar movies.
8. Red (2010)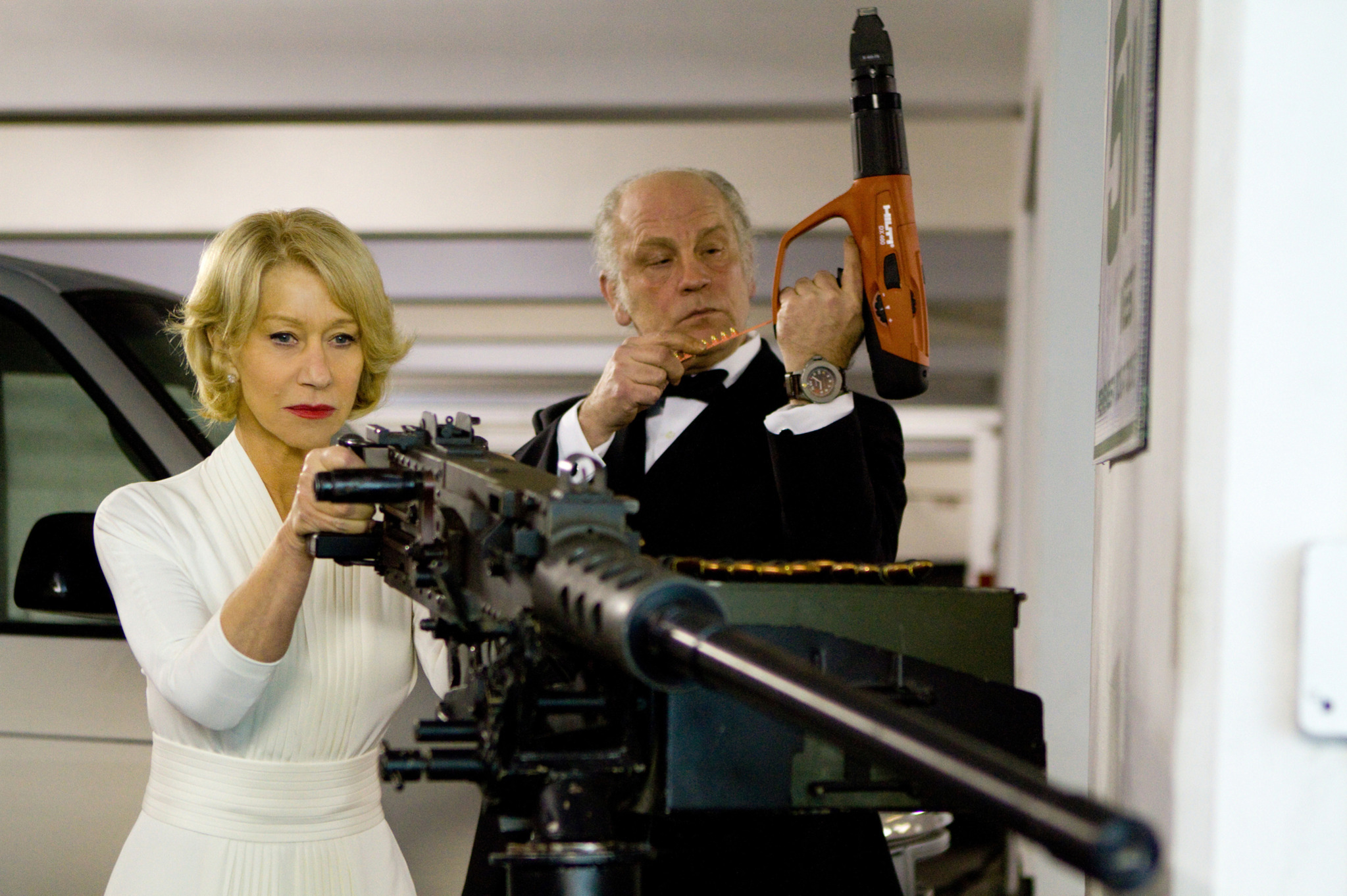 'Red' is a 2010 action-comedy film helmed by Robert Schwentke, drawing inspiration from the DC Comics limited series of the same title—the narrative centers around Frank Moses (Bruce Willis), a retired CIA black-ops agent. Surviving an attempt on his life, Frank regroups with former comrades – Joe Matheson (Morgan Freeman), Marvin Boggs (John Malkovich), and Victoria Winslow (Helen Mirren). United, they expose a mind-boggling conspiracy and embark on a mission to decode the mystery. Their journey involves taking on a younger generation of government operatives, adding a thrilling dimension to the story.
Both 'Red' and 'The Expendables' emphasize the theme of championing justice and protecting those who can't protect themselves. In 'Red,' the characters strive to unearth a conspiracy and hold the culprits accountable, ultimately securing the safety of innocent lives. Similarly, in 'The Expendables,' the team frequently embarks on missions to protect the defenseless and confront malevolent forces, showcasing their commitment to justice and duty.
7. Universal Soldier (1992)
Helmed by visionary filmmaker Roland Emmerich,' Universal Soldier' is a 1992 sci-fi action flick playing with themes of redemption and retribution. The heart of the story beats around Luc Deveraux (Jean-Claude Van Damme) and Andrew Scott (Dolph Lundgren), deceased soldiers resurrected and morphed into super-powered soldiers after their tragic deaths during the America-Vietnam war. As the sands of time ticks away, memories resurface, setting the stage for an intense and deeply personal showdown.
Both 'Expendables' and 'Universal Soldier' have won high praise for their intense action scenes, brimming with a mix of martial arts, gun battles, explosions, and close-quarters combat. Scenes of high-octane stunts and fierce battles abound in 'Universal Soldier' and will keep you entertained till the credits roll.
6. G.I. Joe: Retaliation (2013)
'G.I. Joe: Retaliation,' a 2013 action-adventure flick directed by Jon M. Chu, continues the story from 'G.I. Joe: The Rise of Cobra.' The G.I. Joes are double-crossed by their own government, deceived by an impersonator posing as the U.S. President. Meanwhile, the real President is held captive. The Joes are tasked with clearing their names, unveiling the conspiracy, and thwarting their enemies, including Cobra Commander and his malevolent allies. It's a battle against time and treachery in this high-octane sequel.
'G.I. Joe: Retaliation is an adrenaline-fueled cinematic experience, vividly bringing your action figures and comic book characters to life. 'The Expendables' and 'G.I. Joe: Retaliation are similar in more ways than one. In 'The Expendables,' we see Barney & the team locked in a ruthless battle against a Latin American dictator, destabilizing his country. In a similar vein, in 'G.I. Joe: Retaliation,' the G.I. Joe team battles a terrorist organization aiming for world domination
5. Hitman's Wife's Bodyguard (2021)
'Hitman's Wife's Bodyguard' ramps up the action-comedy under the direction of Patrick Hughes, picking up from its precursor, 'The Hitman's Bodyguard.' The storyline orbits around Michael Bryce (Ryan Reynolds), a seasoned bodyguard with a notorious clientele, who gets pulled back into the world of protection. This time, it's Sonia Kincaid (Salma Hayek), hitman Darius Kincaid's (Samuel L. Jackson) wife, who ropes him into a mission to rescue the charming and eccentric assassin.
'Hitman's Wife's Bodyguard' and 'The Expendables' share a dynamic blend of action, humor, and camaraderie among a diverse ensemble of characters. Both films feature a team of highly skilled individuals uniting to confront an evil force, infusing their missions with a mix of explosive action and humor. 'Hitman's Wife's Bodyguard' is a must-watch if you're seeking a fusion of adrenaline-pumping action and lighthearted entertainment.
4. 12 Strong (2018)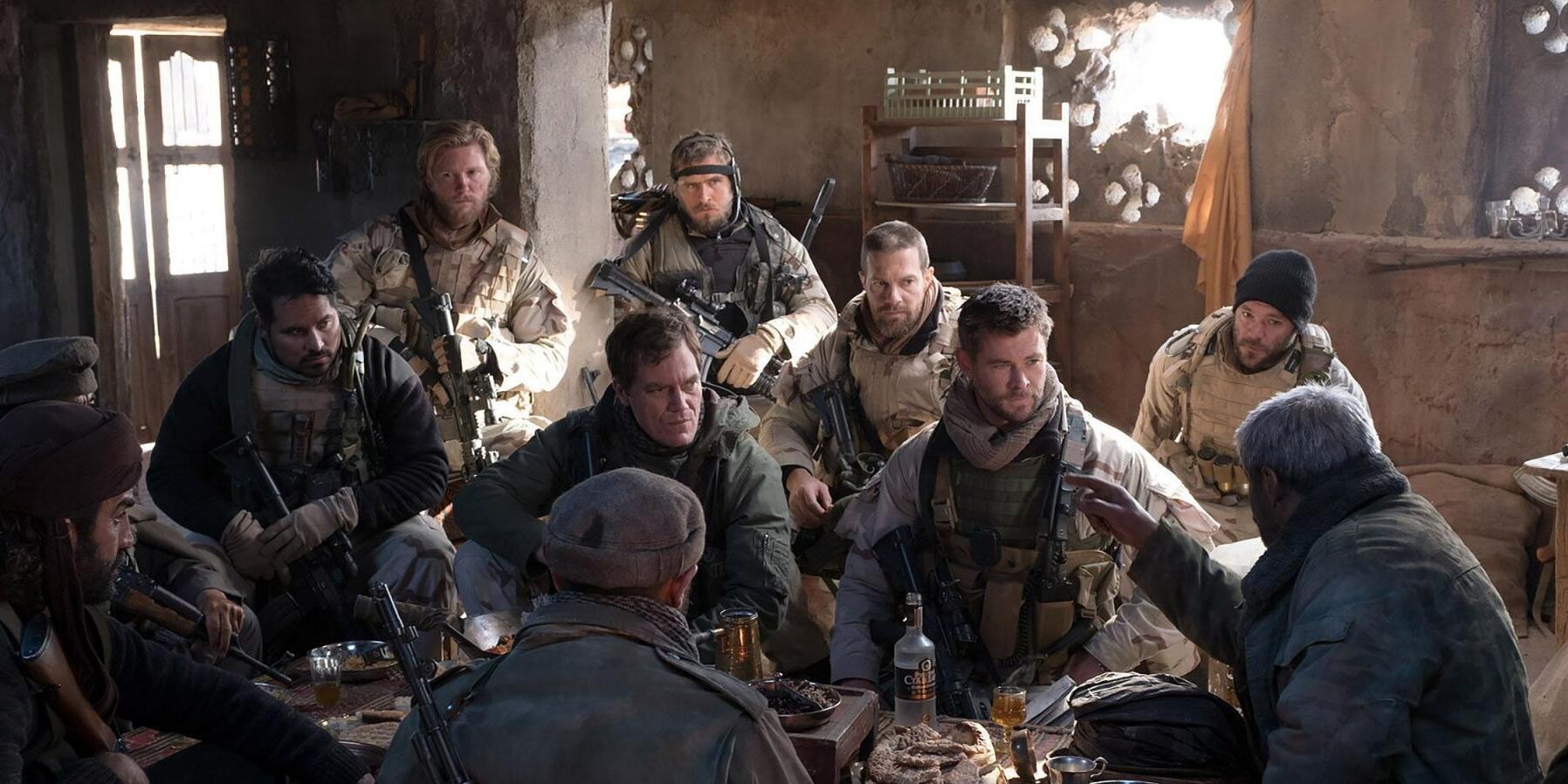 '12 Strong' charges onto the screen as a war drama under the direction of Nicolai Fuglsig. Rooted in real-life events, the film unfurls the story of the inaugural Special Forces squad dispatched to Afghanistan after the September 11 attacks. At the helm are Captain Mitch Nelson (Chris Hemsworth) and Chief Warrant Officer Hal Spencer (Michael Shannon), steering a collaboration with an Afghan warlord to combat the Taliban and Al-Qaeda.
'The Expendables' and '12 Strong' both feature characters who embody incredible resilience and determination in the face of adversity. Confronted with significant challenges, they tenaciously continue on, displaying unwavering resolve to achieve their goals and uphold what they believe is right.
3. 13 Hours: The Secret Soldiers of Benghazi (2016)
Helmed by visionary director Michael Bay, '13 Hours: The Secret Soldiers of Benghazi' is a 2016 war-action movie featuring James Badge Dale and John Krasinski. Drawing from the real-life events of September 11, 2012, the film unfurls the harrowing tale of an assault on an American diplomatic compound and a nearby CIA annex in Benghazi, Libya, by militants. At the story's core are six security contractors, veterans with a military background, who valiantly protect the besieged Americans. The narrative vividly portrays their bravery, tenacity, and dedication amidst the chaotic and dangerous siege.
Both '13 Hours: The Secret Soldiers of Benghazi' and 'The Expendables' align in their riveting, action-packed sequences, spotlighting highly skilled operatives navigating intense combat scenarios. Both movies delve into themes of unwavering loyalty, extraordinary valor, and triumph over adversity in the face of formidable challenges.
2. The A-Team (2010)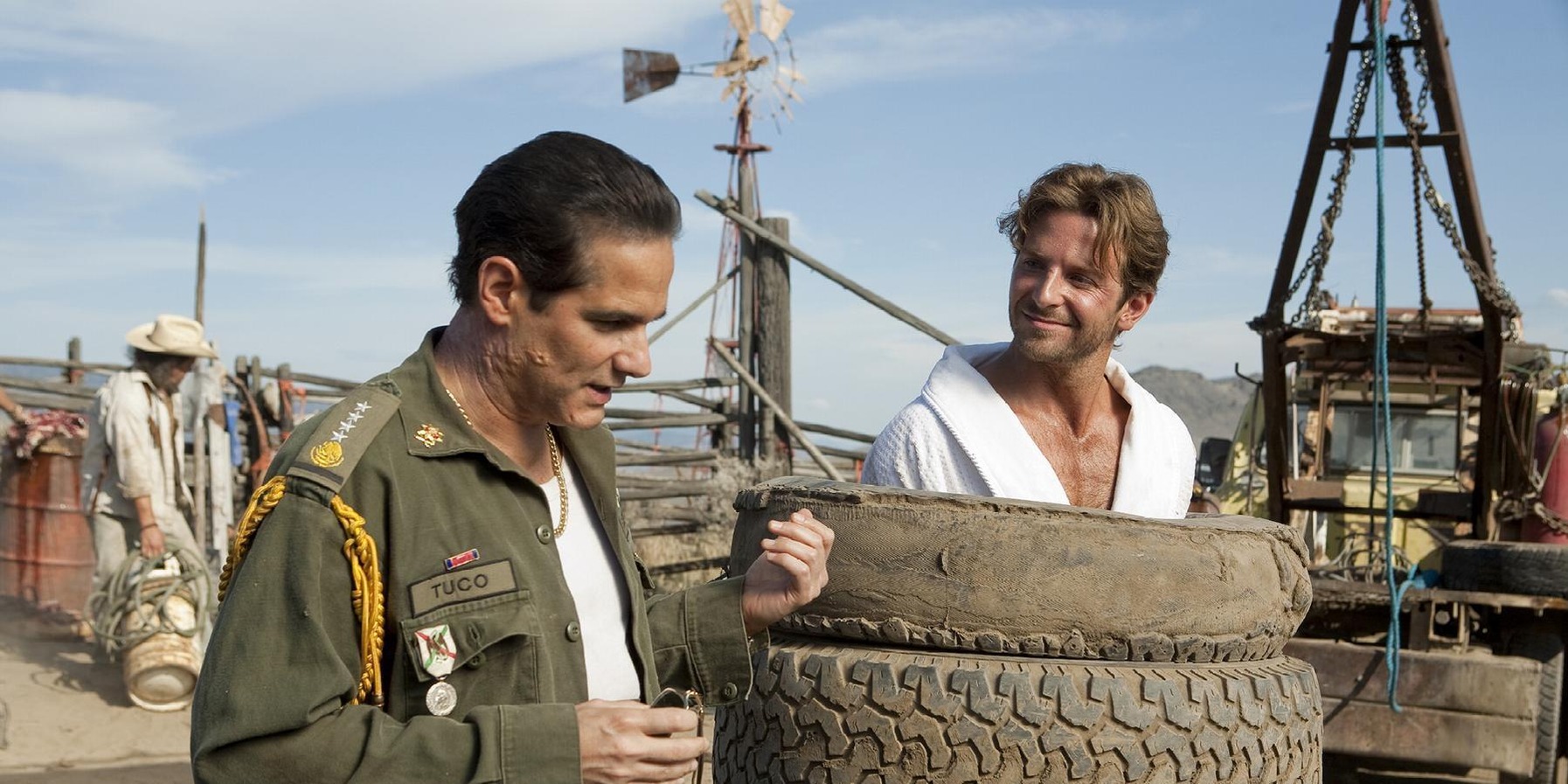 'The A-Team' is a rollicking action-adventure flick steered by Joe Carnahan. The movie follows a spirited quartet of ex-Special Forces hotshots, including Colonel John "Hannibal" Smith (Liam Neeson), Lieutenant Templeton "Face" Peck (Bradley Cooper), the muscle-bound Sergeant Bosco "B.A." Baracus (Quinton Jackson), and Captain H.M. "Howling Mad" Murdock (Sharlto Copley).
Accused of a crime they didn't commit, they pull off a Houdini-worthy jailbreak and turn into offbeat mercenaries. Armed with an ocean of courage, they set out to clear their names and unmask the real mischief-makers. In both 'The A-Team' and 'The Expendables,' themes of loyalty, camaraderie, and unwavering friendship among team members are prominent. The characters aren't simply colleagues; they form a close-knit family that has each others' back.
1. Die Hard (1988)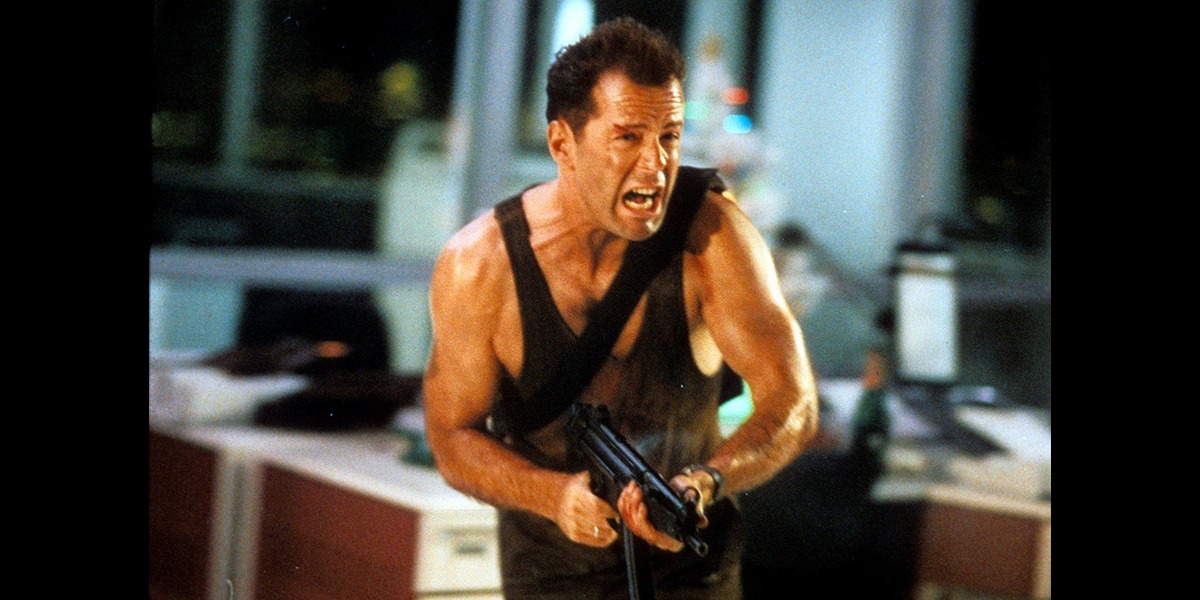 'Die Hard' stands as an iconic 1988 action movie helmed by director John McTiernan. The plot orbits around John McClane (Bruce Willis), a New York City cop caught in a Los Angeles high-rise during a Christmas bash. A gang of terrorists, led by Hans Gruber (Alan Rickman), seizes the building. Now McClane faces the challenge of confronting them head-on to save the hostages and his ex-wife.
Exactly like Barney Ross, John McClane spices up the action hero mold. His vulnerability and improvisation add a pinch of reality to the usually over-the-top action genre. Just like 'The Expendables,' 'Die Hard' sprinkles a hearty dose of wit and humor, with McClane unleashing zingers and engaging in sassy banter with the bad guys.
Read More: Upcoming Sylvester Stallone Movies