'Altered Carbon' is a futuristic sci-fi drama that transports us to 360 years in the future, in the year 2384. Set in the fictional metropolis of Bay City, it introduces us to a technologically enhanced society where a person's memories and consciousness can be transferred to a disk-shaped device called a cortical stack. The gadget is then implanted in the vertebrae at the back of the neck. Even bodies are interchangeable and death is no more a permanent truth. Takeshi Kovacs, the protagonist, is the last living soldier who survived an interstellar war that led to his team being defeated in the battle. Supposedly dead, his mind was however preserved for centuries and now, an extremely rich businessman, Laurens Bancroft, gives him an opportunity to live again, but on one condition: Kovacs would have to solve Bancroft's murder and discover the person who was behind it.
Created by Laeta Kalogridis and adapted from Richard K. Morgan's 2002-released eponymous novel, 'Altered Carbon' debuted on Netflix on February 2, 2018. Now, if you have watched all of its episodes and are searching for titles that explore similar themes and ideas, then look no further. Here's the list of best shows similar to 'Altered Carbon' that are our recommendations. You can watch several of these series like 'Altered Carbon' on Netflix, Hulu or Amazon Prime.
10. Travelers (2016-18)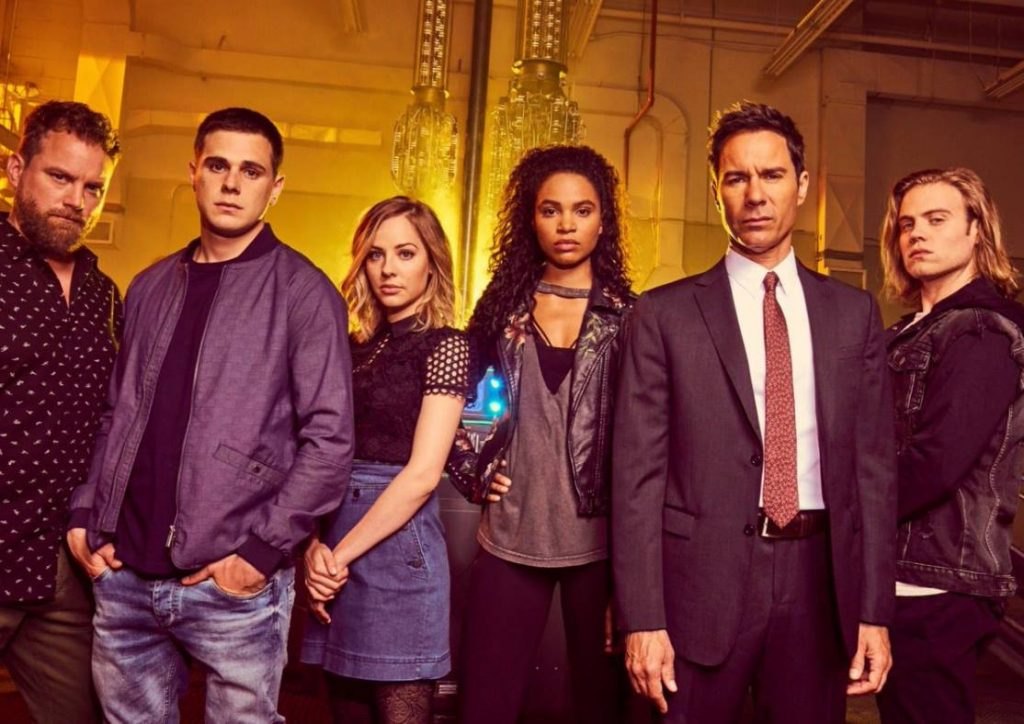 'Travelers' adopts a similar theme as depicted in 'Altered Carbon'. Set several centuries in the future, it is about technologically superior humans who have discovered means to embody people from the current 21st century. The present human generation is on the brinks of collapse and these time-travelers from the future attempt to prevent the catastrophe from happening.
9. Black Mirror (2011-)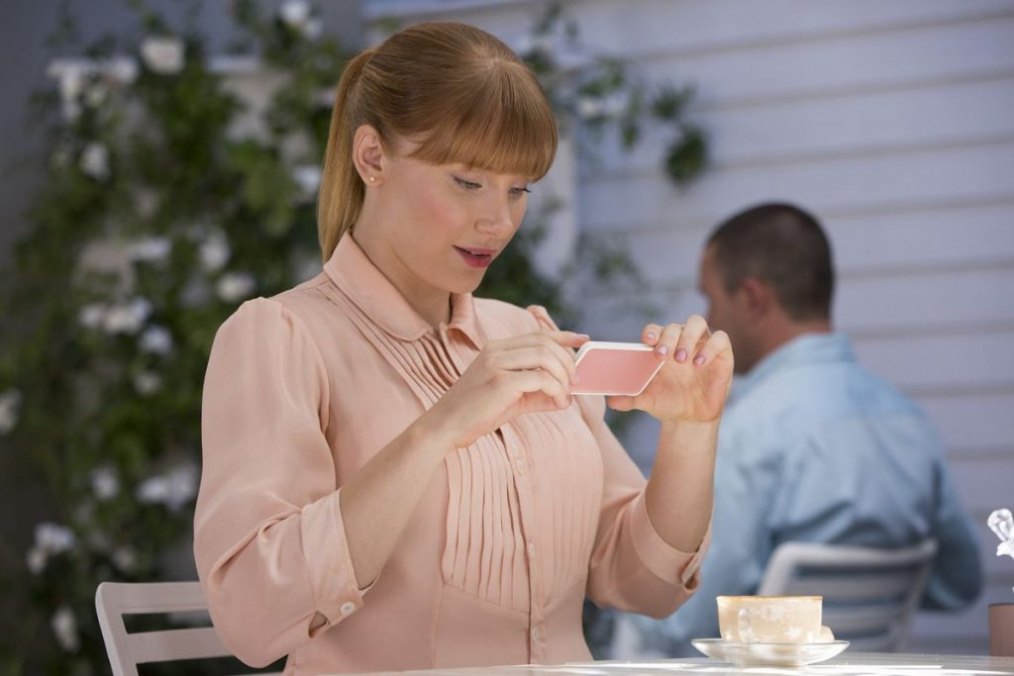 Yet another thought-provoking show like 'Altered Carbon', 'Black Mirror' is about how technology radically transforms people's lives. Exploring the darker side and negative effects of gadgets that control our lives, this series narrates independent stories, which are at times, loosely interlinked to each other. Set in the dystopic future, 'Black Mirror' forces us to question our sanity, as we increasingly become dependent on and dominated by technology.
8. Dark Matter (2015-17)
'Dark Matter', created by Joseph Mallozzi and Paul Mullie, is a Canadian science-fiction series that is based on the eponymous comic book. It debuted on June 12, 2015, on Space and Syfy and is centered around a crew of six individuals who wake up in a spaceship in the middle of nowhere, with no memories about their past. Unsure of where they are and what this strange scenario has in store for them, they decide to unravel the truth behind the occurrence. The members are forced to band together while encountering threats that are lurking everywhere. Accompanied with loads of gore and violence, 'Dark Matter' is a show that definitely deserves a mention, especially for the portrayal of the interesting dynamics between the protagonists.
7. Colony (2016-18)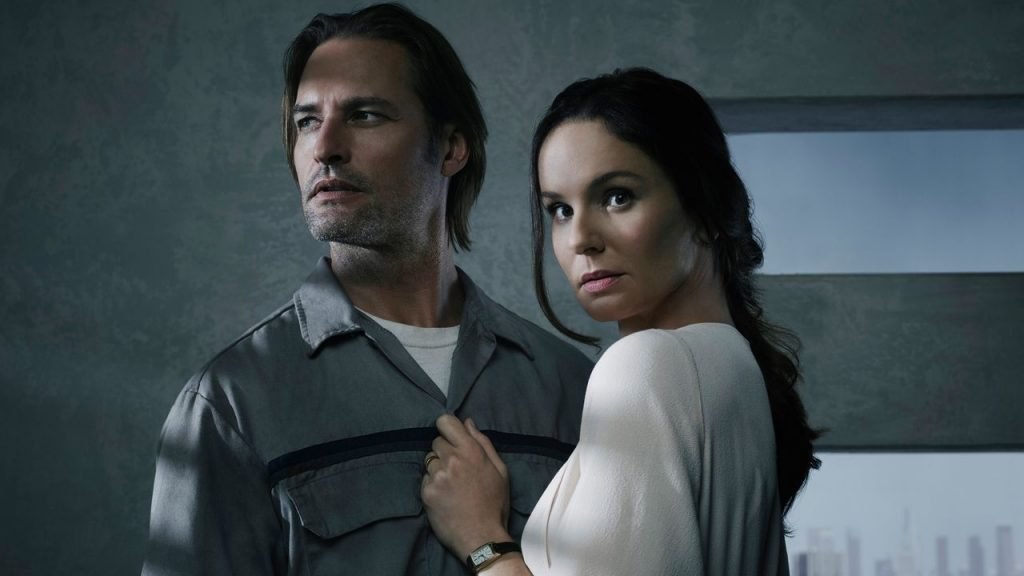 'Colony', created by Carlton Cuse and Ryan J. Condal, is a sci-fi drama that stars Josh Holloway and Sarah Wayne Callies in the lead roles. It takes place in the futuristic city of Los Angeles after it is overtaken by extraterrestrial forces. While a certain section of survivors has joined forces with the aliens, others rebel against them and plan to overthrow their doctrine. The series tells this story through the eyes of a family whose only motive is to survive in this new world order.
6. Battlestar Galactica (2004-09)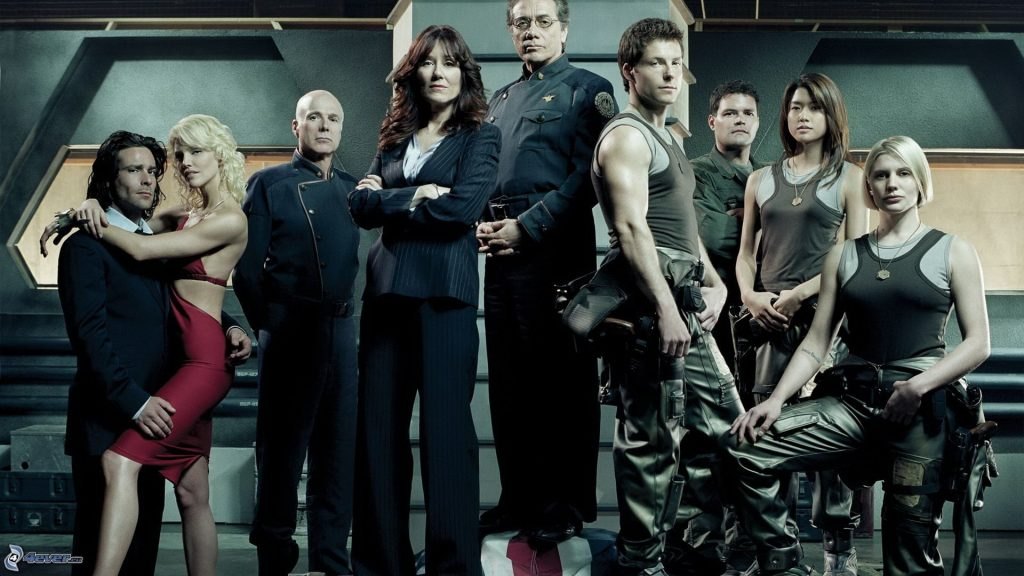 What happens when consciousness-infused robots take over the earth? Would they easily overrule the fragile human race? Well, several movies and shows have been made to address this scenario. And another title that was developed to tackle this question is 'Battlestar Galactica'. Developed by Ronald D. Moore and executive produced by Moore and David Eick, this sci-fi military series is a re-imagination of the 1978-released eponymous TV show. Set in the near future, 'Battlestar Galactica' revolves around the last surviving humans who are battling technologically superior androids in the ultimate race for survival.
5. Westworld (2016-)
'Westworld', one of the most-watched HBO original series, is a science fiction Western drama. It is created by Jonathan Nolan and Lisa Joy and is an adaptation of the 1973-released film of the same name. Set in a fictional, technologically advanced, Wild-West-themed amusement park, named Westworld, it introduces viewers to android "hosts" that reside within its bounds. Affluent "guests" arrive at the park to fulfill their wildest fantasies. Since the androids are programmed not to harm humans, the latter has no fear of retaliation. Some of the sinful desires shown here are rape and murder of androids. However, there are no consequences. But things take a shocking turn when these AI robots start malfunctioning. As the humanoids start regaining consciousness, they begin a revolution which threatens to annihilate the whole of humanity.
Read More: TV Shows Like Westworld
4. Sense8 (2015-18)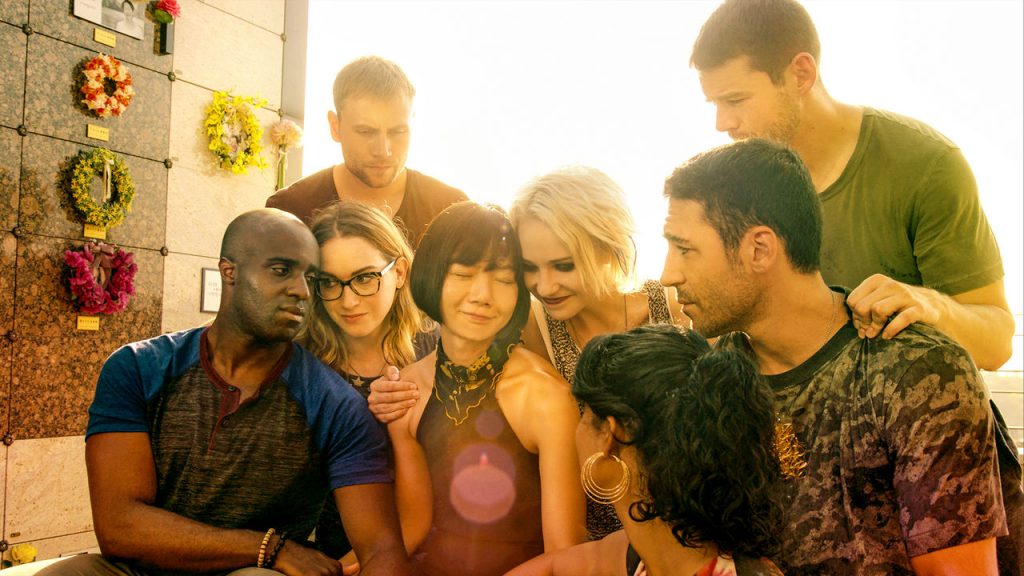 'Sense8', created by Lana and Lilly Wachowski and J. Michael Straczynski, is a Netflix drama that features an ensemble cast. It revolves around eight strangers, residing in different parts of the world, who suddenly get interconnected to each other physically and emotionally, thereby turning into "sensates". Now, hunted by an unknown individual, they must band together to unravel the mystery behind this strange connection, before they run out of time. Tackling issues such as transgenderism, feminism, and racial abuse, 'Sense8' may have the same premise as that of a sci-fi drama, but it addresses several other sensitive subjects.
Read More: TV Shows Like Salvation
3. Timeless (2016-18)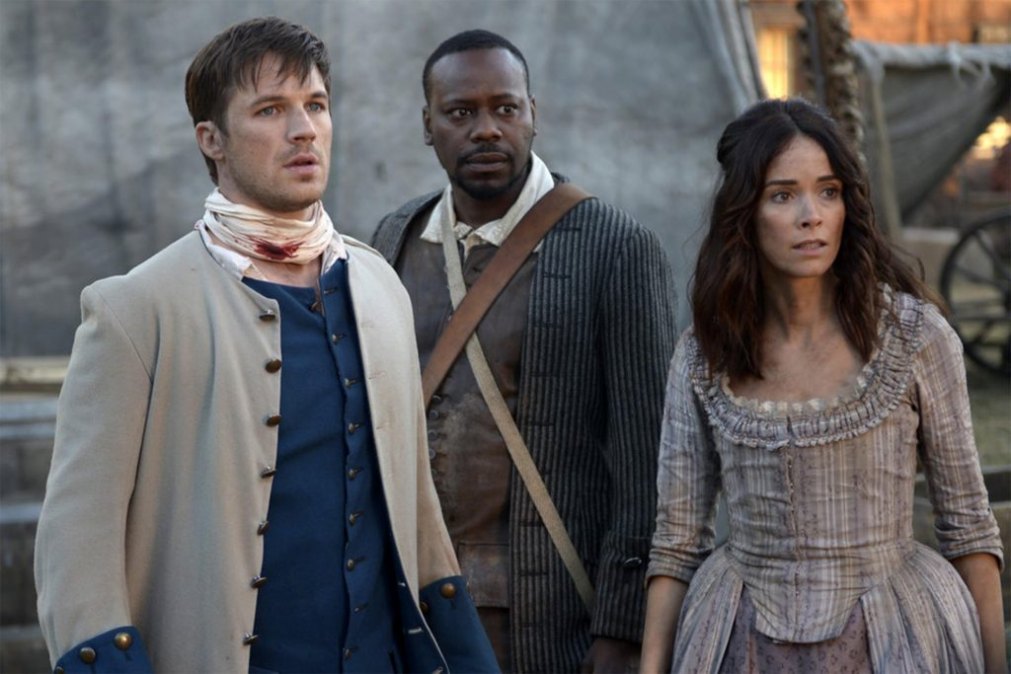 'Timeless' is an NBC drama that premiered on the channel on October 3, 2016. Starring Abigail Spencer, Matt Lanter, and Malcolm Barrett, it is a time-travel series that revolves around a certain team who tries to stop an evil organization from changing the course of history by traversing through time domains. Created by Shawn Ryan and Eric Kripke, 'Timeless' is executive produced by John Davis and John Fox.
The series begins with an experimental time machine being stolen by an unknown culprit. Three individuals — a history professor, a soldier, and an engineer — are assigned the task of capturing the perpetrator. However, things get more complicated when the trio discovers that the thief actually aims to rewrite the history of the US. Further investigation leads to the conclusion that each of the three individuals is somehow connected to the whole agenda and everyone has a role to play in the plan.
Read More: TV Shows Like Safe
2. The Expanse (2015-)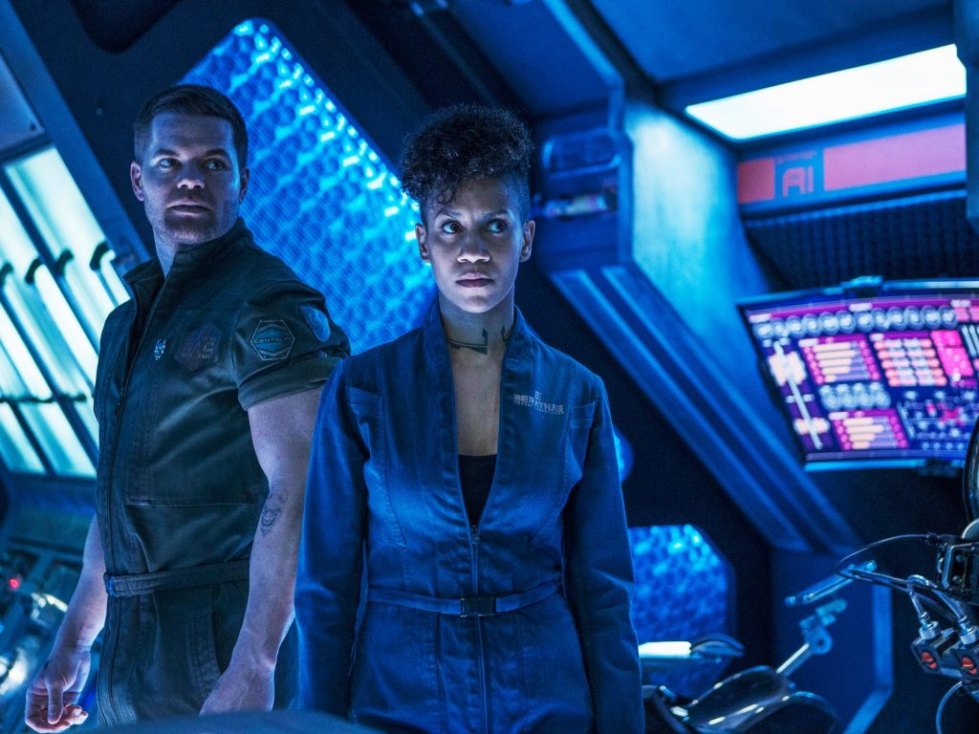 'The Expanse', developed by Mark Fergus and Hawk Ostby, is an adaptation of James S. A. Corey's eponymous novel series. It is set in the future when humans have colonized the Solar System, inhabiting Mars as well as Earth. The story chronicles the adventures of a certain crew of antiheroes comprising Chrisjen Avasarala, member of the United Nations Security Council; Josephus Miller, a cop and detective; and James Holden, the ship's officer. The trio finds themselves at the center of a conspiracy which, if successful, would destroy the already fragile and prevailing Cold-War-like state between the colonies.
Read More: TV Shows Like The Haunting of Hill House
1. Dark Angel (2000-02)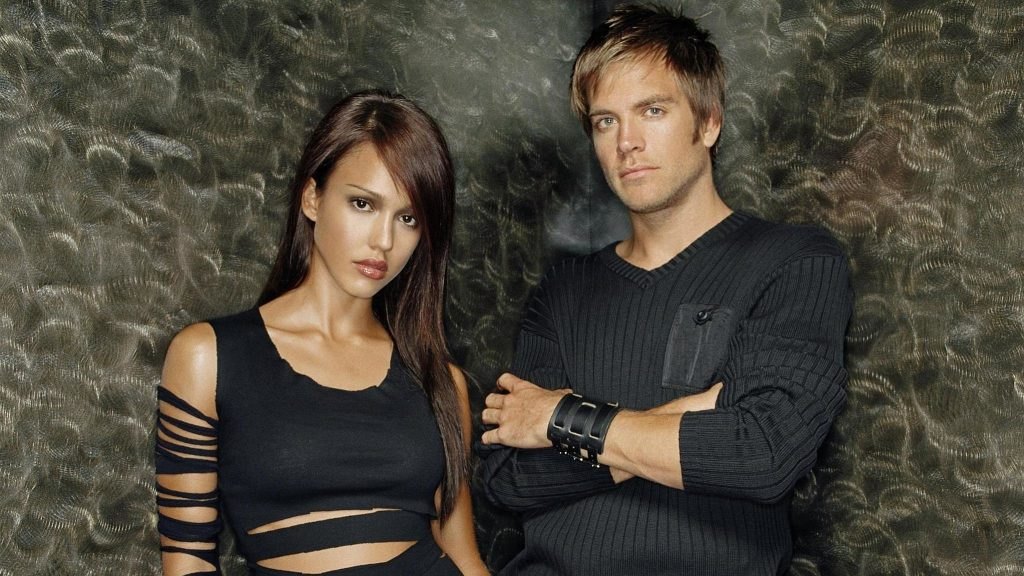 Our last entry on this list, 'Dark Angel' can be considered as the title which is most similar to 'Altered Carbon' in terms of theme and concept. This cyberpunk drama premiered on Fox network on October 3, 2000. It is created by James Cameron and Charles H. Eglee and stars Jessica Alba as the protagonist. The story takes place in 2019, when a genetically superior, superhuman soldier named Max Guevara flees the secret military facility when she is a child. Now, living in post-apocalyptic Seattle, she tries to blend in with society and lead a regular life. Meanwhile, she also embarks on a quest to search for her missing siblings. Visually and thematically similar to 'Altered Carbon', 'Dark Angel' is about a woman with a genetically engineered body who tries to gain control of her life. Packed with mythological elements and a talented and diverse cast, this series tackles the question of mixed identities through its engaging and gripping story arc.
Read More: TV Shows Like Lost in Space