True crime stories can be presented to the audiences in various formats. Sometimes they are made in full-length documentaries, sometimes into docuseries, and at other times, the entire event can be dramatized to help the audience gain almost a first-person perspective as to what actually went down before or after the crime in question was committed. While we have seen several true crime documentary shows in recent times, one thing that we have clearly not seen much of is the dramatized versions of these tales. One of the major notable shows which comes to mind while talking about dramatized true crime shows in recent years are the two seasons of 'American Crime Story'. However, one another emerging show 'Dirty John' has surely proven itself to be a worthy addition to this list.
The story of 'Dirty John' centers around the romantic relationship between two people- Debra Newell and the eponymous character John Meehan. After four unsuccessful marriages, Debra always feels pretty alone and is constantly looking for love. She is a successful woman, but her love life never seems to click. In such a scenario, Debra comes across Dr. John Meehan. He is handsome, charming, charismatic, and very quickly manages sweep Debra off her feet. Their relationship kicks off quickly, but Debra's daughters Terra and Veronica are not really sure about Meehan's identity. They believe he is hiding a dark secret behind that charming exterior of his. Soon enough their suspicions come true, and Debra falls into a deadly trap full of secrets, deceits, and lies. Based on a true story, 'Dirty John' is extremely well-made and brilliantly performed. Eric Bana stands out with his performance as John Meehan. It is his performance and the various shades he brings to the character that will keep you glued to this series. If you have loved watching 'Dirty John', here are some other shows you might enjoy as well. You can watch many of these shows like 'Dirty John' on Netflix, Hulu or Amazon Prime.
Warning: Spoiler alert!
7. Blindspot (2015-)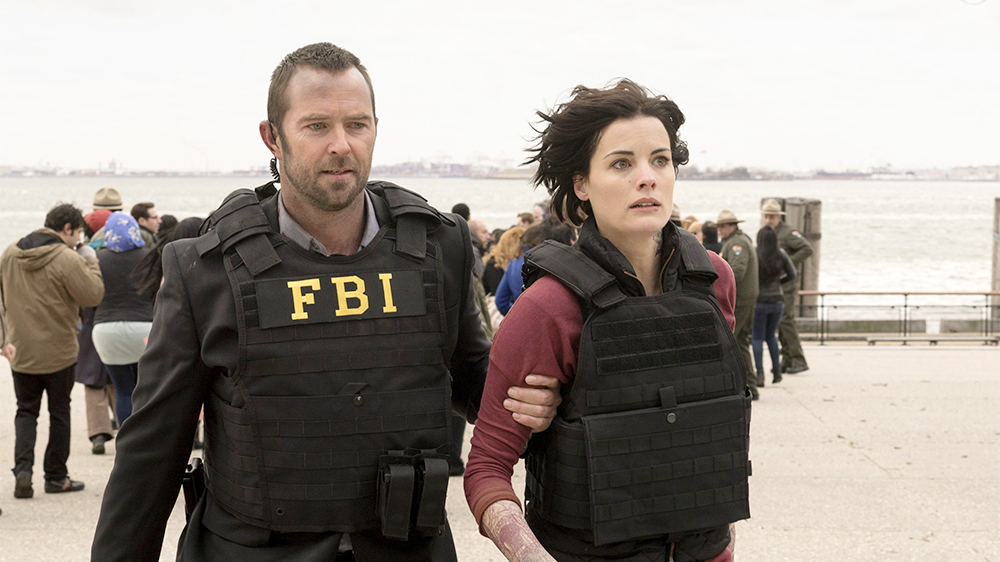 Also a show where the true identity of someone remains hidden for a long time, 'Blindspot' centers around the story of a woman whom the FBI finds in a bag in Times Square. She does not have any clue as to who she is, nor can she explain the numerous tattoos she has all over her body. However, as she slowly starts regaining her consciousness, the woman has flashbacks of her past life. She remembers numerous combat skills which gives the FBI an idea that she was in the armed forces in some capacity. The story follows this woman who then goes on a quest to find out who she actually is. The series is built upon a brilliant mystery, and its main highlight is its cool action sequences. However, there are certain loose ends in the plot which you have to forget if you wish to enjoy the series.
Read More: TV Shows Like The Blacklist
6. Dead To Me (2019-)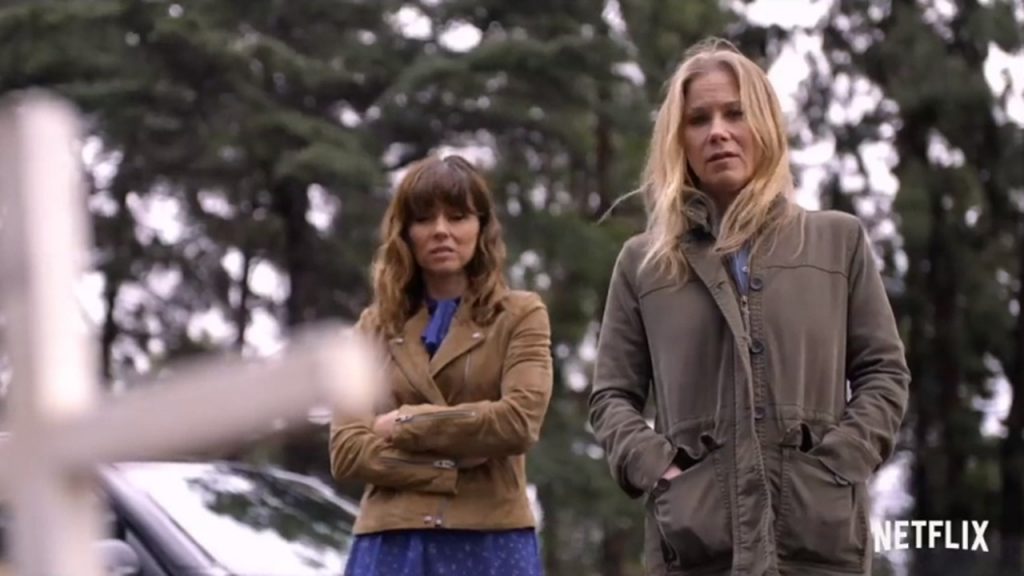 This Netflix original series is created by Liz Feldman and centers around the friendship of two women- Jen and Judy. Jen is a widow who is slowly trying to come to terms with the death of her husband. The loss has affected her deeply, and to recover from it and start life afresh, she has decided to enter into therapy, exercise, and group discussions. Jen comes across Judy in one such therapy group and the two of them hit it off rather quickly. Both of them have lost their husbands, but are dealing with their sorrows in completely opposing ways. While Jen is always finding herself in a dark headspace, Judy turns out to be the more positive and optimistic between the two. We slowly come to know that Judy has a dark secret of her own as she was connected to the demise of Jen's husband. The latter begins to suspect something similar and goes on a quest to discover the truth. Christina Applegate and Linda Cardellini are the two shining stars of the series. It is their insane chemistry which will keep you hooked to the show. The plot is at times weak, but the entertainment quotient never drops.
Read More: TV Shows Like Arrested Development
5. The Act (2019-)
One of the most bone-chilling shows to have released in 2019, 'The Act' is a series based on a true crime story. Patricia Arquette plays one of the leading roles in this series about a dangerous relationship between a mother and her daughter. Arquette's character is called Dee Dee Blanchard. Her daughter, Gypsy Blanchard (Joey King), is kept in a wheelchair as she is suffering from a rather serious illness. Her mother takes care of her to such an extent that it becomes more of an abuse. No matter how much Gypsy says that she wants to enjoy life out of her own accord, her mother forces her to stay under her control. Slowly, we come to know that Dee Dee is actually mentally ill and her daughter is not suffering from any disease in the first place. Watch this series to find out how a murder is also a part of the narrative. Patricia Arquette and Joey King have nailed their roles to perfection, and it is their chemistry which becomes the highlight of the show.
4. You (2018-)
One of the best psychological thrillers on television, 'You' is a Lifetime original series centering around a character called Joe Goldberg. When we meet him for the first time in Season 1, Joe gets attracted to an aspiring writer called Guinevere Beck and the two of them hit it off quite beautifully. However, we soon realize that Joe is far beyond what we would call a normal person. He is a psychopathic stalker and a serial killer. His modus operandi is to make young and attractive women fall in love with him and then to murder them in the most brutal ways possible. The series brilliantly portrays sociopathic behavior, and also raises questions regarding such dangerous behaviors like stalking. The performances and the storytelling are masterful in this series. The show progresses in such a beautiful manner that it is bound to engage you in no time at all.
3. American Crime Story (2016-)
An anthology true crime series, 'American Crime Story' is made in a similar fashion as the horror series 'American Horror Story'. The first season of this series deals with the infamous case of O.J. Simpson who was charged with the murder of his wife and another man. Many eminent actors perform in this season like John Travolta, Sarah Paulson, and David Schwimmer. The second season of the series follows another infamous murder case- that of the legendary fashion designer Gianni Versace. Versace was killed by a serial killer called Andrew Cunanan who murdered five other people in a span of only three months. Both the stories are exceptionally well-made, and lack in no department whatsoever. From the performances to the writing and direction, everything seems to be near-flawless.
Read More: TV Shows Like Designated Survivor
2. Killing Eve (2018-)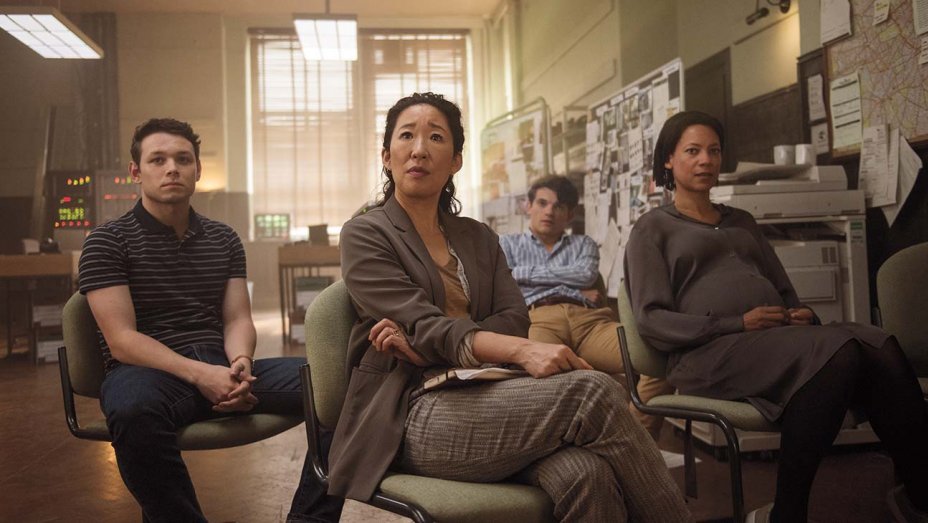 A British spy thriller series, 'Killing Eve' is the story of a cat-and-mouse chase between an MI5 agent and a psychopathic assassin who is after her life. The eponymous character, Eve, is unhappy with her job which is keeping her bound to the desk with nothing much to do. She is that sort of person who loves to go out into the field and look for some action. Oksana Astankova / Villanelle is the assassin who becomes obsessed with Eve and plans to kill her in any way possible. Developed by Phoebe Waller-Bridge, 'Killing Eve' is one of the greatest psychological thrillers to come to television in a long time.
1. Fargo (2014-)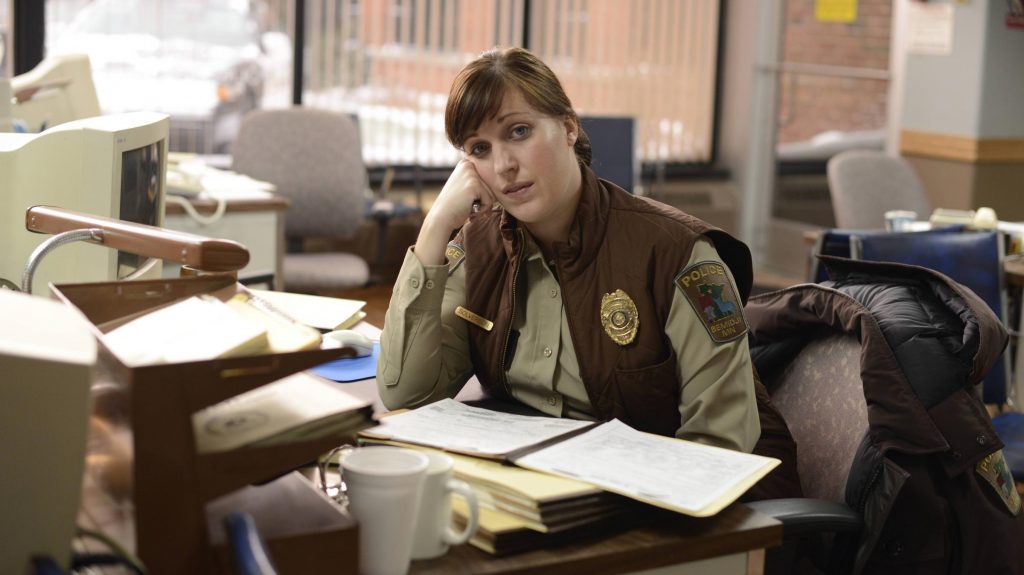 Inspired by the Coen brothers' film of the same name, 'Fargo' is a series set in the eponymous town and follows a different story in each episode. The first season is the story of a salesman called Lester Nygaard (Martin Freeman) who comes across a deadly killer, Lorne Malvo (Billy Bob Thornton), and their association results in a number of deaths over a period of time. The second season depicts a story that happened a number of years ago where a series of bloody murders start after a couple kill the young son of a crime family, while the third season follows a probation officer as he gets entangled with an unbelievably powerful organization. Each of the stories is brilliantly presented in the series, with amazing performances and brilliant direction. The series perfectly captures the aesthetics of the Coen brothers in its depiction of the stories.
Read More: TV Shows Like True Detective