As the world widely recognizes, the lawyers aren't supposed to lie. But due to the professional constraints, lawyers are often torn between the obligation to their client and moral responsibility to the institution of judiciary they represent. The Jim Carrey starrer 'Liar Liar' features the iconic comedian as Fletcher Reede, an ace attorney, who confronts the dilemma in a hilarious way. A man of contradictions, Reede is devoted professional, a naive relationship guy, a divorcee whose wife has left him for a more dependable man, a disappointing single father for his son Max, and a habitual liar! He cannot even find time for his son sometimes. Fletcher misses Max's birthday and a dejected Max wishes that his Dad will not lie for a whole day. Now that wish comes true. Fletcher is in for a ride as he is unable to lie even when he has a case to win in court that demands a lot of lies.
'Liar Liar' made in 1997 by Tom Shadyac as the second collaboration between the director and Jim Carrey. Paul Guay and Stephen Mazur wrote the screenplay for the movie which earned Jim Carrey a Golden Globe nomination in the Best Actor in Comedy category. Here, I have tried to draw up a list of films that you might love to laugh along with if you have enjoyed 'Liar Liar.' Quite obviously, you will come across Jim Carrey more than once in this list. Well, Jim Carrey is one of the most unique comedians that have graced the silver screen so far, it is only natural that the films he stars in are also unique. So, without further ado, here is the list of best movies similar to 'Liar Liar' that are our recommendations. You can watch several of these movies like 'Liar Liar' on Netflix, Hulu or Amazon Prime.
10. The Invention of Lying (2009)
'The Invention of Lying' is written and directed by Ricky Gervais and Matthew Robinson. The fantasy romantic comedy is set in an alternative reality where the concept of "lie" does not exist. An ideal world where a certain sin, that of lying, is never an issue as no one ever knew what a lie is! And in that world lives scriptwriter Mark Bellison who is going through a bad phase in his life. Born with a defective gene pool, Mark is generally unappealing and a handsome man. He doesn't get much attention from the opposite sex either. To make things more chaotic for him, the man is fired from his job. On his way down in despair, he comes across a brilliant idea that he can't pinpoint. It has something to do with lying. Since no untruth exists his lies are taken seriously. This marks a breakthrough in Mark's life and career. But what he wants to be happy in life is the love and care of Anna McDoogles, a beautiful woman quite out of his league. Will Mark get closer to the love of his life with the help of his lies? The film stars Ricky Gervais as Mark Bellison, the first man who lies and Anna McDoogles, his love interest, is portrayed by Jennifer Garner.
Read More: Movies Like 10 Things I Hate About You
9. The Nutty Professor (1996)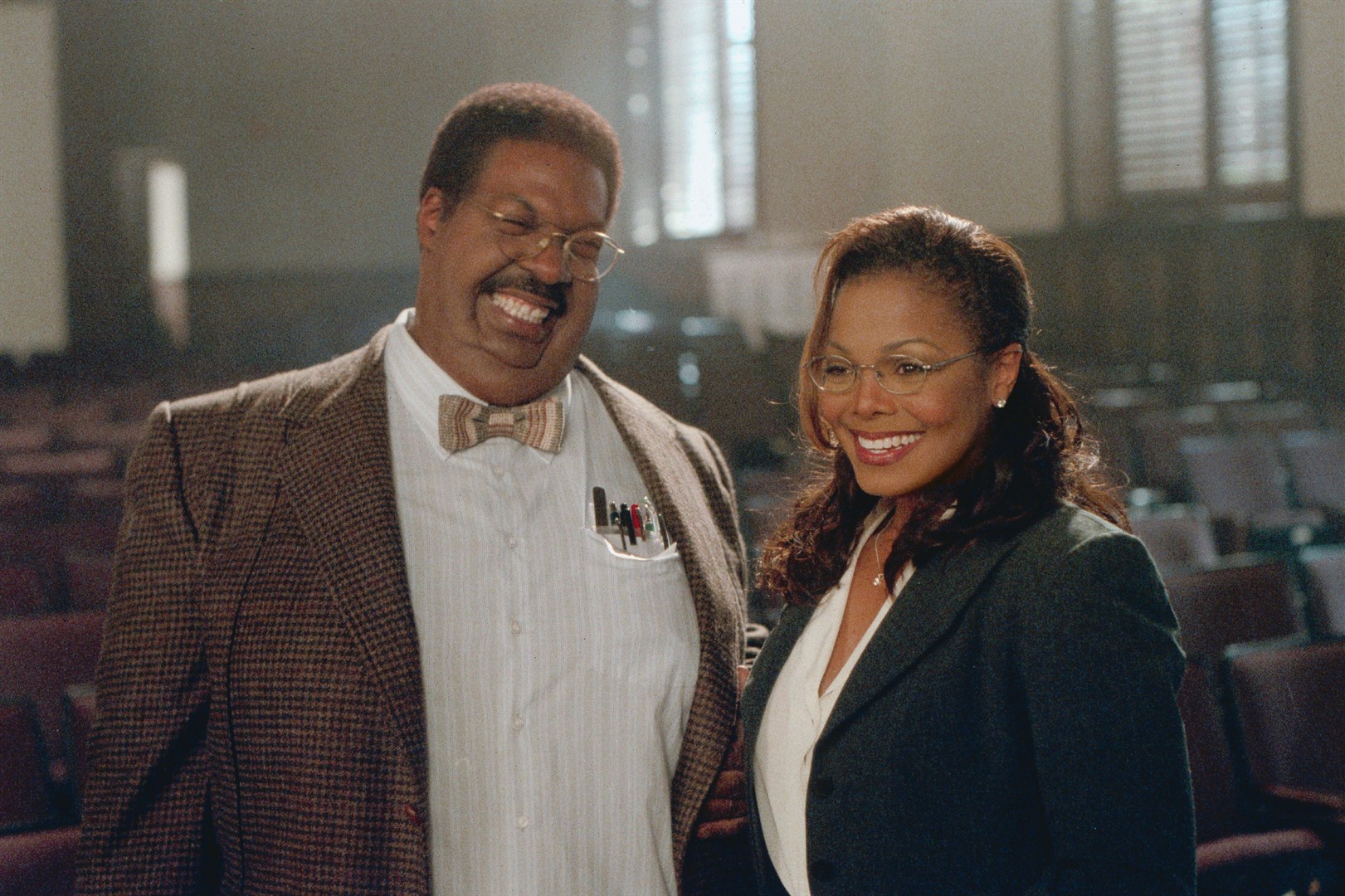 Eddie Murphy portrays the character of a brilliant and kind-hearted university Professor named Sherman Klump in the 1996 flick 'The Nutty Professor.' The only problem in his life seems to be his obesity. Sherman has been working on an experimental weight-loss pharmaceutical in his lab. One day after his lecture, he meets Carla Purty, played by Jada Pinkett, a chemistry graduate who admires Sherman's work. The professor almost immediately falls in love with the beautiful and gracious Carla. Things proceeds between them smoothly until a date goes horribly wrong when a bully teases him about his weight. This forces Sherman to test his drug on himself which drastically makes him lose 250 kilos of fat in matter of seconds. The resultant human being is a chiseled, handsome version of the professor. Though the two identities are the same person, they are poles apart. The new version of the professor, who calls himself "Buddy Love," almost becomes an alter-ego and starts spiraling out of control. The film was a remake of the 1963 film of the same name. Eddie Murphy played seven characters, including Sherman and all his family members apart from his nephew, Ernie Klump which was played by child actor Jamal Mixon. The film garnered widespread praise for makeup and went on to win an Oscar for Best Makeup in the 69th Academy Awards.
8. Ace Ventura, When Nature Calls (1995)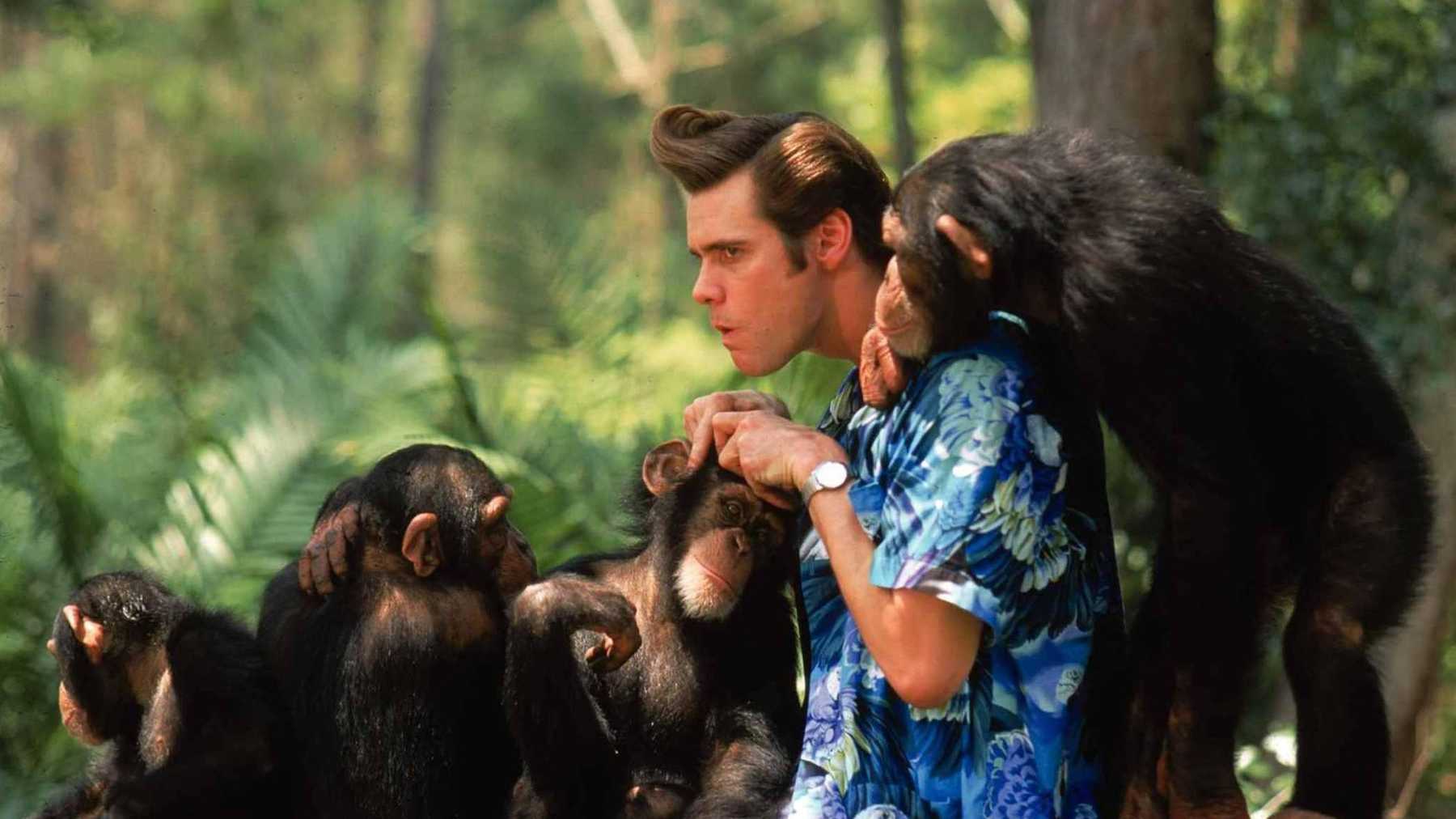 Billed as a detective comedy, 'Ace Ventura, When Nature Calls' tells the story of a pet detective and his misadventures. Directed by Steve Oedekerk and starring Jim Carrey as Ace Ventura, the movie follows the protagonist's investigations to locate, capture and tame captive animals, which will guarantee you to spill your guts out laughing. The sheer caricatures that Jim Carrey exhibits throughout the film are content enough for laughs. Ace Ventura fails to rescue a raccoon in the Himalayas and joins Tibetan monastery to overcome his sorrow. While recovering in the monastery Ace is sought out by a certain Fulton Greenwall, a provincial consulate working in the Nibia, a fictional country in Africa. Notwithstanding the embarrassment due to Ace's weird personality and his peculiar ways, Greenblatt hires him to find out a missing Great White Bat called "Shikaka. The sacred animal was offered as a dowry of the Wachati Princess to the Wachootoo Prince as the two were getting married, since then the bat disappears. Now, Ace Ventura has the opportunity of a lifetime to erase the mark of embarrassment, but can he overcome his intense fear of bats to find out "Shikaka?"
Read More: Movies Like Horrible Bosses
7. Dr. Dolittle (1998)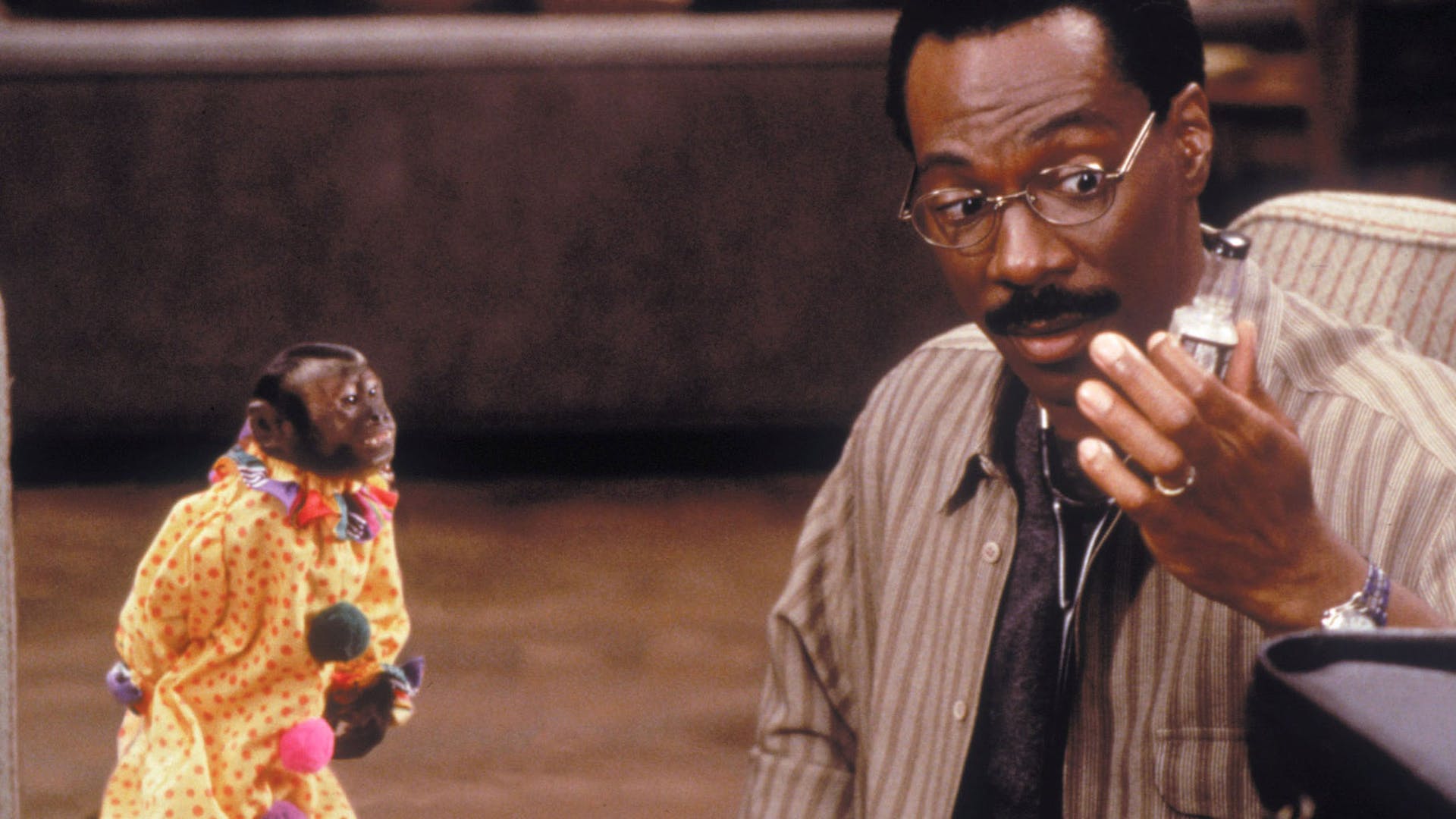 'Dr. Dolittle' is a fantasy comedy film directed by Betty Thomas and written by Larry Levin and Nat Mauldin. Based on children's book series of the same name by Hugh Lofting, 'Dr. Dolittle' narrates the story of John Dolittle, played splendidly by Eddie Murphy, who was born with the boon or bane of being able to talk to animals, who in turn seem to understand John as well. A dog one day tells him that sniffing butts is the canine way of saying "hello" to each other. John tries the same with his school principal! After the ordeal of an exorcism, little John forget his ability. Only after 30 long years when little John is a practicing veterinary doctor does his ability return one fine day. Initially fearing a mental disorder, Dr. John Dolittle has a CT Scan done of his head, meets a shrink. But that doesn't stop all kinds of animals to seek out Dr. Dolittle to vent out their head-spinning problems in the outside world. The rest of the comedy explores how a gift is seen as madness and how eventually people around Dr. Dolittle and he himself understands how special he is.
6. Yes Man (2008)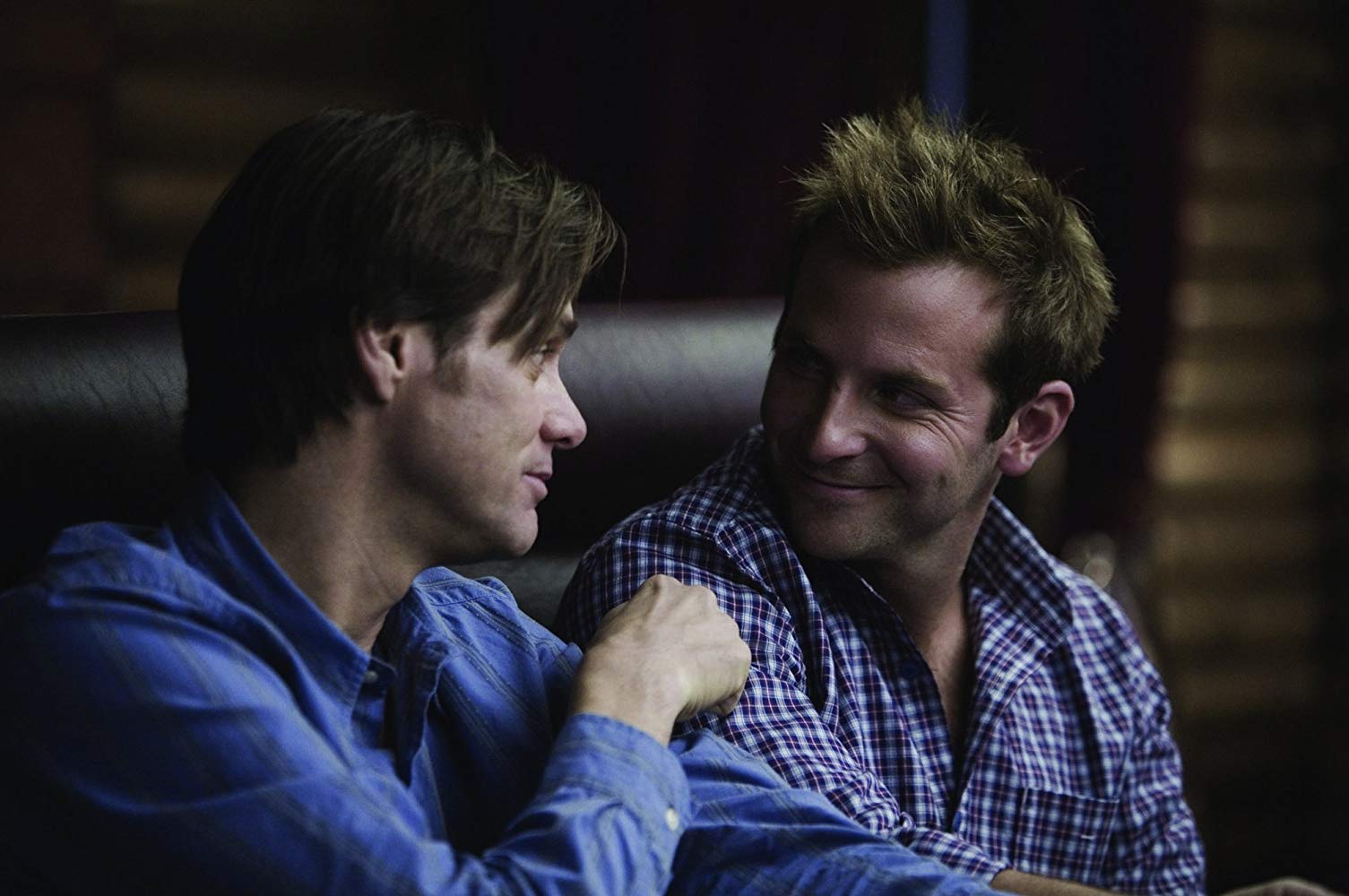 Carl Allen, the central character in the movie 'Yes Man.' belittle everything he has in his life, including a job in the bank loan department and the still lingering love for his divorced ex-wife. Allen is severely depressed and lives a life holed up inside his apartment, avoiding all his friends. A former high school friend named Nick convinces him to participate in a self-help program called "Yes Man" by a master named Terrence Bundley. Carl sort of misunderstands the intention of the program which emphasizes on "saying yes" to all life situations to tackle negative energy. Carl promises to say "Yes" to everything in life for a year. It turns out he just can't say "no" anymore after that. Carl Allen's life begins to change and not always for the good. Jim Carrey portrays the role of Carl Allen, while Zooey Deschanel plays Allison, the woman Carl falls for. The film also stars Bradley Cooper as Peter, Carl's best friend, John Michael Higgins as Nick Lane, along with others such as Rhys Darby, Maile Flanagan, Terence Stamp to name a few.
5. The Mask (1994)
'The Mask' is another Jim Carrey classic and a blockbuster from the '90s like no other. Carrey plays Stanley Ipkiss who is a bank employee who keeps strong dislikes about the way of the world and people. On one night of deep frustration, he goes for a drive by the sea only to confront with a green mask. The magical thing turns him into a green super-creature with the powers of the Norse God of mischief, Loki. He takes the mask home and puts it on to unleash his wrath and contempt on everyone around him. Eventually, Stanley turns into a mischievous superhero, with a green face, able to do almost everything that he wants to. The mask brings out Stanley's inner self and completely wipes out the unsure, too-good nice man that he was. The media dubs this phenomenon as "The Mask" as he takes the fictional "Edge City" by storm. He meets and falls in love with singer Tina Carlyle, played by a dazzling Cameron Diaz in her debut role. However, The Mask comes in conflict with local mob boss Dorian Tyrel, played by Peter Greene, when the blame of a bank robbery committed by The Mask falls on the mob boss and his henchmen. Now, Tyrel wants to hunt down The Mask and exact his revenge. When he learns the magic of the green mask, he has one more reason to corner The Mask at any cost.
Read More: Movies Like The Mask
4. Me, Myself and Irene (2000)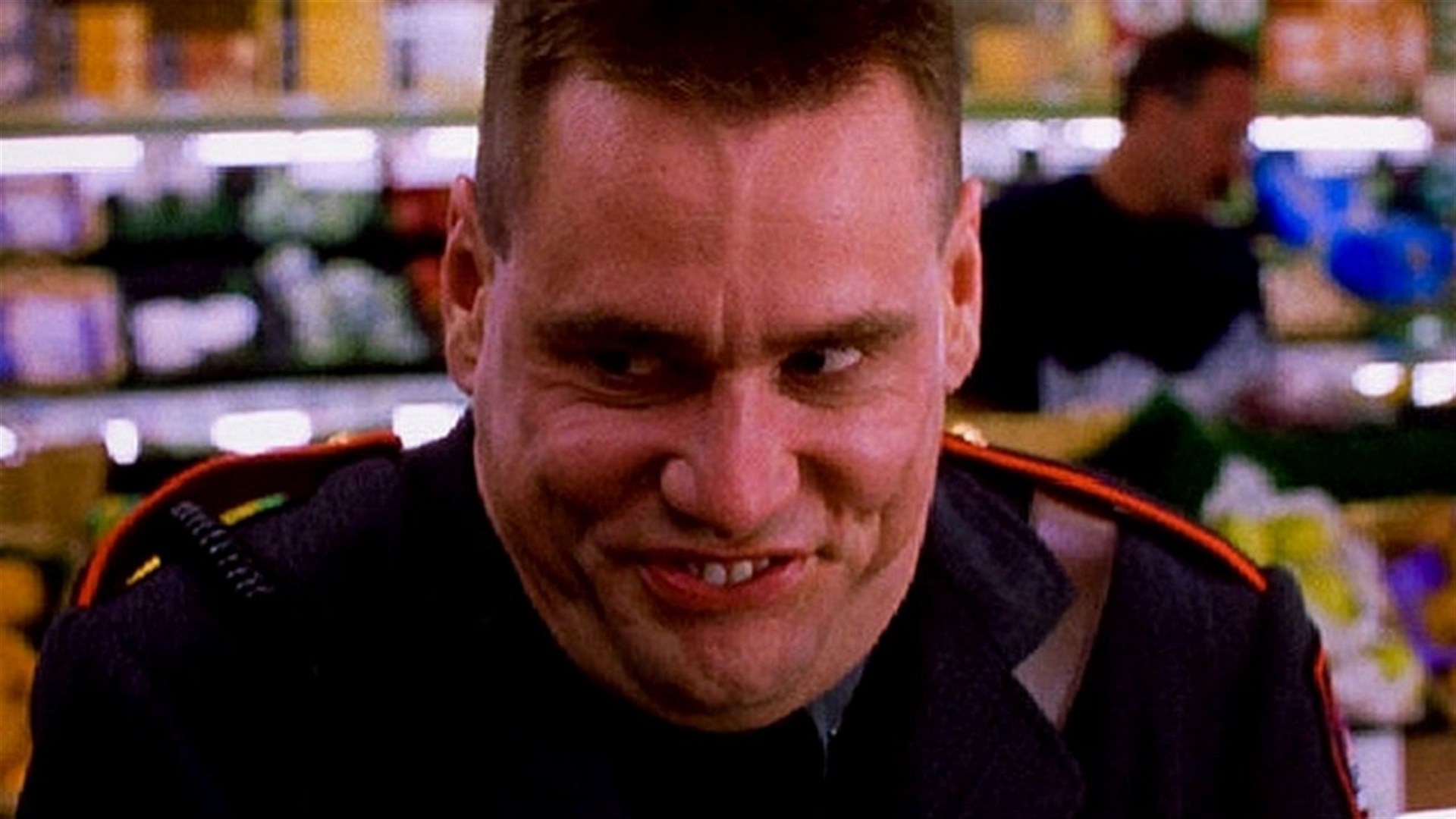 Charlie Baileygates is a patrol officer, whose wife has left him with three children to look after. Though a good person at heart, years of suppressing his rage give birth to an alter ego called Hank Evans within Charlie. Both the personas are polar opposites in character. Hank is a playboy as well as a trouble maker who drinks like a fish and beats up people. Charlie consults a doctor to keep Hank at bay. The doctor prescribes a medicine to suppress Hank. Unfortunately, one day while escorting a woman named Irene Waters to meet an upstate prison, both Charlie and Irene run into corrupt cops and Irene's ex-boyfriend. In the mayhem that follows, Charlie skips his medication and Hank awakes with a vengeance within him. Charlie and Irene, with a not so wanted, but in a way, necessary help from Hank must make their way through cop corruption and Irene's ex-boyfriend. To Charlie's sheer surprise, Irene falls head over heels in love with Hank! Jim Carrey plays both Charlie and Hank with Renee Zellweger portraying Irene Waters. 'Me, Myself and Irene' is a dark comedy that also stars Chris Cooper, Robert Forster, Richard Jenkins, Daniel Greene, Anthony Anderson, and Jerod Mixon. The movie, which is directed by the Farrelly Brothers., also marks the first collaboration between Carrey and 20th Century Fox.
3. George of the Jungle (1997)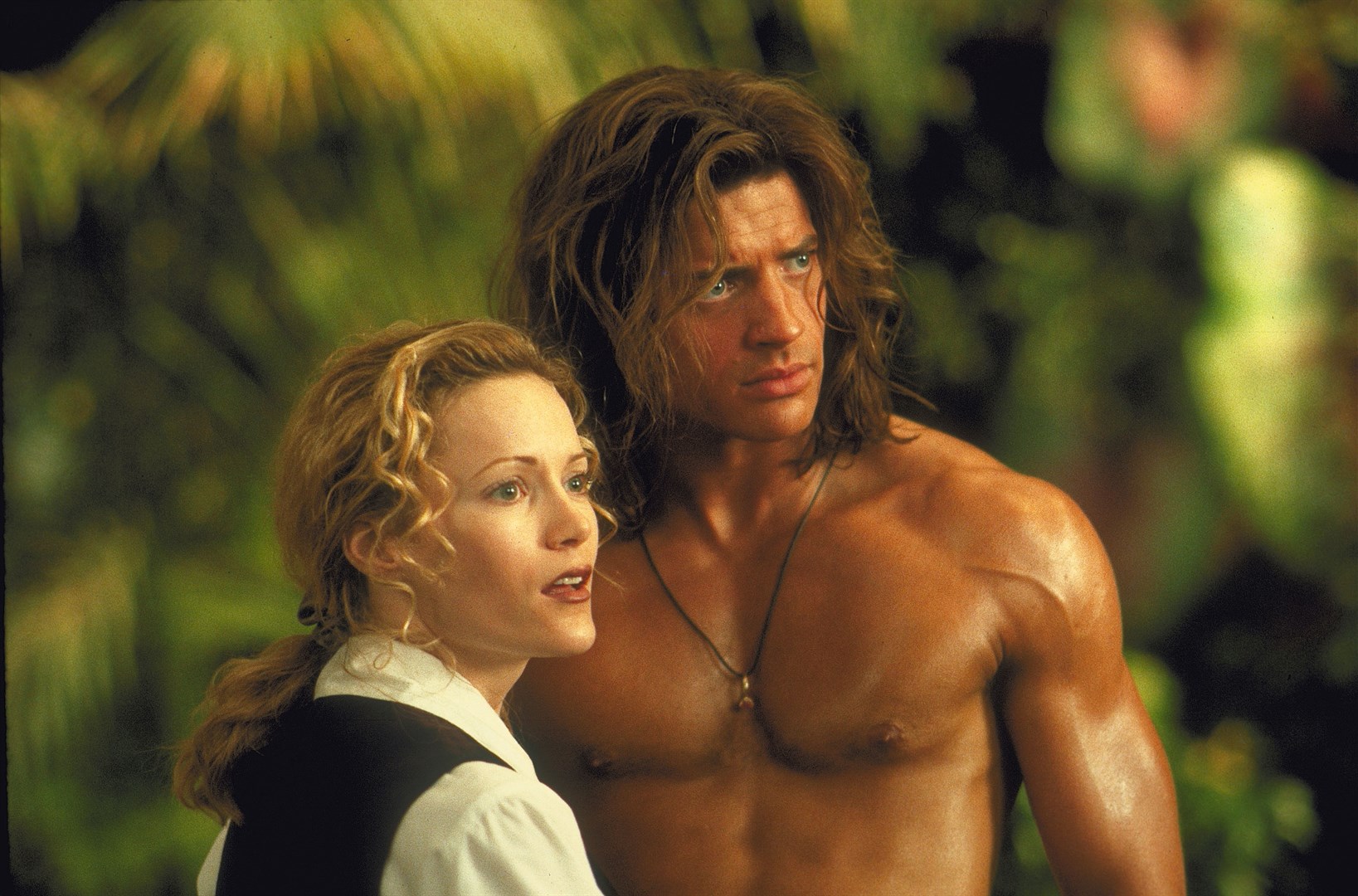 'George of the Jungle', a blockbuster from the late-90s, tells the story of a baby boy called George who suffers a plane crash in the middle of a jungle and is found and raised by a wise gorilla called Ape. 25 years pass by and George has grown up to be George of the Jungle, portrayed by Brendan Fraser. George is the spoof figure of Tarzan, who swings from tree to tree while crashing every now then. George possesses superhuman strength. Ursula Stanhope comes to visit the jungle along with her fiance, Lyle Van De Groot, who brings along two poachers. Ursula and George start sharing a chemistry after George saves her from a lion. George then travels to San Francisco. And the adventures of George begin. He starts treating the city like the jungle only to have to return to the jungle to save Ape whom the poachers target. This time Ursula tags along. Leslie Mann plays Ursula while Thomas Haden Church plays her fiance. John Cleese lends voice to the character of Ape. 'George of the Jungle' is a live-action film adaptation of the Jay Ward cartoon series of the same.
Read More: Movies Like Mowgli: Legend of the Jungle
2. Dumb and Dumber (1994)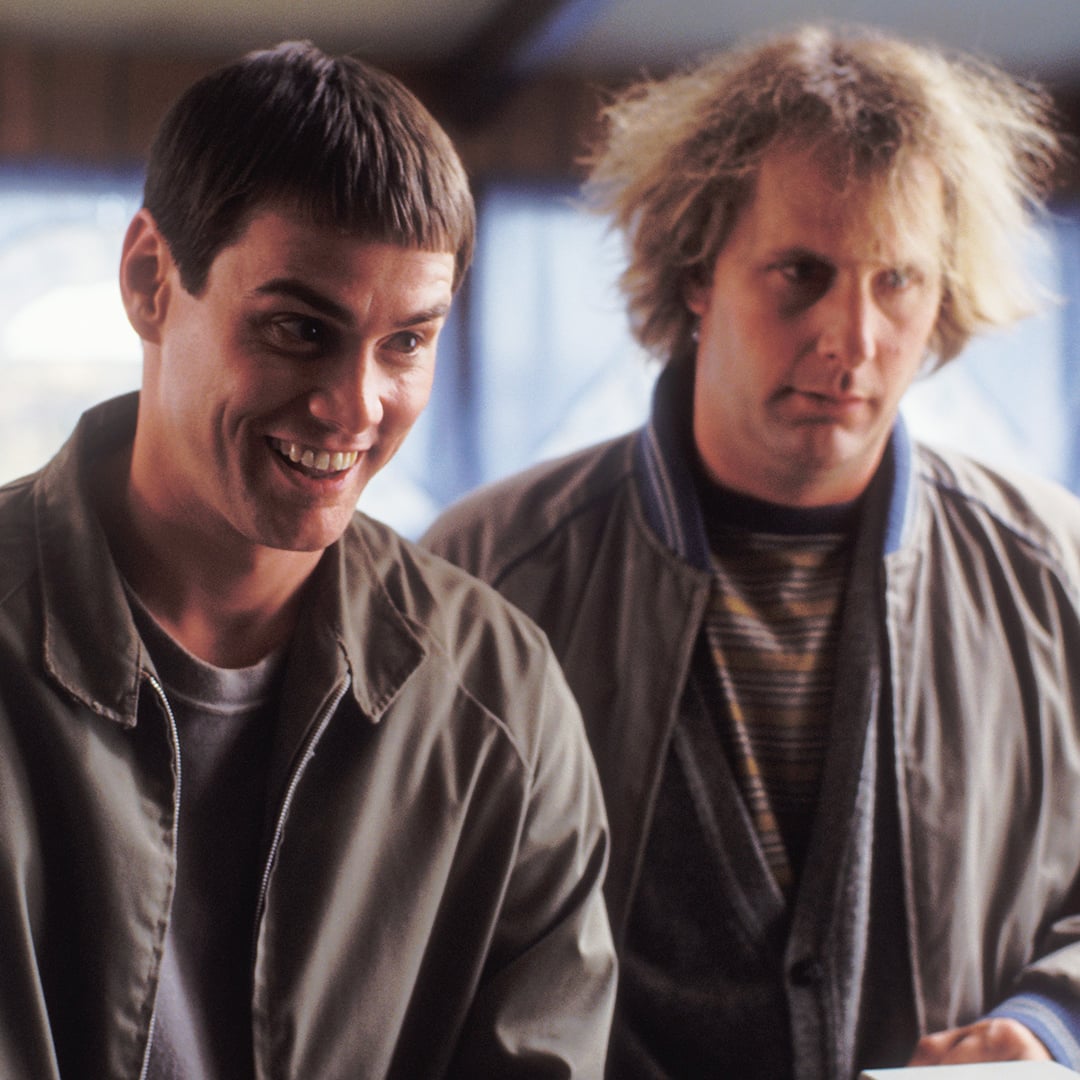 'Dumb and Dumber' is the story of two friends, Llyod Christmas and Harry Dunne, played by Jim Carrey and Jeff Daniels, respectively. They are two half-wits sharing a room in Providence, Rhode Island. They are good people anyway, but just that they are random crazy fools. Llyod makes a living driving a limousine while Harry works as a pet groomer. One day, Mary Swanson, played by Lauren Holly, boards Llyod's limousine on her way to the airport. On the way, Llyod falls head over heels in love with Mary. Incidentally, Mary leaves behind her suitcase, and that sort of kick-starts the film. Soon both Llyod and Harry are fired from their jobs for being unbelievably incompetent, They decide to travel cross-country to Aspen, Colorado to return Mary's suitcase. What the dimwits don't know is that that suitcase contained ransom money for the release of Mary's husband. Dangerous people desperate to get the money are in hot pursuit of the duo. Directed by Peter Farrelly from a screenplay he co-wrote with his brother Bobby Farrelly and Bennett Yellin, 'Dumb and Dumber' went on to become a huge hit and launched the career of the Farrelly brothers. 'Dumb and Dumber' has developed a cult following over the years and has seen a spin-off animated series as well as a prequel and a sequel.
Read More: Movies Like Belle
1. Bruce Almighty (2003)
Here, we come to the end of the list with Jim Carrey again. Tom Shadyac also joins Carrey and we have the 'Liar Liar' team once again. Carrey stars as a TV reporter Bruce Nolan, who finds himself as one of the most ill-fated person in the world. Bruce has been complaining about how God is not fit for his job. One day, to his surprise, Bruce stumbles upon God, played by Morgan Freeman, and he vents out his anger. God, in turn, allows him to play God for a week. Doing the test, God seems to take off on a holiday. An unbelieving Bruce slowly understands that he has the power of God. The man goes on a rampage because he can do whatever he wants to. But soon he starts misusing his powers and understands the weight of the responsibility of running the world on a daily basis. Along with Jim Carrey and Morgan Freeman, the film also stars Jennifer Aniston, Lisa Ann Walter, Phillip Baker Hall, and Steve Carell. The film grossed a worldwide $484 million worldwide upon its release. 'Bruce Almighty' also has a spin-off sequel called, 'Evan Almighty'.