TNT's 'Major Crimes' is a captivating police procedural TV series that graced the screens in 2012 and serves as a sequel to the beloved show 'The Closer.' Created by James Duff, it follows the dedicated team of the Major Crimes Division of the Los Angeles Police Department as they delve into the intricacies of the criminal justice system and tackle high-profile cases. Led by Captain Sharon Raydor, the show offers a fresh perspective on the crime-solving process, focusing on the investigative process as well as the legal proceedings.
Over the years, the show has amassed a loyal fan base thanks to its gripping storylines and compelling characters. After six successful seasons, 'Major Crimes' finally came to its conclusion in 2018. The decision to end the show was primarily driven by the shifts in the television landscape and creative choices. Even though the show bid farewell, we are sure fans aren't done with its talented cast members yet. Thus, we dug around to find out what's been going on in their lives. Here's everything you need to know!
Where is Mary McDonnell Now?
Mary McDonnell, the heart of 'Major Crimes', portrays the strong and empathetic Captain Sharon Raydor. Initially, Raydor was introduced as an antagonist in 'The Closer,' but over time, the character evolved and became a fan favorite. Her firm yet compassionate leadership style, along with her interactions with the team, resonates with the audience and adds layers of authenticity to the show. The talented actress is best known for her Oscar-nominated performances in 'Dances with Wolves' and 'Passion Fish'. Sci-fi enthusiasts might recognize her from the critically acclaimed series 'Battlestar Galactica' where she plays the role of President Laura Roslin.
The show's end didn't slow down Mary's career trajectory as she bagged roles in 'Rebel' and 'Veronica Mars' and became the leading voice in the animated show 'The Witcher: Nightmare of the Wolf'. She plays the role of Madeline Usher in Mike Flannagan's 'The Fall of the House of Usher,' based on the works of Edgar Allen Poe, brings Mary Dove Shaw to life in the 'Tracker,' and stars against Justin Hartley in 'The Never Game.' Mary was earlier married to Randle Mell, but they got divorced in 2021. She has two children, Olivia and Michael, and lives in Pacific Palisades in Los Angeles County, California. She continues to be vocal about the causes she believes in, including the WGA Strike, Black Lives Matter, vaccination, and more.
Where is G.W. Bailey Now?
G.W. Bailey brings Detective Lieutenant Louie Provenza to life, whose dedication to his job and sense of humor made him an endearing character in the show. With an extensive resume before his time on 'Major Crimes', Bailey is no stranger to the world of television and entertainment, including recurring roles on shows like 'Goodnight, Beantown,' 'St. Elsewhere' and 'MASH'. Since 'Major Crimes' ended, he hasn't done a lot of work, except for a brief appearance on 'Stargirl' as Mr. Dugan and a role in the 2020 short film 'Til Life Do Us Part'. He is also the Executive Director of the Sunshine Kids Foundation, an organization that offers several programs and organizes events for kids with cancer in North America.
Where is Tony Denison Now?
Tony Denison's portrayal of Detective Lieutenant Andy Flynn is marked by its depth and authenticity as the character evolves after his journey from 'The Closer' to 'Major Crimes', showcasing the actor's ability to bring complexity and nuance to his role. After bidding adieu to his character, Denison took on roles in several TV projects, including a guest appearance on 'Criminal Minds,' where he reprised the role of Police Chief Wayne Weigart, and an eight-episode arc on the courtroom drama series, 'All Rise'.
Apart from this, Denison's credits include a TV show named 'Murder In-Law' and movies including 'Frank and Ava' and the 2022 thriller film 'Deep Woods'. Moreover, he continues to engage with his fans through social media, sharing insights about his personal and professional life. An avid poker player, he continues to help others by participating in charity poker tournaments such as Ante for Autism at the South Point Casino and volunteering at The Sunshine Kids Foundation. On the personal front, Denison was married to Jennifer Evans from 1986 to 2008.
Where is Michael Paul Chan Now?
As Detective Lieutenant Michael Tao, Michael Paul Chan brings a sense of experience and wisdom to the 'Major Crimes' team. It was his quiet determination and technology expertise that helped the division be as successful as it was. Following the conclusion of the series, Chan continues to make his mark in the entertainment industry. He showed his range and made guest appearances on shows like 'MacGyver,' 'Hello Tomorrow!', 'The Resident,' and 'The Good Fight'. He also plays the role of Sam in the 2019 comedy film 'Boy Genius,' which further solidifies his reputation as a versatile character. Chan is married to Christina Ann and has a child whose name isn't known to the public.
Where is Raymond Cruz Now?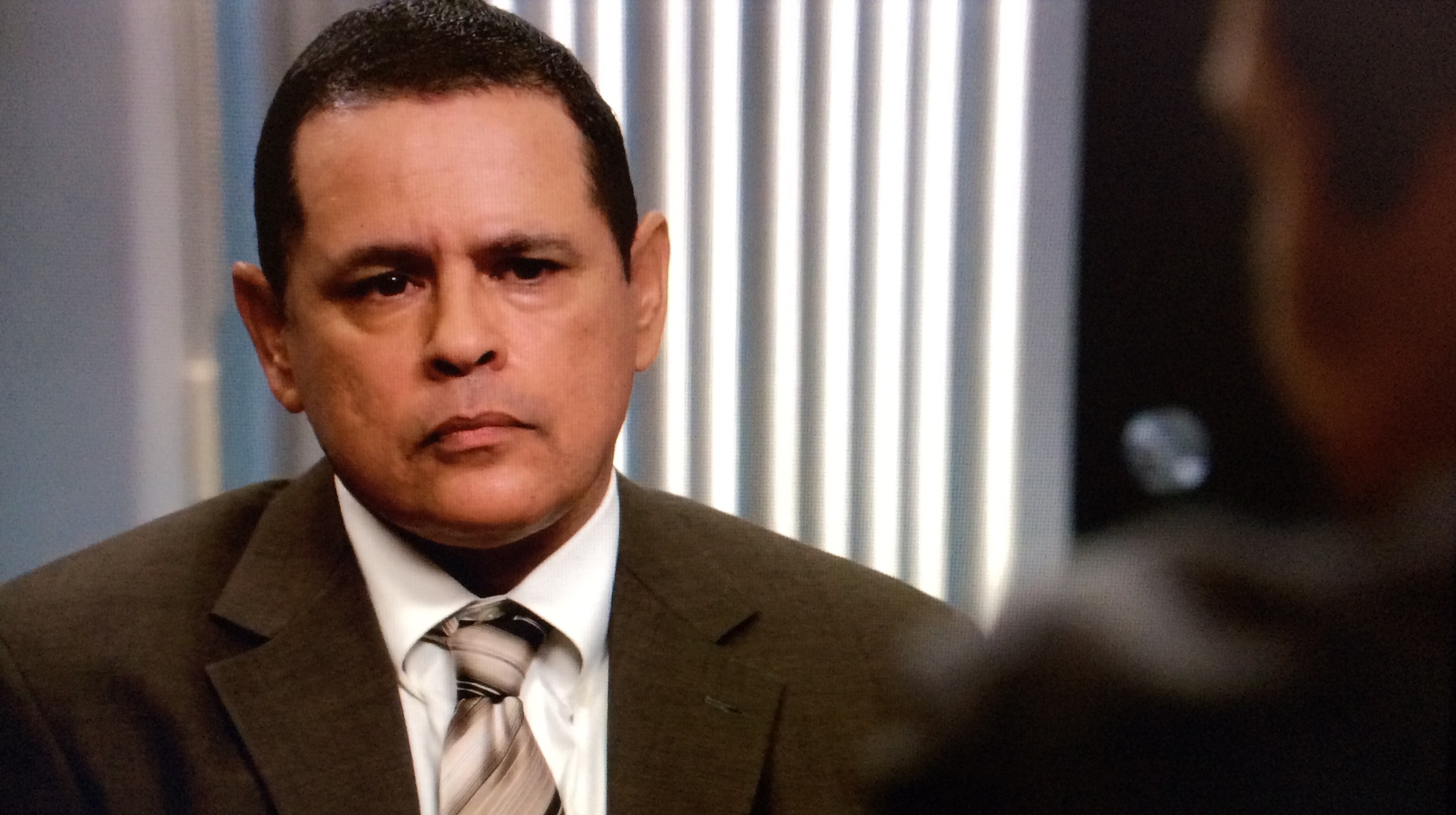 Raymond Cruz's portrayal of Detective Julio Sanchez brings a depth of emotion to 'Major Crimes'. The character's journey from 'The Closer' to the spin-off series allowed Cruz to explore the complexities of his character. Widely known for the role of Guillermo Diaz in the series 'Better Call Saul' and 'Breaking Bad', his talent for delving into intricate characters ensured his success. After the show concluded, Cruz went on to star in 'Madam Secretary', 'Nova Vita,' and essay the character of Smokey in 'Mayans M.C.'
Cruz's performances continue to showcase his commitment to his craft and his ability to bring authenticity to every role he undertakes. With movies like 'The Curse of La Llorona,' 'Wander,' 'My Dead Dad,' 'Blue Miracle,' and 'Medellin' on his resume, it is safe to assume that his career is on the rise. Cruz is enjoying a blissful married life with fellow actor Simi Mehta. He loves building and riding bicycles and is a proud owner of a 1972 Moto Guzzi El Dorado police bike.
Where is Phillip P. Keene Now?
Phillip P. Keene plays Buzz Watson in 'Major Crimes,' an endearing tech expert who adds a unique dimension to the show. His journey from a civilian working with the division to the Reserve Officer reflects the actor's ability to seamlessly navigate his character's development. Post-show, Keene ventured into TV movies with the role of Cliff in Lifetime's TV movie 'Her Secret Family Killer' and Richard in 'Deadly Shores'. He is married to James Duff, the creator of 'The Closer' and 'Major Crimes', and the couple lives together in their Los Feliz home in Los Angeles.
Keene worked as a flight attendant in Pan Am and is now a huge collector of the company's memorabilia, including forms and luggage tags. His Instagram is dedicated to showing off his collection to his fans and other like-minded people. He is also active with Project Wingman, a group of volunteers in the airline industry who visit hospitals to give doctors and nurses access to first-class lounges so that they can decompress.
Where is Kearran Giovanni Now?
Kearran Giovanni brings a refreshing energy to 'Major Crimes' with her portrayal of Amy Syker, a patrol officer who moved up the ladder and became a skilled detective. The way she showcases the character's commitment to justice makes Syker one of the most-liked characters on the show. Since 'Major Crimes,' her career has flourished with roles in various series, including 'American Soul,' 'The Rookie: Feds,' 'The Resident,' 'Black Lightning,' and 'Walker'. She also plays the role of Alex in a 2020 horror short film called 'Possessed'.
Giovanni's ability to embrace these diverse roles is a testament to her versatility as an actress. Apart from these, she also briefly appears on shows like 'Dynasty,' 'Bull,' and 'All Rise.' In July 2022, the actress posted a photo on Instagram, captioning, "First mid-term exam in 20 years- DONE!" where she was seen taking the exam for Industrial-Organizational Psychology at Harvard. She also has varied philanthropic interests, including the Sunshine Kids Foundation, the Lupus Foundation, and supporting the Special Olympics.
Where is Graham Patrick Martin Now?
Graham Patrick Martin plays the role of Rust Beck, who transforms from a troubled teenager to a determined young adult. Following the end of the show, Martin was able to seamlessly transition into more adult roles that resonated with the audience. He guest-starred in series like 'S.W.A.T.,' 'The Good Doctor,' 'The Rookie,' 'NCIS: Los Angeles,' and 'All Rise'. One of his most notable performances is in 'Catch-22', a World War II drama that showcased the actor's ability to tackle complex roles.
Some of Martin's other works include the short film 'Query,' 'Pursuit,' 'The Line,' 'A Southern Haunting,' and 'You Can't Run Forever'. He also stars against Andrea Londo in a road trip dramedy called 'Adventure Tom'. He made his directorial debut in 2020 with the short film "Recondition," which follows the story of a young man recovering after experiencing a fatal overdose. His favorite charity is The Sunshine Kids and he volunteers there in his spare time.
Where is Jonathan Del Arco Now?
Up next, we have Jonathan Del Arco, now Jonathan Del Fritz, who portrays the role of Dr. Morales, a quirky and skilled medical examiner who adds a unique dynamic to the show. Once the show ended, Del Arco reprised his role as Hugh on 'Star Trek: The Next Generation' on 'Star Trek: Picard'. He also makes guest appearances on several shows, including the Netflix miniseries 'From Scratch,' 'Chicago Med,' 'Criminal Minds,' and 'Truth be Told'.
Starring in movies like 'Borrowed,' and 'The Grotto,' his versatility and ability to navigate both drama and sci-fi genres reflect his range as an actor. He worked as a celebrity surrogate for the Biden/Harris campaign in 2020 and volunteered to be the surrogate for Raphael Warnock and Jon Osoff for the 2020 Georgia Senate runoff elections. The actor was also on the panel for the Actors Guide to Pilot Season 2023, which helps aspiring actors navigate the challenges of working in the industry.
Where is Ransford Doherty Now?
With Ransford Doherty's performance as Detective Kendall, the show gets a relatable and grounded character. His dedication to solving cases and his interactions with his colleagues made him an integral part of the team. Post-show, Doherty has continued to pursue his passion for acting and guest-starred on series like 'Shameless,' 'NCIS,' and 'Sydney to the Max'.
With characters like Marcus in 'Love and Baseball,' his commitment to his craft and ability to take on diverse roles leave no doubt. He is the author of 'Dear Starving Artist, Get Something To Eat!' and hosts the series 'Act For A Living: Reality Check', where he brings guests to help other artists. Doherty is also known to work as a substitute teacher at local elementary schools in Los Angeles.
Where is Kathe Mazur Now?
Playing the role of DDA Andrea Hobbs, Kathe Mazur adds a layer of complexity to 'Major Crimes'. Following the conclusion of the series, Mazure continues to showcase her talent in several projects, including 'The Rookie,' 'SWAT,' 'The Good Doctor,' 'For The People, and 'CSI: Vegas'. She is also an associate producer for 'Hatshepsut', a short film. She lives in Los Angeles with her husband, Jeff Sugarman, and her son. Other than her acting career, she also has a successful career as an audiobook narrator. With over one hundred audiobooks on her resume, she is known to be a woman of many talents.
Where is Robert Gossett Now?
Robert Gossett plays the role of Assistant Chief Russell Taylor on 'Major Crimes,' who is known for his unwavering commitment to justice and leadership. After the death of his character on the show, Gossett continued to make his mark in the acting world, which included a five-episode arc on 'The Oath'. After this, he made a brief appearance on shows like 'All American: Homecoming,' 'Chicago Med,' 'The Young and The Restless, 'The Enemy Within', and 'Greenleaf'.
In 2021, Gossett bagged a recurring role on 'General Hospital,' which earned him Daytime Emmy Award nominations. He has worked in movies like 'Seven Days,' 'A Jenkins Family Christmas,' 'How To Get Rid of a Body (And Still Be Friends),' and 'The Sky Princess'. He also is the celebrity ambassador for Wells Bring Hope, an organization that builds wells in Niger.
Read More: Best Police Shows on Netflix