Co-directed by Peter and Bobby Farrelly and co-written by Ed Decter, John J. Strauss and the Farrelly brothers, 'There's Something About Mary' is a comedy about four men — Ted Stroehmann, Pat Healy, Dom Woganowski and Tucker Phipps – who try to woo and win the heart of the titular Mary. The film stars Matt Dillon, Ben Stiller, Lee Evans and Chris Elliott as the four men and Cameron Diaz, who portrays Mary. It is shot by Canadian cinematographer Mark Irwin, edited by English film editor Christopher Greenbury and the score is composed by Jonathan Richman, who doubles up as the narrator.
The film is regarded as a fresh piece of work in the genre of comedy and helped actors Ben Stiller and Cameron Diaz establish themselves in Hollywood. It was especially quite important for Stiller's career, as he realized his inner comedic genius. 'There's Something About Mary' earned highly positive reviews from critics. Roger Ebert, in his review, wrote "What a blessed relief is laughter. It flies in the face of manners, values, political correctness and decorum. It exposes us for what we are, the only animal with a sense of humour." On the commercial front, it was immensely profitable. Against a budget of $23 million, it earned a massive $369.9 million, thus becoming one of the highest grossing ventures of 1998.
'There's Something About Mary' isn't just a critically acclaimed film. It has been widely considered as one of the best comedies, with American Film Institute inducting it in its list of "100 Years…100 Laughs", which essentially established its legacy. For this article, I have taken into account films that follow similar narrative structures as this one. So, without further ado, here is the list of best movies similar to 'There's Something About Mary' that are our recommendations. You can watch several of these movies like 'There's Something About Mary' on Netflix, Hulu or Amazon Prime
8. Wedding Crashers (2005)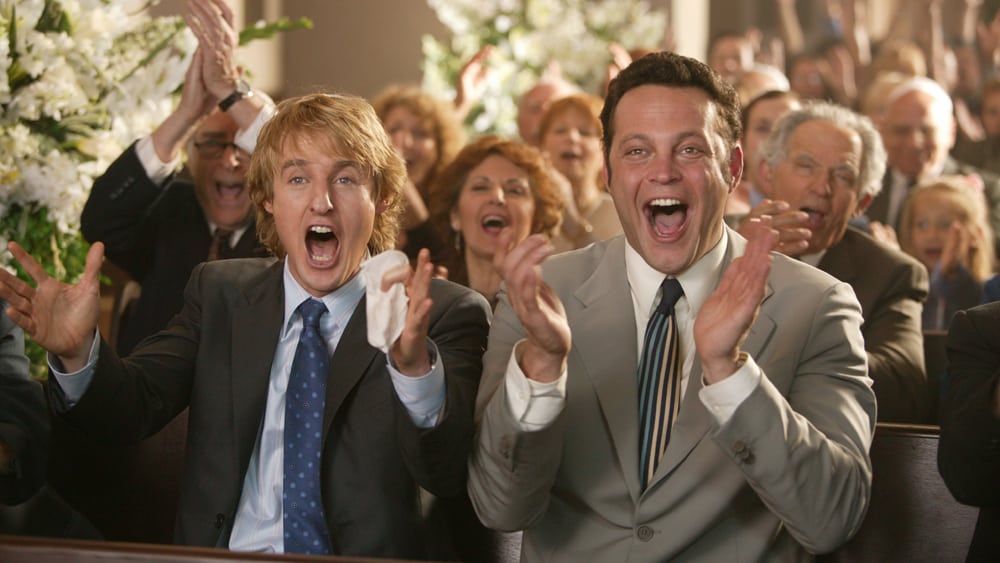 The late 90s and early 2000s saw a decline in R-rated comedies as studios and filmmakers wanted a larger section of the audience. Filmmaker David Dobkin and actors Owen Wilson and Vince Vaughn helped revive the genre with the romantic comedy 'Wedding Crashers'. The film follows John Beckwith and Jeremy Grey, a pair of womanizers who discreetly sneak into weddings to take advantage of the romantic atmosphere and attract women. However, their brilliant plan seems to start falling apart after one of the friends, John, falls for the trap by falling in love with a woman named Claire Cleary. With Wilson and Vaughn brilliantly essaying the roles of the companions and Rachel McAdams playing the role of the appealing Claire Cleary, 'Wedding Crashers' received highly positive reviews. It was also a profitable venture as it grossed $285.2 million against a budget of $40 million.
7. Set It Up (2018)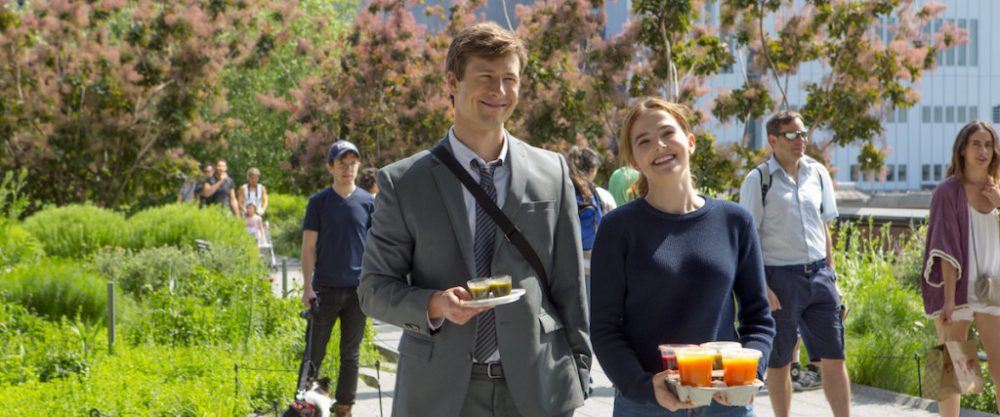 The most recent release on this list, 'Set It Up' is the story of two young corporate executive assistants who plan to match-make their two bosses. Directed by Claire Scanlon and written by Katie Silberman, 'Set It Up' is a surprisingly good flick. The film stars Zoey Deutch, Glen Powell, Taye Diggs, and Lucy Liu, who bring their magnetism to execute the romantic comedy with charm and compassion. Produced by Treehouse Pictures, the movie was taken up by Netflix for a release on their online platform. Upon its release, 'Set It Up' was met with positive reviews and scored an impressive 91% on Rotten Tomatoes. The critical success and the love received from the audience will possibly spawn a sequel, as stated by Scanlon in a number of interviews.
6. I Love You, Man (2009)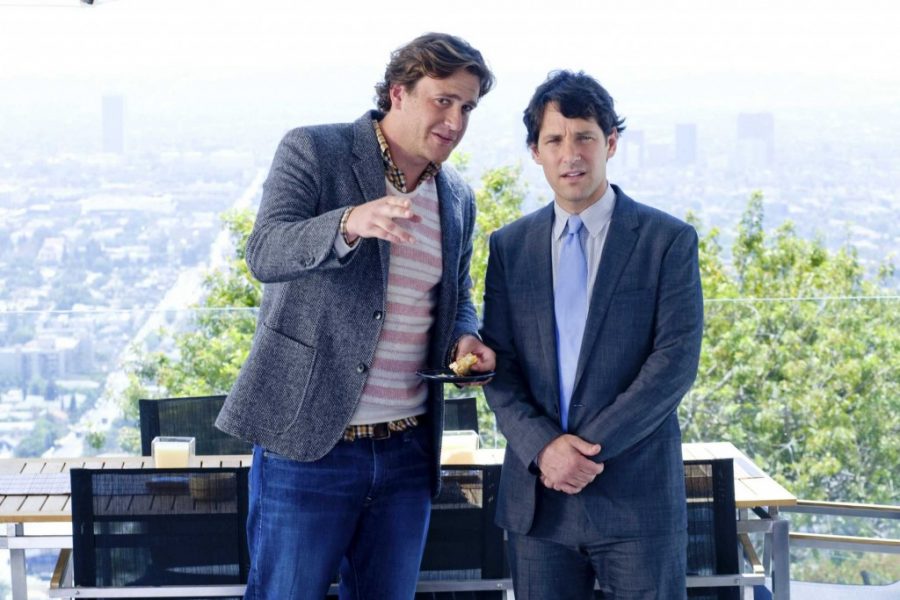 Directed by John Hamburg and co-written by Larry Levin and Hamburg, 'I Love You, Man' stars Paul Rudd as Peter Klaven, a "friendless" man who goes on a series of dates to find himself a Best Man for his wedding. However, when he does find a best man in Jason Segal's Sydney Fife, his relationship with his bride, Zooey Rice, essayed by Rashida Jones, starts to strain. The comedy sees Rudd and Segal collaborate for the third time, which proves the seasoned chemistry between the two. In addition, the film boasts of a solid supporting cast who discreetly sharpen the comedic edges of the narrative. Upon its release, 'I Love You, Man' received immensely positive reviews and was a commercial success, grossing $91.6 million against a budget of $40 million.
5. Forgetting Sarah Marshall (2008)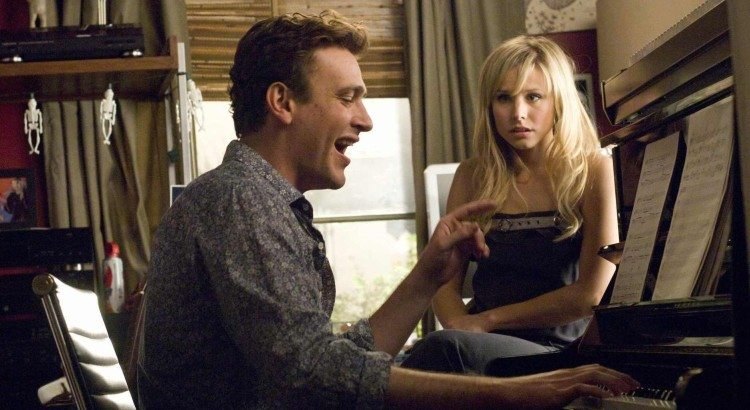 Directed by Nicholas Stoller and written by Jason Segal, 'Forgetting Sarah Marshall' is the story of Peter Bretter, essayed by Jason Segel, a music composer for a TV show that features his girlfriend, the titular Sarah Marshall, played by Kristen Bell, in the lead role. However, things start to crumble as after a five-year relationship, Sarah inexplicably breaks up with Peter. Devastated, he goes on a vacation in Hawaii, to make efforts to move forward with his life. It seems that Peter cannot catch a break as he runs into his ex on the island, and adding to the discomfort, she is vacationing with her new boyfriend.
The film is built on the quirky screenplay, the distinctive direction, and charming performances of Segal and Bell. The flick received positive reviews upon its release. Perhaps film critic Matt Pais of the Chicago Tribune best encapsulates the tone of the film, writing, "Forgetting Sarah Marshall is the kind of movie you could watch all day because, like a new flame, you can't get enough of its company and are just glad to see where it takes you."
Read More: Movies Like The Notebook
4. Crazy, Stupid, Love (2011)
Co-directed by Glenn Ficarra and John Requa and co-written by Dan Fogelman, 'Crazy, Stupid, Love' tells the story of Cal Weaver, a divorced man who tries to rekindle his manhood and masculinity by picking women at bars. However, once realizing that he is terrible at it, Weaver takes the aid of Jacob Palmer, a suave young man who teaches him the art of seduction. The romantic comedy stars Steve Carell, Ryan Gosling, Julianne Moore, Emma Stone, Marisa Tomei, and Kevin Bacon, whose performances make it so much likable. 'Crazy, Stupid, Love' is not just a simple romantic comedy as it offers a deeply compassionate look at relationships, love and romance. The film received positive reviews and a number of award nominations.
Read More: Movies Like 500 Days of Summer
3. Knocked Up (2007)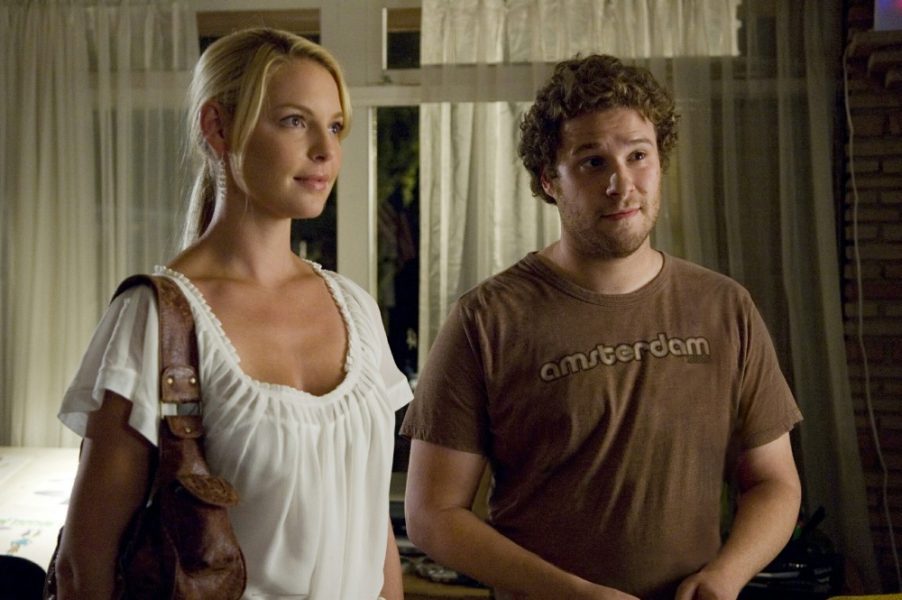 Written and directed by Judd Apatow, 'Knocked Up' stars Seth Rogen as Ben Stone, a slacker who finds himself in a one night stand with Alison Scott, a recently promoted media personality, essayed by Katherine Heigl. The film follows the events that take place when the two realise that their one-night stand has led to an unintended pregnancy. 'Knocked Up' is a wonderful film which provides an interesting insight on unwanted pregnancies. Upon its release, the romantic comedy-drama received immensely positive reviews, with many publications even inducting it into their "Top 10 of the Year" lists. The film also became popular among audiences. The commercial success and the critical acclaim helped to earn the flick a sequel and spin-off titled 'This is 40' (2012).
Read More: Movies Like Knocked Up
2. Meet the Parents (2000)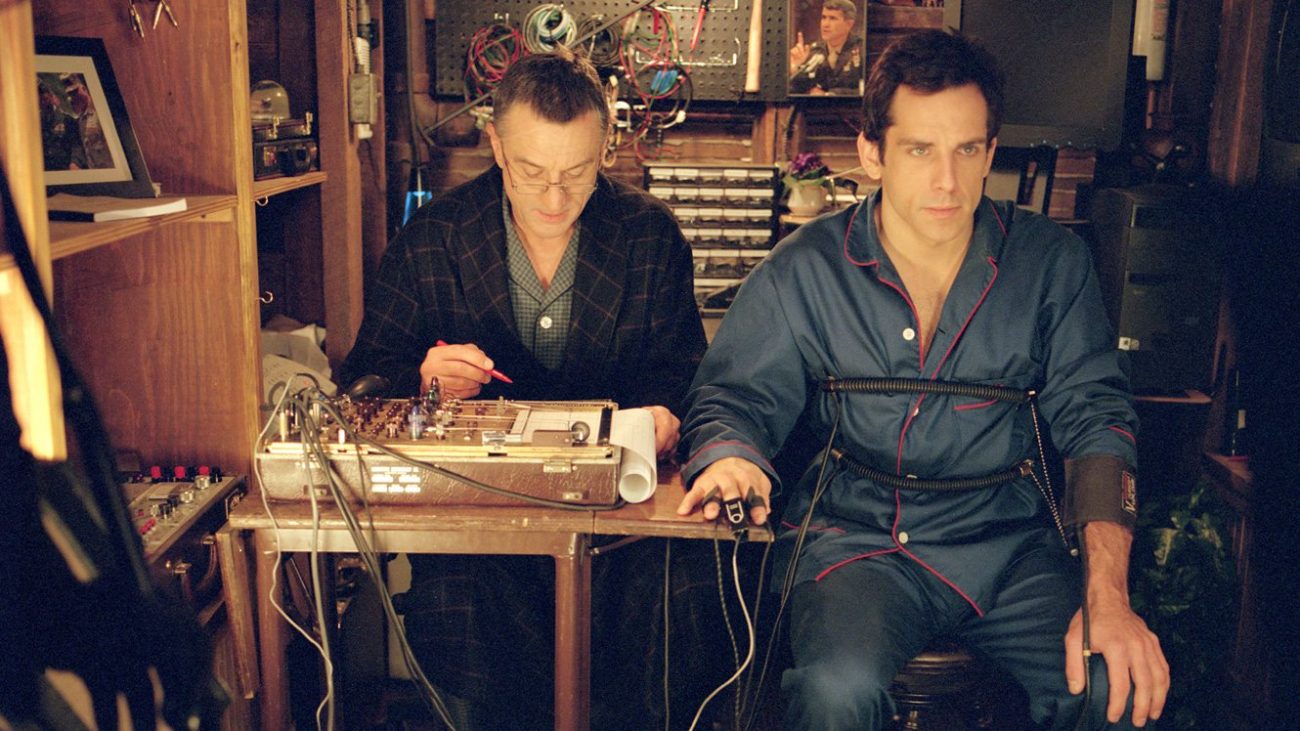 'Meet the Parents' follows Ben Stiller as Gaylord "Greg" Focker, an ill-fated but well-intentioned young man who tries to score a good impression over his fiancée's father, a stubborn ex-CIA agent, i.e. Robert De Niro's Jack Byrnes. The film showcases the comedic repartee between Stiller, who showcases his talents at awkward comedy and De Niro, who displays his strong understanding of patriarchal characters. This juxtaposition is essentially the soul of the movie. Directed by Jay Roach and co-written by Jim Herzfeld and John Hamburg, 'Meet the Parents' is an extremely intriguing work. Produced on a budget of $55 million, the flick was a profitable venture, earning $330.4 million at the box office. The critical and commercial success earned it two sequels, titled 'Meet the Fockers' (2004) and Little Fockers (2010).
Read More: Movies Like 'The Terminal'
1. The 40-Year-Old Virgin (2005)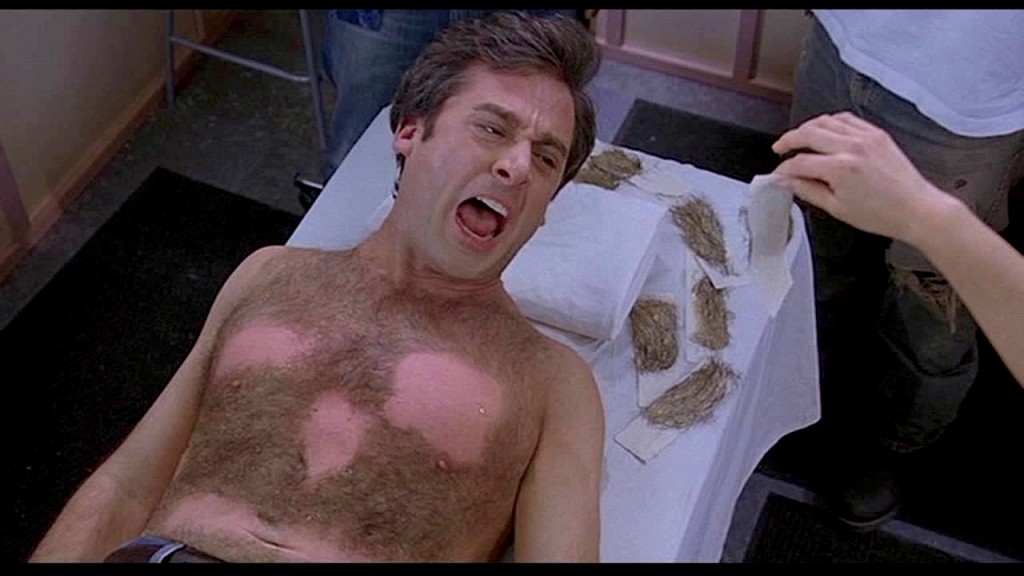 The second feature of Judd Apatow, 'The 40-Year-Old Virgin' is a sex comedy which stars Steve Carell as Andy Stitzer, the titular virgin. The film chronicles his comical endeavour as he takes the help of his friends to finally lose his virginity. The directorial debut of Apatow is assisted by the screenplay, co-written by Carell. 'The 40-Year-Old Virgin' treads within the genre with care and thus, the film does not seem to be vulgar and distasteful. The nifty screenplay and direction are complemented by the performances of Carell, Catherine Keener and Paul Rudd who seem to completely understand their roles in the larger story of Stitzer. The film holds the distinctive position of being the only sex-comedy to be inducted in American Film Institute's "Top 10 Films of the Year" list.
Read More: Movies Like American Beauty