With Netflix's 'Selling Sunset' being the epitome of reality television with the fierceness of its cast members at every step of the way, it just gets bigger and cattier with each passing installment. After all, it revolves around the ambitious real estate agents of The Oppenheim Group (or The OGroup) as they navigate their day-to-day lives in front of the cameras for our sheer entertainment. So now that season 6 of this binge-worthy original has finally landed on our screens following a year of anticipation, let's find out precisely what its leading figures are up to these days, shall we?
Where is Jason Oppenheim Now?
As President and Founder of The OGroup, Jason continues to thrive in the world of luxury real estate despite the fact the overall market hasn't been the greatest over the past couple of years. That's because his twin Brett gradually stepped away from the agency within this period for unrelated reasons, meaning he now handles, owns, and thus profits from everything on his own. Though more importantly, the 46-year-old has also found blissful contentedness in his personal life — he's currently in a serious relationship with 25-year-old LA-Paris-based model Marie-Lou Nuerk. Plus, it should be noted the brothers remain as close as ever to this day; Brett is simply expanding his professional portfolio in a way that's his own.
Where is Chrishell Stause Now?
Since Chrishell's primary focus has admittedly been her romance with non-binary Australian musician G Flip (real name Georgia Flipo) these past months, it honestly comes as no surprise they're now married. They actually tied the knot in a secret Las Vegas ceremony sometime back, and the 'Under Construction' author announced the same while promoting the latter's song "Be Your Man" on May 10, 2023. As for her professional standing, she's still listed as a Realtor Associate on the agency's official website and her license is active, yet her profile on Zillow suggests the last home she sold was in September 2021.
Where is Chelsea Lazkani Now?
Despite the drama that often finds Chelsea owing to her lack of filter, strong personality, or unwavering belief system, she appears to be leading her best personal and professional life at the moment. The proud British-Nigerian woman has actually been happily married to business mogul-Icon Media Direct executive Jeffrey "Jeff" Lazkani since August 2017, with whom she shares two adorable children. Plus, the now-California resident has managed to maintain her position at the OGroup, meaning she has somehow found a way to perfectly balance her roles as a wife, a mother, as well as a luxury agent.
Where is Emma Hernan Now?
To put it simply, former professional model Emma is still wholeheartedly focused on building her empire as a long-term angel investor, an entrepreneur, a reality star, and a realtor in every sense of the term. The 32-year-old admittedly came from humble beginnings in Massachusetts, yet she's now primarily based in California, from where she not only works at the agency but also operates her plant-based empanadas business EmmaLeigh&Co. Coming to her investments, just some of the companies she has backed are UCLA-based Nanotech, bike enterprise Wheels, CBD firm Green Gorilla, as well as a myriad of other unique establishments.
Where is Amanza Smith Now?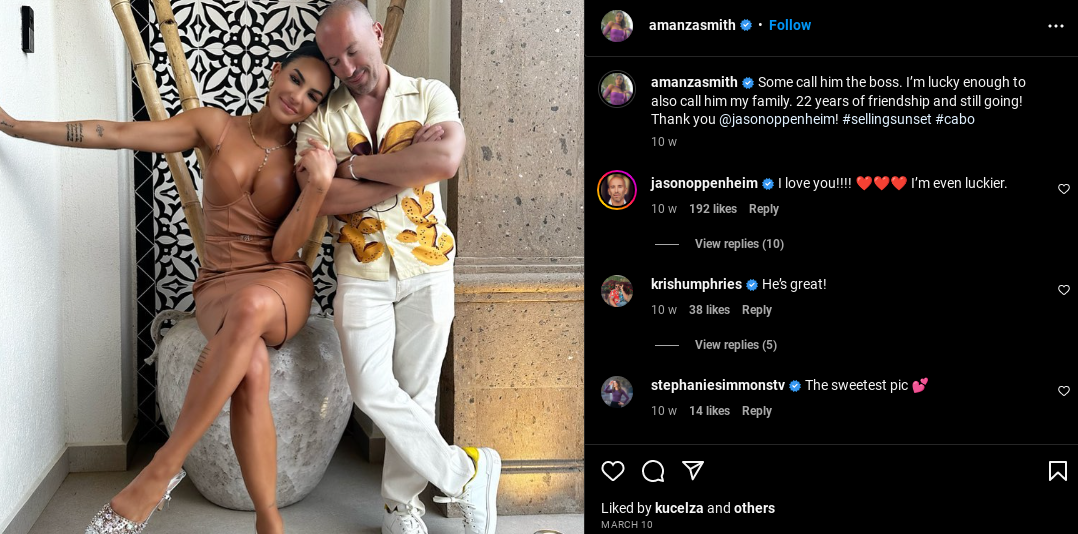 Although Amanza is 46 right now, she truly believes she is just getting started because of everything that has happened in her past in terms of both her failed marriage (with Ralph Brown) and her career. After all, the once-NFL cheerleader for the Indianapolis Colts has since evolved into a realtor associate-interior design specialist, enabling her to follow her passion for selling, staging, as well as decorating homes for Hollywood's elite. The mother of two has this mantra that life is not a sprint; it's a marathon, so she believes all one has to do is "be kind, be grateful, be compassionate, and be a f*****g good person, and your life will manifest into something beautiful."
Where is Heather Rae El Moussa Now?
It was in late January 2023 when Heather gave birth to her and 'Flip or Flop' star Tarek El Moussa's first child – Tristan Jay El Moussa – following which she has embraced being a mother even more. She was already a stepmom to his two children from a previous marriage, but now that they have an infant on their hands, she's getting to experience everything for the first time and is loving it. However, the Realtor Associate has also made it clear balancing her career with a family is not easy, plus she's even frustared over not having been called back from her maternity leave for 'Selling Sunset' season 7.
Where is Mary Fitzgerald Now?
Mary officially changed her last name to match her husband Romain Bonnet's in February 2023 following nearly five years of marriage, and it seems like their connection has only gotten stronger since. The truth is the couple does want to welcome a baby into their lives soon, yet they haven't really shared an update since 2022, so we can only assume they're still actively trying to conceive. As for her professional standing, per The OGroup's website, she now holds the position of Vice President/Realtor Associate. This means she's second in command after Jason despite her ADHD as well as issues with confrontation, which is a testament to her dedicated hard work.
Where is Nicole Young Now?
Although a native of Minneapolis, Minnesota, with a background in Marketing Consultancy and Public Relations, Nicole is currently a Realtor Associate based out of Los Angeles, California. This married dog mom of two allegedly has over $100 million in sales over her decade-long career until now, so her primary focus these days is solely on expanding this to an unprecedented extent. We should even mention that she has never had any public drug troubles (in light of Chrishell Stause's allegations in season 6), and her association with her accuser is of mere co-existence at the moment.
Where is Bre Tiesi Now?
There's no denying Breana or "Bre" is primarily known across the nation as either FCF quarterback Johnny Manziel's ex-wife or television host Nick Cannon's baby mama, but she is actually so much more. In fact, she is a former model, a realtor associate, a passionate designer, and a women's rights advocate for whom financial, emotional, as well as sexual independence is most important. That is, after the safety, security, and overall well-being of her son Legendary Love Cannon, who was born in June 2022 and is being proudly raised by his parents in her native Calabasas, California.
Read More: Why Did Christine Quinn Leave Selling Sunset? Where is She Now?