Directed by Brett Ratner and co-written by Jim Kouf and Ross LaManna, 'Rush Hour' is an action comedy which follows Detective Inspector Yang Naing Lee and Detective James Carter, two mismatched officers who have to put aside their differences to rescue the kidnapped daughter of the Chinese consul. The film stars Jackie Chan and Chris Tucker as the two detectives. The actors bring in their comedic sensibilities to execute Ratner's vision with ease and hilarity. While Chan exploits his incandescent talent of martial arts to create amusing action set pieces, Tucker uses his body language for the quick humour. Upon its release, 'Rush Hour' received positive reviews and scored massively at the box office. The commercial success spawned two extremely prosperous sequels, and a fourth one is up for release.
For this article, I have taken into account films which are tonally similar to this Jackie Chan flick, and belong to the genre of buddy cop comedies. So, without further ado, here is the list of best movies similar to 'Rush Hour' that are our recommendations. You can watch several of these movies like 'Rush Hour' on Netflix, Hulu or Amazon Prime.
10. Starsky & Hutch (2004)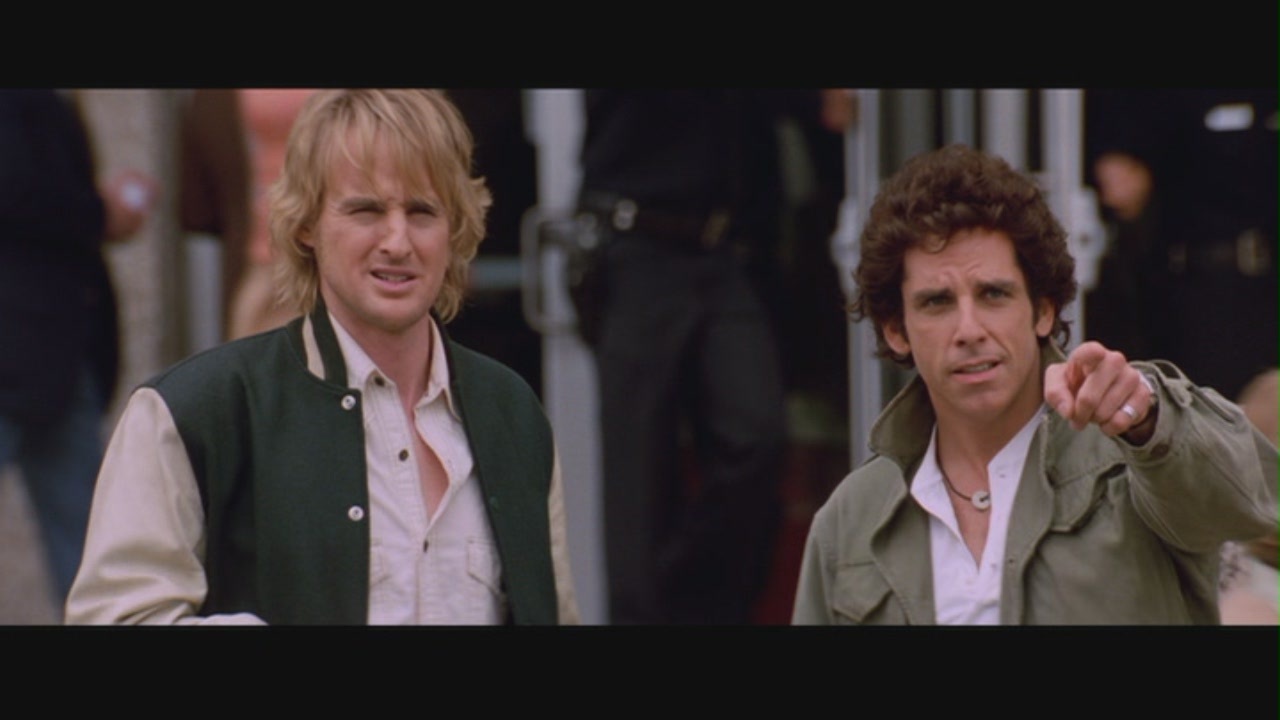 Adapted from the television series of the same name, which aired on ABC in 1970, 'Starsky & Hutch' stars Ben Stiller as David Starsky and Owen Wilson as Ken "Hutch" Hutchinson, two perceptive undercover cops in the fictional city of Bay City, California, who bust drug criminals with the help of underworld boss, Huggy Bear. Though it is an adaptation, the film acts a prequel to the television show which explores the development of friendship between the two, which ultimately forms the moniker of "Starsky and Hutch". The movie is fueled by the chemistry between Stiller and Wilson. In addition, the writers innovate upon the adaptation by changing the character traits to keep things fresh, thus creating a unique experience.
9. Bad Boys (1995)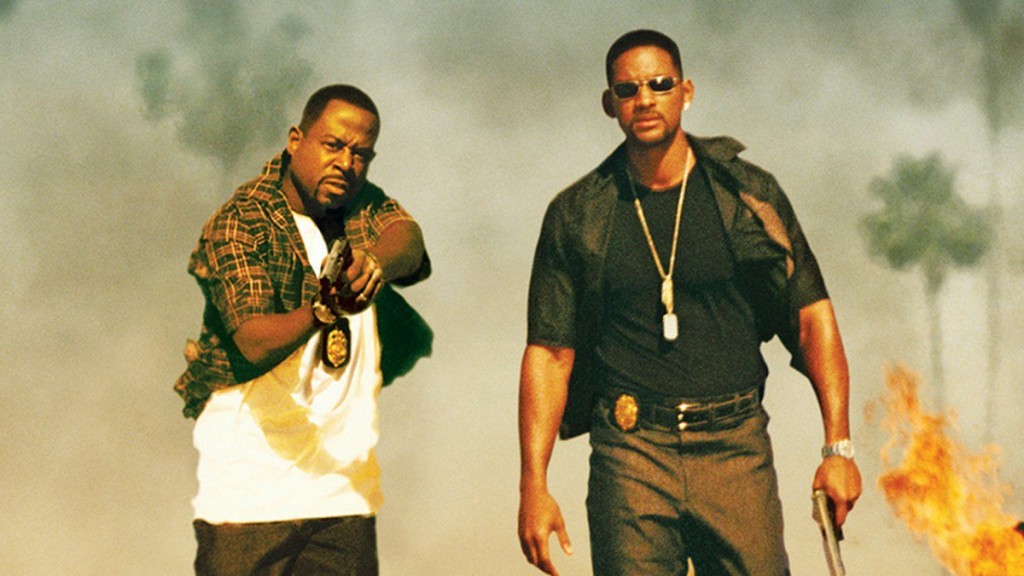 With Michael Bay at the directorial seat, one can expect nothing but high octane action sequences and juvenile humour. An action comedy, 'Bad Boys' follows two detectives—Marcus Burnett and Michael ''Mike'' Lowrey—who join forces to protect a witness to a murder while investigating a case of stolen heroin from the evidence storage room from their police precinct.
'Bad Boys' is racist, extremely politically incorrect, juvenile and sexist. However, despite all the sociological problems, it is a highly entertaining piece of work. Will Smith and Martin Lawrence form one of the funniest duos in the genre of buddy cop comedies and execute Bay's vision with ease. While it did receive negative reviews, like most Bay films do, 'Bad Boys' went on to win big at the box office, grossing a massive $141.4 million against a budget of $19 million. The film also spawned two sequels, 'Bad Boys II' (2003) and the upcoming Bad Boys for Life', which is set to release in 2020.
8. Sherlock Holmes (2009)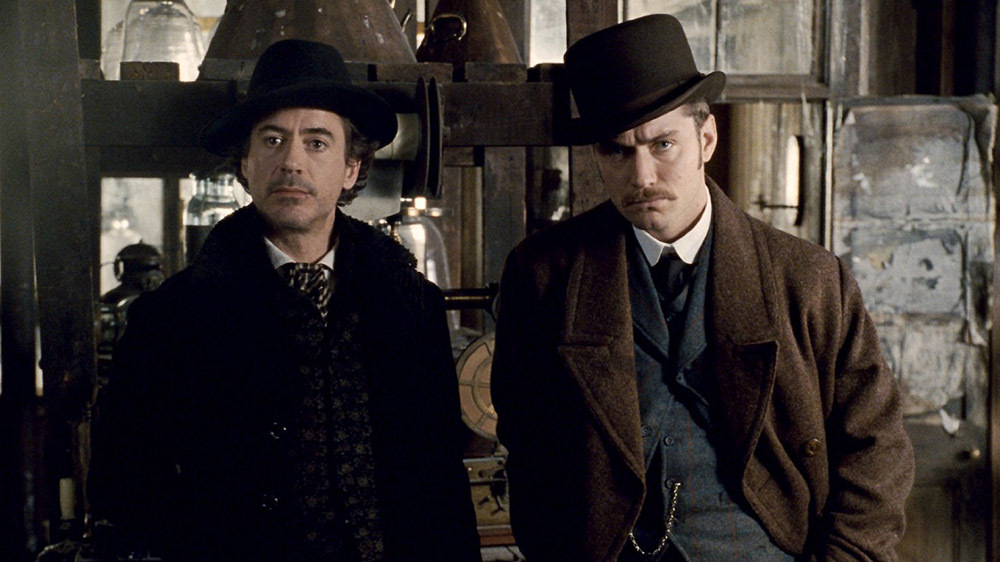 Directed by Guy Ritchie and co-written by Michael Robert Johnson, Anthony Peckham and Simon Kinberg, 'Sherlock Holmes' stars Robert Downey Jr. and Jude Law as Detective Sherlock Holmes and his Dr John Watson, who are hired by a secret society to investigate and uncover a mysticist's plot which is to expand the British Empire by seemingly supernatural means. The narrative of the film stems from the classic detective stories of 'Sherlock Holmes' and re-invents it with the visual stylistics and action sequences. The humour is quirky and is executed to comedic brilliance by the chemistry between Downey and Law. The film, upon its release, received positive reviews and also scored big at the box office, grossing $524 million against a budget of $90 million. The commercial success earned it a sequel, titled 'Sherlock Holmes: A Game of Shadows' (2011) and a third film, which is up for release in the foreseeable future.
7. The Other Guys (2010)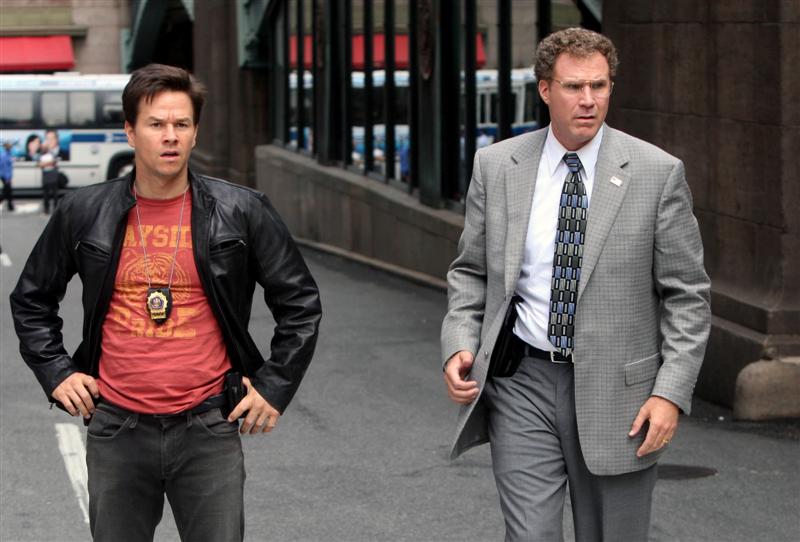 Directed by Adam McKay and co-written by Chris Henchy and McKay, 'The Other Guys' follows two New York City detectives, who don't get along well with each other. They grab hold of an opportunity to step up to be the city's top cops, whom they idolize. However, things don't go according to plan, and trouble and hilarity ensue. Will Ferrell and Mark Wahlberg star as Detective Allen "Gator" Gamble and Detective Terry Hoitz. The two actors perfectly encapsulate the archetype of mismatched cops with their entertaining chemistry. 'The Other Guys' received positive reviews upon its release, with many citing it as the best comedy of the year.
6. 22 Jump Street (2014)
A sequel to '21 Jump Street' (2012), '22 Jump Street' follows up on the events of the first film as Morton Schmidt and Greg Jenko are given the task of going undercover at a college in order to find the supplier of a new drug. The premise of the film is exactly the same as its predecessor, and the filmmakers never miss a chance to acknowledge and ridicule it. Co-directed by Phil Lord and Christopher Miller and co-written by Michael Bacall, Oren Uziel and Rodney Rothman, the buddy cop comedy stars Jonah Hill and Channing Tatum, who reprise their roles as Schmidt and Jenko. Much of film's narrative derives the character and story arc of '21 Jump Street' to reinvent itself. The film was a critical and commercial success, scoring $331.3 million against a budget of $50 million.
5. Kiss Kiss Bang Bang (2005)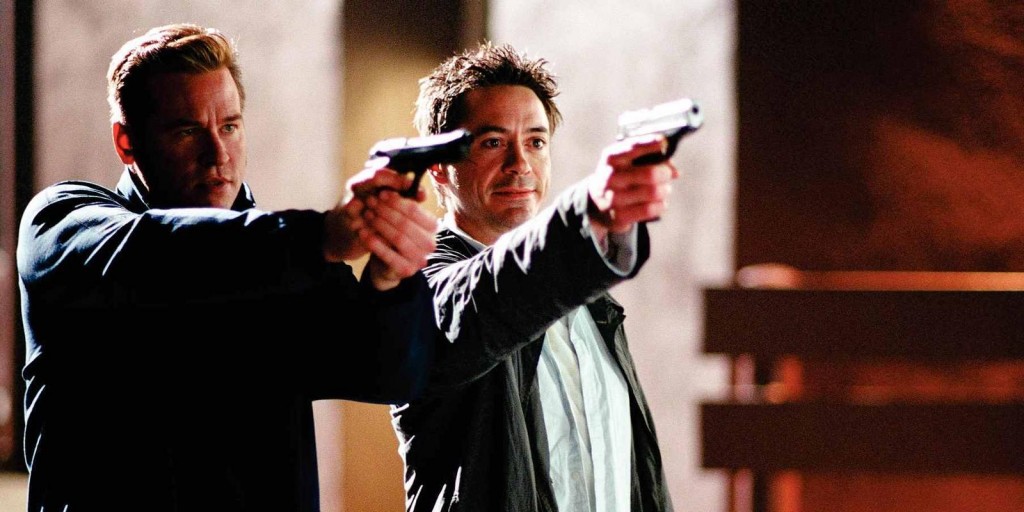 A neo-noir black comedy, 'Kiss Kiss Bang Bang' stars Robert Downey Jr., Val Kilmer and Michelle Monaghan as Harold "Harry" Lockhart, a thief, Harmony Faith Lane, who is a struggling actress and "Gay" Perry van Shrike, a private eye, whose lives get entangled in a mysterious murder in Los Angeles. Directed by debutant Shane Black, the film is replete with hilarious repartees and tongue-in-cheek humour which is executed with comedic brilliance by the actors. The movie takes life from the postmodernist comedic sensibility of the black comedy genre. 'Kiss Kiss Bang Bang' premiered at the Cannes Film Festival and received highly positive reviews. However, despite the positive reaction, it could not score big at the box office. Nevertheless, it is a must watch.
Read More: Movies Like October Sky
4. Lethal Weapon (1987)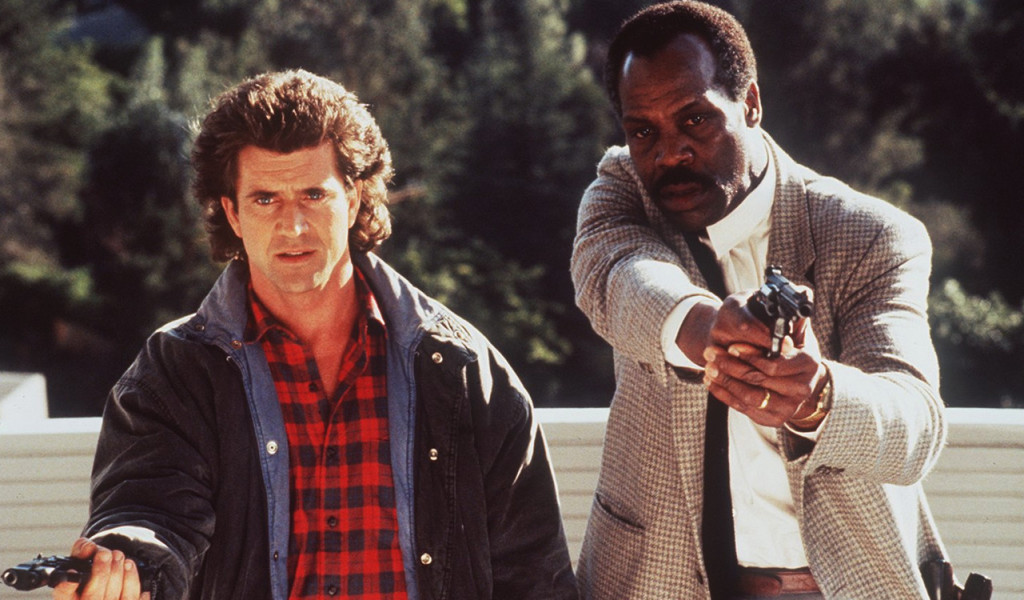 Directed by Richard Donner and written by Shane Black, 'Lethal Weapon' follows Martin Riggs and Roger Murtaugh, two newly paired cops whose completely opposite personalities and ideologies are put to test when they are given the task of catching a gang of drug smugglers. The film stars Mel Gibson and Danny Glover as the two detectives. With the sharply written screenplay and the shrewdly executed direction, the film is filled with the archetypal buddy cop comedy sensibilities, which make it such a brilliant piece of work. Produced on a budget of $15 million, 'Lethal Weapon' grossed around $120.2 million, which made it a profitable venture. The commercial success spawned three sequels and a television series, which premiered on Fox in 2016.
Read More: Movies Like Blade
3. 48 Hrs. (1982)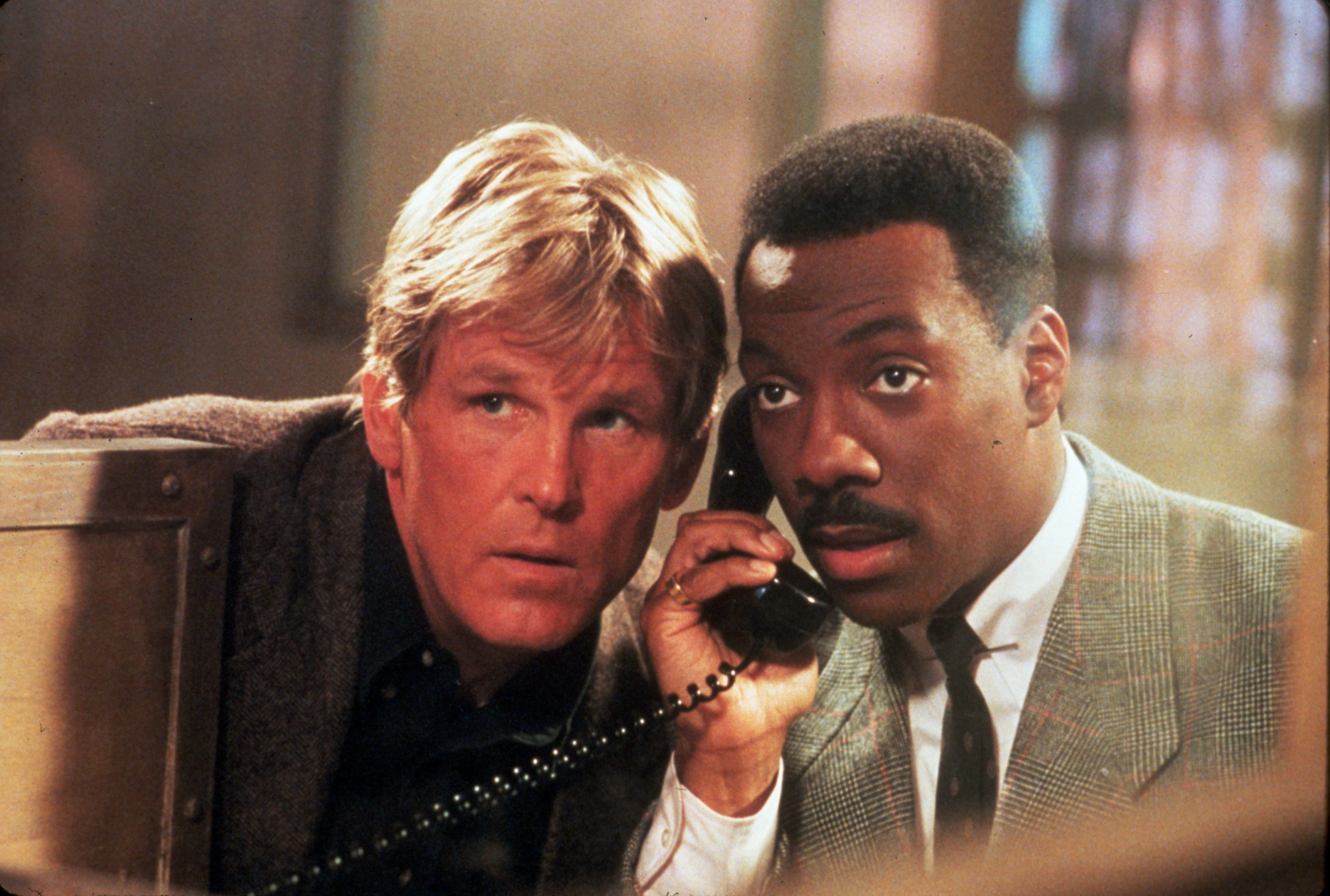 Directed by Walter Hill and co-written by Roger Spottiswoode, Larry Gross, Steven E. de Souza and Hill, '48 Hrs.' stars Nick Nolte and Eddie Murphy as Jack Cates, a cop, and Reggie Hammond, a convict, who join alliances to catch two cop-killers, essayed by James Remar and Sonny Landham. '48 Hrs.' created the genre of "buddy cop". The film merges the fun element of the buddy cop comedy genre with the tension of a drama. With the strong rapport between Nolte and Murphy and the nifty screenplay, '48 Hrs.' became a critical darling and a commercial success. Among a number of nominations, the film won the "Grand Prix" award at the Cognac Festival du Film Policier. The commercial success spawned a sequel, titled 'Another 48 Hrs.' (1990).
Read More: Movies Like Baby Driver
2. The Nice Guys (2016)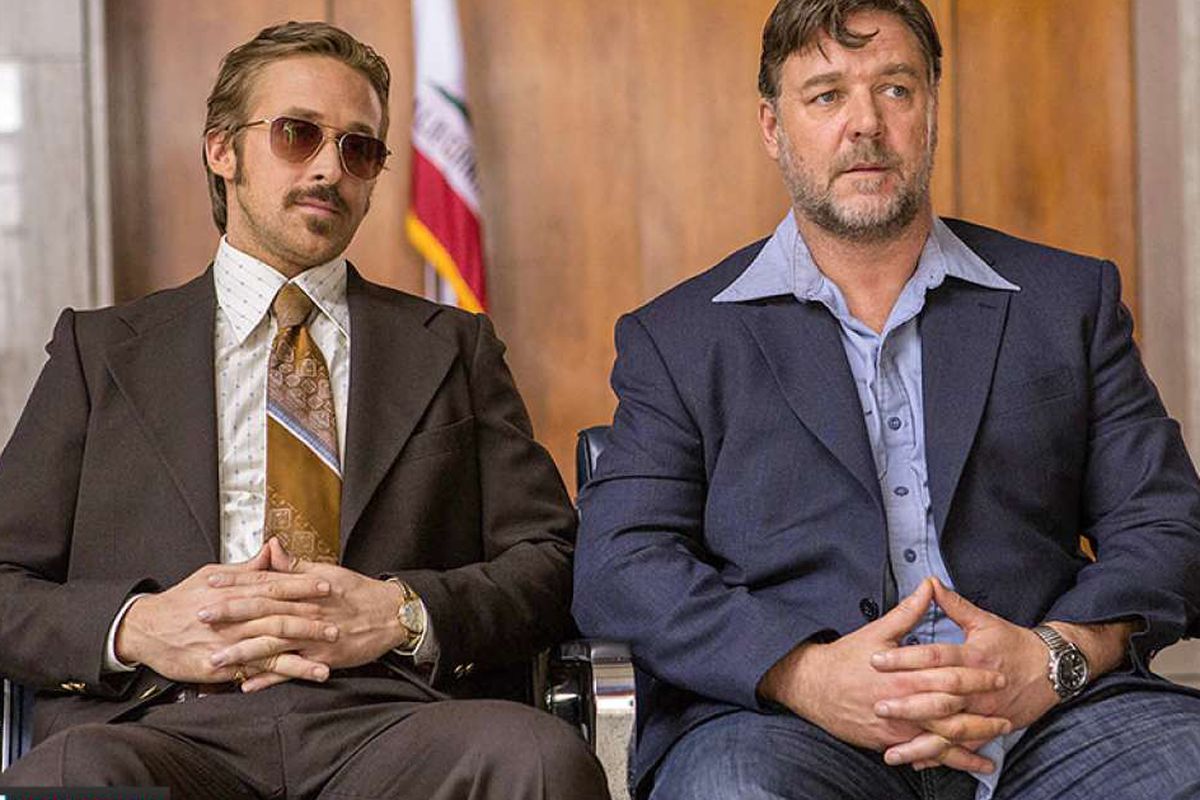 While I usually don't include films directed by the same director, I will always make an exception for Shane Black. A neo-noir buddy cop black comedy, 'The Nice Guys' stars Ryan Gosling and Russell Crowe as private investigator Holland March and enforcer Jackson Healy, who team up after they find that their cases—about the disappearance of a teenage girl named Amelia Kuttner—intertwine. Upon investigating, the two uncover details which point to bigger conspiracies and stakes. The film boasts of quick-witted banter between the two actors and the well-constructed screenplay by Black. 'The Nice Guys' premiered in Hollywood and later at the Cannes Film Festival, and received positive reviews. With a rating of 93% on Rotten Tomatoes and moderate commercial success, Shane Black has expressed his desires to work upon a sequel.
Read More: Movies Like Horrible Bosses
1. The Guard (2011)
Written and directed by John Michael McDonagh, 'The Guard' is the story of Sergeant Gerry Boyle, an unorthodox and confrontational Irish policeman who is partnered with an uptight F.B.I. agent, Wendell Everett, to investigate an international drug-smuggling ring. The Irish buddy comedy film is extremely witty and humorous. The film premiered at the Sundance Film Festival and received extremely positive reviews. 'The Guard' bagged a number of nominations and wins for "Best Film" at the Berlin International Film Festival, the British Independent Film Awards, the Irish Film and Television Awards and the Sundance Film Festival, to name a few. With a rating of 95% on Rotten Tomatoes and a box office score of $19.6 million, 'The Guard' is definitely a film that deserves to be seen.
Read More: Movies Like John Wick