The television industry has reached a point where hundreds of shows are released each year. The statistic is going to have a tremendous bump when Disney+ comes into play and Apple TV+ catches up with other streaming giants. This had led the already established networks to up their game if they want to stay in it.
2019 has proved to be a very fruitful year in that regard. While it witnessed the return of critically acclaimed shows like 'Barry', 'Fleabag', 'Mindhunter', 'Jack Ryan' and 'Veep', which proved to be bigger and better as compared to their previous seasons, this year was marked with the entry of great new shows. Of the plethora of TV shows at your disposal, we have grouped together the ones that you can't afford to miss. Here is the list of the best TV shows of 2019 (please keep in mind that we have only considered shows that made a debut this year).
16. Looking for Alaska (2019)
John Green's novels have a reputation of tearing the heart out of their readers and then sticking it back using gum and duct tape. This way, you're still functional, but life will never be the same again, my friend! One of the finest examples of such stories is 'The Fault in Our Stars', which is also one of the rarest cases of a film almost matching the potential of its book. If you love it, then the adaptation of 'Looking for Alaska' will work wonders for you. It follows the story of a boy who is "obsessed with last words" and his encounter with an enigmatic girl, named Alaska, that changes his whole perspective about life. Christine Froseth ('Sierra Burgess Is a Loser', 'The Society') plays the role of Alaska Young, while Charlie Plummer ('Boardwalk Empire', 'All the Money in the World') stars as Miles Halter.
15. Gentleman Jack (2019-)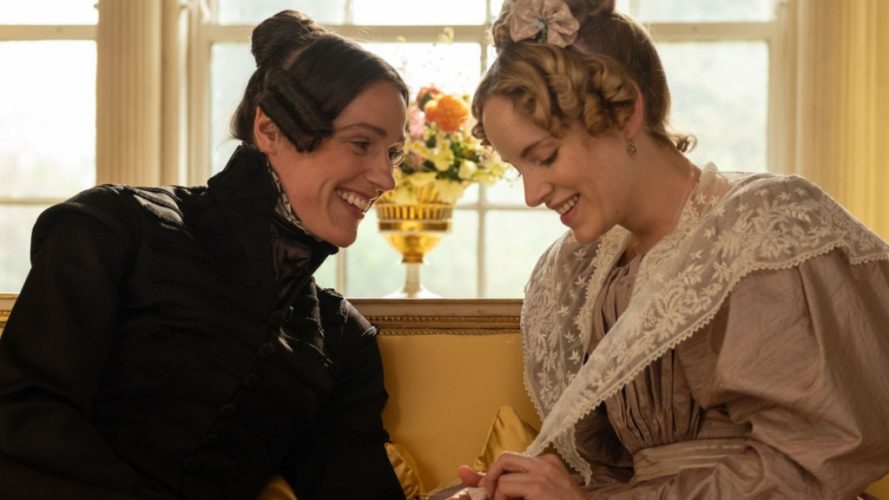 Anne Lister was a noted British industrialist and traveller, among other things. This show focuses on her life that was as interesting as her diary. Lister had a lot of aspects to her personality. She was mostly rebuked for them because the society, back then, wasn't able to comprehend her open-mindedness. Knowing that her secrets will never be safe, especially in something like a journal, Lister came up with a way to maintain a diary without running the risk of any exposure. She developed an intrinsic form of code and this allowed her the freedom of thought that she otherwise wouldn't be able to have in public.
14. Euphoria (2019-)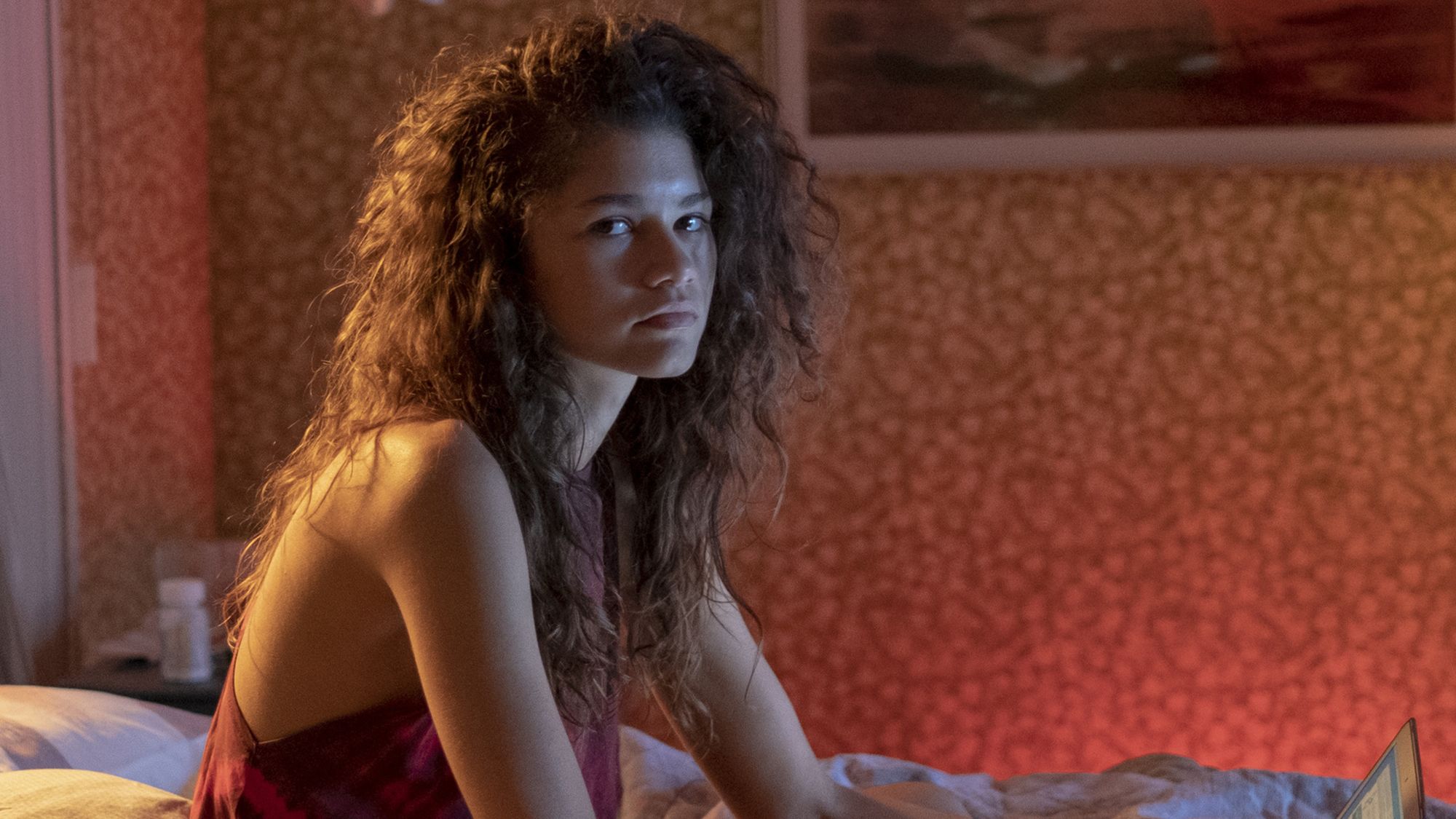 Based on the Israeli series of the same name, 'Euphoria' follows the lives of a group of teenagers who become entangled in the world of drugs. The central character is Rue, played by Zendaya, who is fresh out of rehab and doesn't intend to stay clean. She is plagued with anxiety and mental health issues, and there is no one she can share her feeling with. The same goes for Jules, a transgender, who forms a connection with Rue. Through other characters, the show explores the effects of social media, the crisis of identity, and the effect of trauma, amongst other common themes like love and friendship.
13. What We Do In the Shadows (2019-)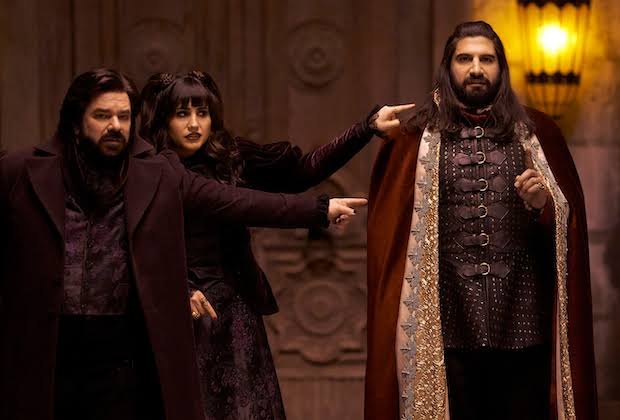 The 2014 film, 'What We Do in the Shadows' is a horror-comedy created by Taika Waititi and Jemaine Clement. The film is shot documentary-style and focuses on the lives of four vampires sharing an apartment in Wellington. The film proved to be a breakthrough for Waititi, and he has now adapted it for television with co-star, Clement. The show stars Kayvan Novak, Matt Berry, Natasia Demetriou, Harvey Guillen and Mark Proksch in the main roles, and shifts the premise to New York. With the sunlight still problematic to them, the vampires only come out during the night and try to blend in the society that is centuries apart from them.
12. After Life (2019- )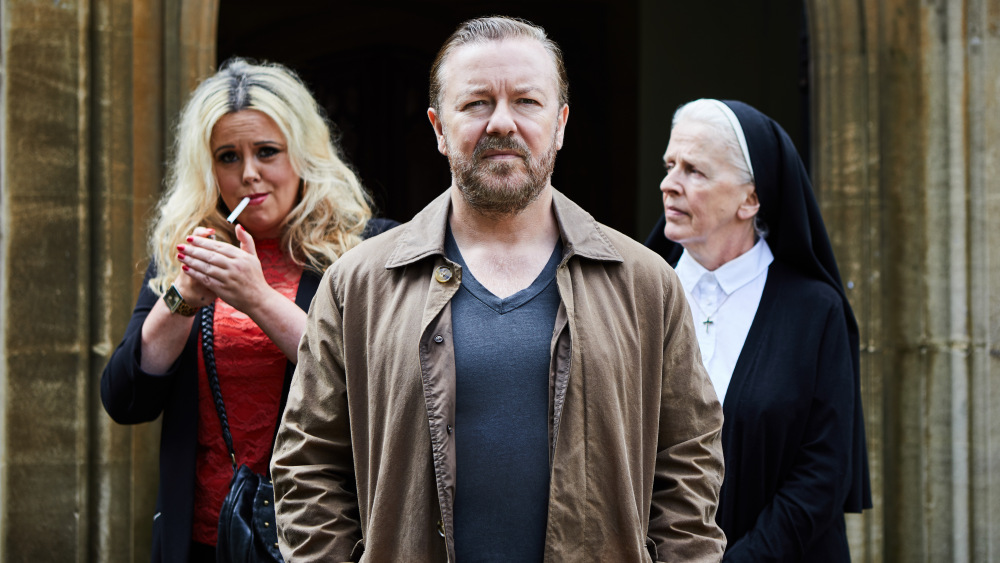 Ricky Gervais's comedy works on another level. If you haven't seen 'The Office' (the U.K one, the original one!) then you need to watch it ASAP. You need to watch everything that Gervais is in because until you get the hang of his comedy style, you will not truly appreciate this show! 'After Life' follows the life of Tony, or what becomes of it after his wife dies. She was the only sensible thing in the world for him, and after her death, he doesn't know how to go about the routine stuff. At first, he thinks about killing himself, but then, a thought pops in his mind. It'd be too easy for the world if he died. So, he decides to make everyone suffer.
11. Good Omens (2019)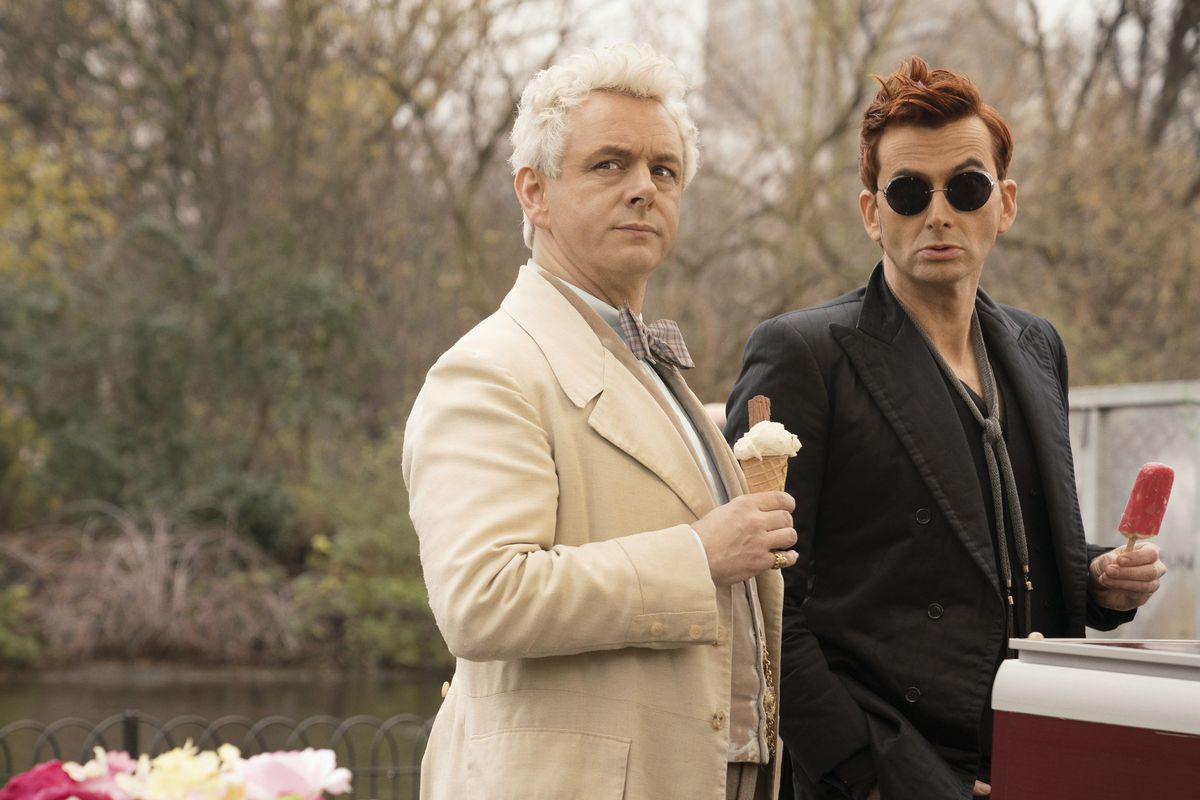 If angels and demons, judgment day, the antichrist and biblical apocalypses are your thing, then 'Good Omens' might just be the show for you. Michael Sheen and David Tennant star as Aziraphale and Crowley respectively, an angel and a demon who must team up to stop the end of days. With Gaiman himself behind the wheel, Frances McDormand playing God and Benedict Cumberbatch as Satan, there were bound to be fireworks. The chemistry of the lead pair added another dimension to its humour, giving great scope for the fans to whip up canons.
10. The Boys (2019-)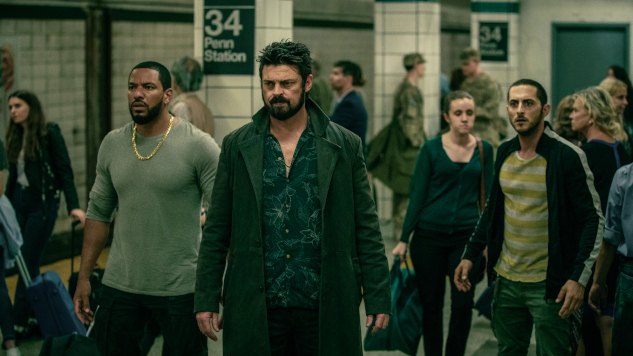 The comic book, 'The Boys', was the brainchild of Darick Robertson and Garth Ennis. The premise of the story is set in a world where many superheroes have chosen a darker highway to life. It isn't so much about peace and justice than a business that brings home millions for the heroes and their sponsors. Another thing source of trouble is their unchecked actions. With rich, evil corporations behind them, they can do whatever they want and get away with it. In order to stop this chaos, a team of normal humans comes together to do whatever it takes to bring down these corrupt heroes, and they are more than willing to fight dirty. Erik Kripke, Seth Rogen, and Evan Goldberg helm the show with Karl Urban, Antony Starr, Jack Quaid and Elizabeth Shue starring as the main characters.
9. The Dark Crystal: Age of Resistance (2019-)
The world of fantasy is endless. You can create whatever world you want, in any way you want it. There are limitless possibilities with this genre. In 1982, a high-fantasy movie came by the name of 'The Dark Crystal'. It follows the quest of a Gelfling to restore balance to his world. It became a sleeper hit, but a sequel never came to be, despite the rich world that the film offered. That was until Netflix decided to adopt it. 'The Dark Crystal: Age of Resistance' serves as the prequel to this story and is set in the era when the Gelflings rise against the Skeksis. The characters in the series are voiced by actors like Taron Egerton, Anya Taylor-Joy, Helena Bonham Carter, Natalie Dormer and Alicia Vikander.
8. The Act (2019-)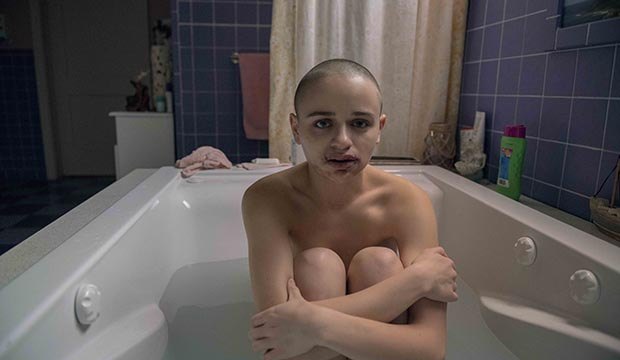 'The Act' is based on a real-life incident which took place in Green County, Missouri in the year 2015. A woman named Dee Blanchard was found murdered in her house. Her daughter, Gypsy, who was really sick was missing. When the investigation began, a number of secrets regarding the relationship of Dee and Gypsy came out and the story shocked the world. This story is brought to screen by Hulu and stars Joey King and Patricia Arquette in the lead roles, with the latter winning an Emmy for her performance.
7. Russian Doll (2019)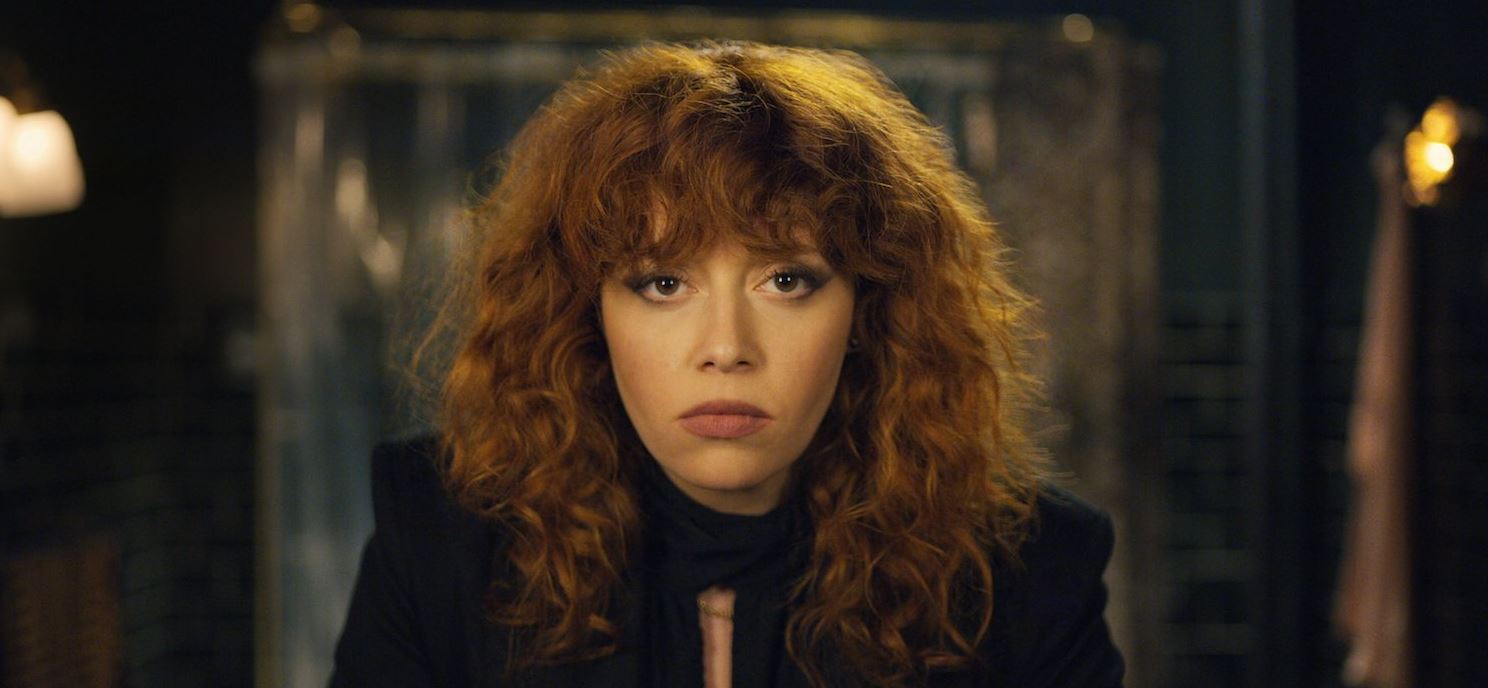 Starring Natasha Lyonne and her beautiful red-hair that have a character of their own, 'Russian Doll' is a woman's philosophical journey that keeps her constrained to one specific day in her life. If she is to break free of it, then she needs to find out the one thing that needs to be rectified in order to get back to her normal life. The protagonist of this story is Nadia, a troubled but unapologetic woman. The night of her 36th birthday kickstarts the endless loop for her. The Emmy nominated series has been created by Lyonne along with Amy Poehler and Leslye Headland.
6. Years and Years (2019-)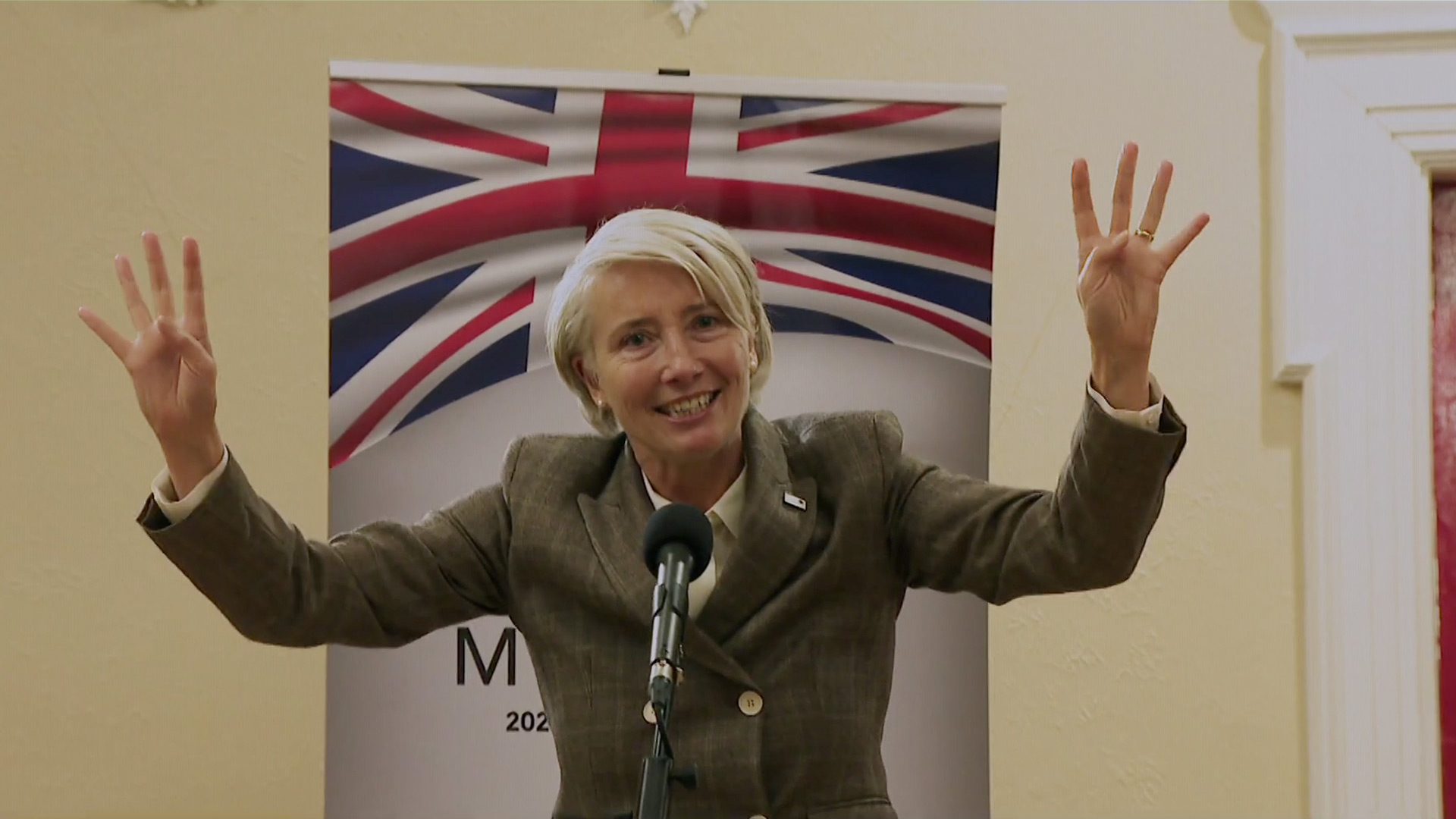 Emma Thompson stars in this political drama as Vivienne Rook a businesswoman-turned-politician who takes the country, and the world, by storm with her radical opinions and the policies she means to enforce once she comes into power. For a person of her influence, one would take her seriously, but somehow, it is ignored in favour of the silly side that the world wants to see and laugh about. The Lyons family is one of those people, wondering what the future holds for the country and if someone like Rook could actually ever have a position of power in the government. Fifteen years show them a very different picture of the world.
5. Ramy (2019-)
Co-created by Ramy Youssef, who stars in it as Ramy Hassan, this show follows the conflicting beliefs of a millennial. One side, there is the religion that teaches him to live a cautious life and not to indulge in temptation because sooner or later, it will work out badly for him. On the other hand, he is a part of the generation that has witnessed such political and cultural upheavals that it is now grounded in their beliefs that life should be lived like there are no consequences. Torn between these opposite philosophies, Ramy has to decide what he really wants for himself.
4. Undone (20
19-)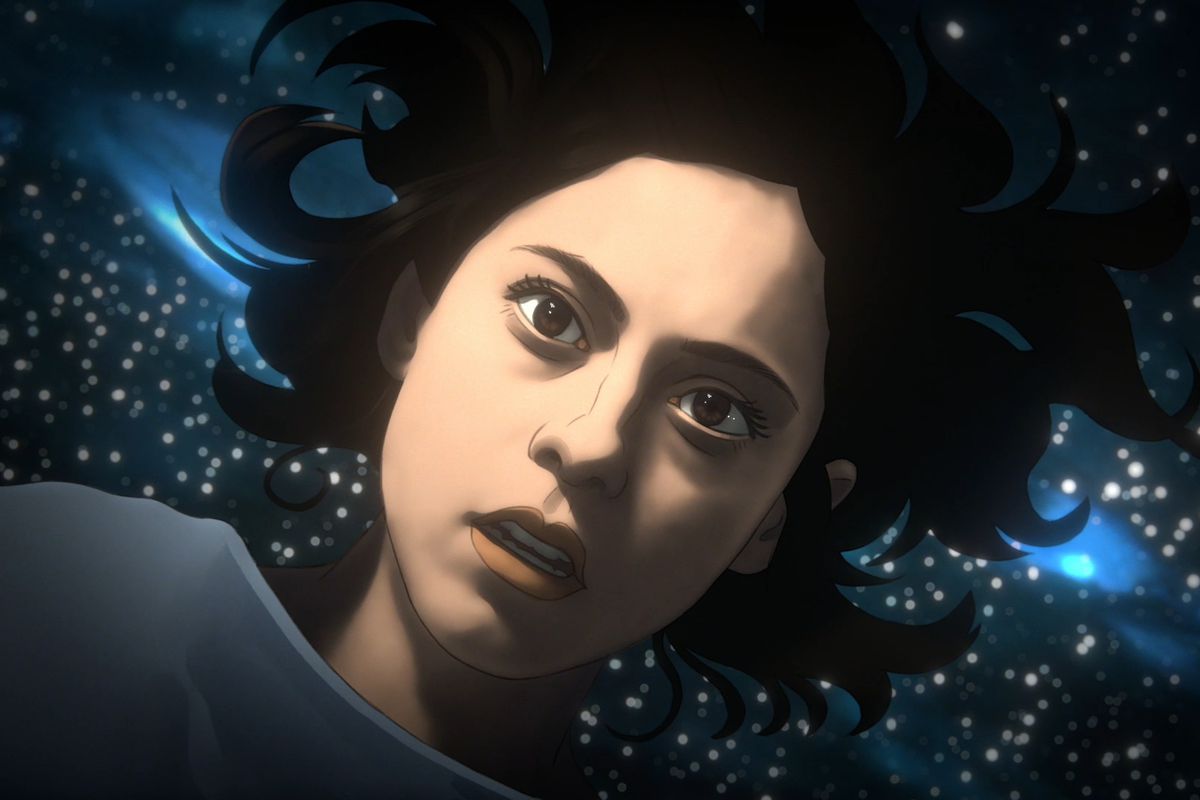 This adult animated series has been created for Amazon by Raphael Bob-Waksberg and Kate Prudy, who have previously collaborated for Netflix's popular 'BoJack Horseman'. The story of 'Undone' focuses on a character called Alma whose understanding of time and space changes after an accident in which she almost dies. Recovering from this experience, she realises that her brush with death has not only given her a new perspective but also bestowed on her a power that allows her to manipulate time. She uses this ability to solve the mystery of her father's death. The lead character is voiced by Rosa Salazar, while Bob Odenkirk plays the role of her father.
Read More: Best Acting Performances of 2010s
3. When They See Us (2019)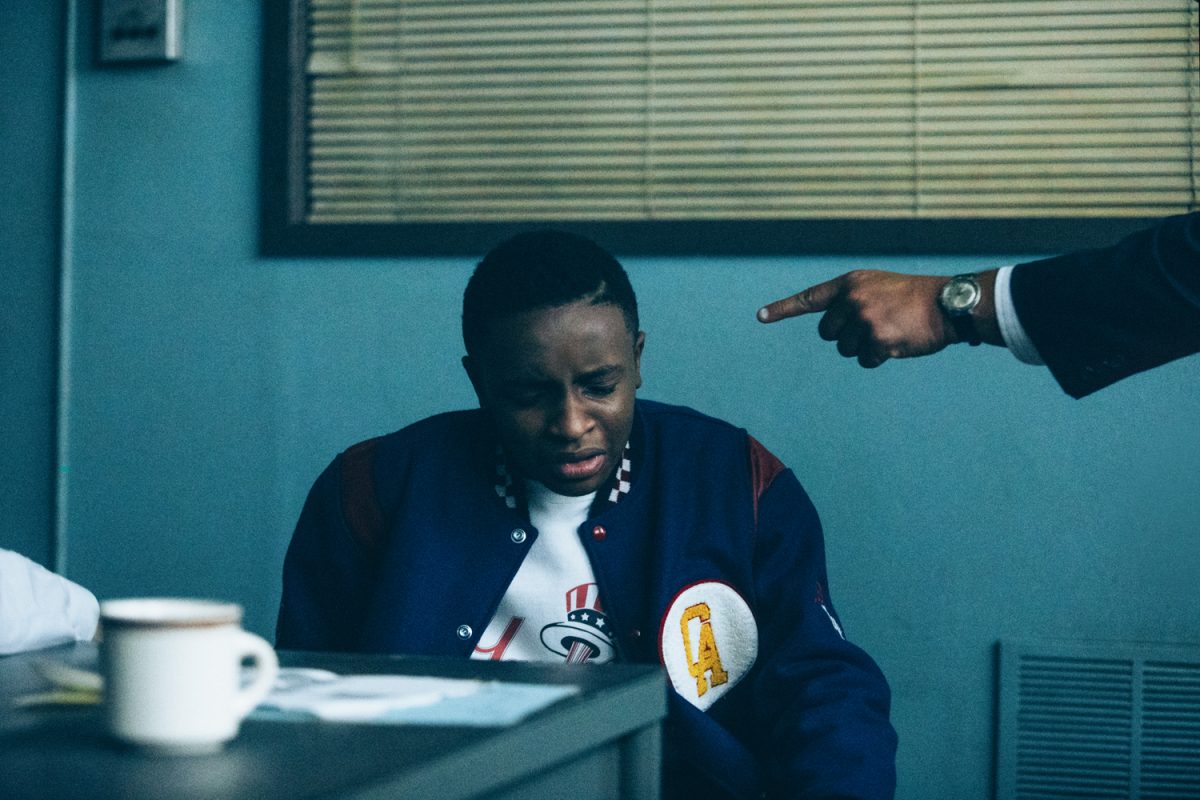 On April 19, 1989, a heinous act happened that changed the course of the life of six people. The first of them was Trisha Meili. She was an investment banker, in her late 20s. One day, she went out for jogging but was found raped and brutalised. The crime left her in a coma for 12 days. The other five were a group of men, four African-Americans and one Hispanic, who were charged with the crime. They confessed to it but then mentioned in the court that they were coerced to do so. However, this didn't change the fact that they still were convicted and served time in jail. Later, a piece of new information came to light that changed everything about the case. 'When They See' depicts their journey and the things they lost after the false conviction.
Read More: Best TV Shows of 2010s
2. Chernobyl (2019)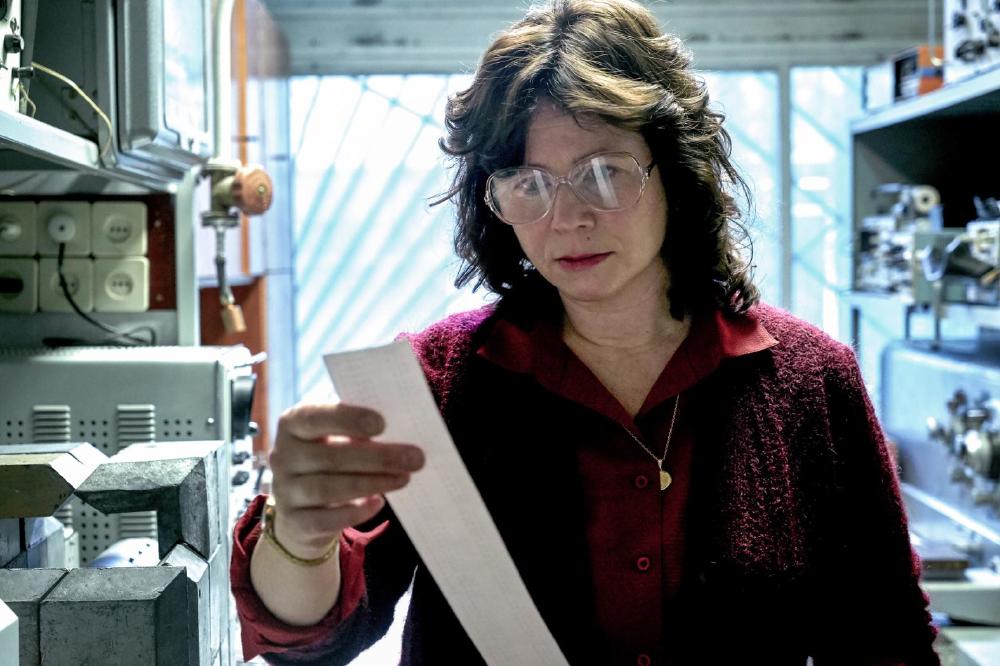 The Chernobyl disaster is one of the worst man-made disasters, and to think that it could have been even worse makes it even more horrifying. If it wasn't for the people who saved the day despite knowing that they were walking towards certain death, the whole world would have suffered. 'Chernobyl' follows the events surrounding the disaster, what happened prior to it, what became the cause of it, and ultimately how it turned out and changed, or destroyed the lives of people attached to the project. But, more importantly, it focuses on the actions of the people who prevented it from becoming an even greater tragedy. The series stars Jared Harris, Stellan Skarsgard and Emily Watson in the lead roles, and won the Emmy best miniseries.
Read More: Best HBO Shows of 2010s
1. Unbelievable (2019)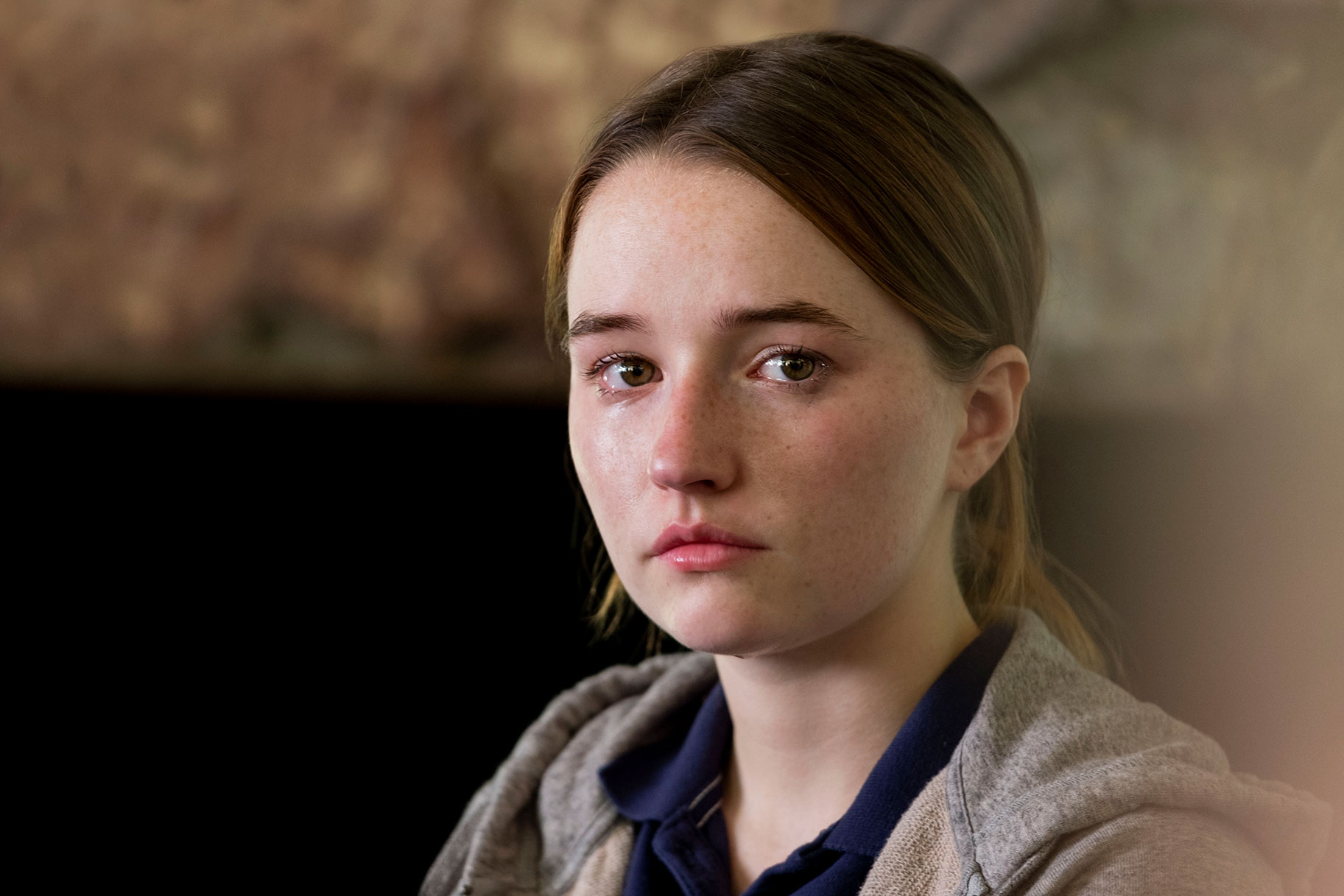 Before the Me Too movement allowed the victims the green card for credibility, they struggled to put forward their stories because people didn't believe them. One of those cases surfaced when two female detectives discovered that a serial rapist was on the loose but hadn't been flagged before. This leads them back to the case of a teenager who had reported her rape several years ago but then had it dismissed because she admitted that she was lying. 'Unbelievable' looks at both these stories from the lens that highlights the flaws of the justice system and the lack of empathy towards the victims.
Read More: Best Underrated Movies of 2019